I love family Christmas traditions, and I'm always looking for new ones to try with my little family!
Growing up we had lots of family Christmas traditions that didn't even seem like traditions to me when I was a kid. They were just things we always did at Christmas time.
Now that I have my own family, I can see that my parents were pretty intentional with some of these traditions.
I've continued lots of them with my own children, and have added many more over the years.
While we do a lot of the family Christmas traditions on this list, we don't do all of them. Pick and choose what works best for your family, and incorporate it in anytime you like!
Links in this post may be affiliate links, which means I may earn a commission if you make a purchase from any of them, at no additional cost to you. You can find out more information by reading my full disclaimer.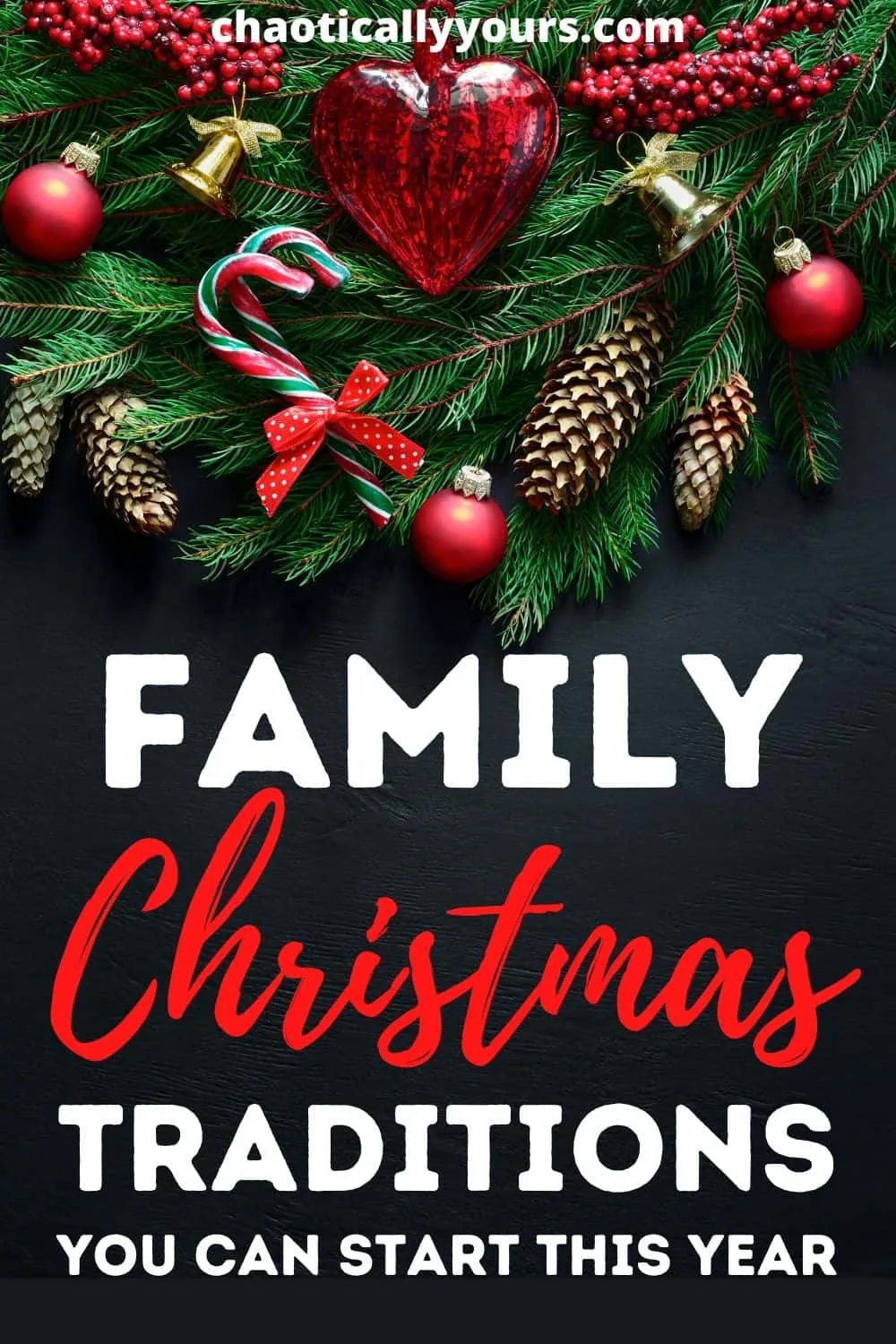 Family Christmas Traditions To Start in December
Some family Christmas traditions need to be started early, and are designed to be done before the big day. Here's our best ideas for traditions you can do leading up to the 25th.
Make a holiday bucket list
The holidays are a great time to get input from others about how they'd like to celebrate the holidays.
Right after Thanksgiving, take time to sit down and ask each family member for something they'd like to do during the holidays. You might be surprised by the answers!
Make a list and incorporate these things into your holiday plans.
Start An Advent Calendar
Whether it's a traditional or non-traditional one, Advent Calendars are a great way to countdown to Christmas.
When I was a kid, my mom would always buy one from the store that had little windows to open each day, and a piece of chocolate inside.
Our family always hangs this beautiful Advent Calendar made my friend at Vital Signs By Beth on Etsy. Even without the treat, my kids love turning the cards to reveal the beautiful drawings on each card.
I also love this homemade Christmas Countdown Calendar from Life Sew Savory!
If you don't want to go that fancy, you could always just make a Christmas Countdown Chain out of construction paper.
Whatever way you do it, Advent Calendars are a great family Christmas tradition.
Welcome an Elf on the Shelf
There's a reason the Elf on the Shelf is so wildly popular. It's such a fun Christmas tradition for little kids!
If you haven't already started this holiday tradition in your home, you can always add it to your Christmas fun. Check out all these great names for your Elf on the Shelf.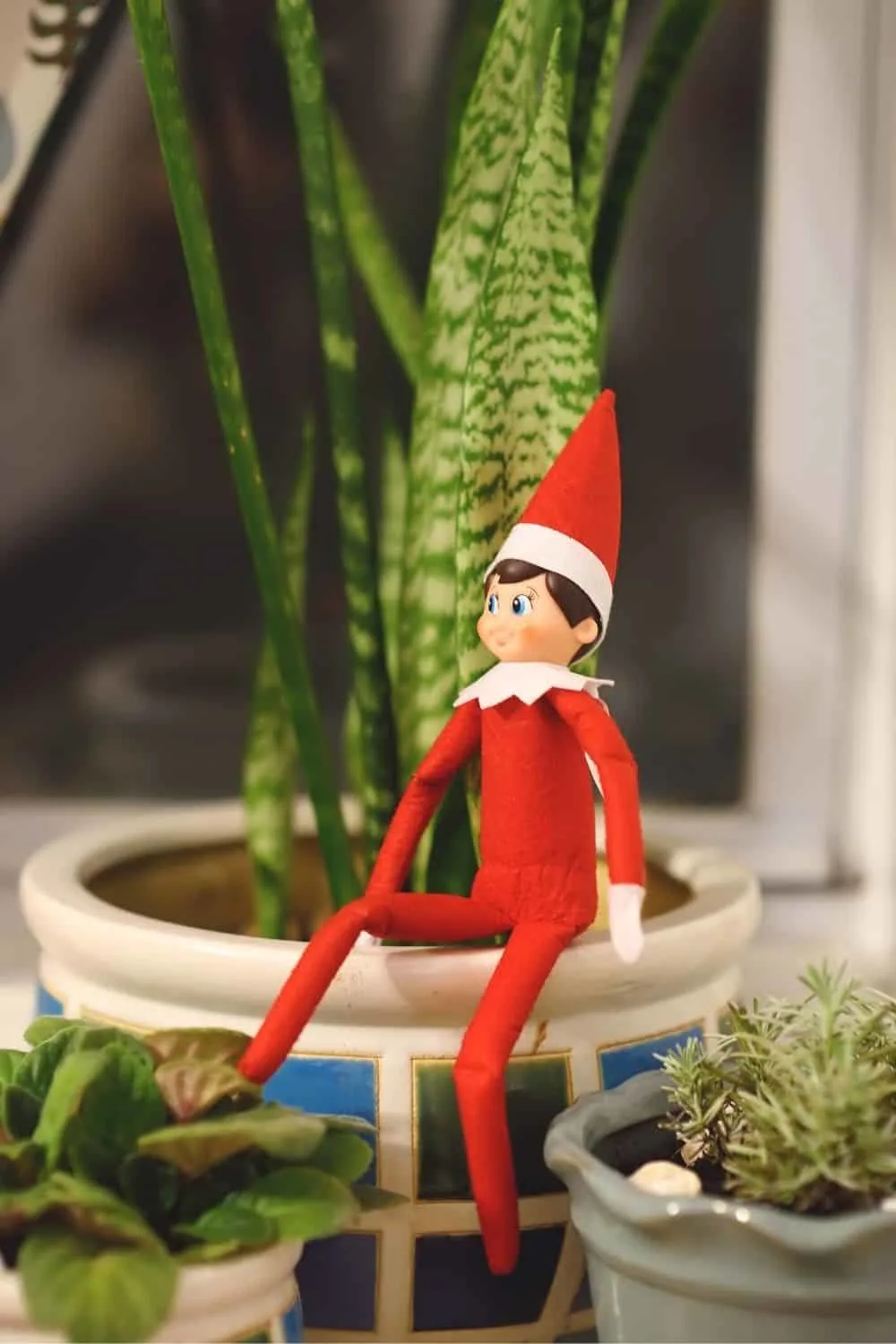 It's up to you whether your elf is naughty or nice. Ours was always nice, and just moved to fun new places every night, but I know families who go all out with crazy antics from their elves.
Whatever you choose, it's a fun family tradition for Christmas.
Volunteer for the holidays
Lots of charities need help during the Christmas season. Whether it's a local organization or national, find a way that your family can help.
Toys for Tots always needs donations and volunteers around the holidays. Local food banks always need donations and help. There are so many great causes out there that could use some extra hands.
Use the holidays as a time to give back.
Start some tree decorating traditions
Decorating your tree can be a great opportunity to add family Christmas traditions to your life.
We always make a day of it. We buy the tree in the morning, then string popcorn and decorate together as a family in the evening.
Creating traditions around your decorations is a great way to foster family Christmas memories that are sure to last.
Take a Christmas lights tour
Christmas lights are a wonderful part of the holidays that we always enjoy. We always put up quite a few lights on our own house.
But whether your home is covered in bulbs or none at all, you can always go out and enjoy displays in your community.
My best friend growing up always used to talk about this tradition in her family. They would wait for a foggy night, and go out to enjoy the lights in the misty glow of the fog. If a foggy night didn't come around that year, they'd go on Christmas Eve.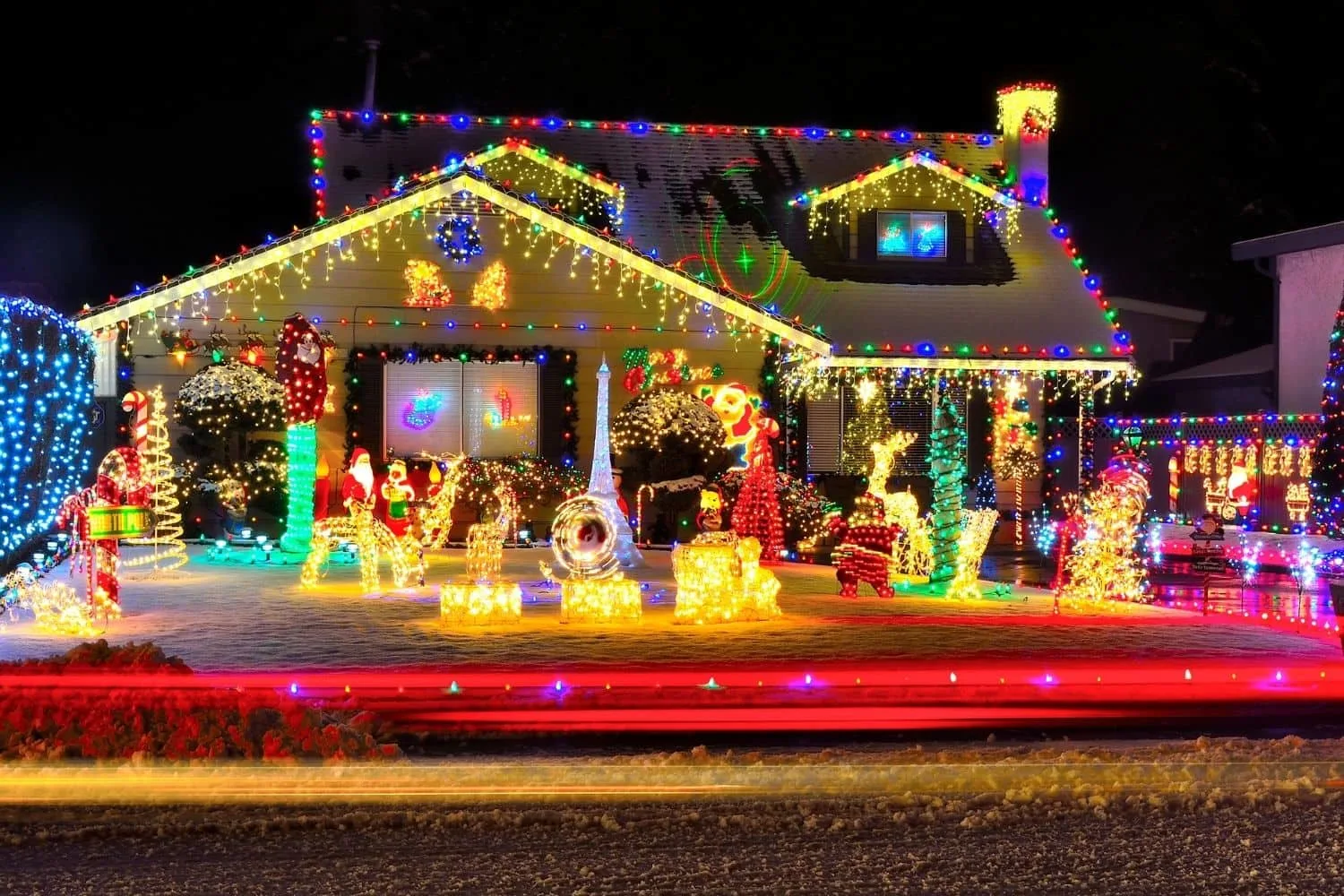 It was so fun because she and her sister knew it was coming, but never knew exactly when. Her dad would just surprise them and pronounce it a Christmas Lights Night.
You can even do a Christmas Light Scavenger Hunt to add a little more fun to the evening!
Our community has several spectacular options. Some are paid and some are free. No matter which option we choose, we always enjoy going to look at the lights as one of our family Christmas traditions.
Set up a Hot Cocoa Bar
This is a relatively new tradition that has been popping up everywhere this year.
Hot Chocolate Bars are so fun and are super easy to put together. Gather all of your favorite Christmas treats, and set up a special layout of hot chocolate with all the trimmings.
We make these super easy DIY Hot Chocolate Bombs that only take minutes to create to use with our cocoa bar.
Put on a your favorite Christmas movie and let everyone enjoy!
Craft New Decorations
Like I said before, Christmas decorations are a great way to celebrate the holidays.
Enjoy some crafting time with your family by creating your own decorations!
Make these super easy 3D Snowflakes with the kids.
These lovely Rustic Christmas Star ornaments look gorgeous but are actually super simple to make
Get a little more intricate, and make a set of ornaments with this Sled Ornament tutorial and Snow Ski Ornament tutorial.
Make these adorable Christmas Gnomes to set around the house!
You can even use this DIY Shrinky Dink tutorial to make super fun decorations for your home!
Whatever you make, creating things together is a fantastic family Christmas tradition.
Have a Holiday Baking Bonanza
Nothing says Christmas like homemade treats!
We love having a "baking day" in our house, where we spend hours creating all the fun cookies and candies to gift to our friends or enjoy ourselves.
My kids love making these Pretzel Turtles and other simple candies. Liz from the blog Blue & Hazel makes her grandma's recipe for Buttercream Thumbprint Cookies.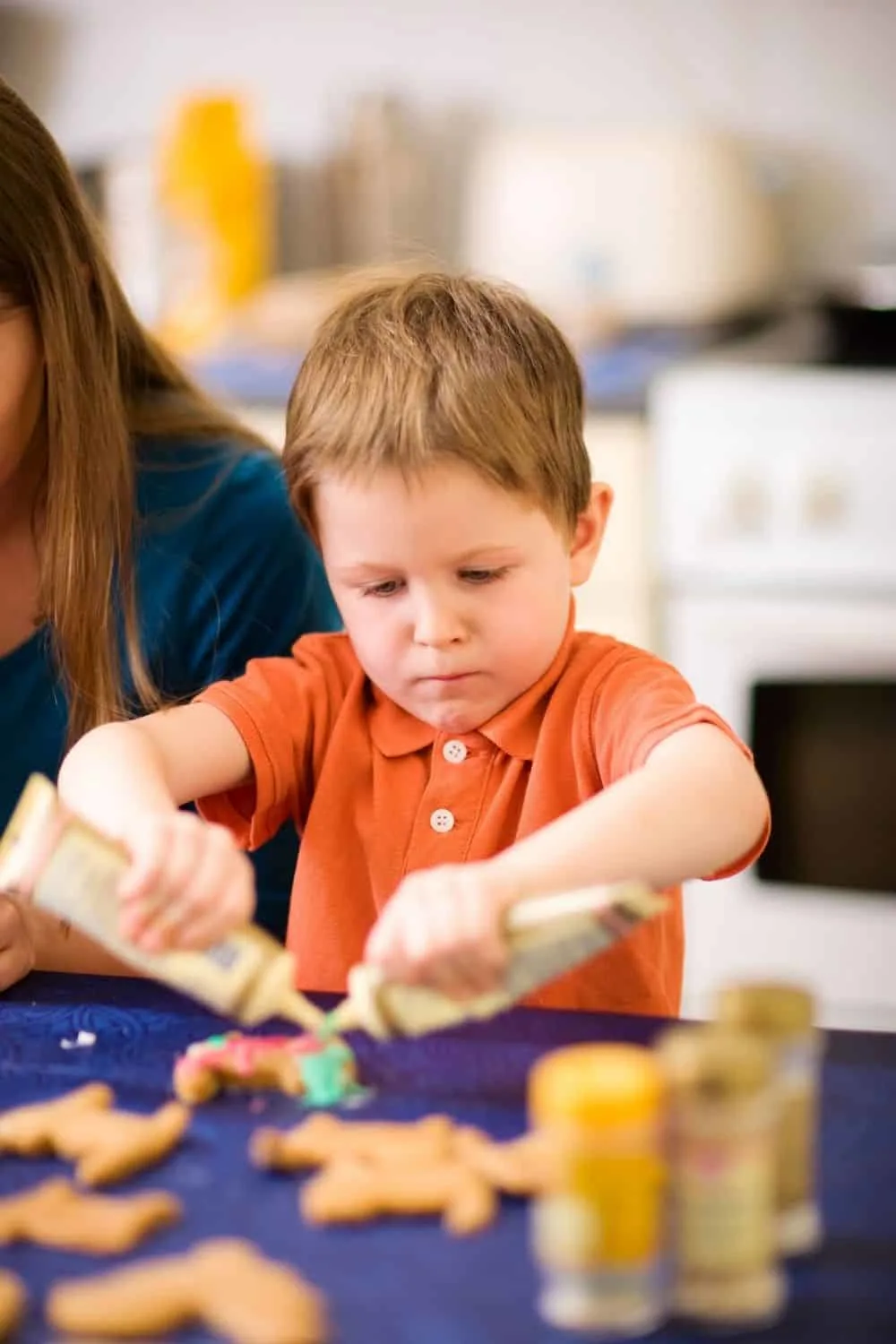 Whatever you decide to make, it's sure create great family memories at Christmas if you make them together!
Host a Cookie Exchange with your friends
After you finished your family baking day, another awesome Christmas tradition is to host a Cookie Exchange for all your friends.
A Cookie Exchange is the best kind of party! Each guest brings a dozen cookies of one variety (and sometimes the recipe) for every other guest at the party.
Everyone leaves with a great variety of cookies to enjoy, having only had to make one type themselves!
Kirsten over at Kids Are A Trip makes her mom's Crunchy Peanut Butter Fudge recipe every year.
In recent years, I've been to several of these, and they've always been so fun. I highly recommend adding this to your list of family Christmas Traditions.
Have a Family Game Night
We love board games in our family, and have family game nights all year round.
But if this isn't something you usually do with your family, the holidays are a great time to bust out those board games and make some memories.
Board games are especially fun to play with teenagers, and earlier this year I compiled a list of the best board games for teens out there.
I also highly recommend playing House Rules Uno. We play this game ALL the time, and it never fails to have us laughing up a storm.
Go Christmas Caroling
As old fashioned as it seems, Christmas Caroling is a great family Christmas tradition that's sure to make lots of memories.
Lots of churches arrange Christmas Caroling activities during the holidays, but you can always do this activity on your own.
Call a local nursing home or hospital and ask if they'd allow your to come caroling. Head out around your neighborhood and just ring doorbells.
This is a great activity to do with a group of people. Just put the invitation out there, and I'm sure you'll be surprised by who wants to come with you.
You don't need to know a ton of songs or be fantastic singers to spread love and light by caroling. Just come with a few classic Christmas songs ready to sing, and you're all set.
Christmas Movie Madness
This was a new and fun tradition that my friend Ashley started this year.
We live in North Carolina where basketball is king. Every March, people all over the state fill out their brackets and have fun with their friends trying to guess the winners of each round.
Ashley decided to put a fun spin on it, and created a social media game for all her friends called Christmas Movie Madness.
She basically started a Facebook group for the game and invited everyone she knew.
She then filled out a bracket with Christmas movies, and had all the participants vote on their favorites, creating quite the heated competition.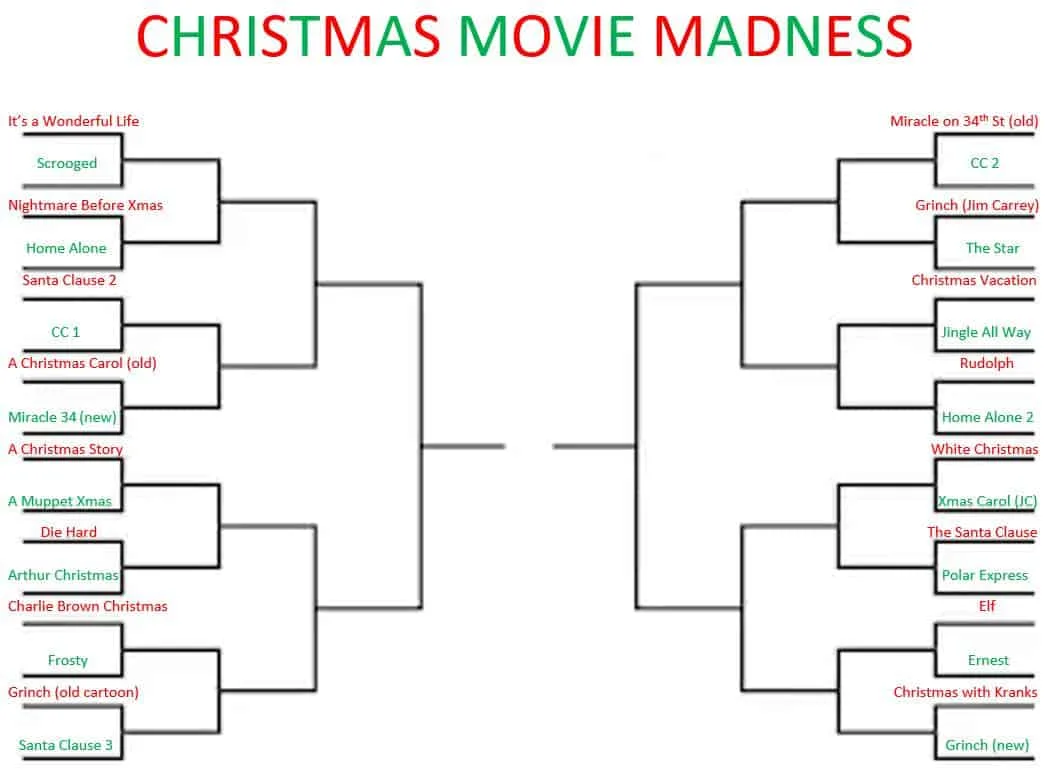 It was super fun to participate, and really started some fun conversations between friends.
Her ultimate winner was Home Alone, but it really could have gone any direction depending on the tastes of those participating.
You could do this online or at a Christmas party, but it was super fun and is definitely something I'll replicate in the future.
Family Christmas Traditions to Start on Christmas Eve
There are tons of Christmas Eve traditions out there, but here are a few of our favorites that we think you'll love.
Read Twas The Night Before Christmas
There's something about this classic poem that brings up all the Christmas feels.
When my sister was little, she misinterpreted the words and wondered why someone was eating a sash since they "threw it up."
No matter what you make of it, this classic Christmas tale is the perfect bedtime story for kids on Christmas Eve.
Candlelight Church Service
Many families make it a tradition to attend a candlelight church service.
There's something wonderful about being in a room full of people singing Christmas Carols by candlelight. It's a wonderful way to remember the reason for the Christmas season, and a wonderful family Christmas tradition.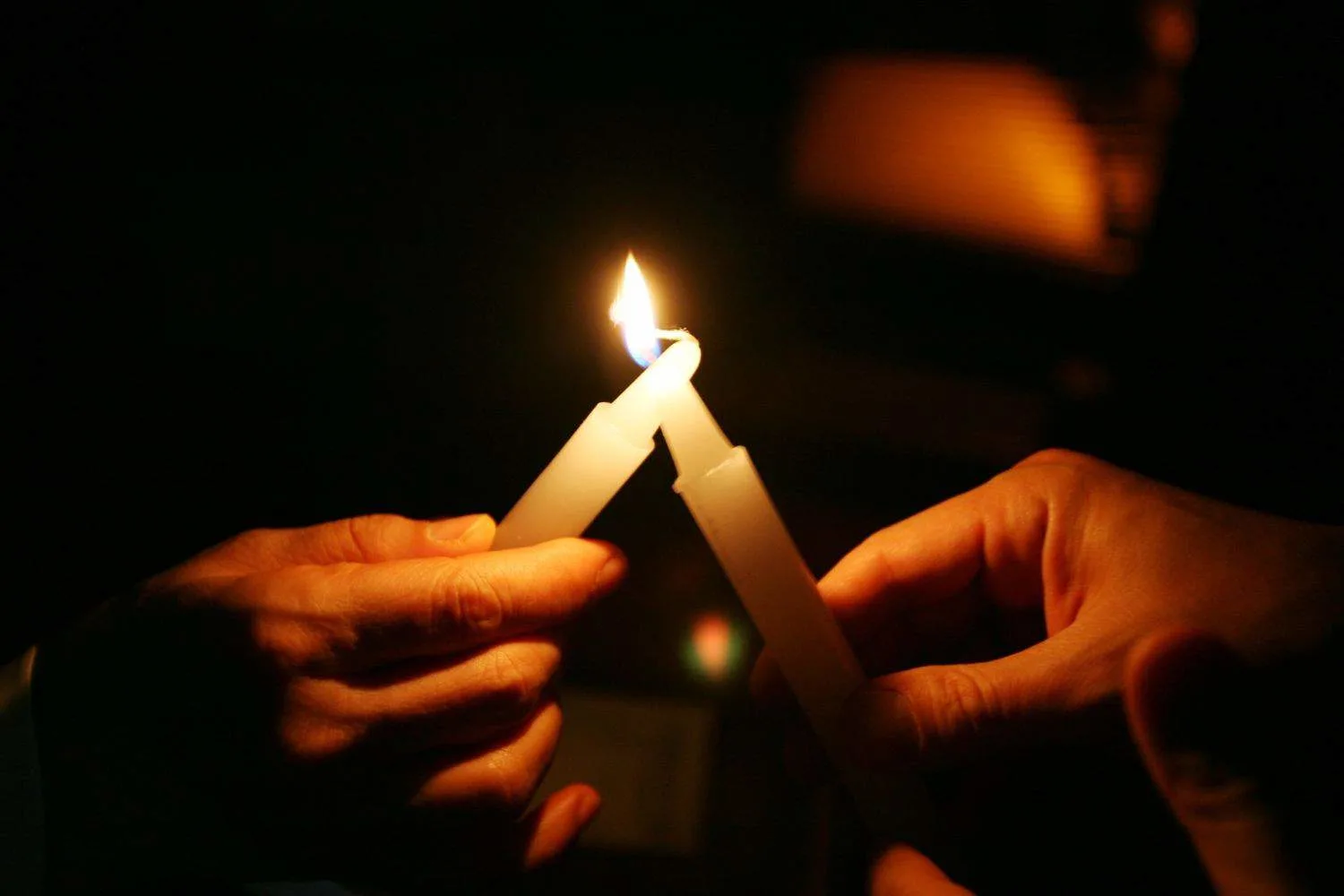 Many churches hold these services at midnight, but if you aren't wanting to stay up that late, I'm sure you can find one at an earlier time.
Whether or not you're a regular church goer, it shouldn't be hard to find a service in your area.
Christmas Eve PJs
Everyone loves Christmas Jammies!
Every year we give our kids a new set of pajamas on Christmas Eve. It's become a tradition that our kids look forward to every year.
It's not the craziest or most complicated thing on this list, but it's a family Christmas tradition that we treasure and continue doing every year.
Have a special Christmas Eve meal
Lots of families celebrate Christmas Eve with a special meal. It doesn't have to be fancy or even homemade, as long as it's tradition for your family.
My friend Jeff's family makes homemade pizza every Christmas Eve.
My friend Amanda and her crew go out for Chinese food every year.
We always cook a big ham and have a traditional Christmas meal on Christmas Eve.
It doesn't matter what you eat, just having some sort of food tradition on Christmas Eve is always a good bet for family memories.
Read the Christmas Story from the bible.
This is something my family has done as long as I can remember.
When I was little, my grandmother always used to read it to us. Now my dad always asks his grandchildren to each read a portion.
Since Christmas is meant to celebrate the birth of Christ, this tradition is very meaningful to our family.
Family Christmas Traditions for Christmas Day
You've spent so much time working up to the big day, it's great to have some Christmas Day traditions as well!
Thrift Store Gift Exchange
This is a great Christmas tradition for adults.
Challenge each other to only purchase Christmas gifts from thrift stores.
From the funny to the wonderful, the fun is in the hunt for the perfect recycled gift!
Christmas Selfie
My friend Jessica recommended this Christmas tradition.
She and her husband always spend Christmas morning just the two of them, but they always take a Christmas selfie among all the wrapping paper gift opening mele left behind after the big morning.
I think this is a wonderful way to remember each Christmas together!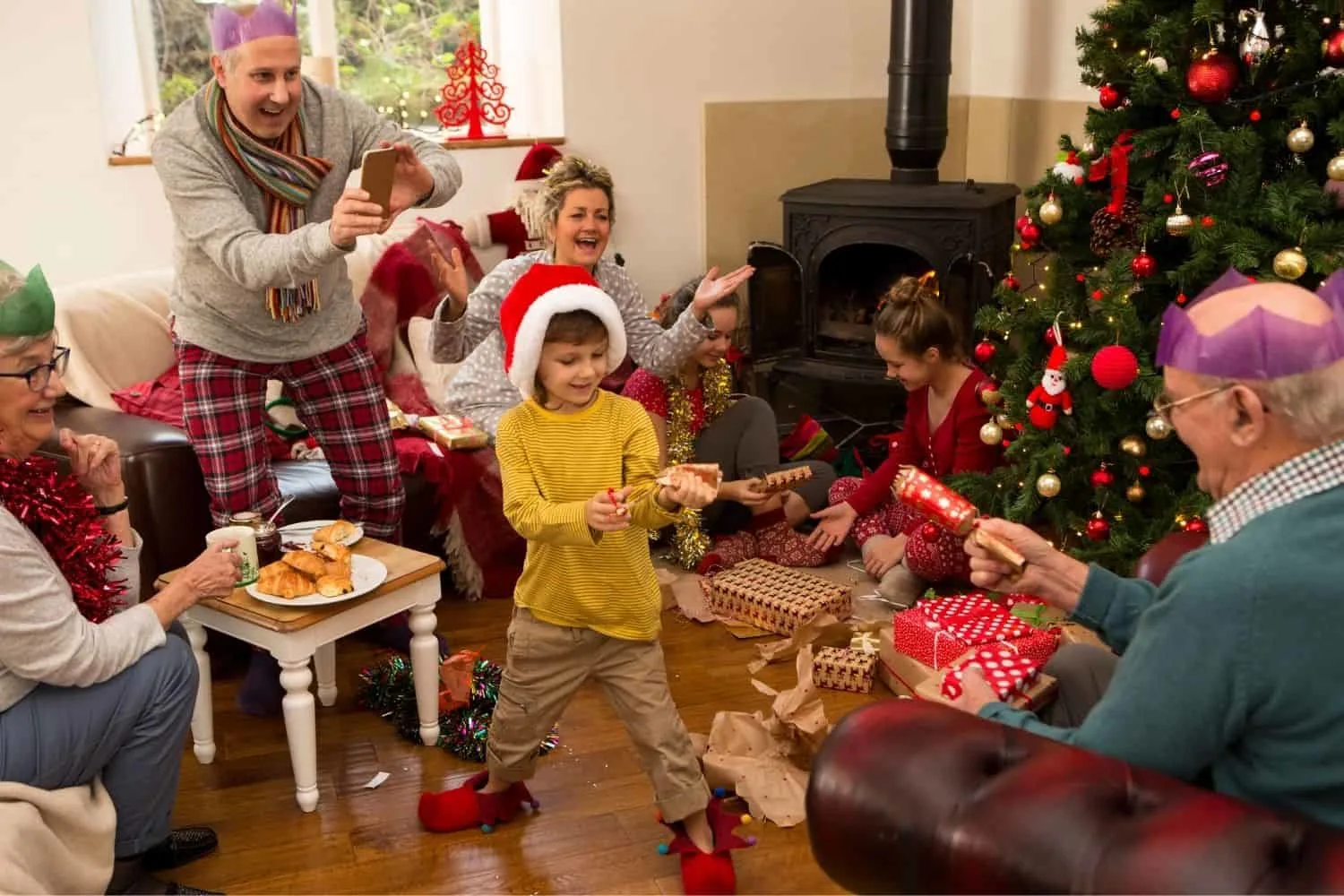 Take turns opening gifts
Instead of Christmas present chaos, our family always takes turns opening gifts.
This prolongs the Christmas gift opening fun, and gives everyone a chance to say thank you to the gift giver!
The kids usually take turns serving as "Santa," handing out each gift one at a time to the recipients.
This has proven to be a fun way to make Christmas morning last a little longer.
Family Christmas Traditions for After Christmas
Traditions don't have to end at midnight on the 25th! Check out these after Christmas traditions!
Leftover Dinner on Boxing Day with Friends
For several years, we've reserved December 26th as a day we spend with friends.
We all come together to compare what we've received that year. We always bring the leftovers from our Christmas dinners to share with each other.
In fact, we use this as another excuse to make the Thanksgiving Leftover Egg Roll Recipe that we all love so much.
This "after party" of sorts has been a great way to celebrate with friends who are more like family every year.
Day After Christmas Shopping Trip
My friend Ashley told me about her post Christmas family tradition.
Her family always makes a big post-Christmas shopping trip to hit up all the sales on December 26th.
They stock up on Christmas decorations and fun gifts for the next year.
It sounds like a great way to celebrate together even after the holiday.
Clean Out and Donate
Another post-Christmas tradition we started doing in the week after Christmas is to clean out the old things we don't want anymore and donate them to a charity thrift store.
Now that my kids have new toys from the Christmas holiday, it's easy to get them to let go of the old ones they don't play with anymore.
We've done this for year, and it always makes starting out the New Year so much easier with some of "stuff" out of the way.
What are your family Christmas traditions? Share them with me in the comments!
Family Christmas Traditions You Can Start This Year!