In today's post, I'm giving you my Christmas Lights Scavenger Hunt printable for FREE!
Nothing says "It's the Holidays" quite like Christmas lights displays.
My family and I absolutely love them.
Whether they're tiny or elaborate, any Christmas lights fill me with joy. That's why we put up thousands of lights on our own house every year.
Recently, my friend Becky shared with my their family tradition of having a Christmas Lights Scavenger Hunt!
I loved the idea, so I created my own printable list (available for FREE at the bottom of this post), and I'm super excited to share it with you today.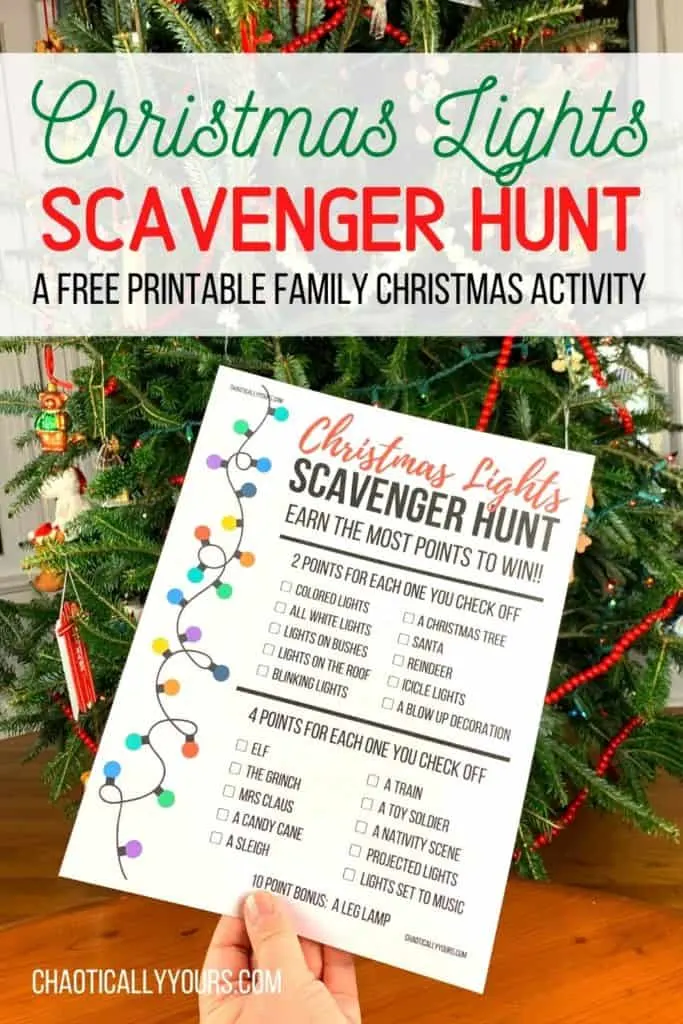 Lots of people include looking at Christmas lights as part of their Christmas Traditions. It's definitely a wonderful one!
Our family loves to go out and find the most elaborate displays in our area, then head home and enjoy some Hot Chocolate Bombs and a Christmas movie.
In years past, we've gone to the big displays you need tickets to and to the small local displays that people put up just out of the love of Christmas.
This year we plan to use my Christmas Lights Scavenger Hunt list to make the tradition a little more competitive. I have no doubt it will be a TON of fun!
What Is A Christmas Lights Scavenger Hunt?
A Christmas Lights Scavenger Hunt is exactly what it sounds like.
It's a scavenger hunt where you look for specific Christmas decorations! It's that simple.
I've created a list of both common and uncommon things for you to look for. You earn points for each item you find.
The person with the most points at the end of the night wins!
Where Should You Do A Christmas Lights Scavenger Hunt?
You can do this activity just about anywhere that has Christmas lights.
It can be done at an elaborate light display or just around your local neighborhood. You can complete it on a walk or from your car.
That's the beauty of it!
It's a fun Christmas activity for the whole family that doesn't take a lot of effort to put together.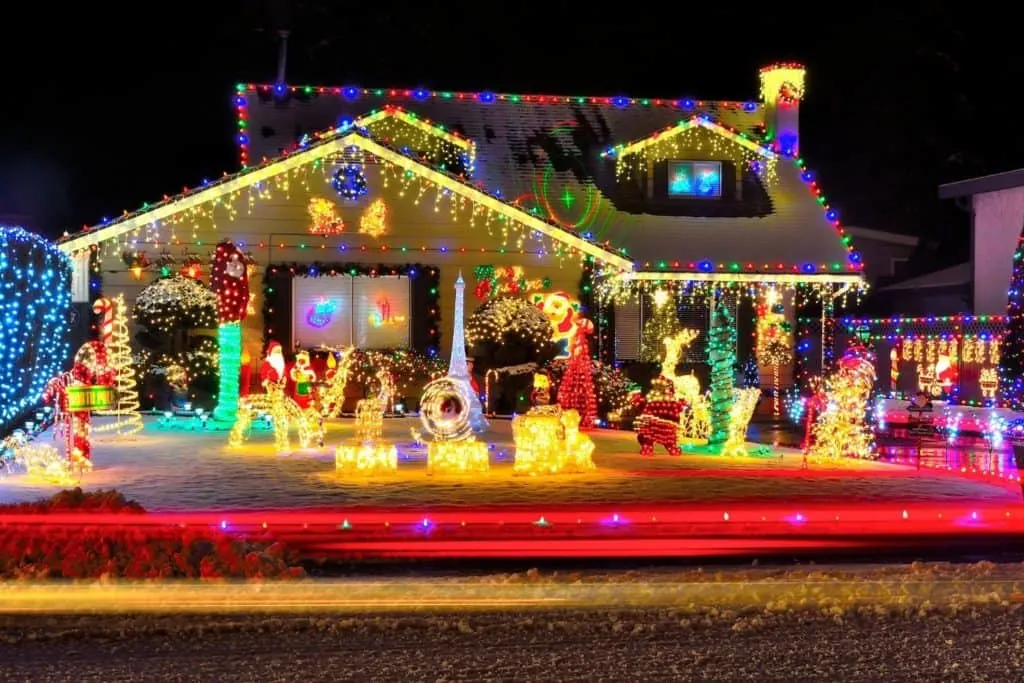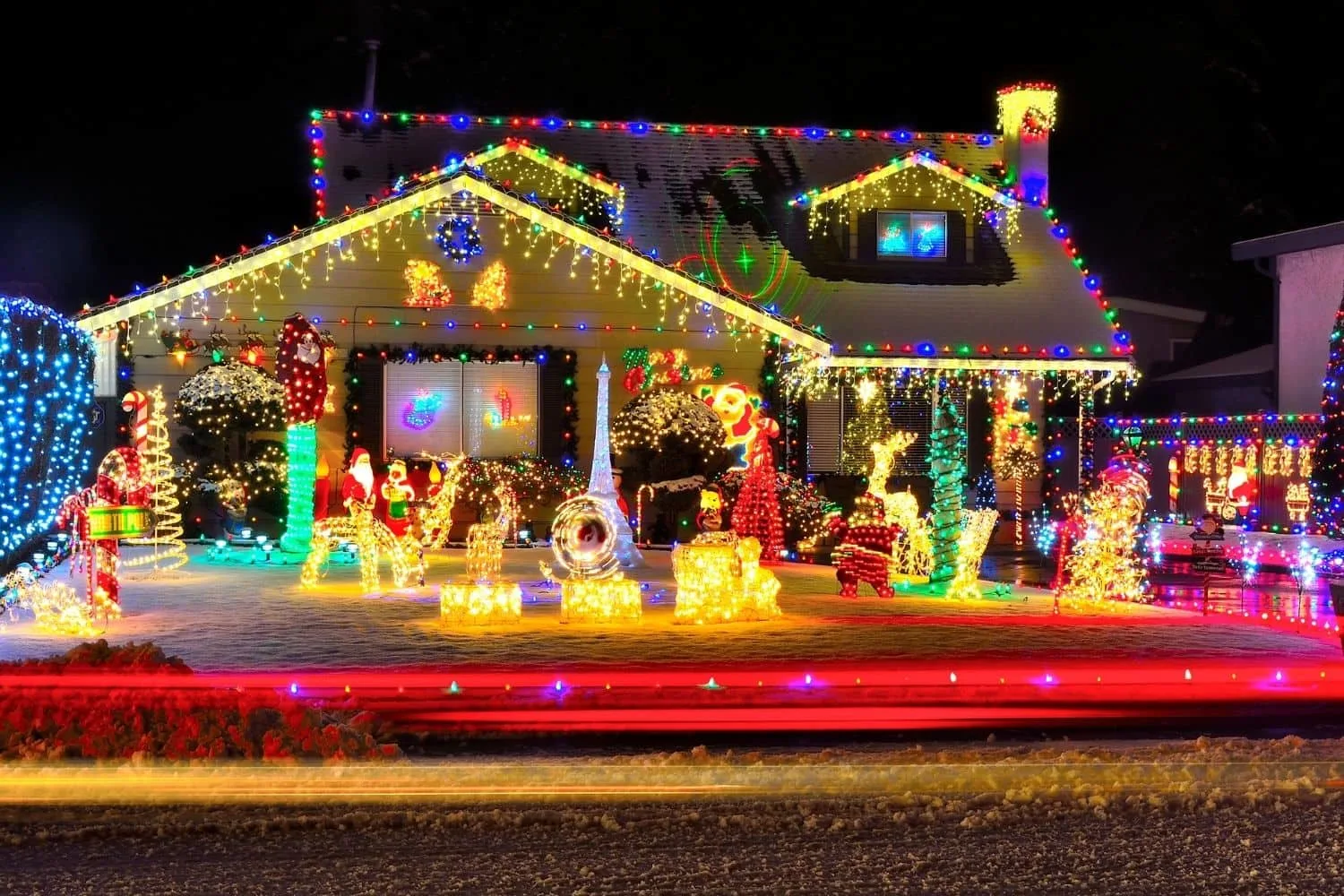 Who Should Do The Scavenger Hunt?
I've made the printable worksheet pretty easy to follow. I'd say any child that can read can complete the worksheet.
And if they're too young to read, they can complete it with the help of an adult or older child.
A Christmas Lights Scavenger Hunt is also a fun activity for groups!
It would make a great theme for a Christmas party. Do a neighborhood walk with your worksheet and see who gets the most points!
You could score them as individuals or as a team. It would definitely be loads of fun.
Having a Christmas Lights Scavenger Hunt would also make a fantastic date night. Grab so hot cocoa and your significant other and find all the items on the worksheet together!
You could even hold a long distance scavenger hunt and discuss what you find over FaceTime or Zoom if you aren't able to be together with your friends and family in person this year.
This is also an activity that your Elf on the Shelf could deliver to your kids! I'm sure they'd be extra excited if your Elf showed up with this all printed out one morning.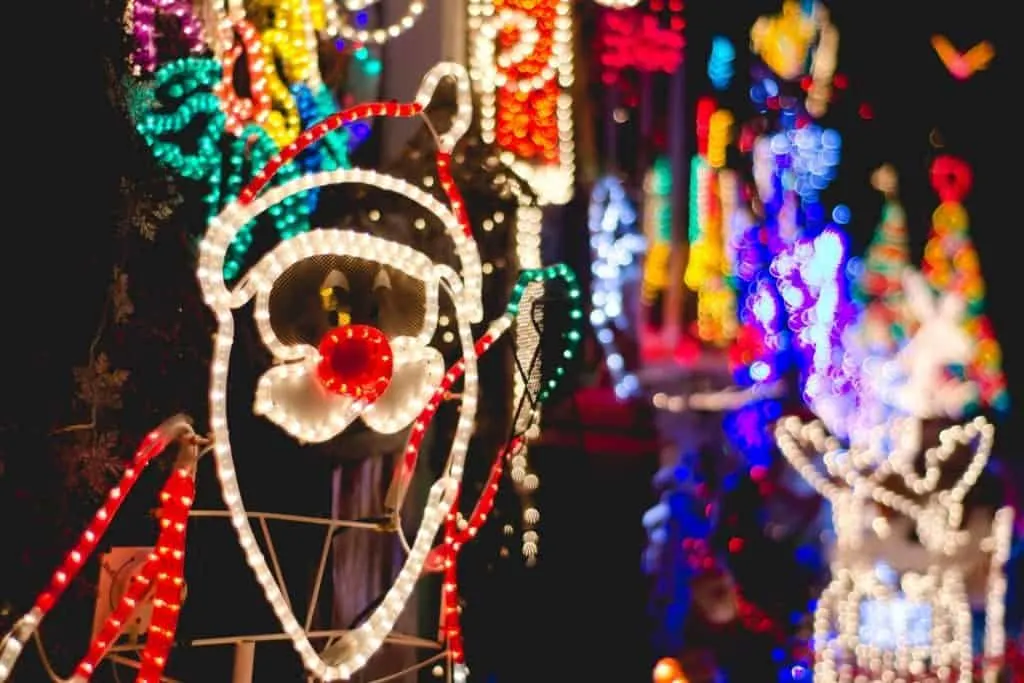 What's on the Printable Worksheet?
The printable worksheet has two sections. One has common items worth just two points each and the other has more uncommon items worth four points each.
There's also a bonus item worth a whopping 10 points!
Some of the common items include:
lights on bushes
all white lights
Santa
Reindeer
Some of the uncommon items include:
Mrs Claus
Projection Lights
Elf
A Candy Cane
And the 10 point bonus item is a throwback to the classic movie A Christmas Story.
I think it includes something for everyone.
Ways to Step Up Your Scavenger Hunt
If you're doing this activity with teens or young adults, you might want to mix it up a little with a few extra challenges.
Here are some ways you could make your Christmas Lights Scavenger Hunt more interesting:
Require a picture taken of every item they see on the list.
Add challenges as a tie-breaker (i.e. the fastest one to name all the reindeer)
Play in teams and go to different locations
Pick a color and the points only count if the lights display has that color in it
Add extra obscure items to the list for major bonus points (i.e. The Heat Miser or a Palm Tree)
Give a prize to the person with the most points
Those are just a few ways we thought of to change it up a little. I'm sure there are tons more.
The Christmas Lights Scavenger Hunt Printable
Here's your FREE printable Christmas Lights Scavenger Hunt worksheet.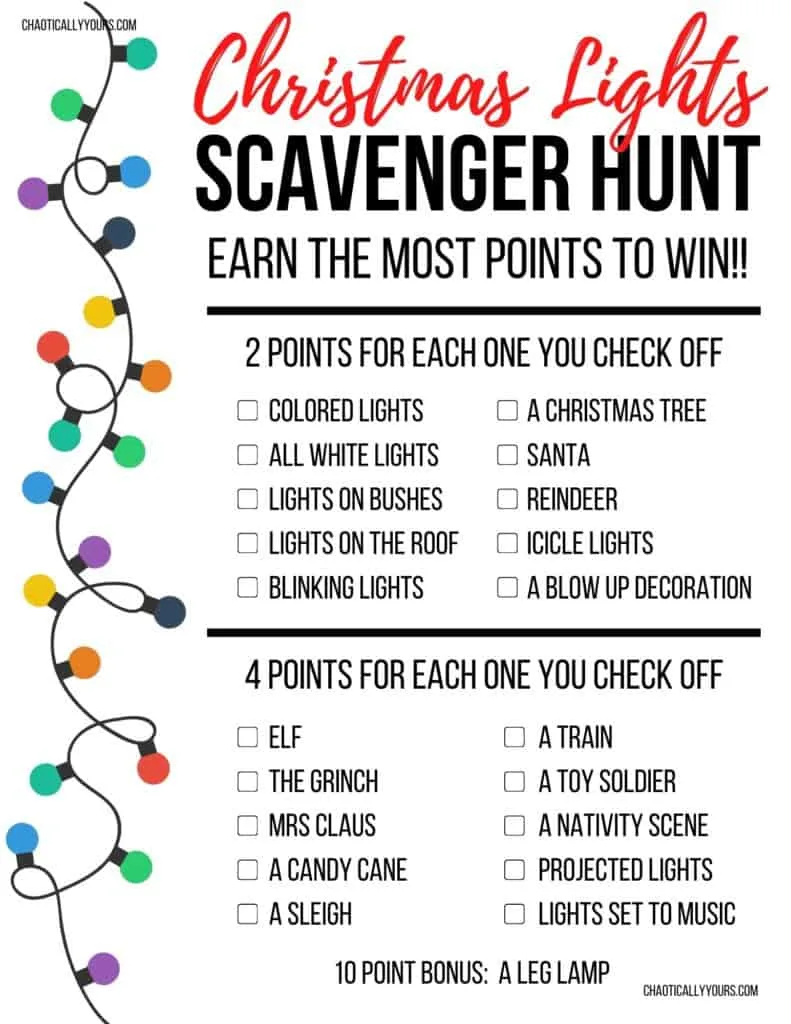 By clicking on the image or the highlighted text above, you should be able open the printable PDF file of the image.
I hope you enjoy having your own Christmas Lights Scavenger Hunt as much as we did! You'll want to make this a Christmas tradition you continue year after year.
Christmas Lights Scavenger Hunt (FREE Worksheet)