Of all the things I cook, Thanksgiving egg rolls is probably the recipe I get asked about the most.
About seven years ago, I started taking the highlights from our Thanksgiving meal and stuffing them into an egg roll wrapper.
It was game changing, and Thanksgiving leftover egg rolls have now become a family tradition.
Every year on the Friday after Thanksgiving, we use those scrumptious leftovers to make these tasty morsels, and then nosh on them for several days afterwards.
I've even started cooking a bigger turkey and making extra sides so we can have PLENTY of ingredients to make Thanksgiving egg rolls.
My kids get more excited about what we're eating the day after Thanksgiving than the food we eat on Thanksgiving day!
And today, I'm gonna post it to the blog so you can enjoy this tradition with your family (and so I can stop writing this recipe out for people who ask about it.)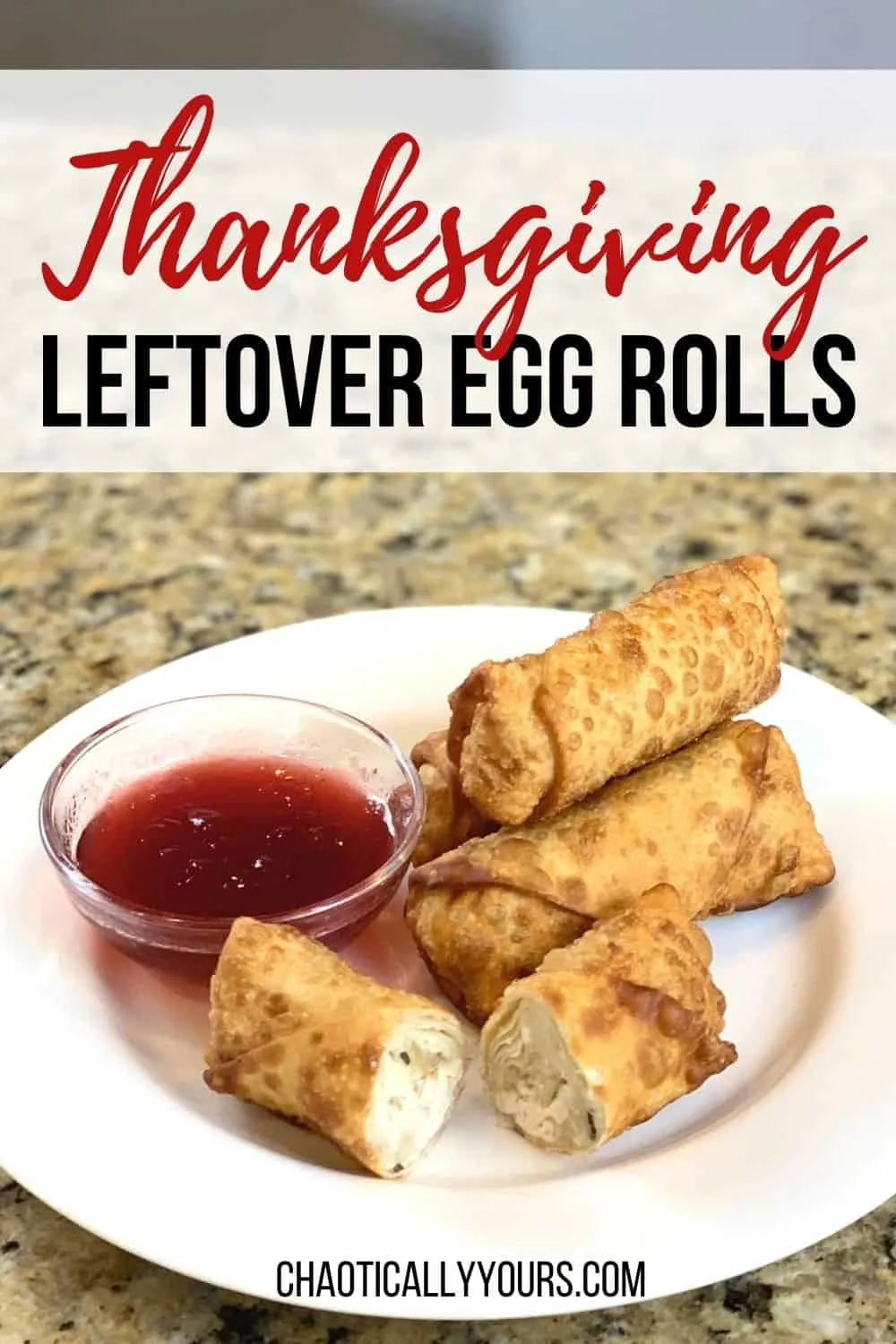 What You'll Need
The ingredients for this recipe are pretty simple.
You can make the basic recipe, and then jazz it up any way you like.
Here's what you'll want to gather up for the Thanksgiving egg rolls themselves:
Leftover turkey, chopped
Leftover stuffing
Leftover mashed potatoes
Egg roll wrappers
Vegetable oil
Water
Left over veggies (optional)
The only extra thing you really need for this recipe beyond what you probably already have at home are the egg roll wrappers.
I really like the Nasoya brand. They taste great and are readily available at my local grocery store.
You can usually find them in the produce area, near where they sell the tofu.
One thing is for certain though, the cranberry sweet and sour sauce is KEY to this dish! It makes the whole thing come together and really adds that extra zing to make these Thanksgiving leftover egg rolls super delicious.
For the cranberry sweet and sour sauce you'll need:
Jellied cranberry sauce
Apple cider vinegar
Sugar
We always serve "cranberry sauce in the shape of a can" at our Thanksgiving dinners.
My husband LOVES it, but not everyone in our family does. So we always end up with enough left over after the meal for me to make this sauce.
I wouldn't recommend fresh cranberry sauce for this recipe. While delicious in and of itself, you really need the canned type to make this work.
How To Assemble Thanksgiving Egg Rolls
The Filling
This is the fun part and my kids really love helping with this process!
You'll need to mix together equal parts turkey, stuffing, and mashed potatoes in a bowl.
For my video, I used a spatula, but it's actually MUCH easier to just smush it all together with extra clean hands.
For the recipe printable at the bottom, I used one cup each. This usually makes enough filling for me to use up an entire package of egg roll wrappers.
Rolling the Thanksgiving Egg Rolls
After mixing your filling, you'll want to set up a rolling station.
I used my biggest cutting board so I have a nice flat surface.
Then I set a small bowl of water to the side so it's handy when I want to seal up the egg rolls.
Lay out an egg roll wrapper turned sideways, with one of the corners pointing towards you.
Then put a large spoonful of the filling on the corner closest to you.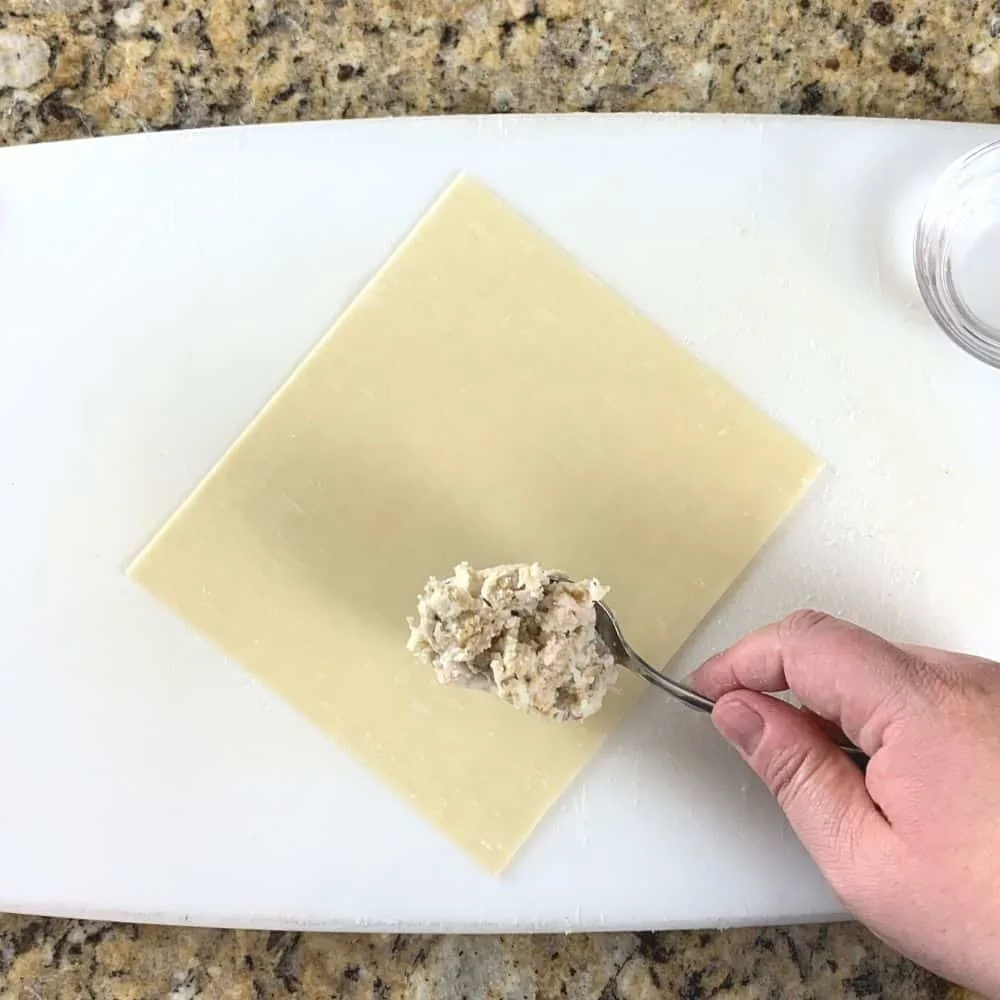 I don't really measure how much I use. I just kinda eyeball it, but I do use a soup spoon to scoop it out. That usually gives me just enough filling for each wrapper.
Next, shape the filling into a nice little roll, so it's evenly distributed.
From here, I take the corner closest to me and lay it over the top of the filling. Then I roll the entire thing once, so that all the filling is covered by the wrapper.
At this point I tuck in the outside corners of the Thanksgiving egg roll.
You'll want to push the sides up a bit before folding the corners inwards, so that all the filling will be encased in the egg roll wrapper.
Fold the sides so that they form a straight line perpendicular to the egg roll, taking care not to tear the wrapper.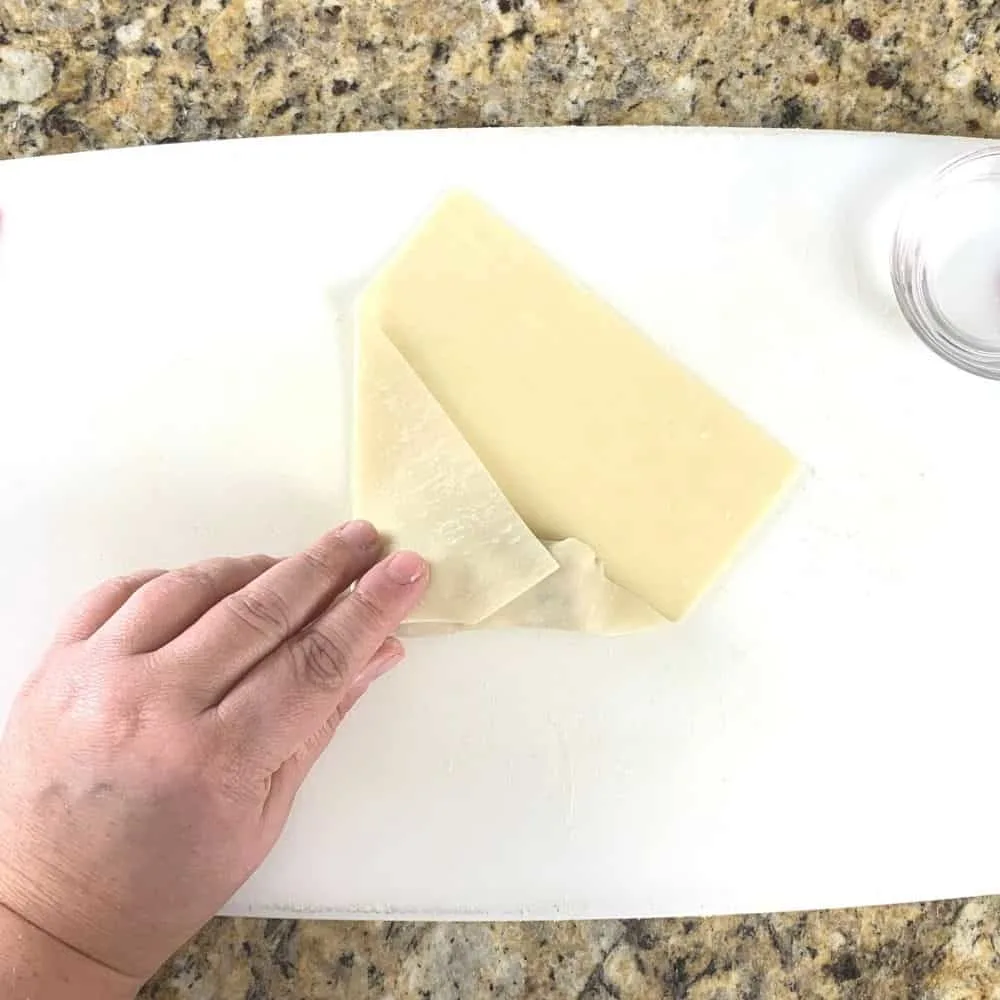 Once you have both corners folded, roll the filling over again, leaving just a small triangle showing.
Use the bowl of water to wet your fingers. Run your wet fingers over the triangle, getting is just damp enough to make it sticky.
Roll the filling the rest of the way over and press lightly on the damp triangle to make it stick to the filling roll.
Now you have a perfectly wrapped Thanksgiving egg roll, ready to be fried.
Filling Variations
My husband always requests that I put in some of the leftover vegetables from our Thanksgiving meal into these egg rolls as well.
His favorite is green beans, but we've added a little bit of corn pudding in the past as well.
These would be super delicious with any combo of veggies that you'd like in them.
You just get all those flavors of Thanksgiving in one bit.
Cooking Your Leftover Egg Rolls
Working with hot oil can be rather dangerous, so be extremely cautious when cooking your egg rolls.
Nobody wants a grease fire in their house!
You'll want to use a large, rather deep pan for the frying portion of this process.
I have used regular frying pans before, but found that it's MUCH easier to use something with some sides.
You'll want to fill your pan with a few cups of oil.
I use canola oil, but you could use regular vegetable oil or peanut oil as well.
I would NOT recommend using olive oil for this because it smokes at high temperatures, and you're gonna need that oil SUPER hot!
Use care NOT to overfill your pan. You need to take into account how much oil will be displaced when you put your Thanksgiving egg rolls in.
If you have too much oil, the pan will overflow and this could cause a grease fire. So be careful and keep this in mind.
Heat your oil on high until its moving around a bit. You can usually see a bit of movement in the pan.
It will take a few minutes to get up to temperature.
The best way to test if your oil is ready is to take a small piece of extra wrapper, and just drop it into the oil.
If the oil bubbles up a TON immediately and the wrapper itself starts to form bubbles, your oil is ready.
If it just kinda sinks to the bottom, and the oil doesn't bubble, it's not hot enough yet.
Be sure to remove the wrapper piece from the oil so it won't burn as you cook up the rest of the Thanksgiving leftover egg rolls.
Now that your oil is nice and hot, you're ready to cook them!
Using tongs, place a few egg rolls into your oil.
Be careful not to overcrowd your pan. They cook up SUPER quickly, so you can easily work in small batches.
The wrappers should start to bubble up and brown almost immediately. Make sure to turn them so they get evenly browned on all sides.
They should only be in the oil for three to five minutes, tops. It really is a quick process.
Lay them out to drain the excess oil on some paper towels.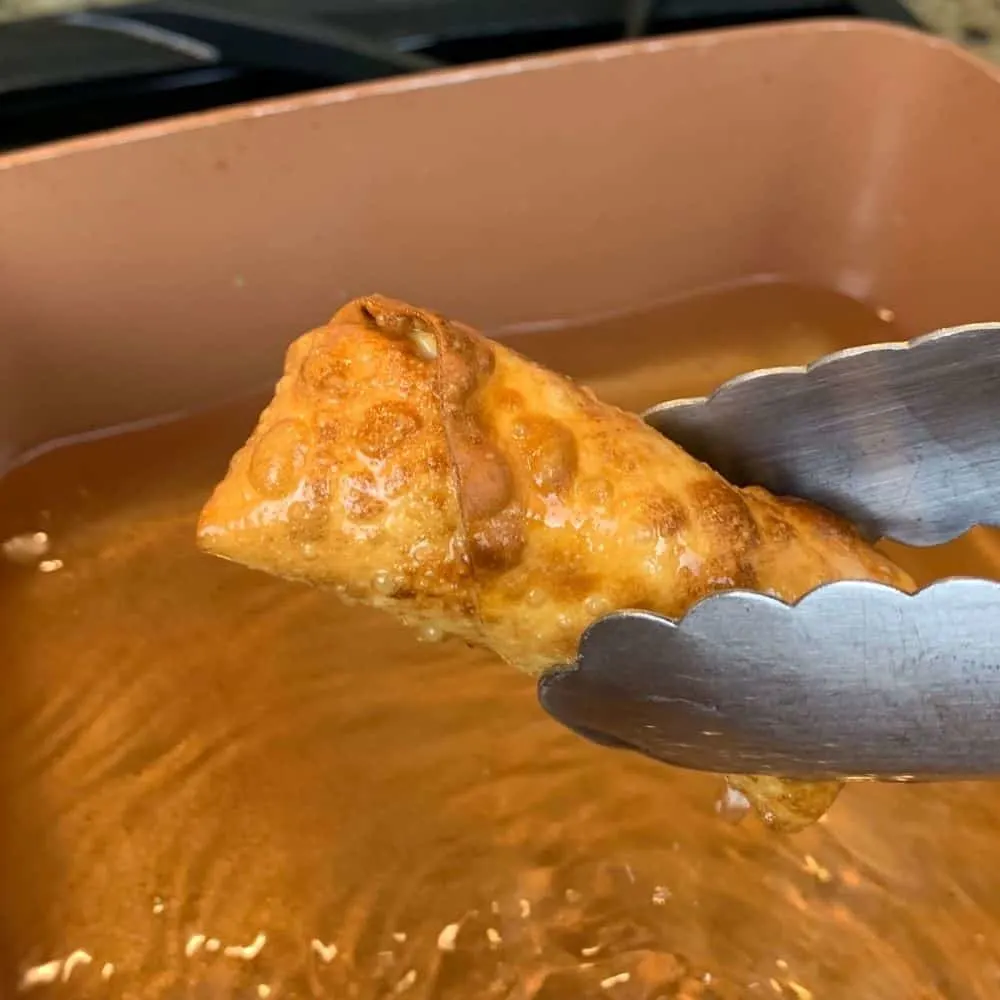 Making the Sauce
As I said before, the cranberry sweet and sour sauce really makes this dish special.
While the rolls are good, the sauce makes them excellent.
And it's ridiculously easy to make.
In a small saucepan, just put in your three ingredients (measurements are in the printable below): jellied cranberry sauce, sugar, and cider vinegar.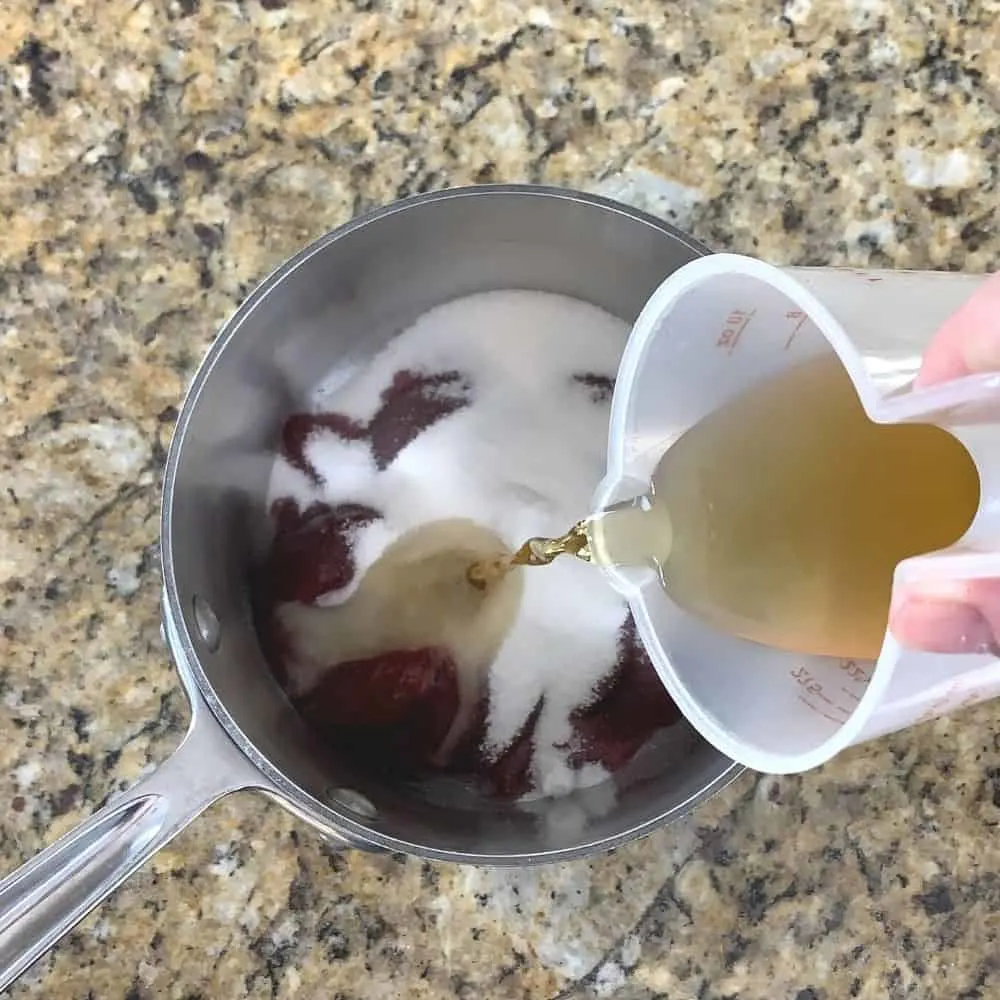 Simply simmer this mixture on medium heat until all the sugar is completely combined and it thickens just a little bit, about seven to ten minutes.
What To Serve With Thanksgiving Egg Rolls
In addition to the cranberry sweet and sour sauce, I love to serve leftover turkey gravy on the side to dip them in.
It's SO good!
I usually alternate between sauces, and sometimes I dip my egg roll in both. It's super delicious!
We've been known to eat these Thanksgiving egg rolls by themselves, but we also heat up some of our favorite leftover sides with them too!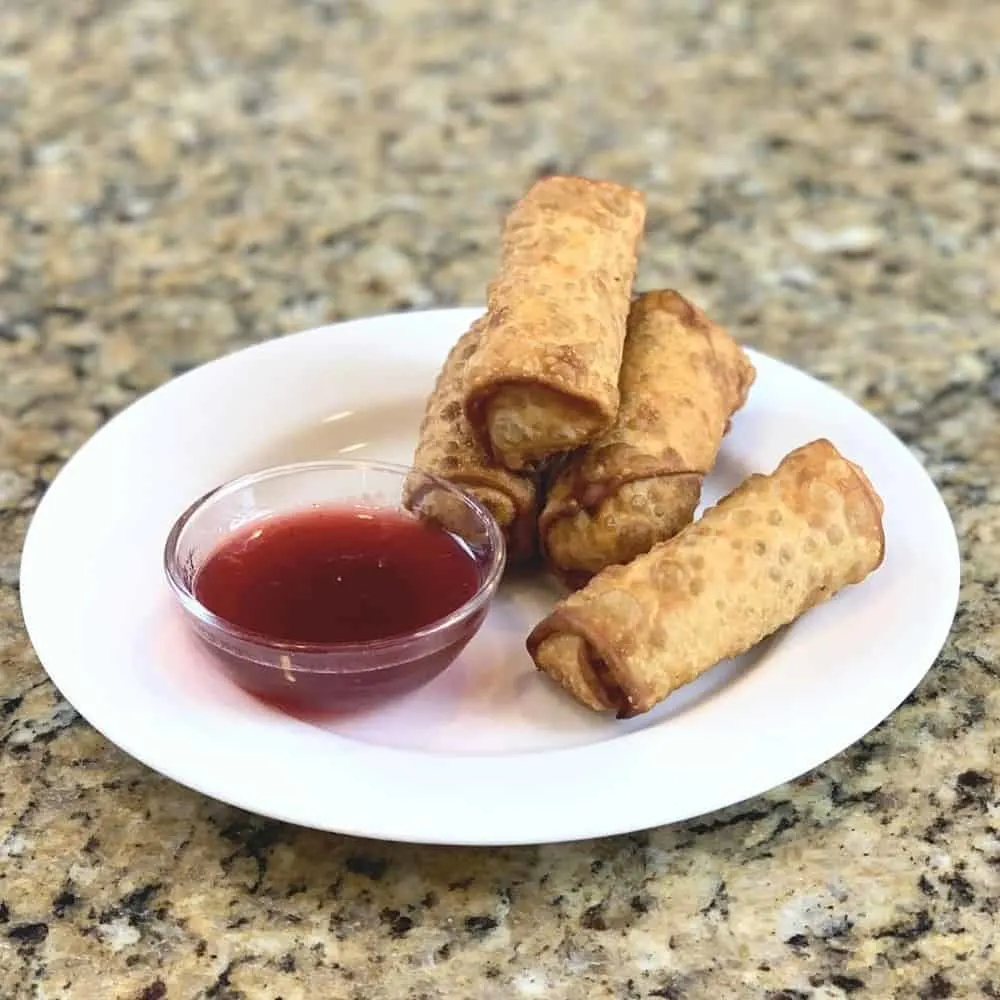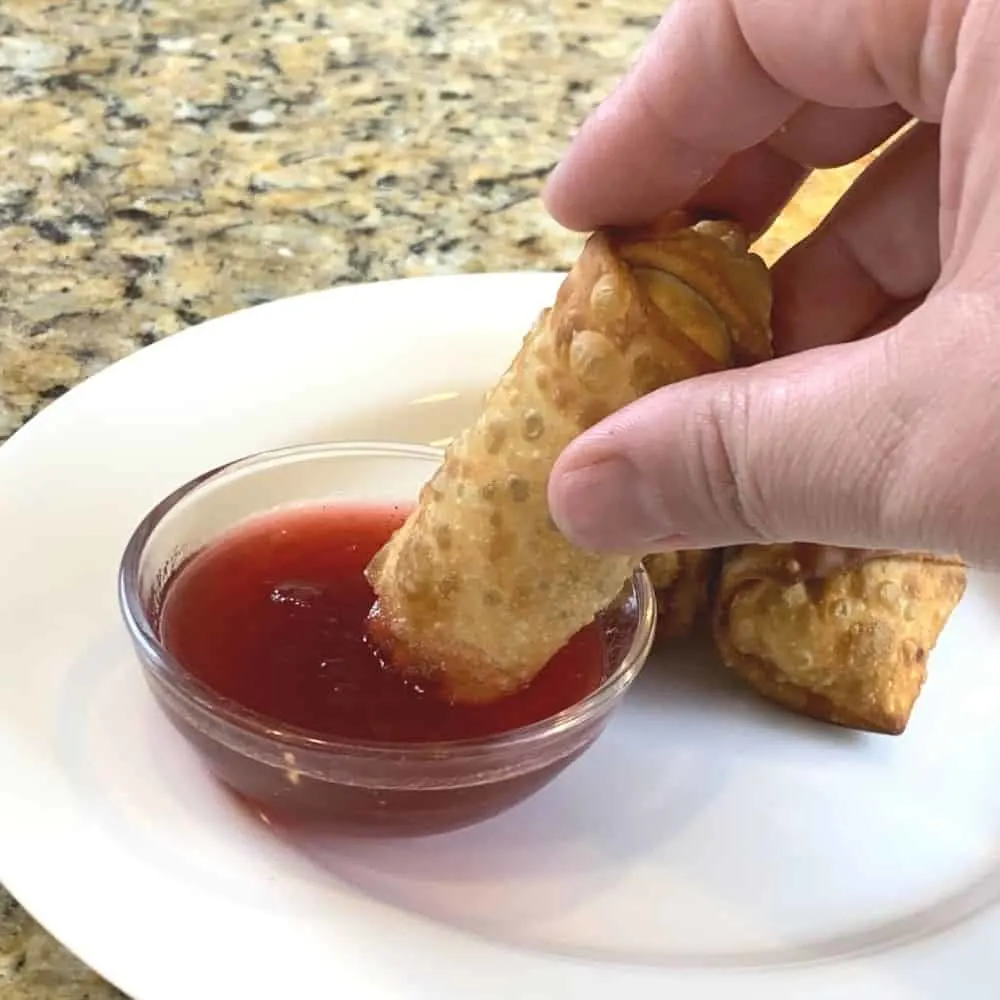 How To Store Your Leftover Leftover Egg Rolls
These egg rolls freeze VERY well!
Once we've had all we can stand of them, we usually have a few left.
I'd hate to throw them away, so I usually put them in to a freezer safe bag, remove as much air from it as I can and throw it in the freezer.
Then, when I want to enjoy them again, we just pop them in the air fryer or the oven for a few minutes and they are just as good as the day we cooked them!
As promised, here are the printable instructions for this recipe:
Yield: About 12 egg rolls
Thanksgiving Egg Rolls with Cranberry Sweet and Sour Sauce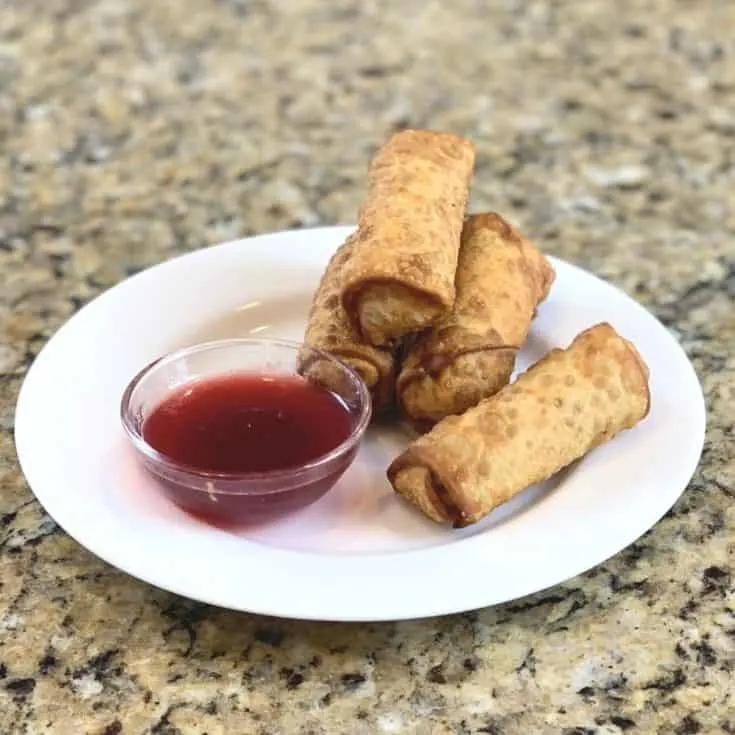 Take your leftover game to a whole new level with these Thanksgiving Egg Rolls!

Prep Time 25 minutes

Cook Time 15 minutes

Additional Time 15 minutes

Total Time 55 minutes
Ingredients
Thanksgiving Egg Rolls:
1 cup leftover turkey, chopped
1 cup leftover stuffing or dressing
1 cup leftover mashed potatoes
12 egg roll wrappers
oil for frying
Cranberry Sweet & Sour Sauce
1 cup jellied cranberry sauce
1/2 cup sugar
1/3 cup apple cider vinegar
Instructions
For the Egg Rolls
Mix turkey, dressing, and mashed potatoes together.
Place a large spoonful onto an egg roll wrapper, roll and seal it.
Repeat until all filling is used.
Heat oil in large, deep pan on high heat to approximately 350 degrees.
Cook 3-4 egg rolls at a time, turning occasionally, until browned all over, approximately 3-5 minutes per batch.
Drain on paper towels.
For the Cranberry Sweet & Sour Sauce
Mix together jellied cranberry sauce, sugar, and cider vinegar in a saucepan.
Cook over medium high heat until simmering, stirring occasionally.
Simmer for 7 to 10 minutes, until all the sugar is melted and the sauce thickens slightly.
Serve warm.
Nutrition Information:
Yield:
12
Serving Size:
1
Amount Per Serving: Calories: 420Total Fat: 13gSaturated Fat: 3gTrans Fat: 1gUnsaturated Fat: 9gCholesterol: 58mgSodium: 615mgCarbohydrates: 61gFiber: 3gSugar: 24gProtein: 14g

Looking for some crafts to make after you enjoy your Thanksgiving Egg Rolls? Check out my Giant 3D Paper Snowflake tutorial or my Snowflake String Art instructions!
Thanksgiving Egg Rolls: The Most Delicious Way To Use Those Leftovers