In today's post, I'm going to share how to make hot chocolate bombs the easy way with this super simple hack!
No candy mold required and they're ready to use in just minutes!
These super cute confections are the most adorable way to serve hot chocolate at the moment.
Hot chocolate bombs (also known as hot cocoa bombs) are everywhere right now!
From TikTok to talk shows, I see them every place I look lately.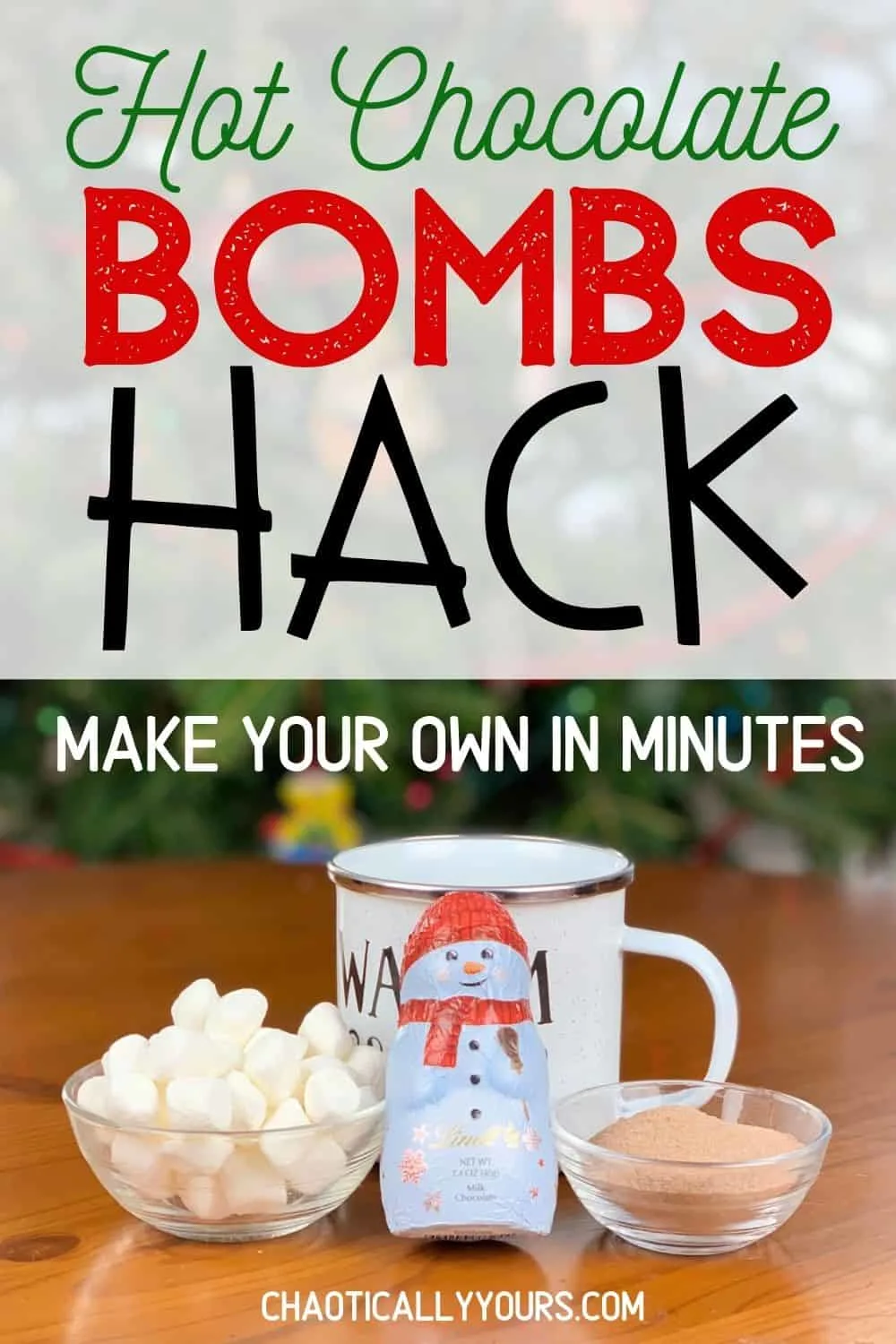 What is a hot chocolate bomb?
A hot chocolate bomb is a molded chocolate ball, filled with hot chocolate mix and marshmallows.
You simply pour hot milk over the top of the ball and watch the chocolate melt away. All the yummy marshmallows and chocolate mix are released into your cup, making a wonderful cup of hot chocolate even more fun!
They're also a super hot gift item this year!
The problem is they're either expensive to buy, hard to find, or super complicated to make.
To make them yourself usually requires lots of specialized molds and tools that most of us just don't happen to have around the house.
I've figured out a super simple way how to make hot chocolate bombs that doesn't require all those supplies and a ton of time.
You can have your hot cocoa bombs and save some money too.
I'm even including a printable recipe to remind you of all the steps necessary to make a hot chocolate bomb.
Just remember, it's always best to read the whole post for all the tips and tricks so you can do this right the first time, and then just use the printable for reference later.
What You'll Need
The supplies for this treat are surprisingly simple! You should be able to find them at your big box retail stores, grocery stores, or even your local drug stores.
Supplies:
Hollow Chocolate Figurines
Hot Chocolate Mix
Mini Marshmallows
Milk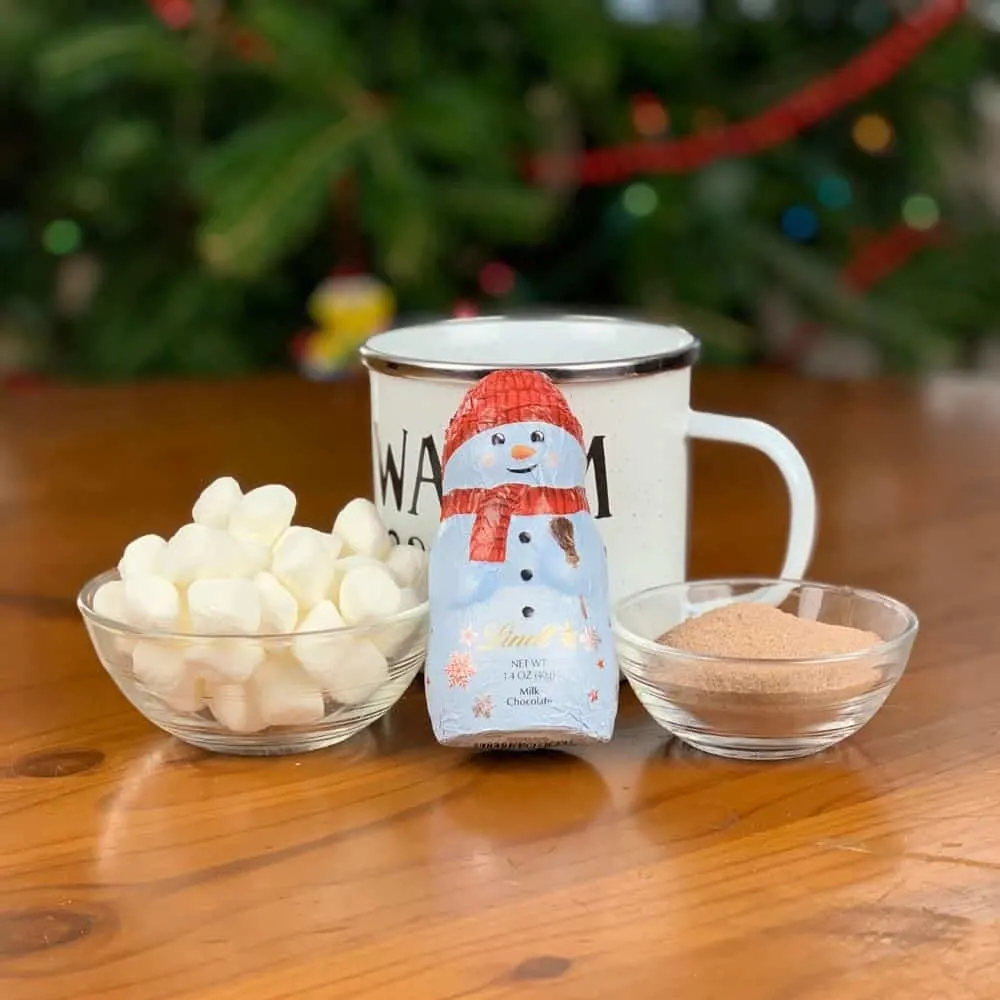 I had originally planned on using Kinder Joy Eggs for this process, but neglected to realize that they're not available in the U.S. in the same form that I've had them in Europe. Whoops!
Thankfully, after complaining to my friends about my DIY fail, my brilliant friend Andrea suggested I try hollow chocolate figurines!
It was basically the same concept I had been thinking of trying, but with even higher quality chocolate available in cute shapes.
You really can use any type of hollow chocolate for this process, even easter bunnies!
I chose to use Lindt snowmen for my hot chocolate bombs, since Andrea also pointed out that watching a snowman dissolve into hot chocolate would be way less traumatic for kids than watching Santa's face melt off.
I found them at my local Target store.
For the hot chocolate mix, we had some good, old fashioned Swiss Miss packets laying around the house, but you could use any type you like.
We used regular mini marshmallows that we keep around in the pantry.
You can use whatever type of milk you have in your fridge for this, even milk alternatives like soy or almond milk.
Assembling Your Hot Cocoa Bombs
This was SO EASY!! Y'all are gonna be shocked at how simple this was!
Opening the figurine
The first thing I needed to do was to open the chocolate figurine up without breaking it. Just sawing into into it with a serrated knife could prove disastrous to the little snowman.
The best solution to this problem was to heat up my knife before using it.
So I boiled some water and filled up a glass jar. I then placed my knife into the hot water soak for a few minutes, which warmed up the blade only.
Then I took my warm knife and carefully cut off the bottom end of the snowman.
I made sure to cut far enough up onto the snowman that i would take the entire bottom portion off, leaving just a small rim around the bottom piece.
You could cut it longways, along the natural seam of the chocolate, but cutting the bottom seemed more efficient to me, and made filling it later quite a bit easier.
Putting in the filling
The next step was to fill my little snowman up with all the hot chocolate ingredients.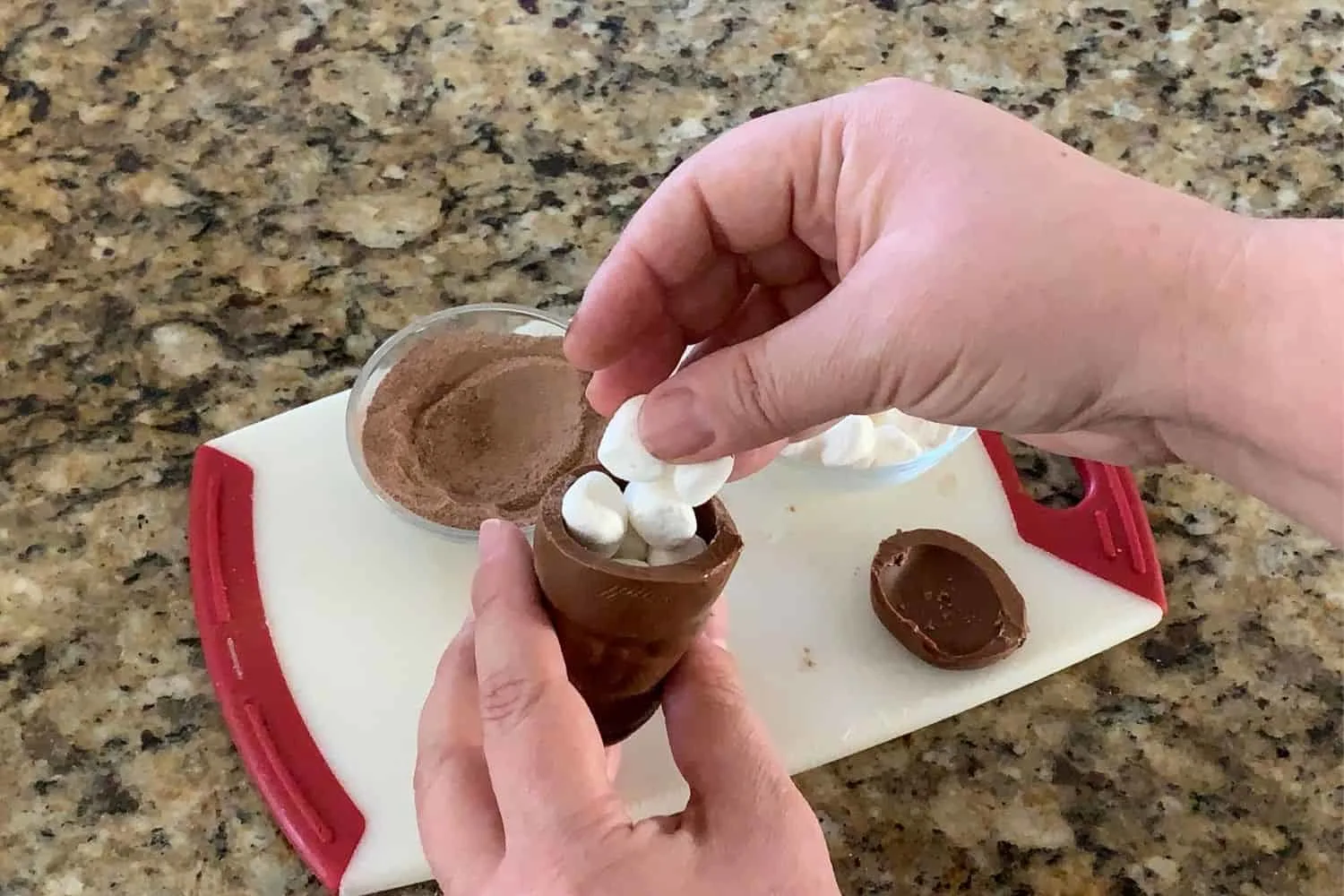 I put about a tablespoon of hot chocolate mix into the snowman first. You don't really need much, and actually could probably make this project without it completely.
But we like REALLY chocolatey hot cocoa, so I added some for flavor.
Then I stuffed as many mini marshmallows as I could fit into the snowman.
I live by the policy you can never have too many marshmallows.
Sealing the chocolate
The final step to making the hot chocolate bomb was to seal the snowman back up.
This seems like the it would be the tricky part, but again it's actually super easy.
I warmed up a small pan on my stove on low heat.
Then I placed the part I cut off of the snowman onto the warm pan, melting just the edges where I'd cut it from the rest of the chocolate.
Working quickly, I reattached the bottom back to the snowman. The edges sealed up quickly as it cooled.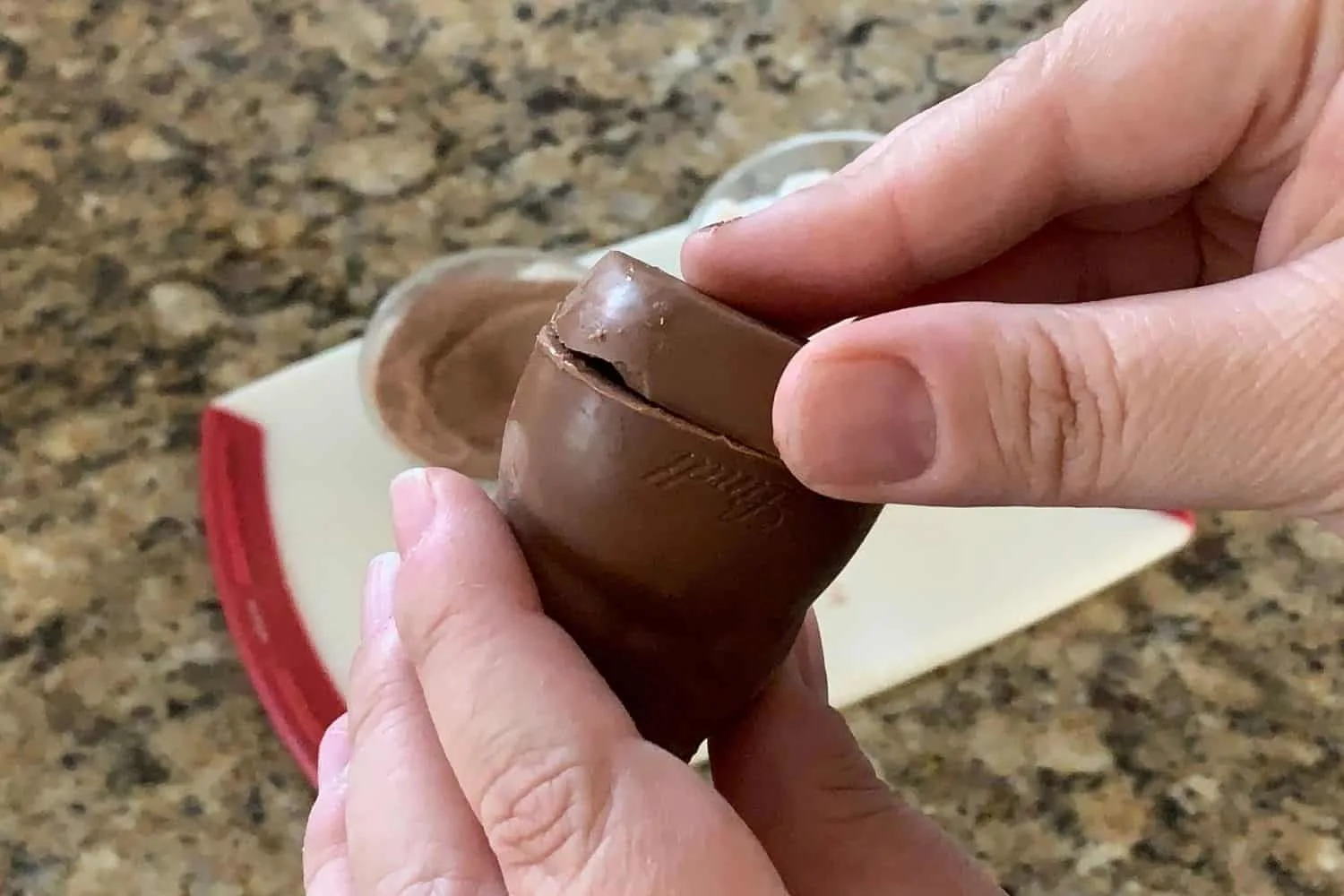 And now my hot chocolate bomb was ready to use!
Serving Your Hot Chocolate Bombs
Now that my hot chocolate bombs were ready to use, it was really simple to serve them.
I placed my hot chocolate bomb into the cup I planned to serve it in.
Then I heated up some milk on the stove to just before it boiling, taking care not to scald it by stirring constantly.
Now that the milk was piping hot, I poured it over the hot cocoa bomb and watched the magic happen.
It was SO satisfying to watch the chocolate slowly melt and see those marshmallows pop out.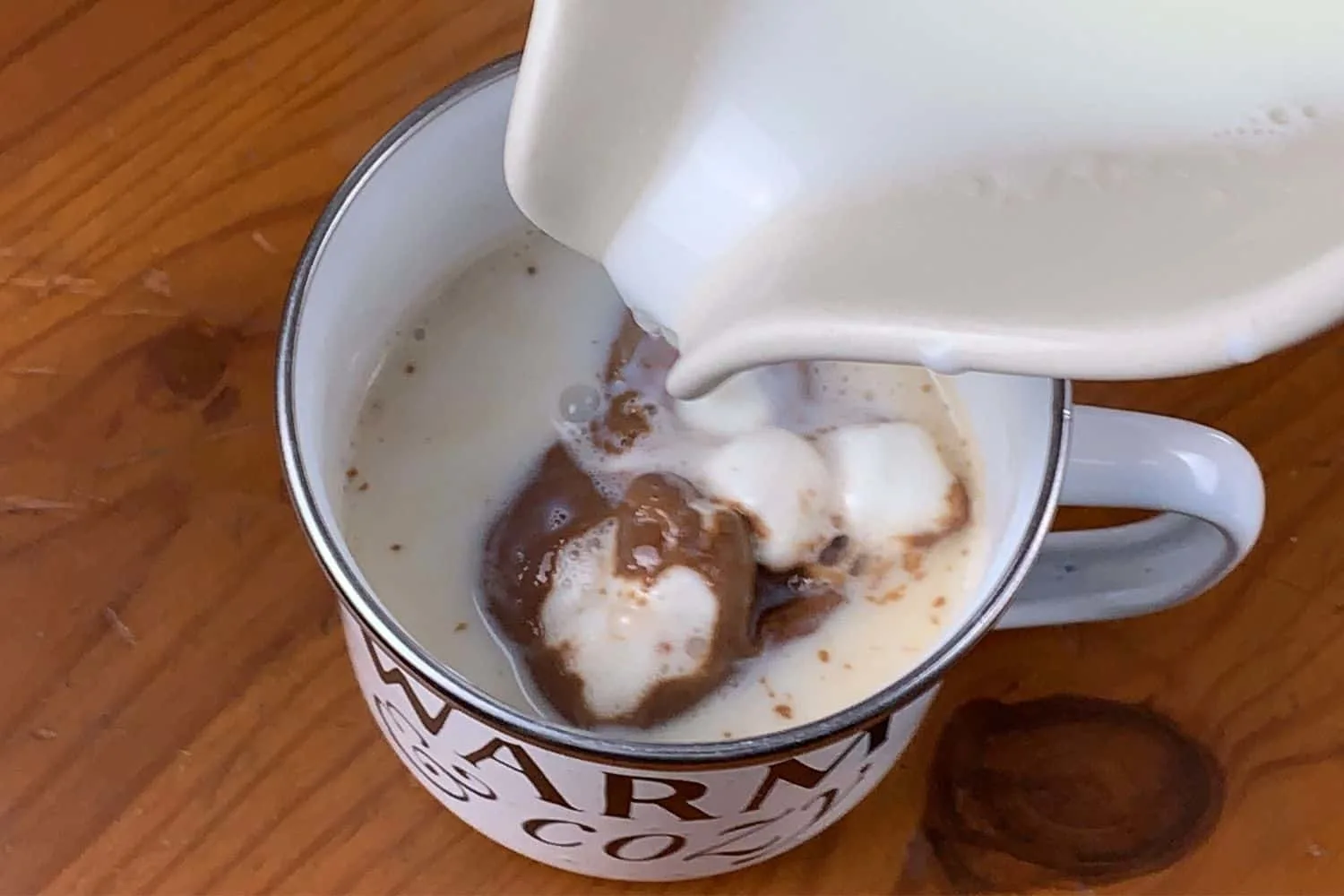 Once I finished the pour, I simply stirred the mixture until it was well blended.
Then I enjoyed my hot chocolate.
I even served them with these Pretzel Turtle Candies, and it was absolutely perfect!
These were so fun to make and would be great for special occasions. They'd also make fantastic gifts!
Being able to skip the chocolate molding steps to this project saved me so much time and headache.
I feel like the results were just as cool without all the hassle.
We'll definitely be doing this project again, and even enjoying it with friends!
Yield: 1 hot chocolate bomb
Hot Chocolate Bombs: The Super Easy Hack To Make Your Own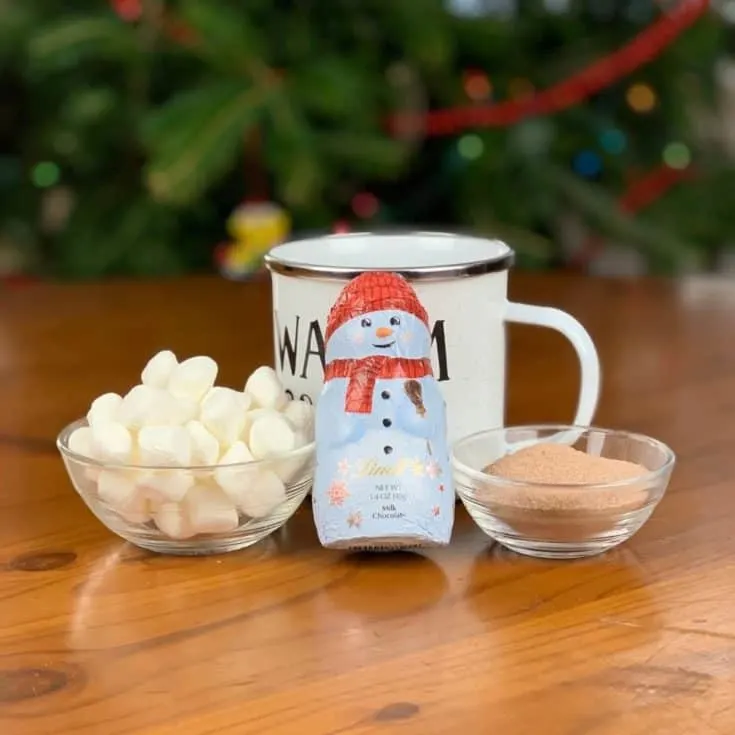 Learn how to make hot chocolate bombs with this fast and easy hack!

Prep Time 10 minutes

Active Time 5 minutes

Total Time 15 minutes

Difficulty Easy

Estimated Cost $2.00
Materials
Hollow Chocolate Figurines
Hot Chocolate Mix
Mini Marshmallows
Milk
Tools
Sharp knife
Boiling Water
Jar or Cup
Cooking Pan
Instructions
Fill a jar with boiling water and place the knife, blade side down, into it, leaving the handle above the waterline.
Let the knife sit for 2 to 3 minutes to warm the blade.
Using the warm knife, cut the bottom end off of your chocolate figurine.
Fill the hollow figurine with about a tablespoon of hot cocoa mix and mini marshmallows.
Warm a pan on the stove over low heat.
Place the bottom piece of your chocolate figurine onto the pan for just a moment or two, melting the edges of the chocolate.
Reattach the end to the figurine, sealing in the marshmallows and cocoa mix.
Let the chocolate cool completely.

Serving
To serve, place your hot chocolate bomb into a mug.
Heat milk on stove until just below boiling, stirring constantly so not to scald the milk.
Carefully and slowly, pour the milk over the hot chocolate bomb and watch it melt to reveal the marshmallows.
Stir the milk until the chocolate is completely dissolved.
Enjoy!
Looking for some other fun holiday projects? Check out this DIY Gnomes tutorial or these 25 Easy DIY Christmas Decorations!
Easy Chocolate Bombs: The Simple Hack To Make Your Own