Just combine pretzels with rolos and add a pecan on top for the easiest chocolate turtle recipe ever!
It never fails.
I wait until the very last second to figure out what to bring to the yearly cookie exchange.
My friends always make these fantastically delicious, yet complicated recipes that I can never aspire to create.
But a few years back, my wonderful aunt shared a recipe for Pretzel Turtles with me that has saved the day on more than one occasion.
It's the simplest and fastest candy recipe I've ever attempted, and I've NEVER had it fail to impress the people I bring it to.
I promise, you're gonna laugh at how simple it is!
I'm including a printable recipe at the bottom of this post, but it's just the basics. You'll want to read the whole post first to get all the tips and tricks to get this recipe right the first time!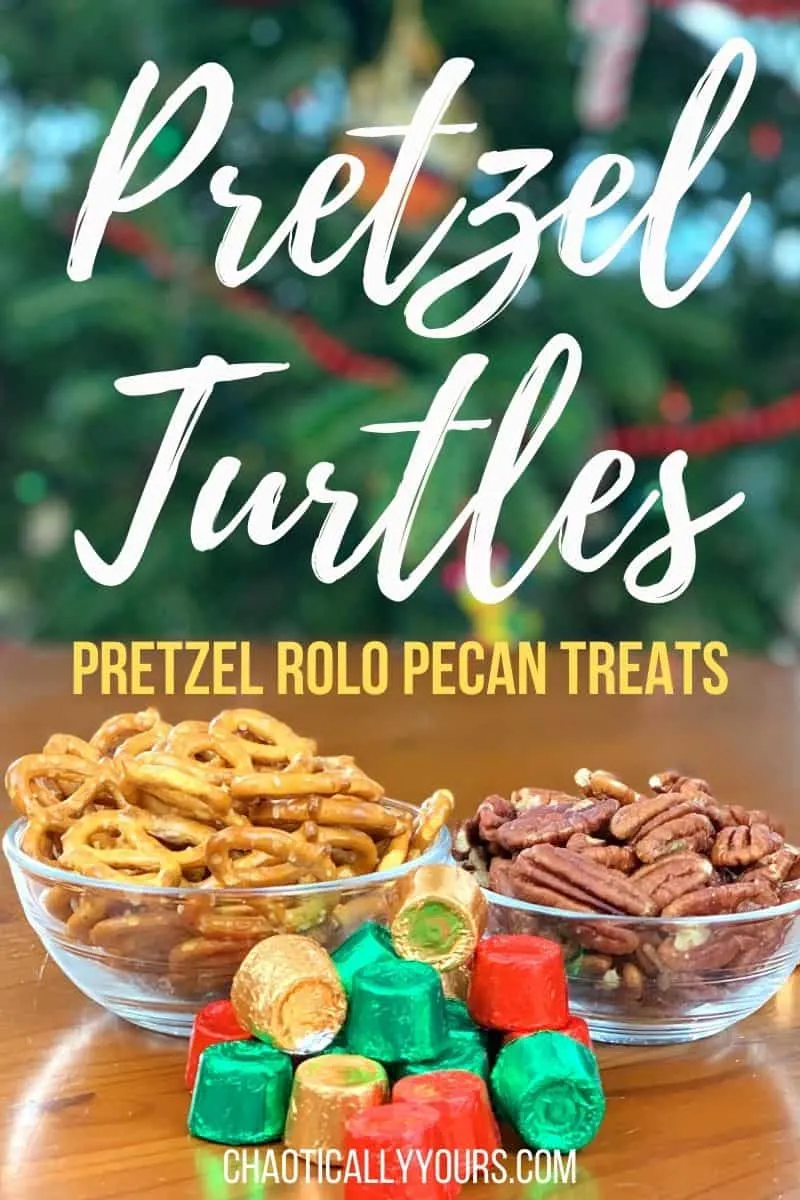 Pretzels with Rolos: Why This Combo Works!
You're probably wondering why this recipe, made with just three ingredients, is so very good.
It's that sweet/salty/nutty combo of the chocolate, the caramel, the pretzel, and the pecan that just hits the spot.
While traditional candy turtles are delicious on their own, there's something about that pretzel element that adds another level of flavor.
Plus, these treats are the perfect bite size, and the just look so pretty when they're done!
There's also a bunch of variations you can make with them.
Don't like pecans? Use a cashew instead!
Have an allergy to tree nuts? Just use plain M&Ms instead!
You can mix these up any way you like!
Serve these with some hot chocolate bombs and you're sure to have a hit on your hands!
What You'll Need
Supplies for making Pretzels with Rolos and Pecans are pretty self explanatory.
And they could not be any easier to find, especially during the holidays.
I was able to get everything I needed in my weekly Aldi grocery order through Instacart.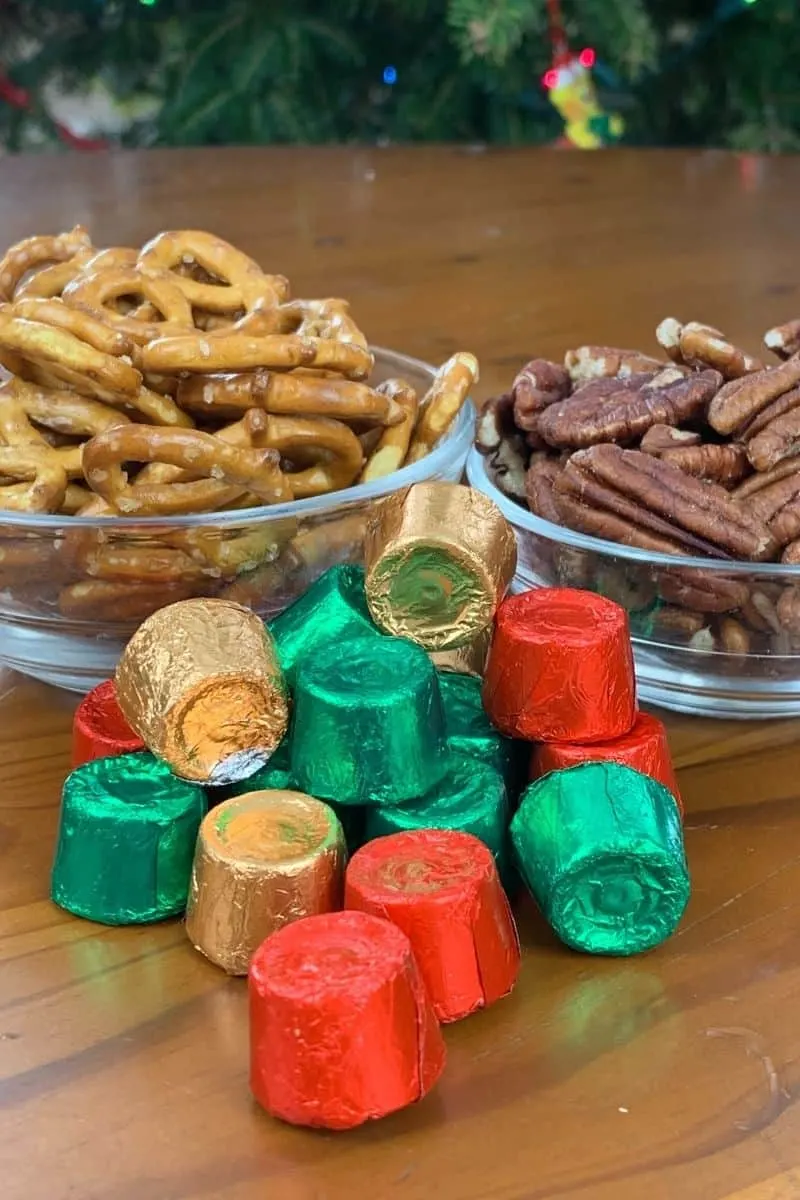 Here's what you should get:
One Bag of Rolo Candies
One Bag of Pretzels
One Bag of Pecan Halves
Rolos are super easy to find in November and December, but you can usually get them during other months too.
I have a particular fondness for Rolos. When I was a kid, my grandmother used to keep them in her purse and sneak them to us in the car. Every time I taste one, I remember her.
For the pretzels, you're going to want the traditional pretzel shape or a square.
Just avoid the pretzel sticks. They're a lot harder to work with for this recipe, and would probably throw off the sweet/salty ratio.
With the pecans, you want to buy the halves. I know they're more expensive, but they're key to the final look of these little bites.
Chopped pecans would be super hard to work with here. Make sure they're unsalted and the type you use for baking, not snacking.
Making Your Pretzel Turtles
To put these little beauties together could not be easier. My kids help me do it all the time.
First you'll want to set your oven to 350 degrees and prepare your baking sheet.
I always use a layer of parchment paper and just a light coating of cooking spray, just to make clean up easier.
Next, unwrap all your Rolos and put them in a bowl. I like to get a count of how many Rolos I have, so I know how many of these I can make.
You'll also want to go ahead and open up your pecans so they are ready to go as soon as you need them.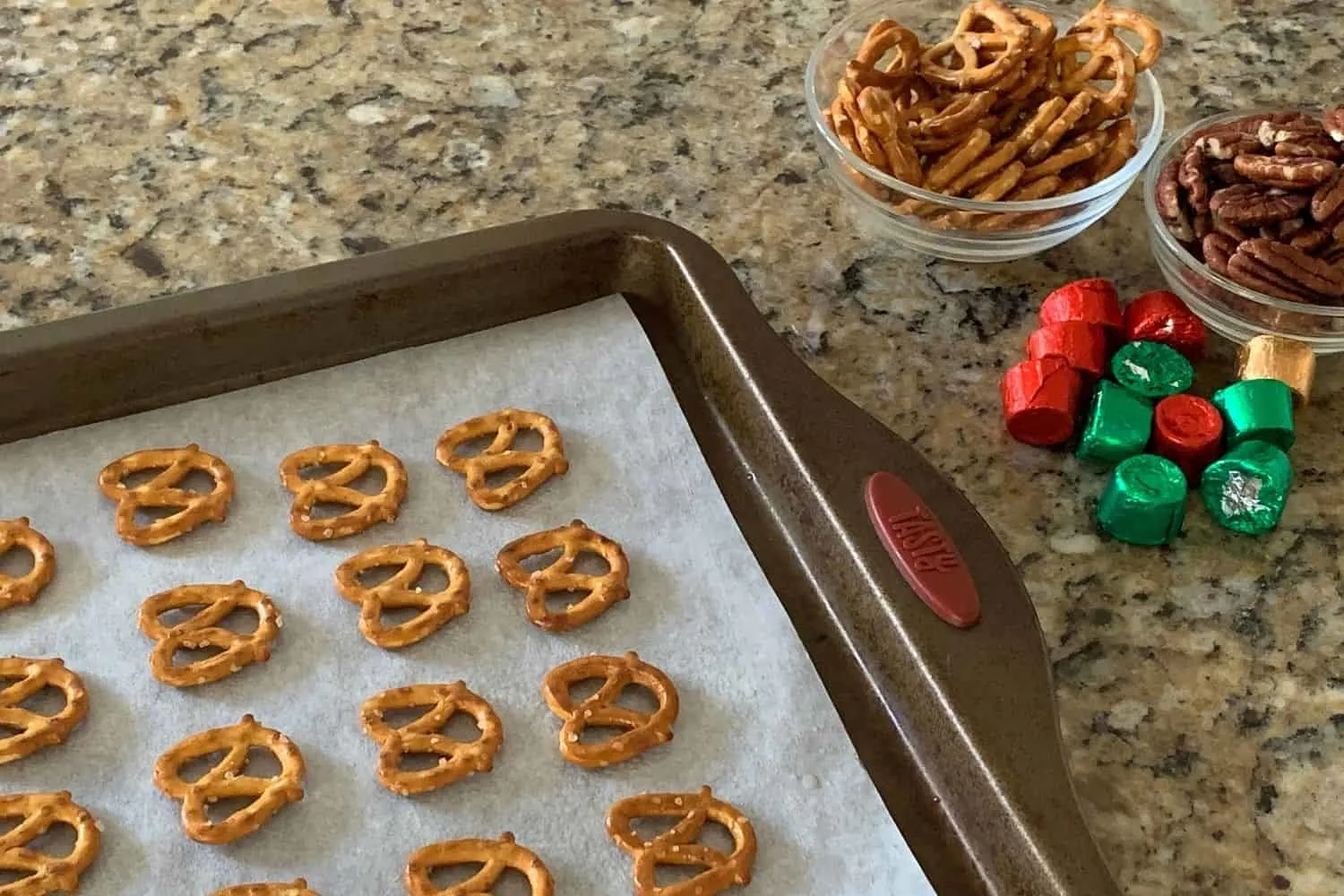 Now you need to take your pretzels and arrange them on your cookie sheet in an orderly fashion.
I mean, I guess they could be all willy nilly on there, but I like to pretend I'm making something complicated when I make this recipe, so I like them all up.
Next, top each of your pretzels with rolos until you've run out of candy or filled up the pan.
Now just pop them in the oven for three minutes.
That's right.
I said just three minutes.
Don't leave the kitchen. Don't make a cup of coffee. Don't start another project.
You just want to soften the candy enough so it will give easily. You DO NOT want to melt it completely.
This is literally the only tricky step to this process. Don't overcook them!
Immediately after your three minutes is up, snatch these bad boys out of the oven and place them on your counter.
Without waiting AT ALL for these to cool down, place a single pecan half on top of each Rolo candy, pressing down just a little bit.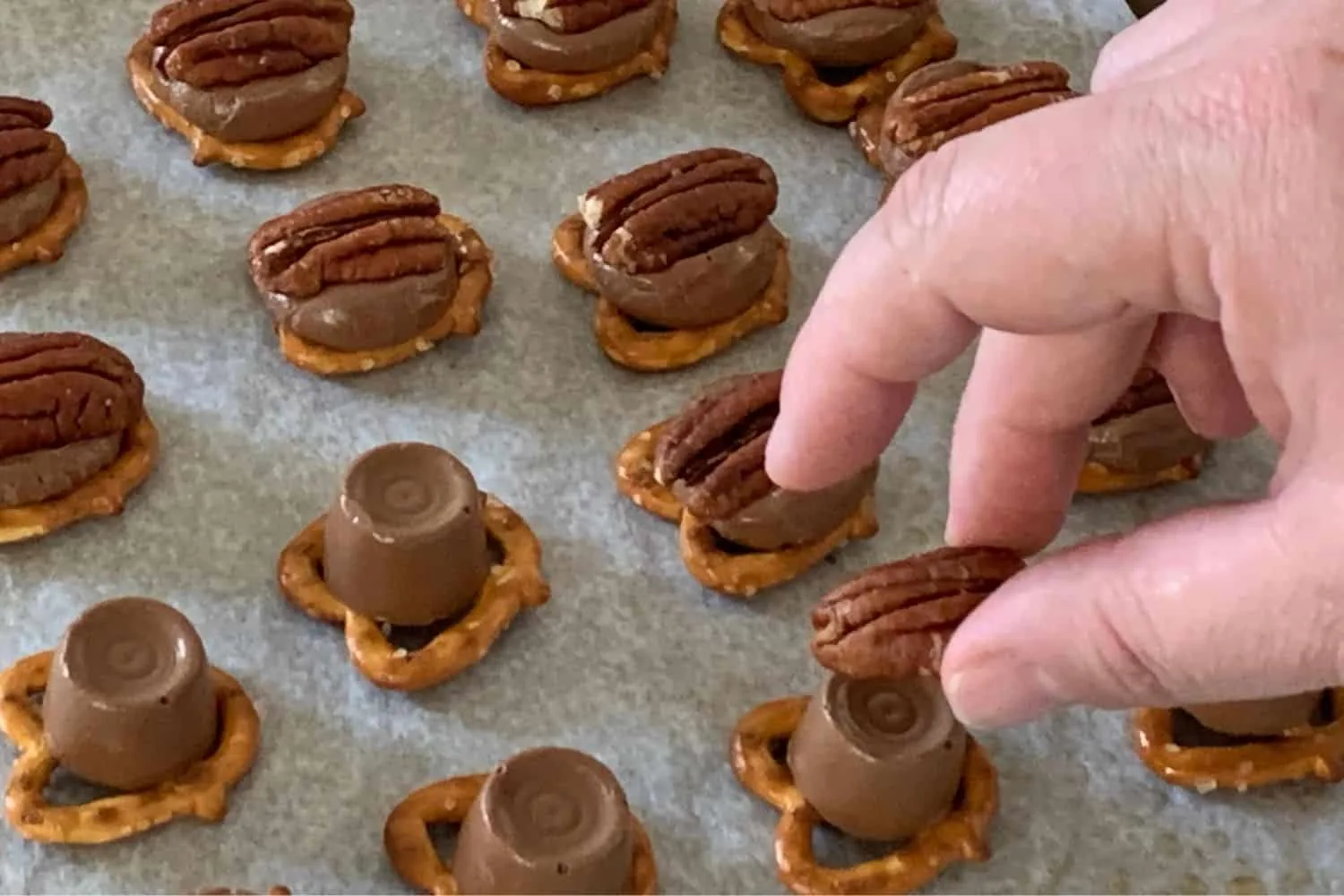 Don't press so hard that the caramel starts to pop out, but just enough to round the sides of the Rolo just a little bit.
Now just let them cool.
Once they're cool, all the pieces should stick together nicely, and create the prettiest little treats.
Pretzels with Rolos and Pecans: To Eat or To Give?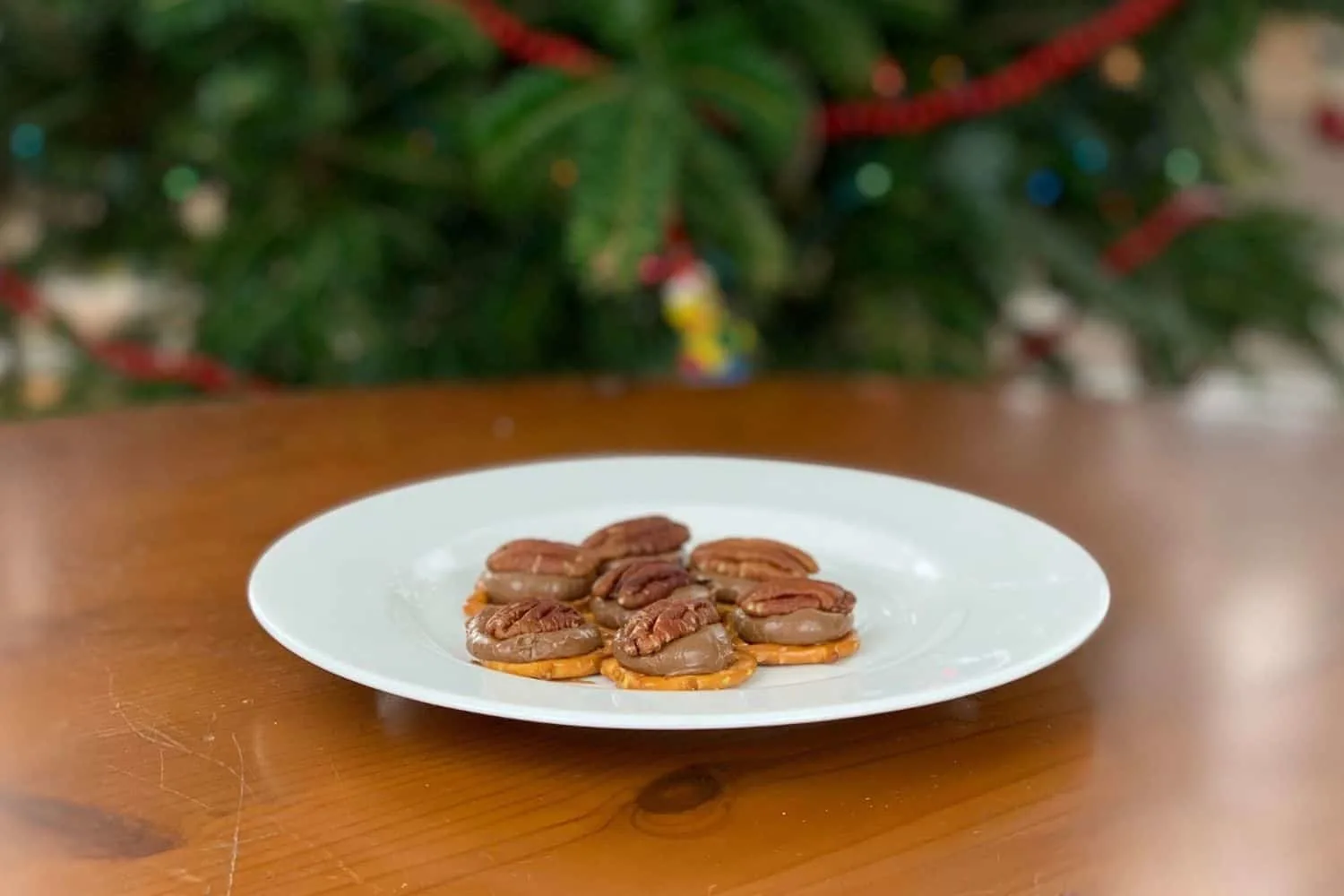 This is always my biggest dilemma when making these. I love them so much I want to just eat them all!
But they make such great little gifts, and they're so easy to whip up at the last minute!
I've brought them to cookie exchanges and holiday parties. I've given them to neighbors and teachers.
Just store them in an airtight container and they should be good for about a week.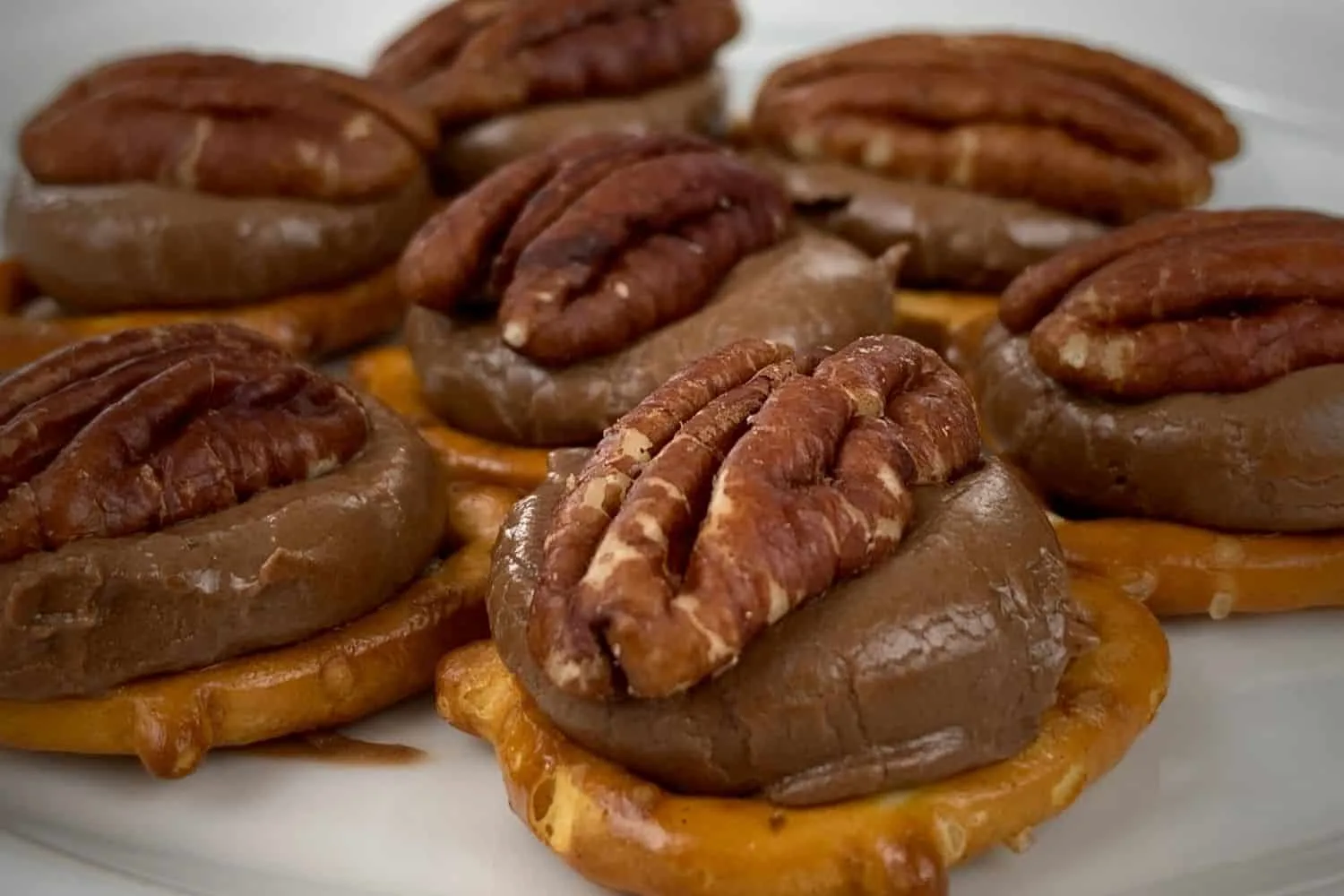 Yield: 25 treats
Pretzels with Rolos: The Easiest Turtle Recipe Ever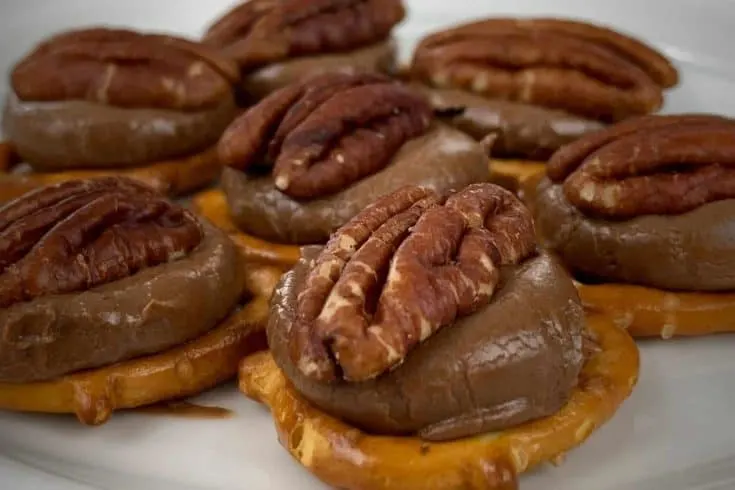 Make these super easy Pretzel Turtle Treats by just using pretzels with Rolos and pecans!
Additional Time
5 minutes
Ingredients
25 Rolo Candies
25 Pretzels
25 Pecan Halves
Instructions
Preheat oven to 350 degrees.
Lay out pretzels on baking sheet.
Place one Rolo candy on top of each pretzel.
Bake for 3 minutes.
Immediately press one pecan half into each Rolo candy.
Let cool.
Serve.
Nutrition Information:
Yield:
25
Serving Size:
1
Amount Per Serving:
Calories:

148
Total Fat:

3g
Saturated Fat:

1g
Trans Fat:

0g
Unsaturated Fat:

2g
Cholesterol:

1mg
Sodium:

363mg
Carbohydrates:

27g
Fiber:

1g
Sugar:

5g
Protein:

3g
Pretzels with Rolos: The Easiest Turtle Recipe