Disney World is a place full of magic and fun, but Disney World regrets are a real thing.
There are endless things to do, and everyone wants their trip to be the picture perfect experience at the most magical place on earth.
But perfection is a lofty goal, and while I absolutely love going on a trip to Disney World.
But as a seasoned visitor to the parks, there are several things I've done at Disney world that I totally regret and won't be doing again.
Links in this post may be affiliate links, which means I may earn a commission if you make a purchase from any of them, at no additional cost to you. You can find out more information by reading my full disclaimer.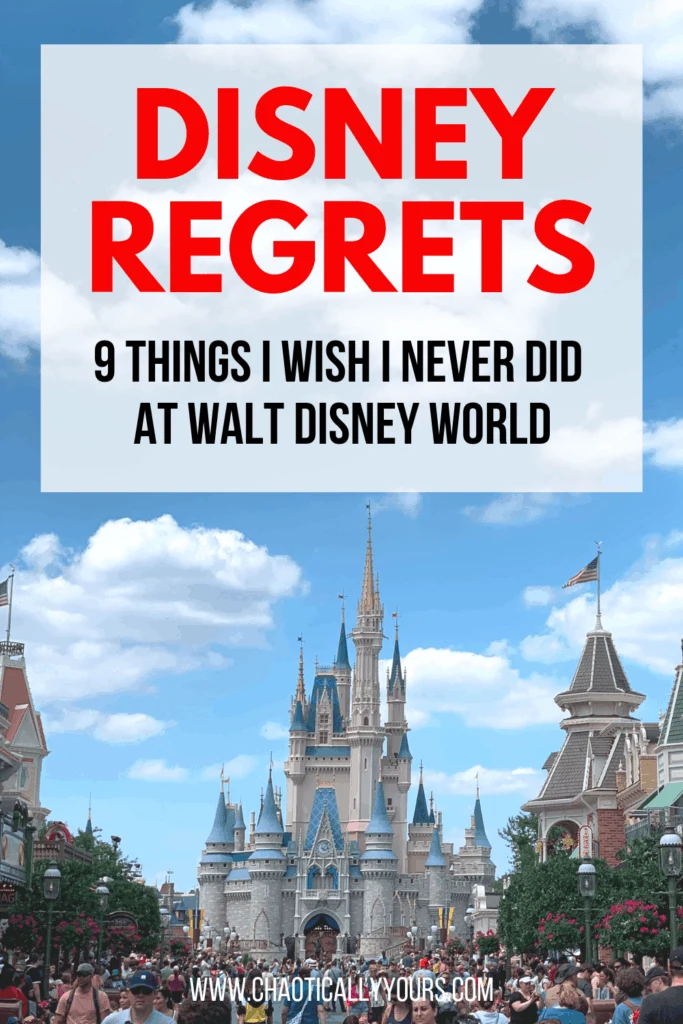 Breakfast Reservations
I know so many people who simply adore breakfast reservations at Disney World.
I am NOT one of these people. Eating breakfast in the parks is one of my biggest regrets at Disney World.
I have never been able to score a reservation that let me into the parks early. I have never found the breakfast food at Disney World to be all that special.
As a family, we decided long ago that we'd much rather eat breakfast in our room and get to the parks at rope drop.
We spend those first few hours flying through as many rides as possible, then enjoy a nice break over a table service lunch.
If you love breakfast at the Magic Kingdom, more power to you.
Rest assured, I won't be joining you for Mickey Waffles. You can read more about why I won't ever eat breakfast in the parks again HERE.
Makeovers
Like many parents out there, I fell victim to peer pressure on this one. "Everyone else is doing it, so we should too!"
Even though my daughter expressed little to no interest in getting a princess makeover at Disney, I just HAD to book one for her. Bibbidy Bobbity Boutique was booked solid at all locations during our trip, and I really stressed out over it.
So I booked a mermaid makeover for her and a pirate make over for my son in Adventureland.
While the experience itself was pretty fun (the cast members did a great job), the salon was backed up and it took over 3 hours to get both of the makeovers completed.
That time would have been much better spent on rides than just waiting for their turn to get makeup put on. Plus they only got to wear the make up for about 4 hours before we were back in the room, getting ready for bed and they had to take it off.
Definitely NOT money well spent. The kids enjoyed it, but they both agree they wouldn't choose to do it again.
Now we do something totally different! Find out exactly why we skip Bibbity Boppity Boutique and what we do instead that has proven to be way more fun and unique by clicking here.
Overplanning
Like most people, I don't want to miss a minute of the magic when I'm at Disney World.
It's so easy to try to force too many things into one day, and schedule every moment.
But for me, doing this has kept me from enjoying our trips at times. I'm too busy stressing over the schedule.
A good friend advised me to relax, and just enjoy being there.
Now we have a "one thing per day philosophy." Sure, we schedule fast passes and dining reservations, but beyond that we set the goal of doing one other thing for each day we are there.
If we accomplish that one thing, then everything else is gravy. This one change has made our trips SOOO much more enjoyable.
Staying Off Property
As a kid visiting Disney World in the late 80s and early 90s, we never stayed on property. There just weren't that many resorts to choose from, and it was just too expensive for us.
This trend continued through our first trip with our own children to Disney World in 2013. We stayed at a non-Disney owned property. We had a great time, but we didn't know what we were missing.
During our next trip, we stayed at Coronado Springs. While not the most amazing hotel I've ever slept in, the perks of being on Disney property (extra magic hours, access to the dining plan, special events at the resort, etc.) were just too much to ignore.
Now that we've discovered how great it is, I doubt we'll ever stay off property again.
Wearing the Wrong Mask
Masks are now an essential part of any trip to Disney World, and one of the biggest mistakes we made during our most recent trip was wearing the wrong mask.
Florida is hot, y'all! And having an itchy disposable mask on all day long proved to be very uncomfortable.
We thought disposables would be the way to go for convenience, but we were definitely wrong. We spend an entire day of our trip complaining about uncomfortable masks.
You have GOT to have a mask that is comfortable and provides some measure of protection.
We love our HALOLIFE masks, and by day 2 of our trip, these were the only masks we found to be comfortable for all day wear in the parks.
The adjustable fit and the long wear filters are perfect for a day at Walt Disney World.
Before you go to the parks, make sure you have a mask that's appropriate for all day wear in the heat.
Taking Disney Transportation Buses
During our first "on property" stay at Disney World, we loved the idea of using Disney Transportation to get everywhere.
Don't get me wrong, I LOVE the monorail and the boats. But the bus service is something else all together.
We lasted just one day taking the bus to the parks. The lines to get on in the morning were unreal and the lines to get back on in the evening were even worse.
The last straw was one random kid vomiting uncontrollably on an overcrowded bus and we said never again!
Since we live close enough to drive to Florida from our home in North Carolina, we have a car with us anyway when we visit.
A stay at a Disney Resort includes a parking pass for every Disney Park. Now we utilize the parking pass and drive ourselves.
The walk is never very long, and trams are readily available if you have much distance to cover to get to the gates from your car.
Be aware, Disney does charge a parking fee at the resorts now, but the extra charge is still less than plane tickets for us, so we still think it's worth bringing our vehicle.
Read more about how to effectively use the monorail at Walt Disney World, check out my Monorail post by clicking here!
Getting Up Late
One family trip to Disney World, we were joined by lots of our extended family. These family members are NOT morning people.
Our nephew was 18 at the time, and getting up at 6 am to be at the Magic Kingdom for rope drop was NOT his idea of fun.
In order to keep the family unity, we waited for everyone else to get up and get moving on most days of our trip.
But by the time we got to the parks on those days, it was packed and the lines were extremely long.
On the one and only day we got up and were at the park by 8 am opening, we had a blast!
Our nephew called us around 10 am to meet up and was shocked to hear that we'd already been on 6 rides. That became one of his biggest regrets at Disney World.
Time is much better spent when the parks are slower in the mornings while all the sleepy heads rest up.
Going in Late August
Florida is HOT in the summer. I mean unbearable, 7th circle of hell kind of hot.
During one trip to Disney World with some extended family the only date that was free for all of us was in late August.
Two words: NEVER AGAIN!!! It was one of my biggest regrets at Disney World.
It was so humid, there was one day in Epcot that I thought my face would melt off.
We prefer November or February trip, when the temperatures are so much more comfortable.
If summer is your only option, I'm so sorry. Just be prepared for the heat. Check out my post about what to carry in your parks bag that will really help you beat the heat by clicking here.
Not Planning A Rest Day
Disney World is exhausting. Your FitBit will get a workout like it's never seen before on any given day at the parks.
All the walking combined with the heat, by day 3 we're usually ready to collapse.
We've had a few trips where we didn't plan any rest time into our vacation.
This was DEFINITELY a mistake.
It's really hard to enjoy Epcot when you feel like you're going to fall over from sheer exhaustion the entire time.
Now, we always plan at least one mid-trip afternoon and evening off from park hopping. This gives us time to rest, recuperate, and gear up for the rest of the trip.
My favorite place to do this is poolside. The kids adore the resort pools, and I adore lounging next to them.
Not Buying the Souvenir
Disney Parks merchandise is often unique, and unavailable anywhere else.
I can't tell you how many times I've seen something in the park that I did not purchase and it becomes one of my biggest regrets at Disney World.
On our last trip, I was determined not to feel that way when I got home.
So when I came across a light up Cinderella Castle Christmas Ornament at a shop in Adventureland, I bought it. Now it's my favorite ornament on my Christmas tree.
I'm not telling you to go nuts here, but splurge a little, or be willing to live without it when you get home.
What four things were totally worth the extra money at Disney World? Read 4 Splurges Worth Every Penny At Disney!
Looking for more honest info about Disney? Read my post 8 Things They Never Tell You About Disney World!
Learn what you need to order from Amazon to pack the perfect bag for Disney World HERE!
What are your regrets at Disney World? Let me know in the comments!!