Ever wondered how to make bubble solution? What's the best way to do it? What ingredients do you need?
There are a TON of recipes out there for homemade bubble solutions, and lots of them have different ingredients.
Well, we tested a bunch of DIY bubble solution recipes, so you don't have to!
I'm including free printable instructions for our favorite bubble solution recipe at the bottom of this post, but it's really just the absolute basics meant to refresh your memory.
You'll want to read the whole post first to get all the important tips and tricks to get this project right the first time!
Links in this post may be affiliate links, which means I may earn a commission if you make a purchase from any of them, at no additional cost to you. You can find out more information by reading my full disclaimer.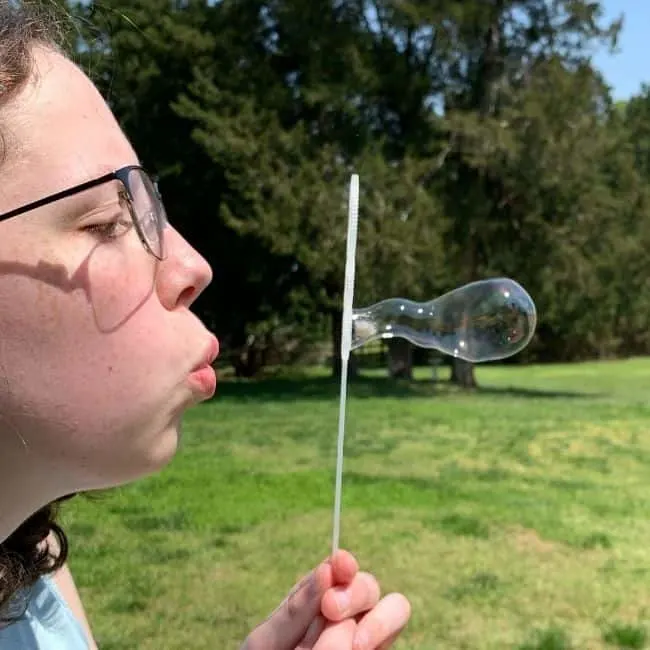 Why We Chose These Bubble Solution Recipes
Learning how to make bubble solution is a bit more than just mixing up the right amounts of soap and water.
There are some key ingredients that can make bubbles last longer and blow bigger.
We tried three simple recipes for how to make bubble solution with just three basic ingredients. We also tired one bonus recipe with a few added ingredients, just to see if they made a difference!
We then compared them all the homemade bubble solution recipes to the store bought bubble solution to see what was actually best.
For our DIY bubble solution experiment, we worked with recipes that met three qualifications.
Qualification #1
The first qualification we looked for in a bubble solution recipe was that it had to have relatively easy to find ingredients.
Nobody wants to have to drive all over town to find an ingredient just to make something as trivial as homemade bubble solution. And who wants to wait on an Amazon delivery?
If a recipe included things like specialized soaps or unpronounceable chemicals, we immediately excluded it from our tests.
Qualification #2
Ingredients for these DIY bubble solutions recipes had to be inexpensive.
Bubble solution can be pricey enough without making it cost even more if you make it yourself.
Any recipes featuring an ingredient that cost more than a few dollars was out!
Qualification #3
The recipes we used had to be easy to make, without a lot of extra steps.
If you had to use special equipment to mix it or take multiple steps to prevent some sort of crazy chemical reaction, that recipe was a no-go.
Bottom line, we wanted homemade bubble solution recipes that were simple, cheap and easy to make!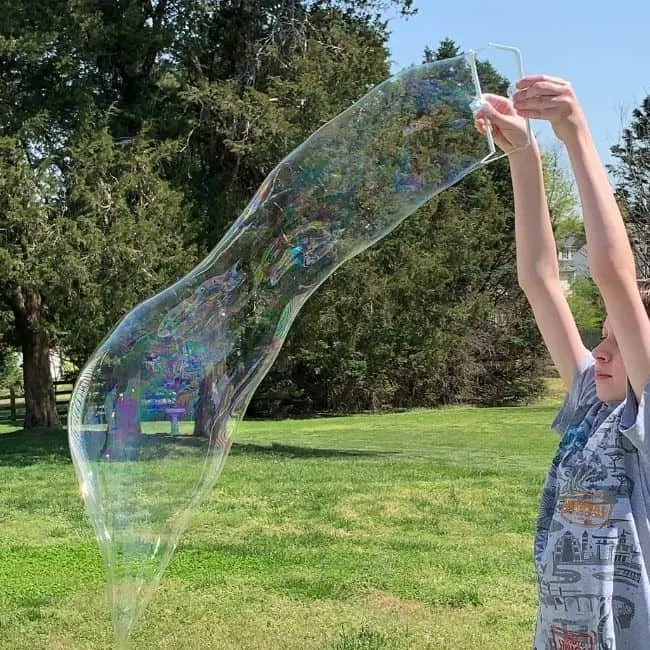 Bubble Solution Testing Parameters
We decided to test these bubble solution recipes with in three areas: size, duration, and flight.
Size: For each recipe, we wanted to know how big we could make them. Was the solution sturdy enough to make giant bubbles or just small one? Would it pop before you got a lot of air into it?
Duration: We also wanted to know how long the bubbles would last. Would the pop after just a few seconds or would the go on and on?
Flight: We also wanted to see how high they would float. Which homemade bubble solution recipe created the lightest bubbles that would float up the highest?
We also used the same tools for each bubble solution test to create multiple sizes of bubbles. We used a regular bubble wand for average sized bubbles and a homemade straw and string set up to make big ones.
We compared everything to a bottle of store bought bubble solution to see how it stacked up.
How To Make Bubble Solution: The Recipes
We really tried to make each recipe as standard as possible, with the only real variations being the extra ingredients beyond water and dish soap.
We used Dawn brand, regular dish soap (not ultra or concentrated) to make each recipe.
We also used regular warm tap water from the faucet. Several recipes suggested using distilled water, but we didn't want to go that route, since most people don't keep distilled water around the house.
Bubble Solution Recipe #1: Sugar
The first recipe we tried was the simplest. Just three basic ingredients you already have in your kitchen.
3 cups of warm water
4 teaspoons sugar
1 cup of dish soap
We mixed the water and the sugar together first, until the sugar dissolved. One the sugar was completely dissolved, we gently mixed in the dish soap, trying not to create bubbles when we stirred the mixture.
The results from the sugar bubble solution recipe were ok. Nothing too impressive here. It definitely worked, but not as well as other recipes.
Size: We were able to blow ok sized bubbles before they popped. The biggest we were able to get with this solution was about 6 inches.
Duration: These bubbles didn't last very long. They popped spontaneously at about the 5 second mark.
Flight: This particular bubble solution seemed to be fairly heavy. Bubbles didn't fly very high at all.
The sugar bubble solution was ok. Compared to the store bought solution, it definitely fell flat. We'd use it in a pinch but it wouldn't be our first choice.
Bubble Solution Recipe #2: Corn Syrup
The second recipe we tried was another simple one.
4 cups of warm water
1/2 cup corn syrup
2/3 cup of dish soap
We mixed all the ingredients together gently, trying to minimize any bubbles in the mixture when we stirred it.
The results from the corn syrup bubble solution recipe were a little worse than the sugar bubbles.
Size: The biggest bubble we were able to get before it popped was only about 4 inches. It was kinda underwhelming.
Duration: These bubbles didn't last long either, popping only a second or two after blowing them.
Flight: Again, these bubbles seemed pretty heavy, not gaining much altitude.
The corn syrup bubble solution was definitely not great. It was not even close to the store bought bubble solution. This one would be at the bottom of our list.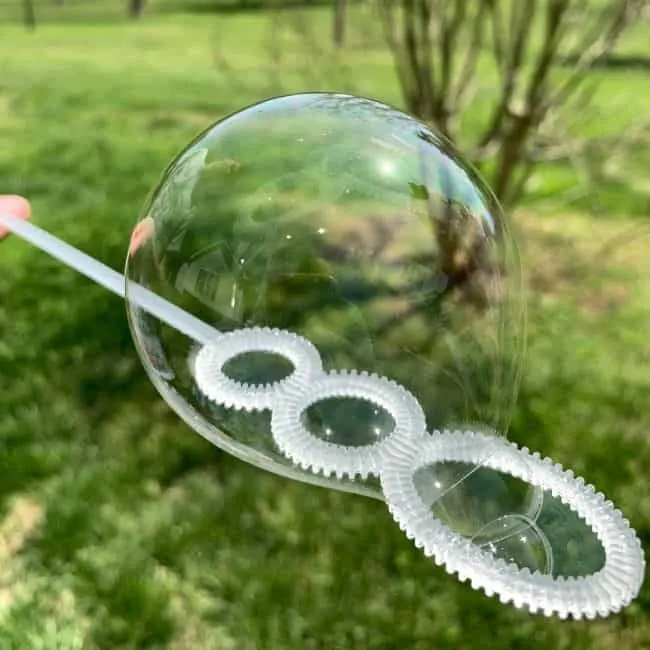 Bubble Solution Recipe #3: Glycerin
This DIY bubble solution recipe was also simple, but it did require one harder to find ingredient: glycerin.
Glycerin can be found at most big box stores like Target or Walmart. You can also order glycerin from Amazon if need be.
4 cups warm water
1 cup dish soap
3 tablespoons glycerin
We stirred together the water and the dish soap first, still taking care not to create bubbles when mixing it. Then we added the glycerin to the mixture, again stirring gently to combine.
The results from the glycerin bubble solution were markedly better than the sugar or the corn syrup.
Size: We were able to get some really large bubbles with this solution, some of them reaching 10 to 12 inches!
Duration: This recipe definitely lasted longer than the others, with some of the bubbles staying aloft for 15+ seconds!
Flight: The bubbles from this solution flew higher than any others we tried, getting way up in the air, and floating quite far.
The glycerin bubble solution was by far our favorite. It performed almost exactly like the store bought solution. We were able to get lots of great, long-lasting bubbles from it.
Bubble Solution Recipe #4: Everything But The Kitchen Sink
This bubble recipe just intrigued us. We really wanted to know if adding these extra items to the mixture would make any sort of difference in the actual bubble itself.
6 cups of warm water
1/2 cup of cornstarch
1 tablespoon of baking powder
1 cup of dish soap
1 tablespoon of glycerin
We mixed the cornstarch and the baking powder in with the warm water first. Once that was fully dissolved, we gently stirred in the dish soap until it was fully dissolved. Then we added the glycerin.
Size: This mixture made a medium sized bubble before it popped, around 6 to 8 inches.
Duration: These bubbles did seem to last fairly well, averaging about 10 seconds before popping.
Flight: These bubble tended to stay pretty low and seemed heavy with the extra ingredients in them.
The baking powder and cornstarch in this solution didn't seem to make it any better than just the glycerin only solution. Plus, it had to be stirred frequently since the cornstarch wanted to separate to the bottom of the mixture.
It was super messy to make and to clean up when we were done. I definitely wouldn't recommend it.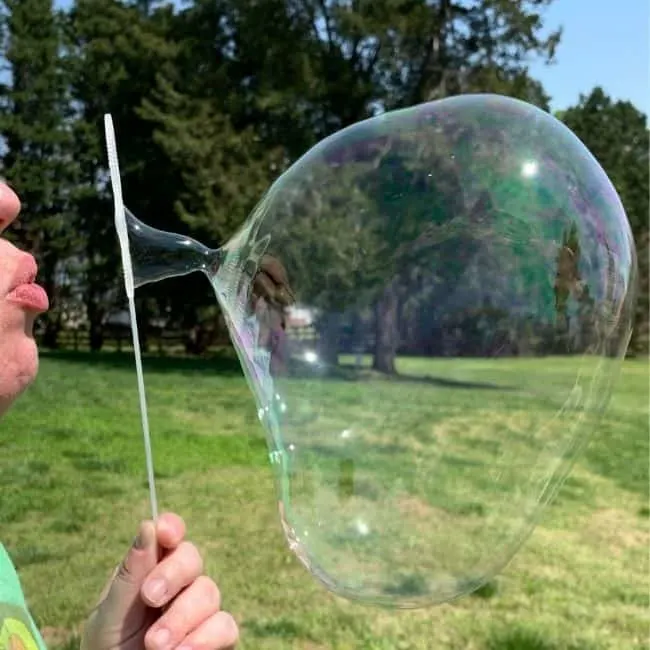 Our Favorite Bubble Solution
While we were learning how to make bubble solution, a few things became evident.
Without a doubt the simple water, soap, and glycerin mixture was by far the best homemade bubble solution that we tried.
We even played around with the amounts of glycerin to add and found that 2 to 3 tablespoons seemed to hit the spot.
The sugar and corn syrup solutions just didn't quite have the staying power that the glycerin solution had and were much harder to work with to get good bubbles.
Of course if you have little children who just want a bubble or two, the sugar or corn syrup solutions will work, but if you want to really have fun with your bubbles and make this entertaining for older kids, we REALLY recommend using the glycerin.
Looking for other fun projects to do with your kids? Check out my DIY Shrinky Dinks or my Hexaflexagon Tutorial!
Homemade Bubble Solution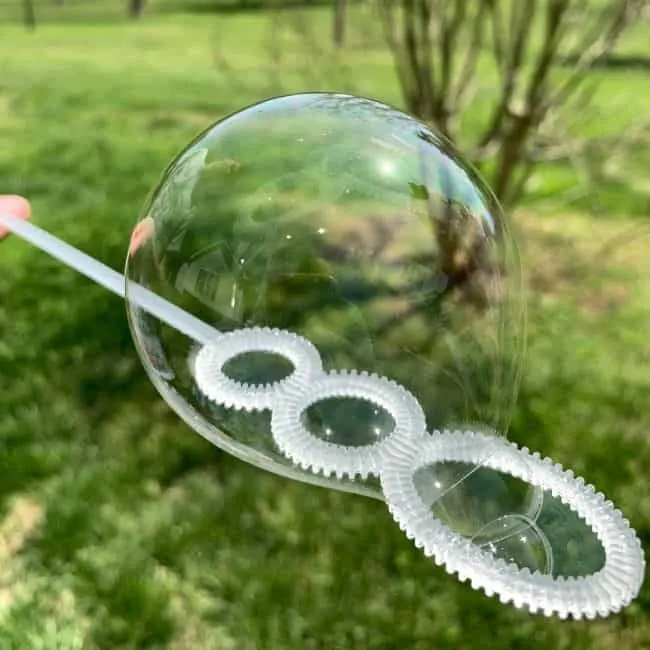 This bubble solution recipe rivals store bought bubbles!!
Materials
4 cups warm water
1 cup dish soap
3 tablespoons glycerin
Tools
A container with a lid
A slotted spoon
Bubble wands
Instructions
Stir together the water and the dish soap, using care not to create bubbles when mixing it.
Add the glycerin to the mixture, again stirring gently to combine.
Use like regular bubble solution, outdoors with bubble wands.
Notes
Use the same caution you would with regular bubble solution.
Keep it away from eyes and do not ingest it.
How To Make Bubble Solution: 4 Recipes Tested