We stayed at the cheapest hotel at Disney World and have a full review for you. We've got all the nitty gritty details about the rooms, the amenities, the pools, the restaurants and more at the least expensive resort on Disney property so you can know before you go!
We all want a good deal on our vacations. But is the cheapest hotel at Disney World really worth what you'll pay for it? We're breaking down all the details for you so you can make the best decision for your vacation.
Why Stay On Disney Property?
When traveling to Walt Disney World, you have a ton of options when it comes to where you stay. There are literally hundreds, if not thousands of hotels, motels, and short term rentals in the Orlando area. You can find any level of accommodation in the Orlando area, ranging from ultra luxurious to absolute basic.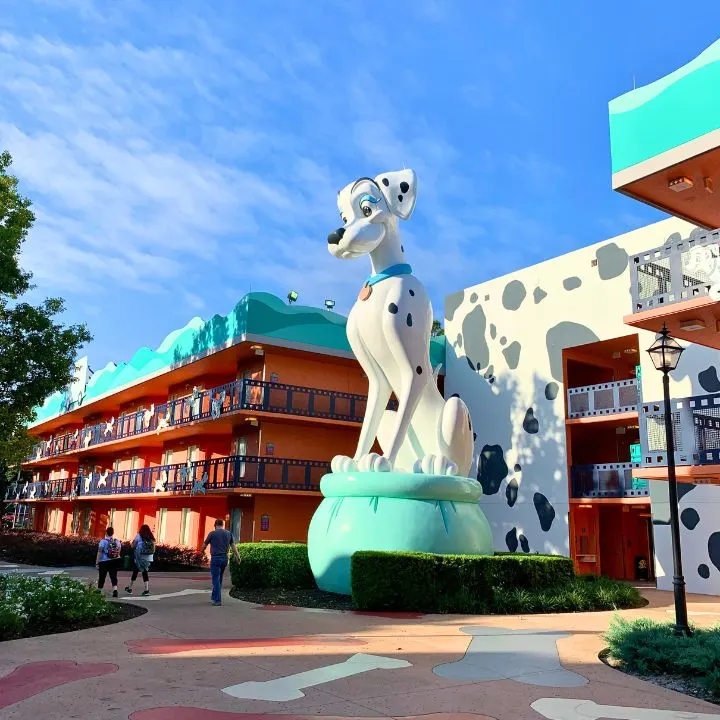 While you might find a cheaper hotel in the general area of Orlando, there is something to be said for staying at a Walt Disney World Resort on Disney property.
Staying "on property" has some fantastic benefits. Not only are you closer to the magic, but you can take advantage of perks not available to those staying in outside resorts and hotels.
These perks include:
free transportation within Walt Disney World property
extended Park Hours for onsite guests
ability to book the Walt Disney World Dining Plan
early access to dining reservations
Disney quality service
easy access to Disney Parks
priority booking for Individual Lightning Lanes
top notch Disney service
being closest to the action
These perks are available to all on site guests, regardless of which hotel they choose to stay at. So even if you stay at the cheapest hotel at Disney World, you'll still have access to all these great perks.
Disney World Hotel Levels
Before we delve into the cheapest hotel at Disney World, you should understand they types of properties that are available on Walt Disney World property.
There are more than 25 official Disney Resort Hotels on Walt Disney World property, and they range from ultra luxurious to just the basics.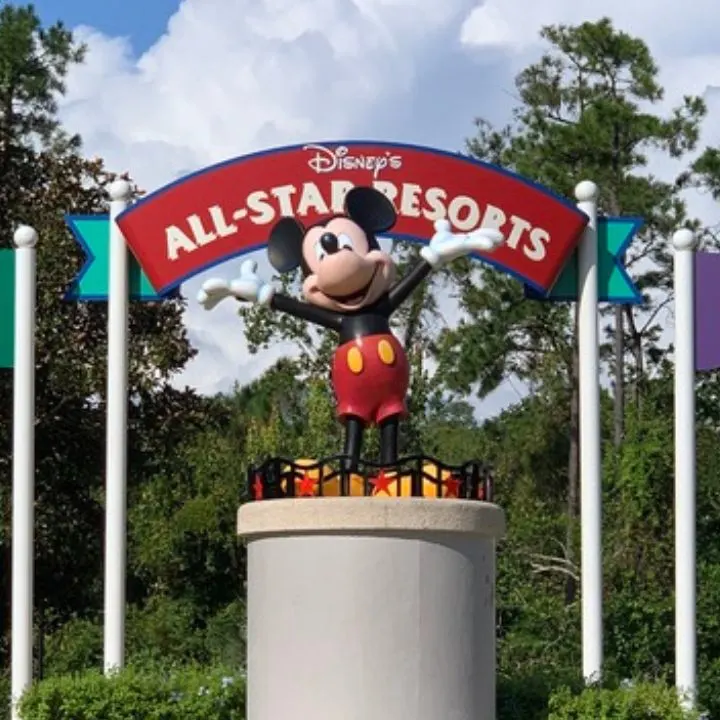 Disney Breaks them down into three categories: Deluxe, Moderate and Value. We've stayed at all three types of resorts.
Deluxe resorts are considered Disney's premiere properties and include hotels like Disney's Grand Floridian Resort & Spa and Disney's Polynesian Resort. These hotels will usually have extremely well appointed rooms, multiple restaurants, several themed pools, more transportation options, and are usually closer to the parks.
Moderate resorts are considered mid level properties that aren't as expensive as Deluxe but offer a few more amenities than a value. These resorts include Disney's Port Orleans Riverside Resort and Disney's Caribbean Beach Resort. Moderate resorts usually have nice rooms, at least two restaurant options (both food court style and table service) and some really nice themed pool areas.
Value resorts are Disney World's most basic properties and usually have the lowest prices for rooms across all Walt Disney World properties. They offer clean rooms with basic amenities, transportation, food court style dining, and a few pools.
Value Resorts
You'll find the cheapest hotel at Disney World nestled snugly into the Value resort category.
There are currently five value resorts on Walt Disney World property.
They include:
Disney's Art of Animation Resort
Disney's Pop Century Resort
Disney's All Star Music Resort
Disney's All Star Movies Resort
Disney's All Star Sports Resort
Disney's Art of Animation and Pop Century Resorts are at the higher end of the value resort spectrum. They are a little more expensive than the All Stars, but have the highly desirable feature of sharing a Disney Skyliner Station, giving them an extra transportation option.
But the least expensive option isn't actually just one hotel, it's three: the All-Stars!
The Cheapest Hotel At Disney World
The All Star Resorts are easily the cheapest hotels at Disney World. You can choose any one of the three resorts: Disney's All Star Music, Disney's All Star Sports, or Disney's All Star Movies resort. These three properties are basically identical in all but theming. The buildings and rooms are all set up in the same manner and they all offer the same amenities.
Just for clarity, most of the pictures and video featured in this post are from Disney's All Star Movie Resort.
All Star Rooms
The rooms at the All Star Resorts are pretty basic, having just the bare minimum to get you by on your vacation.
All the entry doors for guest rooms at the All Star Resorts are on the exterior of the building, like you find at most budget hotels. Most guest room buildings are three stories tall and have stairs that are open to the elements. They also all have elevators. Although all rooms might not be extremely convenient to the elevator, all rooms on upper floors do have access to one.
Most room feature two queen sized beds, but there are a few that have one king bed. During a recent remodel of the All Star Resorts, rooms with two queen beds were modified to change one into a murphy style bed. When not in use, these beds can be folded up into a wall, revealing a table that seats two. You can see exactly how this bed operates in the video featured on this page.
The beds themselves are quite comfortable, and we found no discernible difference in comfort between the standard bed and the murphy bed. Both had the exact same type of mattress.
The rooms are on the smaller side at around 260 square feet. They have two small dining chairs to use with the pop up table. The room also features a dresser, end tables, a small coffee bar, a mini refrigerator, and a television. We found lots of outlets, including USB ports in convenient places around the room. In lieu of a closet, there's a small area in the bathroom with a bar and hangers where you can hang clothing.
All Star Bathrooms
The bathrooms are quite simplistic. They have a large sliding door that can close the entire bathroom area off from the main hotel room.
In the bathroom area, there's just one sink with a small surrounding countertop. Open shelving is available both below and on one side of a lighted mirror, and an adjustable, light up magnification mirror is mounted on the wall. An iron and a hairdryer were both provided in the room.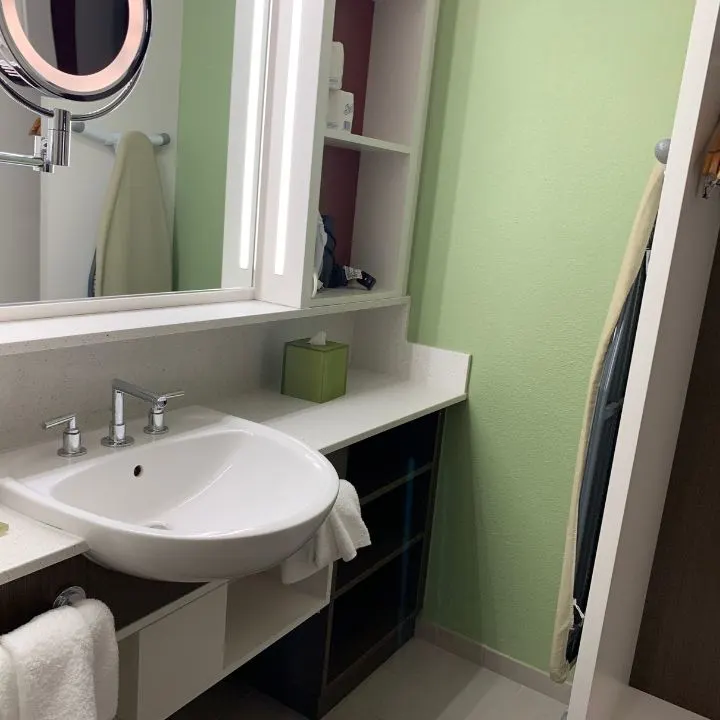 The toilet and tub/shower combo is separated from the rest of the bathroom area with a door, making it convenient for one person to get ready while another person showers. The shower/tub combo is the standard set up for these rooms, but the handicap accessible rooms do have zero entry showers.
It's of note that Disney no longer provides some travel size toiletries in their rooms. Now they have permanently mounted bottles of shampoo, conditioner and body wash in each bathtub. These are refilled regularly by housekeeping. They do provide bar soap for the sink.
Adjoining rooms are available at All Star Resorts, but I'll talk more on these later.
All Star Amenities
While the cheapest resort at Disney World may not have all the amenities of a deluxe hotel, you'll still find more here than at your average budget hotel outside of Disney property.
Each All Star Resort has two large pools and some sort of kiddie pool or splash pad. Each pool has some pretty nice theming that kids will absolutely love. Unfortunately you won't find any water slides like you will at most of the moderate and deluxe resorts.
There are no table service restaurants at All Star Resorts, but you will find rather large food court style quick service dining.
Each resort also has a good sized gift shop, fully stocked with Disney merchandise and some staples you may have forgotten to pack, like toiletries or snacks.
They also have an arcade and there are laundry rooms available at the All Star Resorts where you can wash and dry your clothes for a few dollars.
All Star Transportation
Transportation is one of the biggest perks of staying on Disney property. Having access to a network of buses, boats, gondolas and monorails is a huge bonus for Disney World visitors.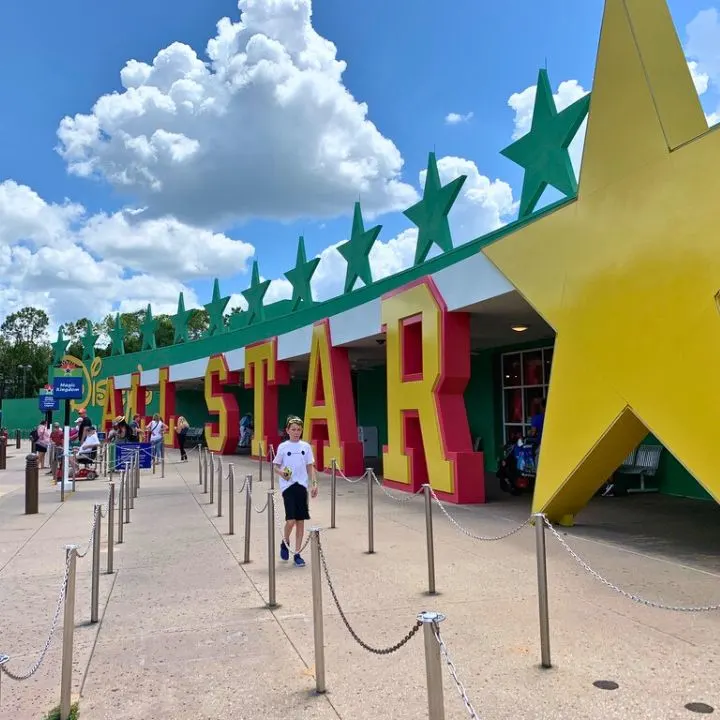 The All Star Resorts have the most limited access to transportation out of all the resorts on Disney property. Buses are the only Disney transportation option available for these hotels.
There is only one stop available at the main lobby for each of the three All Star Resorts, and during some hours, buses stop at all three resorts before proceeding to or from the parks.
While this seems daunting, Disney does run a large number of buses to and from the All Star Resorts to accomodate guests.
If you're willing to pay a bit more, the two other hotels in the Value category (Pop Century and Art of Animation Resorts) have shared access to a Skyliner station, that connects guests directly by gondola lift system to Hollywood Studios and Epcot.
All Star Prices – The Cheapest Hotels At Disney World
One of the most attractive things about staying at the cheapest hotel at Disney World is the price. You can expect to find the lowest prices at these resorts.
Prices tend to be very close between all three resorts, if not identical. Prices for rooms as these hotels can range widely depending on the time of year. I've seen prices as low as $99 per night during the off season. I've also seen them all the way up to $305 per night during the most in demand times of the year.
We've also discovered another little hack that has saved us money and stress. Family suites that sleep more than 4 people are often in high demand at Value Resorts. They can get pricey and can be difficult to book. Instead of getting a suite, we've booked two adjoining rooms at an All Star. This way we have space to sleep up to eight people and have two full bathrooms, often for less money than we would have spent on a suite.
The Cheapest Hotel At Disney World: Our Final Verdict
All Star Resorts are a great way to stay on Disney World property without having to spend a ton of money.
If you're looking for a luxury experience, then the All Stars might not be your best choice. The lack of table service dining and multiple transportation options can be a big drawback for some people.
It's also of note that Disney frequently houses competition groups at the All Star Resorts. So if you happen to visit during a cheerleading competition or sports tournament, the resort can sometimes be crowded.
But if you're looking for a budget option that will still have some great perks of staying on site at Disney World, the All Star Resorts are a really good choice.
Looking for ways to save on more luxurious accommodations? Check out our post on how you can rent DVC Points and stay at a deluxe resort for cheap!
Want to save on Disney souvenirs? Check out our complete guide to the Disney Character Warehouse outlets!
Save even more on Disney World by checking out our list of Best Hacks to Save at Disney!
The Cheapest Hotel at Disney World: A Full Review