I've gathered up all the Disney height requirements at Walt Disney World for you in one place!
One of the things that makes Walt Disney World such a great place to visit is that they take the safety of their guests very seriously. From bag checks if all guests at the gate and continuous maintenance of all rides, Disney World does their best to make sure their guests are safe at all times.
One of best ways Disney does this is by making sure guests who participate on rides are tall enough to enjoy an attraction without the risk of getting hurt. Hence, Disney height requirements!
While the majority of rides at Walt Disney World are appropriate for anyone at any height, there are some that are restricted to certain heights.
While some people find this to be frustrating if they have smaller children who really want to get on the more exciting rides, it is definitely setup to protect guest safety.
Walt Disney World takes these requirements very seriously and is strict about making sure guests meet these requirements. We advise that guests should follow all these Disney World requirements, as they really are set up to give everyone the best experience possible.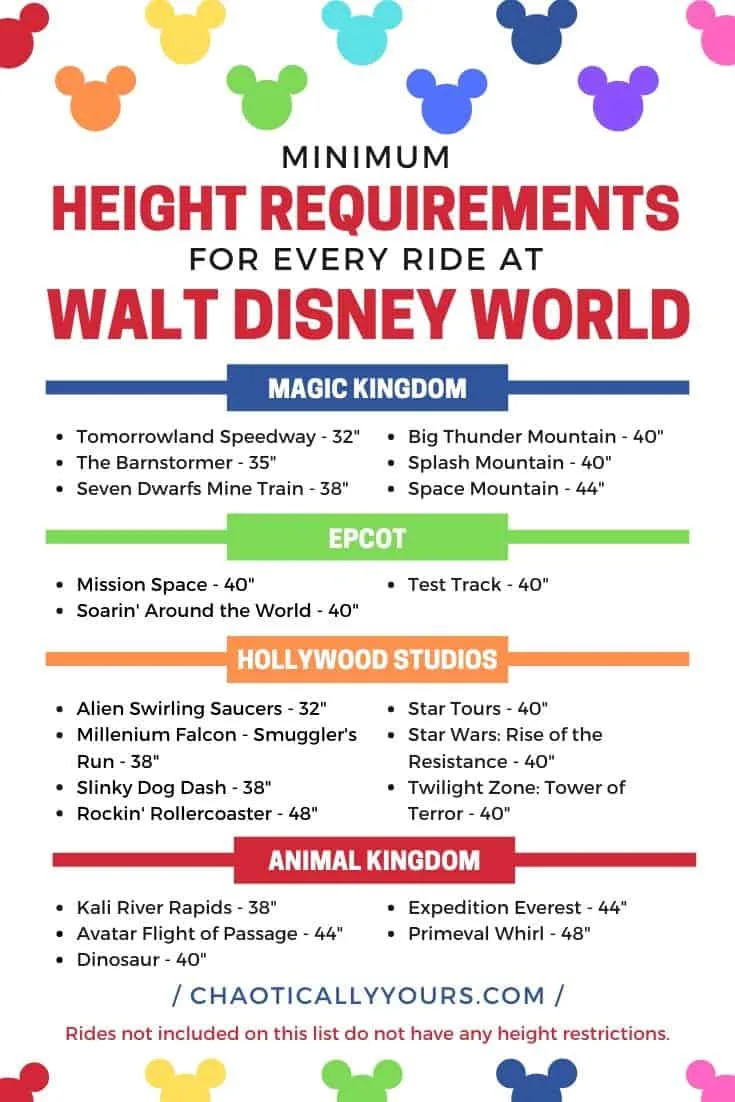 Magic Kingdom Height Requirements
The iconic Magic Kingdom is definitely the most recognizable of all Disney Parks around the World. It also has the most attractions! (You can read about my top 10 rides in the Magic Kingdom HERE.)
Magic Kingdom height requirements are a little more lenient than the other three Disney Parks.
The Magic Kingdom has a long list of rides that are appropriate for any height. Only six rides in the Magic Kingdom are have Disney World height requirements.
Tomorrowland Speedway requires that guests be at least 32 inches tall to ride.
The Barnstormer, Goofy's fun little rollercoaster has a height requirement of 35 inches.
Seven Dwarfs Mine Train needs riders to be at least 38 inches tall.
When it comes to "the mountains," more height is required for safe riding. Both Splash Mountain and Thunder Mountain Railroad require a height of 40 inches. Space Mountain requires 44 inches.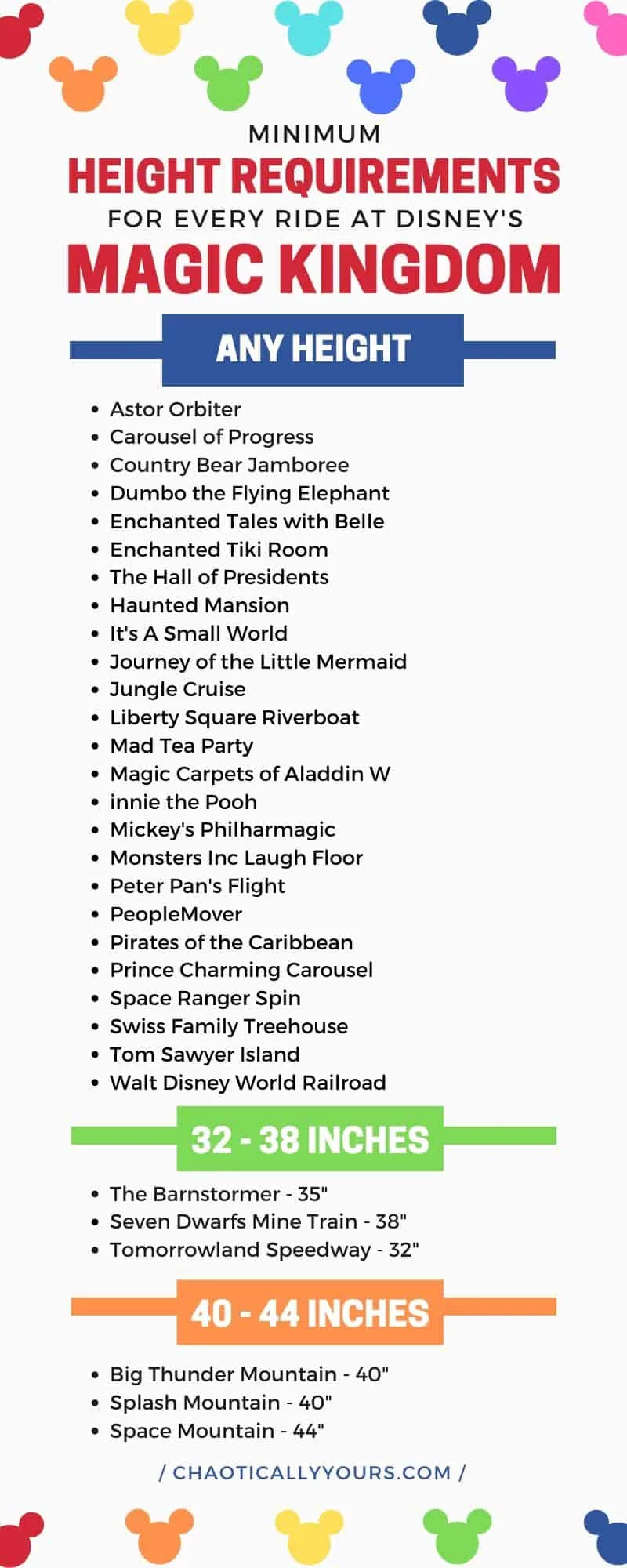 Epcot Height Requirements
Epcot is definitely not short on Disney World height requirements!
The origins of Epcot (originally short for Experimental Community of Tomorrow) were in experiment and education. While the addition of a few thrill rides over the years has expanded the scope of what you can experience at the park, lots of the original focus remains the same.
Epcot is split into two main sections, Future World and the World Showcase. Future World is undergoing a major overhaul in 2020 and 2021, updating and adding experiences that are sure to thrill everyone.
The World Showcase is still an extremely entertaining educational experience. Visitors get a chance to get a taste of cultures from all over the world.
The rides in Epcot are largely appropriate for any height, with just three Disney height requirement exceptions. Soarin' Around the World, Test Track, and Mission Space all require that guests be at least 40 inches tall to participate.
Hollywood Studios Height Requirements
Hollywood Studios is quickly becoming the most exciting of Walt Disney World's four main parks. With the recent expansions of Toy Story Land and Star Wars: Galaxy's Edge, this park has become more popular than ever.
With all these exciting additions, Hollywood Studios now has the most Disney height restrictions on rides of all the parks.
Only three older rides in the park have Disney World height restrictions: Rockin' Rollercoaster at 48 inches, Star Tours (which isn't technically inside Galaxy's Edge) at 40 inches, and Twilight Zone Tower of Terror at 40 inches.
Two of the three rides in Toy Story Land have height restrictions. You must be 32 inches tall to ride Alien Swirling Saucers and 38 inches tall to ride Slinky Dog Dash. Toy Story Mania has no height restrictions.
In Star Wars: Galaxy's Edge, both rides have Disney height requirements. Millenium Falcon: Smuggler's Run is 38 inches and Star Wars: Rise of the Resistance is 40 inches.
Star Wars: Rise of the Resistance is probably the most impressive ride in any Disney park. The full immersion into the Star Wars story and universe might be more than some younger guests can take. Be sure you know your kids tolerance before putting them on the ride, even if they are tall enough.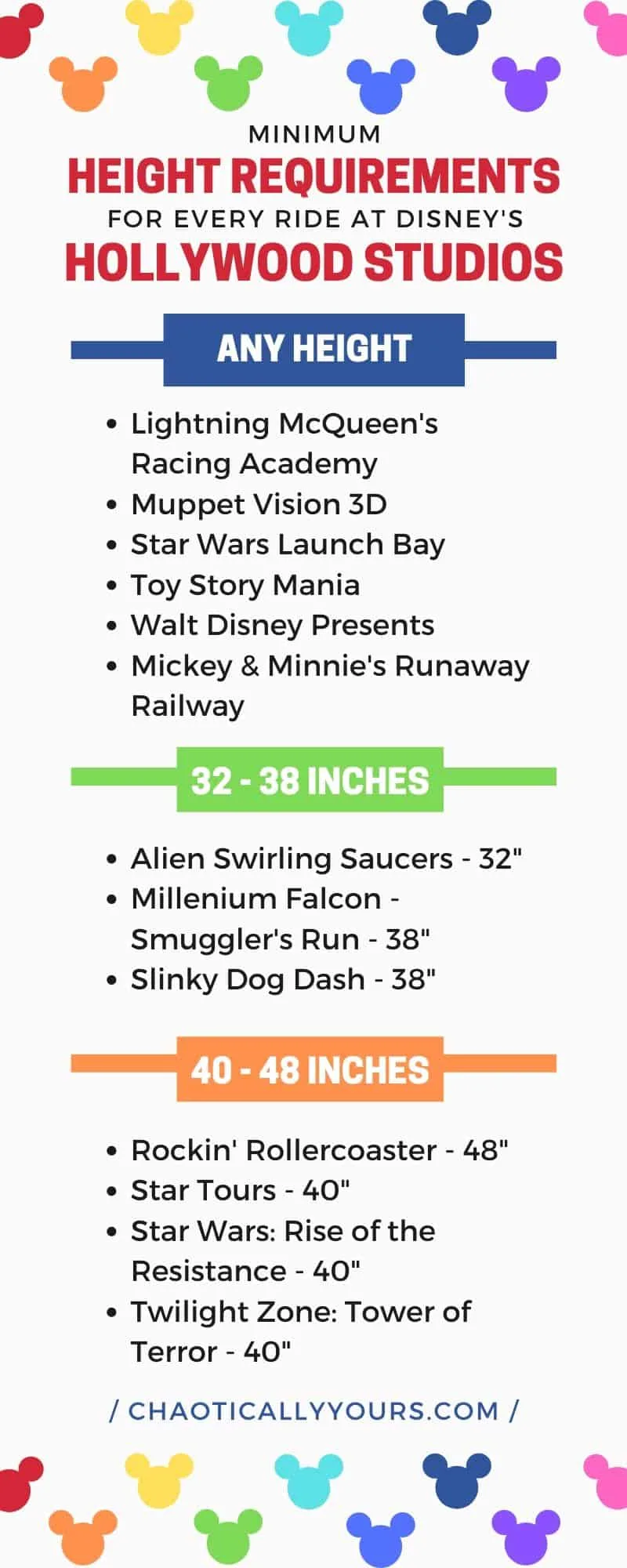 Animal Kingdom
Animal Kingdom has its share of fun rides and it's share of height restrictions! Pandora: World of Avatar has been an extremely impressive addition to the park.
Only five rides in Animal Kingdom have Disney height requirements.
You must be at least 38 inches tall to ride Kali River Rapids. Dinosaur requires 40 inches.
Both Expedition Everest and Avatar Flight of Passage have a height requirement of 44 inches.
Oddly enough, the smaller ride, Primeval Whirl has the highest Disney World height requirement in the park, at 48 inches.
Avatar: Flight of Passage is one of the most incredible rides at Walt Disney World. But be advised, if you have issues with motion sickness, this ride may test your limits.
Pro Tip: When riding, focus on one Banshee in front of you. This seems to limit how motion sick some guests become. Also DON'T LOOK BEHIND YOU WHILE RIDING. Take it from me, it's pretty freaky.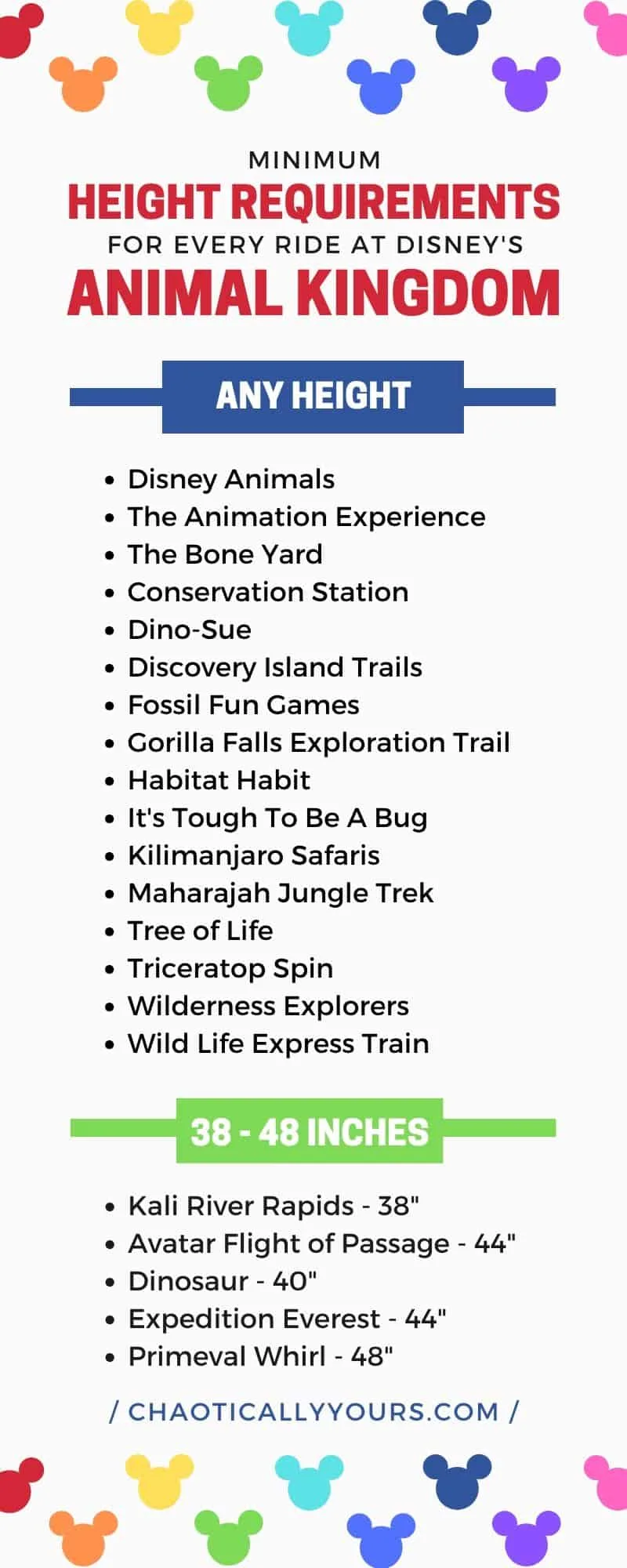 We expect to see more height restrictions as more new rides coming to Walt Disney World in the coming years. As Disney expands to add more and more thrill rides, having these Disney height requirements becomes necessary for guest safety.
But never fear, Disney World will always have the majority of its rides be accessible to all heights, especially in the Magic Kingdom.
Now for that free printable! I've put them all together so all you have to do is cut or fold on the dotted lines to have handy chart to carry with you.
To download the PDF Printable version of these graphics, simply click HERE or on the image below:
Other Posts You Might Like:
The Magic Kingdom comes alive after the sun goes down. Learn about all the cool stuff you can do in my post about the Magic Kingdom After Dark!
First trip to Disney World? Learn the nine things you need to know before your first Disney World vacation!
The Monorail is the most effective way to travel between parks. Learn all about how to use Walt Disney World's Monorail!
Disney Height Requirements for Every Single Ride at WDW