The Disney Character Warehouse is the best kept "secret" to saving money on your trip to Disney World.
Recently, a friend let me in on that secret and it has saved us a TON of money on Official Disney Parks souvenirs.
We now make regular trips to the Disney Character Warehouse during our vacations to Disney World, and I'm happy to share everything you need to know about visiting.
What is the Disney Character Warehouse?
We adore Official Disney Parks merchandise. From Mickey Ears to Christmas ornaments, we always want to bring home some cool souvenirs from our trips to Walt Disney World.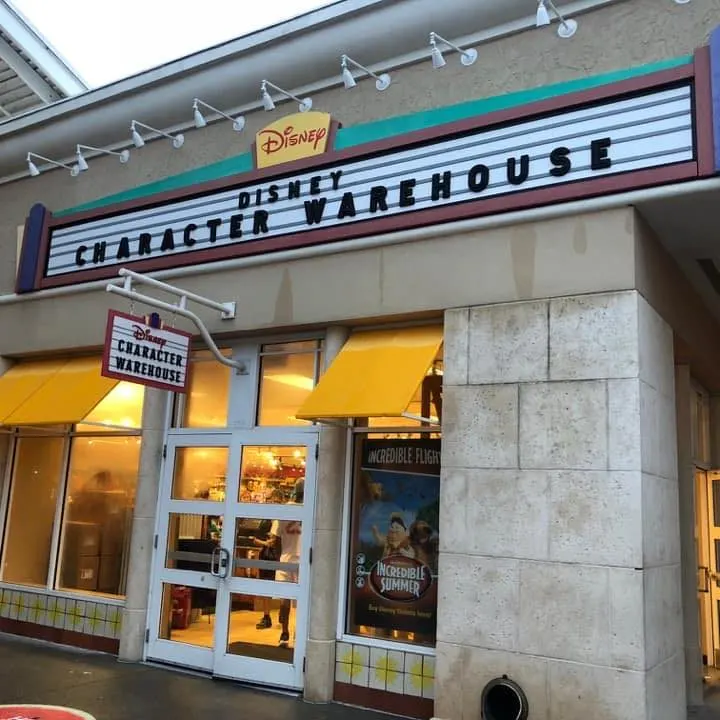 The only thing we don't like about Official Disney Parks merchandise is the price tag!
We all love those Mickey Ears, but at $30 to $50 a pop, the cost adds up quick and really eats into our vacation budget.
This is where the Disney Character Warehouse comes in.
The Disney Character Warehouse is an outlet store where Disney Parks sells the overstock of official parks merchandise for heavily discounted prices. It's every Disney fan's dream come true!
This is not your average Disney Store like you'll find in your local mall. These stores operated by Disney Parks and only carry Disney Parks merchandise.
Not only will you find items from Disney World and Disneyland, but also from Disney destinations like the Aulani and Disney Cruise lines.
You'll also find merchandise beyond just Mickey and friends. The Disney Character Warehouse also carries items from other Disney owned franchises like Star Wars, Marvel and Avatar.
For many years these locations were kind of a local secret, but in recent years their popularity has only grown.
There are Facebook groups and Youtube channels solely dedicated to the Disney Character Warehouse and what merchandise you can find there at any given time.
You can even find personal shoppers who will go on the hunt for specific items for you (for a hefty fee of course!).
Where is the Disney Character Warehouse?
There are two locations of the Disney Character Warehouse in the Orlando area, both quite close to Walt Disney World.
The one is located at Orlando Vineland Premium Outlets and the other is in the Orlando International Premium Outlets.
Both locations are in outlet shopping malls, and are pretty nice places to visit in general if you're looking to do some shopping.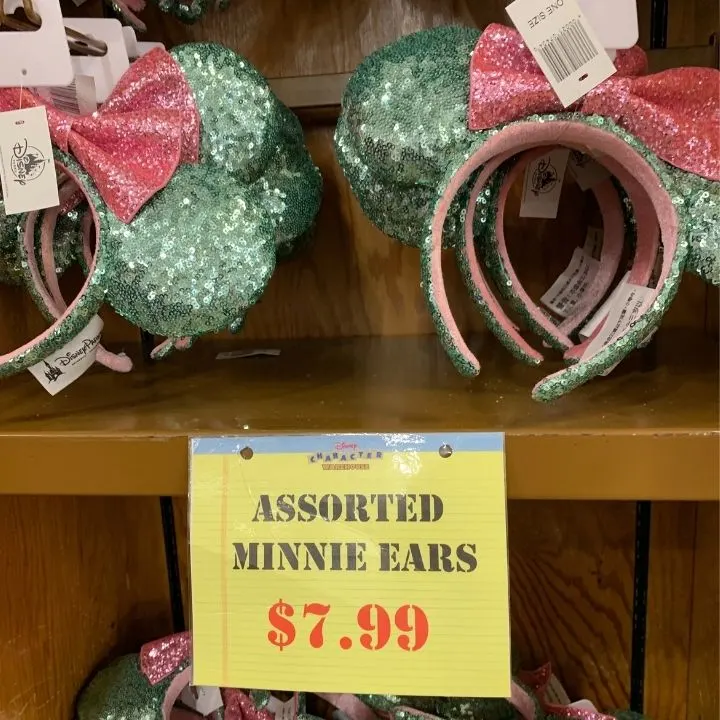 We usually visit the Vineland store on our trips, due to its convenient location.
The Disney Character Warehouse at the Vineland Premium Outlets is just a short distance from Disney Springs, while the International Premium Outlets are closer to the main gate.
If you have a car during your vacation, these locations very easy to find but be warned, the parking situation at Vineland can be pretty terrible. Some parking is paid, some is free. It's really a madhouse over there.
If you don't have access to a vehicle or just want to avoid the parking debacle, this location is easily accessible through a rideshare service like Lyft or an Uber.
You can have a driver pick you up from your resort. Or if you want to save a little money on the ride, you can have them pick you up from Disney Springs after taking free Disney transportation there.
How To Access The Store
The Disney Character Warehouse has always been a huge draw for crowds. Lines to get in at the start of the day would frequently extend into the walkways outside the store.
Starting in 2020, Disney added a virtual queue system to limit how many people are in the store at one time.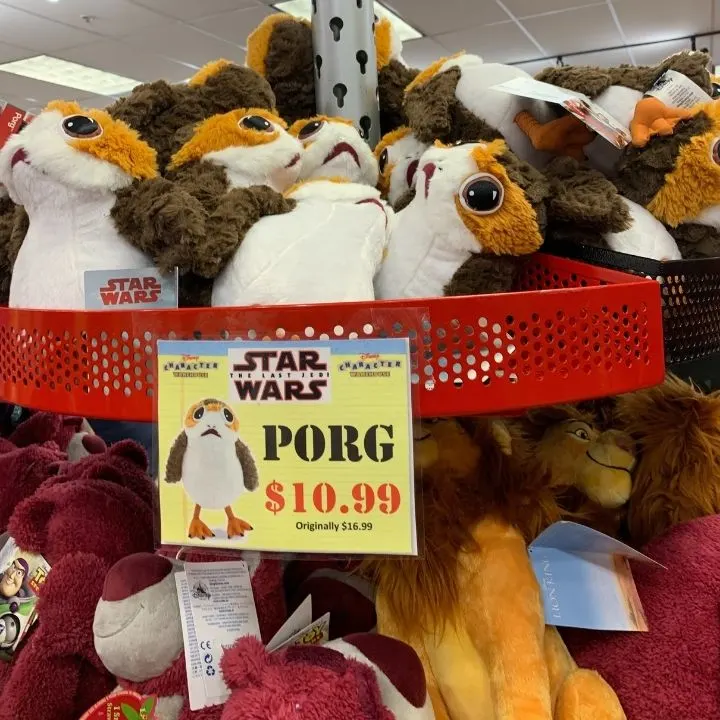 You simply give your phone number to the cast member manning the door, and you will receive a text message when it's your turn to go in.
Then you simply check back in at the door and wait in a much shorter line to go into the store.
This must be done in person, and cannot be done online or in an app.
It can sometimes take two to three hours for your name to work it's way to the top of the queue, so be prepared to wait.
The virtual queue system does alleviate some of the hassle by enabling you to spend some time shopping at other stores while waiting for your name to be called.
A cast member usually starts taking names for the virtual queue about an hour before the store opens.
As with most places, weekends are the most crowded times at the store. If you can make a visit on a weekday, it's likely you're wait time will be a little less.
What You'll Find At The Disney Character Warehouse
Any visit to the Disney Character Warehouse is kind of a gamble, since you never really know what they'll be stocking on any given day.
Since it's a true outlet store that sells actual overstock and not just cheaper versions, there is no real consistency to what you'll find.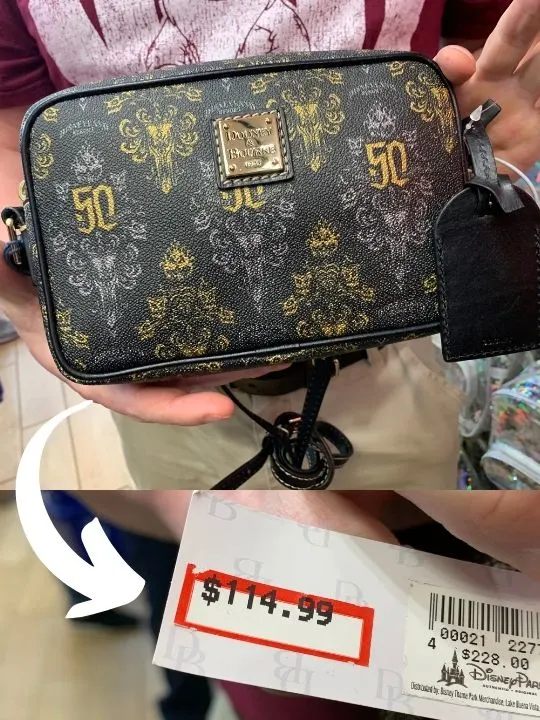 One day you'll find piles of high end parks merchandise, and other days it will be just the junk no one else wants.
We always find a few great t-shirts here, but there have been visits when we couldn't even spot a single pair of ears.
It's a great place to find inexpensive Official Disney Pins for trading, and we've scored some great phone cases and magic bands.
My son collects small Disney action figure sets, and we've always been able to find them at the Disney Character Outlet for about half of what they cost in the parks.
Keep in mind, these will NOT be the latest and greatest items that you'll see at Disney Springs. Items will always be off season (think Halloween costumes in November and Christmas Items in February).
The pricing can be a bit weird too. While all of the merchandise will be marked down from what it is in the parks, there isn't a standard discount.
Most items are at least marked down by 50%, but sometimes you'll see items that only have a 10 to 25% discount on them. But on the flip side of that, you can also find really amazing things at a 75 to 80% price cut.
Since this store is run by Disney, you can pay with Disney gift cards and rewards cards, just the same way you would be able to pay in the parks.
Things To Remember
While we highly recommend visiting the Disney Character Outlet on any trip to Walt Disney World, there are some things you really should keep in mind about it when planning your trip to the store.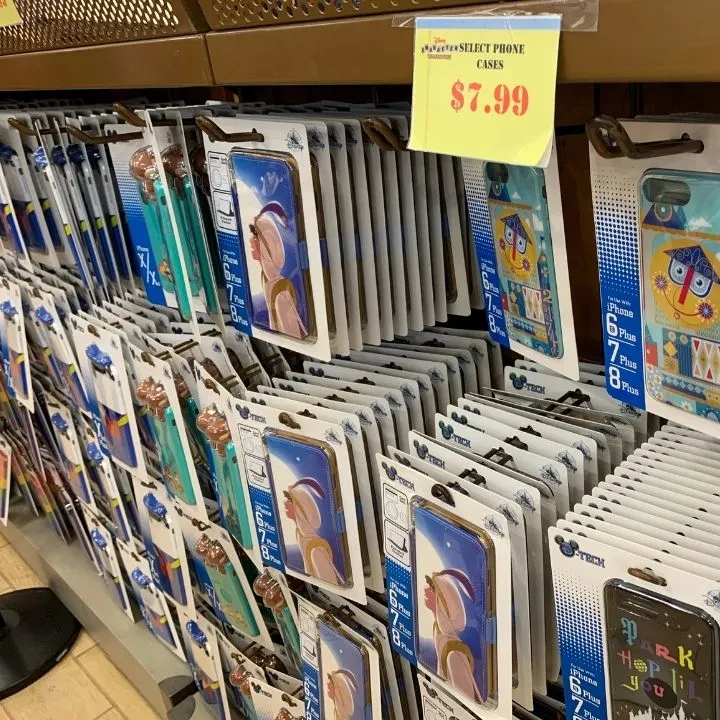 Don't Make the Disney Character Outlet Your Only Source for Merchandise
Don't count on the Disney Character Outlet to have exactly what you want for a souvenir.
I've heard horror stories about how people didn't allow their kids to get anything at the parks. They visited the store on their last day just a few hours before closing, only to find the virtual queue full and that they were unable to get anything.
PLEASE don't go this route.
If you can, plan your visit for the beginning of your trip so you won't miss out on that perfect item in the parks.
Check Items For Damage
Sometimes there's a reason things have ended up at the Disney Character Warehouse instead of at the parks.
Be sure to check all items BEFORE you buy them, since all sales are final.
We neglected to do this once and ended up with a broken figurine in one of my son's sets.
It never hurts to take the extra time to look everything over that you plan to buy.
Keep Transport In Mind
It's always good to remember that you will have to figure out a way to take this stuff home with you once you buy it.
My husband and I made this mistake on our first visit to the Disney Character Outlet.
We had flown down for our trip, and on our last day, decided to check out the store. We bought so much stuff we had to completely repack our suitcases to fit it all in.
The cast members at the Disney Character Outlet are great about properly wrapping up breakable items for you, so you don't have to worry too much something being busted when you get it home.
You just need to make sure you have the space to get it there.
If you are flying, it helps to have a spare collapsible duffle bag with you just in case you need some extra space to carry home all your finds!
Have you ever visited the Disney Character Warehouse? What was your experience like? Tell me in the comments!
Disney Character Warehouse: Disney Parks Merch for a Fraction of the Price!