The Disney Skyliner is the newest and most exciting way to travel within Walt Disney World.
While the Disney Skyliner offers incredible views and super fast service, there are a lot of things guests need to know in order to use this unique transportation system effectively.
We're even including a free printable to help you figure out transfers onboard the skyliner.
What is the Disney Skyliner?
The Disney Skyliner is an aerial gondola system that transports guests at Walt Disney World between some theme parks and hotels.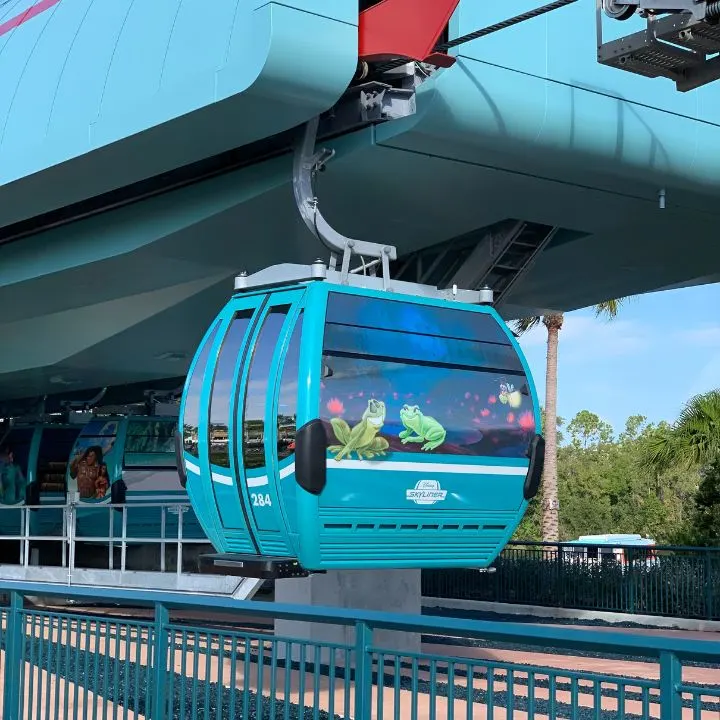 These themed vehicles fly high over Walt Disney World property, providing beautiful views and speedy rides between destinations.
This innovative travel system launched in September of 2019 with approximately 300 gondolas that cover around six miles of track stretching across large swaths of Disney property. Seven loading docks are spread between in five separate Skyliner stations around the parks.
Each gondola can hold up to 10 guests, and there are special gondola units designed for handicap accessibility at each station.
Where does the Disney Skyliner go?
The Disney Skyliner officially provides transportation between two Disney theme parks and four Walt Disney World resort hotels, but there are a few other hotels that also benefit from skyliner access with just a short walk.
Disney Skyliner Theme Parks
Both Hollywood Studios and Epcot have Skyliner Stations located at entrances to the park.
Hollywood Studios has a Disney Skyliner Station located just steps from the main entrance.
Epcot has a Skyliner Station located just outside at the International Gateway, which is sometimes referred to as Epcot's "back entrance". Located between the UK and France Pavilions of the World Showcase, the International Gateway is a full service entrance to the park, but lacks access to the Epcot parking lots.
Disney Skyliner Resort Hotels
The Disney Skyliner has official stations located at all three levels of Walt Disney World Resort Hotels.
The deluxe resort served by a Skyliner Station is Disney's Riviera Resort. The moderate resort served by a Skyliner Station is Disney's Caribbean Beach Resort.
A single Skyliner Station serves two value resorts and is located on a bridge between Disney's Art of Animation Resort and Disney's Pop Century Resort.
Guests staying at Disney's Boardwalk Resort and Disney's Yacht Club resort can also take advantage of the Skyliner by taking just a short walk to Epcot's International Gateway.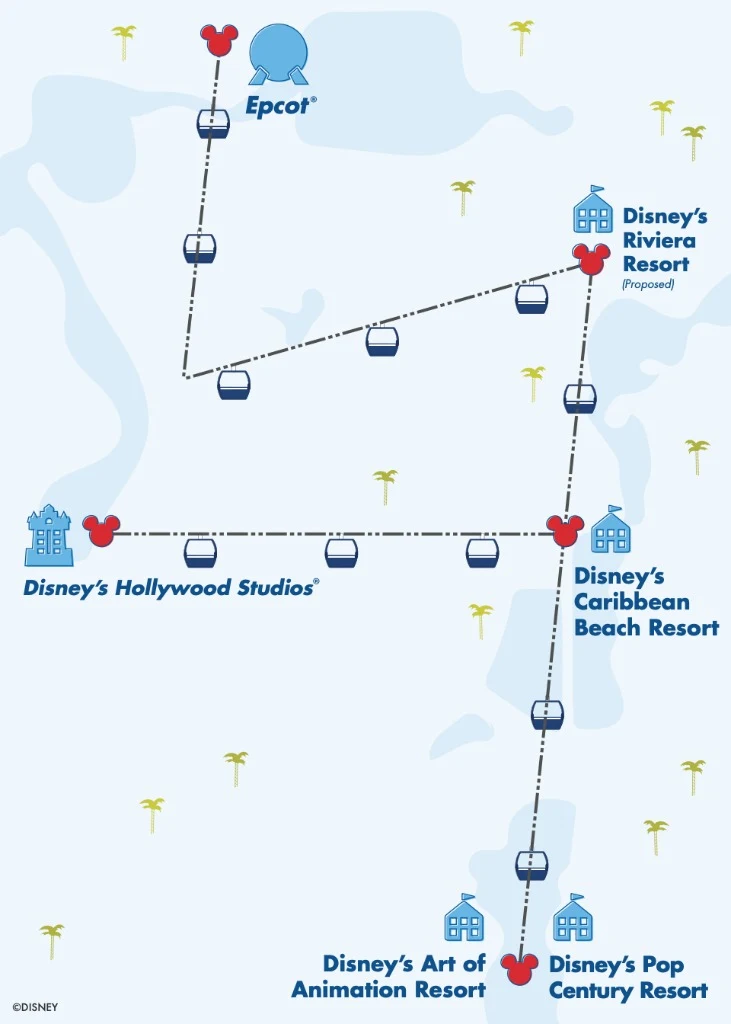 How To Use Disney Skyliner
Using the Disney Skyliner is very easy and most guests find it to be an extremely fun and convenient way to get around Walt Disney World. Using the Disney Skyliner is quite easy, you just need a little information and you can be on your way.
Can Anyone Use The Skyliner? What Does It Cost To Use The Skyliner?
Anyone on Disney property is welcome to use the Skyliner for free. Just as with all Disney transportation systems located inside the parks, there is no charge for guests to hop on a gondola at any station. You do not have to be a Disney Resort guest.
Disney Skyliner Routes
Before you even head to a Disney Skyliner Station, you'll want to know where you're going and if you'll have to change gondolas to get there.
Not every route is a straight shot, and similar to a subway system, you might have to change gondolas to get to where you want to go.
The big hub for the Disney Skyliner routes is located at Disney's Caribbean Beach Resort. From Caribbean Beach, you can get to any location that the Skyliner goes to.
There are three gondola lines that create the Disney Skyliner routes.
The Epcot line runs from Caribbean Beach Resort, swings through Riviera, and onto Epcot.
The Hollywood Studios Line runs from Caribbean Beach Resort directly to Hollywood Studios.
The Art of Animation/Pop Century Line runs from Caribbean Beach directly to those value resorts.
All lines are circular and run back to their original starting point as well.
Sometimes it can seem confusing to figure out if you need to change gondolas at Caribbean Beach to get where you need to be. We've created this handy chart to help you out!
Simply find the row of your starting point and the column of your destination on the chart. The box where the column and row meet will tell you if you need a transfer or not!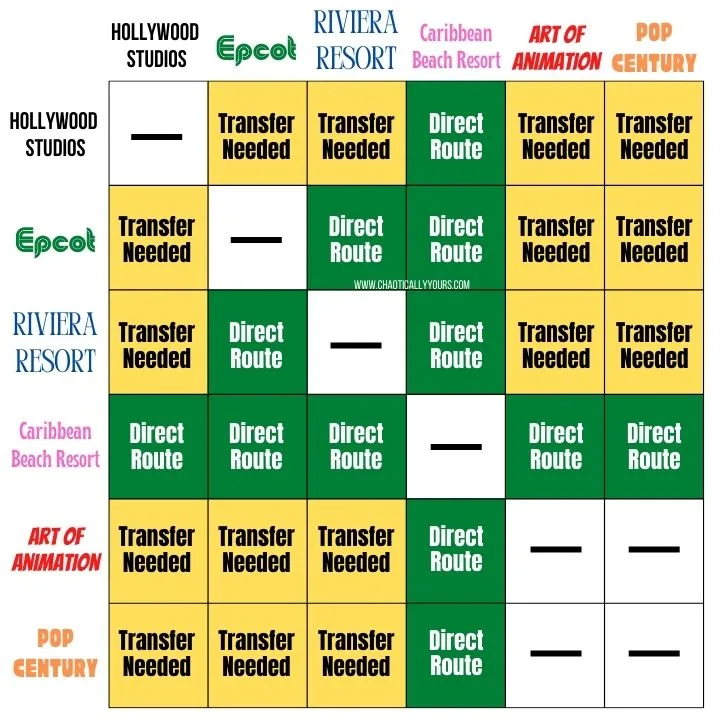 A full size printable version of our Disney Skyliner Chart is available at the end of this post for FREE!
Travel Times on the Skyliner
When the skyliner is up and running smoothly, actual travel time between stations is quite fast.
From Caribbean Beach to Hollywood Studios: approximately five minutes
from Caribbean Beach Resort to Pop Century & Art of Animation Resorts: approximately five minutes
From Caribbean Beach Resort to Riviera Resort: approximately three minutes
From Caribbean Beach Resort to EPCOT : approximately 12 minutes
If you're traveling on a route that requires a gondola change, simply add the two times together and then add five to ten minutes for the transfer.
For example, if you're traveling from Hollywood Studios to Pop Century Resort mid day, during non-peak hours, you'd add the five minute ride from Hollywood Studios to Caribbean Beach plus the five minute ride from Caribbean Beach to Pop Century to equal 10 minutes. Then you'd add another five minutes for transfers, for a total for 15 minutes of travel time.
Please keep in mind that those travel times do not take into account wait times for boarding the Skyliner. Those can vary quite a bit.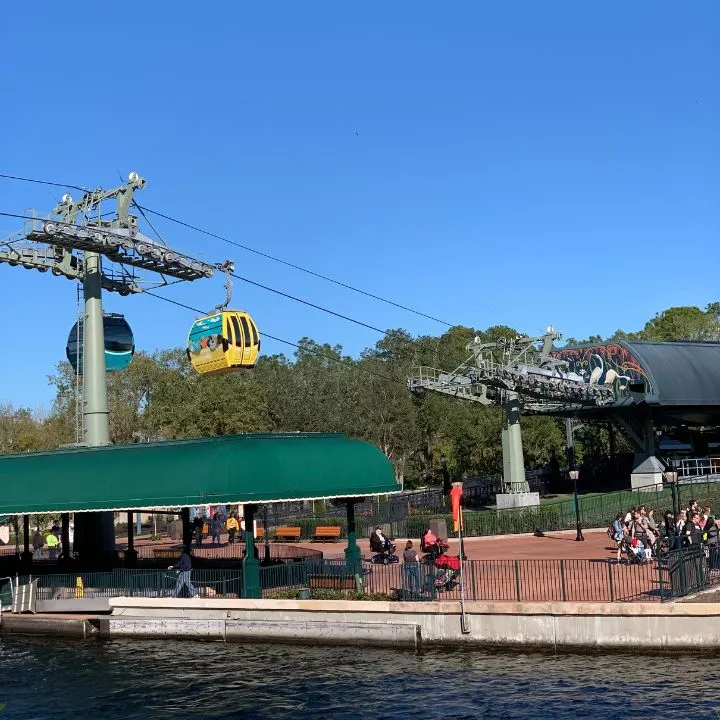 How Crowded is the Disney Skyliner?
Of course, like with everything else at Disney World, you must consider crowds when planning your transportation.
The Disney Skyliner is extremely popular with park guests. Even though cast members work swiftly through the lines of waiting riders, wait times to board the Skyliner can get long especially in the morning as the parks open and in the evening as the parks close.
You'll want to account for the crowd levels in your Disney Skyliner plans.
If I'm planning to use the Skyliner to get to a park at opening, I always make sure I leave an hour before I want to arrive at the park.
If I'm using the Skyliner mid-day, it's usually quite easy to just allow an extra 10 minutes to account for crowd levels.
Lines start to build for the Skyliner at park closing as well. I always prepare myself for a long wait if I choose to leave the parks during this time.
Be aware that you may not get an entire gondola to yourselves during your travel on the Disney Skyliner.
During peak hours on the Skyliner, more than one group may be assigned to a gondola, depending on the size. For example, when my family of four travels, we have occasionally been put in a gondola with another group of four people.
I've also used the Disney Skyliner alone and been assigned an entire cabin to myself during midday hours.
It really all depends on the crowd levels when you're trying to ride the Skyliner and how the cast member chooses to assign boarding.
When Can You Use the Disney Skyliner?
The Disney Skyliner does not have set operating hours. It all depends on the operating hours of Hollywood Studios and Epcot.
Skyliner hours will be posted on a physical sign in front of the stations daily, and you can always ask a cast member at the Skyliner what the hours will be for the next day's service.
You can usually expect the Skyliner to be up and running at least one hour before either Epcot or Hollywood Studios opens, and to stay open at least an hour after park closing.
Skyliner service can be disrupted during bad weather and if there is mechanical issues.
Disney also schedules yearly maintenance to the Skyliner, and will close down one route for a period of time to accommodate this. It usually happens during off peak season in months like January.
Is the Skyliner Handicap Accessible?
Yes, the Disney Skyliner is fully handicap accessible!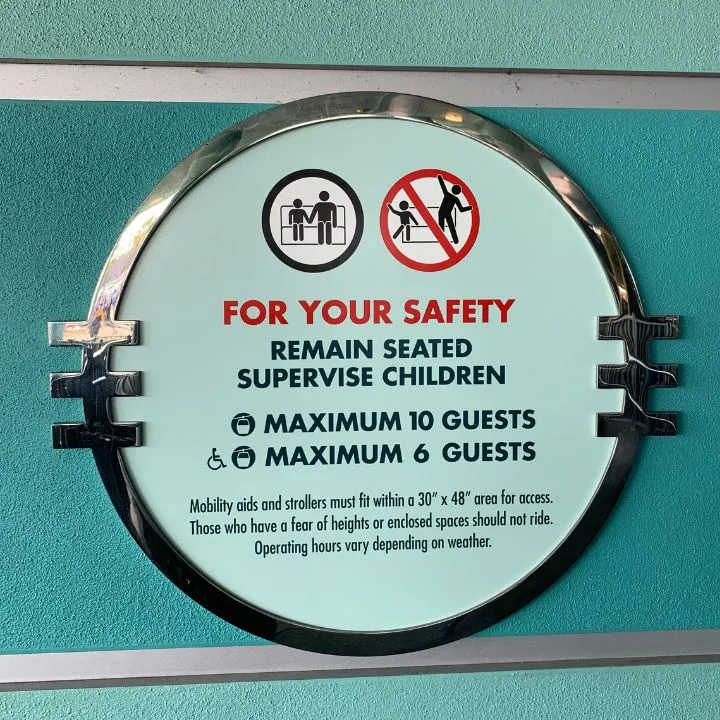 The Skyliner has special gondolas that can accomodate most scooters and motorized wheelchairs easily. As long as they fit with in a 30 by 48 inch space, they'll fit onboard.
These special gondolas are diverted off the main track to be loaded and unloaded, so that the rest of the gondolas can keep moving during this process.
Once they're loaded, the Skyliner system will stop momentarily to add a handicap gondola into the route, and then start back up to proceed to the intended destination.
Usually when the Skyliner stops mid flight, this is the reason why.
What is Riding the Skyliner Like?
Riding the Disney Skyliner is amazing! It's the fastest, most relaxing form of transportation between parks offered by Disney World.
When arriving at the Skyliner station, follow the clearly marked signs to the appropriate queue for your intended destination and line up to board.
When you reach the end of the queue, a cast member will ask the size of your traveling party and assign you to a gondola. Gondolas are quite spacious, and feature bench seating on both the front and the back of the cabin.
Gondolas can accommodate up to 10 guests. You can even roll most regular size strollers directly onto the skyliner without having to fold them down.
Once assigned a gondola, the doors to the cabin will open and you'll be free to board for an awesome ride.
Keep in mind, the Gondolas are constantly moving, while they slow down significantly at boarding stations, you do need to watch your step when getting into your gondola.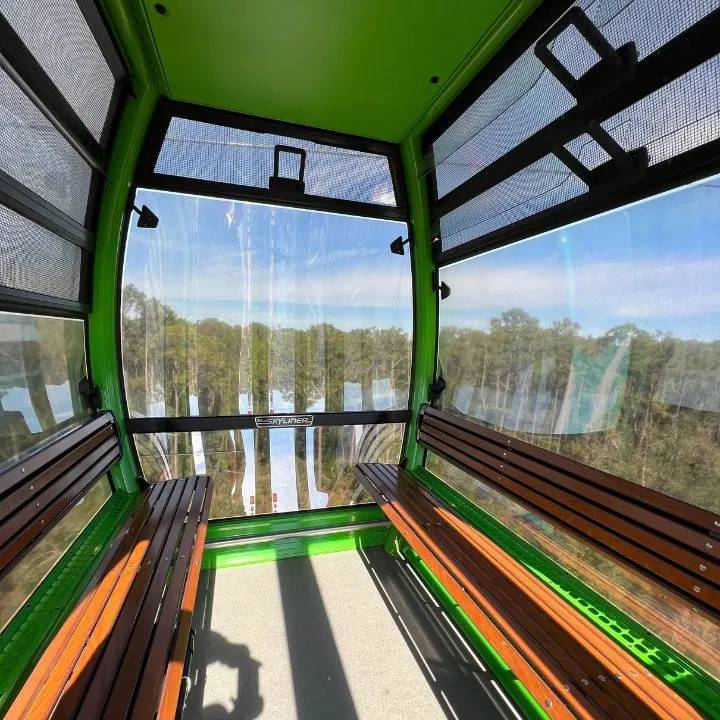 Once your boarded, quickly find a seat on either side and wait for the doors to close.
As they are leaving the station, Disney Skyliner gondolas will pick up a little speed and begin their flight along your chosen route.
Now just sit back and enjoy your ride.
Occasionally, gondolas will stop mid flight. If this happens do not be alarmed. It's usually just stopping to add a handicap accessible cabin to the line and will restart momentarily.
Announcements will give you information about upcoming stops and some nice facts about Disney property.
When you get close to a Skyliner station, your gondola will seem to come into the station rather rapidly. Don't worry, it will slow enough to come into the station safely.
Be sure to gather your belongings and be ready to depart your cabin as soon as the doors open.
Again, the gondola will not stop moving, so you will need to watch your step and be careful as you exit.
If you have a fear of heights or suffer from motion sickness easily, the Skyliner might not be the right mode of transportation for you. If this is the case, Disney offers buses from all resorts and between parks to help guests get around.
Themed Skyliner Gondolas vs Non Themed Gondolas
One of the coolest things about the Disney Skyliner is the theming of the Gondolas.
A large number of gondolas are decorated with special character wraps on the outside of the cabin. They range from classic characters like Mickey or Donald to ride specific decor like the Haunted Mansion.
They are super fun to spot while waiting for your turn to ride, but aren't perfect from a rider perspective.
While the theming is amazing to look at from the outside of the gondola, when you're in the cabin it isn't really visible.
In fact, the themed cabins get a little bit of an obstructed view during the flight due to the nature of the wrap used on the gondola. It's a bit like a tint to the cabin.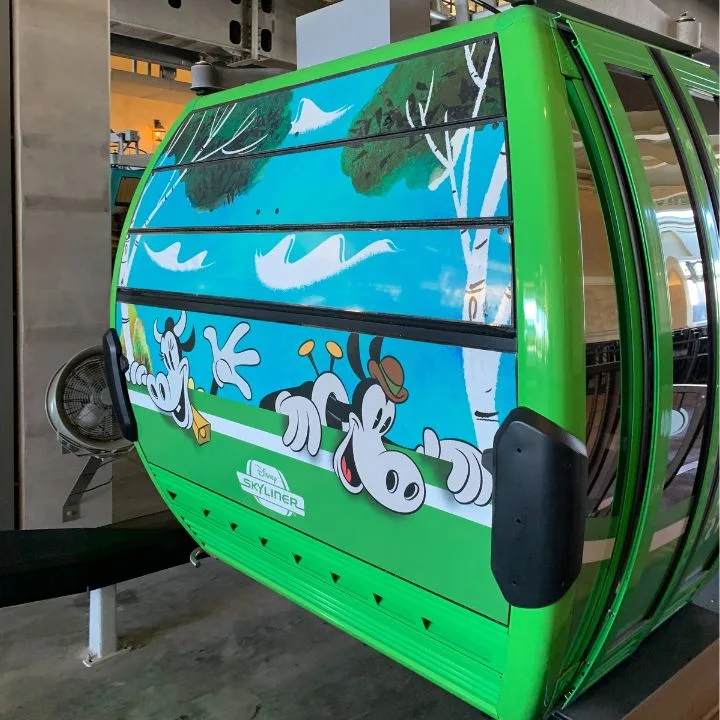 The unthemed gondolas provide the best views during your ride.
It's a matter of sheer luck whether or not you get a themed gondola for your Skyliner ride.
If your kids are really excited about riding in a themed gondola or you really want to ride in an undecorated one, you can always ask a cast member. While they may not be able to accommodate your request, it never hurts to ask.
What happens in bad weather on the Skyliner?
Florida is notorious for its sudden showers and rainy weather. You're probably wondering what happens on the Disney Skyliner in bad weather.
While Skyliner can and does operate in the rain, if there is lightning or high winds in the area, the Skyliner will be stopped for a few minutes until the risk passes.
Rest assured, Disney is NOT going to knowingly put guests onto the Skyliner if conditions might be unsafe.
Does the Disney Skyliner Get Stuck?
While it is very rare, the Disney Skyliner has gotten stuck in the past.
As mentioned earlier, the Skyliner will occasionally stop to allow handicap accessible cars to be added to the line, but these waits only last a couple of minutes and guests are on their way again quickly.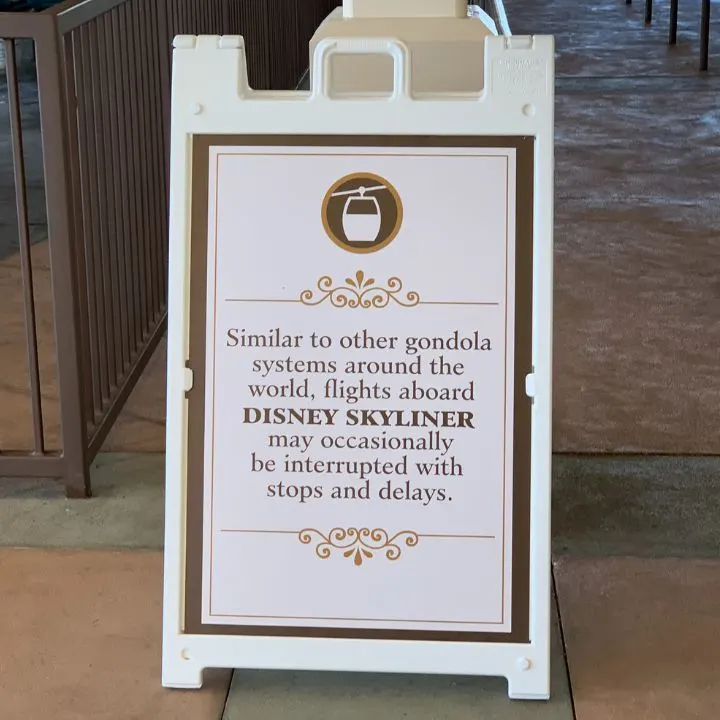 If there ever is a real problem with the Skyliner and guests get stuck, Disney is prepared.
Each Skyliner gondola is equipped with emergency packs that contain water, cooling packs, glow sticks and other items that would come in handy if the Skyliner was stopped for a long period of time.
Disney also does have evacuation plans for the Skyliner in the unlikely event that this is ever necessary.
The very few folks who have ever gotten stuck on the Skyliner have usually been compensated for their inconvenience by Disney in some way with either gift cards or park tickets.
Is the Disney Skyliner Air Conditioned?
No, the Disney Skyliner is not air conditioned.
This may sound miserable in the summer heat in Florida, but the gondolas actually have vents at the top that can be opened and are designed to create a nice breeze through the cabin during the ride.
Are there still buses from Skyliner Resorts?
Disney World does still run buses to Hollywood Studios and Epcot from the resorts that have access to the Disney Skyliner, but they run less frequently than they do at any non-Skyliner resort.
If the Skyliner is down for any reason (i.e. weather or maintenance), Disney World will increase the number of these buses in operation to meet guests needs.
FREE Disney Skyliner Transfer Chart!
Just as we promised, here's our FREE printable transfer chart for the Disney Skyliner!
Simply click HERE to access it.
Got More Questions? Let me know if the comments!