Wanna learn how to score a Slinky Dog Dash Lightning Lane on your next trip to Disney World? We've got you covered!
Slinky Dog Dash is one of the most popular attractions that Walt Disney World has ever built.
Lightning Lanes for this top Hollywood Studios attraction are frequently completely gone within just a minute or so after they're released, with the idea of getting a reasonable return time seeming next to impossible.
We've pulled together a pretty effective strategy for scoring a Slinky Dog Lightning Lane. While it's not foolproof, and won't guarantee that you'll get one, it will certainly increase your odds.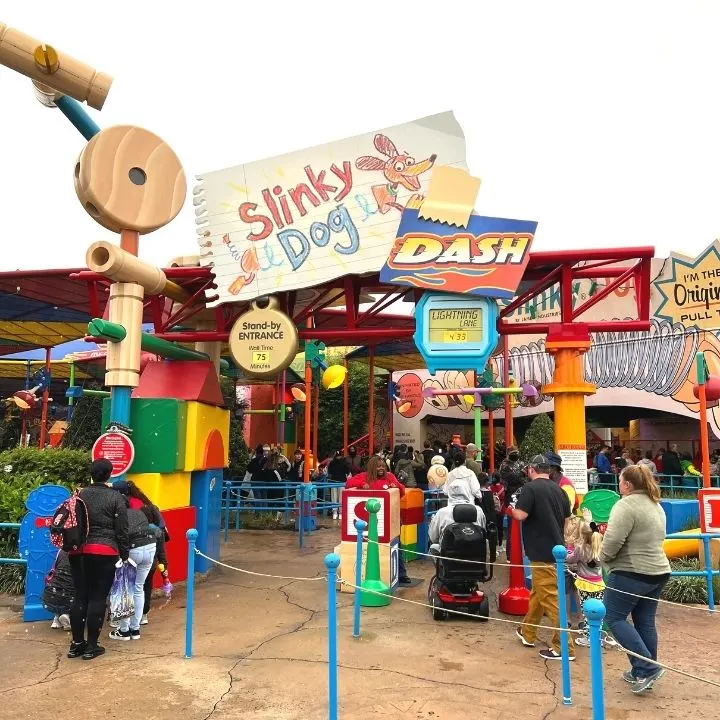 Links in this post may be affiliate links, which means I may earn a commission if you make a purchase from any of them, at no additional cost to you. You can find out more information by reading my full disclaimer.
Slinky Dog Dash Details
If you're a first time visitor to Walt Disney World, you may not be familiar with Slinky Dog Dash.
Slinky Dog Dash is a rollercoaster located in the Toy Story Land area of Disney's Hollywood Studios.
Here's what the Walt Disney World website has to say about the attractions:
Andy's assembled his Mega Coaster Play Kit—and Slinky Dog is taking you on a wild ride. Slinky Dog's springy coils stretch to the limit as you bend around curves, zoom up hills and drop back down.
This ride has been wildly popular since it's opening in 2018, with standby wait times consistently reaching several hours.
Both the theming and the thrill level of this ride appeal to the whole family, making it on the top of most visitors "must do" lists.
With a height requirement of just 38 inches, this ride is accessible to LOTS of younger children who may not be able to ride some of the more thrilling attractions in the park, like Rockin' Rollercoaster or even Star Tours.
The ride is surprisingly smooth and drops are just exciting enough to keep even teenagers happy.
How To Get A Slinky Dog Dash Lightning Lane
Since the start of the Disney Genie Plus Lightning Lane system in late 2021, Slinky Dog Dash has been the hardest ride to nab a Lightning Lane for.
If you're not a Disney addict like me, you might not be aware of what a Lightning Lane is.
The Lightning Lanes system is Disney World's pay-to-play, skip-the-line mechanism that guests can use to basically book a "reservation" to ride an attraction.
The Lightning Lane system is quite complicated, and I highly recommend reading our article Lightning Lanes at Disney World: Everything You Need to Know before attempting to score any Lightning Lanes.
Slinky Dog Dash is part of the Genie Plus Lightning Lanes system, meaning you can only access it if you have purchased Genie Plus for your day at Hollywood Studios.
Again, full instructions on how to add Genie Plus and how to book Lightning Lanes are in our article linked above.
Booking Lightning Lanes is complicated enough, but the biggest complaint I've heard is that within seconds of release, Slinky Dog Dash Lightning Lanes are either completely booked up or only have return times for very late in the day.
This often doesn't work well for guests, since you can only book Lightning Lanes one at a time, and you can't book another Genie Plus Lightning Lane attraction until after you've signed into your first one. (There is a loophole to this that we outline in that detailed Lightning Lanes post!)
If you want to take full advantage of the Genie Plus system, you're going to want to use it for as many rides as possible.
With these late in the day times, you aren't getting the full use of the benefit you're paying for. You're definitely going to want to try a few of these hacks to help you score an earlier time for this priority attraction.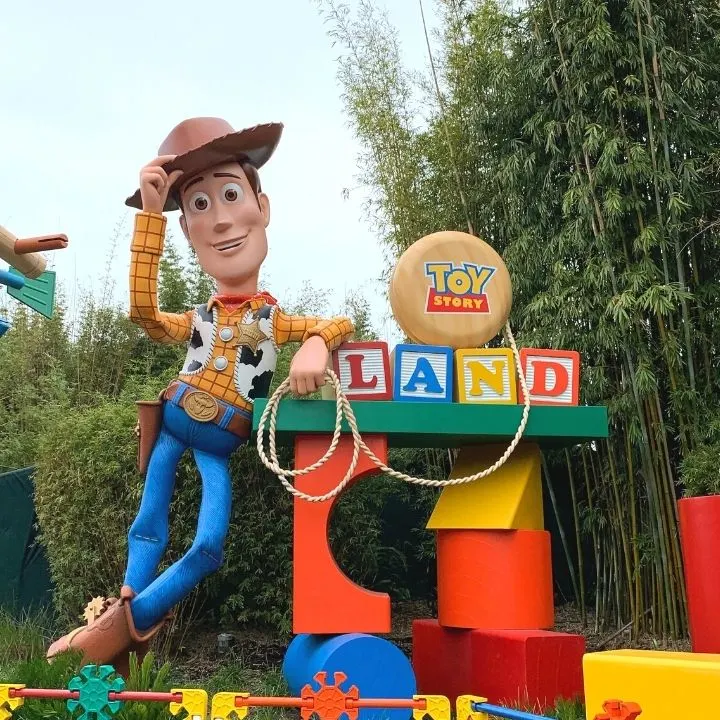 Lightning Lane Prep
There are two methods that can help you score a Slinky Dog Dash Lightning Lane, using My Genie Day or using the attraction page itself.
We're going to outline both of them for you, but there are a couple of things you need to do first, no matter what method you use.
Prep Your Phone
Just like we suggested in our post for How To Score A Boarding Pass for Disney Rides, you'll need to do some prep work to your phone to make sure it's functioning optimally.
The most important thing to do is to check your wifi. It's a good idea to check this out well in advance of the morning you want to book Lightning Lanes. It would be awful to figure out you have terrible wifi and bad data signal the second they're released.
If you're staying at a Disney Resort or other popular hotel, you might even want to turn your wifi OFF.
If you find you're getting better loading speeds using your cell phone data instead of wifi, it will be more beneficial to use it.
Also keep in mind that EVERYONE will be trying to book those Lightning Lanes at 7 am, putting pretty high demand on any shared wifi you might be using.
If you're staying at a private home or some kind of rental property with their own dedicated Wi-Fi connection, you might not have this problem and the wifi might be fast enough. But if it is shared, it's likely that the wifi will slow down when Lightning Lanes are released.
If you have a strong data signal, you're much better off using your own connection on your cell phone to book Lightning Lanes. If you do not have a strong signal, and the internet runs slow, go back to using your hotel's wifi.
I also recommend restarting your phone when you get to your accommodations so that your phone will link to any close by cell towers.
Just shortly before that 7 am release time, you'll want to make sure you're logged off of ALL apps, even My Disney Experience. You don't want other apps running in the background, slowing your phone down.
You'll also want a fresh log on to My Disney Experience to make sure it's up to date.
Add Genie Plus Early!
No matter which method you're using, the first thing you should do to help you score a Slinky Dog Dash Lightning Lane is to make sure you have Genie Plus added to your account well before 7 am on the day of your visit to Hollywood Studios.
It would be awful to get up early to score some Lightning Lanes, just to find Slinky Dog Dash Lightning Lanes completely gone be the time you finish setting up Genie Plus for the day.
Make sure you have it set up early, before you ever attempt to score a Lightning Lane.
Since you can't pre-book Genie plus anymore and you have to buy it on the fly while you're on your vacation, you'll want to make sure that it's already completely done before that 7 am release time.
Access to Genie Plus for any given day is released promptly at midnight and it can sell out during particularly busy times.
So if you're visiting Disney World during a peak season, you'll want to stay up late the night before or get up super early to purchase it on the My Disney Experience App.
Use The Right Clock
Being ready to click your heart out right at 7 am may be the most important part of this whole process.
Most people just use the clocks on their phones to do this, but it might not be the most efficient way.
The Disney Genie Plus system is synced up with Official U.S. Time for the Eastern Standard Time Zone, where Walt Disney World is located.
To make sure you're not starting your process a split second too late, you'll want someone else in your party to go to Time.gov and use that clock to make sure you aren't starting late.
Double Your Chances
If you have multiple people in your party who are going to be booking Lightning Lanes for your group, they should all be trying to do so for Slinky Dog Dash Lightning Lanes.
In order to do this, each person must have their own My Disney Experience Account, and all accounts must be linked to every member of your party.
It should not risk your access to Lightning Lanes to have multiple people in your group booking them, as long as they aren't trying to access the same account at the same time.
Bottom line, have everyone who is able go through the following steps and try to secure a Lightning Lane.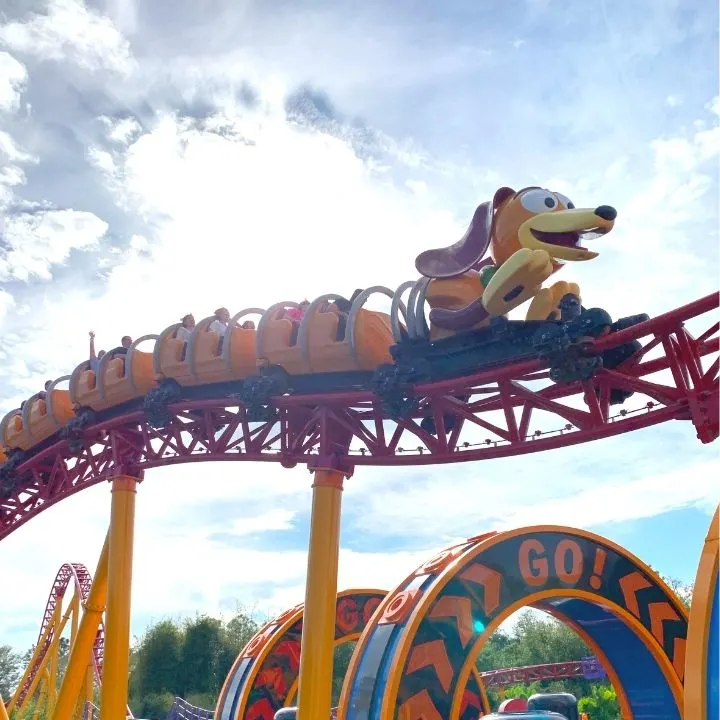 Slinky Dog Lightning Lane Methods
As promised, here are two different strategies to scoring a Disney Genie Plus Lightning Lane for Slinky Dog Dash:
My Genie Day Method
This method involves setting up your Tip Board so that Slinky Dog Dash is the first Lightning Lane attraction on your list, making it faster to access when Lightning Lanes are released.
Make sure you have a park pass, and that Disney Genie Plus is set for you going to Hollywood Studios for the day in question.
Way before 7 am, you'll want to go to My Genie Day and select Slinky Dog Dash as the ONLY attraction you're interested in.
By doing this, you're Tip Board will auto-populate with Slinky Dog Dash at the top, so that right at 7 am, when those Lightning Lanes are released, you're not wasting any time by having to scroll down to look for the attraction.
Attraction Page Method
With a prepped phone, shortly before 7 am, you'll want to get to the Tip Board in your My Disney Experience app.
Once you're on the tip board, navigate down to Slinky Dog Dash, and tap it. This will take you to the page just for the ride.
Locate the big "LL" icon in the middle of the page. It seems like just a symbol, but it's actually a button that links you directly back to the Slinky Dog Dash section of the Tip Board.
At EXACTLY 6:59:59 am, tap that "LL" icon. As soon as that Tip Board loads, tap Book Experience as fast as you can. DO NOT look at the return time. Ignore it and just book the reservation. Pausing to even consider if you like the return time could cost you the Lightning Lane.
Then you'll be taken to the taken to the confirmation page where you can finish booking your Slinky Dog Dash Lightning Lane.
What If I Don't Get A Slinky Dog Dash Lightning Lane at 7 am?
Sometimes, even with the fastest fingers, you STILL may not be able to score a Lightning Land for Slinky Dog Dash. Especially if you're visiting Hollywood Studios during peak season or on a particularly crowded day, this still could happen.
Rope Drop Slinky Dog Dash
The best thing you can do is "rope drop" Slinky Dog Dash.
If you're new to Disney Parks lingo, "Rope Dropping" means arriving at the parks before opening, so can be some of the first visitors inside.
To rope drop Slinky Dog Dash, be sure and arrive at the park 30 minutes before opening. As soon as you're let into Hollywood Studios, head directly to Toy Story Land.
Once in Toy Story Land, start looking to your right and you should see a cast member with a sign indicating where the standby line for Slinky Dog Dash ends.
This line may seem SUPER long and quickly will extend outside of Toy Story Land, but don't let that deter you. The don't actually fill the queue for the ride until it's almost time for the park to open, so the line will ease up quickly.
You could also try hopping in the standby line shortly before the park closes. If you are in a queue for a ride at closing, Disney Parks will let you experience the attraction before you leave the parks.
This means if the park closes at 9 pm, and you hop in line at 8:55, they will allow you to experience the ride.
Wait times for Slinky Dog Dash are shortest first thing in the morning and last thing at night.
Keep Checking My Disney Experience
Disney Genie Plus may seem like it only benefits the guest at the parks, but Disney actually uses it to help disperse crowds evenly across the park during the day.
What most guests don't know is that Disney will usually sprinkle out a few more Lightning Lane reservations throughout the day.
While it's not guaranteed that Disney will release more, there's also the off chance that you'll be able to nab one that another guest decides to cancel.
To grab one, you'll need to spend A LOT of time on your phone, refreshing the Disney Genie Plus app. If you plan to do this, I'd make sure that Slinky Dog Dash is pinned to the top of your Tip Board by utilizing that My Genie Day hack.
There's no specific time that Disney drops these extra Lightning Lane reservations. It really changes day to day. Most frequently they seem to appear right on the hour sometime in the early afternoon. And just like in the morning, they go FAST!
You'll also want to make sure you have an external charger for your phone, since you'll be using a LOT of battery life to try to grab these Lightning Lanes.
Utilizing Other Service
There are also a couple of other services that Disney offers that you might be eligible to use that could get you onto Slinky Dog Dash with less wait time.
If you're traveling with small children who aren't big enough to ride Slinky Dog Dash, you can utilize something called Rider Switch.
Rider switch allows your party to split up into two groups to experience the ride but only have to wait in the standby queue once.
We have a full post dedicated to Rider Switch that will give you all the details on how to use it effectively.
If you happen to be traveling with someone who cannot wait in line for long periods of time due to a disability, you can ask for a Disability Access Services Pass at the Guest Services building in any Disney Park.
Conclusion
These are all the ways we know of that can help you score a Slinky Dog Dash Lightning Lane. Even if you're not lucky enough to nab one, using the standby queue is well worth your time to experience the awesome attraction!