Should you use Mears Connect to travel to and from the Orlando International Airport to Walt Disney World?
Renting a car at Disney World can get crazy expensive, but if you're staying "on property" at a Walt Disney World Resort Hotel, having a car is basically unnecessary.
Between the monorail, the skyliner, boats, and buses, Disney World transportation can get you anywhere you want to go on Disney World property for FREE.
The only problem is getting to and from Orlando International Airport.
We recently used Mears Connect buses to accomplish this goal, and have all the details to help you decide if this service is right for you!
Just FYI: we were not compensated in any way by Mears or Disney for this review. It's all our own opinions and thoughts on the process.
What is Mears Connect?
Mears Connect is a shuttle company that offers direct service to and from Orlando International Airport to all Walt Disney World Resort hotels and select Disney World area hotels.
Until January 2022, this service was known as Disney's Magical Express and was provided for free to all guests staying at hotels on Disney property.
Mears was actually the contractor who provided this service for Walt Disney World back then, so it's not new territory for them.
With the elimination of Disney's Magical Express service, Mears has stepped in independently to provide this service to guests themselves, but for a fee.
Mears uses the same buses, the same drivers and even the same bus terminal at the airport that Disney's Magical Express used to use. They've just rebranded it all.
So if you've ever taken Disney's Magical Express, you've already experienced Mears service, and your experience here won't be much different.
What is the cost of Mears Connect?
Mears offers two levels of service with Mears Connect: Standard or Express.
The standard service is what replaced Disney's Magical Express and is provided via shuttle buses that make stops at one or more hotel or resort.
The express service provides a shared vehicle that takes you directly to your hotel with no stops. The website makes it clear that this is not a private car to your resort, so it's possible you might share a vehicle with other parties.
The pricing is QUITE different for each service, as you can see below: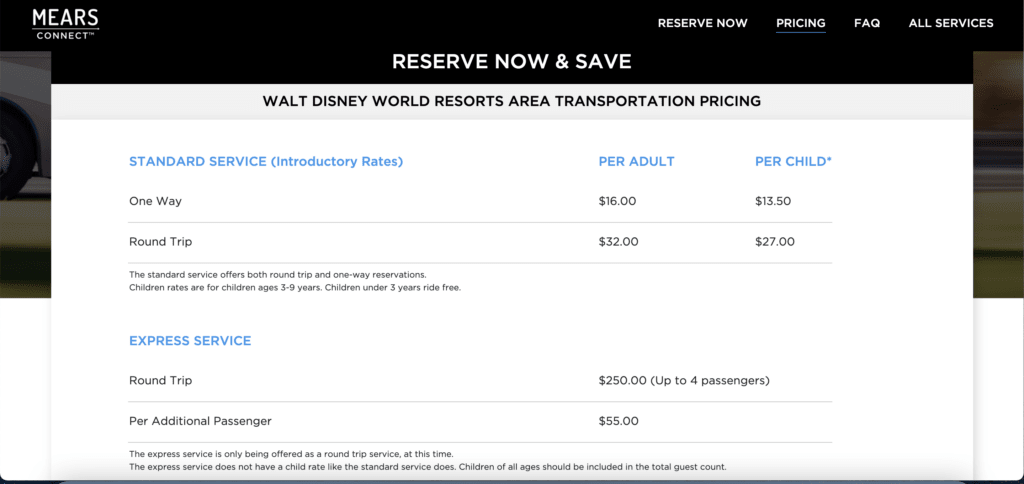 Which service you choose is up to you, but for the purposes of this review, we used the standard service.
We wanted to compare apples to apples with the comparison between Mears Connect and what was Disney's Magical Express.
Will Mears Connect handle luggage?
With the previous Disney's Magical Express service, you were able to check your luggage at the airport straight through to your resort.
In the past, guests were mailed luggage tags in the weeks prior to their trip with instructions to use them to check their baggage. Once checked at the airport, the bags would be taken directly to your room at your Disney resort, with no need to stop at baggage claim.
Unfortunately, Mears does NOT offer this service, which is a real bummer if your traveling with any checked baggage.
Guests who check luggage will need to retrieve it from baggage claim before heading to the Mears bus terminal.
Mears has stated that they are looking into offering this service, but we expect that if they do, there will be an additional charge for it.
What Hotels Does Mears Connect Serve?
Currently, Mears Connect serves all Walt Disney World Resort Hotels, including the Swan, the Dolphin, and Fort Wilderness Campground.
In addition to hotels on Disney property, Mears also serves these hotels:
B Resort & Spa

Four Seasons Resort

Gaylord Palms

Hilton Orlando Buena Vista Palace

Hilton Orlando Lake Buena Vista

Holiday Inn Orlando – Disney Springs

JW Marriott Orlando Bonnet Creek

Orlando World Center Marriott

Shades of Green

Signia by Hilton Orlando Bonnet Creek

Waldorf Astoria Orlando

Wyndham Grand Orlando

Wyndham Lake Buena Vista
Mears has said they plan to add more hotels to this list in the future, so be sure and check their website to see if your hotel is listed.
How does Mears Connect work?
The Mears Connect system is very streamlined and works extremely well, in our opinion. It's easy to very easy to book and the website is very clear about what to expect.
How to Book with Mears Connect
As soon as you book your flights, you are eligible to book your spot on Mears connect.
To book, simply go to the Mears Connect website, and fill out their easy-to-follow forms. You can book one way or round trip service, depending on your needs.
You'll need to provide your flight information and your hotel information.
The service does not have to pick you up for your return flight at the same location it dropped you off when you arrived, making this a great option for people who like to do split stays between resorts.
If you're working with a Disney Travel agent, they can set up your Mears Connect service for you!
If you still need a good agent, I highly recommend Katie Dunn with Travelmation. She handles all my Disney/Orlando travel for me and is fantastic! (I am not a paid affiliate with her or her agency whatsoever. I have used several agents who let me down in the past, so now that I've found a good one, I like to spread the word.)
Before You Leave On Your Trip
The day before your trip, you will receive an email with your "boarding pass" for Mears Connect.
The boarding pass has the pertinent information to your service on it, including your name, your expected pick up time, where you're going, and instructions on where to find the bus terminal.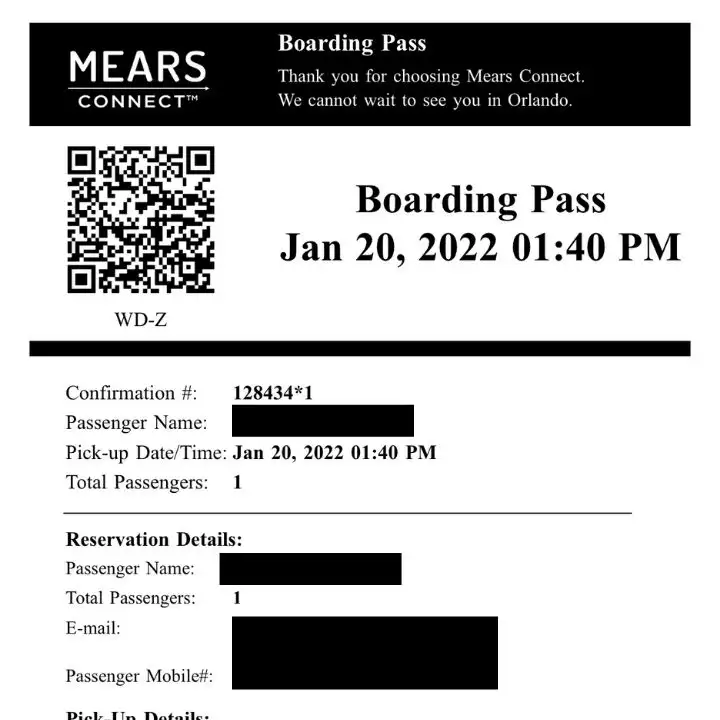 But the most important part of your boarding pass is the QR code at the top of the email. You can print this or you can use a digital copy. When we used the service, we choose to print our boarding pass so that the QR code would be easier to access when in the airport.
You'll need this info to be able to check in and board your Mears Connect bus.
Where to Find Mears Connect When You Arrive At The Airport
The check in area for Mears Connect is in the exact same place as Disney's Magical Express used to be. During our trip, the airport still had some signage for Disney's Magical Express, so we followed that.
When you arrive at Orlando International Airport, you'll first need to claim any baggage you may have checked on your flight.
Once you've claimed your baggage, you'll need to follow signs to Concourse B and Ground Transportation.
Then make your way down the escalators or the elevator to Level 1, where you'll begin to see signage for Mears Shuttles. If you're taking the escalators, you'll turn right when you step off on Level 1.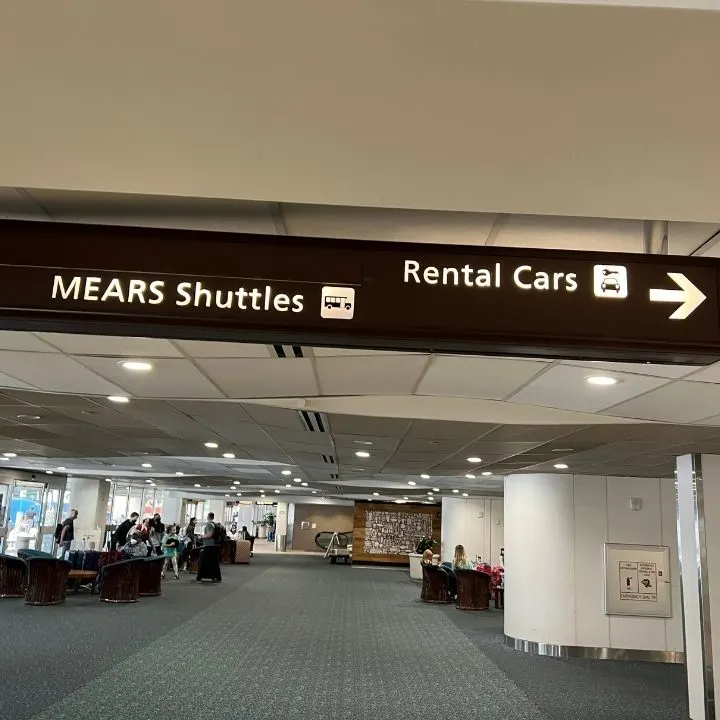 It can sometimes seem kind of desolate down there, like you might be heading in the wrong direction, depending on when you arrive.
You'll pass several car rental counters, and then you'll finally see the check in area for Mears Connect.
The Check In Process
Upon arrival, there should be few agents there to assist customers, but you are not required to check in with an agent.
If you have your boarding pass ready to go, simply proceed to any free kiosk and check yourself in. You just scan the QR code on your boarding pass, and your information should appear on the screen.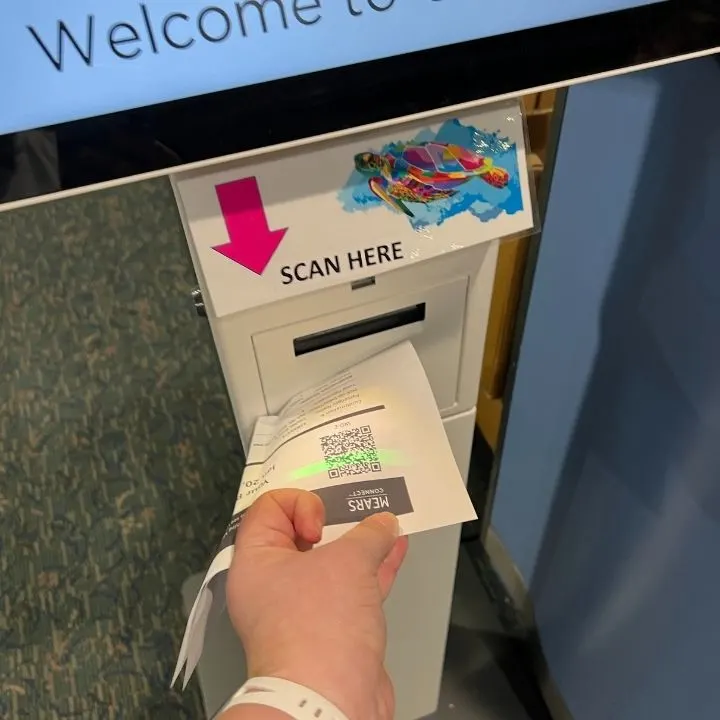 Look over it to make sure everything is correct, and then tap the button on the screen to confirm it.
You'll then be given a "boarding zone" that will indicate what line you should join. Head on over and join the designated line.
The Boarding Process
There were also instructions to look for your name and boarding zone on the screens by the exit for an indication of when you should board, but when we were there, they were not using this process.
They simply told us when to go and what bus to proceed to.
We waited less than 5 minutes in the line before boarding our bus to the resort.
When it's your turn to board, take all of your luggage with you and follow instructions to the correct bus. There will be employees there that will take your luggage and stow it for you. They may also double check your name and destination before you board.
Mears Connect Buses
We found the buses to be extremely clean and comfortable. They're all charter style buses, with cushioned seats and seatbelts.
There is some "entertainment" played on each bus for the ride there, which is basically just information about Mears.
Each bus is equipped with a bathroom, but like any charter type bus, I would ONLY use it in the case of an emergency.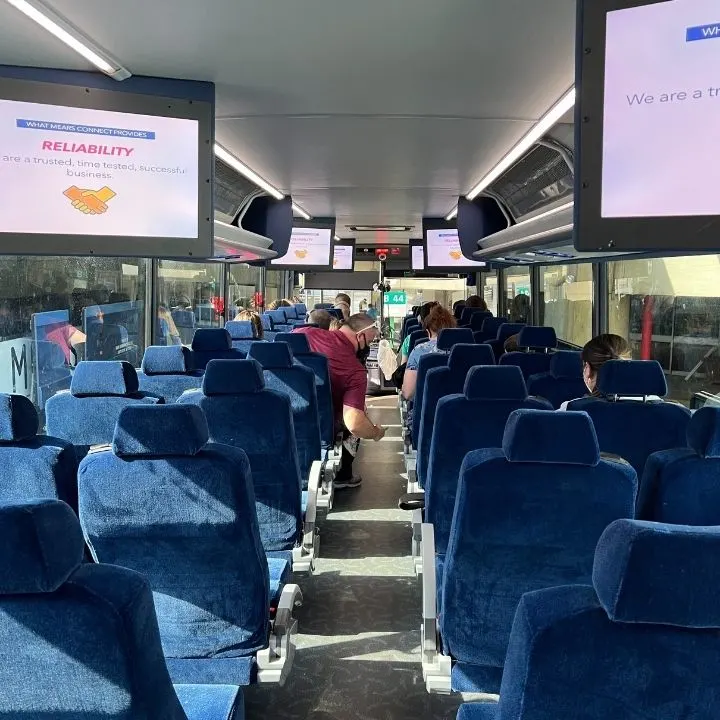 Drop Off
We waited less than 10 minutes for our bus to depart from the airport.
The ride to our hotel (Disney's Caribbean Beach Resort) took roughly 45 minutes and was quite pleasant.
Most Mears Connect buses make multiple stops to drop off passengers. Our bus stopped at Disney's Riviera Resort before dropping us off at Caribbean Beach. The stop only took a few minutes and we were on our way again before we knew it.
Once we arrived at Caribbean Beach, we were dropped off at the very front of the resort near the check in desk.
Our driver then kindly retrieved our luggage from underneath the bus for us.
Drivers for Mears Connect are allowed to accept tips. I highly recommend tipping these employees when you use the service, especially if you're traveling with a lot of luggage they need to load and unload for you.
When It's Time To Head Back
The day before your departure, you should receive another email with a new boarding pass on it. This boarding pass will contain your pick up time, pick up location, and flight information, plus a new QR code for your driver to scan.
For return service, you can expect to be picked up at the same place you were dropped off about three hours before your flight departure time.
Be sure and be at the designated location at least 15 minutes BEFORE your departure time to make sure you don't miss your bus.
When your bus arrives, the driver will scan your QR code and confirm that this is the correct bus for you. They'll also take your luggage and stow it again for you.
The return ride is much the same as the arrival ride, and you will be dropped off at the Mears Terminal, the same part of the airport where you originally caught the bus.
Is Mears Connect worth it?
Answering the question "Is Mears Connect worth it?" really depends on your situation.
In our opinion, there are two main factors to consider when deciding whether or not you should use Mears Connect: reliability and cost.
If you're looking for dependable transportation that you can count on to be clean and reliable, Mears definitely fits the bill.
Mears operated Disney's Magical Express for so long, that they really have this down to a science. Your ride will show up with a nice, big clean bus every single time and will have plenty of room for all your luggage.
Mears Connect Vs. Uber or Lyft
If you're traveling with a larger group, Mears Connect may not be the most economical way to get to Walt Disney World from Orlando International Airport.
At a cost of $32 per person round trip, it can add up quickly if you're traveling with a family of four ($128). For around the same price ($120-$150 depending on your destination), you could book a Lyft Lux Black XL that will carry up to six passengers and their bags.
If you're traveling solo, Mears connect is a great option since it's less expensive than a Lyft or Uber plus it's reliable and safe.
Mears Connect Vs. Sunshine Flyer
There's a new company that just started offering service from MCO to Disney World that's been getting a lot of buzz.
Sunshine Flyer is the latest offering to set up shop at the airport.
These train themed buses claim to offer basically the same service as Mears Connect at roughly the same price ($34 per person round trip).
Drop off is ONLY to Walt Disney World Resorts, and not any of the surrounding hotels.
But early reports about Sunshine Flyer haven't been great, citing problems from lack of promised train themes on some buses, to the terminal being hard to find, to pick up for the return trip being very confusing.
Since we haven't used the service ourselves yet, we can't say for sure if we'd recommend it or not, but we would advise that you do your research before booking with Sunshine Flyer.
Have you used Mears Connect? What was your experience like? Tell us in the comments?
Check out our post on Lightning Lanes to learn everything you need to know about this FastPass replacement system!
Want to know where to eat at Disney's most iconic park? Check out our post on the Best Quick Service Restaurants in the Magic Kingdom!
Mears Connect to Disney World: An Unbiased Review