In today's post, I'm going to teach you all the tips and tricks you need to know to get into a Rise of the Resistance Boarding Group!
Star Wars: Galaxy's Edge is the hottest new "land" in Hollywood Studios at Walt Disney World, and the only way to ride it's premiere experience is to join a Rise of the Resistance Boarding Group!
Rise of the Resistance is an experience like no other at Walt Disney World.
Without giving away any spoilers, the ride is completely immersive, and Star Wars fans will be more than satisfied when they finish their experience.
Due to the overwhelming demand, Disney World created a unique procedure for Star Wars Galaxy's Edge to control crowds and prevent lines from reaching monumental proportions like they have during previous openings of unique attractions like Pandora: World of Avatar.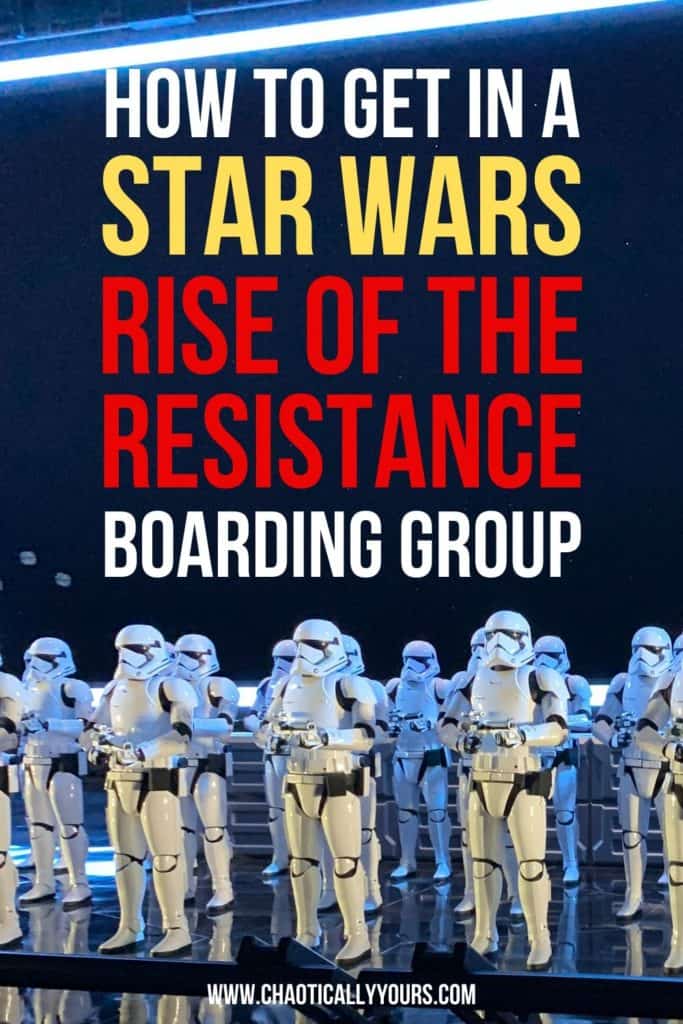 Links in this post may be affiliate links, which means I may earn a commission if you make a purchase from any of them. You can read my full disclaimer HERE.
The Rise of the Resistance Boarding Group procedure works by assigning guests to be part of groups that are called back to the ride one at a time to experience it.
Disney World gives every guest an equal chance of getting on the ride by assigning boarding groups in a lottery style system.
Anyone who has a valid park ticket, a Park Pass Reservation for Hollywood Studios, and the My Disney Experience App has an equal opportunity to get assigned into a boarding group.
The procedure is pretty simple overall. The only complicated part is learning how to join a boarding groups and understanding the best practices to make sure you get assigned to one.
My husband and I recently took a trip down to Florida to experience Galaxy's Edge, and we were able to get access to a Rise of the Resistance boarding group twice during our four day trip. I'm happy to explain to you how we did it.
Rise of the Resistance Boarding Group: Step #1 – Everybody Gives It A Shot
Everyone, and I mean EVERYONE, in your group who is able to properly use the My Disney Experience app NEEDS to be trying to grab a boarding pass.
Boarding passes are usually completely gone just seconds after being released, so hedging your bets with multiple people trying to grab the passes for your group is a good idea.
Any adults, teenagers, or competent older kids who have access to a phone or other device with the My Disney Experience app on it should be trying to get a Rise of the Resistance Boarding Pass.
If you leave it up to just one person, the results can be disastrous.
During our visit, a group next to us told us they'd planned their entire trip around visiting Galaxy's Edge and riding Rise of the Resistance.
One member of their group was completely decked out in Jedi robes and Star Wars Mickey Ears.
They left the process of trying to obtain a Rise of the Resistance Boarding Group completely up to one person for their entire group.
Her app glitched and by the time it was working again, boarding passes were completely gone. They were devastated.
Having multiple people in your group try to grab a boarding pass does not risk your access. Just like with booking fastpasses for your group on the app, everyone is linked and any member of your party can book them.
Once one member of your group has secured a boarding pass, everyone else will be locked out of the system. It's a little disconcerting at first, but it works well.
Bottom line, have everyone who is able go through the following steps and try to secure a boarding pass.
RotR Boarding Group: Step #2 – Know When To Be Ready
Knowing exactly when to get in a Rise of the Resistance Boarding Group is absolutely vital.
They're only available for very short windows of time, so guests need to be ready!
You Can Access The Rise Of the Resistance Boarding Pass Queue Remotely
Contrary to previous requirements for getting in a Rise of the Resistance Boarding Group, guests DO NOT have to be on property to obtain one.
You just have to meet a few requirements and utilize your MyDisneyExperience App to snag one.
The process works like this:
First, you MUST have a valid park ticket or annual pass AND a Disney Park Pass Reservation for Hollywood Studios.
If you have those two things, starting at 7 a.m. on the day of your reservation, you may access the virtual queue for a Rise of the Resistance Boarding Group from anywhere. (More about actually accessing the virtual queue in step 4)
This means you DO NOT have to be present in the park to get a group.
You can just relax in your hotel room and try to grab a boarding pass as you get ready to start your day.
This alleviates a lot of crowding at the entrance to Hollywood Studios first thing in the morning, and it give you an opportunity to get worry about getting on other rides first instead of stressing out in the park, trying to grab a boarding pass for Rise of the Resistance.
You Have A Second Chance!
In addition to making the Rise of the Resistance virtual queue accessible from outside the parks, guests also have a second chance to grab one if they didn't get one the first go around that day!
Each day at 1 p.m., the Rise of the Resistance Boarding Pass virtual queue is opened again!
For access to this go around, all riding guests must be physically present in the parks AND must not have already gotten a pass!
As much as I would LOVE to ride ROTR back to back, Disney isn't going to allow that for now, and wants to give everyone an equal chance to get on it's most ambitious attraction ever.
Rise of the Resistance Boarding Group: Step #3 – Prepare Your Phone
Now that you understand when to try to grab a Rise Of The Resistance Boarding Pass, the best thing you can do before you try is prep your phone for getting one.
First thing you'll want to do is turn OFF your Wi-Fi.
Disney Parks Wi-Fi is usually pretty good, but everyone and their mother will be on it when the boarding groups are released, and you don't want your connection to glitch just when you're trying to use it.
You're much better off using your own data connection on your cell phone to complete the process, if you have strong signal. If you do not have a strong signal, and the internet runs slow, go back to using Disney Wi-Fi.
You'll also want to turn off all the other apps that are running on your phone, and then log OFF of My Disney Experience. You'll want a fresh log in right before the boarding passes are released.
Rise of the Resistance Boarding Group: Step #4 – Fast Fingers
For the first queue of the day, log back into your My Disney Experience app shortly before 7 a.m.
You might want to set an alarm for 6:55 a.m. so you don't miss it!
For the second release of the day at 1 p.m., since you have to be in the parks to get one, you do the the benefit of that park-wide announcement.
Just make sure you're not screaming your way through Tower or Terror or beating your family at Toy Story Mania right at 1 pm, so you don't miss your window.
How to Access The Rise Of The Resistance Boarding Pass Queue:
Now's the time to start praying for the force to be with you as you start following the steps I'm about to outline.
The actual process for accessing the queue through the My Disney Experience App is exactly the same for either time.
When you open your My Disney Experience App, you'll see the Rise of the Resistance information near the top, just below the map.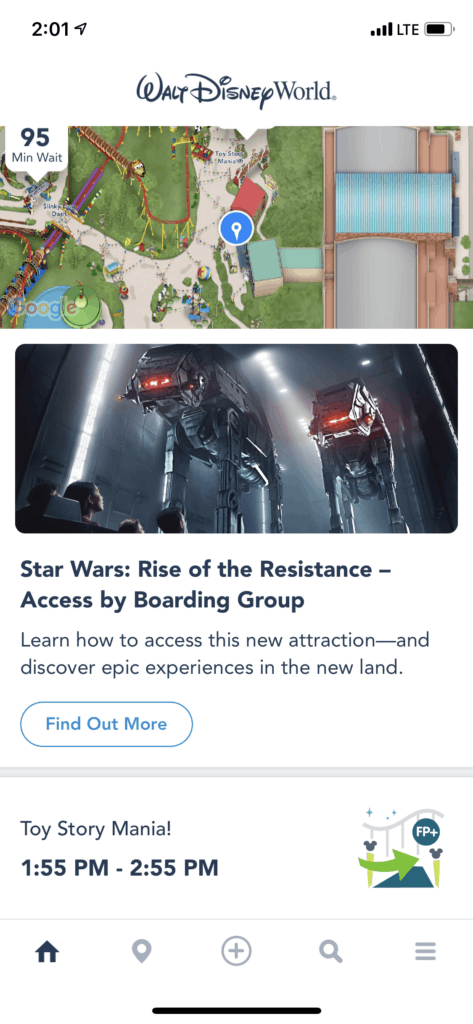 Click the "Find Out More" button, and the app will take you to the section that gives information about boarding groups. When boarding groups are open, the app will then take you to the page pictured below.
You'll want to click on the orange "Join A Boarding Group" oval.
(I was in such a rush to get our boarding passes when we were there that I didn't get a shot of what it looked like when it immediately opened, but it is VERY similar to the picture below. The orange oval is identical)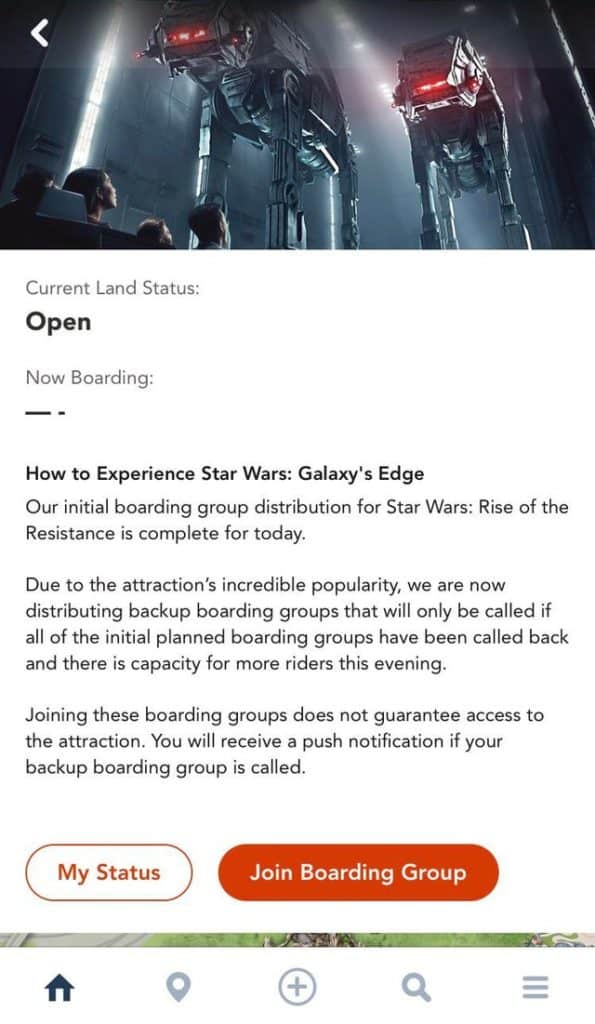 If you've followed all the steps above, and you should have been able to nab a boarding group, so your screen will look like the picture below: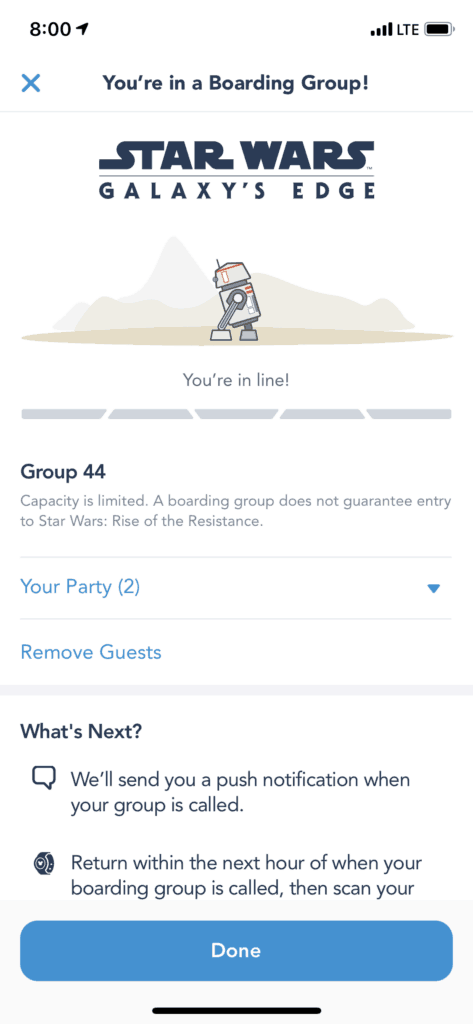 If your app glitches, you can click the back arrow and go to the Get More Info page and try again.
Usually if you don't see the screen above, it means someone else in your group got the boarding group a split second before you did.
When they grab one for your group, it locks you out of grabbing any extra ones and your screen will look like this: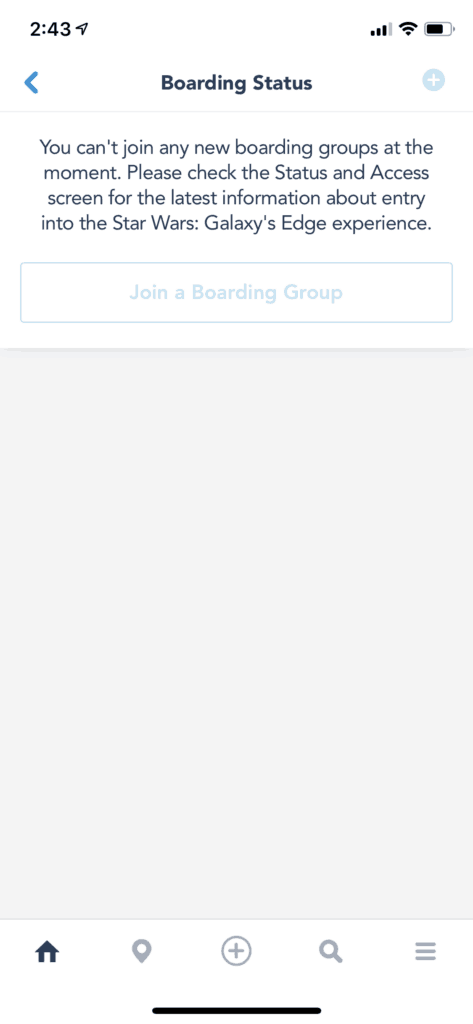 If for some reason you've missed all the boarding groups and it only offers you back up groups, definitely grab one of those. They often get called onto the ride later in the day.
Rise of the Resistance Boarding Groups: Step #5 – The Wait
Hooray! You scored a Rise of the Resistance boarding group!
Unless you scored a REALLY low numbered boarding group (like 5 or less), now comes the hardest part: waiting for your group to be called.
The number you were given can give you a general idea of how long your wait might be, but it isn't always consistent.
On our first day, we got group #70 and we were called back at 1:45 pm. On day two, we got group #44 and didn't get called back until 2:30 pm.
It all depends on if the ride is running smoothly, or if they are experiencing any breakdowns during the day.
Checking your status is quite easy. You just go back to the Rise of the Resistance section of your My Disney Experience App as pictured below: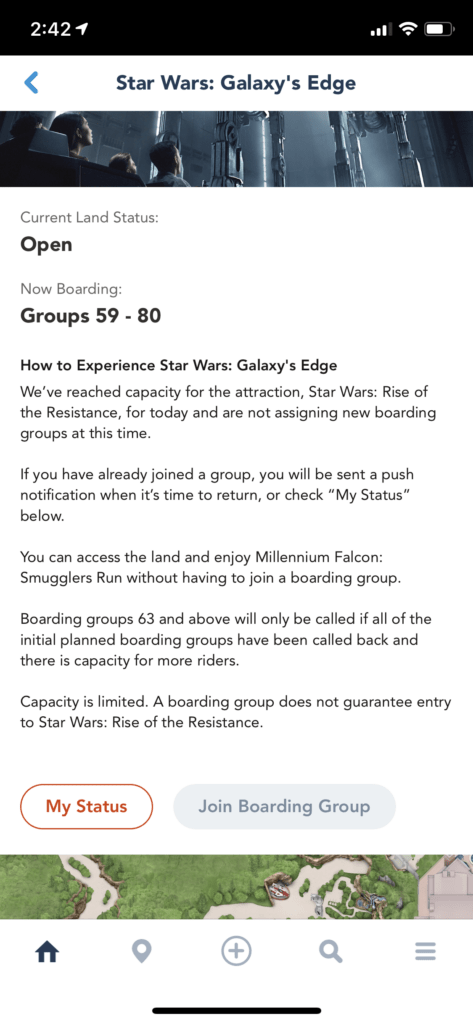 This will tell you how far into the boarding process they are.
For more information about the process, you can click "My Status" and get a more detailed picture of what's going on.
If you click "My Status" your screen will look like this: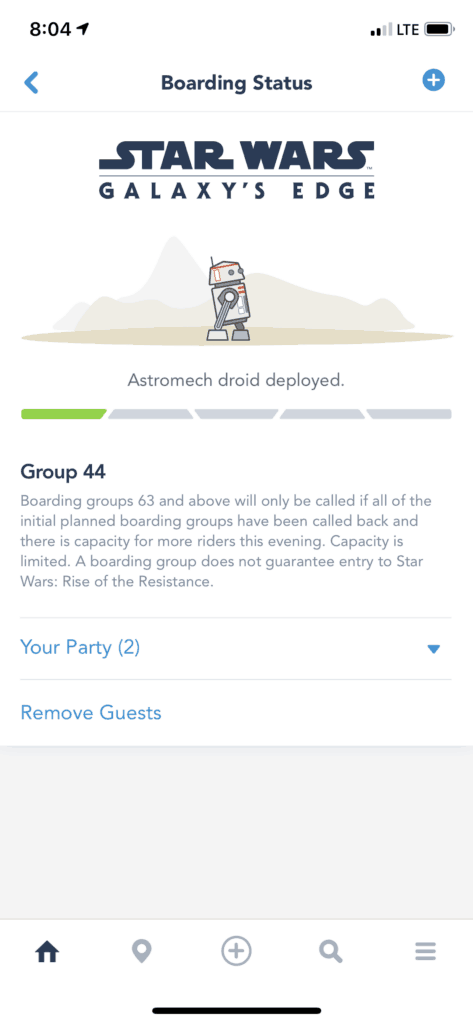 During your wait time, you can basically do whatever you want. You're free to explore Hollywood Studios, or even leave the park altogether.
Keeping track of what boarding groups they are calling will help you manage your time during the day.
Be sure you have notifications turned on for your My Disney Experience App. It's great about letting you know what's going on.
We got a few notifications throughout the day like the one pictured below about what was happening with the ride, so we knew what to expect.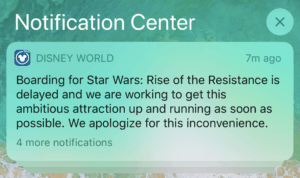 Rise of the Resistance Boarding Groups: Step #6 – What To Do When It's Your Turn
Eventually, your group will get called! Yay! It's your turn!
When you're group is called you'll be sent a notification like this: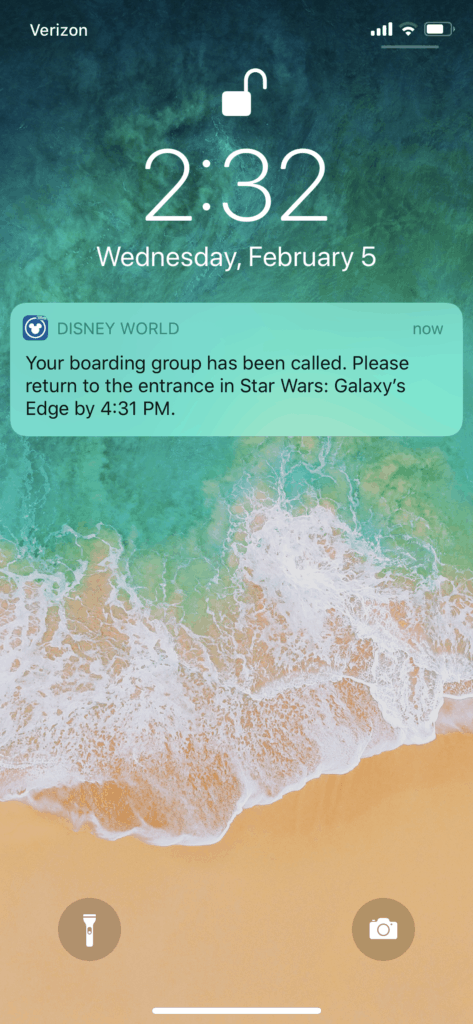 You're "My Status" section of the Rise of the Resistance area of your app will look like this: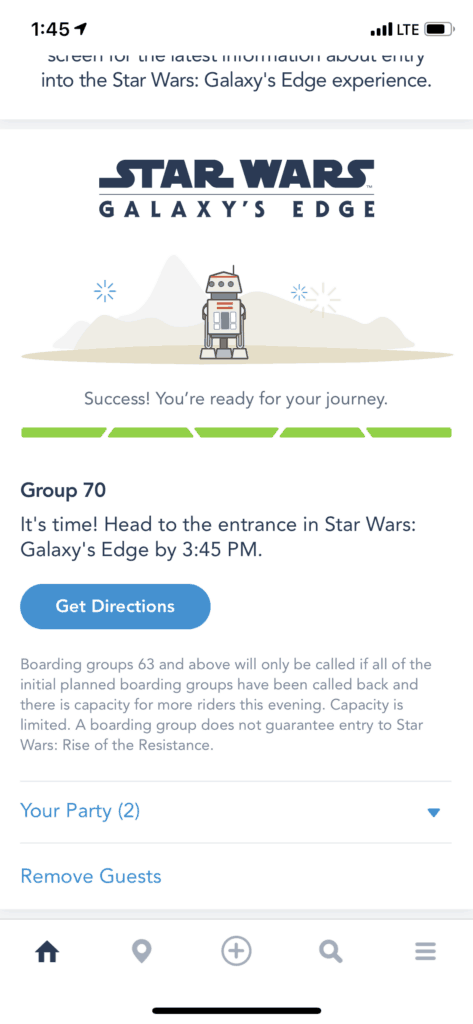 As you can see, you have plenty of time to return to Hollywood Studios to join your boarding group.
They give you two hours to get back. You should have no problem doing this from ANYWHERE on Walt Disney World property.
Does this mean you'll hop right onto the ride, and take off into space?
Not so fast. Just like everything else at Disney World, you'll still have to wait.
Once you get back to Galaxy's Edge, you can head straight to Rise of the Resistance, where a cast member will scan your magic band and ticket confirming your boarding group number.
Then you can join the queue, and wait for your turn on the ride. Both days that we experienced it, the wait was about an hour from when we joined the line until the experience started.
The ride actually broke down while we were waiting the first time, but in true Disney fashion, they even made this inconvenience special.
During the break down, we got visits from Chewy and Ray, and a free photo from the photopass photographer! It didn't add a lot of time to our wait, and we were super glad we stuck around for the ride.
While I wish it was shorter, this system is WAY better than waiting 4 or more hours in line like folks did when the parks opened Flight of Passage in Pandora.
And all the hassle of being in the parks early is SO worth it when you actually experience Rise of the Resistance. It's unlike anything else Disney has ever done.
With the Rise of the Resistance Boarding Group system, you don't waste your whole day standing in line. It frees up time for guests and manages crowds for the parks.
Overall, I think it's a good solution.
What To Do If You Don't Get In A Group
So you followed all the steps, and your app glitched and you STILL didn't get in a group? Definitely join a Back Up Group if they are available.
If Back Up Groups aren't available, you can always try another day.
When planning a Disney Vacation that includes a visit to Star Wars: Galaxy's Edge, I would ALWAYS recommend putting your Hollywood Studios day at the beginning of your vacation, and being flexible with your other plans in case something doesn't go your way.
Then if something goes wrong on day one, you can try again on day two, etc.
If Rise of the Resistance is a priority for your WDW vacation and you have the opportunity to plan more than one day in Hollywood Studios, I would DEFINITELY do it!
This ride is incredible. It's totally worth riding twice if you end up nabbing boarding passes for two days.
If you only have one day in Hollywood Studios, and your app glitches during both opportunities, go to a My Disney Experience kiosk, and ask for help.
While I can't guarantee they'll get you on the ride that day, they'll do what they can to help. (Kiosks are now located all around the parks and look like the picture below)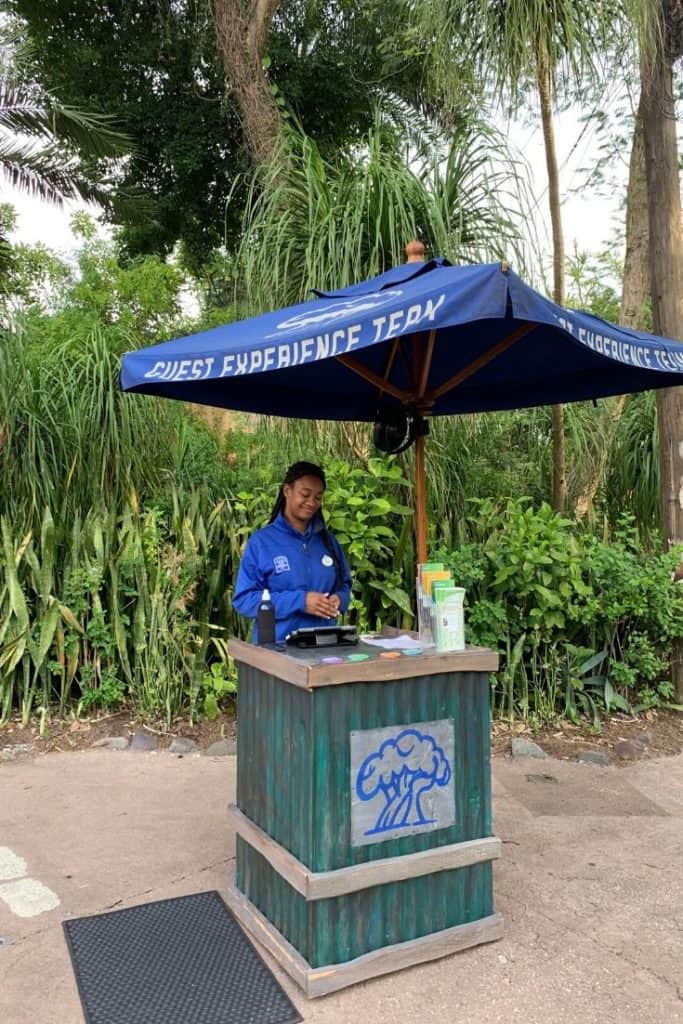 I'm sure this procedure won't be in place forever. Disney World has already changed the other ride in Galaxy's Edge, Millenium Falcon: Smuggler's Run, over to the regular queue systems.
There's no doubt in my mind that once demand slows down a bit, Walt Disney World will eliminate the Rise of the Resistance Boarding Group in favor of a FastPass or a stand-by queue. But that might take years since this ride is so incredible!
Until that time, it's totally worth the time and effort to get a boarding group. As someone who isn't a huge fan of the Star Wars films (sacrilege, I know!), I still enjoyed Rise of the Resistance immensely and consider it totally worth all the trouble we went to to ride it.
Now that you know how to get on the ride, make sure you have the t-shirts to wear to the parks! TeePublic.com has some AWESOME Galaxy's Edge themed shirts. Here are a few of my favorites:
Since you're already at Disney World, I'm SURE you're planning to visit the Magic Kingdom! Check out my complete guide to the FastPass+ system in Magic Kingdom!
Wanna know if you're kiddos are big enough to ride all the cool attractions in Galaxy's Edge and beyond? Check out the Height Requirements for Every Ride at Walt Disney World!
How To Get In A Rise Of The Resistance Boarding Group