Are you familiar with Disney Rider Switch?
People also refer to it as "child swap" – and it is a CRUCIAL part of enjoying Walt Disney World if you've got kiddos that don't meet all height requirements or don't enjoy the same rides the rest of your group enjoys.
It's an amazing program – my kiddos have all reached an age where we rarely use rider switch and I will admit I desperately miss it!
What is Disney Rider Switch?
Many rides at Disney World have height requirements that exclude very small children from riding. (I even have another post that outlines every height requirement on every ride at Walt Disney World.)
Alternatively, you may have a group that all wants to ride something – but your youngest is scared or needs a snack/nap/etc.
Walt Disney World has created the Disney Rider Switch program to help out families who find themselves in this predicament!
You don't have to skip the ride just because you've got a little one that can't (or doesn't want) to ride!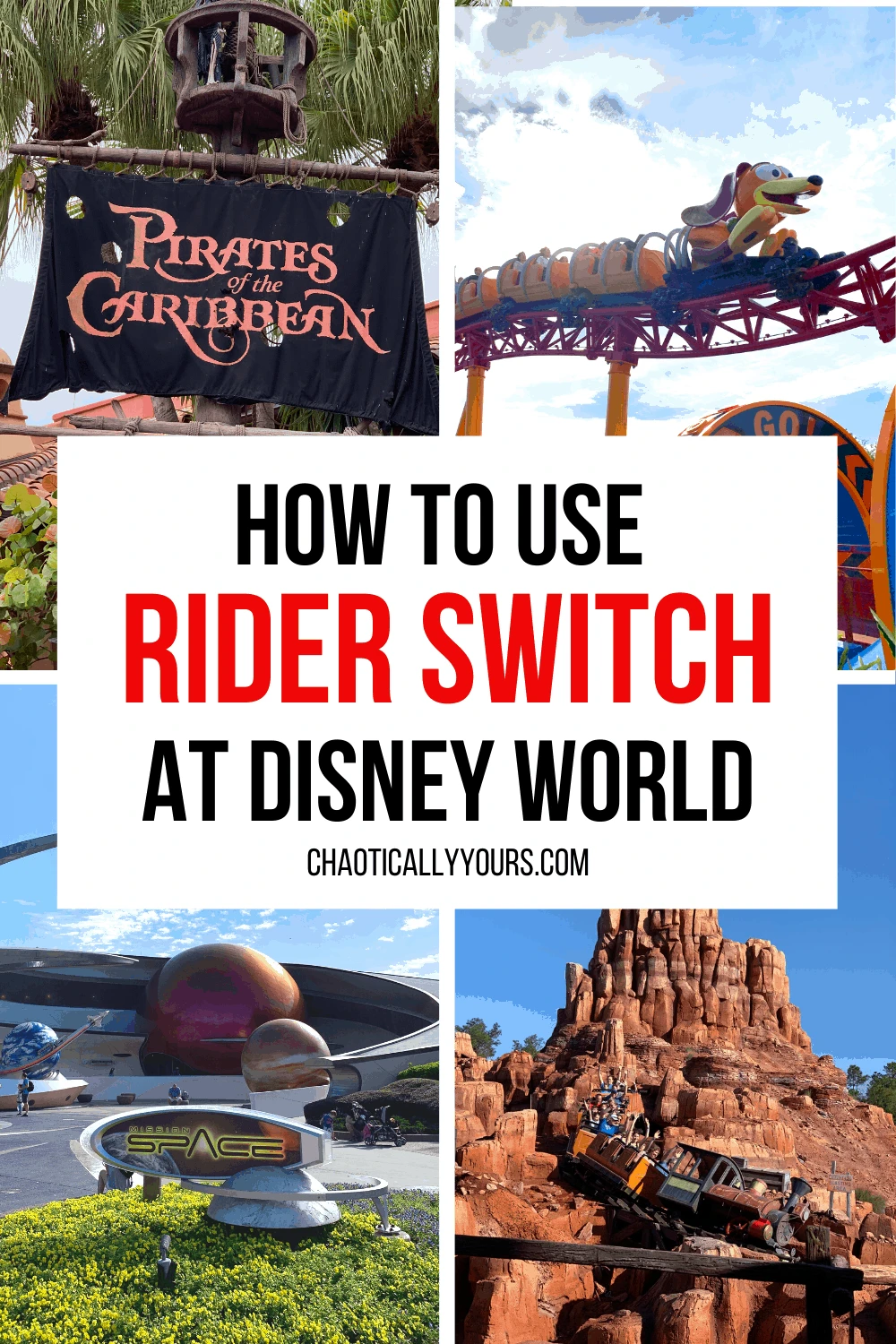 How to use Disney Rider Switch
So you find yourself needing to use the rider switch program for your family. Here's exactly what you need to do:
Take your whole group to the entrance of the ride.
Tell the Cast Member working the entrance that you'd like to use the Disney Rider Switch program, and that you have a child in your party who isn't riding.
They will give you a ticket, and those who are riding the first time around can get in line.
The non-riders can just hang out somewhere nearby.
Several popular rides have cool places for families to wait. Mission: Space in Epcot has an entire playground for kiddos to enjoy while others are experiencing the ride.
Once the original riding party is finished and has exited the ride, they can join back up with the members of their party who have been waiting.
The original group of riders just hands over the ticket provided by cast member to the adult who was waiting with the non-riding child.
The adult who hasn't been on the ride yet then gives the ticket to the entrance Cast Member. The cast member will then allow them to go through the FASTPASS line.
Disney does this because the person caring for the non-riding child has basically already waited – just not in the line. Make sense?
It's a really great thing to take advantage of if you've got tiny ones, or a more timid rider in your group!
How to use Disney Rider Switch wisely:
Disney Rider Switch is an awesome service for guests no matter how you use it. But there are a few tips and tricks that will help you make the most of your time when using the program!
Tip #1: Don't just wait with the non-riding child, ride something else nearby!!
If the little ones in your group aren't big enough to ride, but don't want to just sit and wait, you ABSOLUTELY don't have to!
You can absolutely go ride something nearby with them that doesn't have a long wait.
For instance – if your crew is riding Seven Dwarfs Mine Train and you're using rider switch, head over to the carousel and ride that as you wait.
When you're done, head back over to the Mine Train exit to meet your party and grab that rider swap ticket!
This is a great way to allow a younger child to ride things older kids might not want to ride anymore – and it keeps everyone from just sitting and being bored.
After all – it's Disney World! No being bored allowed.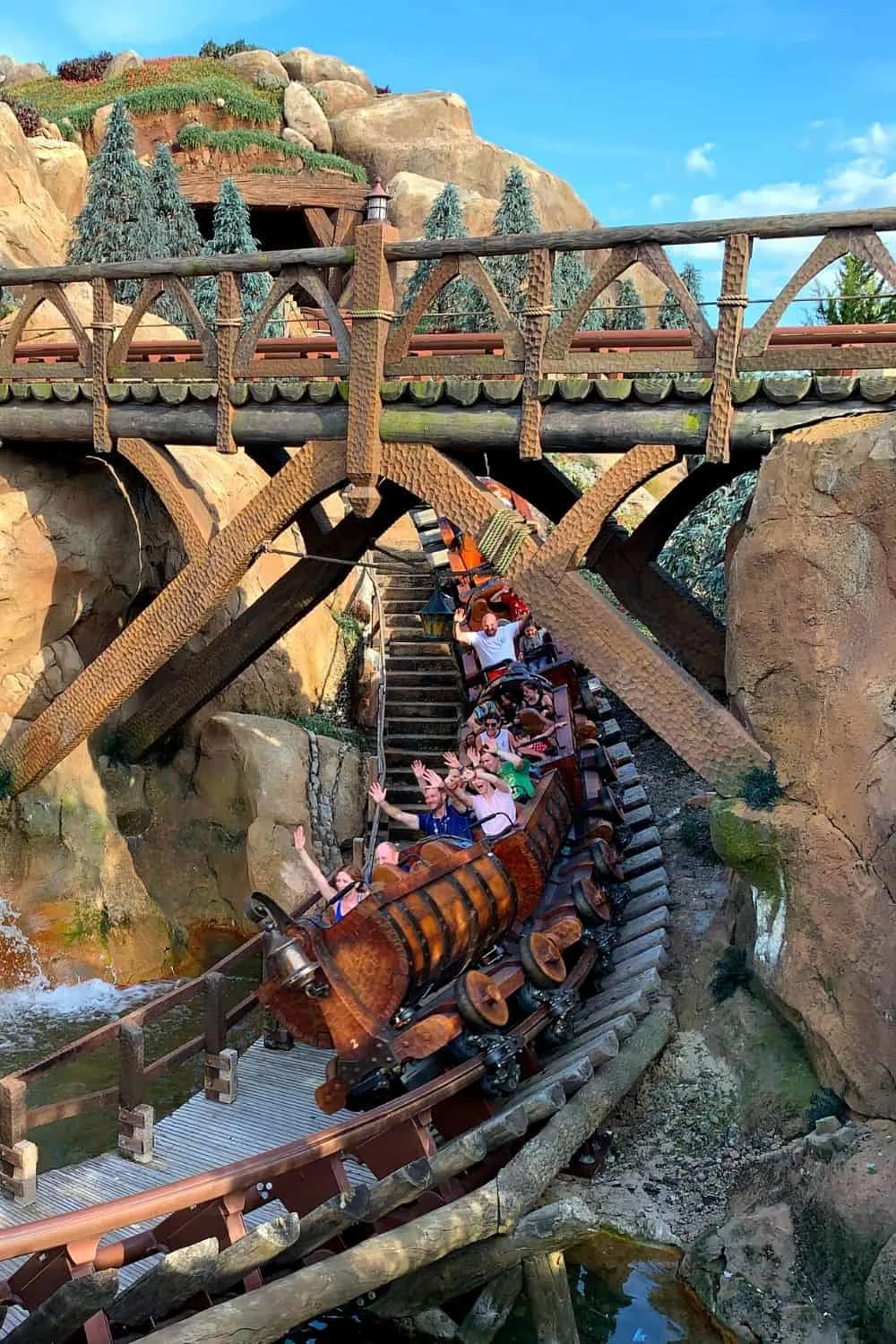 Tip #2: Use the wait time to take much needed breaks for younger kids or older adults.
We all need a little downtime sometimes.
Little ones can have a hard time keeping up with the pace of Disney World. Sometimes kids just need a break, or a snack, or a few minutes to just sit in the shade.
Disney Rider Switch give the other members of your party a chance to keep on enjoying the fun while the younger ones slow down a bit.
This system is also great for older adults. My 70+ year old parents often need a break when we travel.
Rider switch offers the chance for someone to stay and visit with them, while other members of your group are waiting in line.
Tip #3: Take up to three people back on the ride with the Disney Rider Switch ticket
This is a GREAT way to allow your older kids to ride something they love twice!
When the first riders are finished and hand off the rider swap ticket, the waiting adult can take 2 people along with them when they ride.
Here's an example: Let's say your family of 5 wants to ride Mine Train but your 2 yr old doesn't meet the height requirement. Everyone goes to the entrance and you tell the Cast Member you want to use Rider Switch, and you're given the ticket.
You wait with your 2 yr old as your husband rides Mine Train with your two older kiddos – and maybe you check out the carousel or Mickey's PhilharMagic while you wait.
When your husband and 2 older kids are finished riding and meet you at the exit of Mine Train, you can take that Rider Switch ticket back to the entrance – and BOTH OF YOUR OLDER KIDS can ride it again with you!
How awesome is that?!
This is something we did over and over again when Soarin' first opened several years ago. Our youngest wasn't tall enough to ride, but the rest of us absolutely loved it.
We used rider switch and our children got to ride Soarin' back to back.
And I got to take our 2 yr old on Livin' With The Land while we waited, which was a big bonus for me – I'm a total nerd and ADORE that ride.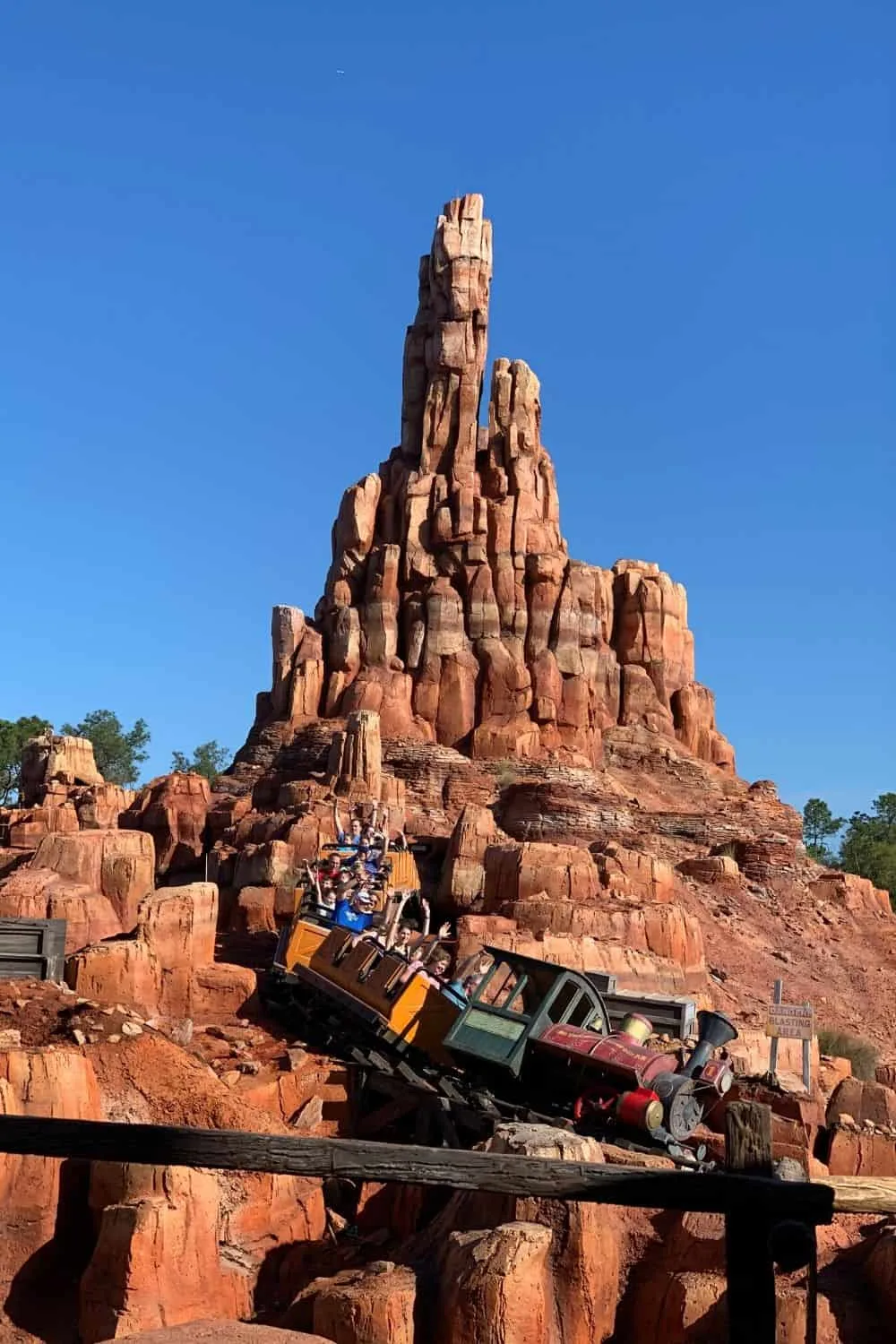 Tip #4: Use Disney Rider Switch in combination with Fastpass!
This is another great way to maximize your time in the park. You can actually use both rider switch and Fastpass on the same ride!
As long as every riding member of your party has a scheduled Fastpass for the ride, you can grab that rider switch ticket and go through the Fastpass line.
Then when you're done, the waiting adult can go back on the ride (with up to two others) through the Fastpass line.
It's a win-win, and a great way for members of your party to ride something they love two times while only using one Fastpass. (You can learn more about how to utilize your Fast Passes at the Magic Kingdom by clicking HERE!)
Rider Switch is such a great tool for families with young children. Have you used rider switch and loved it?
What ride do you use it on most often? Share with us in the comments!
Planning your first visit to Walt Disney World? Learn nine essential things you need to know about your first time at Disney World by clicking HERE!
This post was written in collaboration with Bethany Edwards.
Disney Rider Switch: Your How-To Guide