So you're finally going for your first time at Disney World! That's fantastic!
Just about everyone dreams of taking a trip to Walt Disney World. It's consistently a top destination on any travel list.
As a "first timer," there are so many decisions to be made and things to figure out. But don't worry, I'm here to help!
But before you go, I want to fill you in on a few things I think every first time visitor to Walt Disney World should know.
Links in this post may be affiliate links, which means I may earn a commission if you make a purchase from any of them, at no additional cost to you. You can find out more information by reading my full disclaimer.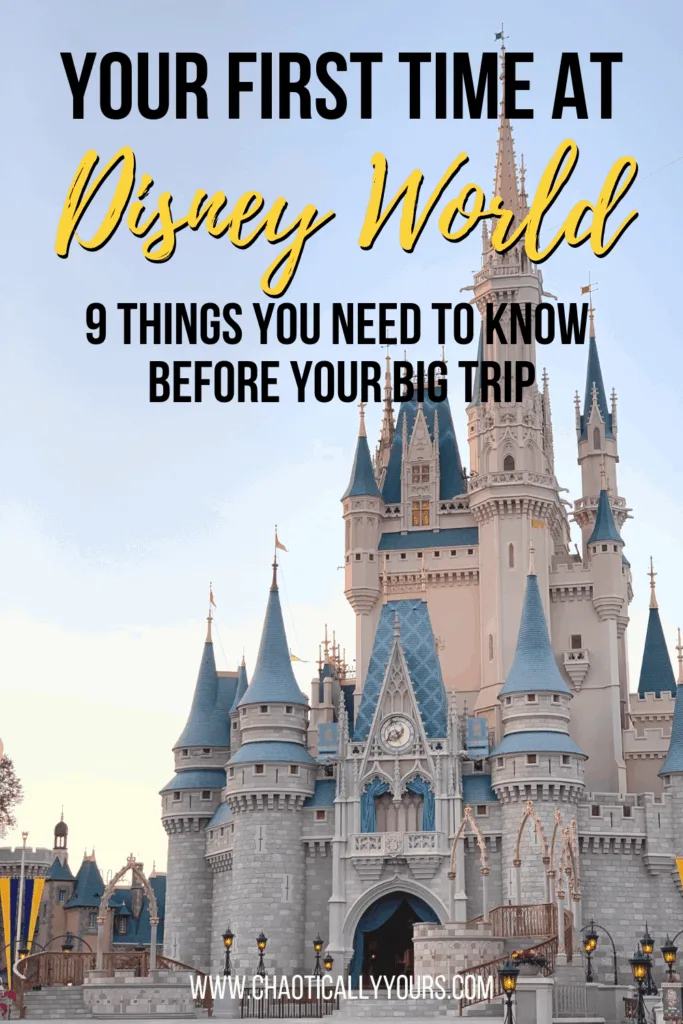 The Magic Kingdom Is At Least A Two Day Park on Your First Time At Disney World
Lots of people don't realize how much three really is to see and do in Disney Parks.
The Magic Kingdom is absolutely no exception to this. It can be overwhelming, especially if it's your first time at Disney World.
There are currently 48 separate attractions in the Magic Kingdom, with plans for expansion for new attractions all the time. That number doesn't even include parades, shows, or fireworks!
I know it sounds overwhelming, and even in two days you probably won't see it all. Just decide what attractions are a priority for you, and try to hit up those!
The Fastpass+ System is SUPER Important For Saving Time
The Fastpasss+ system is currently not operating at Disney Parks, but is sure to make a comeback soon!
A lot of first time visitors don't have any idea what the Fastpass+ system is or how they should use it.
I've talked to lots of people who went to Disney World in the 80s or 90s and think that nothing has changed about Disney World. They couldn't be more wrong. In 1999, Walt Disney World introduced the Fastpass system.
Basically it allows visitors to make a reservation to ride and you'll definitely want them in each park. You'll especially want to use them on the best rides in the Magic Kingdom.
Over the years the system has evolved and changed, and you can now book Fastpass+ in advance and on the day of your visit on the My Disney Experience App right from your phone.
If it's your first time at Disney World, you really should take the time to learn about Fastpass+ and how to utilized it to its maximum capacity.
My Disney Experience App Is Essential While In The Parks
Disney is always keeps up with the latest technology, so it only makes sense that they have their own app for Disney Parks!
My Disney Experience (knows as MDE) is a really user friendly app that enhances your first time at Disney World in all sorts of ways.
MDE is currently the only way you can order food from quick service restaurants in the parks.
In addition to mobile ordering, you can make table service dining reservations from it.
You can get maps and directions to just about any place on Disney World property.
You can see current wait times for rides. You can locate characters within the parks. You can check hours and show times.
It's the ONLY way to get a Rise of the Resistance Boarding Pass in Star Wars: Galaxy's Edge.
There are TONS of applications available for you through My Disney Experience.
It's a free download in the App Store or Google Play. Download it and play around before you go to figure out all it's best features.
Having The Right Mask Is Key
Wearing masks at Disney Parks is a requirement that isn't going anywhere soon.
As always, health and safety is a top priority at Disney World, so everyone is required to wear a proper mask over their mouth and nose while on property.
We discovered during our recent visit that not all masks are created equal for this task!
We tried disposables, but they got itchy when we started to sweat. The ones sold by Disney Parks were bulky and not at all comfortable on the ears.
Time and time again, we went back to our HALOlife masks. The 200 hour filter made us feel safe, while the breathable fabric and adjustable straps made us comfortable.
We highly recommend HALOlife masks for use in the parks!
Water Is Free At All Restaurants in Disney Parks (but it may not taste great)
Florida is hot during all seasons of the year.
If it's your first time at Disney World, you'll definitely want to avoid getting dehydrated.
While lugging around bottles of water might sound like the best solution to your hydration needs, water bottles can be heavy and bulky.
Thankfully, all restaurants in Walt Disney World will give guests free ice water upon request if they serve fountain drinks. (Some of the food carts may not have the capacity to do this since they have no running water.)
When we get thirsty at Disney, we just make a pit stop at any quick service place we see and grab a cup of water.
But here's the REAL secret.
Florida tap water is notorious for tasting bad.
So we carry a refillable Britta water bottle that has a built in filter to take out the stuff that makes it taste so gross. I
t's been a real lifesaver when we're thirsty but don't want to spend the extra money on bottled water in the parks.
Here's the kind we use:
It ALWAYS Rains, Especially If It's Your First Time At Disney World
Florida is famous for it's pop up showers during all times of the year. Disney Parks are no exception to this rule.
It is 99.9999999% likely (can you tell I made that statistic up) that it will rain sometime during your first time at Disney World.
Lots of visitors let the rain get in the way of their fun, and leave the parks if they get a little wet.
We ALWAYS stick around, even if it's raining. We just throw on some rain ponchos and keep rolling.
Just be prepared and bring some rain gear.
I'm partial to these adorable Mickey Mouse ponchos!
Photopass Pictures Are The Best For Your First Time At Disney World!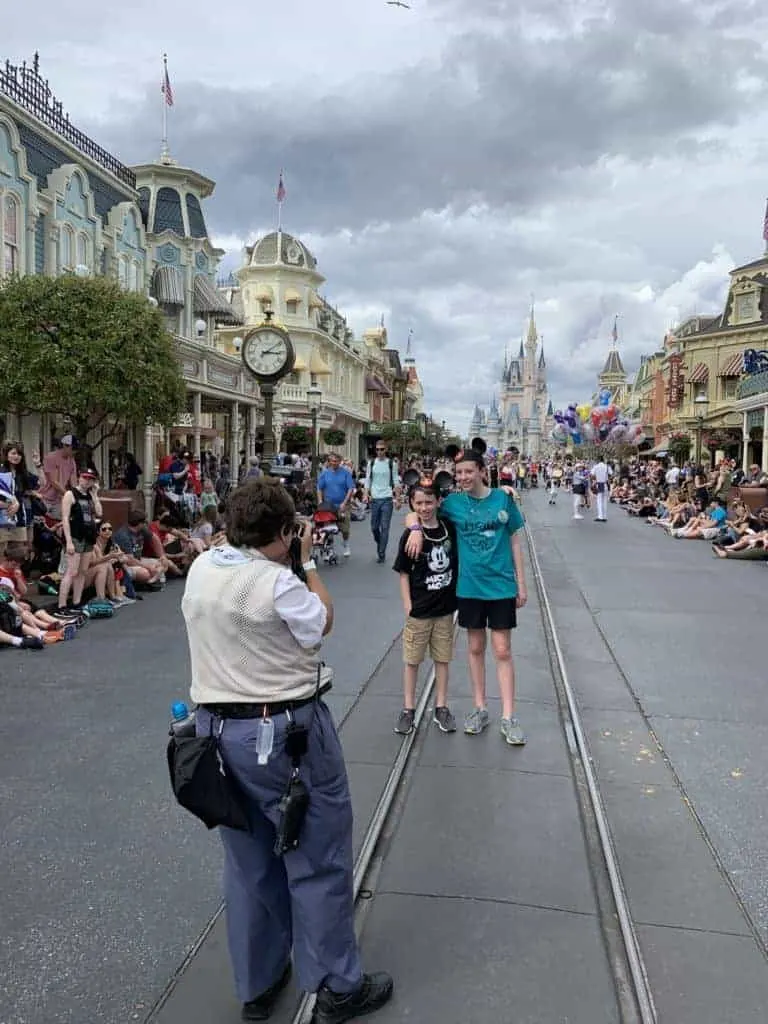 If it's your first time at Disney World, you are SURE to notice that there are Disney photographers EVERYWHERE in the parks!
Any guest can walk right up and have their picture taken by a professional who knows exactly how to get the best shot.
It's an amazing service that Disney World calls Photopass.
Photopass is free and the pictures can be purchased from Disney when you get home.
But in my opinion, the best deal is to buy a Memory Maker package before your trip, that includes all your Photopass pictures for one price.
The Memory Maker came in REAL handy when we were unexpectedly selected to be in a Disney World parade! All those pictures taken of us were during the experience were included in our Memory Maker package!
Staying On Disney Property Has Some Great Perks For Your First Time At Disney World
While there are a gazillion choices for where to stay while at Walt Disney World, I highly recommend paying a little extra and staying at a Walt Disney World Resort Hotel.
Disney World offers more than 25 unique resort hotels at every price point, and all of them come with extra perks only available to on-property guests.
The perks include Extra Magic Hours at the parks, early access to Fastpass+ and dining reservations, and free transportation to the parks.
There's also something to be said for staying in the "Disney Bubble" where you never have to leave the magic!
Our family has found that we absolutely love staying on Disney property, and almost never stay anywhere else.
Some of the perks are currently on hold, but I have no doubt they'll be returning soon.
Cast Members Are Always Available to Help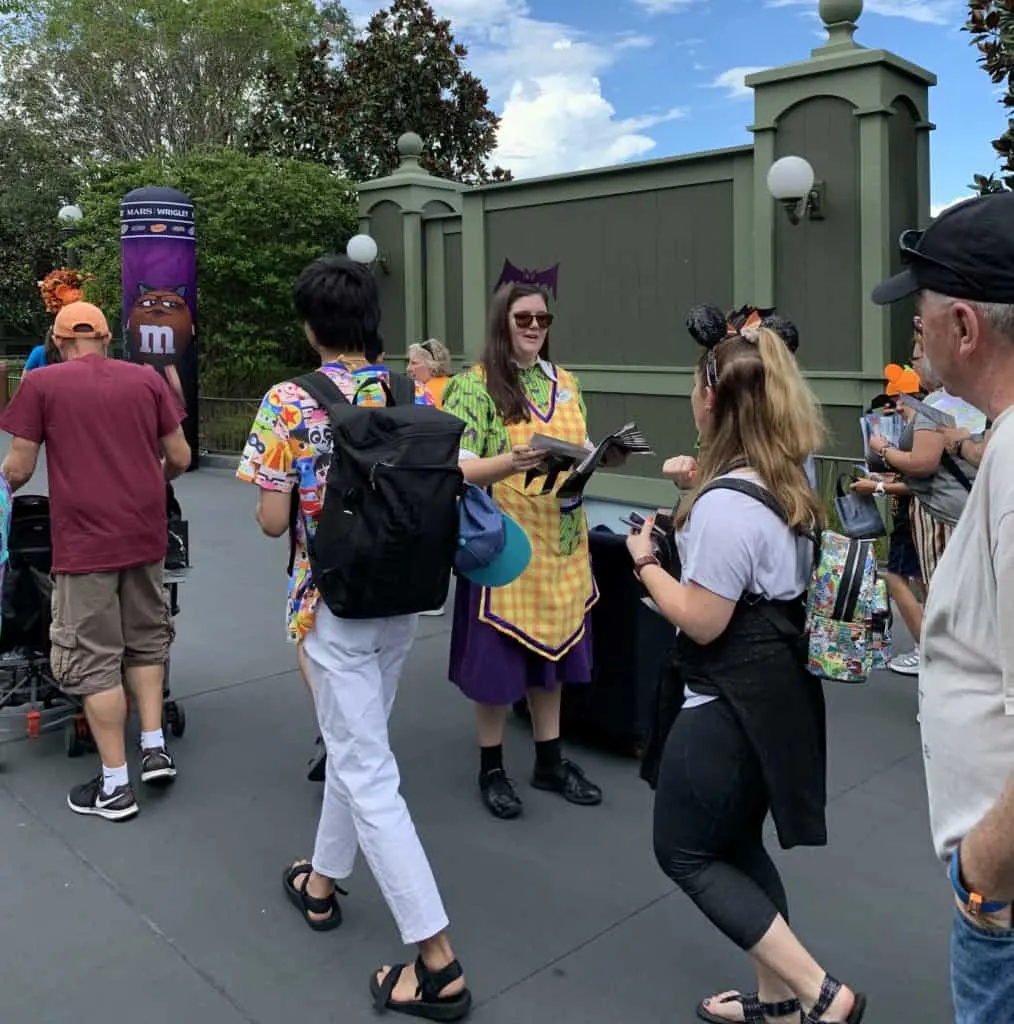 Walt Disney World is renown for it's amazing customer service.
Every single "cast member" (what Disney calls their employees) is trained to provide the best service possible.
If you have a question or a problem while at the parks, no matter how small or silly, just talk to someone who works there.
If they aren't able to help you, they'll point you to someone who does. We have almost never had anything but exceptional service at Walt Disney World.
If someone goes way above and beyond, I always make sure to thank them in a public way.
It's easy to thank a cast member in ways that will make a difference in their career.
Let them know you appreciated their service and the praise gets sent to their superiors at work to let them know they are doing a great job.
Your first time at Disney World will be an amazing experience! Just make sure you go informed about everything Disney has to offer so you can have the perfect vacation!
Did you know that there's a super magical moment at the Magic Kingdom every night that most people miss? Check out how you can experience the Kiss Goodnight!
The Magic Kingdom is extra enchanting at night! Read about the best things to do in this Disney Park after dark.
Your First Time at Disney World: 9 Things You Need To Know