Disney World is truly the most magical place on earth, but none of that magic would be possible without the amazing Disney Cast Member!
Cast Members (what Disney calls all of its employees) take everyday experiences and make them truly memorable by giving guests exceptional service every single day.
Have you ever had a moment in Disney Parks that was truly unforgettable? They have happened to me on every single trip I have ever taken to Walt Disney World. And every single magical experience was made possible by an unbelievable Cast Member.
When I've had these experiences, I always want to thank the Disney Cast Member who made it possible. I've discovered three effective ways to not only thank a Disney Cast Member, but to make sure their management knows how great their service was during your trip.

How to Thanks A Disney Cast Member Immediately:
Thankfully, in this day and age, social media makes it possible to communicate our thanks immediately to any Disney Cast Member who make our vacations magical. The best way to do this is to send a Cast Compliment on Twitter.
The Cast Compliment
The Cast Compliment is extremely easy to send. When a Disney Cast Member has made an experience more than magical for me and my family, I ask if I can take the Cast Member's picture for a Cast Compliment.
I have never had a Disney Cast Member ever be anything but thrilled at this request. They know what it means, and have always been more than happy to pose for a quick picture.
I even witnessed a cast member on the tram from the parking lot do a little happy dance after someone asked him if they could take his picture for a Cast Compliment. These little recognitions really do mean a lot.
After taking the picture, I simply send a tweet of the picture to the official in-park Twitter account for Walt Disney World, @WDWToday. With the picture, I include the cast member's name, the park/area they were working, and a brief description of how they made our time magical.
It can be something as simple as really doing their job with joy, or something major, like the time we were asked to be the Grand Marshal of the afternoon parade at the Magic Kingdom (you can read all about that HERE!).
Be sure to include the hashtag #CastCompliment in your tweet. This will help it get recognized be the right people quickly. WDWToday will usually respond within a day or two to the tweet, acknowledging the great performance of the Disney Cast Member.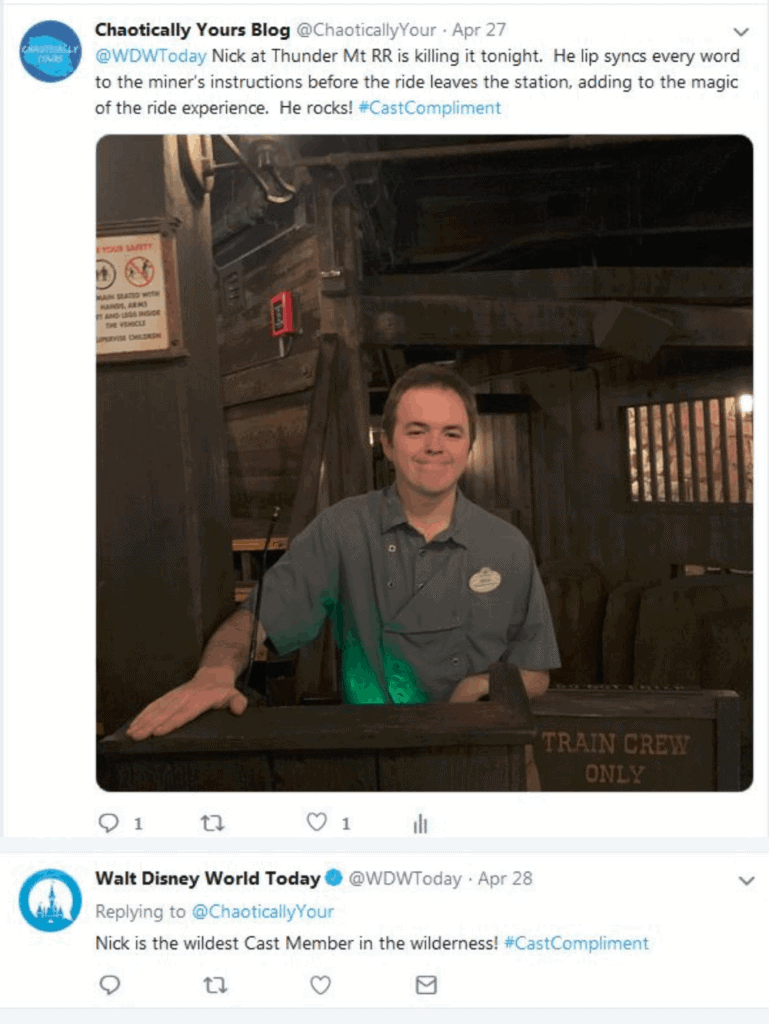 Disney really likes to know when it's employees go above and beyond. According to an inside source employed by Walt Disney World, these tweets are recorded in the employees files and the cast member gets recognized by management. When reviewing employee files for promotions and raises, these types of feedback from the public are taken into consideration.
*UPDATE* – Unfortunately, Disney World has stopped monitoring the @WDWToday Twitter account for the foreseeable future. I can only assume it is due to the massive layoffs they had to make after 2020's extended closure of the parks.
I still think using the #CastCompliment hashtag is worth it, and can get employees recognized. Try tweeting @WaltDisneyWorld, just don't expect a response.
If you want to be absolutely certain a cast member gets recognition for their amazing service, use one of the other two methods listed here to praise them.
How To Thank A Disney Cast Member Sometime Later During Your Vacation:
Don't have a twitter account and want to make sure this Disney Cast Member gets recognition for their actions? Or has been a couple of days since your interaction with a cast member and you still want to give great feedback on what they did for you?
Don't worry, Disney World has a solution for this also.
Simply go to the Guest Services Area of wherever you happen to be at Walt Disney World. Explain you'd like to recognize exceptional service by a cast member, and you'll be given this form: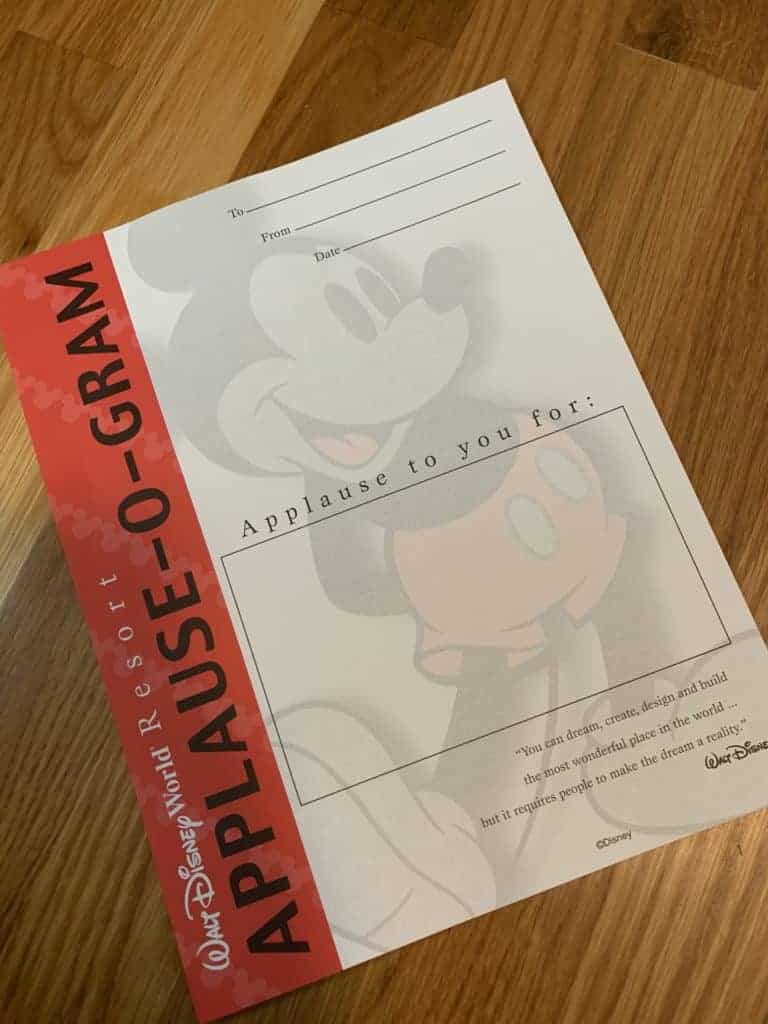 Filling out an Applause-O-Gram is a great way to give feedback about amazing service. It takes a little more time to complete than a tweet, but it's definitely worth the it. Like the Cast Compliment tweets, these forms can really help the career of a cast member at Walt Disney World.
How To Thank A Disney Cast Member After You Get Home:
Did someone really go way above and beyond, and you can't stop thinking of how grateful you are, even after you get home? It's not too late to thank them!
You can always write a letter to the cast member at send it to Guest Experience Services. The folks at this office will make sure it gets to the person you are trying to thank!
I once had such an amazing experience that I sent a handwritten letter to the cast member, along with a copy of a picture I had taken during the experience. Sure enough, someone at Disney World wrote me back with a very sweet letter, and let me know that my letter would get to the Disney Cast Member I wanted to thank.
If you'd like to send a thank you to a cast member after you get home, just use the address in the picture below to send your thanks.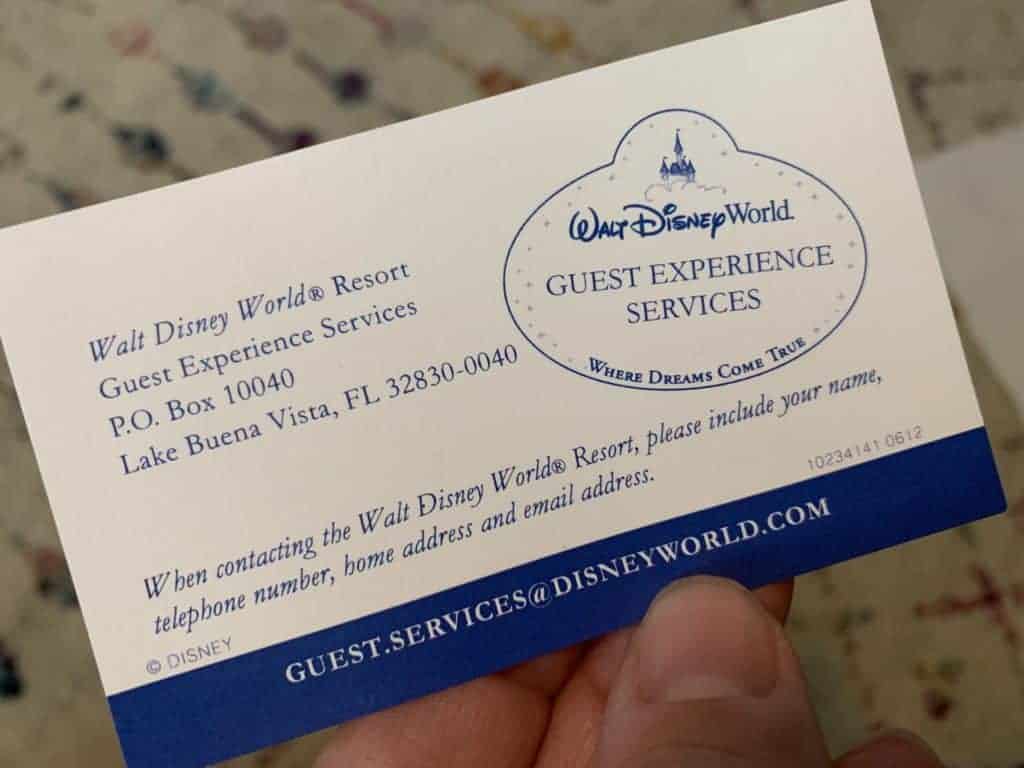 Every Disney Cast Member truly is the key to the magic at Walt Disney World. Make sure you take the time to let them know you appreciate what they do!
*****
The Magic Kingdom is my favorite part at Walt Disney World, but it is truly spectacular when the sun goes down. Check out my post about some awesome things to do at the Magic Kingdom after dark.
Most people miss this incredibly magic moment that happens every day at Walt Disney World! Read all about it in my post all about the Kiss Goodnight!
Three Awesome Ways To Thank A Disney Cast Member