Disney parades are legendary. There is no topping a parade featuring the types of floats, dancer, music, and characters of the Magic Kingdom at Walt Disney World! A Disney parade is nothing short of spectacular!
Did you know that every single day in the Magic Kingdom, one lucky family gets chosen to be part of a Disney parade? During our most recent trip to the parks, our family was selected to take part in the Festival of Fantasy Parade at Walt Disney World. I'm super excited to share our story (plus a few tips on how you might be able to take part in the parade, too!!)
FYI: This post contains affiliate links. This means that I earn a small commission from any sales made through this link, but no additional cost is passed on to you.
Disney Parade: Our Story
We were on a Disney World Vacation to celebrate the birthdays of three out of four members of our family, who all happen to be born in the same month. In lieu of birthday parties, our family had decided to take this trip and attend a Disney After Hours event later in the week (See my complete review of Disney After Hours HERE). So consequently, three of us were wearing our "It's My Birthday" buttons throughout our trip.
We were just getting our morning started at the Magic Kingdom. We'd arrived early for a pre-opening reservation at Be Our Guest and had already been on a couple of rides by about 10:15 a.m. when we decided to leave Adventureland and walk over to Fantasyland, past Cinderella's Castle, so I could snap a few pics on our way to our next fast pass.
My husband just happened to be wearing his "I'm just here to pay for everything!" t-shirt, which had already been a HUGE hit with cast members. (You can buy this t-shirt for yourself in our TeePublic shop by clicking HERE) As we were approaching the Hub area in front of the castle, a passing cast member called out to my husband indicating how much he liked his shirt. We then stopped to chat with the cast member (who quickly became our favorite case member), and he noticed that three of us were wearing birthday buttons. We explained to the cast member about our birthdays, and that we were in Walt Disney World to celebrate.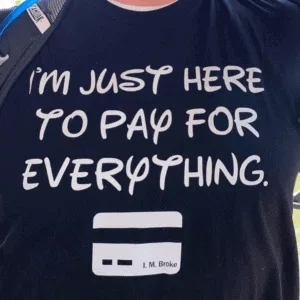 The cast member then asked us if we were busy at 2:30 that afternoon, and offered to "add some Disney magic" to our day. When a cast member asks you if you're available at a certain time, ALWAYS SAY YES!!! Whatever fast passes or reservations you may have, they won't be as amazing as anything a cast member might be offering to you. Fortunately, we really didn't have anything planned for that afternoon, so we were completely free.
He then made the most amazing offer, and asked us if we would like to serve as the Grand Marshal of that afternoon's Festival of Fantasy Parade! I almost immediately burst into tears and insisted on hugging him. I shared with him exactly how much this meant to us to be part of a Disney Parade, and he said he'd been searching for the perfect family for the job all morning, and that this was meant to be.
He then gave us very clear and detailed instructions on where and what time to meet him that afternoon, and let us know that a Disney World photographer would be assigned to us for the entire experience. I have NEVER been more happy that I had already purchased a Memory Maker package, so we would already have access to all the photos that would be taken during our Disney Parade experience.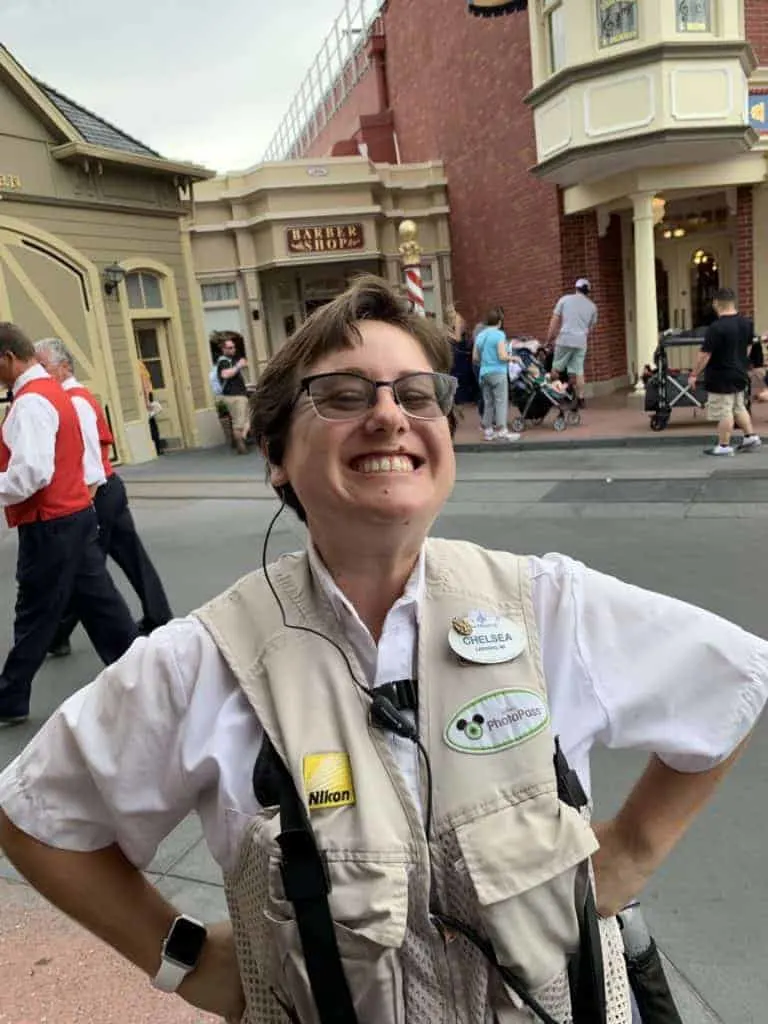 We proceeded with our day at the park, floating around on cloud 9 the entire time. My kids were amazed and excited and wanted to know all about what we'd be doing as the Grand Marshal. I was afraid to "jinx" it, so I literally only messaged one person about what had happened that morning.
We made it through all our fast passes and several other rides, then made our way to the designated meeting spot at 2:30 p.m. Our favorite cast member was waiting for us there, along with Chelsea, the Disney Photographer who would be accompanying us throughout the journey.
We were escorted to a special area back stage, where we were given full instructions about what would happen. We were presented with special Mickey Ears that were embroidered with our official Grand Marshal title. Then we took a few pictures with Chelsea, chatted with our favorite cast member, and waited excitedly for our special parade vehicle to arrive.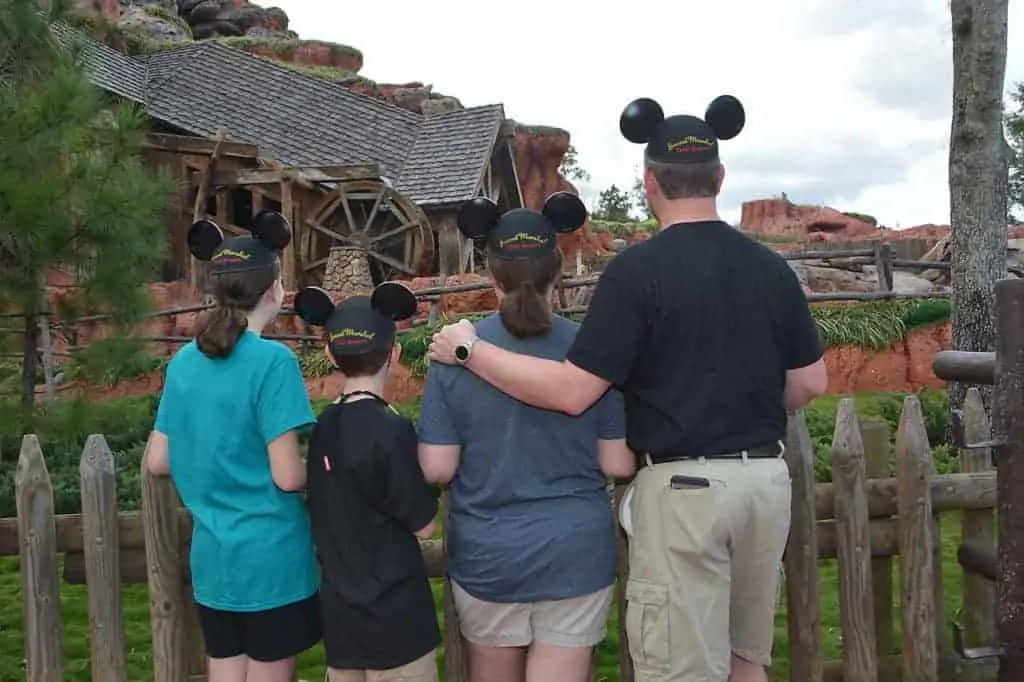 Just after the marching band got started, our driver, Buubuu (I'm not kidding, that's the name that was on his name tag), pulled up in the most amazing car you've ever seen! Our favorite cast member explained that there are only two cars like this one in the entire world, one at Disney World and one at Disneyland. It was spectacular.
We then met our banner escorts, who were incredibly kind and pleasant, asking us where we were from and making us feel at home. We hopped into the car, and Chelsea took some more awesome pictures for us as we waited for our big moment.
Then we heard our names and hometown announced over the loud speaker and we were off! Riding in the parade was a surreal experience. The crowd was so friendly. We heard so many wishes of "happy birthday" and "congratulations" throughout the ride. We even spotted some folks who we'd chatted with before breakfast who were sitting and watching the parade. I took a quick video of what the experience was like:
My husband, my kids, and I all agreed that it was definitely a bucket list experience! So much fun and so unique. It's so hard to describe the feeling of being in the parade, but the words "pure joy" come to mind. But we weren't done when the ride was over!
After completing the parade route, our favorite cast member escorted us to a special viewing area that had been roped off from the crowd just for us. We were presented with a special certificate, and met tons of amazing cast members, including another photographer who did a special magic trick for my son that was amazing.
In the few minutes left to wait for the rest of the parade to get started, Chelsea escorted us over to Main Street, U.S.A. that had already been cleared of most guests in anticipation for the parade. She then gave us our very on special photo shoot on Main Street, and captured some truly amazing shots. (I only wish I'd worn more make-up and a better outfit that day! Ha ha!)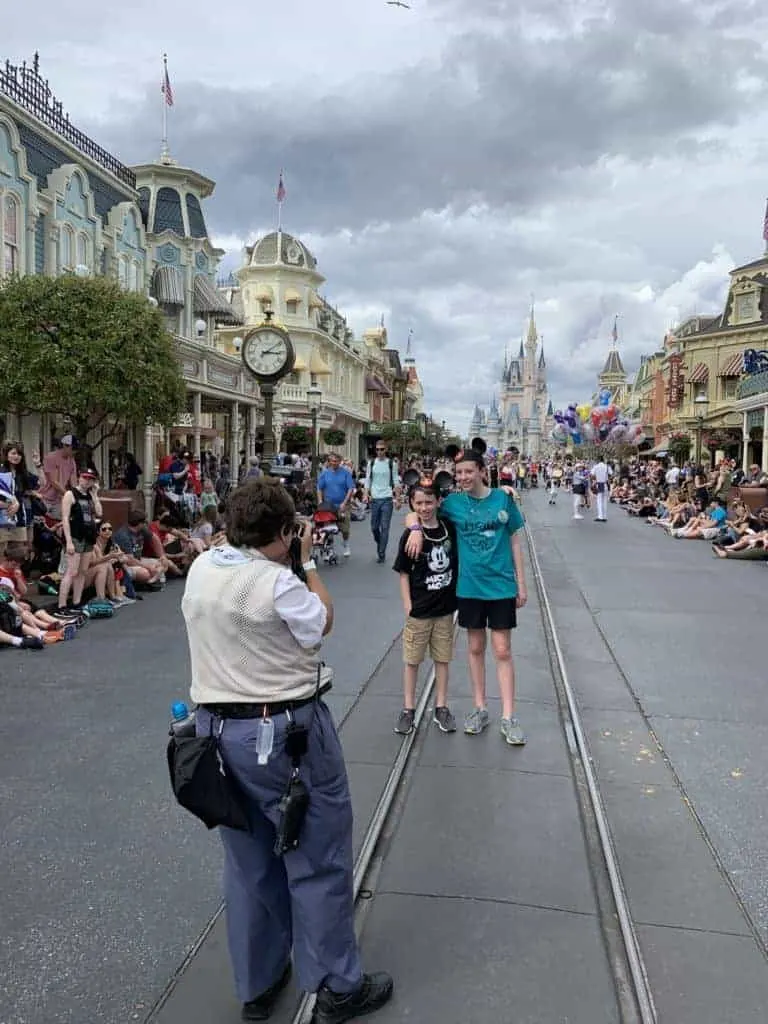 After our photo shoot, we made our way back over to our reserved viewing area, and enjoyed the spectacular parade. The music, the characters, the special effects, it was all so much fun! Chelsea even got some special pictures of us with our favorite characters. It was so cool!
When the parade wrapped up, we exchanged hugs with Chelsea and our favorite cast member, and grabbed a few more pics. We thanked everyone so many times that I am SURE they were tired of hearing those words. Then we headed out to enjoy the rest of the day at the park. This was truly an experience we will never forget! My kids were walking on air for DAYS afterwards, and it almost seemed like Disney World threw us our own parade for our birthdays. We felt like the luckiest people in the world that day.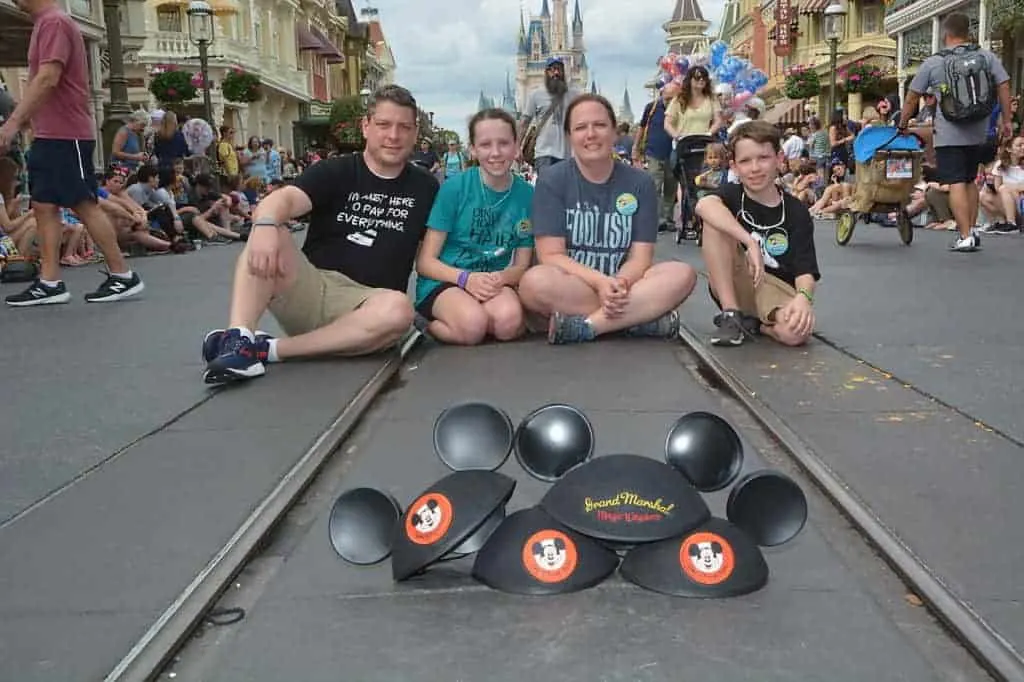 You may be wondering why I haven't named the cast member who gave us this amazing gift. During our chat before the event, I mentioned to him that I was a blogger and would MOST DEFINITELY be writing a post about the experience. He said that was no problem at all, but respectfully asked that his name and picture be left out of the post. I am more than happy to comply with that request, but if he ever reads this, I just want him to know how wonderful he was and how amazing he made our experience that day! It was truly special because of his amazing personality and how he made all four of us feel so at ease during the entire experience. We adore him, and he will ALWAYS be our favorite cast member.
Disney Parade: How YOU Can Get Picked To Participate
It might seem like just a case of "right place, right time" for getting picked for to participate in a Disney Parade like this one, but I don't think that's the whole story. While being lucky places a huge role in being selected to be a Grand Marshal, I believe there are a couple other things you can do to increase your likelihood of getting chosen.
Getting To The Park Early

I feel like this was pretty key. If we'd slept in, and hadn't been in the parks at rope drop, I don't think there is any way we would have been standing in front of the castle when our favorite cast member was searching for someone to have this honor. The cast members have LOTS of duties in the parks, and completing this task for the day seems to be one of the first things on their "to-do" list. So get there early.

Be Friendly With The Cast Members

You never know who may be tasked with selecting a park guest for a special role in a Disney activity, so be nice to everyone and strike up a conversation any time you get the chance. Besides the possibility of doing something cool, Disney World Cast Members are some of the nicest people you'll meet anywhere. Some of the most magical experiences we've had at Disney World have been because of great cast members. We ALWAYS make a point to chat with them whenever we can.

Be Available

If a cast member asks you what you're doing during the day, even if you have plans, be flexible about them. Imagine that a cast member hears that you have plans to park hop over to somewhere else later in the afternoon, it's an easy assumption to make that you wouldn't want your plans messed up. Be flexible if they ask what's you're up to.

Be Part Of The Magic

This is an assumption on my part, but if you look bored or like you don't like being there, I don't think you're likely to be picked to do anything. Enjoy the parks. Take part in the magic. Play along with what's happening around you. Not only will this make your a more desirable choice for a special role in the parks, it will make your vacation that much more enjoyable!
Have you ever had a special experience at Disney World? Leave me a comment and tell me about it!
Want to know what you need to pack the PERFECT Disney Parks Bag? Check out my post here with links to buy everything you need from Amazon!
Click HERE to find out what nine things you should do on your first trip to Disney World in order to have the perfect Disney experience!