I love special events at Walt Disney World, and Disney After Hours is no exception. We recently attended a Disney After Hours event at the Magic Kingdom, so here's everything you need to know to decide if this event is right for you!
Disney After Hours: What It Is?
Disney After Hours is a special ticked event at Walt Disney World that allows ticket holders to enjoy the parks after they have closed to regular guests. For three hours after closing, ticket holders are able to ride popular attractions, visit characters and enjoy all-you-care-to-eat snacks with little or no wait times. Disney World is currently offering limited dates for these events in three of their four major theme parks: Magic Kingdom, Hollywood Studios, and Animal Kingdom.
Dates for Magic Kingdom Events can be found HERE.
Dates for Hollywood Studios Events can be found HERE.
Dates for Animal Kingdom Events can be found HERE.
Disney World only offers a very limited amount of tickets for each event (which is how they keep the crowd levels so low), and the start times for each event varies depending on the park hours for that day. We paid $125 for each ticket we purchased to the Magic Kingdom event. I know that sounds SUPER pricey, but remember you do not need a separate admission ticket to take part in this event. Discounts are available for Annual Pass Holders and Disney Vacation Club Members.
Disney After Hours: How It Works
On the day of your event, Disney After Hours ticket holders can enter the parks before their event starts, but times of entry vary by each park. It's usually at least an hour before the event starts. A special entry spot is set up with cast members holding signs to direct you where you need to go.
Once you've scanned your magic band or your card and your tickets have been verified, cast members will then give you a wrist band that identifies you as part of the special event. This wrist band gives you access to all the perks that come along with your ticket, so make sure it fits you securely and won't fall off during the event.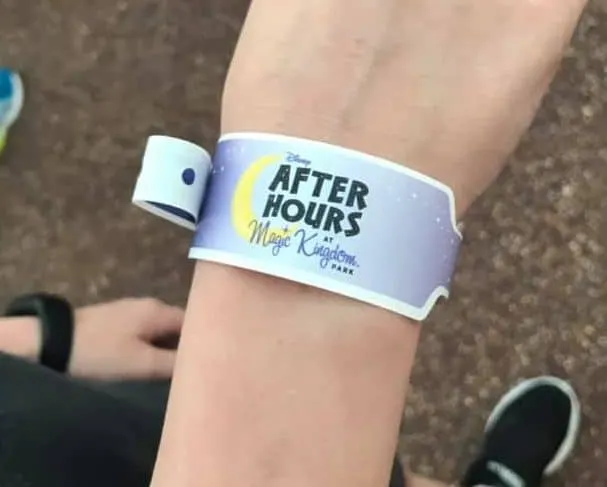 Disney After Hours: How We Did It
We don't live in Florida, so our visits to Disney World are always meticulously planned. On the day of our Disney After Hours event at the Magic Kingdom, we decided to spend the morning at Hollywood Studios, then nap back at our resort before we went to the event.
I would HIGHLY recommend taking some sort of break on the day of the event, since they run so late at night. We also found ourselves rushing from one ride to the next during Disney After Hours, and our fitness trackers registered that we walked over SIX MILES just during three hours of the event! By the end of it all, I was SUPER grateful for the nap that afternoon!
Since our event started at 8 pm, with park entry at 7 pm, we decided to park at the Ticket and Transportation Center, then take the monorail to one of the Deluxe Resorts for dinner. We arrived at the Polynesian around 5:45. We enjoyed a really nice quick service dinner at Captain Cook's, then hopped on the monorail over to Magic Kingdom.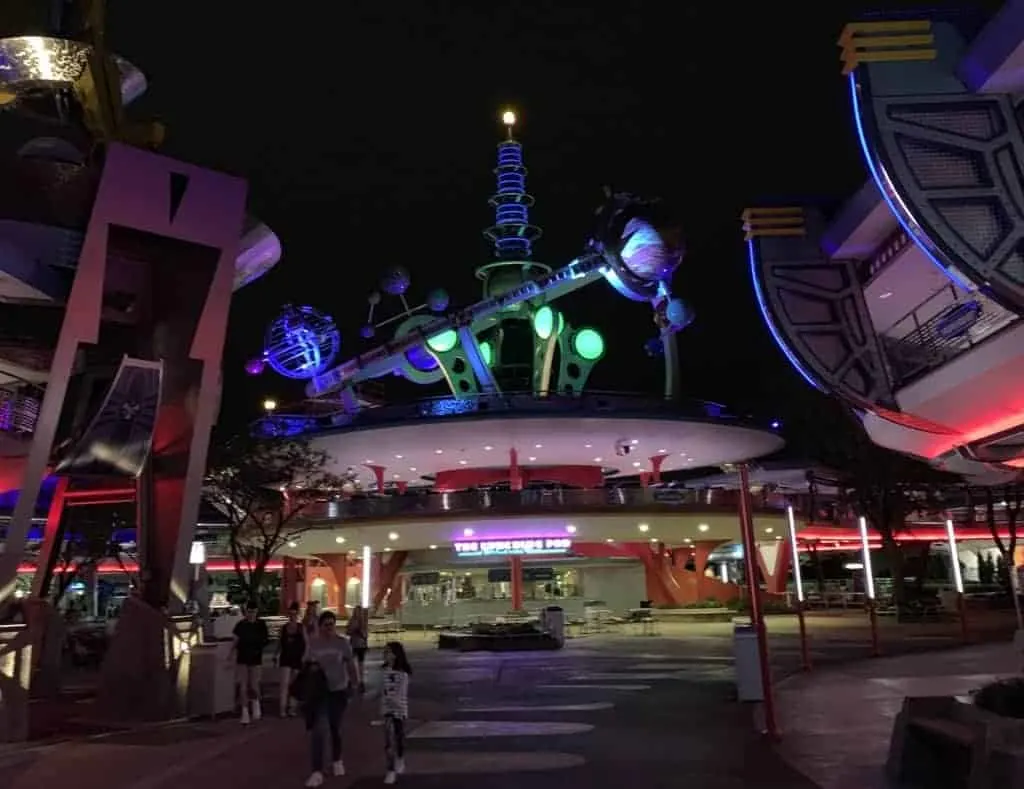 We walked off the monorail at the Magic Kingdom at about 6:30 p.m. Cast members had already set up a special entrance for event ticket holders and we were able to get our wrist bands and head right on into the park, even though the website had said that we wouldn't be allowed entry until 7 pm.
Things were still rather crowded as people were starting to scout out spots to watch the fireworks. We spent some time perusing the shops, then at about 7:35, we hopped on the People Mover to enjoy some of the lights of the Magic Kingdom at night. By the time we were done there, it was almost time for the fireworks. We had already seen the fireworks earlier in the week, and the wait time for Space Mountain had already dropped to 15 minutes. We waltzed on over to Space Mountain and got in the queue.
When we walked off Space Mountain about 20 minutes later, that's when the event began in earnest. While the fireworks were still going on, cast members began turning away guests without Disney After Hours wrist bands away from rides, and things started the thin out. It didn't take long for the "lands" to clear out. While not a complete ghost town, you could walk from attraction to attraction VERY easily, without bumping into anyone.
We never waited more than 10 minutes for anything (Thunder Mountain & Seven Dwarfs Mine Train), and most rides were completely walk on. A few were close to deserted, like It's A Small World, where my family each had a row to themselves, and several empty ride vehicles were chugging along in front of and behind us.
During the duration of our time at Disney After Hours, we were able to ride or do all of these things:
People Mover
Space Mountain (two times)
The Little Mermaid
Buzz Lightyear's Space Ranger Spin (two times)


Astro Orbiter

Mad Tea Party

Eat Mickey Bars (two times)

Thunder Mountain (two times)


Splash Mountain

Eat Popcorn (two times)


Haunted Mansion

It's A Small World

Seven Dwarfs Mine Train

Walk down Main Street
That's a lot more than many people do in an entire day at the Magic Kingdom.
After the event was officially over at 11 p.m., we actually hung around for quite a while. At exactly 11, cast members stopped letting people queue up for rides, but they didn't kick us out. Snack stands were still open, and we grabbed a final popcorn and headed over to the castle to watch the Kiss Goodnight (here's a great explanation of what the Kiss Goodnight is).
Even after the Kiss Goodnight, there were still several photographers available on Main Street to snap your picture. We took full advantage of this, and even wandered up to the Main Street Train Station to get an even better view of it all.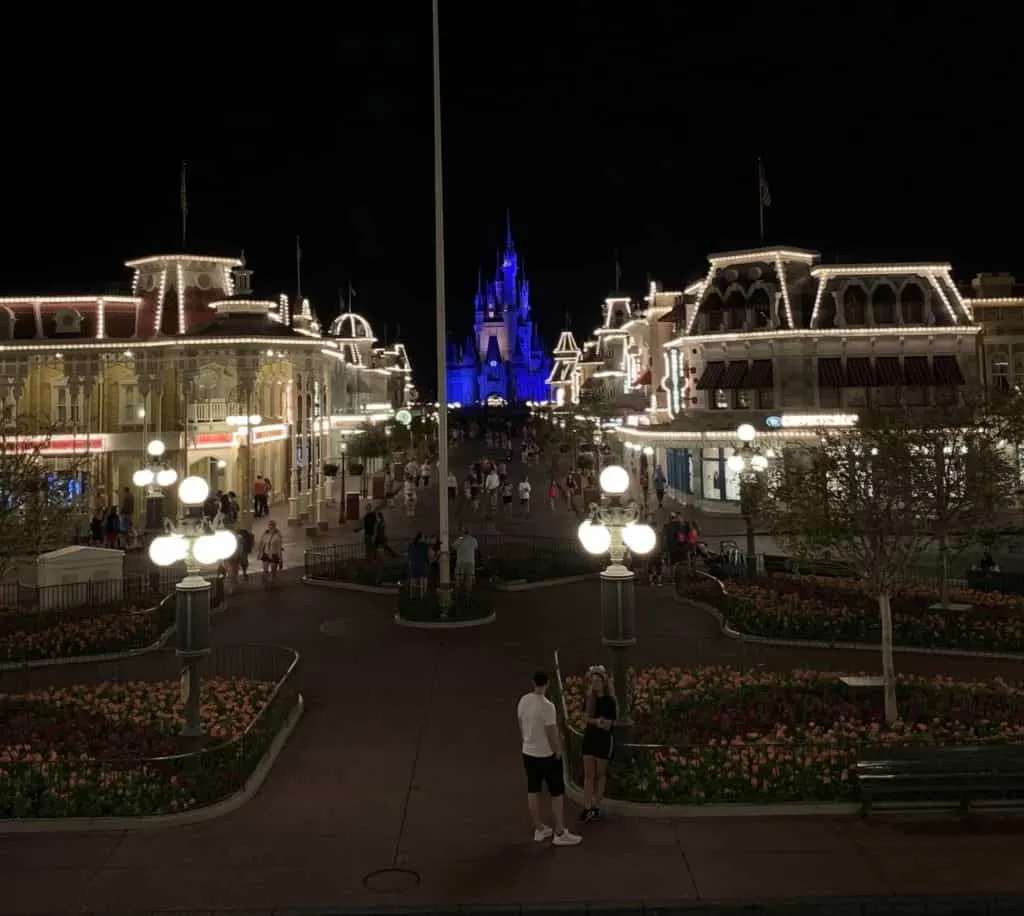 It was almost midnight before we left the Magic Kingdom to head to our car. We were surprised to find that the monorail was no longer running when we left the park. After a split second of panic, an extremely kind cast member explained that only resort buses and the boat to the Transportation and Ticket Center were running.
We hopped on the boat, and had an extremely relaxing, non-crowded ride back to the Ticket and Transportation Center, where trams were still running in full effect to get us out to our car in the practically deserted parking lot. We left Disney After Hours exhausted and happy!
Disney After Hours: Pros and Cons
As with just about anything else in life, Disney After Hours had both it's pros and it's cons. Here's how we felt about it:
Pros:
Almost no crowds
Little to no wait times
Free classic snacks
Enjoyable temps at night vs. during the day
Great cast interactions on less crowded rides
Able to ride more than once on some rides without ever leaving the ride vehicle
Photos on main street even after event is "over"
Cons:
Transportation after the event – no monorail service (this would have bothered me a lot if we were staying at a monorail resort)
Ice cream, popcorn & sodas are the only snack options
It wasn't quite as deserted as we hoped it would be.
The event really needs one more hour. With one more hour, we really could have done EVERYTHING!!
It was kind of overwhelming to feel like we had to rush all over the park to get it all in
Would we do it again? Without a doubt! Would we do it differently? Definitely. If we ever get to opportunity to attend Disney After Hours again, I'll probably have more of a plan of action on how we want to proceed. Since I didn't really know what to expect, we just kinda ran around having fun. Next time, I'll slow down a little more and enjoy the lack of crowds in the parks. Maybe take some more hard to get pictures or just soak up the surroundings.
Disney After Hours: How to Make the Most of It
So you've decided to attend Disney After Hours and you want to make the most of your time while you're there. Here are my top suggestions to make it the best night ever:
Decide on your priorities – Do you want to ride everything you possibly can or are you wanting to take it slow and enjoy the lack of crowds? Do you want to see the fireworks or meet Mickey Mouse? Decided what your goals are for the evening, and you'll avoid having any regrets about the evening.
Have a plan – While you can just wander around, hoping on whatever ride catches your fancy, having a plan of action can save you a LOT of steps! I would recommend deciding on a side of the park to start with, and working your way through each land. We criss-crossed the parks a little more than was necessary during our visit, and I think we could have avoided being so rushed if we hadn't done it that way.
Do it your way – Make sure you aren't pressuring yourself into riding all the things when you really want to be enjoying the moment. Or forget all the sentiment, and just hop on every ride you can fit into three hours! Neither way is right or wrong. Whatever works for you is how you should approach it.
Have you been to a Disney After Hours event? Let me know your thoughts in the comments!
Thinking about booking a visit to Bibbidi Bobbidi Boutique? Find out why we always skip it and what we do instead.
Not able to make it to a Disney After Hours event? Check out my tips on how to manage to have a blast, even on a crowded day at Disney World!
Looking for other ways to splurge at Walt Disney World? Read up on four essential splurges for every visit to the parks!