Visiting the Royal Yacht Britannia in Edinburgh
Of all of the beautiful and historic sites I visited in Edinburgh, Scotland, the Royal Yacht Britannia was hands-down the most intriguing. Now permanently berthed in Edinburgh, this amazing ship served as a royal residence for Her Majesty Queen Elizabeth and the royal family for over 40 years. Visitors get an up-close and highly personal perspective on the royals, unlike any other royal residence. But before you head out to the ship, there are a few things you should know.
Royal Yacht Britannia: An Unexpected Location
I visited the Royal Yacht Britannia on my very first day in the city, and as part of my solo tour of Edinburgh. I looked at several maps and read several guide books about visiting, but there was one vital piece of information that I never came across in any of my research. The entrance to the Royal Yacht Britannia is located inside a shopping mall. Knowing this ahead of time would have saved me several confused minutes, walking around outside the shopping mall, feeling like an idiot. Once I finally made my way inside the shopping center, the entrance was obvious.
Royal Yacht Britannia: Touring and Tickets
Touring the Royal Yacht Britannia is surprisingly relaxed. Visitors moved at their own pace, and are each given an extremely informative hand-held audio tour. Directions through the ship are very clear, and each level is easily accessed via a tower on the dock that has both stairs and an elevator.
At the time of writing this, an individual adult ticket can be purchased for £16.50, student and senior tickets are £14.50, children's tickets are £8.75 (age 5 to 17, under 5 are free), and a family pass (2 adults and up to 3 children) can be purchased for £46.00.
The Royal Yacht Edinburgh offers a free annual pass with your initial ticket, good for the 12 months following your first visit. Be sure to ask about it when you purchase your ticket (you can read more information about it here.)
Royal Yacht Britannia: Highlights of the Tour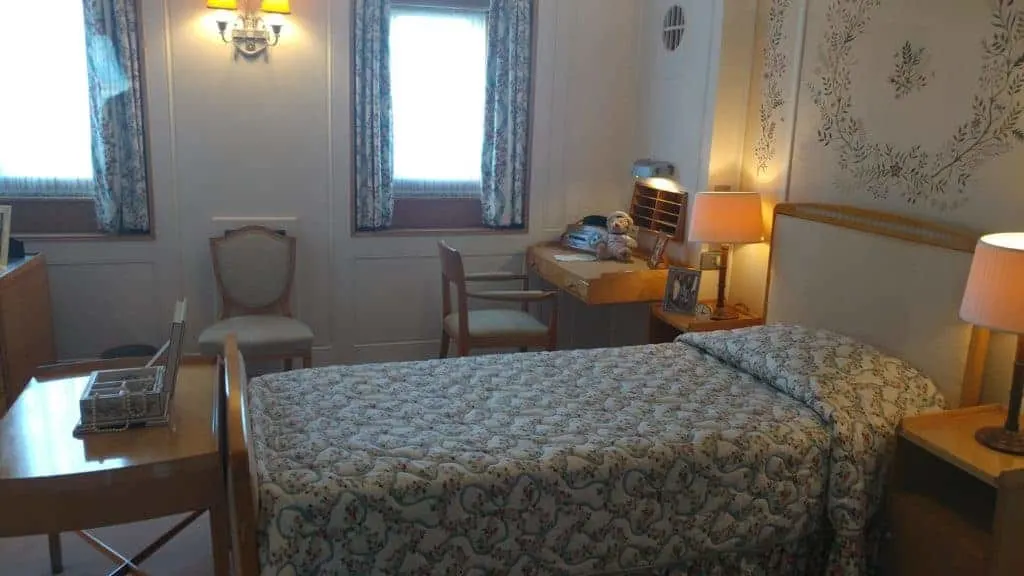 Every moment aboard the Royal Yacht Britannia was like stepping back in time and getting a glimpse into what royal life is like. The ship was commissioned in 1952 and officially launched in 1953, and the decor is still exactly as it was. Visitors can tour all five decks of the ship, and are able to see the State Apartments, including the personal quarters of Queen Elizabeth and Prince Phillip. The State Drawing Room and the State Dining Room were particularly fascinating.
One of the most interesting parts of this tour was all the personal family photos and other objects placed throughout the ship. Having toured other royal residences where spaces feel extremely formal and historic, the Royal Yacht Britannia seemed much more intimate and quaint than you would expect. For example, the Sun Lounge, said to be the Queen's favorite space aboard the ship, was just a simple space where the family could relax and enjoy time together. A stack of old board games is visible in a cabinet, and you can just picture the Queen and her children enjoying time together, like any other family.
In addition to all the spaces used by the Royal Family, visitors can tour the decks reserved for the crew and staff. The spaces are small, but well appointed, and visitors get a real feel for how people aboard the ship lived their daily lives. It quickly becomes obvious why this particular royal residence is said to have been Queen Elizabeth's favorites.
Royal Yacht Britannia: The Royal Deck Tea Room
A visit to the Royal Yacht Britannia is not complete without stopping for meal or a relaxing cup of tea in the Royal Deck Tea Room. I stopped by mid-afternoon after finishing my tour for a scone and a cup of tea, and enjoyed the gorgeous view of the harbor. The service was excellent and my scone was delicious.
Access to the Royal Deck Tea Room is only available if you have purchased a ticket to tour the Royal Yacht Britannia, and they are unable to accommodate reservations.
The Royal Yacht Britannia: A Fantastic Gift Shop
After finishing your tour of the ship and having a bite in the tea room, do not miss the gift shop at the end of the tour. Since I visited the Royal Yacht Britannia on the very first day of my trip, I didn't take full advantage of this fantastic location. Not only does it feature a wide array of items themed around the ship, but it also has many other wonderful items from all over Scotland. Had I known how boring and similar all the items I would find on the Royal Mile would be, I would have spent more of my souvenir money here! It's definitely worth taking the time to look around and find something you'll love. (I spent quite a long time trying to find great, unique souvenirs along the Royal Mile, so to save yourself some time, be sure to check out my post on Where to Buy The Best Souvenirs in Edinburgh by clicking here!)
The Royal Yacht Britannia is not to be missed by any visitor to Edinburgh! I highly recommend taking advantage of as much time as you can spare aboard the ship. I will definitely be bringing my family with my next time I visit Scotland to tour this amazing yacht.
Looking for other things to do while you visit Edinburgh? Check out my guide to the perfect day in Edinburgh, Scotland!