Taking a Walt Disney World Vacation is an amazing experience for any family, but avoiding Disney World crowds is absolutely key to having a great time while you're there.
Nobody likes to wait for hours and hours just to ride one attraction, and knowing how to deal with wall-to-wall people in the parks is essential to having an enjoyable vacation.
During our trips to the most magical place on earth, I've discovered some strategies to help make a crowded day at Disney World more enjoyable.
Links in this post may be affiliate links, which means I may earn a commission if you make a purchase from any of them, at no additional cost to you. You can find out more information by reading my full disclaimer.
*UPDATE*– Due to COVID-19, Disney World is operating at reduced capacity, but it can still get crowded. These tips have been updated to reflect current conditions at the parks.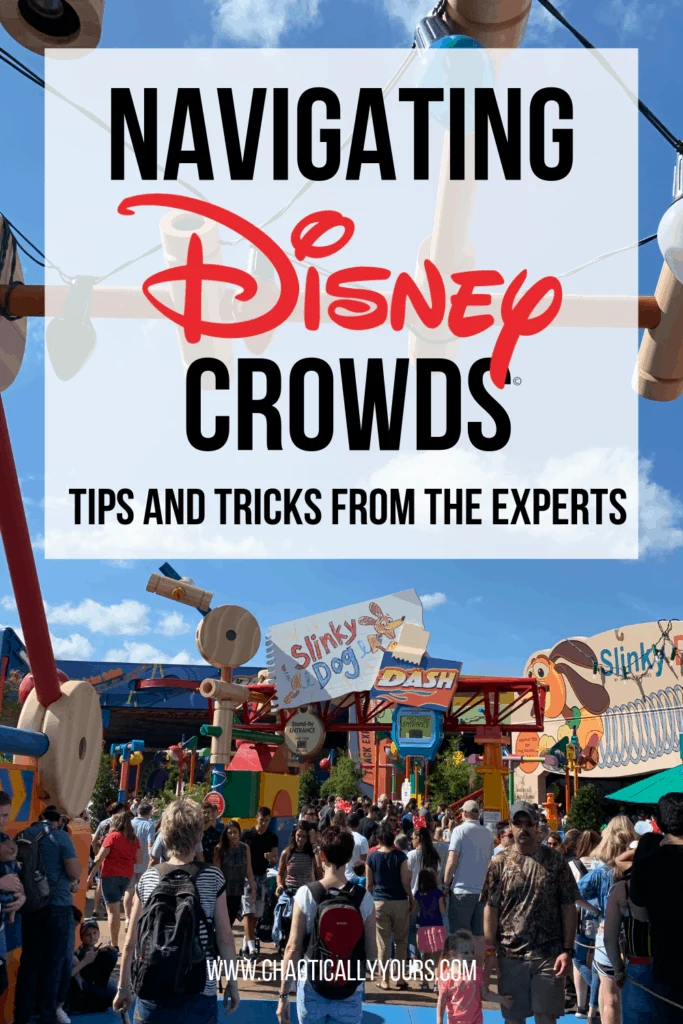 Disney World Crowds: Plan Ahead to Avoid Them During Your Trip
My number one strategy to avoid crowds at Disney World is to consider them in the planning phase of our trip.
Just a little bit of research can put you ahead of the game in avoiding crowds.
Use Crowd Calendars
When we first start planning our trips to Disney World, I ALWAYS consult a crowd calendar to avoid Disney World Crowds.
My favorite (and most accurate in my opinion) is available through TouringPlans.com.
Touring Plans publishes the best Disney World guide out there (Unofficial Guide to Walt Disney World 2019 ( The Unofficial Guides)
), and has been in the Disney planning game for years.
You do have to pay a small yearly fee to access their sites, but the wealth of information available from them is WELL worth the $15.95 annual fee (which is discounted if you own a paper copy of the current Unofficial Guide).
They offer not only detailed and accurate crowd calendars, but fantastic touring plans, a crowd tracker feature, and a restaurant reservation finder.
Touring Plans is my go-to site for all info that's Disney related!
There are other places to find good crowd calendars, and there are two free ones that I always check as well.
Dad's Guide to WDW is a very informative site that has a really easy-to-read crowd calendar.
While things have changed during the pandemic, you're still more likely to find Disney crowds to be lighter based on these calendars.
Never Go To Disney World On A Major Holiday
While celebrating Christmas or the Fourth of July at Walt Disney World may sound amazing, the crowds at Disney Parks on major holidays can be incredible.
It isn't uncommon for Disney World to reach crowd capacity and have to stop allowing guests to enter the parks at some point during the day on major holidays.
TouringPlans.com has more information on how these closures work.
In my opinion, it's best to avoid booking your trip on any of these major holidays:
New Year's Day
Spring Break (most of March through Easter)
Fourth of July
Thanksgiving Day
Christmas Week
New Year's Eve
Even during COVID-19, Disney Parks will still reach their maximum capacity during holidays.
Avoid Special Events at Disney Crowds
Disney does some amazing special events, and it is possible to visit them during times that aren't so ridiculously crowded.
It's important to pay attention to when these events are held and compare them to crowd calendars.
Some one time events, such as the RunDisney events, draw in massive crowds, while other events, like Mickey's Not So Scary Halloween Party are held numerous times, spreading the crowds out a bit.
Just make sure you know what might be happening in the parks before you book your trip.
Disney World has put most special events on hold during the global pandemic, but I have no doubt they will be back in the future.
Disney World Crowds: How to Deal With Them in the Parks
It is possible to plan your trip to avoid Disney World crowds, and still end up in a crowded park.
Our family had once booked a trip on a week that had historically low crowds during Christmas season, only to have crowds spike during our actual visit due to the closure of VERY popular attraction, Osborne Family Lights at Hollywood Studios.
At the time of we booked our trip, no one had any idea they'd be ending this much-loved lights display, and apparently lots of people wanted to see it one last time before it was gone.
Predicted crowds had been at a 2 out of 10 when we booked our trip. While we were there, they spiked to 9 out of 10.
I learned very quickly how to navigate the crowded conditions and our family still had an amazing time.
Use FastPass+ Effectively
The FastPass+ system is currently not operating at Walt Disney World, but is expected to return eventually. Knowing the ins and outs of the program is NEVER a bad idea.
The BEST thing we've done to deal with Disney World Crowds is learn how to best utilize the FastPass+ system.
FastPass+ is Disney World's line management system that basically allows guests to have a scheduled time to "skip the line" and get on an attraction quickly.
Each FastPass basically gives you a one hour window to hit up a ride. Each guest is allowed to book three FastPasses ahead of their visit. After those three have been used, guests are allowed to book more either through the My Disney Experience App or at kiosks throughout the parks.
Dad's Guide to WDW has a great post explaining the system in detail with instructions on how to use it.
Take the time to learn all you can about the FastPass+ system and figure out a strategy on how you want to use them.
Park Hop with the My Disney Experience App
Another way to combat crowds at Disney World is to park hop.
Park hopping is when guest travel to more than one park during any given day of their trip.
In order to do this, guest MUST have the park hopper option added to their tickets.
While it makes your ticket more expensive, they can be worth it on very crowded days at the parks.
If you have Park Hopper tickets and you find yourself in an unexpectedly crowded park, you'll want to use the My Disney Experience app to check wait times at other parks to determine if you want to hop on over there.
For example, you have a breakfast reservation at Be Our Guest in the Magic Kingdom. After finishing your meal, you find that wait times have already reached an hour plus on most major attractions.
You check the My Disney Experience App on your phone, and find that the wait times over at Hollywood Studios are less than half of what they are at Magic Kingdom.
With your Park Hopper ticket, you can simply head on over to Hollywood Studios and enjoy much shorter wait times and a much less crowded park.
Park Hopping is currently available at Disney Parks, but only after 2 pm every day.
Have Realistic Expectations
There was a time in the 80s and 90s that you could go to Disney World during certain times of the year and expect to find the parks very sparsely populated, and be able to just walk onto most of the attractions.
Those days are LONG gone.
With new and exciting attractions being added every year, Disney World is arguably the most popular vacation destination in the world. It's important to set realistic expectations for your visit to Disney.
Unless you plan on spending a month in Orlando, there is no way you'll be able to do or see everything Walt Disney World has to offer.
My family manages this with the "One Thing A Day" rule.
As a family, we decide what attraction is most important to us during our planned day at Disney Parks.
Once we've accomplished that one thing, we consider the day a success, and anything else we get to do is just icing on the cake.
This keeps the expectations realistic for our kids.
Wear the Right Mask
For trips to Disney World, masks are not an essential part of the planning.
You'll want to be as comfortable and well protected as possible during those long, hot days.
We always use HALOLIFE masks for our trips.
We've found them to be more comfortable for long term wear than anything else we've tried.
Those 200 hour filters are also a huge bonus!
Disney World crowds are basically unavoidable, but with the right tools and a little preparation, anyone can navigate them successfully and have a fantastic Disney World Vacation.
Wanna pack the perfect bag for the parks? Check out my post on the essential things you need in your Disney World Park Bag!
Planning a last minute trip to Walt Disney World? Here's how you can STILL get a reservation to the BEST restaurants at Disney, even after the 180 day mark!
What Disney World experiences should you purchase? Check out my post on Four Disney Splurges that are Totally Worth The Money!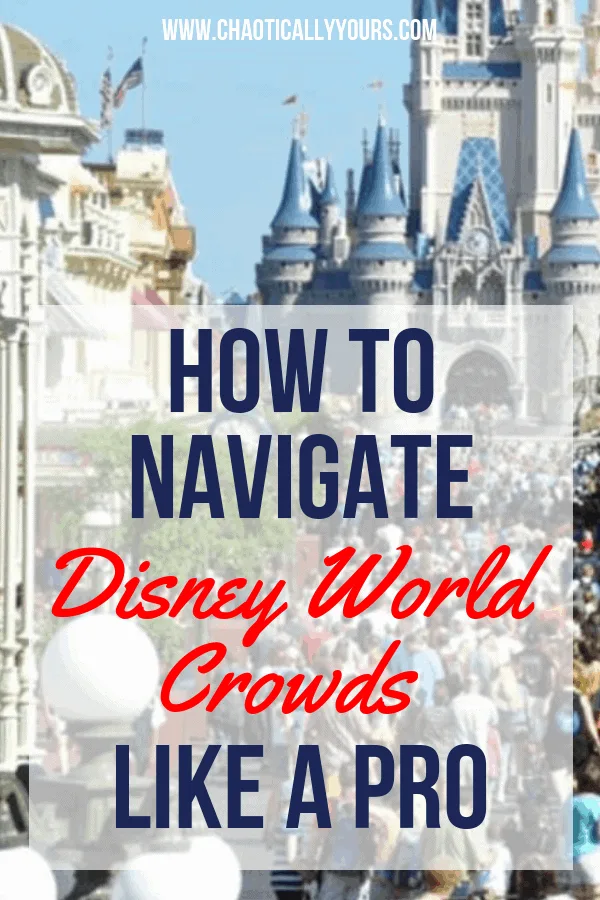 Disney World Crowds: How To Survive A Crowded Day At Disney World