In today's post, I'm sharing my best at home date night ideas for you and your loved one!
When I think of date nights with my husband, I always picture us going out somewhere, away from our house to spend some quality time together.
I love a good dinner where neither of us have to cook or clean up, and can just enjoy each other's company.
I adore traveling, just the two of us, to fun new places we can explore.
But in the past year, the opportunities to safely get out of the house to spend quality time with each other are few and far between.
Now that we're spending more time at home than ever, it can be super difficult to come up with ideas for date nights.
So I decided to compile a list of at home date night ideas to share with all of you, so you can keep your relationship close and enjoy time together, even if it's at home.
Links in this post may be affiliate links, which means I may earn a commission if you make a purchase from any of them, at no additional cost to you. You can find out more information by reading my full disclaimer.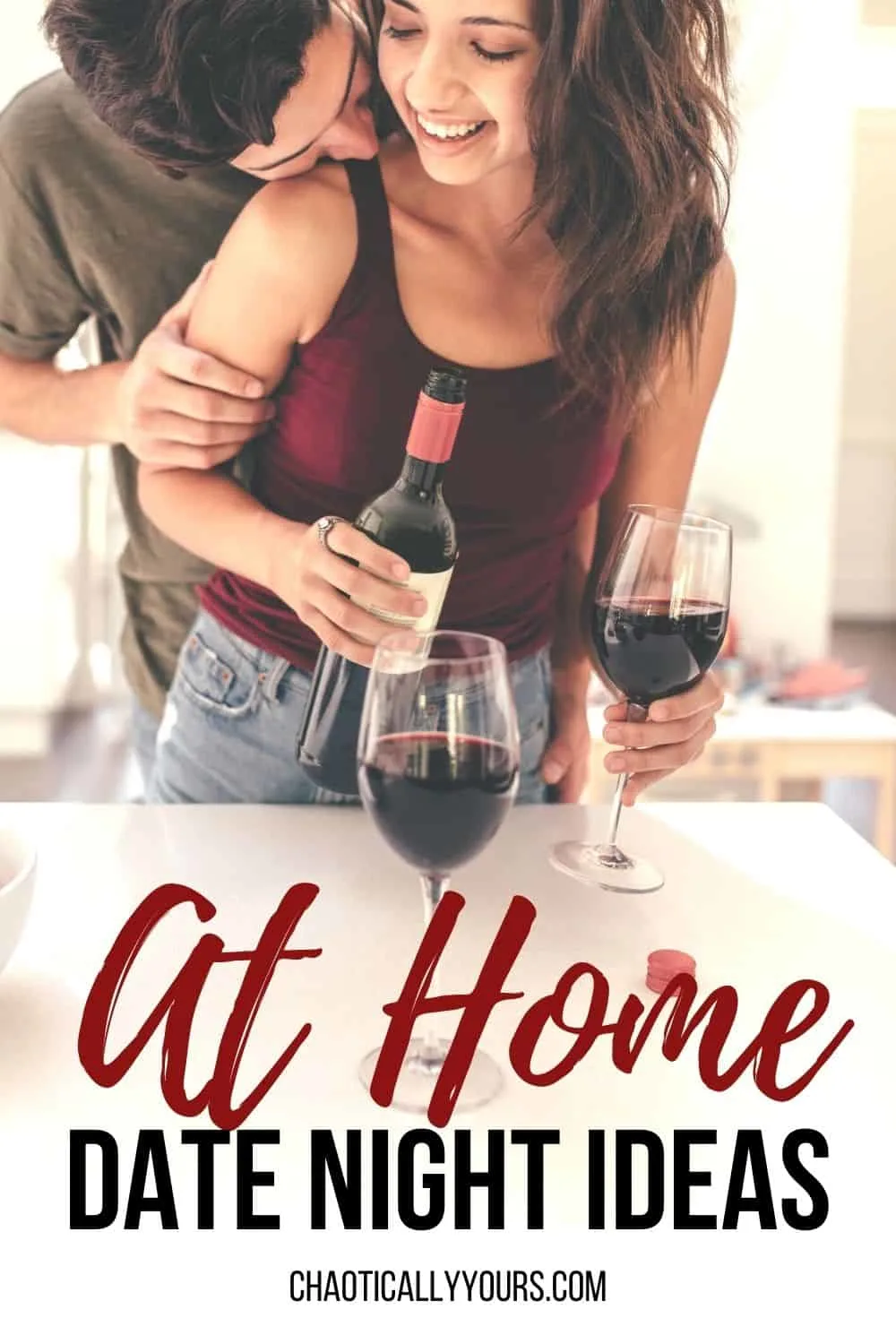 At Home Date Night Ideas
Hold your own bake off
If you've ever watched The Great British Bake Off or Nailed It, you know just how fun baking can be.
It doesn't matter if you are seasoned chefs or absolute novices in the kitchen, you and your loved one can have a ball baking something together.
Create a cake together or make your favorite cookies.
You could even get competitive and host your own competition to see who makes the best looking cupcakes.
Whatever you decide to make, baking is a fantastic way to spend an evening at home.
Play a favorite board game or card game
Another great at home date night idea is to play a board game together!
Whether it's an old favorite like Monopoly or an interesting new game like Exploding Kittens, a little friendly competition can lead to a lot of fun.
We love to play House Rules Uno, our crazy cutthroat version of the old classic card game.
Find a board game or card game you both like and spend an evening playing it together.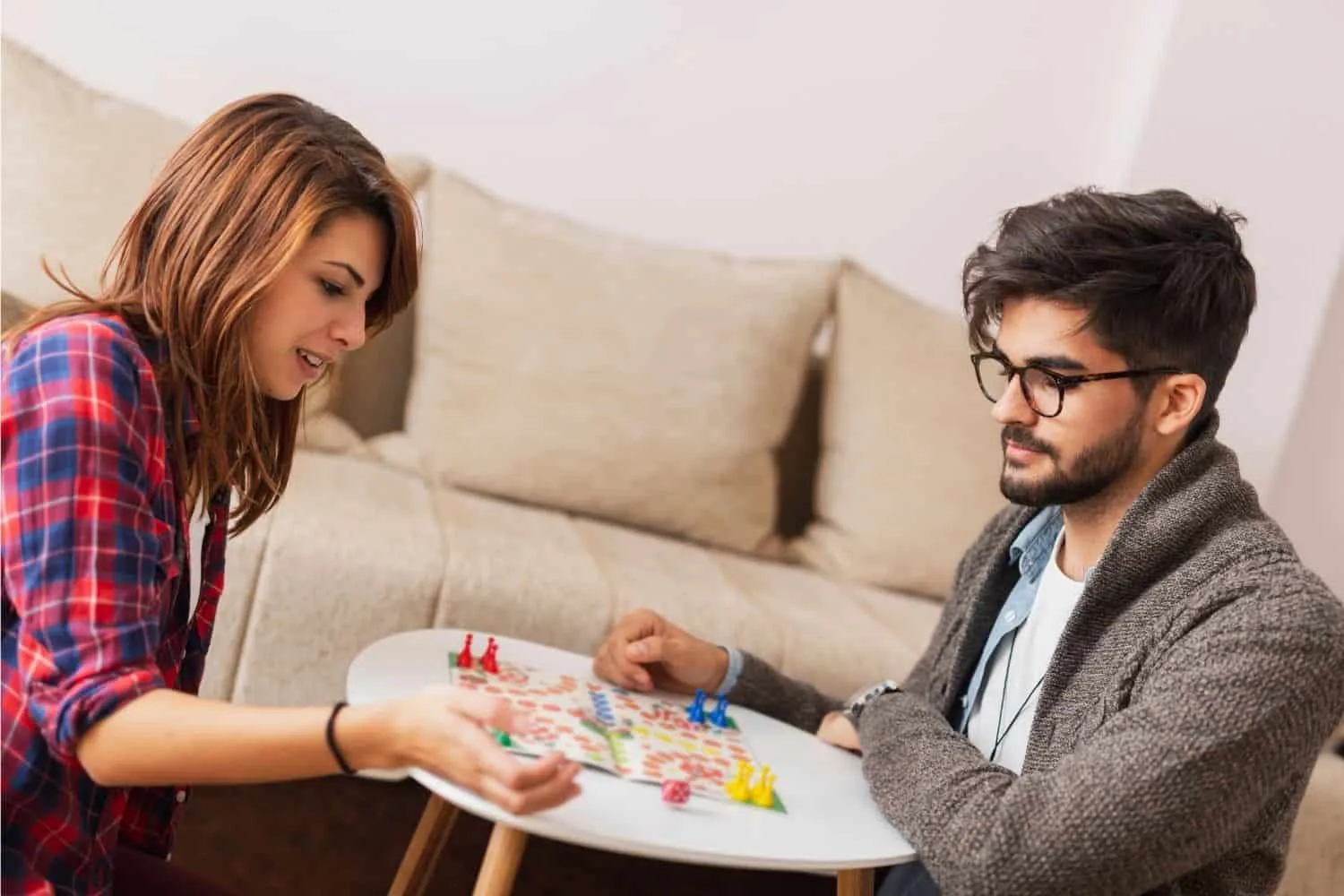 Have a crafting date
Show off your creative side by doing a craft project together.
From the simple to the intricate, there are tons of craft projects out there that can get you making things together.
Do some tie dying. Make some shrinky dinks. Learn to create a hexaflexagon. The list goes on and on.
Make some memories while making something creative.
Have a Nerf gun war
If you're a super competitive couple, relive a little of your childhood with a Nerf gun war.
It's hard not to have fun when shooting those soft bullets at your significant other.
Keep with mild with some small shooters or go all out with giant nerf weapons.
No matter what you choose, it's sure to be fun!
Make a bucket list
Not much can bring your closer than sharing your hopes and dreams with your significant other.
Sit down and make a bucket list of things you'd like to accomplish in your life.
Wanna go skydiving? Add it to the list.
Wanna visit Stonehenge? Add it to the list.
Wanna learn to play the piano? Add it to the list.
Whether they're things you want to do by yourself or thing you want to do together, sharing your aspirations for your life has a way of opening up new ways to communicate.
Have a movie marathon
Relax and immerse yourself in a great series of movies!
Work your way through the Marvel Universe. Experience the magic of Harry Potter. Sob your way through all the Nicholas Sparks movies.
What ever you choose, snuggling up at home to watch some great movies is one of the classic at home date night ideas!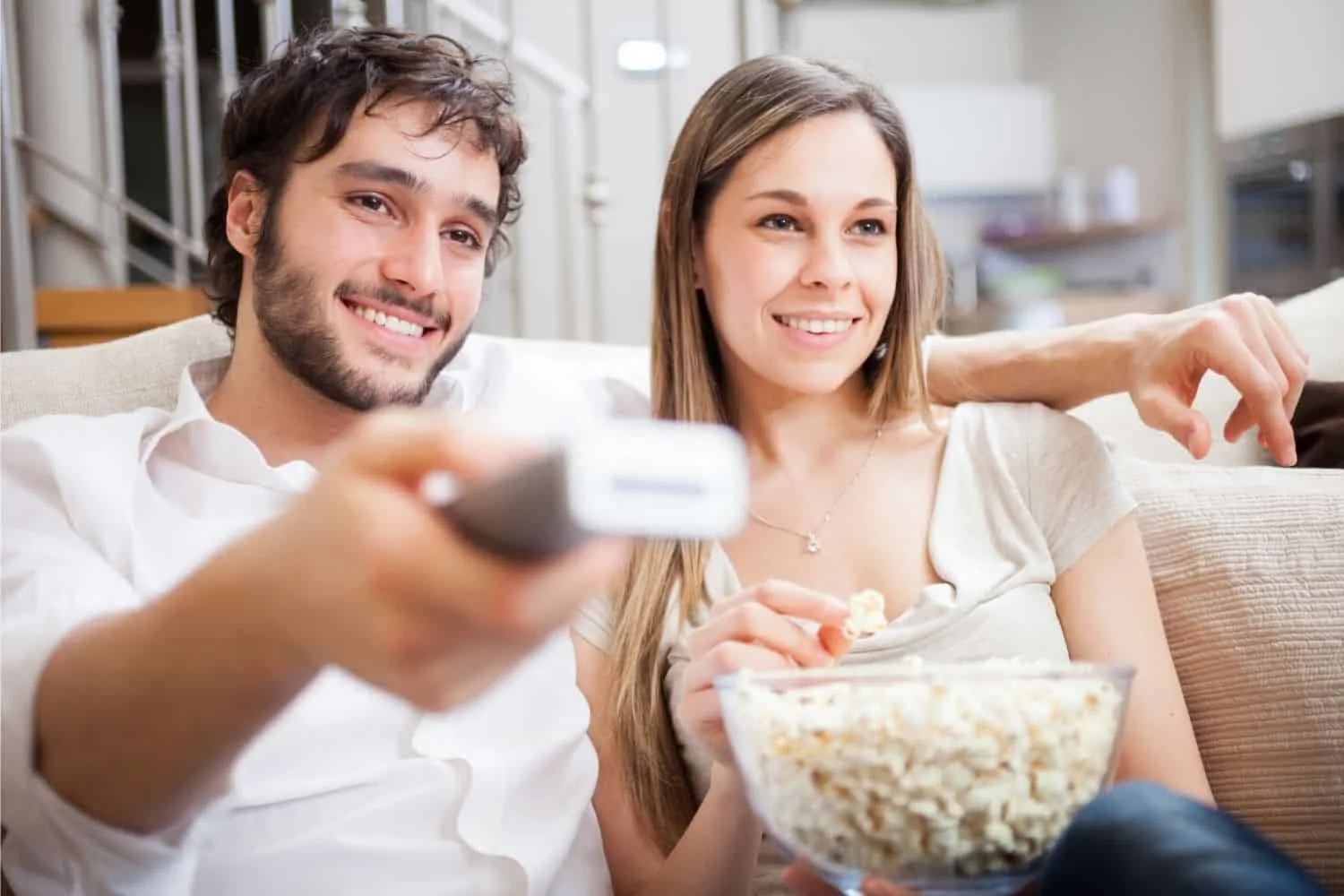 Volunteer together
This one may seem like an odd addition to our list, but these days, lots of organizations are offering ways you can volunteer at home!
From local nonprofits to national organizations, I can guarantee that just about any one of them can use your help.
Whether it's stuffing envelopes, writing thank you notes, or just calling supporters, there's lots of important tasks that can be done from home.
Call around to your favorite causes and ask what you can do from home.
Or check out sites like VolunteerMatch.org that can hook you up with organizations that need help.
Doing something to support causes that are important to you and your loved one is a great way to grow closer together.
Start your own mini book club
Sharing notes on a favorite book can be so much fun, so why not do it together?
Take turns picking what to read, and then set aside a night to compare your thoughts on the book.
You could even read the book aloud to each other, and experience it together.
I think you'll surprise each other with insights about your favorite authors and books.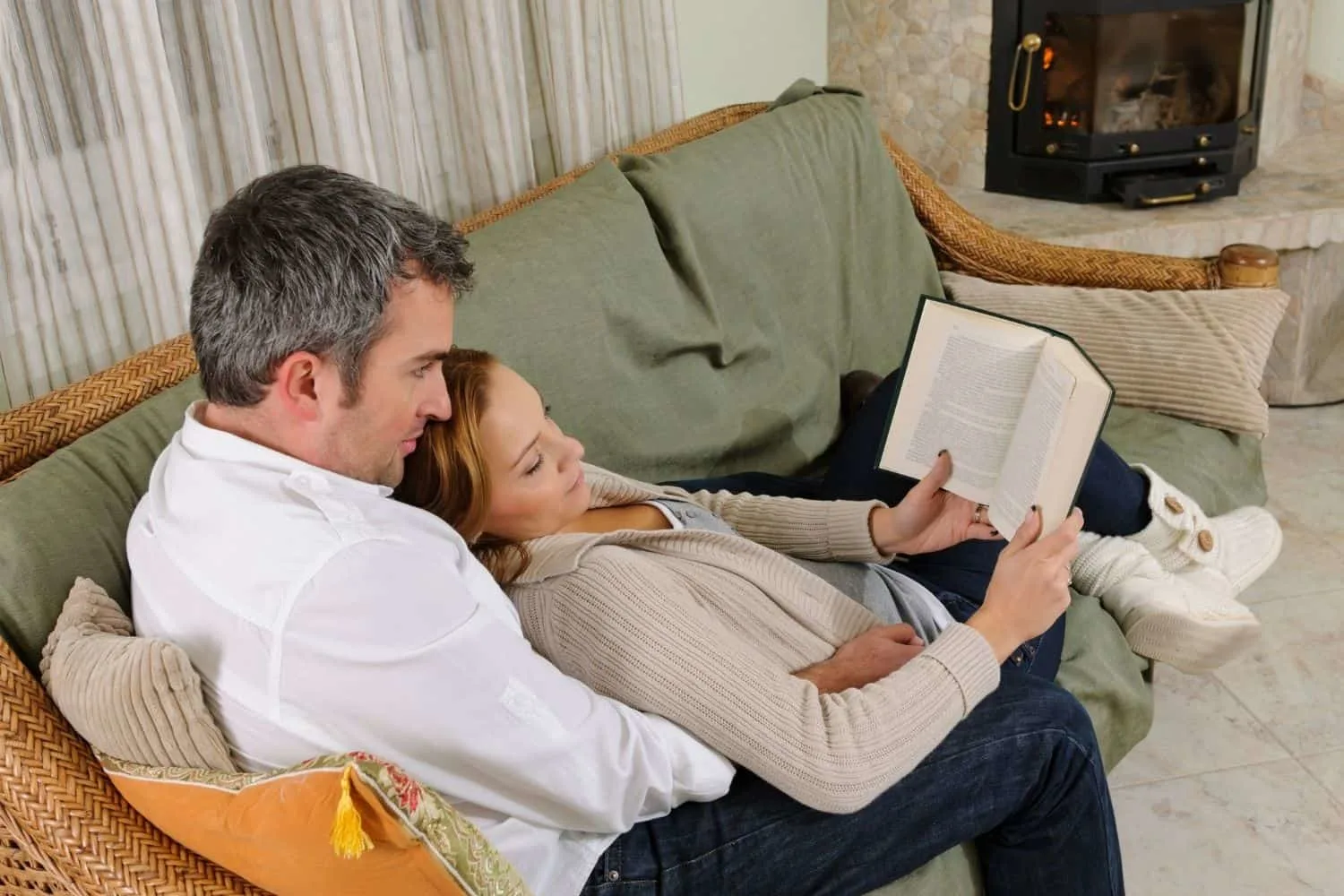 Reminisce over old photos
Whether your a new couple or you've been together for more years than you can count, it's always really fun to look at old photos.
Bring out the pictures from your childhood and share your memories with your loved one.
Dig up the pics from when you were first dating and remember how much fun you had.
Looking back at your life can be a great springboard for wonderful conversation, and can help you grow closer as a couple.
Make your dream travel plans
Let's face it. Not many of us are able to travel lately.
But there's nothing wrong with dreaming!
Share your dream destinations and spend an evening planning out exactly what you'd want to do on your dream trip.
Whether it's a new destination or an old favorite, you're sure to have a great date night at home planning your future travel.
Watch your favorite childhood movie or tv show
We all have fond memories of our favorite movies or tv show from when we were young.
Share those with your loved one, and spend an evening watching your favorite movie from when you were a kid.
Love the Disney classics? Was Punky Brewster your favorite?
Almost every show or movie imaginable is available to stream nowadays, so take advantage of it and share your favorites with your special person!
Sing some karaoke
The reason karaoke is so popular is that you don't have to be good singer to have a great time.
Bring that karaoke bar vibe to your home!
Mix up a batch of your favorite cocktails and sing along to your favorite tunes! Amplify the fun by adding a karaoke microphone to the mix.
Watch some sports together
Whether your normally a sports fan or not, find a game or an event to watch together.
Lots of people have their favorite teams, but mix things up a bit and find a different sport to try watching together.
Normally love watching football? Try watching a tennis match!
Big fan of golf? Watch a swim meet!
So many more sports are televised now than they used to be, it's easy to find something new to watch together.
Order blind takeout
This is a fun one!
Everyone is ordering take out lately, but mix up your at home date night by making it blind take out.
There are a couple of ways to do this, with one being more risky than the other.
The first way is order for each other without letting your significant other know what you picked for them.
The second, riskier way to order blind takeout is to hit up a drive through and ask for exactly what the car in front of you bought.
You might get a huge meal with more food than you can possibly eat, or you might just end up with an order of fries. Either way, it's an adventure!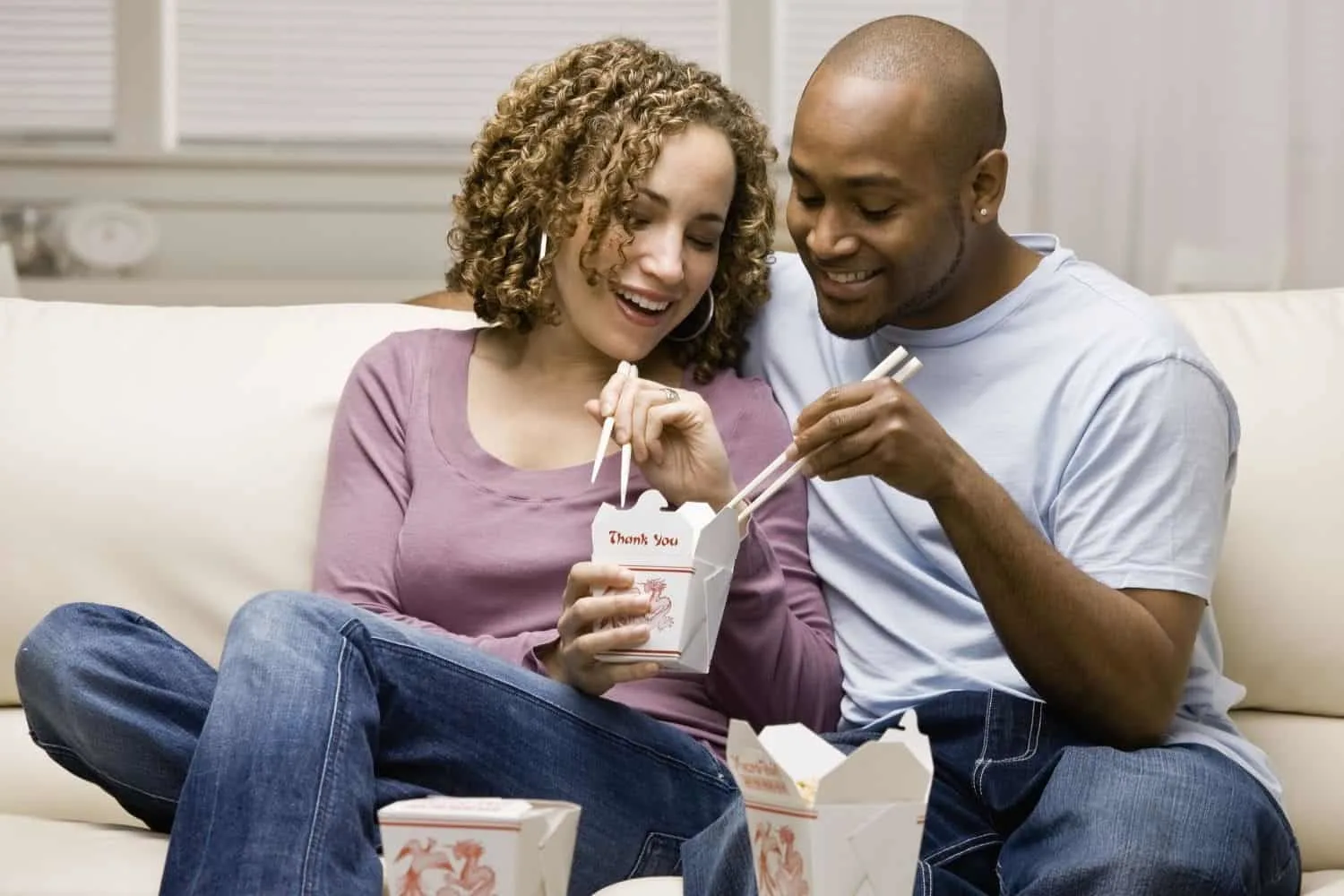 Start a garden together
Not only is gardening a great project to do with kids, it's also a fantastic project to do as a couple.
Planting and tending to plants gives you a reason to set time aside every day to do something together.
Whether it's vegetables, flower beds, or just a few houseplants, watering and growing a garden can give you some great experiences together.
Play "Would You Rather"
Take turns asking each other "this or that" questions.
Would you rather be president or be queen?
Would you rather fight 100 duck sized horses or one horse sized duck?
They can be silly or serious, but you'll definitely learn a lot about your loved one with this at home date night idea.
Visit a virtual museum
Can't get to a museum? Have a museum night at home!
Lots of major museums around the world have pictures of their collections online.
Spend an evening visiting a virtual museum together like The Met, MOMA, or the Guggenheim.
Discover what art styles you both like and which ones you aren't fond of.
Have a video game night
Whether it's the latest title or a classic game, play some video games together.
We've had more laughs playing Mario Kart than you can possibly imagine.
Just make sure it's a video game that both parties will enjoy, and you'll definitely have fun playing together.
Work out together
Having an accountability partner always makes working out easier.
What better partner than the person you love most in the world!
Whether it's a new workout or something you've always loved doing, get some exercise together and make a date out of it.
Have a backyard picnic
Sometimes just a change of scene can make all the difference.
Take your dinner outdoors, and enjoy an evening picnic.
Just a blanket and some plates can make even the simplest meal more romantic in the great outdoors.
Tackle a DIY project together
Working side by side has always been a great way for my husband and I to grow closer.
Find a DIY project you both want to accomplish and tackle it together.
Refinish some furniture. Build a new deck. Change out your light fixtures.
The most rewarding projects are always the ones you complete together.
Review your goals as a couple
This one may sound like a bucket list, but it's actually really different.
When I was in college, I took a marriage and family class in college that was super insightful.
The teacher shared with us that on every anniversary she and her husband review their goals for their marriage and their life.
She said they always sat down and discussed how their relationship had changed and where they wanted it to go.
I loved this idea, and it's been something my husband and I have adopted into our relationship that's been extremely helpful.
It helps keep us on the same page about where we're going and how we plan to get there, and has prevented many of the problems we see other couples having in their marriages.
Use one of your date nights to discuss your couple goals!
At Home Date Night Ideas: Your Thoughts?
Have you tried any of these at home? Have anything else to add to the list? Leave me a note in the comments! Snack only dinner
At Home Date Night Ideas: 22 Things You Can Do Together