One of the most important parts of a Disney World vacation is your park bag.
Most people bring a backpack or some other sort of bag with them into Disney parks to carry the essentials you'll need throughout your visit.
These items are vital to a day full of fun, and in many cases will enhance your time there.
Here is my list of essential items for your Disney park bag that you can order on Amazon right now and why you need them to make your Disney get-away perfect!
Links in this post may be affiliate links, which means I may earn a commission if you make a purchase from any of them, at no additional cost to you. You can find out more information by reading my full disclaimer.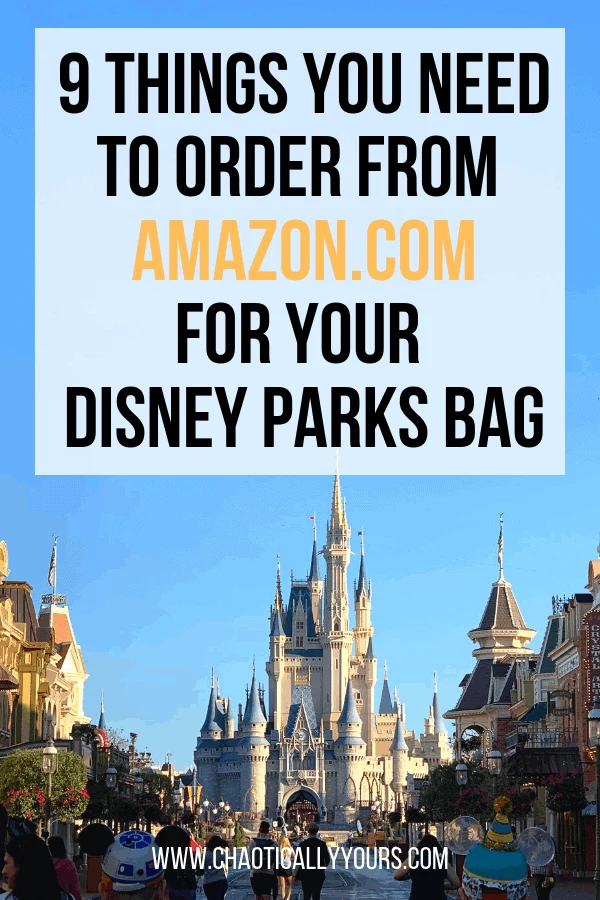 Disney Park Bag Must Haves:
1. An external battery to charge your cell phone or other electronic device.
Phones are an essential part of our lives now and MUST be in your Disney park bag.
Most people don't even carry a camera anymore and just use their phones to capture memories.
And now the My Disney Experience app is now an essential part of a visit to the parks.
Booking Lightning Lanes, pre-ordering food, quickly buying merchandise, navigating between lands, and even checking out showtimes: these things and more can all be done from the app.
Now imagine that you're walking through the Magic Kingdom and your phone dies!! What could be worse?!?
We always carry an external battery so we can recharge our phones anytime, anywhere.
Disney offers vending machines around the parks with external batteries in them, but who wants to hunt one down when you need one?
Plus, we've heard really bad things about their capacity and effectiveness. Disney Tourist Blog has a great article on them.
We find that having our own external batteries is so handy that we keep them around all the time, even when we're home, just doing our normal thing.
Our personal favorite is this Qi Portable Charger Solar Power Bank that not only can be recharged at any outlet, but also uses solar power to keep a charge. We just clip it to the outside of our park bag and never worry about it running low, even when our phones are plugged into it!
It also features a really handy flashlight and even a compass. It's definitely a must have for our Disney Parks bag.
2. Filtered Water Bottles And Water Flavor Packets
The tap water in Orlando is notoriously gross. Just one sip from a water fountain in the parks and you'll definitely regret it.
We invested in these self-filtering water bottles on our last trip, and we were so thankful to have them.
We never head to Florida without these in our Disney park bag.
They each have a small filter in the top that takes out all the gross tasting stuff right before you drink it.
We simply refilled them anytime we had a few minutes between rides, and found ourselves never without water.
I know any food vendor offers free ice water to any guest at the parks, and we frequently use that chilled water to refill our bottles.
But when you're in a two hour standby line for Thunder Mountain Railroad, and your kid is thirsty, you'll be thankful for these!
Our favorites are these Britta 20 oz Sports Water Bottles. The easy squeeze spout makes it super simple to just grab a sip while we're in line waiting for our favorite rides.
In addition to the water bottles, sometimes we just want something with a little taste.
We always throw a few of these water flavoring packets in our Disney park bag and then add them to the free tap water.
The flavors are strong enough to cover up the weird taste of Florida water and also taste really good.

Amazon has these in a huge variety of brands and flavors, but our kids especially love these Hawaiian Punch Drink Mix Sticks.
3. Mickey Mouse Band-Aids
There's no avoiding it, kids are gonna run and they're inevitably gonna fall.
We found having these Disney themed band-aids in our Disney park bag made dealing with the inevitable bump or scrape easier.
Disney has fantastic first aid centers available all over the park, but who wants to waste time finding one when all you need is a little bandage.

We love these Mickey Mouse Band-Aids you can get from Amazon. They come in a variety of sizes, and the theming just adds to the magic of your trip.
4. Compact, Lightweight Rain Ponchos
It rains in Florida. Like a lot.
Being prepared for the quick showers that pop up in the parks can make your day flow much smoother.
It always shocks me how many people do not carry any rain gear with them at Disney World. While they do sell ponchos at every gift shop, they're SUPER expensive, and who wants to spend that extra money unnecessarily.
Bring two or three of these for each member of your group. They're inexpensive and don't take up near as much space in your Disney park bag as an actual raincoat would.
We always order these Hagon PRO Disposable Rain Ponchos for our Disney trips.
They're affordable, light-weight, re-usable and come in packs of five. You can even get them in fun colors that will make your group easier to spot during a rain storm.
5. Retractable Sharpies
We love these easy to use permanent markers for our visits to Disney World. They make character autographs quick and easy, and also come in handy for lots of other uses!
When my kids were little, and didn't know our phone number, I would write it on their arm, so if we got separated, they could have a cast member call me.
I've used them to label ziploc bags to keep track of who a snack belongs to. Plus, with these markers, I never have to worry about losing the lid!

I specifically love this 12 Pack of Multicolored Retractable Sharpie Markers. The colors are so fun to add to any autograph!
6. Autograph Books
On our first trip to Disney World, I bought small dollar store spiral notebooks for my kids to use for autographs. This was a huge mistake.
They didn't make it through even one day without falling apart in our Disney park bag.
Now we use this Official Disney one, which is super durable and even has a place to hold a pen.
While you can buy these at almost any store in the parks, it is MUCH cheaper to order An Official Disney Autograph Book from Amazon before you go.
Our friends had another idea that I absolutely LOVE!
They brought a Disney Character Encyclopedia on their trip, and had each character sign their page in the book.
You can even get specialized character encyclopedias that just feature Pixar, Star Wars, or even Marvel Characters.
The books are affordable, durable, and can become a special keepsake of your trip.
7. Clorox Wipes & Hand Sanitizer
Keeping germs away is now more important than ever at Disney Parks.
Don't get me wrong. Disney Parks are some of the cleanest places you will ever visit. Their custodial cast members are fantastic at their jobs.
But anywhere there are large crowds of people there are large crowds of germs.
No one wants to catch any kind of bug or virus on their vacation.
While Disney World now provides lots of these supplies around the parks, I always like to carry my own in my Disney park bag.
So I make my family wash their hands at every opportunity, utilizing the hand washing stations and hand sanitizer kiosks in the parks as much as possible.
But they're not always immediately handy when I feel the need to sanitize our hands.

I'm a big fan of these Travel Sized Purell Hand Sanitizers with Essential Oils. Not only are they the perfect size to just hook onto your Disney Parks bag, but they smell much nicer than what you'll find in the public dispensers.

And while I know Disney World is probably cleaner than any other place we'll visit, I always wipe down the table with a Clorox wipe, just for my own peace of mind.
This handy smaller, resealable pack of Clorox Wipes is the perfect size to just stash in your parks bag.
8. Gallon Size Ziploc Bags
You probably wouldn't know it, but Ziploc bags have SO many uses when your at Disney World. I always have at least 8 stashed in my Disney park bag every time we walk in the gates.
I've used them to keep snack left-overs for us to eat later. I've kept my phone and camera dry on water rides. I've stored our pressed pennies from around the parks in them.
I've even shared them with a family whose child was suddenly ill during the wait for a bus back to the resort (all they had was a Walmart bag, and that definitely can't handle barf).
I'm partial to the Ziploc Easy Zipper Storage Bags, with the slider at the top. They're super easy to open on the go, and I never have trouble making sure my bags are securely closed.
These are a lifesaver for us, in so many ways, and I rarely leave home at all without at least one in my purse or car.
9. Cooling Neck Wrap
Florida is HOT, y'all! We once visited during late August, and I thought my face would literally melt off.
I had read about these cooling neck bands, and I actually made several of them myself using fabric and some supplies from the craft store (I'll post a tutorial on these later).
They contain small beads that expand and store water. You simply wet them, and then tie them around your neck.
I cannot tell you how much these really helped us out. We often carry a very small fabric cooler in our Disney park bag.
We usually wet the wraps with very cold water and store them in a ziploc bag inside our cooler, so they are cold and ready whenever we need them.
These are seriously a life saver if you're visiting the parks anytime when the temps are over 90 (which is a huge chunk of the year).

These Koolgator Cooling Neck Wraps are a lifesaver on a hot day at the Magic Kingdom!
All of these items are are definitely must-haves for any Disney trip, and they are all available through Amazon.com with FREE shipping for Prime Members! Not an Amazon Prime Member Yet? Use this link to sign up and get almost 50% off the monthly membership fee!!!
Try Amazon Prime 30-Day Free Trial
BONUS ITEM #1: The Most Comfortable Mask For The Parks!
While wearing a mask at Walt Disney World is now optional, if you choose to wear one, it's important to know that all masks are NOT created equal when it comes to the Florida heat and humidity.
The cute looking masks sold at Walt Disney World are FAR from comfortable, and most fabric masks just weren't comfortable heat.
We found that our HALOLIFE masks were comfortable to wear for long periods of time than any other masks we tried in the parks.
They performed time after time, offering the protection of a fantastic filter with the adjustable comfort we wanted for a long day at Disney.
BONUS #2: AWESOME DISNEY T-SHIRTS!
Who doesn't want to be wearing the coolest shirts in the parks when they visit Walt Disney World? We always order ours from TeePublic, and have had the best experience!
They have the coolest designs available in tons of colors and styles. We've even gotten some extra perks in the parks because of the t-shirts! Here's a couple of my current favorites: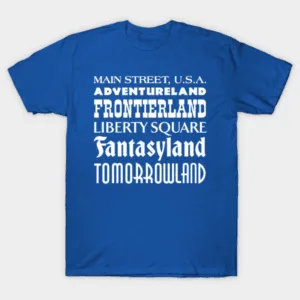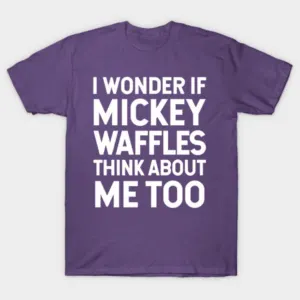 What are your must-haves for your park bag? Leave them in the comments for me!
Wanna know the 9 Things I Regret Doing At Disney? Check them out HERE.
Find out Why I'll Never Book A Breakfast Reservation at Disney World Again right HERE.
And check out the 8 Things They Never Tell You About Disney World HERE.
Order These Things From Amazon.com To Pack the Perfect Disney Park Bag