Today I get to share with you one of my all time favorite recipes: Christmas Crack (also known as Pretzel Toffee Bark)!!
Y'all! This stuff is SOOOO good! Like seriously delicious.
The pretzel toffee bark the perfect combination of sweet and salty, buttery and chocolatey. Just so so yummy!
It's really hard to eat just a tiny piece. It's so addictive. That's why we call it Christmas Crack.
This recipe came to me a few years ago when I was looking for something to make for friends and neighbors at Christmastime.
As I do just about anytime I need advice, I messaged my best friend Beth.
Every year, Beth makes a HUGE assortment of incredibly beautiful and delicious candies and cookies for her husband to take to his office to share. She's practically famous for it.
When I needed a quick and easy treat to make last minute, she passed along this recipe of holiday perfection.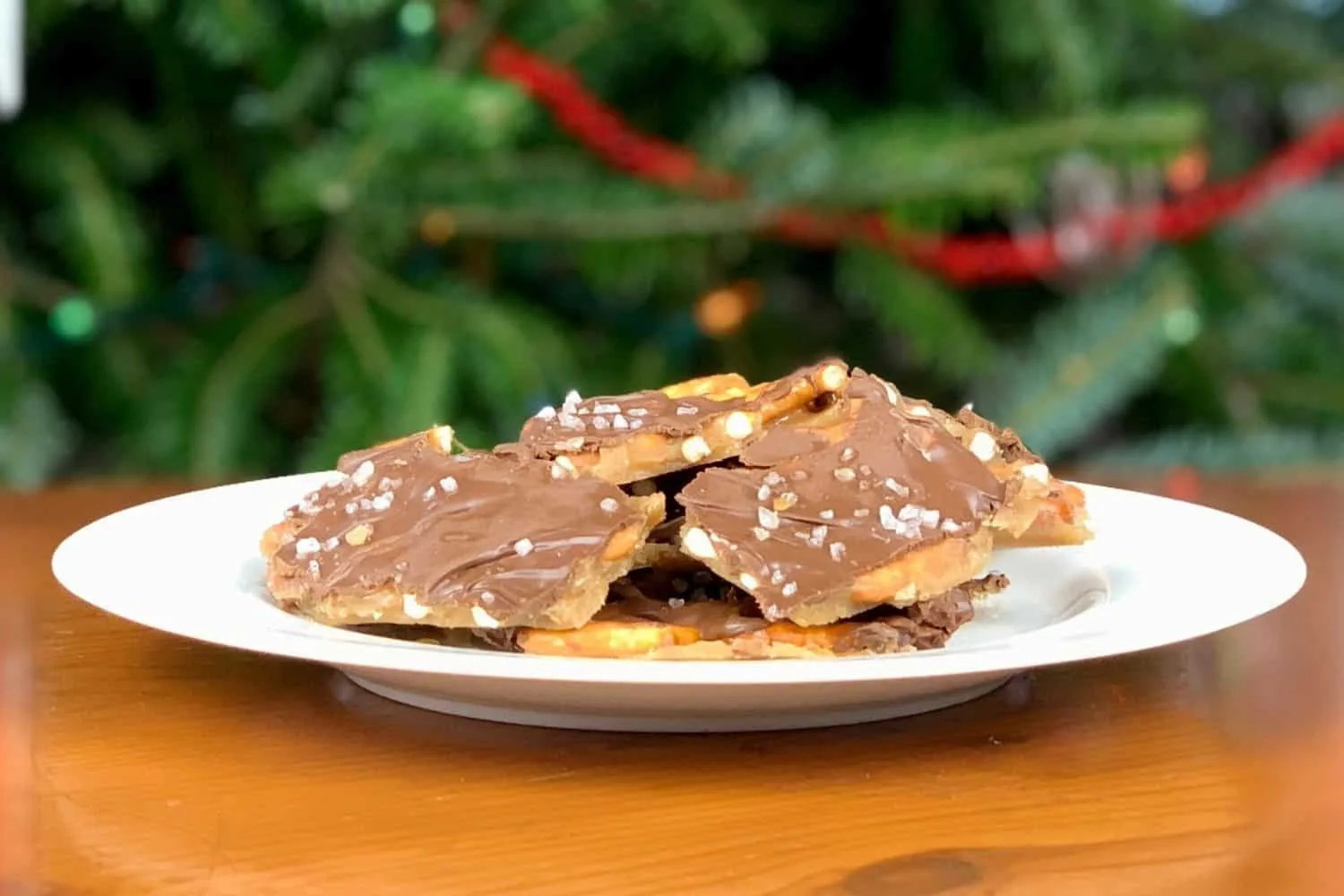 It's become one of our Christmas Traditions. Every year I make this and hand it out to friends and family, and it's always wildly popular.
A few years back I gave some to my daughter's school bus driver. He stopped me the next day to tell me he broke his own rules about eating on the bus to try it and that very little had made it home to his family that evening.
Now, I've decided to share it with all of you, so you can experience the yummy goodness that is Beth's Christmas Crack.
I'm including a printable recipe at the bottom of this post, but it's just the basics. You'll want to read the whole post first to get all the tips and tricks to get this recipe right the first time!
What You'll Need for Christmas Crack
The ingredients for this recipe are deceptively simple. They're super easy to find and also pretty inexpensive.
I was able to order everything I needed to make this recipe through Instacart from my local Aldi store.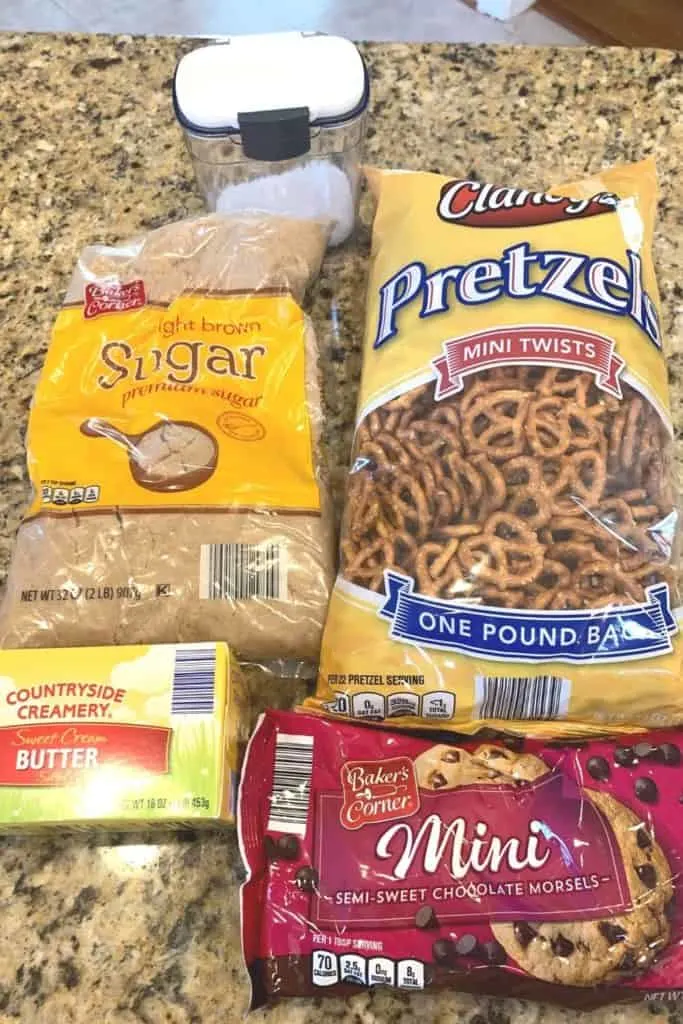 For one batch of Christmas Crack you'll need:
Half a bag of mini pretzels (shapes, not the sticks)
2 sticks of butter
1 cup packed brown sugar
One bag of semi-sweet chocolate chips
Some coarse sea salt
There are a couple of tools that I've found useful in making this recipe that you might want to have on hand:
Parchment paper
Cooking oil spray
A heavy duty saucepan
A large cookie sheet
A large heat-proof spatula
Prepping Your Pretzels to Make Christmas Crack
The first step in making this recipe is to prepare your pretzels on your cookie sheet.
You'll want to preheat your oven to 375 degrees, so it's ready a little later.
Line your cookie sheet with a layer of parchment paper. This is a crucial step that will make it a LOT easier to remove the pretzel toffee bark from the pan when it is finished.
Spray your parchment paper with a light coating of cooking oil spray, then start laying out your pretzels.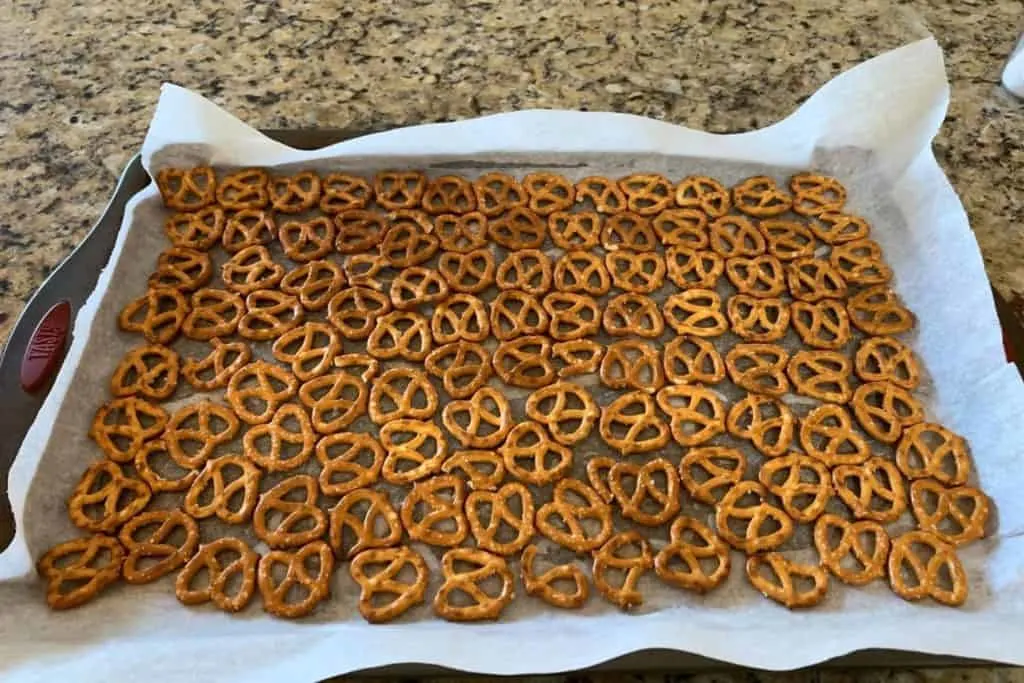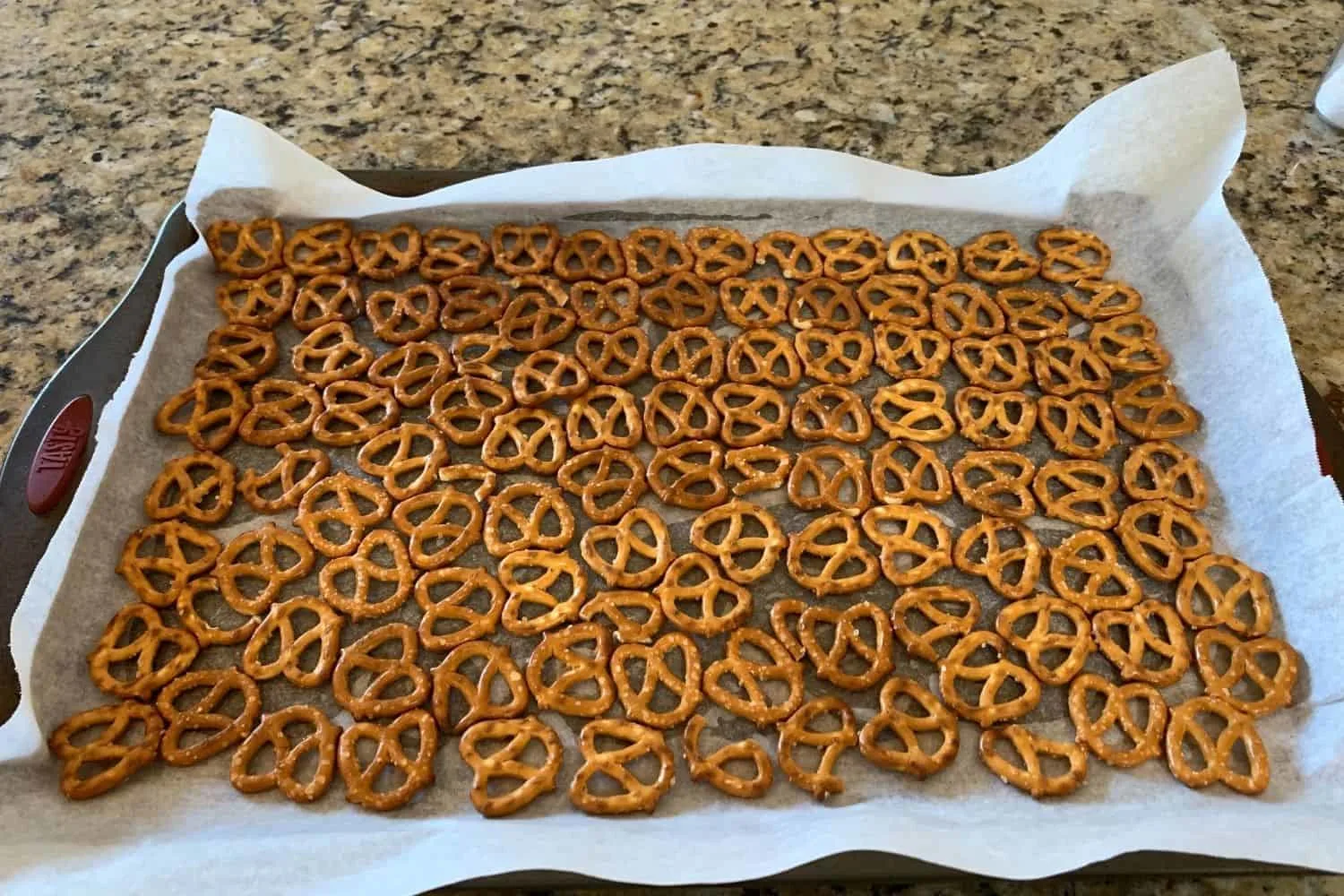 You do not want to use the tiny pretzel rods for this. They'll lay too closely together and mess up your pretzel/toffee/chocolate ratio. I recommend the small traditional pretzel shapes or even the squares.
You'll want to lay them out flat, as close to each other as possible, with none of them overlapping or sticking up.
It's completely ok if some of them are broken. Just fit them in there wherever you like.
Making the Toffee
This next step comes together almost like magic!
Take your two sticks (or one cup) of butter and cut them up into manageable chunks. Put them in your saucepan along with 1 cup of brown sugar.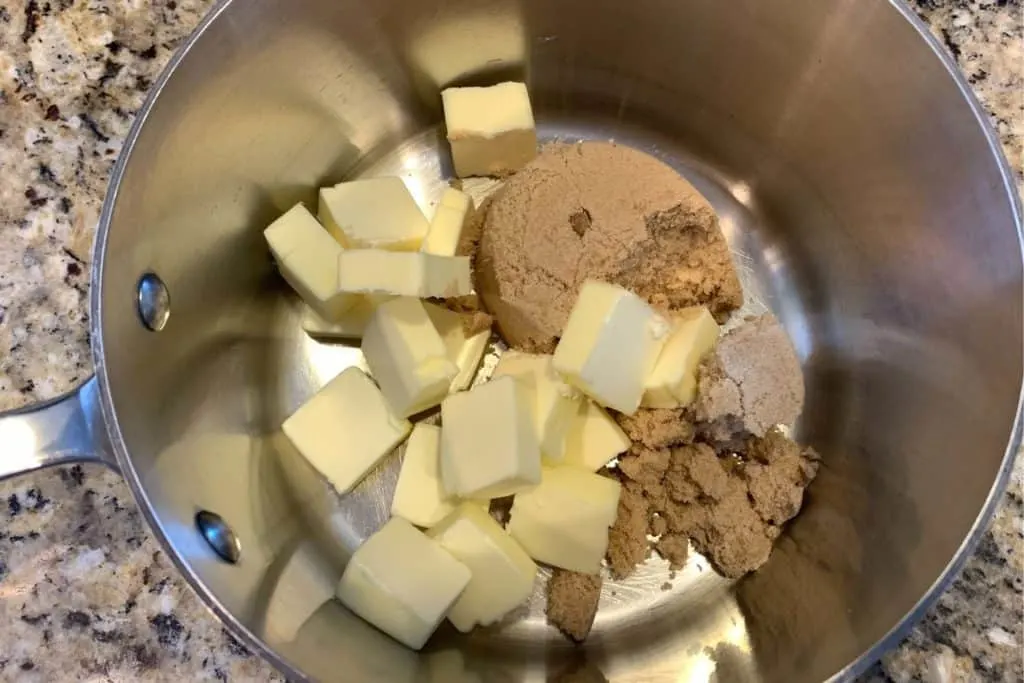 Make sure you pack that brown sugar tightly into your measuring cup before you put it in the pan.
If you have it, I recommend a regular pan, not a non-stick pan for this process. But if all you have to work with are non-stick pans, it's totally ok.
Cook your butter and brown sugar on the stove at medium high heat, stirring constantly.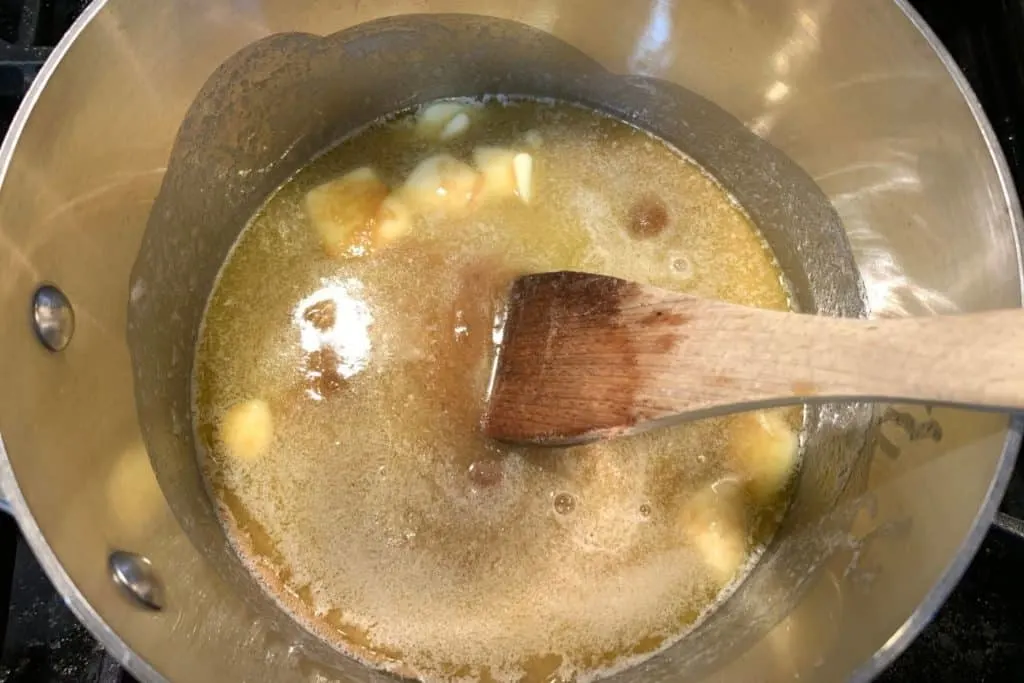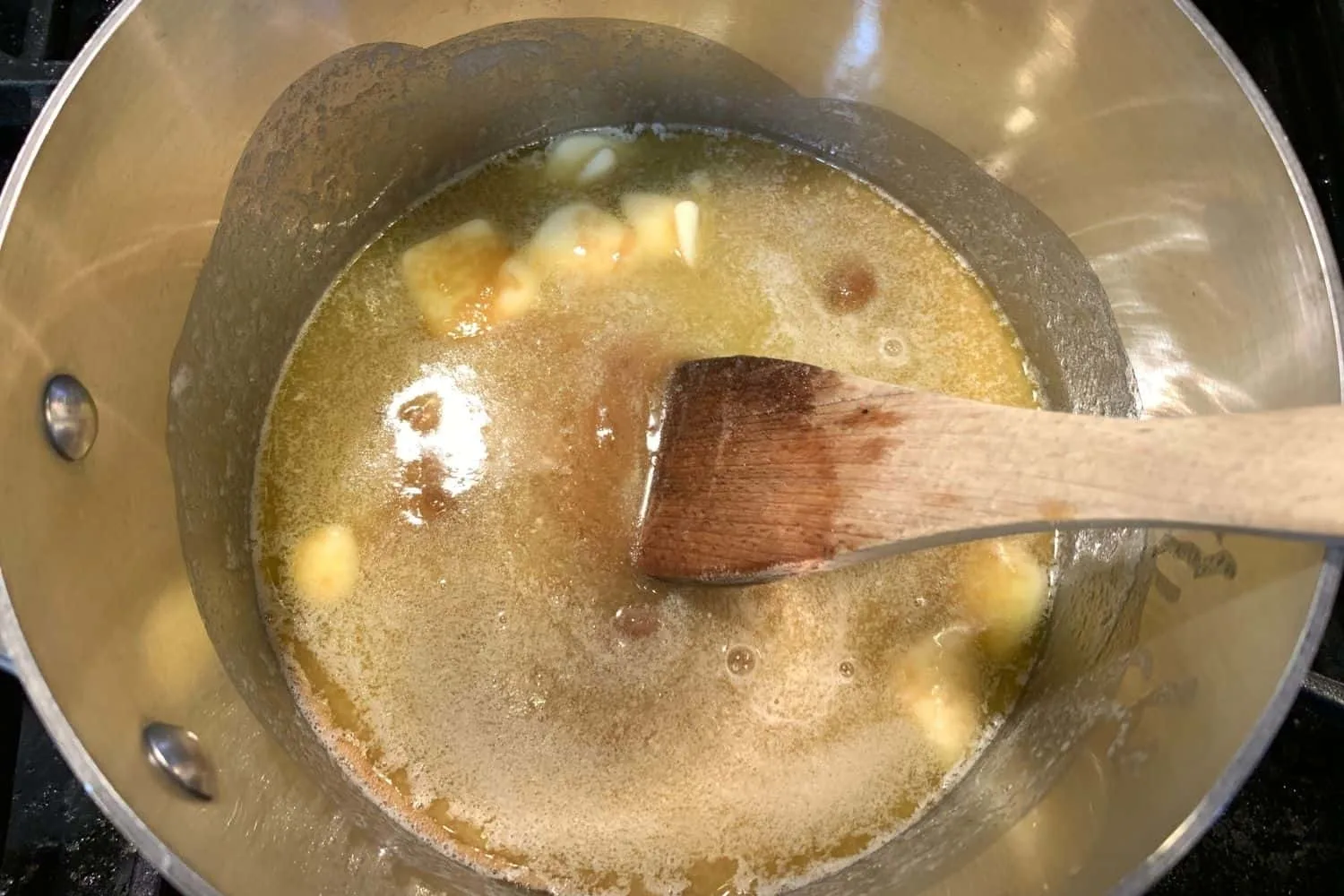 The butter and the sugars will start to melt, and it may not seem like they're combining very well at first. Just keep at it. It will come together.
You don't want those sugars to scorch or they'll get bitter, so keep on stirring.
When the mixture starts to bubble in the middle, put on a timer for 3 minutes and keep on stirring.
At this point, your butter and sugar will have combined into a nice golden brown mixture.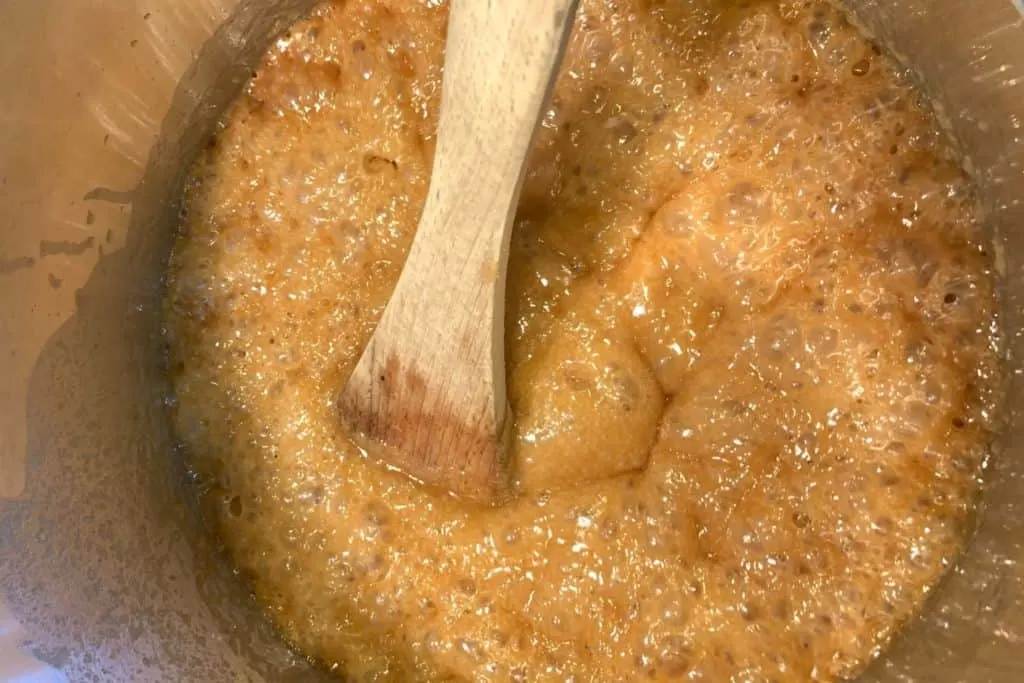 In technical cooking terms, you're cooking the mixture it to the "soft ball stage." In the next step, it will move on to the "soft crack stage" where it becomes toffee.
Get Ready To Bake
This is where your Pretzel Toffee Bark really starts to take shape!
After your 3 minute timer has gone off, immediately take your mixture over to your prepared cookie sheet and pour it on top of the pretzels.
Try to spread it out a bit around the pan and not just pour in one area, but it is COMPLETELY ok if not all the pretzels are covered.
I use my spatula here to scrape the pan as much as possible to get all that caramel-y goodness out onto the pan.
After it's all poured onto the pretzels, immediately transfer your cookie sheet to that pre-heated oven and bake it for just 5 minutes.
When it's in the oven, that caramel mixture is going to spread and heat up some more, magically turning it into toffee.
While your pretzels and toffee are in the oven, go ahead and prep for the next step of this recipe by opening your bag of chocolate chips and getting your sea salt ready to use.
Finishing the Toffee Pretzel Bark
As soon as that 5 minutes is up, take your pan out of the oven.
If you have granite countertops, even if they are heat resistant, be sure and use a trivet or towel underneath your pan. You'll want to do this because the granite will suck the heat right out of the pan, and you need that heat retained for this next step.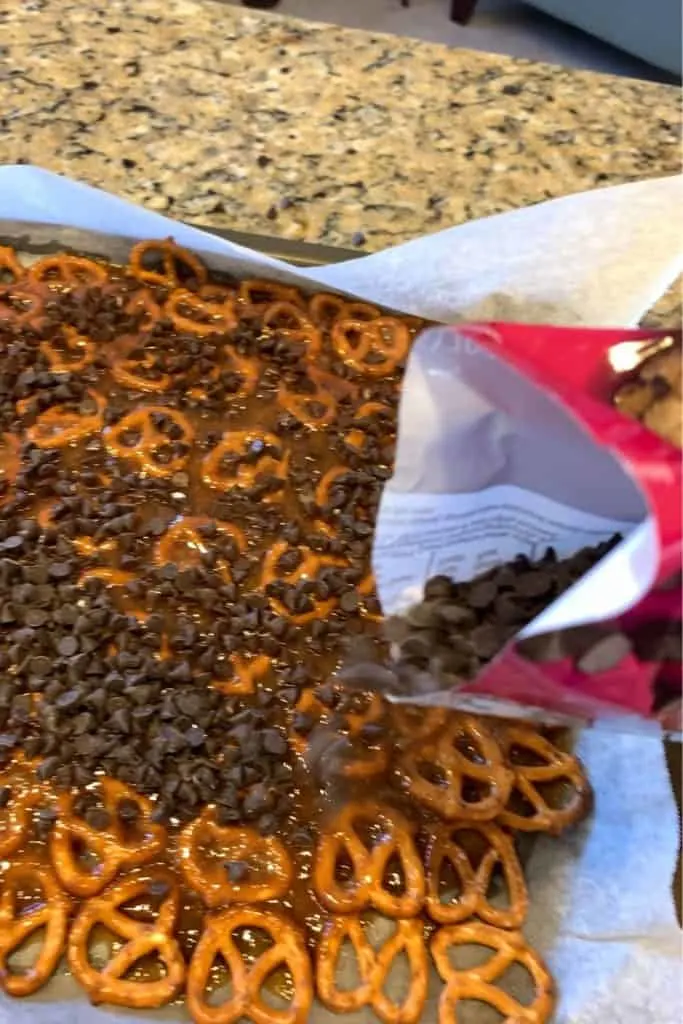 Immediately upon taking the cookie sheet out of the oven, sprinkle the chocolate chips evenly across the areas where your toffee has spread out.
It's completely ok if there are still a few areas of the pretzels that didn't quite get any toffee on them or only got just a little. It all works out in the end. Just focus your chocolate spreading to the areas that did get the toffee on them.
Now let the pan sit for 5 minutes. The residual heat from the pan being in the oven is going to melt the chocolate chips just perfectly. You'll be amazed!
When that five minutes has passed, grab a spatula and start spreading the now-melted chocolate chips out into an even layer of chocolate.
This is where your Christmas Crack starts to look pretty.
If you've accidentally poured too many chips in one area, this is when you can even it out and spread it around.
Once you've spread the chocolate and you're happy with how it looks, you're gonna add the sea salt.
This may sound a little weird, adding so much salt to chocolate, but I promise you, this step is what makes this candy so perfect.
Evenly sprinkle a light layer of coarse sea salt all over the chocolate.
If you want to be super adventurous, you can do what Beth recommends and also sprinkle just a tiny bit of cayenne pepper over the top of the chocolate. Beth swears that it's out of this world delicious, but I've never been brave enough to try it myself.
Get Ready To Share Your Christmas Crack
After you've added your topping of choice, let your pretzel toffee bark sit until the chocolate cools and hardens again.
There are two ways I've used to get it ready to serve.
The first way is to break it up by hand. While you get some great looking pieces this way, it's very easy for the chocolate to melt a little in your hands, and make it less pretty.
The method I've found that works best for me is to cut the Christmas Crack into pieces with a large kitchen knife.
You don't want even pretty pieces, you actually want kind of jagged pieces. They just look cool when serving them.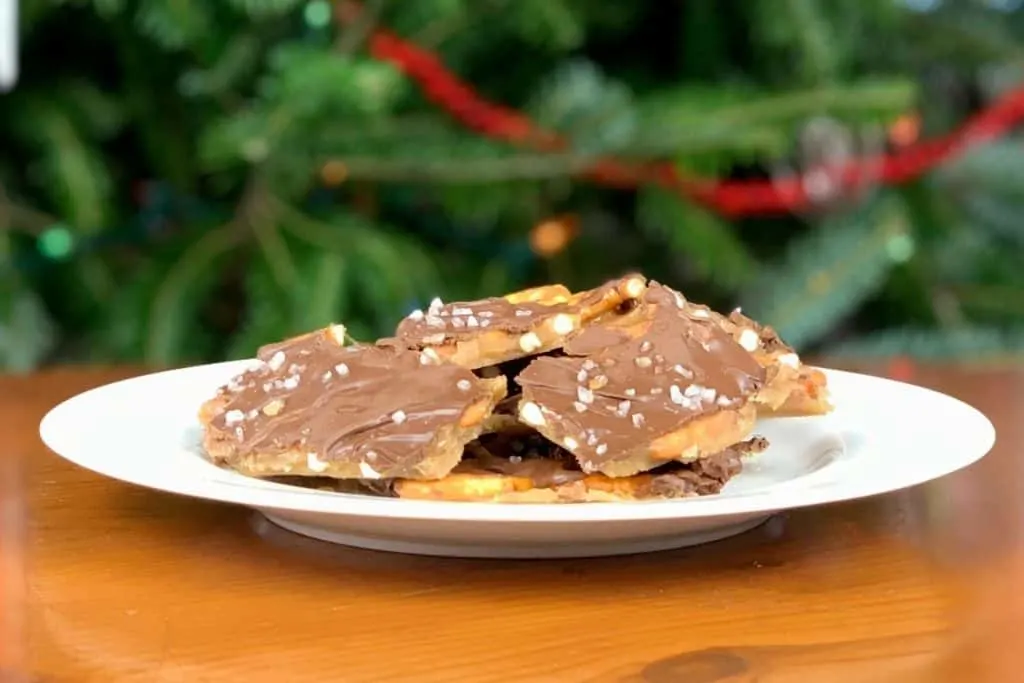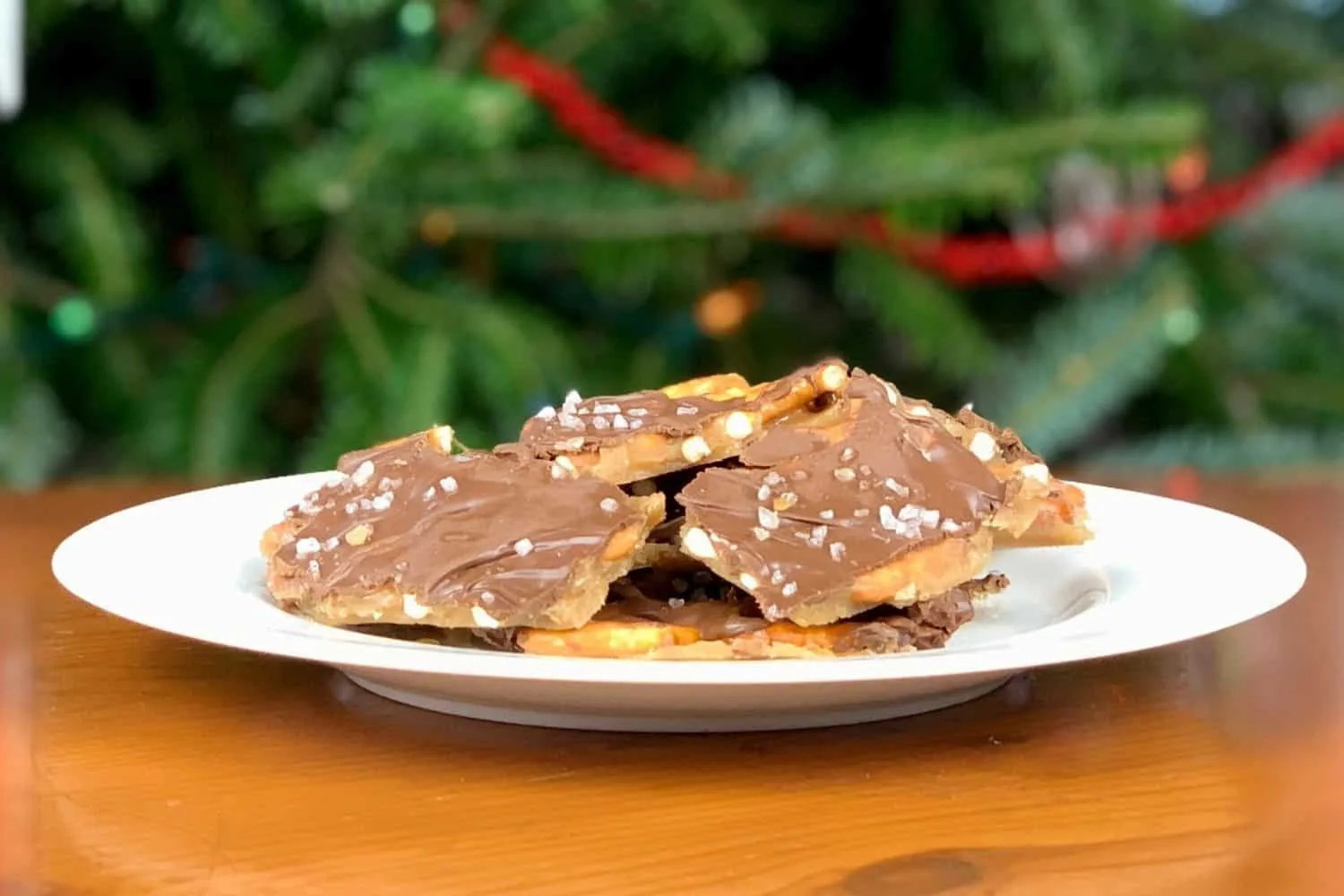 Once you've completed the whole process for making pretzel toffee bark once, it will be super easy to do it over and over again.
One batch makes a pretty good amount of Christmas Crack to share, so it goes a long way.
Have you ever made Christmas Crack or Pretzel Toffee Bark? How did it turn out for you? Let me know in the comments!
Looking for other Christmas treats to share? Check out my easy to follow Hot Chocolate Bombs Hack or my Rolo Pretzel Pecan Treats recipe!
Yield: About 40 pieces of candy
Christmas Crack: Pretzel Toffee Bark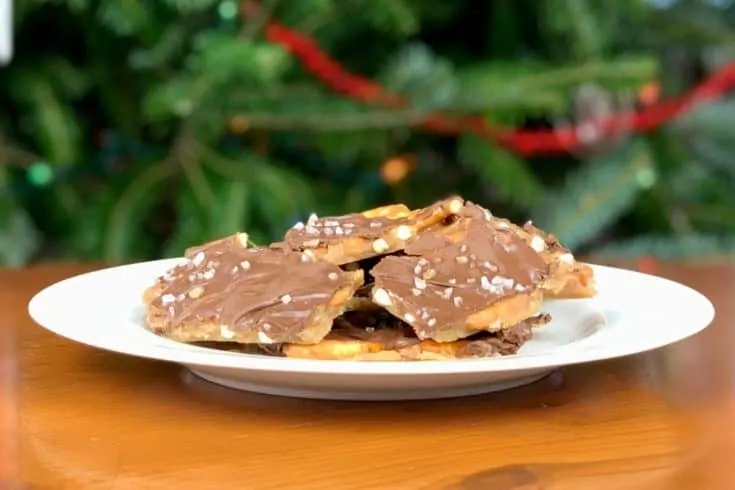 This delicious pretzel toffee bark is so delicious it's addictive! Easy to make and even better to eat!
Additional Time
10 minutes
Ingredients
8 oz Mini Pretzels
1 cup Butter
1 cup Brown Sugar
12 oz Semi-Sweet Chocolate Chips
Coarse Sea Salt to taste
Instructions
Preheat your oven to 375 degrees.
On a greased, parchment lined cookie sheet, spread an even layer of pretzels.
Combine butter and brown sugar in a sauce pan and cook over medium high heat until just boiling, stirring constantly. Boil for 3 minutes while still stirring.
Pour butter and brown sugar evenly over the pretzels.
Bake for 5 minutes.
Immediately after removing the cookie sheet from the oven, top with chocolate chips.
Let the pan sit for 5 minutes
Spread the chocolate chips evenly across the toffee.
Sprinkle with sea salt.
Let cool and break into pieces to serve.
Nutrition Information:
Yield:
40
Serving Size:
1
Amount Per Serving:
Calories:

121
Total Fat:

7g
Saturated Fat:

4g
Trans Fat:

0g
Unsaturated Fat:

2g
Cholesterol:

12mg
Sodium:

632mg
Carbohydrates:

14g
Fiber:

1g
Sugar:

9g
Protein:

1g
Beth's Christmas Crack: Pretzel Toffee Bark