What are the best quick service restaurants in the Magic Kingdom at Walt Disney World?
Today, we're going to answer that question with our top picks for quick food inside Disney World's most iconic park.
The Magic Kingdom is a place for all ages, but it can be exhausting to eat at the same old fast food restaurants. We're here to help you find some of the best quick service restaurants in this magical park!
There's a little something for everyone on this list. From burgers to seafood to Tex Mex, this list has it all!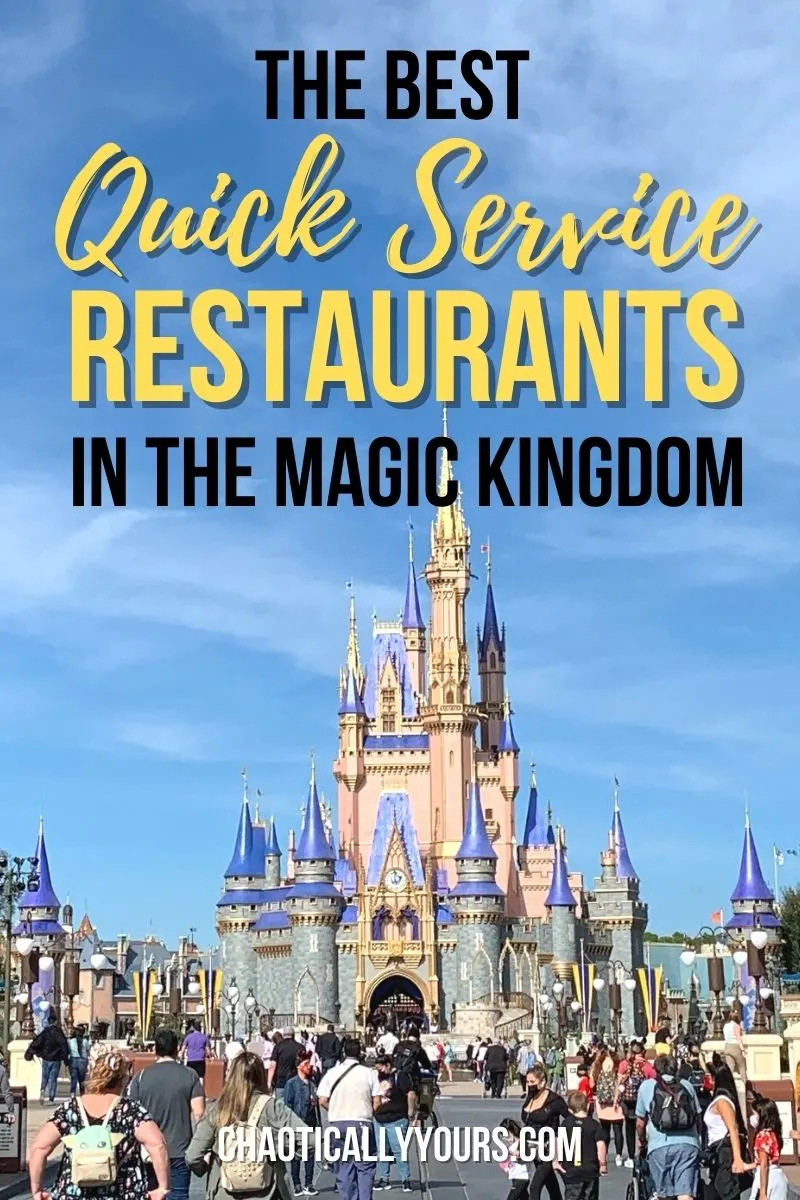 What Is A Quick Service Restaurant?
A quick service restaurant is exactly what it sounds like, a restaurant where you'll be served quickly.
It's kind of like Disney's version of fast food, only so much better!
At a quick service restaurant, you walk up to the counter, place your order, then find your own table or take the meal with you.
They're sometimes referred to as counter-service restaurants inside the parks.
Unlike table service restaurants where you're seated by a hostess and served by a waiter, quick service restaurants are all self-service. Guests find their own tables, get their own condiments, and bus their own trash.
While not as grand as a table service restaurant, quick service restaurants do not require reservations, are less expensive, and still feature some really delicious food.
If you're looking for ways to save time and money while in Disney Parks, quick service restaurants are a great way to do that!
Mobile Ordering
All Disney World quick service restaurants now feature mobile ordering directly through the My Disney Experience app.
Inside the app, you'll select your restaurant, pick up time, and order your food.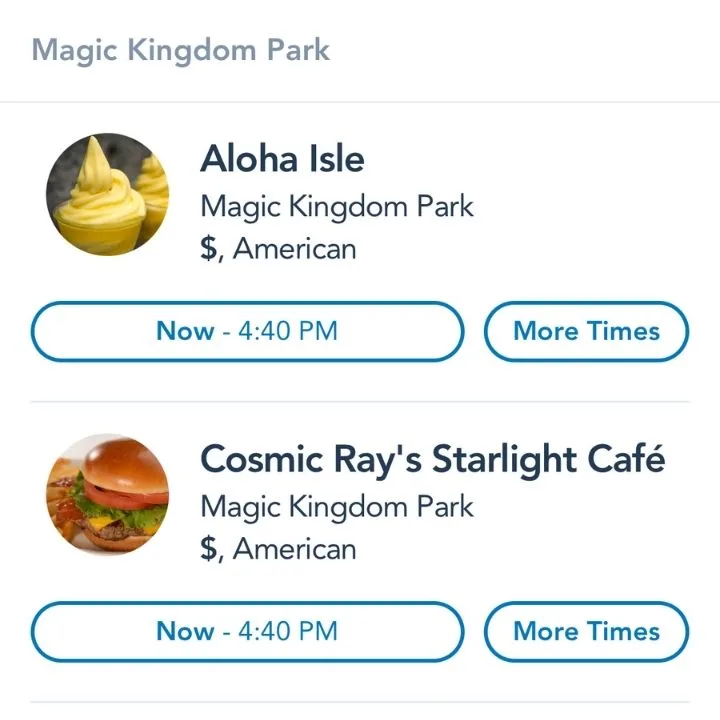 When you arrive at your chosen eatery, your food will be ready and waiting for you.
This saves a ton of time during your visit to the Magic Kingdom. We always place our mobile orders while we're waiting in line for a ride.
Pro Tip: Place your orders EARLY, especially if you want to eat at more popular locations. The time slots of these venues often fill up quickly.
If you wait until you're starving in the middle of the day to order, you'll likely find that it may be over an hour before you can secure a time slot to pick up your food.
Pecos Bill Tall Tale Inn and Cafe
Pecos Bill Tall Tale Inn and Cafe ranks as our favorite quick service restaurant in the Magic Kingdom.
This restaurant is larger than it seems from the outside, and is located at the corner of Frontierland and Adventureland.
The restaurant is themed around a "wild west" saloon, and has some of the best quick service food in any Disney park.
The food at Pecos Bill's is mostly southwestern Tex-Mex, but it is still an excellent place to find an Angus cheeseburger. They also have fajita platters, nachos, chicken and pork rice bowls, and a southwestern salad.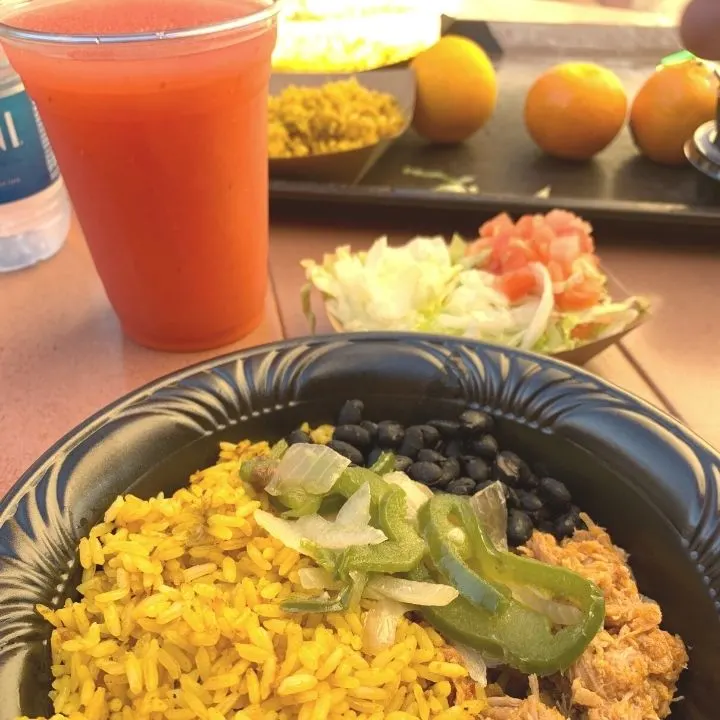 Before Covid-19, Pecos Bill's was known for its topping bar where you could load up your burger or taco plate with cheese, lettuce and tomato.
They still have these toppings today; however they are now available upon request instead of being self-service.
While it may not be located on "main street," Pecos Bill Tall Tale Inn and Cafe is well worth your time.
Columbia Harbour House
Our second best quick service restaurant at the Magic Kingdom is Columbia Harbor House.
You may not typically think of amazing seafood being served at a theme park, but that is exactly what you will find at Columbia Harbour House in Liberty Square near the Haunted Mansion.
This counter-service restaurant in the Magic Kingdom park looks and feels like a British Colonial home and dining room.
Inside, you'll find a quick service restaurant that specializes in New England style seafood, featuring lobster rolls, grilled shrimp and salmon, and a fried seafood platter that is simply amazing.
One of our favorite things about Columbia Harbor House is the upstairs dining room.
If you're in need of a place to take a break on your park day, this upstairs space is the perfect retreat.
It's air conditioned, and has a lovely view of Tom Sawyer Island. Plus it's not usually too crowded up there!
Pinocchio Village Haus
Our third choice on our list the best quick service restaurants is Pinocchio Village Haus, located in the heart of Fantasyland directly behind Cinderella Castle.
This quick service eatery features Italian food that is quick, easy, and delicious.
While the flatbread pizza is a staple at Pinocchio Village Haus, you'll also find caesar salad, tomato basil soup, and garlic knots on the menu.
Make sure to save room for some dessert because the tiramisu is worth a visit all on its own.
There are multiple dining rooms inside of the Pinocchio Village Haus, all in a classic style that evokes memories of the timeless movie.
This means there is plenty of seating indoors and outdoors, with tables to the right hand side of the restaurant overlooking the It's a Small World attraction.
Cosmic Ray's Starlight Cafe
Next on our list of the best quick service restaurants in the Magic Kingdom is Cosmic Ray's Starlight Cafe.
Located in Tomorrowland, this futuristic restaurant is themed like an intergalactic diner in space that serves classic American fare.
The menu here includes cheeseburgers, foot-long hot dogs, spicy chicken sandwiches, chicken strips, and salads.
Cosmic Ray's also has an extensive allergy friendly menu that is available upon request.
You should be able to find something at Cosmic Ray's to please most palates.
Cosmic Ray's has multiple indoor, air conditioned dining rooms that provide a great place to relax in Tomorrowland.
Cosmic Ray's also features a really fun animatronic show in one of the dining rooms. "Sonny Eclipse" provides a cute, albeit hokey musical show to enjoy while you eat.
Casey's Corner
Last on our list of the best quick service restaurants in the Magic Kingdom is Casey's Corner.
Located right on Main Street, U.S.A., Casey's Corner is a perennial favorite among long-time park goers.
Some visitors even make it a must on their personal lists of places to dine during every visit to the parks.
This All-American restaurant features a baseball theme, a la Casey At The Bat, and is the true definition of a counter service restaurant with no indoor seating.
There are some cafe tables outside that are available for visitors at the parks to use, but a lot of people eat their food from Casey's on the go between rides.
The much-loved menu features foot-long hotdogs and the infamous corn dog nuggets. You can even get a side order of their famous cheese sauce.
Of course, no meal at Casey's would be complete without their famous baseball brownies.
BONUS "RESTAURANT" – The Adventureland Spring Roll Cart
We have a bonus item to add to our Best Quick Service in the Magic Kingdom list!
True Disney food aficionados know about this little hidden gem located on bridge to Adventureland.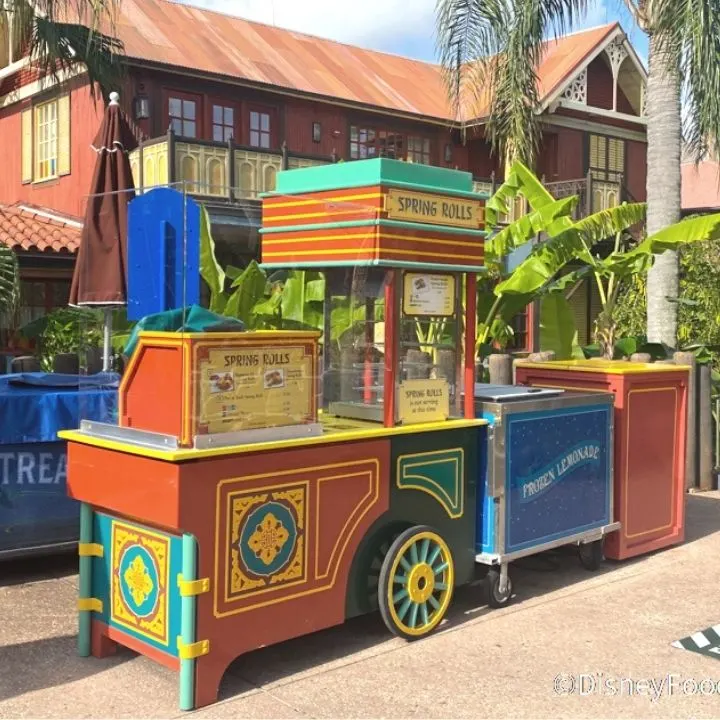 If spring rolls don't sound like anything special to you, you'll be happily surprised to learn that the Spring Roll Cart does not serve traditional spring rolls.
The menu always features two flavors, neither of which are traditionally Asian. They're always some fun, delicious twist on an egg roll and they're always delicious.
Some of the flavors we've seen featured include: cheeseburger, philly cheese steak, buffalo chicken, pepperoni pizza, and even a ruben!
Each flavor is stuffed into an egg roll or spring roll wrapper, and then fried to perfection, making them the perfect park food!
This cart frequently sells out, and can have lines longer than some of the rides at Disney World.
If you haven't discovered the Spring Roll Cart in Magic Kingdom yet, you definitely need to add it to your "Must Eat" list!
What's Your Favorite Quick Service Restaurant in Magic Kingdom?
While there are several more quick service restaurants and snack locations in the Magic Kingdom, we consider these to be our favorites. Did we miss one that you absolutely adore? Know a secret menu item we should have listed? Tell us in the comments!
Looking for ways to make the best use of your time in Disney World? Check out our list of Rides You Can Skip In The Magic Kingdom.
Want to save big money on Disney Parks merchandise during your trip? Check out all the details about the Disney Character Warehouse Outlet!
Best Quick Service Restaurants in the Magic Kingdom