There are so many fun things to do in Charleston, SC!
It's the perfect location for a short or a long getaway. Between the history, the beaches, and the food, there is so much for visitors to experience.
We took a quick two-night trip to "Chucktown," as the locals like to call it, and had a glorious time. And I'm super excited to share with you all our recommendations for your visit!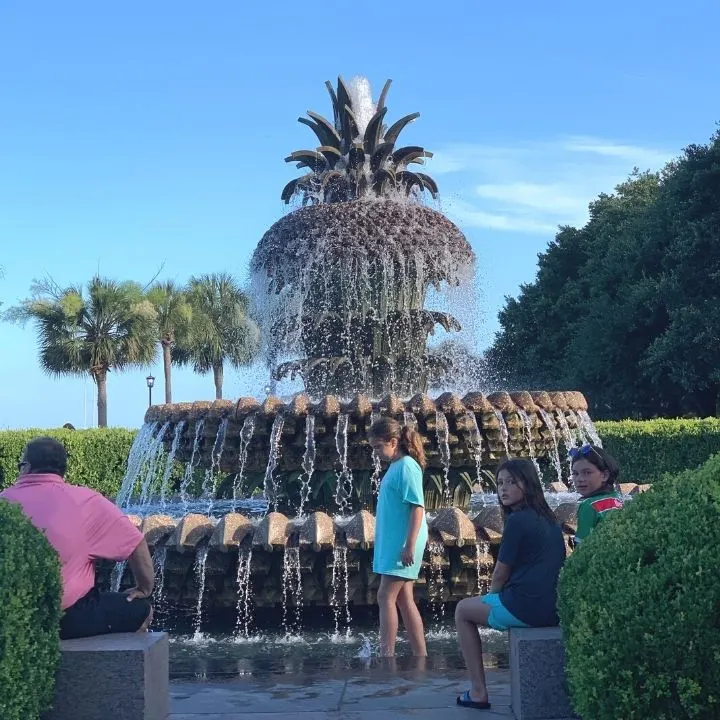 Where To Stay In Charleston
Charleston has no shortage of hotels.
You can find a place to stay for just about any budget, and still be close to the action in historic downtown.
We found tons of great deals on all sorts of hotels by just putting in a quick search on Trivago.com.
I wanted a hotel within walking distance to all the major sites and something with some charm and history to it.
After reviewing all our options, we chose the Francis Marion Hotel for our trip and got a fantastic discounted rate.
Located prominently on the corner of Calhoun and King Streets, the hotel is one of the oldest and easiest to recognize in downtown Charleston.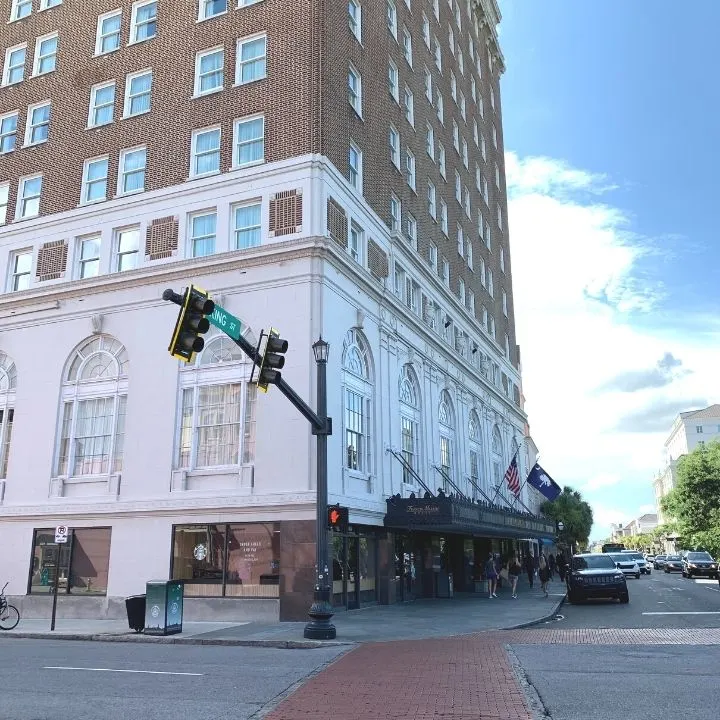 This gorgeously renovated building was originally constructed in the 1920s, and still retains the charm and romance of that era.
The Francis Marion also features an award winning restaurant Swamp Fox and it's own Starbucks location, both of which are on the ground level of the building.
There's also a Chick Fil A right around the corner to make those kiddos happy, and a Walgreens across the street just in case you need any essentials during your stay.
The rooms were clean, spacious, and well appointed. It even had a massive closet!
The rooms have been updated in such a way that gives you all the modern amenities you need without sacrificing the historic hotel aesthetic.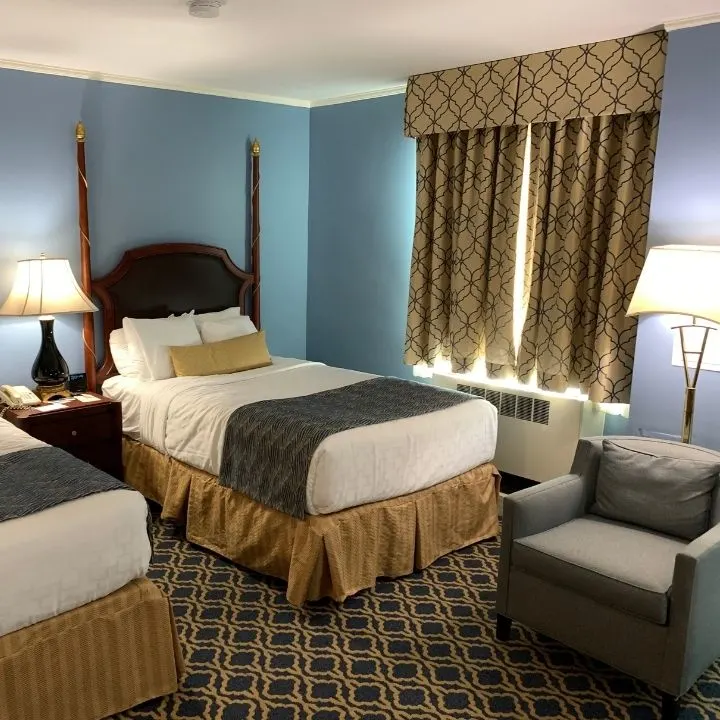 The staff was very friendly and helpful, and every space we visited in the hotel was lovely.
Parking for the hotel was convenient, which is often a challenge in Downtown Charleston. There's a parking garage right next door that offers special rates to hotel guests.
Since the hotel was so conveniently located, we parked here for most of our stay with no problems whatsoever.
We only had two complaints during our stay.
Our room had kind of a terrible view, with the only visible features being the rooftop air conditioners and a building next door. We were hoping for a nice view of the city, but since we got the room at a discounted rate, it wasn't too much of a sacrifice.
The only other issues we had was the size of the bathroom. It was incredibly small and difficult to maneuver in. You couldn't turn in a circle without bumping your knees on the toilet, the bathtub of the sink.
Everyone staying in our room was pretty average sized, but I can imagine this would be a much bigger problem for folks who are any taller or wider than I am.
Neither of these issues bothered us enough to complain to the hotel about them, so they did not have the opportunity to change the situation at all. But I'm sure if there was a legitimate problem with any of the rooms, they would do their best to rectify it.
What To Eat In Charleston
One of the most fun things to do in Charleston, SC, is eat.
The food scene in Charleston is amazing, and frankly a bit overwhelming.
There are SO many good restaurants to choose from, that finding the right one for you can be hard.
We had several delicious meals while in the Holy City, each one with it's own charms.
Bumpa's
On our first night in town, we decided to go to Bumpa's.
Located in Charleston's French Quarter, Bumpa's is on Cumberland Street, just one block away from the famous Market.
This family owned, Irish-style pub is housed in a 150 year old converted warehouse, so there's no lack of ambiance in the building.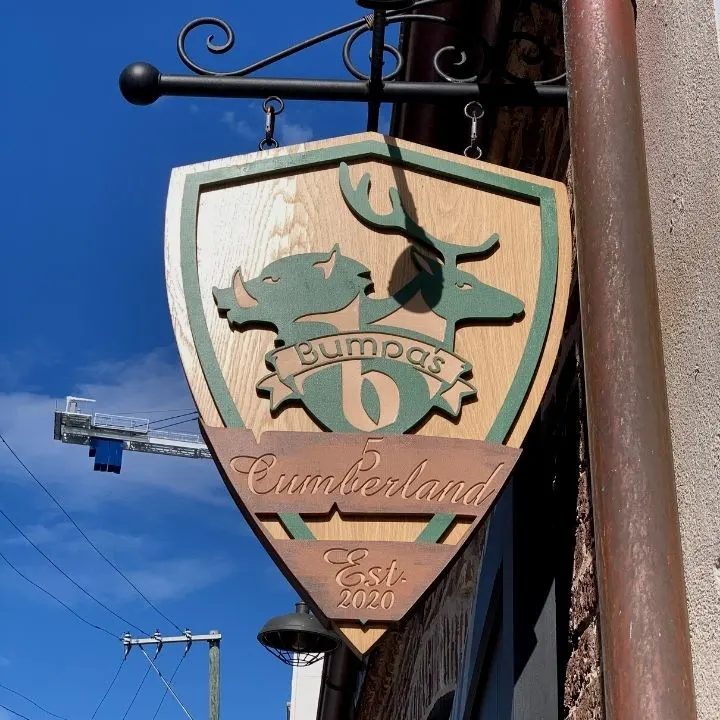 The menu features what the Bumpa's website calls "elevated bar fare," and we couldn't agree more.
The dishes were classic comfort foods, but executed at a much higher standard than your average bar.
The menu features great looking sandwiches, burgers, french fry concoctions, and even a Scotch egg!
I'm a sucker for french fries, so we ordered two different fry plates. I went with a modified version of the Disco Fries and my daughter had a basic cheese and bacon version.
Both of them were absolutely delicious. The fries were perfectly cooked: freshly cut, crispy outside and soft and hot inside.
The braised short ribs on the Disco Fries melted in your mouth, and the large chunks of bacon on my daughter's fry plate were outstanding.
The prices were reasonable and the portions were huge!
The service was top notch, and our waitress, who was a local, even gave us some tips for some hidden gems to visit in the city.
We loved Bumpa's and will definitely eat there again on a return visit to Charleston.
La Patisserie
For breakfast on our first morning, we opted to skip the line at Starbucks and head just up the block from our hotel to La Patisserie.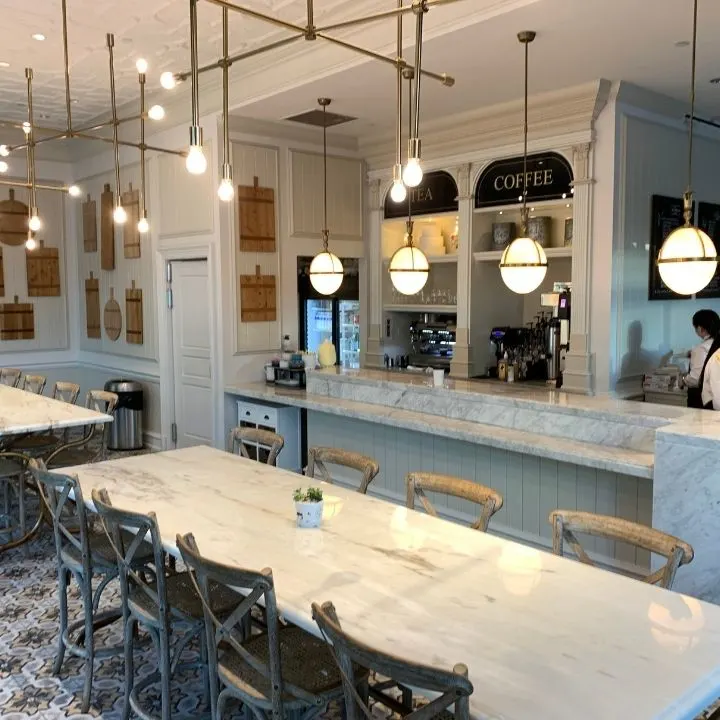 Located in the same building as the Hotel Bennet on King Street, La Patisserie is a classic French bakery, featuring all the items you'd expect to find there.
From coffees to croissants, we though this place was perfect for breakfast.
The restaurant is counter service, offering a nice array of classic French Bakery cuisine.
I ordered the classic Pain Au Chocolate and my daughter had the White Chocolate Twist, both of which were divine.
The prices were quite reasonable for such delicious items. I'd absolutely come here again.
Rita's Seaside Grill
During our visit to Charleston, we ventured a few miles outside of downtown to Folly Beach.
While there, we stopped in the lovely little downtown area for lunch at a place called Rita's Seaside Grill.
Located on Center Street in the heart of Folly Beach's little shopping district, Rita's offers typical American fare.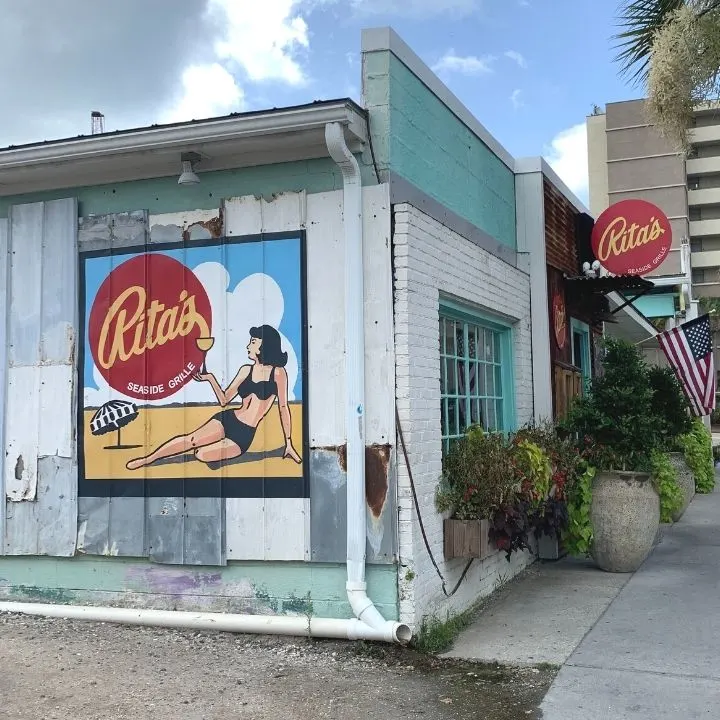 With a menu that's not to big and not to little, you'll find delicious burgers, seafood, and barbeque.
We ordered the smoked brisket sandwich and the spicy chicken sandwich, both of which were excellent.
While our overall experience was lovely, we did notice one oddity with Rita's that we weren't expecting.
We stopped by relatively early, just before 11 a.m., hoping to grab a table in the air conditioning and to peruse the menu for a bit.
We were turned away and told that the kitchen staff wasn't ready for lunch service yet, and to come back in 20 minutes.
No problem. We did some shopping and returned half an hour later, only to be told the same thing by another waitress.
When we explained that we'd already been told this once and that we were willing to just wait at a table until they were ready, she seated us, and a waitress came over with menus promptly.
It was a bit off-putting to be turned away, and we almost decided to try another restaurant.
If this is a common problem, I'd hope they'd amend their posted hours to reflect the delay in service.
Overall the food and service were very good, it was just an odd way to start out our experience at the restaurant.
Christophe Artisan Chocolatier
During one of our afternoon explorations, we stumbled upon a tiny shop on a side street with a sign that read "French Chocolate Cafe."
With a sign like that, there was no way we weren't stopping there.
Located just off King Street, on Society Street, Christophe Artisan Chocolatier is a beautifully sophisticated chocolate shop that features candies that look like works of art.
This adorable little shop was so charming. The staff was welcoming and the atmosphere was just lovely.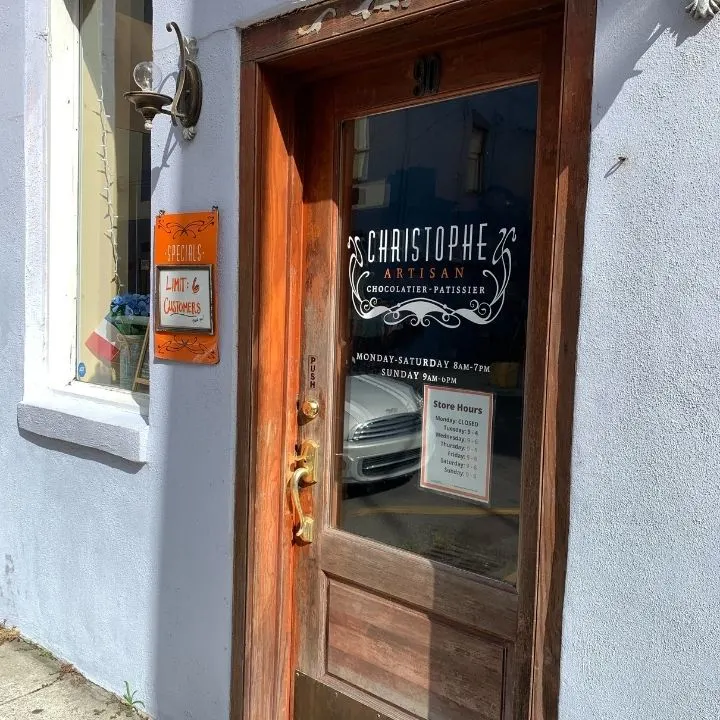 In addition to the "almost too pretty to eat" chocolates, they shop also had all kinds of other fantastic desserts, like gelatos, macarons, cookies, tortes, croissants, and cro-nuts.
We purchased just a few of the extraordinary chocolates and can happily report that they taste as good as they look.
The flavors were balanced perfectly and were indulgently delicious with every bite.
This shop was well worth a stop on our trip.
Pizzaria Di Giovanni
At one particularly exhausting point during our trip, we decided we wanted a simple, familiar dinner.
We had just come off of a hot, sweaty carriage tour, and our guide had mentioned a pizza place just around the corner from their barn.
We were starving, so we immediately set off in search of it.
We found Pizzaria Di Giovanni hidden away in a quirky little spot inside the Rainbow Market on Market Street.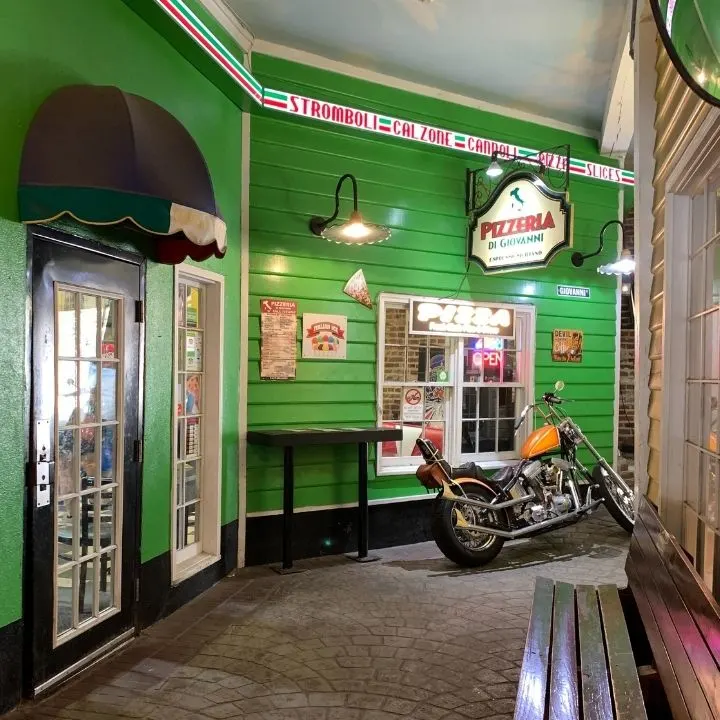 After being welcomed by an extremely friendly employee, we ordered just two slices of classic cheese pizza and two bottles of water.
This New York Style pizza was exactly what we were craving. After several days of indulgent meals, this pizza just really hit the spot.
The slices were huge and perfectly baked. We both scarfed our servings in record time.
Fun Things To Do In Charleston, SC
There is no shortage of fun things to do in Charleston, SC, especially if you love history.
You'll definitely find something you'll enjoy in Chucktown.
We found a ton of great tour options on GetYourGuide.com. From schooner sailings off the coast to ghost tours to foodie adventures, there's something for everyone here.
Charleston Visitors Center
The Charleston Visitors Center is the perfect first stop on any visit.
Located right before you hit downtown, the Visitors Center is filled with hundreds of brochures full of helpful information about fun things to do in Charleston.
Their knowledgeable planning staff can help you find the right tours and activities for your group, and can even book them for you.
Many of the tours depart right from the visitor's center, making it an easy first stop on your trip.
Charleston City Market
One of the most famous sites in the Holy City is the Historic Charleston City Market.
First constructed in the early 1800's, the City Market was originally a place where people could buy meat, fish, and vegetables.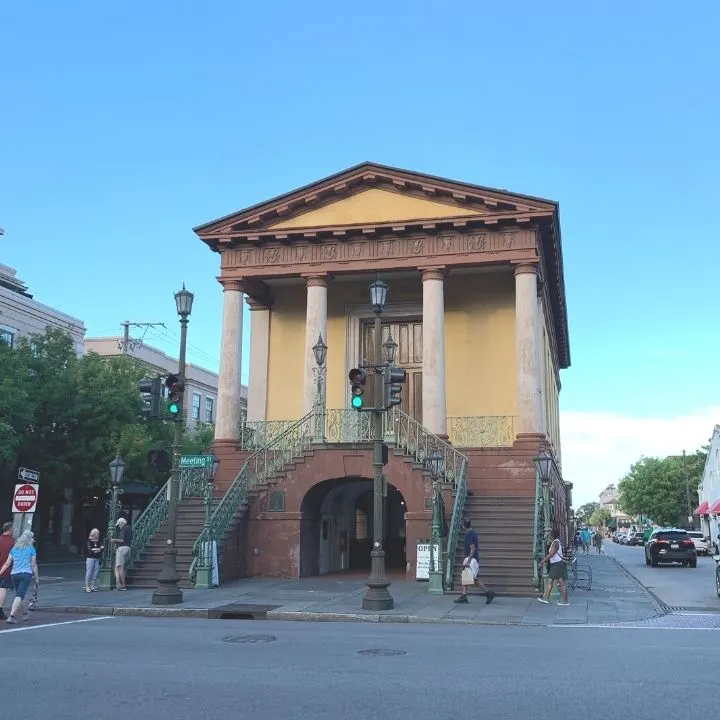 It has evolved over the years to a place where local vendors sell their mostly handmade goods.
There's no entry fee for the Market, but be sure to bring your wallet because you'll definitely find something fun and unique you'll want to purchase.
The Old Exchange and Provost Dungeon
If you want to visit one historic site that has played a role in just about every era of Charleston History, the Old Exchange and Provost Dungeon is it!
Originally completed in 1771, the site has played a central role in South Carolina and American history for over two and a half centuries. From the American Revolution to World War II, the building is steeped importance.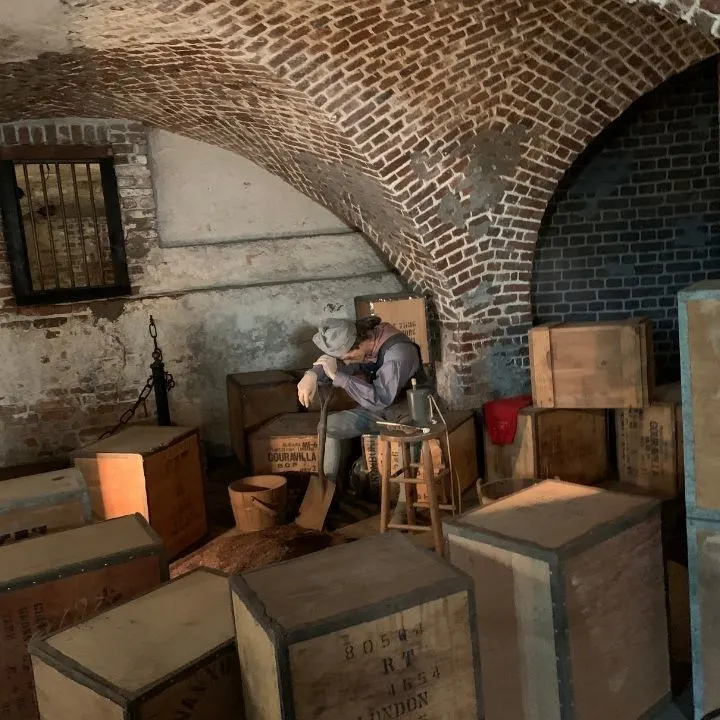 Once we purchased our tickets, we were free to roam the well-executed exhibits on the first and second floors of the building at our own pace. It was a nice quiet place to cool down and enjoy the history of the building.
At the appointed time, we made our way down to the basement floor, and were greeted by our tour guide who was dressed in Colonial costume, ready to start our group tour.
Our guide was extremely knowledgeable and walked us through every corner of the dungeon, highlighting its history throughout the years.
Our visit to the Provost Dungeon was extremely interesting. It's definitely a must see spot for any visitor!
Carriage Tours
Charleston is famous for its horse drawn carriage tours of the old city, and they are definitely one of the most fun things to do in Charleston, SC. Throughout the day, you'll see tour groups passing by in carriages throughout downtown.
There are LOTS of tour groups to choose from and most of their starting points are located around Charleston City Market. There are so many that the city regulates when they operate and where they tour to manage the traffic in the city.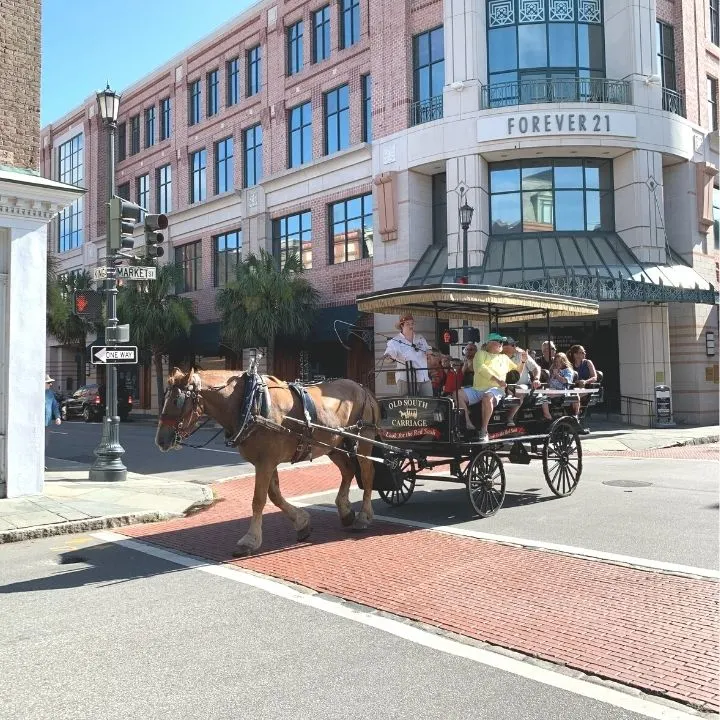 This experience is not to be missed while in Charleston.
You never know what route you'll be taking, since the city assigns routes on a first come first served basis for each carriage that embarks out from the City Market.
The carriage drivers are extremely knowledgeable and give you so much interesting info on the tours. They'll also answer questions and help you understand more about the history of Charleston.
Plus, riding through the city in an old carriage is just so fun!
Take A Bike Taxi
One of the most fun things to do in Charleston, SC, is to take a Bike Taxi.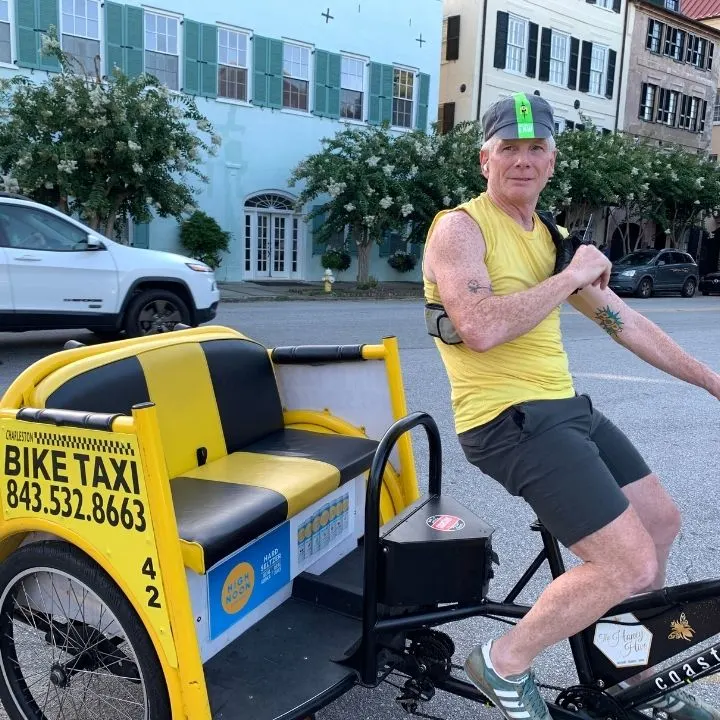 You'll see these cool pedicabs all over downtown while you visit, and they're a super fun and interesting way to get from place to place.
After a long day of walking, we found ourselves far from our hotel, and a little too tired to hike it back.
So we called a Charleston Bike Taxi.
We told the dispatcher exactly what corner we were on, and within about 10 minutes, our driver pedaled up to our location.
We hoped on, and our cyclist sped away, weaving expertly through side streets avoiding traffic.
Our driver, Timothy, also gave us a mini tour while we rode through town, pointing out some smaller highlights we didn't see on our carriage tour.
Although it was more expensive than taking an Uber, we really enjoyed the experience, and definitely recommend all visitors do it at least once on their visit.
Folly Beach
Since it was summertime, and we were right there on the coast, we decided to take one of our mornings to enjoy some beach time.
Located just 20 minutes from Downtown Charleston, Folly Beach County Park is a one of the most fun things to do in Charleston, SC.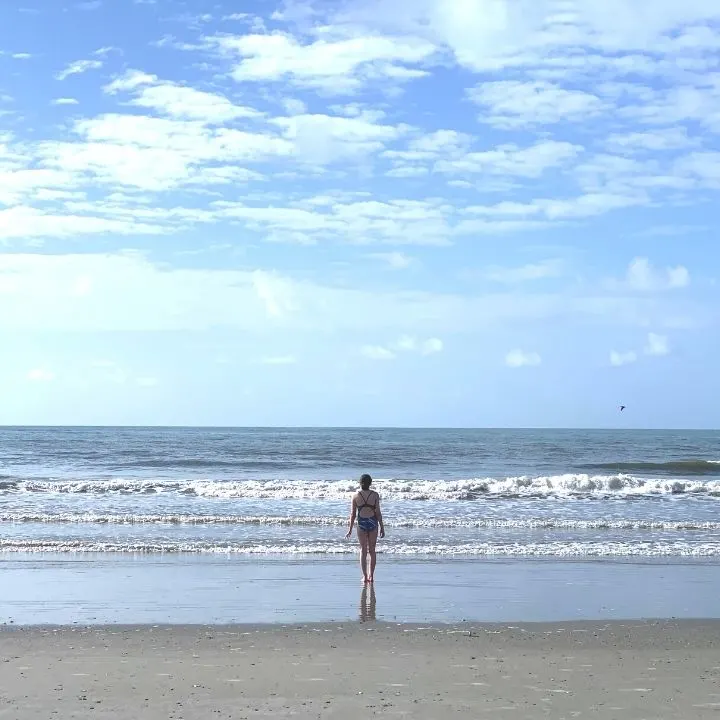 The park is located on a gorgeous stretch of South Carolina beach, and has clean, easily accessible amenities like restrooms, showers, picnic tables, a snack bar and even chair and umbrella rentals.
You do have to pay to park, but we found it to be well worth the price.
We went early on a weekday, and had no issues getting in or out of the parking lot, but we've heard it can fill up quickly, especially on weekends.
After our visit to the beach, we spent some time in the charming little downtown area of Folly Beach, where we found restaurants and gift shops with all sorts of great souvenirs.
Folly Beach was definitely worth the visit while we were in Charleston.
King Street
If you're looking to shop, King Street is the place to be.
For several miles along King Street in downtown Charleston, you'll find just about anything you're looking for.
From major name brand stores like Louis Vitton to mom and pop gift shops, you're certain to find something here you'll want to buy.
We also spotted lots of interesting restaurants and bars along this route that looked well worth a visit.
If you're looking for fun things to do in Charleston, SC, you're certain to find something on King Street.
Charleston Waterfront Park
Charleston Waterfront Park is a glorious place to spend an afternoon.
We visited this area just after we walked through the City Market.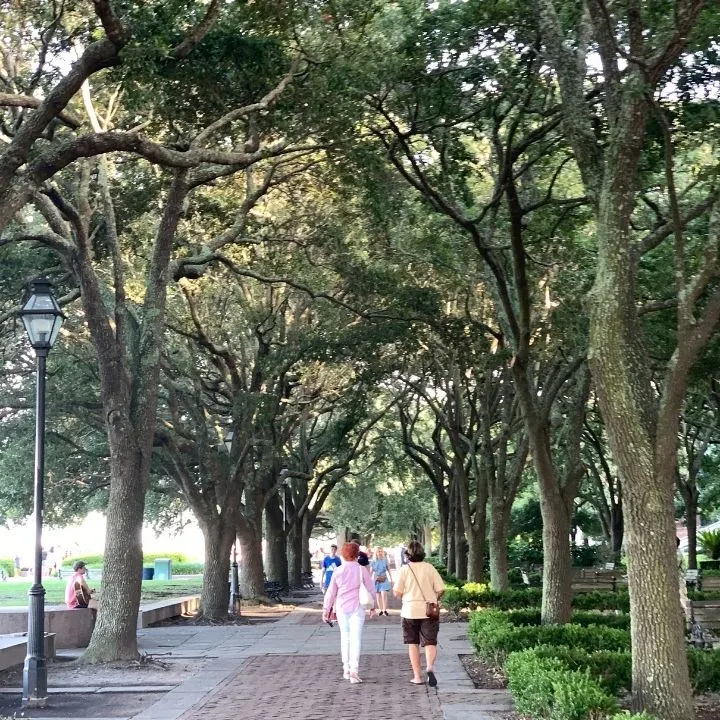 The park is located just a couple of blocks away from the Market right along Concord Street and runs along the waterfront for several blocks.
We started on North end of the park at the pier.
At the entrance the pier is splash fountain that features arching water jets that kids of all ages can play in.
Just past this fountain is the pier. Oversized porch swings are placed all along a covered area where visitors can relax and enjoy the breeze off the sound.
In addition to the pier, there are open manicured lawns where patrons can enjoy the sunshine.
A long, shaded gravel promenade lined with palmetto trees invites visitors to stroll away the afternoon and leads further along to the picturesque bronze pineapple fountain.
This park really is a glorious stop on any tour of Charleston.
Rainbow Row
Charleston is known for its beautiful historic homes. You can find something gorgeous in just about any area of downtown.
But one specific little area always seems to stand out. It's known as Rainbow Row.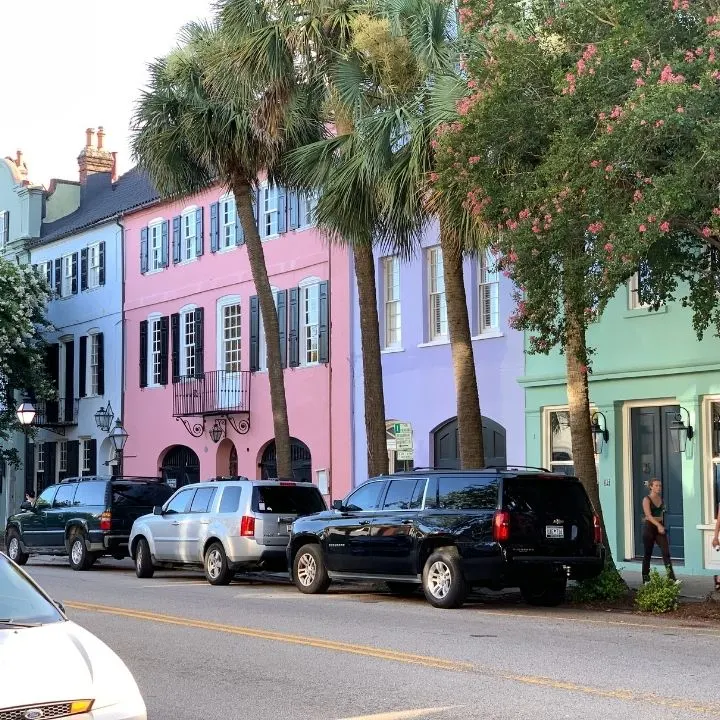 Rainbow Row is made up of brightly colored historic homes, and is definitely one of the most photographed spots in the city.
The spot is definitely Instagram worthy!
Make Your Vacation Worry Free
I always recommend purchasing travel insurance when you book a trip. As the last few years have taught us, anything can happen!
Give yourself a little peach of mind by purchasing some travel insurance in case something happens that keeps you from taking that trip or happens during your trip that could be problematic.
We've had great luck with Visitor's Coverage Travel Insurance.
Have You Been To Charleston?
Charleston is a beautiful city with so much to offer. It's definitely the perfect Southern city for a little getaway.
If you're looking for fun things to do in Charleston, SC, they're plentify and easy to find.
What are your favorite things to do and see in Charleston? Anything we missed that we should do next time? Tell us in the comments!
Fun Things To Do In Charleston, SC: Our 48 Hour Visit