In today's post, we're going to tell you all the places you can find Starbucks at Disney!
Just because you're visiting Disney World, doesn't mean you have to give up your Starbucks obsession during your stay!
Disney has partnered with Starbucks to bring you their delicious products in all four of the parks at Disney World and in two locations in Disney Springs!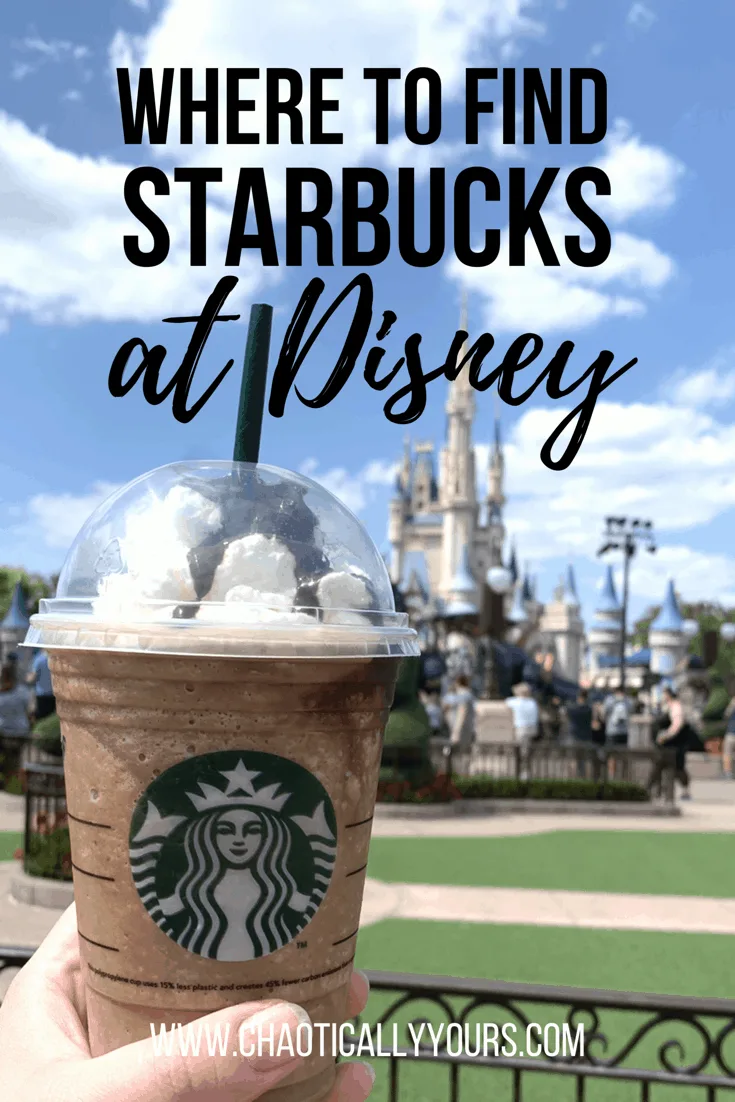 Where to find your Starbucks at Disney World:
As usual, Disney makes everything better, including Starbucks.
Each location blends seamlessly into its surroundings at Disney World with specific Disney-fied decor.
While this makes for a lovely view, it can make it a little harder to find each location, since the iconic Starbucks logo might not be so prominently located on the building. Here's exactly where you can find a frappuccino from Starbucks at Disney World:
Starbucks in the Magic Kingdom:
At Disney's most iconic park, you'll find Starbucks exactly where you'd expect to, on Main Street, U.S.A.
The Starbucks at Magic Kingdom is located inside Main Street Bakery on the right side of Main Street just in view of Cinderella Castle.
This location is super easy to find, and usually has two lines running to make things move quickly.
Plus, there's seating available nearby so you can enjoy that Frappuccino with the perfect view of Cinderella Castle.
Starbucks at Epcot:
Epcot has the newest Starbucks location in all of Walt Disney World.
This newly launched area for Starbucks at Epcot is called the Traveler's Cafe.
It's located right in the middle of the park, to the right hand side of the entrance to the World Showcase from Future World.
This location only has a quick service counter, and does not offer the snacks and goodies available at other locations.
Queues for this Starbucks are also completely outside.
Starbucks at Animal Kingdom: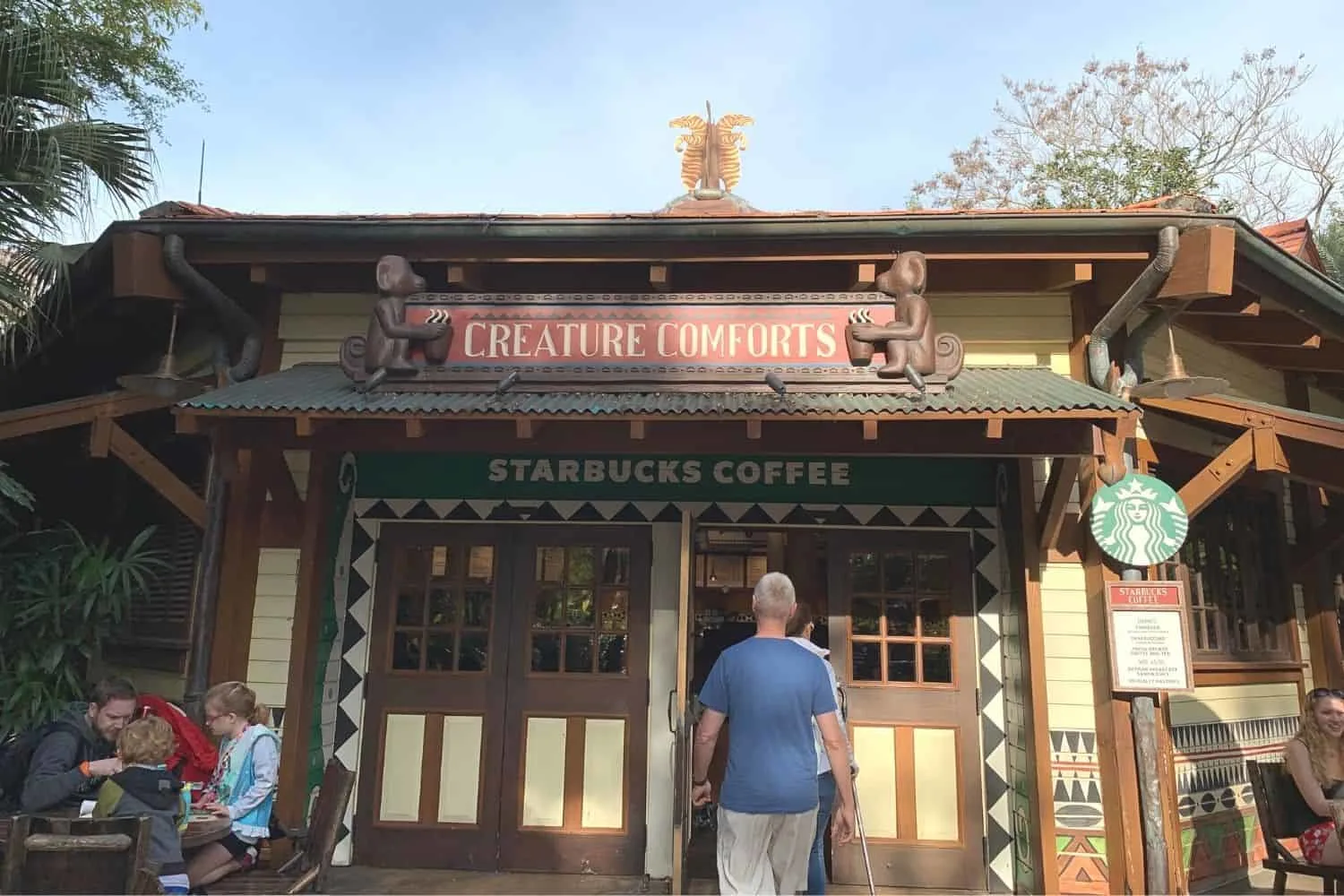 Starbucks at Disney's Animal Kingdom is located inside Creature Comforts.
Creature Comforts is located to the left after you enter the park, just before the bridge to Africa.
This location has a full menu, and is themed to match the ambiance of the park.
Starbucks at Hollywood Studios:
Starbucks at Hollywood Studios is in the perfect location to grab a cup of coffee in the morning or a pick me up in the afternoon.
The Hollywood Studios Starbucks is located inside the Trolley Car Cafe on the right as you enter the parks at the corner of Hollywood and Sunset.
This location not only features a full menu, but is home to the famous Carrot Cake Cookie.
Starbucks at Disney Springs:
Starbucks has two locations at Disney Springs.
The smaller location is at Disney Springs Marketplace, near the World of Disney Store.
This location has a limited snack menu available along with all their signature coffees, and does not offer any indoor seating.
The larger location is near the AMC Disney Springs 24 Movie Theater.
This particular store is a Starbucks Reserve location, offering a larger menu as well as indoor and outdoor seating.
Paying for Starbucks at Disney World
Starbucks at Walt Disney World, of course, accepts all traditional methods of payment (cash and credit cards), but also a few unique methods:
– You can use the Starbucks App to pay, but you can only redeem rewards points for free drinks at the Disney Springs locations.
– You can use both Starbucks AND Disney Gift Cards at Disney World Starbucks locations.
– You can use your Magic Band to pay at Starbucks if it is linked to your credit card.
– You can use your Disney Dining Plan Snack Credits for anything on the menu at Starbucks.
How is Starbucks At Disney World Different:
Mobile ordering is a huge perk at Starbucks locations in my local area. Currently, mobile ordering is only available at the two Disney Springs locations, but again, you can pay with the app at the other locations.
The Starbucks menu is largely the same, so you CAN get your trusty caramel macchiato at any location in Disney World.
The food offerings are slightly different in that they offer some Disney themed food on their menu, just like every other food vendor in the parks.
The popular "You Are Here" mugs are also available at Disney World and each have unique collectable designs available. They make fantastic gifts for anyone Starbucks lover in your life!
Disney World really is the happiest place on earth since you can enjoy your favorite coffee while in the parks!
Pack the perfect Disney Parks Bag by reading my post all about it!
You definitely want to check out these Nine Things You Should NEVER Do At Disney World!
Starbucks at Disney World: Everything You Need To Know