No one EVER wants to get sick at Disney!
While it may be the happiest place on earth, Walt Disney World may not always be the healthiest!
Whether it's a the flu, a virus, or a just stomach bug, getting sick on vacation is always possible.
Here are a few things you need to know to avoid getting sick at Disney World.
Links in this post may be affiliate links, which means I may earn a commission if you make a purchase from any of them, at no additional cost to you. You can find out more information by reading my full disclaimer.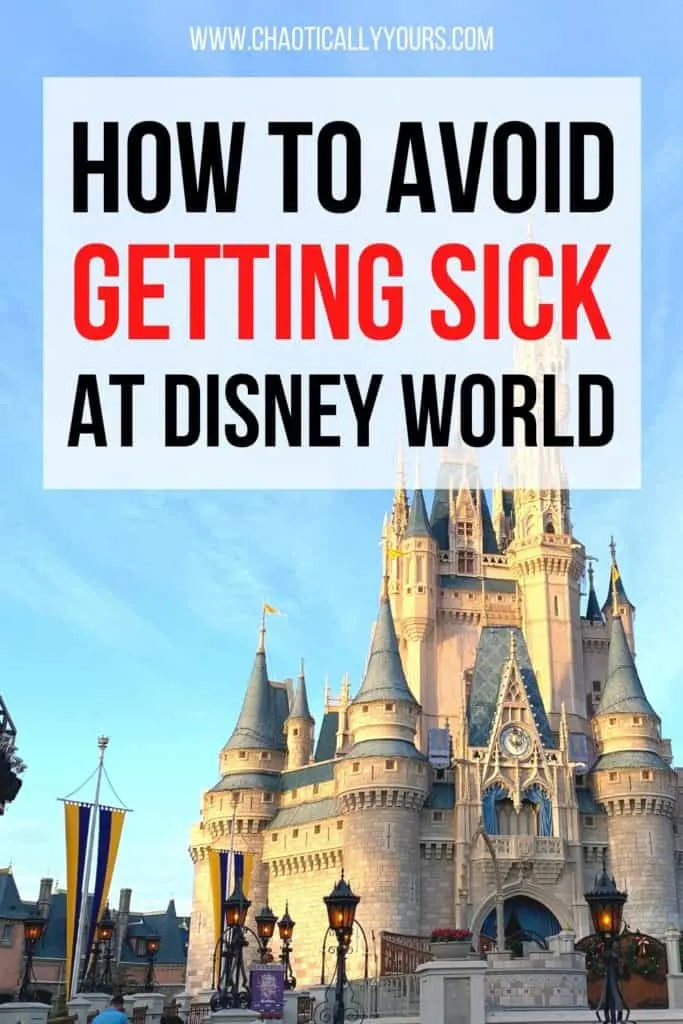 Links in this post may be affiliate links, which means I may earn a commission if you make a purchase from any of them. You can read my full disclaimer HERE.
First of all, Disney world is an extremely clean park. You will constantly see cast members picking up trash and wiping down surfaces. It's extremely rare to go into a bathroom and not find an attendant doing some sort of cleaning.
Unlike other theme parks, you won't find any dingy or dirty areas in Walt Disney World. Disney uses the best practices possible to keep the parks as clean as possible and ready for guests.
With that being said, it is completely impossible for anyone to keep all germs away all the time. But there are a few things you can do to keep from getting sick at Disney World.
Wear A Quality Mask
Masks are now an essential part of any Disney World trip, and it's now essential that you have a mask that is both comfortable and offers protection for both you and those around you.
While the ones they sell in the parks are cute, they are far from comfortable.
The best masks we found for our most recent trip to Walt Disney World were from HALOLIFE.
They were not only comfortable for long term wear, but the 200 hour filter gave us an added peace of mind while in the parks.
Bottom line, make sure you wear a mask that is comfortable for a full day of enjoyment at Disney World.
Don't Get Sick At Disney: Wash Your Hands!!!
Proper hand washing is the number one way to prevent illness. The Centers For Disease Control has a great post about how to properly wash your hands that can be found here.
Making sure you take every opportunity you can to wash your hands. Especially wash them before eating and after using the restrooms.
I'm not a fan of bar soaps, so I always bring a small bottle of pump hand soap to use in our hotel room. This way I'm always sure we're able to keep our hands clean in the room.
That extra 30 seconds you spend washing them could keep you from having a pretty terrible vacation! This may seem like common sense, but it's shocking how many people don't do this.
Staying Healthy At Disney: Hand Sanitizer
I always carry hand sanitizer with me at home. I keep it in my purse and in my car, and use it frequently. Being in Disney Parks is no exception to this habit.
When we are at the parks, I always insist that my family use hand sanitizer after getting off every ride. Between handrails and ride vehicles, we have no doubt touched a bazillion things while in line for any ride.
We also use it after riding on Disney Transportation. While the buses, monorails, and skyliner cars are extremely clean, they rotate through so many folks that it would be impossible for it to be sanitized constantly.
Hand sanitizer is DEFINITELY not a substitute for hand washing. Hand washing should be the number one thing you should do to avoid spreading germs.
But if you're in a pinch, hand sanitizer does a good job to help you avoid getting sick at Disney World.
Don't Get Sick At Disney: Sanitize Your Phones!!
Another thing I do frequently, but especially when I am traveling is to sanitized my phone.
I know it sounds weird, but I will frequently grab a Clorox or Lysol wipe and just run it over the surface of my phone to kill any germs that might be hanging out there.
We use our phones constantly while at Walt Disney World. Between taking pictures with it and using the My Disney Experience App, it's almost always in my hand. Consequently, it gets dirty pretty easily.
I usually have a small travel pack of sanitizing wipes in my purse, and I try to wipe it down every time we stop for a meal.
Don't Get Sick At Disney: Extra Clean Hotel Rooms
I know this may sound like overkill, but I always do a tiny bit of sanitizing when I get to any hotel room.
Walt Disney World does a fantastic job of keeping their hotel rooms sparkling clean, but my germaphobic tendencies always get the better of me.
I'll use Clorox or Lysol wipes on the surfaces, and even a small travel bottle of lysol to spray the light switches and the remote controls.
Just this five minute clean up makes me feel a lot better about germs in my hotel room.
Staying Healthy At Disney: Stay Hydrated!
Another thing you can do to keep yourself from getting sick at Disney World is to drink plenty of water!
It's super easy to get dehydrated at Disney Parks with all the walking you'll do in the hot Florida sun. And a dehydrated immune system just isn't as effective at fighting germs!
Help keep the germs flushed out of your system by drinking water any time you can. Free cups of water are available at any place that serves fountain drinks throughout Disney property.
I don't *love* the tap water at Disney World. I personally think it tastes kind of swampy.
To solve this problem, we carry Brita filtered water bottles with us in the parks. They're perfect for filling up with those free cups of water, and they totally eliminate that "swampy taste!
Here's where you can find them on Amazon.com:

Brita 36387 Premium Water Filter Bottles, Sea Glass
Don't Get Sick At Disney: Carpet Free Rooms
In recent years, Walt Disney World has renovated a lot of the hotel rooms in their resorts, and have replaced carpeted floors with hard surface floors.
This was a HUGE win for my inner germaphobe, since hard surface floors are MUCH more easily sanitized than carpets!
Now, I always try to book a renovated room with a hard surface floor. I've stayed in them at Port Orleans Riverside, All Star Sports, and All Star Movies, but there are many other resorts on property that offer them.
Just look at pictures of the rooms when you book, and if you're still uncertain, just call Disney World! They'll be able to easily tell you if the room you've booked has hard surface floors or not.
As for off property room, you'll have to check that out on a case by case basis. The only rooms I've stayed in off property in recent years have all had carpet.
While it might not always be possible to find a room with hard surface floors, I do find it preferable from a cleanliness standpoint.
What NOT To Do If You Get Sick At Disney
If you find yourself in the unfortunate situation of having a member of your party fall ill while you are on vacation, I am begging you,
please,
please,
PLEASE,
DO NOT GO TO THE PARKS IF YOU ARE SICK!!!
I know how tough it can be! You've saved and planned for months, sometimes years, for this vacation! It can seem like the worst luck ever if one of your party falls ill.
But please have consideration for others if this happens to you. Taking a child who was diagnosed with the flu the night before your visit, and heading right on into the Magic Kingdom is not only careless, it's incredibly selfish and downright dangerous.
A few days of fun while you are sick is not worth creating an epidemic for others by spreading your germs.
Head to an urgent care near the parks. Find out how long the sick person will be contagious. Hunker down in your hotel room until the illness until you have the all clear that you won't be infecting others.
Wanna know if your little one is tall enough to ride the thrill attractions at Walt Disney World? Find out the Height Requirements for Every Disney Ride HERE!
Be the best dressed family in Disney Parks with the most Awesome Disney T-shirt Costumes for Adults!
How to Avoid Getting Sick at Disney World