One of my favorite parts of our Walt Disney World vacations is wearing cool, unique shirts to the parks. They always grab attention from cast members and are great conversations starters while waiting in lines. We've even received some extra perks during our vacations due to our t-shirts (more on that later!).
We've searched high and low for the best selection of funny and uncommon t-shirts, and by far, we love the products from TeePublic.com the most! They offer fun designs from a WIDE range of artists. Plus the designs are available on multiple types of t-shirts and other merchandise, so you can customize your look!
FYI: This post contains affiliate links. This means that I earn a small commission from any sales made through this link, but no additional cost is passed on to you.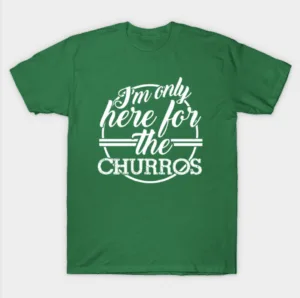 Snacks are one of the biggest highlight of any Disney Vacation. Anyone who's ever been to a Disney Park and eaten a churro knows all about that sweet, warm cinnamon goodness. And that chocolate sauce!!
Churros are a must-eat item for our family every time we go. We love this t-shirt that pays homage to our churro loving ways.
Get yours here: I'm Only Here For The Churros Shirt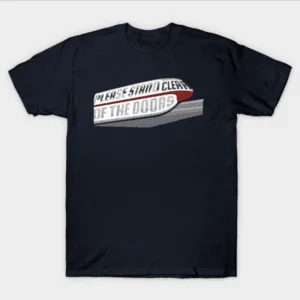 Riding the Monorail is a right of passage for any Disney World visitor. This gem of the Disney Transportation System is a fan favorite, and it's common to hear park goers quoting the automated announcement system.
This fun shirt not only incorporates the unique design of the monorail, but the signature "Please Stand Clear of the Doors" announcement as well!
Get yours here: Please Stand Clear Of the Doors Monorail Shirt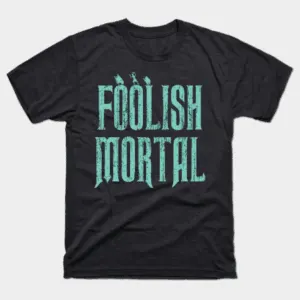 The Haunted Mansion is an absolute classic Disney attraction, and this t-shirt is sure to identify you as a fan. Help those 999 happy haunts identify you as a possible resident with this one.
I especially love outlines the iconic hitchhiking ghosts on the top of the letters. I personally wear this shirt all the time at home and at the parks. It's one of my favorites!
Get yours here: Haunted Mansion Foolish Mortal Shirt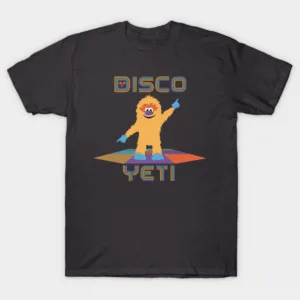 Disney World rarely has any prolonged problems with their attractions that don't get fixed, but Expedition Everest in Disney's Animal Kingdom is one of the few exceptions. Originally designed to be fully animatronic, the gigantic Yeti on this roller coaster malfunctioned shortly after the opening of the ride. This necessitated a "quick fix" of the much anticipated attraction by simply placing a strobe light on the big guy.
Disney has been promising to get it operational for years, but that still hasn't happened. Over the years, he's affectionately become known to visitors and cast members as The Disco Yeti.
We love this shirt that truly captures the joke!
Get yours here: Expedition Everest Disco Yeti Shirt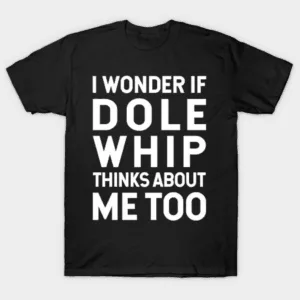 Another snack themed shirt! Snacks at Disney are epic and the Dole Whip is legendary.
The frozen pineapple concoction is only TRULY available at two places in the world: Disney Parks and the Dole Plantation. All others are pale imitations. It's the perfect refreshing snack on a hot day. (Pro tip: always go for the float. You'll thank me later!)
Get yours here: I Wonder If Dole Whip Thinks About Me Too Shirt
Who doesn't love the Soarin'? Our entire family voted and decided it was the best ride in Epcot. From the interactive queue (with the PlayDisney app) to the sensation of flying around the world, we love it all.
One of the best parts about the ride is the funny and entertaining safety video, hosted by Patrick Warburton (the voice of Kronk for all you true Disney fans). This t-shirt directly references his intro. I love it so much, I gave it to my best friend for her birthday!
Get yours here: Soarin' Nice Work, Pal Shirt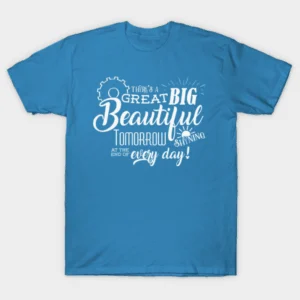 In the Magic Kingdom, there's one ride that doesn't get a lot of hype or attention, and never has much of a wait. But I can assure you, it will never be replaced.
The Carousel of Progress is one of the rides that Walt Disney personally had a major hand in designing, and it remains at the park honoring his legacy and delighting families.
The classic song that plays during the ride, and throughout Tomorrowland features the lyrics seen on this t-shirt: "There's a great big beautiful tomorrow, shining at the end of every day!" I have a version of this shirt, and it never fails to get comments from cast members.
Get yours here: There's A Great Big Beautiful Tomorrow Shirt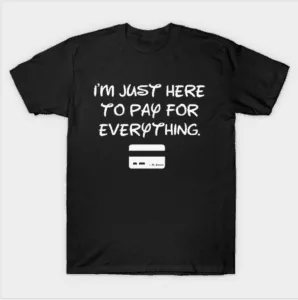 This has to be my favorite shirt we've ever ordered from TeePublic.
You see, my husband isn't quite as much of a Disney fan as myself or our kids are. Don't get me wrong, he loves our trips there. But his real enjoyment comes from watching me and our kids have so much fun, and not really from the parks themselves. He's just selfless like that.
I bought this shirt for him as a joke. I didn't think he'd actually wear it. But he loved it, and wore it on one of our most memorable trips. It was actually this shirt that ended up causing us to be chosen as Grand Marshal to ride in the parade at Magic Kingdom. You can read all about that experience here.
Needless to say, I highly recommend this shirt!
Get yours here: I'm Just Here To Pay For Everything Shirt
Seriously, y'all! If you didn't find your perfect shirt in this list, get over to TeePublic and do a little searching. They have TONS of awesome Disney themed stuff that you won't find anywhere else.