Tony's Town Square Restaurant at the Magic Kingdom is one of Walt Disney World's often overlooked restaurants.
We'd heard lots mixed reviews about this place, so we decided to try it for ourselves during our last visit to the park.
Reservations for Tony's Town Square were really easy to come by.
We booked our table on the fly, after a day of park hopping. We'd been up super early that day, so by 4 pm, we were starving.
We were able to hop on the My Disney Experience app and book a table for 4:35 pm.
After many years of stressing over reservations at places like 'Ohana and California Grille weeks and weeks in advance of our trip, we were really happy (and slightly suspicious due to the mixed reviews we'd heard) to find something available so quickly.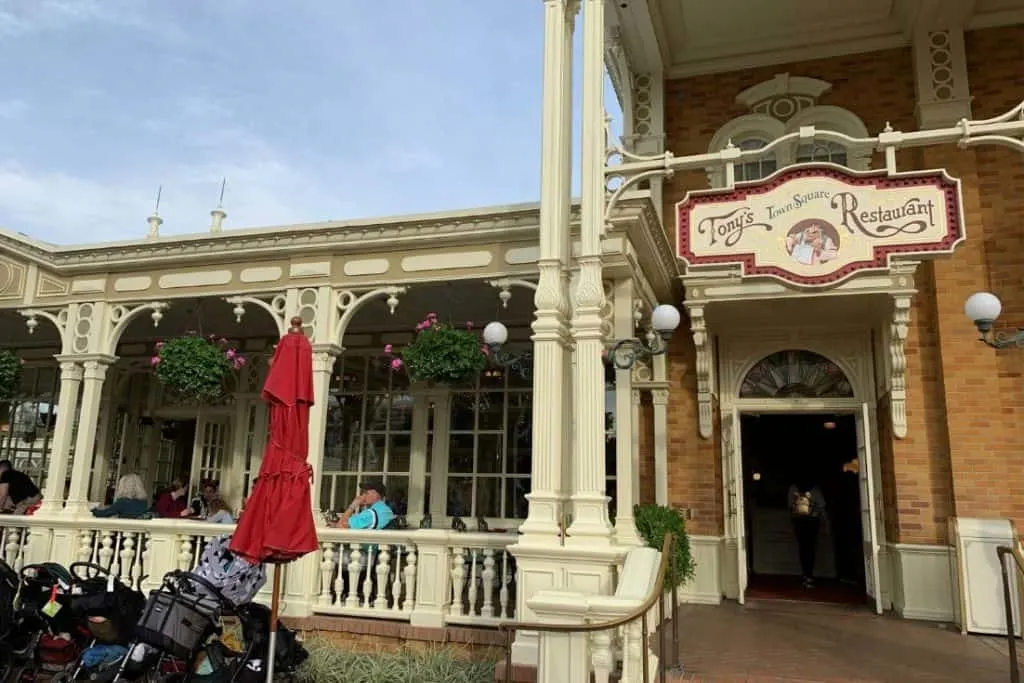 We took a leisurely stroll from our location in Tomorrowland over to the restaurant's location in the Town Square area just inside the entrance. We stopped just long enough to enjoy the last half of the Main Street Philharmonic's afternoon performance.
We arrived at the restaurant at 4:20, and checked in at the hostess stand, leaving our phone number so they could text us when our table was ready.
We received a text almost immediately after walking away from the stand, and were escorted to a table for two on the porch.
We were visiting Disney World in early February, so the weather was absolutely perfect (low to mid 70s) for sitting outdoors. While I wouldn't recommend this seating arrangement for the middle of summer, it was quite lovely for us.
Our timing just so happened to enable us to catch the Flag Retreat Ceremony in the middle of Town Square. Our table gave us the perfect view of the ceremony, and allowed us to simply sit back and watch.
Tony's Town Square Restaurant serves crowd pleasing Italian dishes, like spaghetti and meatballs, ravioli, and chicken parmigiana. Their children's menu is also extremely kid-friendly, featuring things like macaroni & cheese and cheese pizza.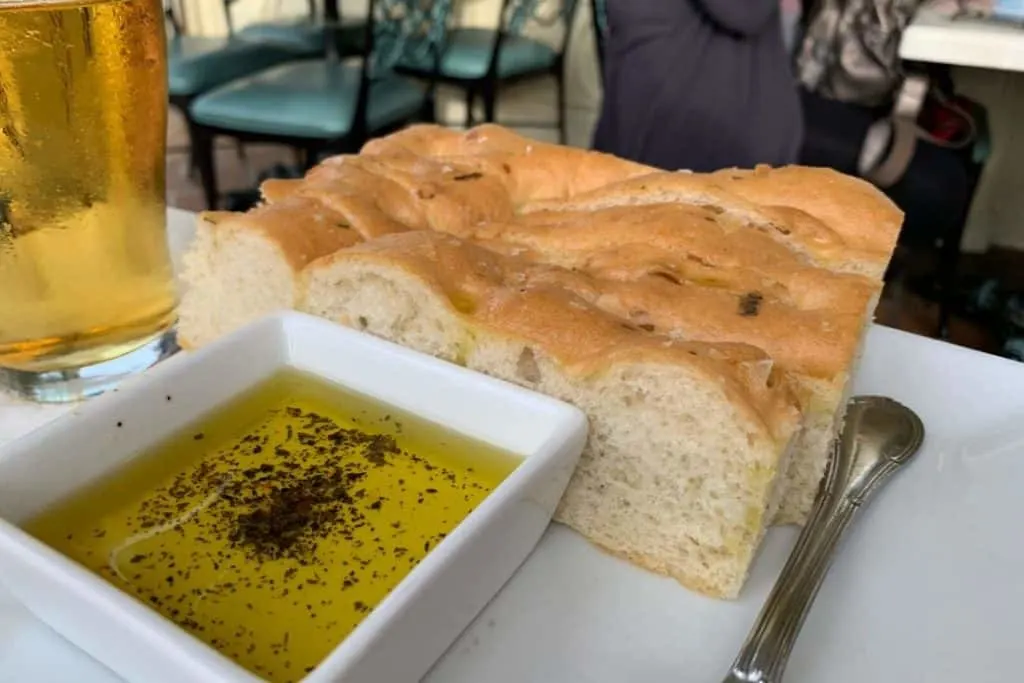 Our lovely server started our meal by bringing out some house made focaccia bread with some olive oil and spices to dip it in.
We were pleasantly surprised by the bread. It was warm, soft, and very tasty. The olive oil was a lovely addition, and was seasoned perfectly.
We decided to start our official meal with the fried mozzarella appetizer. My husband is a HUGE fried mozzarella fan, so we had high standards for this dish.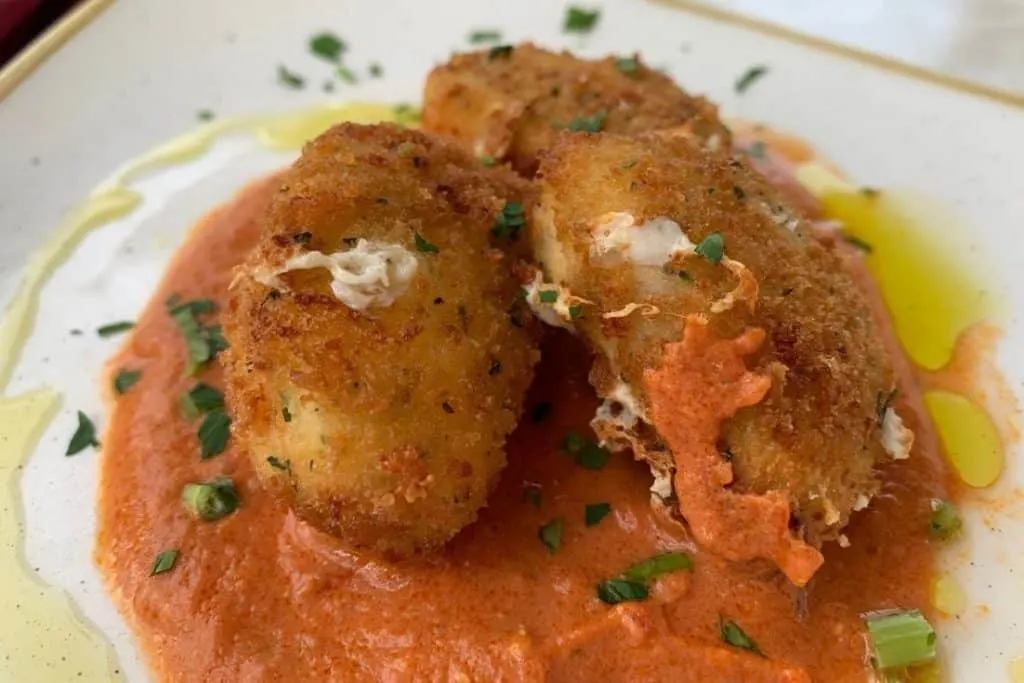 We were definitely not disappointed. The dish was described in the menu as "hand-breaded slices of fresh herb marinated mozzarella with a creamy tomato sauce," and it certainly did deliver.
My husband and I ate every bite, and even soaked up the rest of the sauce with the bread that had been brought to our table.
After we polished off our appetizer, it was onto the main course.
Since it was just the two of us, we decided to split the Italian Trio, which featured chicken parmigiana, fettuccine alfredo, and spaghetti with a pork-beef meatball. This would give us a sampling of three of the staple dishes on the menu, instead of just two.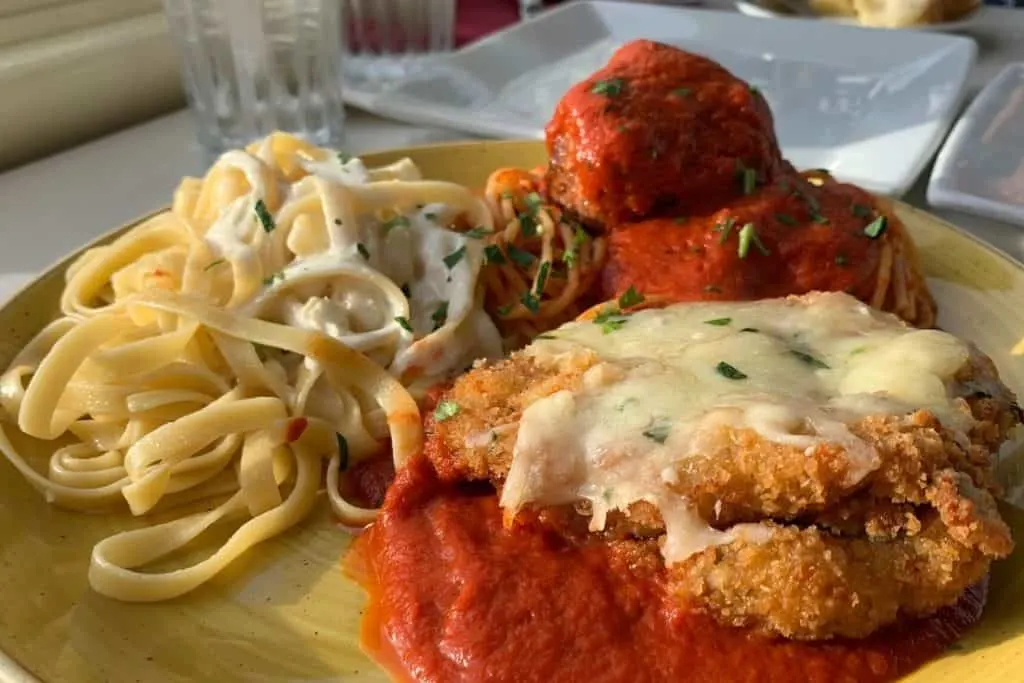 Don't let this picture fool you, the portion was absolutely HUGE! We were easily able to split it into two servings, and each had way more than enough to eat.
While not "haute cuisine," each dish was cooked very well, and was more of a comfort food than a fancy dinner.
My favorite of the three was the chicken parmigiana. The all white meat chicken was crispy without being greasy, with just the right amount of cheese and sauce to give you the perfect bite.
My husband really liked the spaghetti and giant meatball.
The noodles were extremely well cooked, not too soggy and not too firm. The meatball had lots of flavor, and also wasn't greasy or too heavy. The tomato sauce was very balanced and a great compliment to the meatball. It was quite good.
The fettucine alfredo wasn't quite as flashy but it was still good. Our server had recommended adding chicken to it for an additional fee, but we passed on that option. Looking back, it probably would have enhanced the dish.
The alfredo sauce wasn't as flavorful as I normally like it (I'm a garlic-lover), but with the addition of some freshly grated parmigiana cheese, it was a really nice dish. The noodles were perfectly cooked here as well.
During our meal, our server commented on our celebration buttons. We happened to be celebrating both my husband's birthday and our anniversary on this trip. After finishing our entrees, our server sweetly surprised us with not one, but TWO complimentary desserts!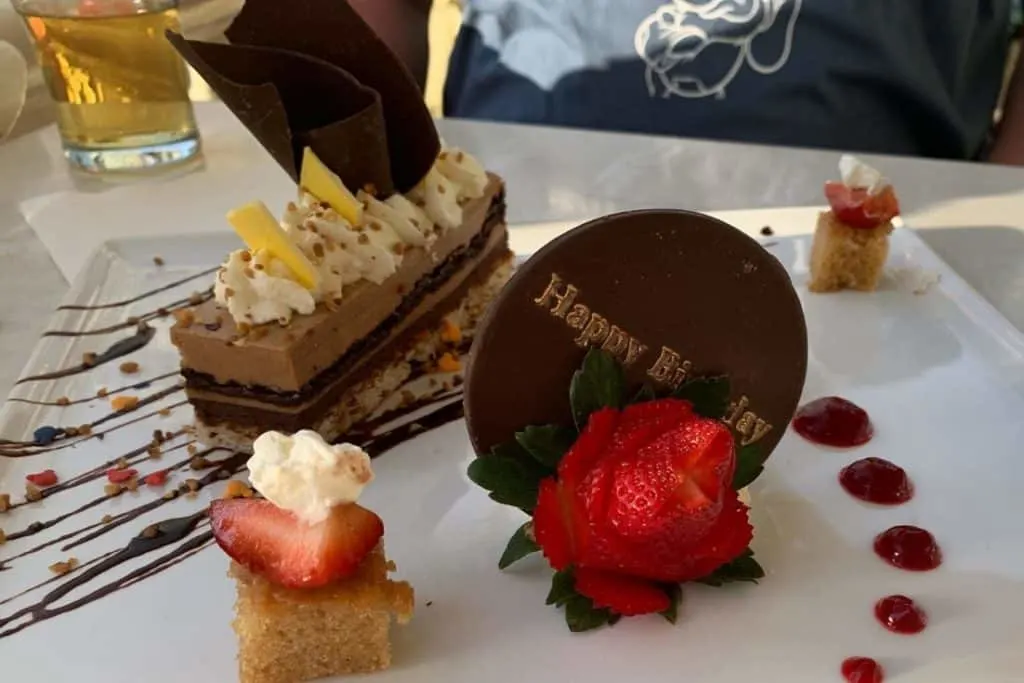 One half of the plate featured a sample of the Italian Strawberry Shortcake, while the other side held the Chocolate Hazelnut Cake.
Both desserts were excellent.
The Italian Strawberry Shortcake was small pieces of a dense vanilla cake, topped with balsamic marinated strawberries and whipped cream.
If I had been ordering this dessert on my own, I probably would have been scared off by the balsamic marinade. It just didn't sound too appealing to me.
But I'm glad I didn't get to choose, because it was really delicious. There was only the lightest hint of balsamic flavor to the strawberries, which really added an extra "something" to the dish.
The Chocolate Hazelnut Cake featured layers of hazelnut and chocolate cake, topped with a chocolate ganache and a hazelnut mousse. It was not overly sweet or overly chocolatey, and had a really nice balance in flavors.
We thoroughly enjoyed both desserts, and would order them again.
As a sweet little extra, unplanned Disney moment, the two adorable little blond girls (probaby ages 4 and 6) at the table next to us happened to notice my husband's birthday button, and sang a special round of Happy Birthday to him. They were just too adorable!
Tony's Town Square surprised us by being a much nicer experience than we were expecting. The beautiful view along with the excellent service made a delicious meal even more enjoyable.
Our bill was also more reasonable than we expected, since we were able to split the trio entree instead of ordering two separate dishes.
I would definitely recommend Tony's Town Square Restaurant if you're looking for a moderately priced, very filling, comfort-style Italian meal while in the Magic Kingdom. I know we'll be back!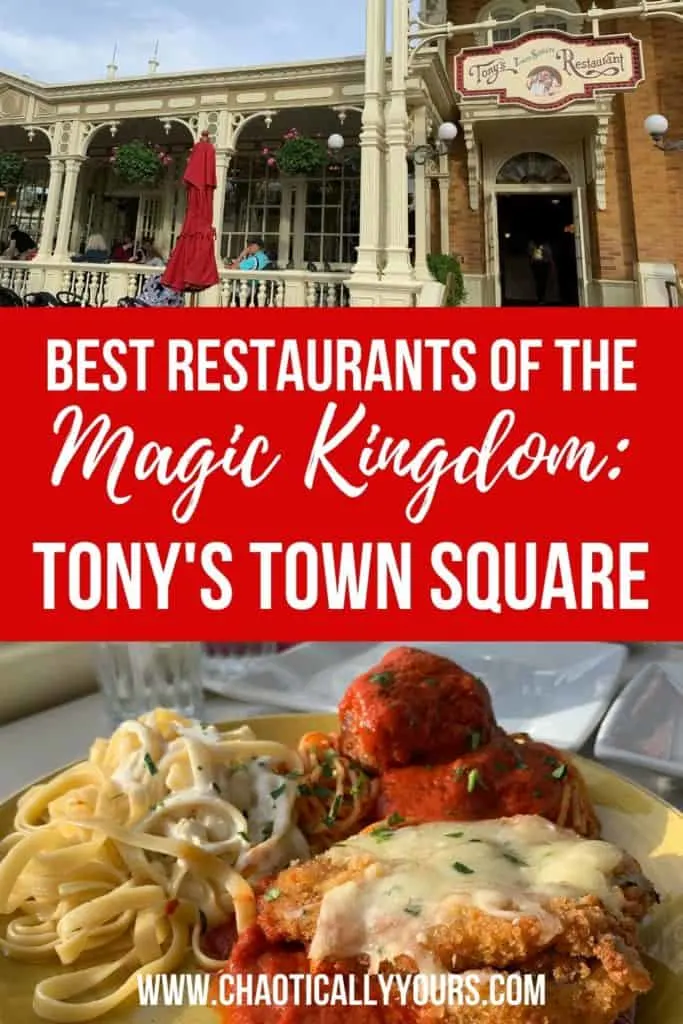 Tony's Town Square Restaurant: A Full Review