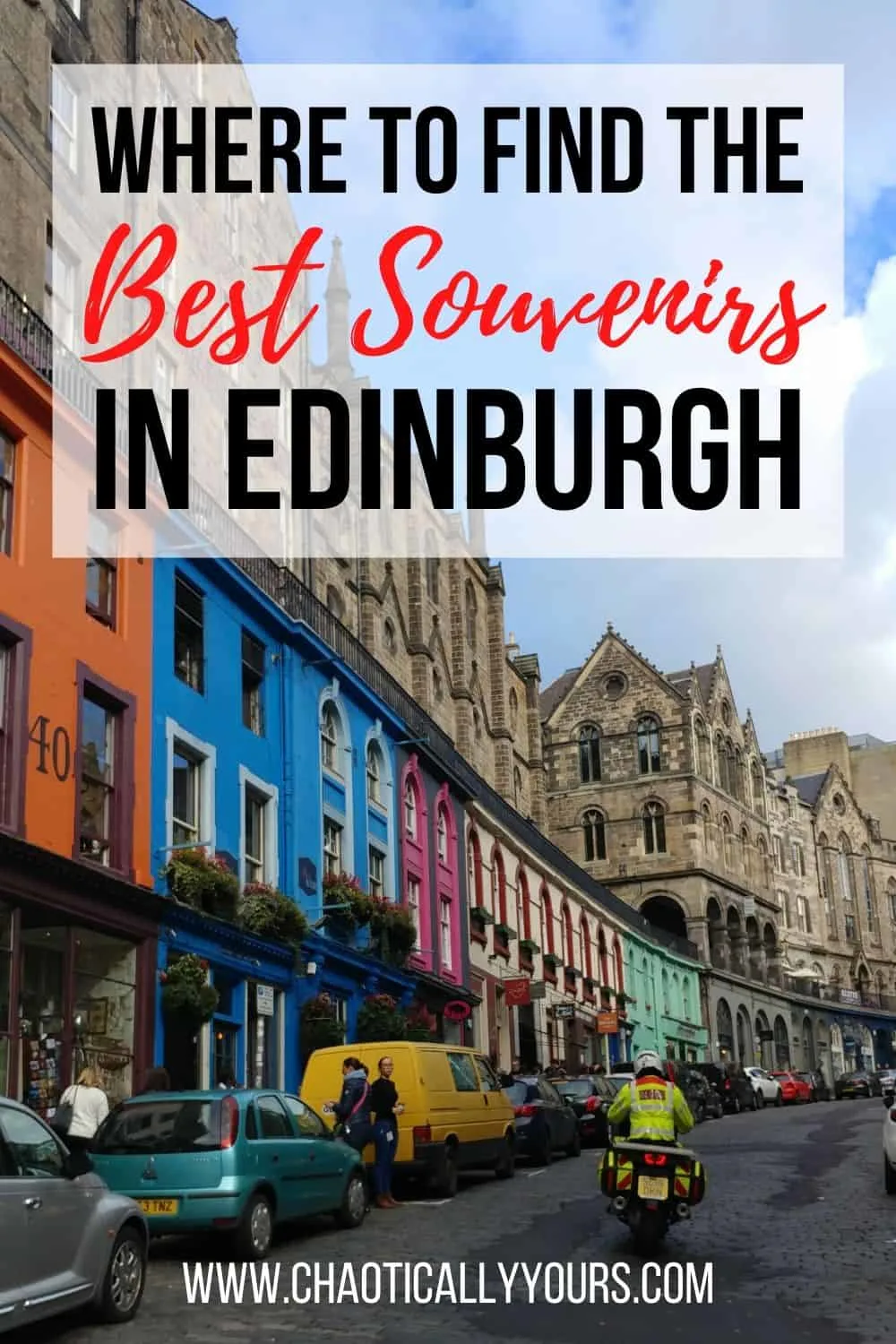 I love everything about Scotland, except one thing: the souvenirs in Edinburgh.
In almost every shop we stepped into, we saw the same five t-shirts, the same 12 magnets, and the same clan crest keychains.
Most of the items were poor quality, and very few were even made in Scotland.
After searching high and low, we found a few perfect shops that varied from the norm in the goods they sold.
Here are my best recommendations on where to buy souvenirs in Edinburgh:
John Kay's Shop
, 8 Victoria Street, Edinburgh OR John Kay's Shop at the Tron Kirk, 122 High Street, Edinburgh –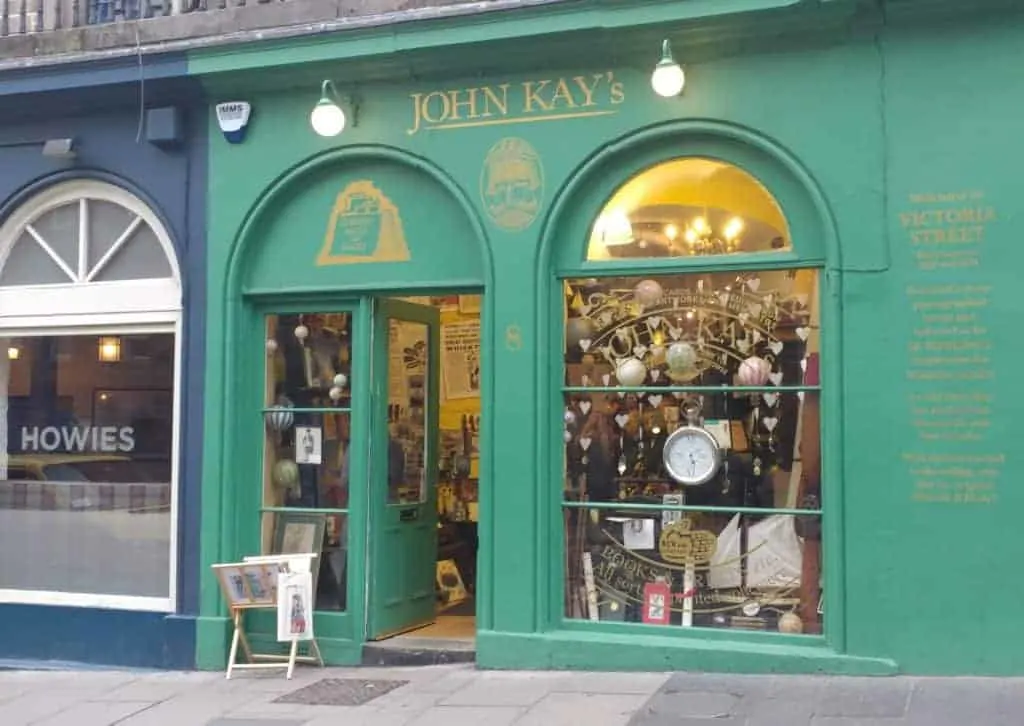 The folks at John Kay's Shop know how to do amazing souvenirs. From offbeat postcards to unique artwork to hilarious mugs, I found all sorts of goodies in among their stock.
They have a great little location on Victoria Street (my favorite street in all of Edinburgh), that features a smaller selection of all they have to offer.
But just a few blocks away, their pop-up location will knock your socks off. The shop is located inside the Tron Kirk.
The Tron Kirk is a historic church that is currently housing a World Heritage Exhibit in addition to John Kay's Shop. This expanded space features all sorts of fun and interesting items that make amazing souvenirs.
My personal favorites are their assortment of Scotland tote bags (that feature incredible artwork screen printed on them) and the various cat portraits (which include a portrait of Queen Elizabeth II as a cat).
It wasn't clear if this was going to be a permanent location for the shop, or just for a limited time, but either way, it was amazing!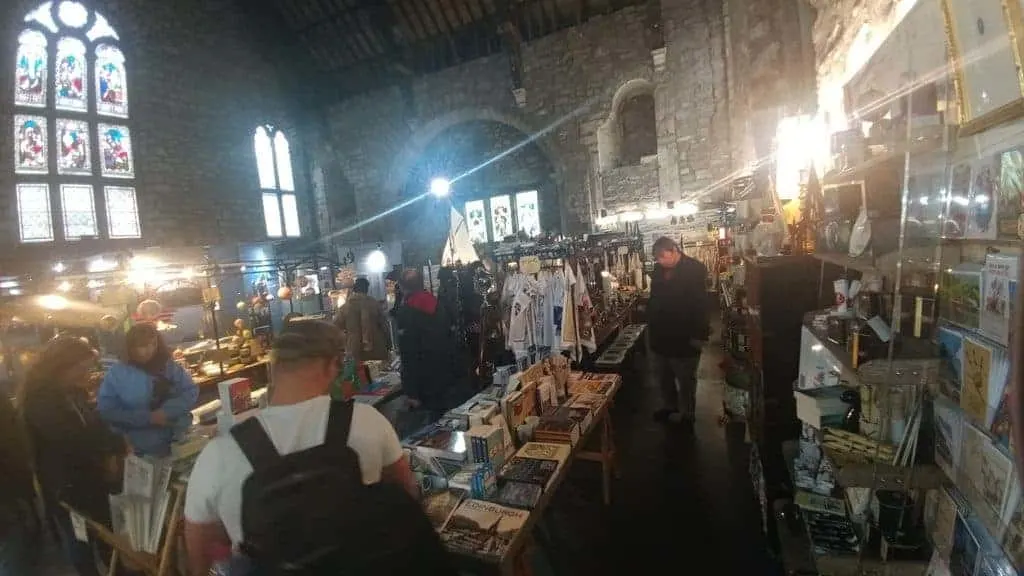 The building, the exhibit, and the unique assortment of merchandise make this John Kay location the perfect place to pick up a great souvenir from your visit to Edinburgh.
Museum Context – 40 Victoria Street, Edinburgh OR 42-44 Cockburn Street, Edinburgh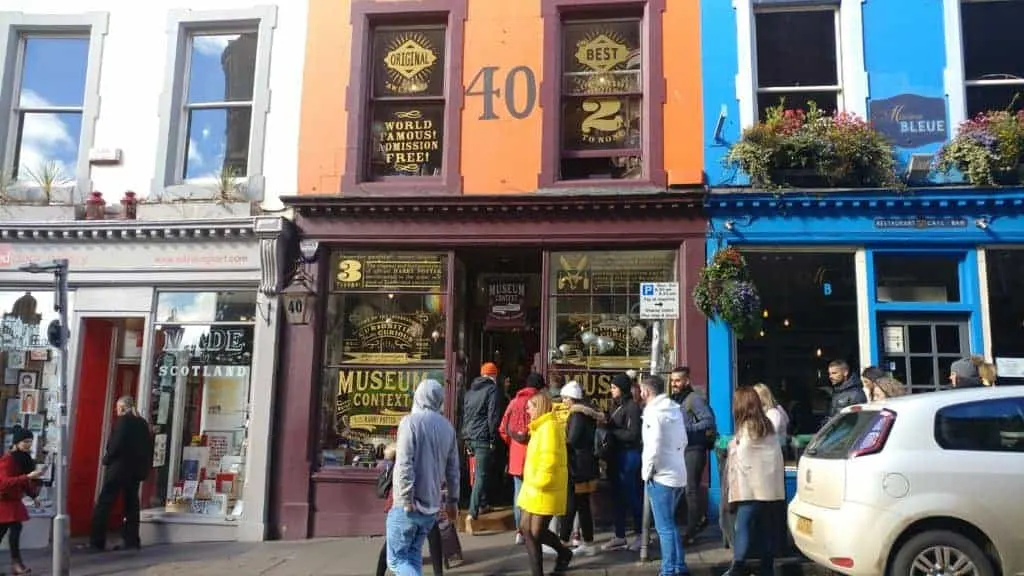 I am a huge Harry Potter Fan.
I've been reading the books since the first volume came out, and my love for the iconic series has only grown since then.
J.K. Rowling was living in Edinburgh (and still does) when she wrote the series, and it's easy to see how many of the sites around the city provided inspiration for the magical setting of the novels.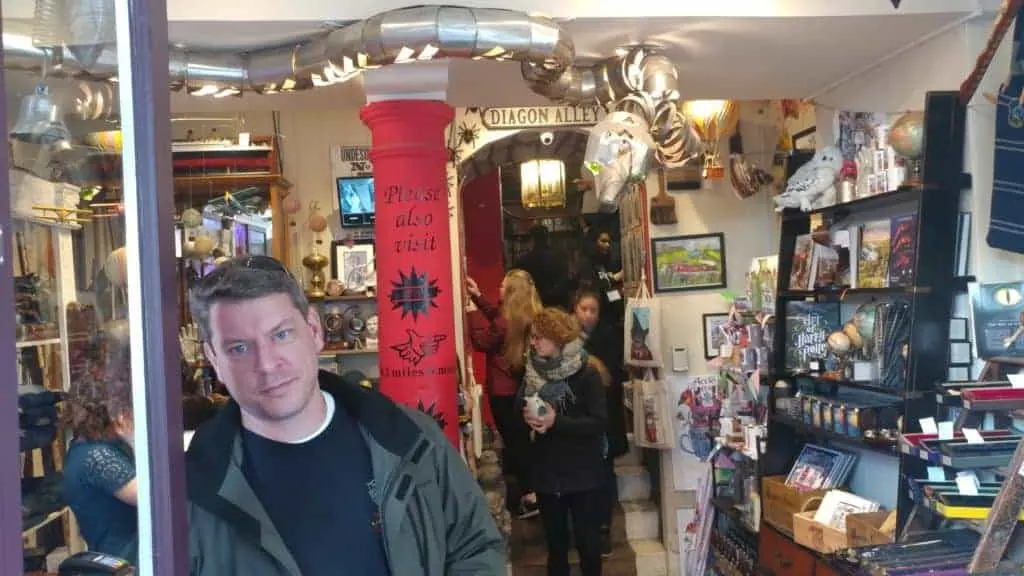 There are LOADS of placed to buy Harry Potter merchandise in Edinburgh, but the only shop I visited that completely captured the spirit of the books and the movies was Museum Context on Victoria Street.
From its whimsical displays to unique items, this truly was the best place to by Harry Potter themed souvenirs that you won't find anywhere else.
The shop is any HP fanatics dream.
Filled with unique displays of both official merchandise from the films and more obscure items related to the books, the shop has two floors filled to the brim with all things Hogwarts.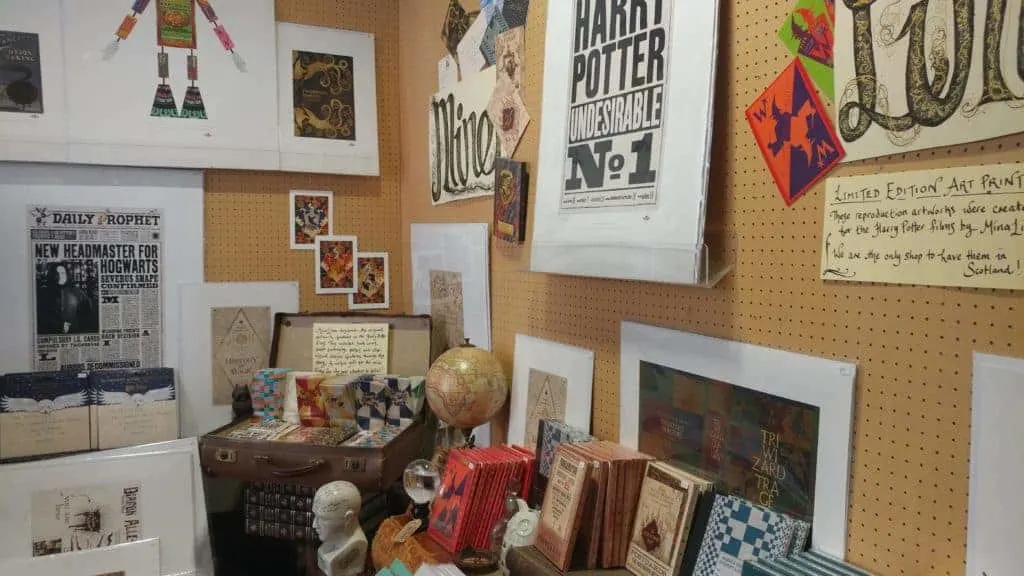 I simply adore their original artwork.
They have t-shirts, magnet, tea towels, tote bags, and prints available of some really unique designs that work in Harry Potter elements and significant locations in Edinburgh.
In addition to the artwork featuring the store, they also are the only shop in Scotland that sells limited edition prints from Mina Lima, who created some of the iconic artwork for the films.
The store also has another location on Cockburn Street that I hear isn't quite as "Potter-ized." While I didn't have a chance to visit that one, I am CERTAIN that it would be well worth your time!
Swish – Victoria Street, Edinburgh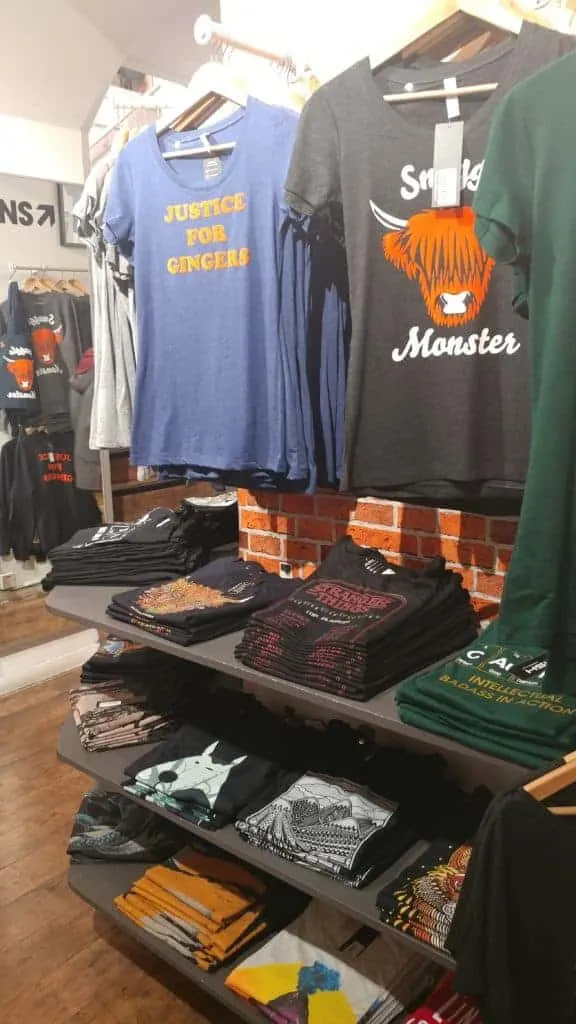 I love a good t-shirt, and good t-shirts are surprisingly hard to find in Edinburgh.
All the souvenir shops we went into had the same designs, all poorly made and not really very interesting.
When we stumbled upon Swish on Victoria Street, my t-shirt dreams were answered!
Swish features a large selection of high quality shirts with lots of unique designs. I particularly love their highland cattle designs and their stylized Edinburgh shirts!
The sales staff told me that while some of their shirts are from large suppliers, many of their shirts are designed in house and produced right in Edinburgh.
I love buying local anywhere I visit, so this made me SUPER happy!
Holyrood Palace, Edinburgh Castle, & the Royal Yacht Britannia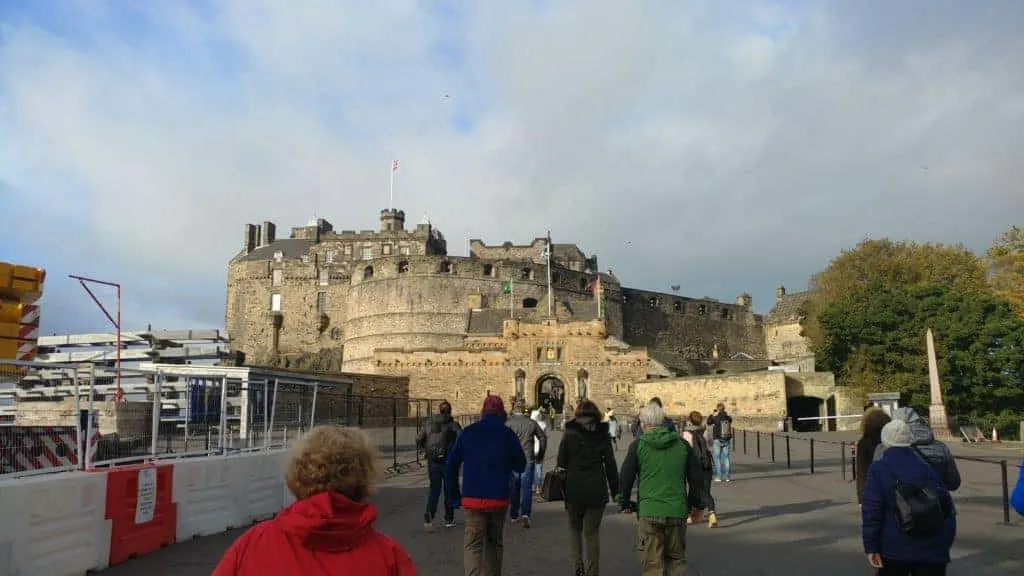 Edinburgh is home to three of the top tourist locations in Scotland.
Edinburgh Castle, Holyrood Palace, and the Royal Yacht Britannia are some of the best places to visit while in the city!
In addition to being amazing sites to see, all three of these locations have great gift shops!
You can find lots of items specific to each site, and each store features great general merchandise from around the United Kingdom.
My personal favorites were some embroidered Christmas ornaments. They were the perfect combination of unique and adorable! (Plus, they're not breakable, so great for travel)
Gift shops for any site you visit (Real Mary King's Close, Scotch Whiskey Experience, etc.)
The Royal Mile features many other amazing things to do along this historic route, other than visiting the two castles on either end.
From the Scotch Whiskey Experience to the Real Mary King's Close, there is so much to see and do. Each one of these places has their own gift shops, all of which sell some great items, and don't require a ticket to enter or shop in!
You'll definitely find something more unique at these shops than in the other souvenir stores along the royal mile.
Ocean Terminal Mall -Ocean Drive, Leith, Edinburgh
If you're looking to get away from the Royal Mile and shop a bit more like the locals, head to Ocean Terminal.
This shopping mall is filled with great stores, restaurants, a movie theater and even the entrance to the Royal Yacht Britannia.
Here I was able to find some great sports merchandise, including some quality football (soccer) and rugby jerseys for the sports fans I was shopping for.
It's definitely worth your time to shop in this mall a bit, especially if you are already in the are visiting the Royal Yacht Britannia.
Tartan Weaving Mill -The Royal Mile, just below Edinburgh Castle
If you MUST buy something more traditional to bring home with you, and you want to find it all in one place, check out the massive Tartan Weaving Mill just outside the gates of Edinburgh Castle, at the very top of the Royal Mile.
From kilts to cashmere, anything traditionally Scottish can be found in this location. Some of the tartans are even made in this building.
We purchased several items in my family's clan tartan and in a friend's family crest.
A friend we were traveling with was even able to order several meters of uncut tartan fabric to be specially made and shipped home to him for a project their family is working on.
The prices for items we saw in most stores along the royal mile were all about the same, and you'll see that same pricing here, only with LOTS more selection.
What is your favorite type of souvenir to bring home? Any other shops I should add to this list? Leave your answer in the comments!
Wanna hit up the best sites in town while visiting Edinburgh? Check out my post on the Top 10 Places to Visit in Edinburgh, Scotland!
Packing for a trip to Europe? You might have forgotten some essentials! Check out my post on the Travel Essentials Available on Amazon that You Probably Haven't Thought Of Yet!