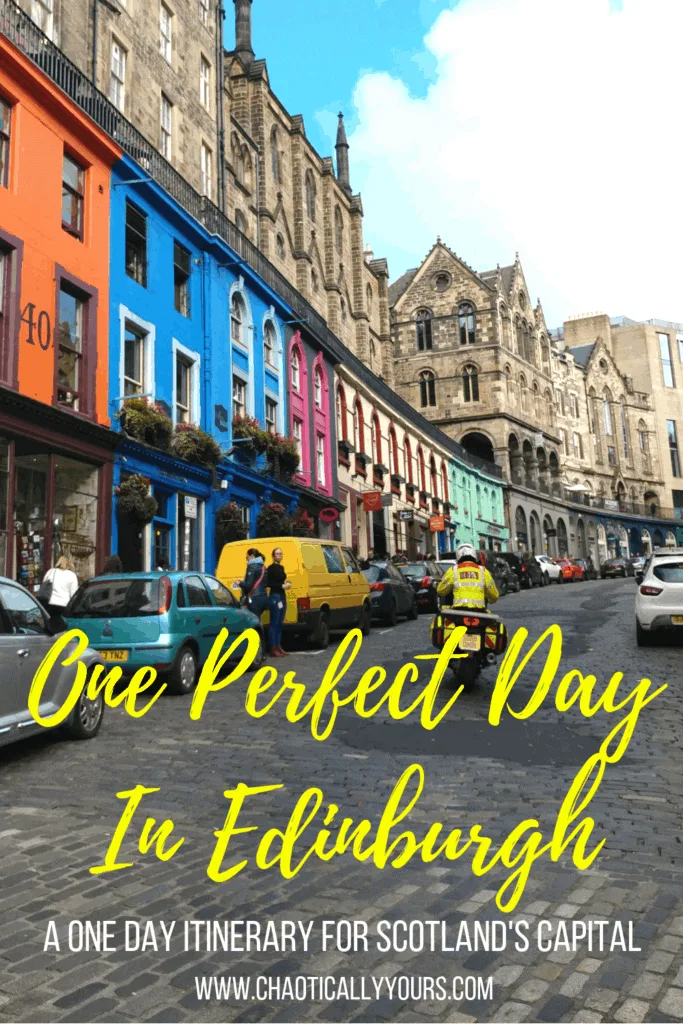 Edinburgh is a city I could explore for weeks. There are so many things to do in Scotland. But if you only have one day to visit the capital city, there are a few sites that are at the top of my list of must-do's that I would recommend to anyone. Here's my one day itinerary for visiting Edinburgh, Scotland.
Links in this post may be affiliate links, which means I may earn a commission if you make a purchase from any of them, at no additional cost to you. You can find out more information by reading my full disclaimer.
Pre-visit prep work:
Get online and buy tickets for the places you'd like to see. Having tickets in advance can save you a TON of time. Edinburgh Castle tickets are definitely in high demand, and the line to buy tickets is frequently very long. Do yourself a favor and buy them in advance online OR plan to be there super early.
Check out GetYourGuide.com to see if there are any tours you'd like to take while you're in town. There are LOTS of great options that will keep you in the city or even take you out the highlands to really explore.
Familiarize yourself with a map of Edinburgh, especially Old Town. Most of the locations on my itinerary are located along the Royal Mile. The Royal Mile is the street that runs from Edinburgh Castle (at the top of the hill) to Holyrood Palace (at the bottom of the hill). This historic street has a TON of sites to see, just in this one location.
Site #1: Edinburgh Castle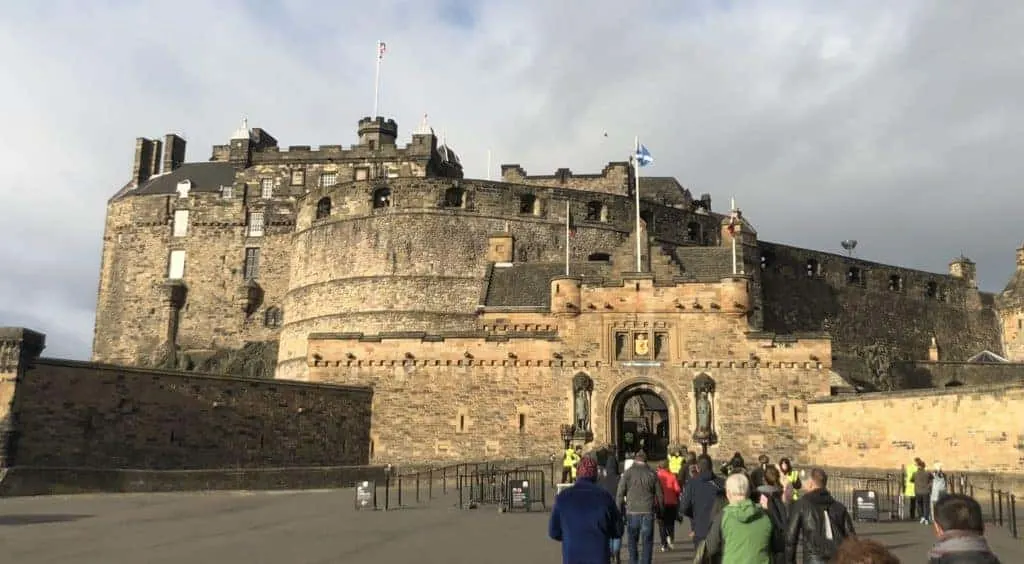 Start your day at the jewel of Old Town Edinburgh and the top of the Royal Mile at Edinburgh Castle. Perched beautifully over the entire city, Edinburgh Castle is the crown jewel of all the historic sites in town. Visitors get a peek into what life was like for those in centuries past, and can see several historic sites that span centuries in just one location. If you start at the castle when they open (usually at 9 or 9:30 am), you can probably see the majority of the castle in about 2 to 3 hours. If there is no line for the Crown Jewels (aka the Honours of Scotland), jump in and see those. If there is a long line, it may not be worth your time to wait to see the few items in this collection. It's a personal preference thing. Just be aware that this line can get incredibly long to see a few (but extremely important) historic items.
https://www.edinburghcastle.scot/
Site #2: The Scotch Whiskey Experience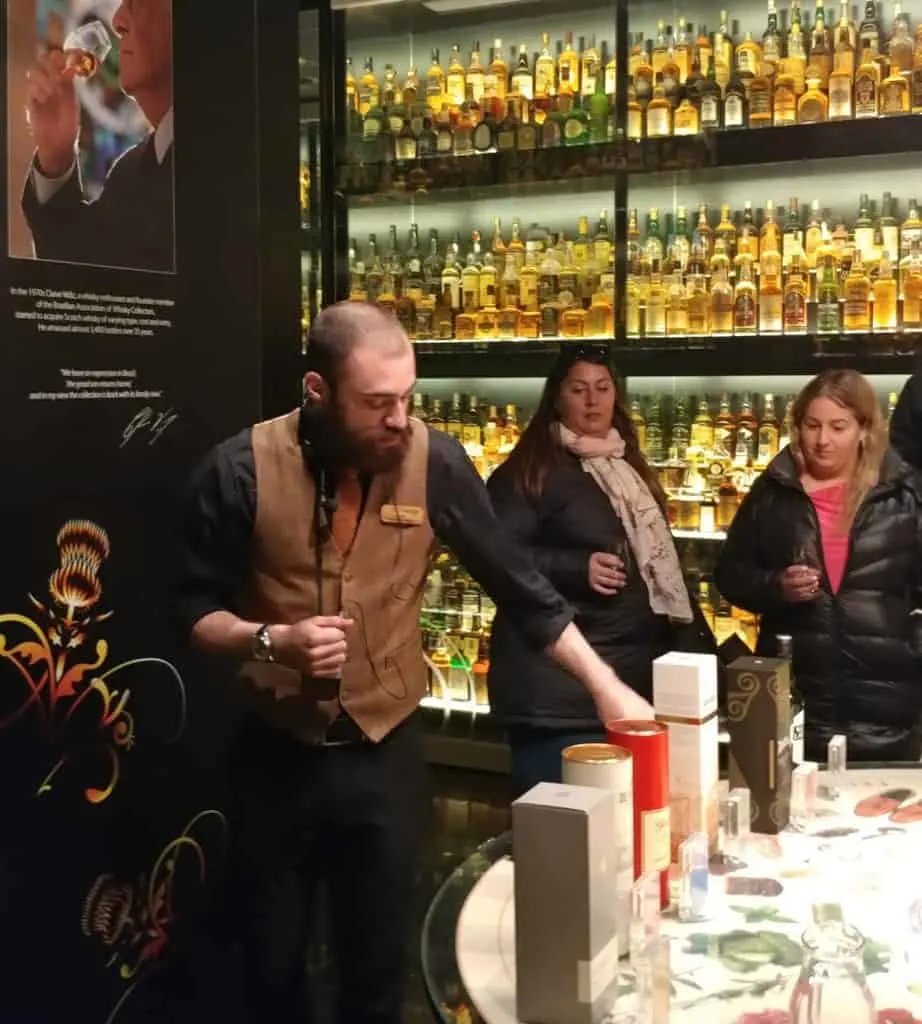 After finishing up at the castle, proceed down the Royal Mile, and locate the Scotch Whiskey Experience on the right, just a block or so from the castle gate. Complete with a Disney World style ride and a tour of one of the largest Scotch Whiskey collection anywhere in the world, the Scotch Whiskey Experience is a fun and interesting way to learn more about one of Scotland's most famous exports. This tour is top of the line, with each guide being a expert on Scotch Whiskey, from the historic drink's origins to whiskeys currently available in their shop. Adults with any interest whatsoever in whiskey will find this attraction to be educational and fun. The basic tour takes about an hour and includes a whiskey tasting for adults. We aren't big drinkers, but we still really enjoyed this tour.
https://www.scotchwhiskyexperience.co.uk/
Break Time: Lunch along the Royal Mile
There are SO many restaurants along the Royal Mile. Most offer traditional Scottish food, and most have affordable lunch specials. Pick a place that appeals to you somewhere along the street, and grab a quick bite.
Site #3: Victoria Street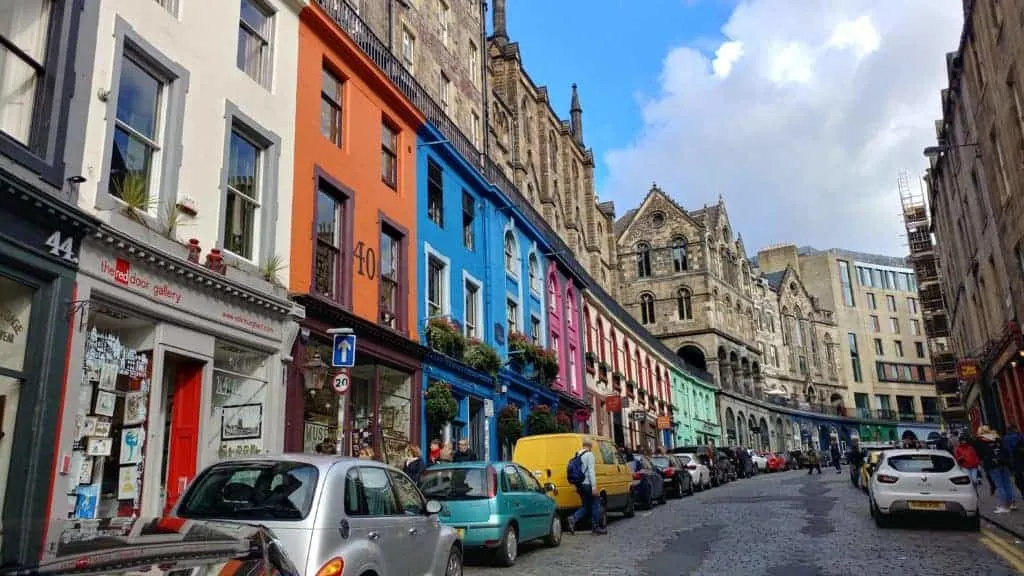 Just a short walk down the hill from the Scotch Whiskey Experience, turn right onto George IV Bridge. Walk one block and you'll find the beginning of Victoria Street on your right. This short, colorful, and historic street is said to be J.K. Rowling's inspiration for Diagon Alley in the Harry Potter books. Filled with unique shops and restaurants, this street contains so much color and personality. I found some fantastic and unique souvenirs at Swish, John Kay's Shop, and Museum Context. The upper promenade of the street includes some wonderful local restaurants, which are great places to grab lunch. I found myself longing to go back to Victoria Street again and again, just to enjoy the view.
Site #4: Holyrood Palace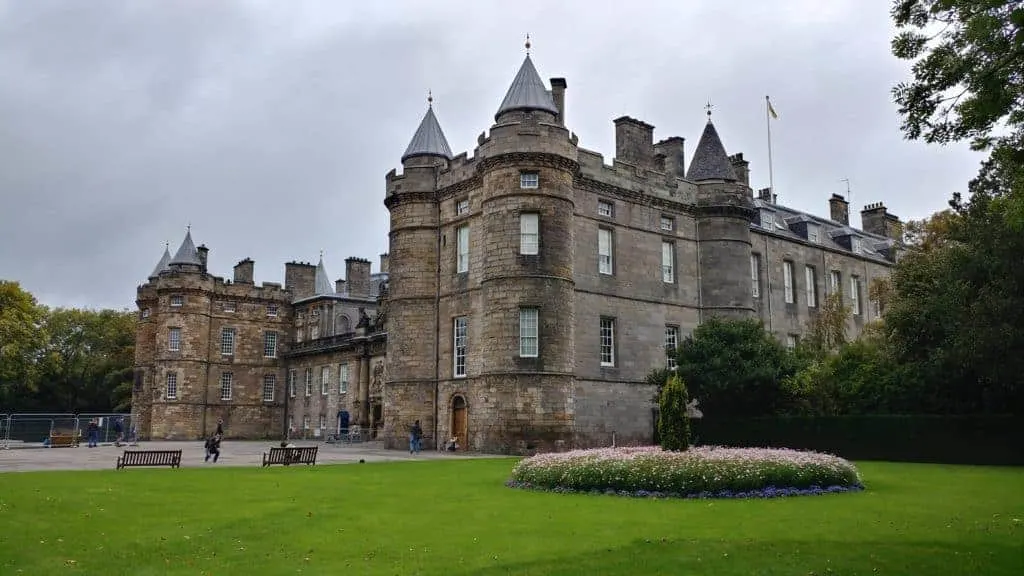 At the bottom of the Royal Mile, you'll find the Palace of Holyroodhouse, the Queen's official residence when she visits Edinburgh. Walk through room after room, each of which has been the scene of hundreds of historic moments in Scotland. The State Apartments feature ever increasing elegant decor as you walk onward through the palace. The personal chambers of Mary, Queen of Scots are a highlight of the tour. These rooms were backdrop for some of the most shocking and scandalous events in Scottish history. The ruins of Holyrood Abbey are beautifully haunting, and the gardens surrounding the palace are a peaceful place to rest and enjoy the glorious view of Arthur's Seat
Dinner at Howie's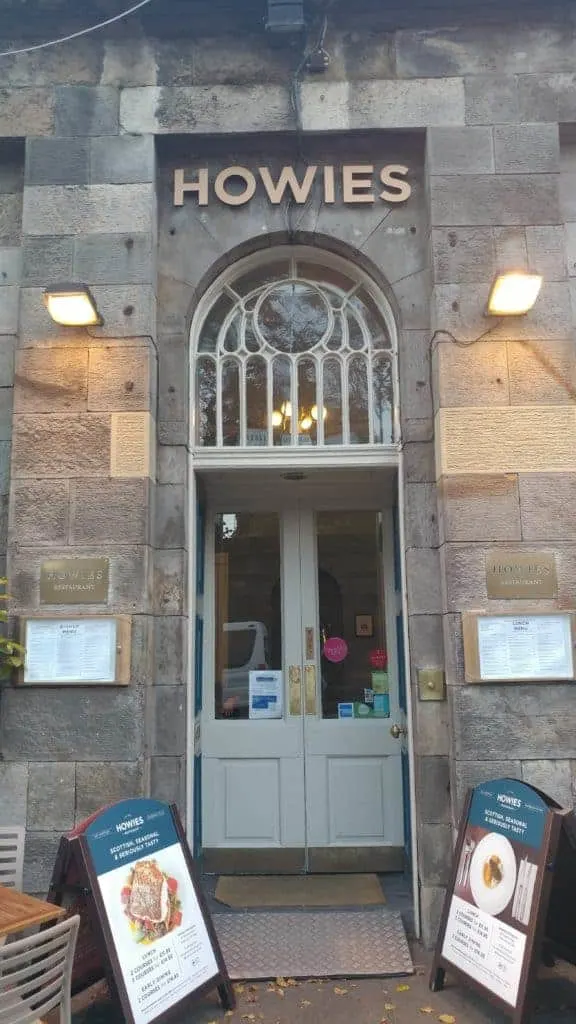 After completing your tour of Holyrood Palace, you'll definitely be ready for dinner. For an amazingly delicious meal, I HIGHLY recommend making a reservation at Howie's. From Holyrood Palace, you can walk (or take a taxi if you're too tired) to their Waterloo location. Their fresh seasonal menus always feature traditional Scottish food. We love this place so much that we ate dinner their twice during our last visit to Edinburgh. If you arrive and order before 6:30, Howie's runs an amazing special. You can choose one of their fantastic entrees and pair it with either an appetizer or a dessert for special price. My husband ordered an appetizer that we shared and I ordered a dessert that we shared, so we basically got a 3 course meal for two for the price of two entrees. All their locations are highly popular, so be sure and book reservations if you want a table!
Site #5: Sunset at Calton Hill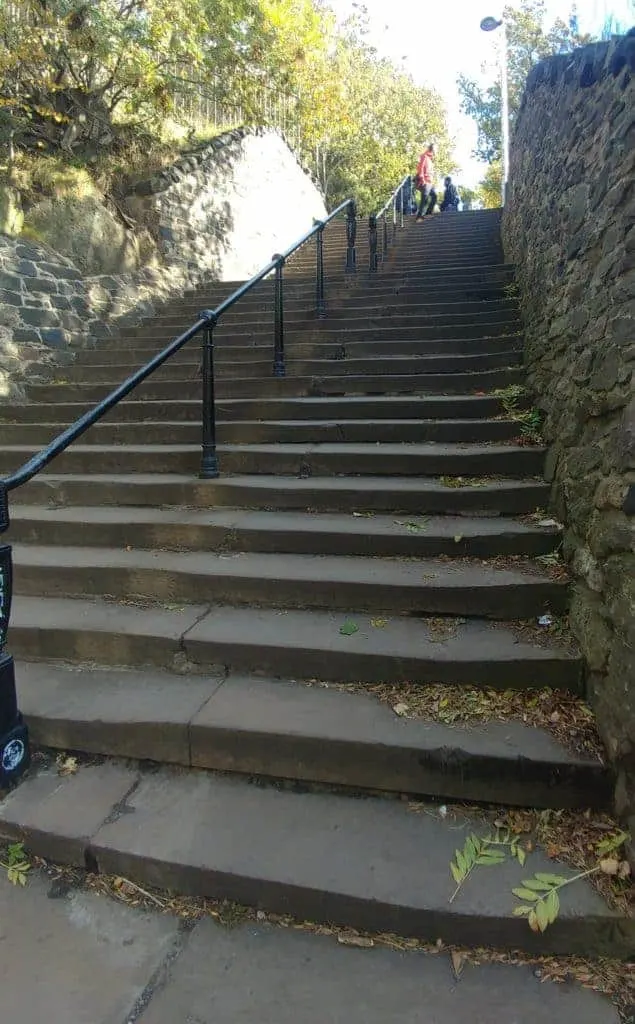 After a fabulous meal at Howie's, (and depending on the time of year) you can walk off your dinner with stroll up to Calton Hill to catch the sunset. Just up the hill from the Waterloo location of Howie's and on the left is the entrance to the area. Calton Hill features several historic buildings and structures, including Nelson's Monument, the Burns Monument, St. Andrew's House, and the half-finished National Monument. Calton Hill is an easier climb than Arthur's Seat, the other famous hike in the area, and will render pictures just as stunning. Catching the sunset here after a long day of touring the city is the perfect way to end your one day visit to Edinburgh.
Edinburgh is a great place, but it's hard to find unique souvenirs there! Find out what shops have the most fun and unique souvenirs by clicking HERE!
Have more time to visit Edinburgh? Check out my Top Ten Places to Visit In Edinburgh.
Take the time to visit beautiful Inveraray, Scotland and see a set location from Downton Abbey. Read all about what to see in this charming town