These washi tape ideas are all super fun ways to use this decorative tape to create some really cool projects.
Washi tape is everywhere lately. I've spotted it in every craft store, and even in my local dollar store.
I love making things with washi tape, and I'm super excited to share some of my favorite washi tape ideas with you today.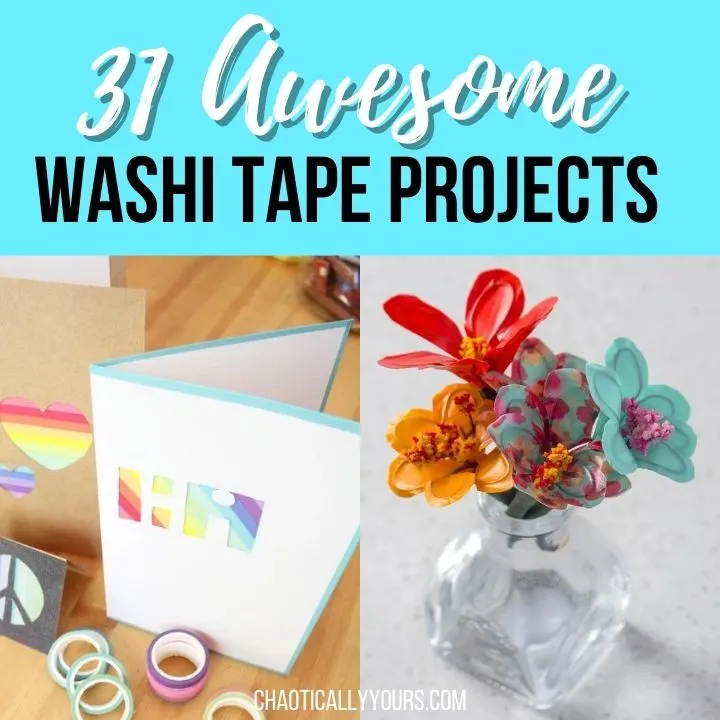 What Is Washi Tape?
You're probably wondering, what is washi tape and where did it come from?
Washi tape is a small, decorative adhesive tape that can be used for any number of fun projects.
Sometimes mistakenly called "washing tape", "washy tape" or "washie tape", washi tape comes in all sorts of great colors, patterns, and prints. If you like it, there's probably a washi tape made with it printed on there!
Washi tape is super thin, and surprisingly durable. It sticks to most surfaces and removes easily without causing damage. It's kinda like magic.
As with so many other cool things that I love, washi tape is originally from Japan. In the Japanese language, the word washi directly translates to "Japanese paper."
Washi tape is also a great sustainable way to craft, since it's biodegradable and made from highly renewable resources.
Washi tape is fun to use with all ages since it's so easy to clean up. It can be used for so many cool projects that the possibilities are endless.
Washi Tape Ideas: 31 Fun Washi Tape Crafts
Washi Tape Ideas: 31 Fun Washi Tape Crafts