Once you understand how to use the system, Magic Kingdom Fastpass makes your Disney experience one to remember.
Keep reading for a quick explanation of how the system works and which rides really require a Fastpass and which ones you can just use the stand-by line for.
The Magic Kingdom is my all-time favorite park at Walt Disney World, filled with tons of nostalgia and lots of rides. The quickest way to get to the action, without waiting for hours in stand-by lines is to use the Fastpass+ System.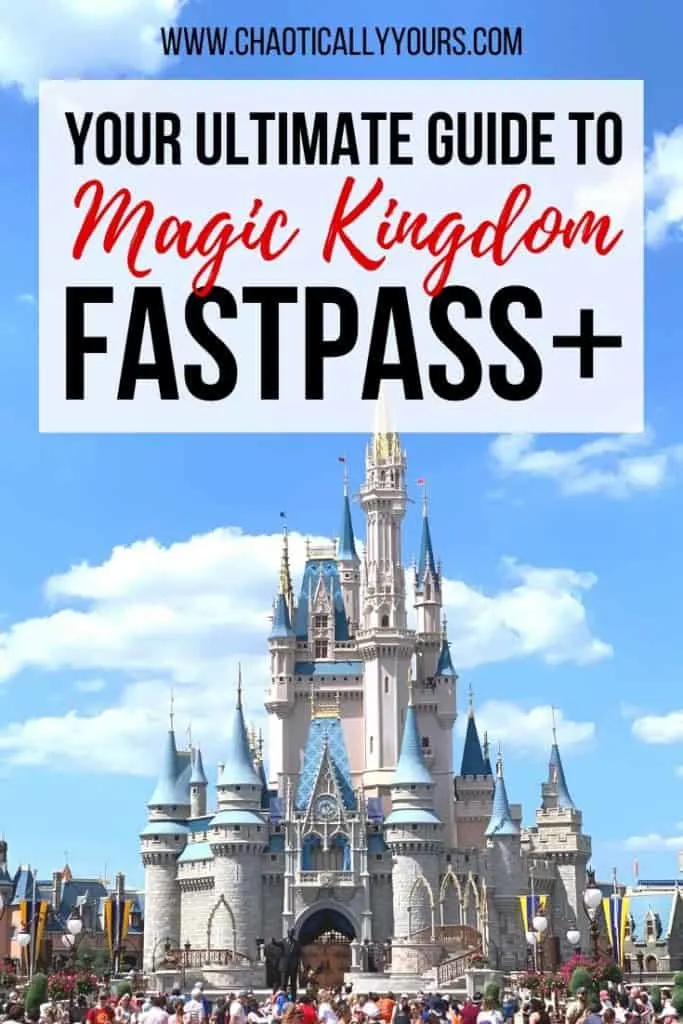 Magic Kingdom Fastpass Explained
The Fastpass + System is basically like having a reservation to get on a ride. Using My Disney Experience, either through the Disney World Website or the free app, visitors to Walt Disney World can "book" their ride times in one hour windows.
Once assigned their fastpass, guests can visit the ride anytime within their one hour fastpass window and get into the fastpass line. The fastpass line moves much faster than the stand by queue, often knocking hours off the times you would wait in the stand-by queue.
Guests are allowed to pre-book up to three fastpasses per day before they arrive at the parks, and pick up more throughout their visit after those first three have been used.
These bookings can be made 60 days in advance for those staying in hotels on Disney World property, and 30 days in advance for everyone else. The entirety of your stay can be booked 30 or 60 days before your first day in the park.
For example, if you are visiting the parks on May 14 for seven days and you are staying off property, you can book all the fastpasses for all seven days of your trip starting on April 14.
To book Fastpasses, you must have already purchased tickets and have them linked to their My Disney Experience account.
You must log into their account, either via the app or the website, and select which guests you're booking fastpasses for and what date they'd like to book them on. Then you can select the park you're visiting.
After all these selections are made, available fastpasses will be displayed for you to choose from.
For Hollywood Studios, Epcot, and Animal Kingdom, guests must use a tiered system, where they select one fastpass from a list of the most in-demand rides, and two more from less popular rides.
Fortunately, this tier system does not apply to the Magic Kingdom, giving you a shot at three awesome fastpasses.
(Our friends over at Disney Tourist Blog give a great step-by-step breakdown of how to book fastpasses)
Best Magic Kingdom Fastpass To Book
The Magic Kingdom has a ton of great rides, so it's hard to know which ones you should book as your first three fastpasses.
Personal preference will dictate whether you go for the thrill rides or nostalgic experiences, but plenty of both are available on the fastpass system. It might also depend on the ages and heights of any children going to the park with you.
For Thrill Lovers, Book These Fast Passes
If you like thrill rides, we recommend you become a "mountain climber." All three "mountain" rides (Space Mountain, Big Thunder Mountain Railroad, and Splash Mountain) offer the best thrills in the park.
Space Mountain is a speedy, space themed roller coaster that shoots riders into the stars. This ride is in almost total darkness, and might be scary for young riders.
Splash Mountain is a family friendly flume ride that features the little known character Brer Rabbit and his adorable adventures. The ride has tons of great animatronics and you can't help but sing along to it's famous theme song "Zip-a-dee Do-dah." There is one LONG drop at the end of the ride, which brings the thrill element to this ride.
Big Thunder Mountain Railroad is my personal favorite ride in all of Walt Disney World. Know as the Wildest Ride In the Wilderness, this ride is themed around a runaway mine train, with no movie or character connections.
The ride is longer than you'd expect and always tons of fun. It's speed and jolting turns might not make it the best ride for everyone.
Keep in mind, there are height restrictions on all three "mountains," and the level of action on these rides may not be appropriate for all ages. Info on height restrictions for rides at Disney World can be found by clicking HERE.
For Nostalgic Experiences, Book These Fast Passes
Not everyone wants to visit the Disney World for the thrills. For those looking for classic Disney nostalgia, book three of these Magic Kingdom Fastpass experiences: Seven Dwarfs Mine Train, Peter Pan's Flight, The Haunted Mansion, and Pirates of the Caribbean.
Seven Dwarfs Mine Train is an adorable roller coaster that's a little on the smaller side, but features lots of cutting edge animatronics and classic Disney music. Not as thrilling as the "mountains," it offers a very family friendly experience for those tall enough to ride it.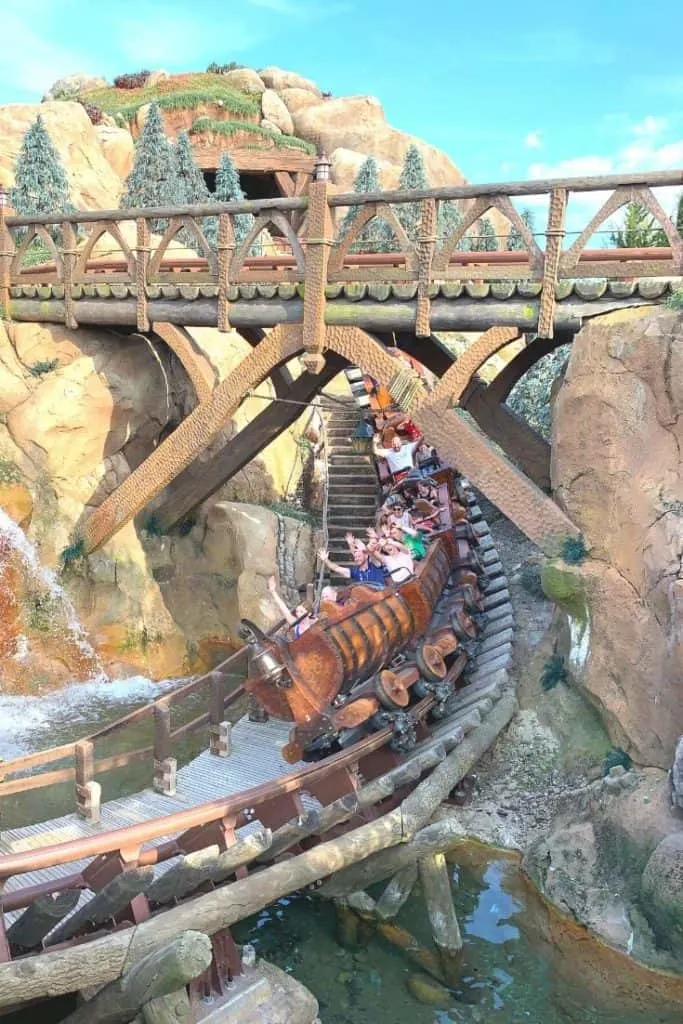 The Haunted Mansion is one of the rides that Walt Disney himself originally envisioned for his theme parks. Riders glide through the mansion in "Doom Buggies," witnessing the 999 happy haunts at play. Imagineers expertly utilized some of the oldest illusions around to create a truly perfect haunted house.
The ride is quite dark and creepy, and can be particularly scary for some guests. There are only a couple of jump scares on the ride, but it can st
Peter Pan's Flight is the epitome of Disney nostalgia. It was one of the original rides that Walt Disney himself had a hand in designing for Disneyland. Guests hop aboard small pirate ships and get sprinkled with pixie dust before flying over scenes from the iconic movie.
This ride is absolutely magical, and perfect for all ages. It's also wildly popular, and stand-by line wait times can frequently be some of the highest in the park. That's why we recommend grabbing a fastpass for this ride if you can.
Another popular ride to pre-book a fastpass for is Pirates of the Caribbean. This ride allows guests to float through light-hearted, almost cartoon like pirate experience.
The ride pre-existed the popular movie series, and was updated after their release to feature Captain Barbosa and Captain Jack Sparrow. It does have some dark, and slightly scary scenes, and might not be appropriate for all children.
None of these four rides have any height restrictions, so any age can ride them. It's up to your own discretion what your children can handle.
Other Magic Kingdom Fastpass Options
As much as we'd all love to score the perfect fastpasses for your visit to the Magic Kingdom, sometimes, fastpasses for the top rides just aren't available. These are the secondary experiences we'd recommend grabbing fastpasses for:
Dumbo
Buzz Lightyear's Space Ranger Spin
Enchanted Tales With Belle
Jungle Cruise
Under the Sea – Journey of the Little Mermaid
Tomorrowland Speedway
Various Character Meet and Greets
These are also great experiences to pick up on the fly after you've used your first three fast passes, and are looking for more. You can pick those up on your My Disney Experience App or at kiosks in various locations around the park.
Don't Waste Your Magic Kingdom Fastpass On These Rides
There are several rides in the Magic Kingdom that offer fastpasses, but don't really need them. Unless the park is extraordinarily crowded, they are pretty much unnecessary. These rides are:
Mickey's Philharmagic
Monsters Inc. Laugh Floor
It's A Small World
Magic Carpets of Aladdin
The Barnstormer
Mad Tea Party
Many Adventures of Winnie The Pooh
Experiences like Mickey's Philharmagic and Monsters Inc. Laugh Floor are basically shows, and the wait time is the same no matter if you have a fast pass or not (unless the park is extraordinarily crowded).
Other rides, like It's A Small World and the Many Adventures of Winnie the Pooh just aren't as popular and the stand-by wait usually isn't too bad.
Unless your kids are particular fans of these rides or the characters featured in them, I wouldn't waste a fastpass on them.
Magic Kingdom Rides That Don't Offer Fastpass
Contrary to popular belief, not every ride in Walt Disney World offers a fastpass option. There are several great experiences in the Magic Kingdom that only offer a standby queue. They include:
Hall of Presidents
Tomorrowland Transit Authority People Mover
Astro Orbiter
Country Bear Jamboree
Frontierland Shootin Arcade
Liberty Square Riverboat
Prince Charming Regal Carousel
Swiss Family Treehouse
Carousel of Progress
Tom Sawyer Island
Enchanted Tiki Room
Walt Disney World Railroad
These experiences are some of the best and most overlooked activities in the park, many of which Walt Disney himself had a hand in creating. If you find yourself with some time to kill between fastpass times, check out some of these activities.
Prince Charming Regal Carousel is simply gorgeous and is probably the most elaborate carousel you'll ever see.
Tomorrowland Transit Authority People Mover is especially fun to ride at night, when you can see all of Tomorrowland lit up.
The Hall of Presidents is a great place to cool off and enjoy a bit of history.
These experiences are part of what makes the Disney World so wonderful. Even the smallest attractions are done with a level of excellence and magic that is unequalled anywhere else.
Looking for ways to have more fun in the Magic Kingdom? Check out these Awesome Things To Do After Dark in the Magic Kingdom by clicking here!
Your Ultimate Guide to Magic Kingdom Fastpass +