Pool Noodle Lollipops are some of the cutest, most inexpensive decorations you can make.
Whether for Christmas decorations, Halloween costumes, stage props or whatever, these easy to make oversized candies are always a big hit.
The few, cheap supplies needed to make these fun faux candies are easy to locate at your local big box store or on Amazon!
Links in this post may be affiliate links, which means I may earn a commission if you make a purchase from any of them, at no additional cost to you. You can find out more information by reading my full disclaimer.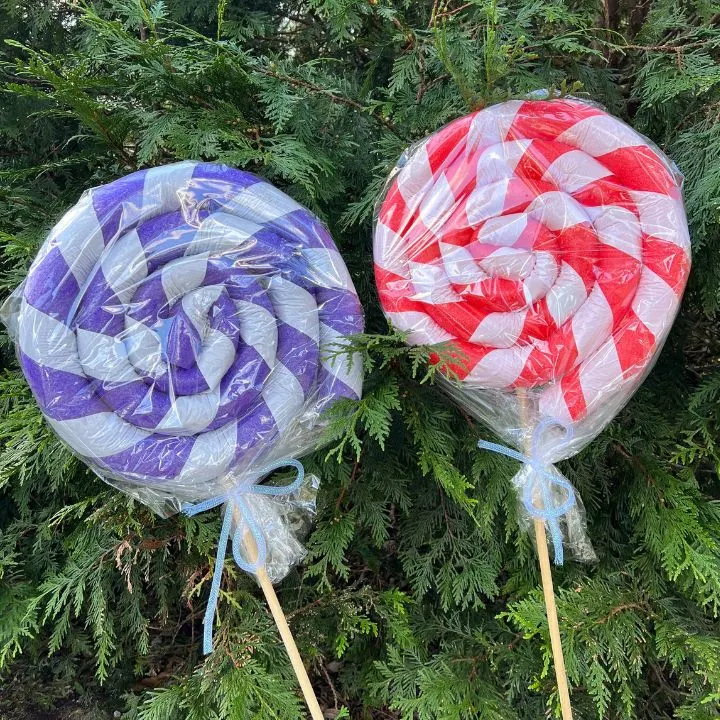 Why Turn Pool Noodles Into Lollipops?
My son's middle school recently did a production of Willy Wonka Jr., and he was cast as Grandpa Joe. Because I'm "that mom," I volunteered to help out with making props for the show.
In brainstorming what we'd need, we decided that it would be cute to have the "oompa loompas" use giant lollipops to row the boat in the river scene on stage. That blossomed into using them everywhere, for staging in the background, to dress the candy cart, even for dance props.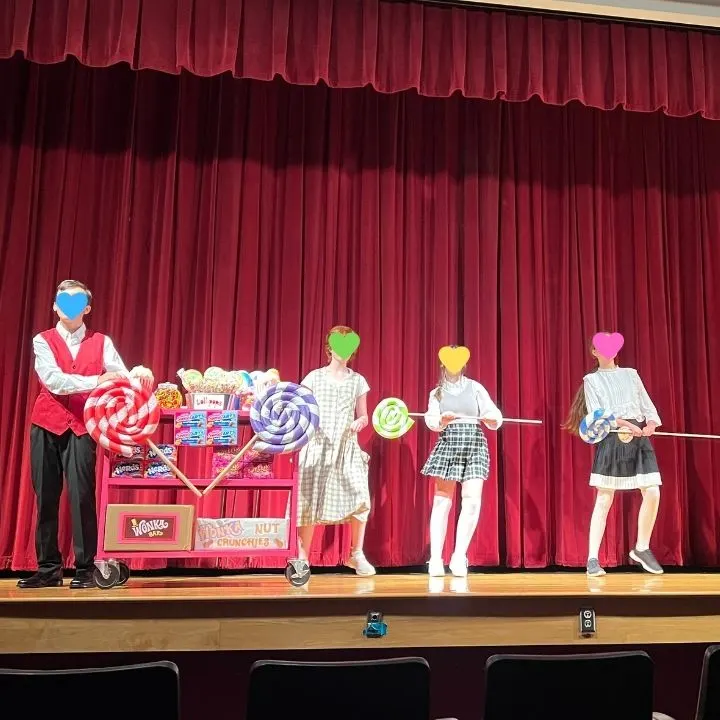 After studying a bunch of pictures and watching a few short videos, we started trying to make the lollipops. It took some more ingenuity and elbow grease than what we were lead to believe on any of the tutorials we saw.
After a lot of trial and error, we came up with a good system for making them that included one key tool that we didn't see used anywhere else. We even got it so streamlined that we had students help us make a bunch of them.
And lucky for you, I'm sharing that process today so you don't have to figure it out for yourself!
Pool Noodle Lollipops: What You'll Need
The beauty of this project is that it doesn't take a lot of hard to find items to make it happen. We found everything we needed either at our local Dollar Tree, on Amazon, or already laying around the house.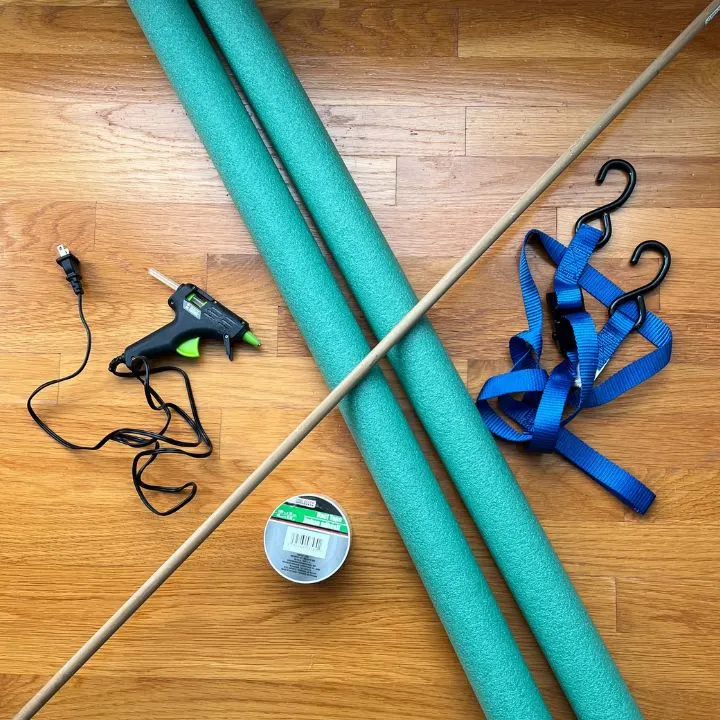 Here's what you should gather up to make one giant pool noodle lollipop:
Pool noodles can sometimes be hard to find when it's not summertime. My local dollar store carries them for a large portion of the year, but if you're making these in October, November or December, you might have a harder time finding them.
I was able to find pool noodles on Amazon.com year round to create my lollipops. Unfortunately they'll likely be more expensive there when they're out of season.
You'll need two pool noodles for every lollipop you want to make.
You could use one, but it makes a much smaller lollipop, and I found that they really looked more aesthetically pleasing when they were larger.
For the colored duct tape, I have also been able to find this at my local dollar store, but you can always find duct tape on Amazon.com.
There are a ton of different colors of duct tape available out there, but I really like using a white duct tape for candy stripes on this project and a tape to match the pool noodles for connecting them. The students loved mixing up the colors.
For the stick portion of your pool noodle lollipop, there are several options available to you. I like using wooden dowels, but you could also use a broom handle, or just about anything long, straight, and sturdy enough to hold up your pool noodle.
For this project, you're really going to want to use a low temperature glue gun. Using a high temp glue gun can melt the pool noodles if you're not careful, leaving you with big holes in them.
I love using a cordless dual temperature glue gun. It's so versatile for all sorts or projects!
While you can use any glue sticks you like, I HIGHLY recommend using Gorilla Brand Hot Glue Sticks! I've found that Gorilla brand sticks are far superior to the cheap brands and hold MUCH better for difficult projects.
I'm sure you're wondering why this project needs ratchet straps, but I can assure you, these are KEY to making pool noodle lollipops quickly and efficiently.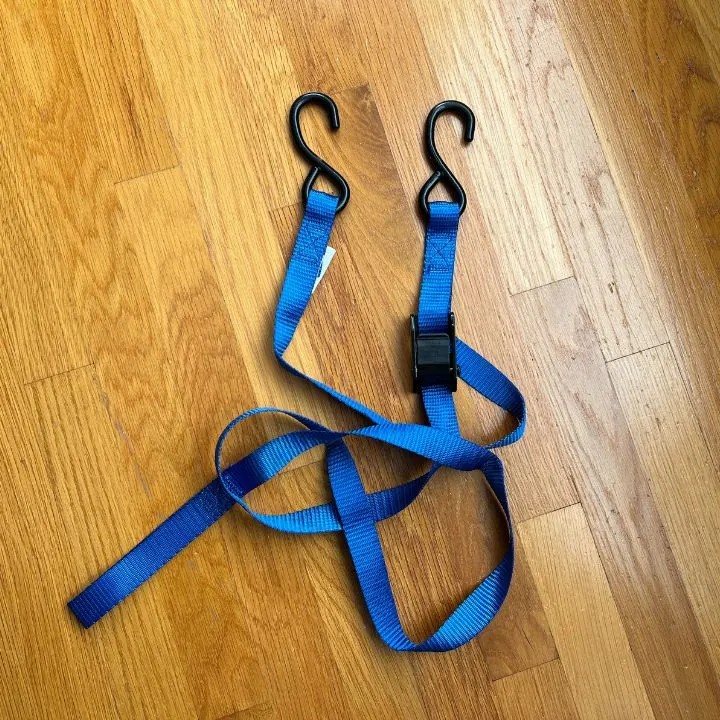 You might be wondering what is a ratchet strap? Sometimes called tie down straps, ratchet straps are commonly used for tying items down in the back of a vehicle. They have a wenching system that allows users to make sure the straps are tied securely to whatever they're attached to. Home depot has a great tutorial on their site on how to use ratchet straps.
Why would you possibly need them for this craft? I'll explain it later in the instructions.
And finally, if you want a really finished look for your pool noodle lollipops, using cellophane wrap to finish them is a nice touch.
Assembling Your Pool Noodle Lollipops
Once you've gathered all your supplies, it's time to start making your pool noodle lollipops!
The most important part of making Pool Noodle Lollipops is getting the right look for "candy" piece. You'll want to take care in these first few steps.
Please keep in mind that hot glue guns can cause burns if not used properly. I DO NOT recommend letting children handle hot glue, no matter what temperature.
Step 1: Connect Your Pool Noodles
The first thing you'll want to do is connect your two pool noodle, end to end.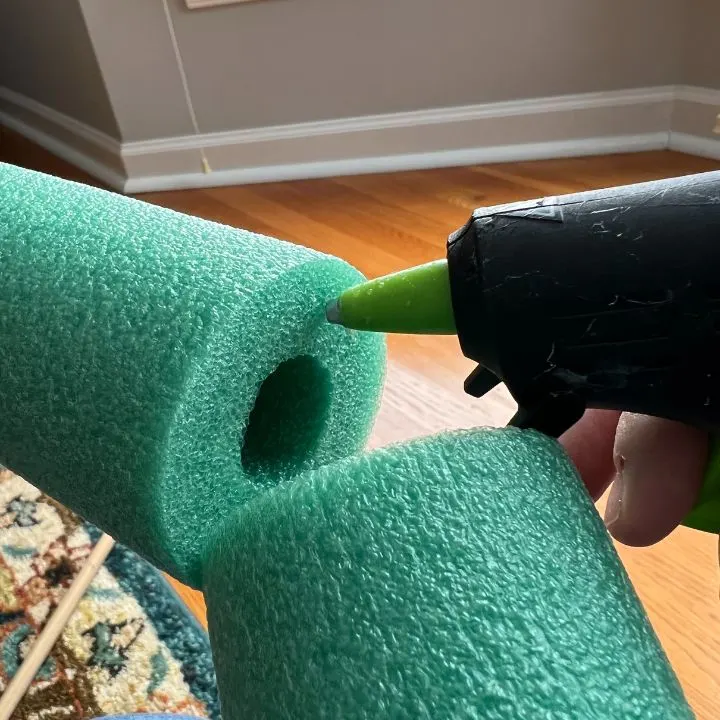 Place a good amount of hot glue on one end of a pool noodle, and connect the second pool noodle here. Firmly hold the two noodles together for a few minutes until the glue is set.
Then reinforce this connection by wrapping the connection point with a piece of duct tape that matches the color of the pool noodle.
Step 2: Putting The Stripes On
Next you'll want to add the stripes to your pool noodle candy.
Start at one end of two connected pool noodles, and wrap duct tape around the noodle at an angle, leaving a space about the same width as your duct tape between the stripes.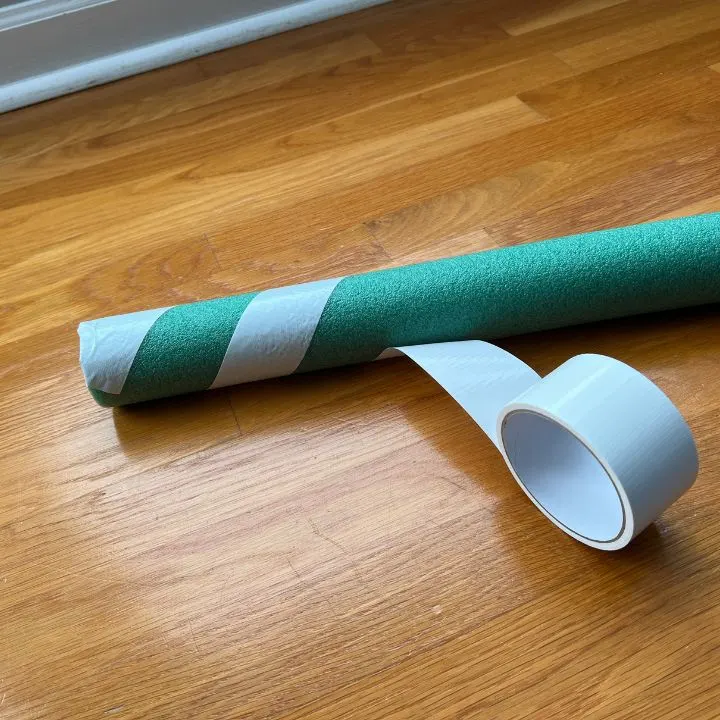 Take your time with this step to get the spacing right. It will make your finished project look so much better if you do.
Step 3: Rolling Your Pool Noodle Lollipop
The instructions that come next are the hardest part of making pool noodle lollipops. Rolling the pool noodles up and getting them to hold is the most difficult part.
The pool noodles have the tendency to want to pop back out into a straight line, and holding them in a spiral shape can be very difficult.
Having a second person available to help you during this step makes a big difference. This is also where those ratchet straps come in SUPER handy.
Starting at one end of your two connected pool noodles, tightly roll the pool noodle into a spiral.
While holding the spiral shape tightly, wrap the ratchet strap around the pool noodle and tighten it until the shape is held securely.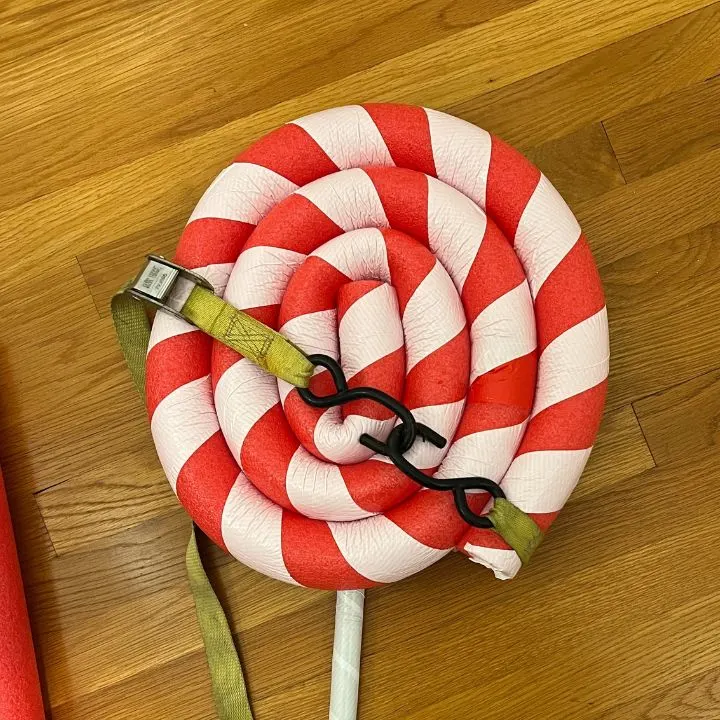 If you do not have a ratchet strap, you could use something else to tie the shape together or you could simply have someone else hold it in place. But be warned, holding it in place by hand can be tricky!
I've found that ratchet straps are the best possible thing to use for this purpose, since they simply hook together and can be tightened without having to remove them from the spiral.
Once your shape is created, use the hot glue gun to secure the spiral by squeezing glue down into the spaces between the layers.
Do not be afraid to use PLENTY of glue.
You only need to apply the glue to one side of the pool noodle lollipops, leaving the other side clean and beautiful.
You'll want to leave the ratchet strap on the spiral until the hot glue is completely set.
Step 4: Attaching The Lollipop Stick
Once your glue is thoroughly dry, you need to gently remove the ratchet strap. Be sure to add extra glue to anywhere that doesn't seem securely adhered. Sometimes my ends would be popping out in odd ways.
Now you'll need to attach your lollipop stick. I used half inch dowel rods I found at my local hardware store for most of mine, but a few times I was able to find broom handles at my local dollar store that worked well.
You can paint them white if you'd like. I really liked the raw wood look for mine.
To attach the stick, you need to first decide where you want to insert it. I found that it looked best if the stick was placed right next to where the end of your spiral was attached. This gave a more balanced look to the final product.
Cut a small hole into the pool noodle spiral at the desired point you want your stick placed. Put some hot glue into the hole and then place your stick in the hole and hold it tightly until the glue sets.
Step 5: Optional Finishing Touches
You can leave your pool noodle lollipops just like this or you can add some finishing touches to them.
To really make them look authentic, we added a cellophane wrapper to each one by just cutting the cellophane to size and then securing the bottom with a small amount of ribbon or a zip tie.
The Finished Pool Noodle Lollipops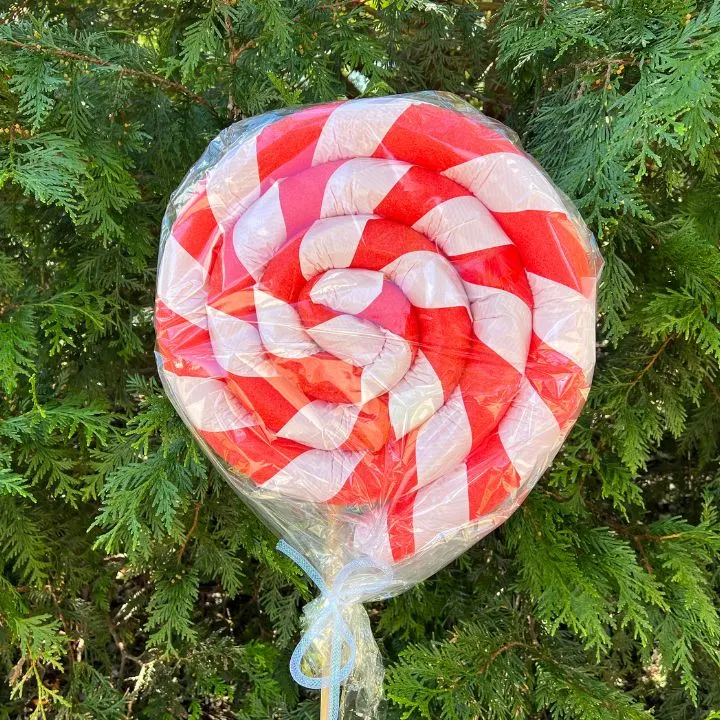 I just love how these pool noodle lollipops turned out! They really are so easy to make, and just take a little time and patience.
My kids loved playing with the color combos of the lollipops, but I'm partial to the classic red and white. They really are the perfect Christmas decoration!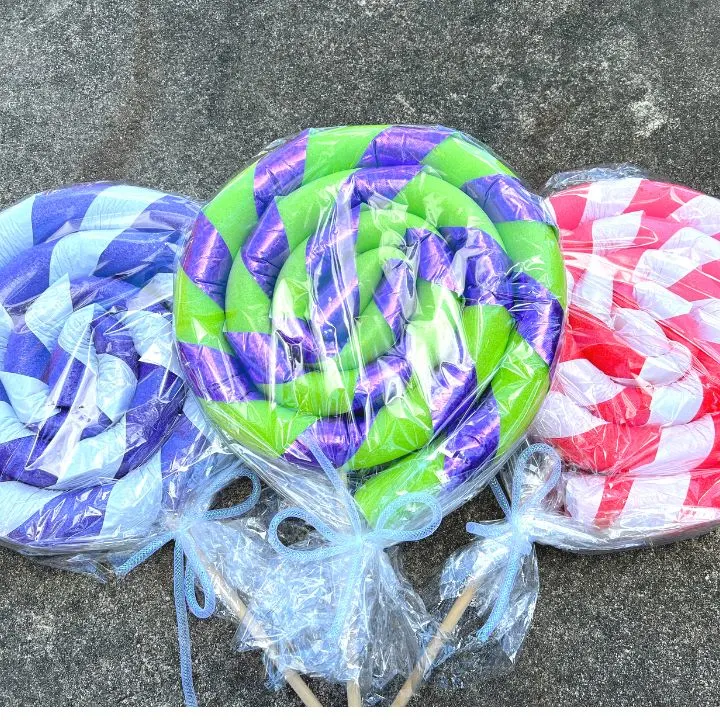 And how cute were they as props for Willy Wonka Jr?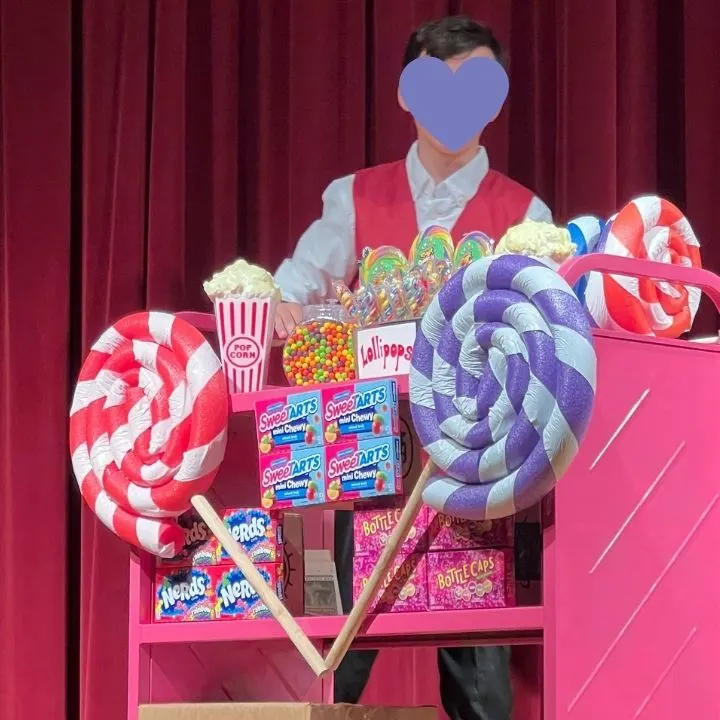 Have you made pool noodle lollipops or anything else out of pool noodles? I'd love to hear about them in the comments!
Check out my other cool holiday projects like Flying Wish Paper or Origami Stars!
Yield: 1 lollipop
Pool Noodle Lollipops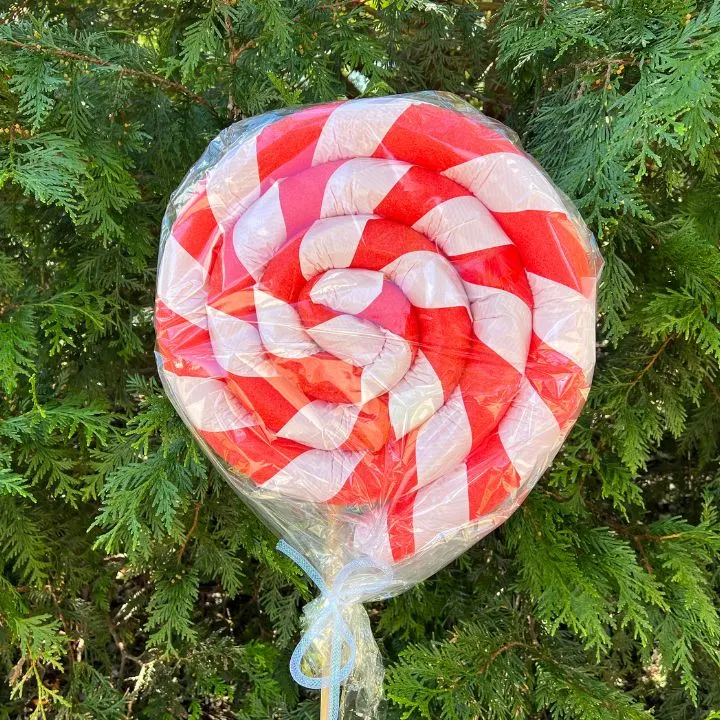 Make these adorable pool noodle lollipop decorations in just a few easy steps!
Materials
Two pool noodles
A roll of colored duct tape
A tall stick
Glue sticks
Cellophane Wrap (optional)
Tools
A glue gun
Scissors
A ratchet strap
Instructions
Connect your two pool noodles by glueing the ends together and reinforcing the bond with duct tape.
Wrap the pool noodle with duct tape to create stripes.
Roll your pool noodle into a spiral and use a ratchet strap to hold it together. Then apply glue to the crevices between the layers of pool noodle. Let glue dry thoroughly.
Cut a hole in the pool noodle for the stick and glue the stick in place. Let glue dry thoroughly.
Use as is or wrap with cellophane to give it a finished look.
Notes
DO NOT let children handle a hot glue gun. Glue guns can cause severe burns if not handled carefully.
Pool Noodle Lollipops