Always a fan favorite, here's our Ohana Restaurant Review!
Ohana is definitely one of my favorite restaurants at Walt Disney World, and I'm super excited to finally write up my full review!
Easily one of the most sought after reservations on Disney Resort property, Ohana is a restaurant that has something for everyone. Located in the Polynesian Resort, Ohana offers island-inspired cuisine in relaxing and unique atmosphere.
**Note: Ohana is currently closed as part of the renovation of the Polynesian Resort, which is expected to reopen in July of 2021. We'll update this post as soon as we know when Ohana will reopen.
Ohana Restaurant: How To Get In
Reservations for Ohana restaurant can be hard to come by, since it is such a popular restaurant on Disney Property. If you aren't able to snag a reservation when you initially try to book one, never fear. There are some ways to get hard to find Disney Dining reservations even if they seemed all booked up!
At breakfast time, Ohana hosts a character meal, featuring Lilo, Stitch and other Disney Characters. Our family prefers dinner at the restaurant, so this review is exclusively covering dinner.
If you're lucky enough to score a table at Ohana restaurant, be sure to arrive a few minutes before your reservation time to allow for check in. The check in desk is located on the second floor of the Great Ceremonial House, the main building of the Polynesian Resort.
Upon check in, you'll be given a pager and asked to wait in the adjoining sitting area. It's a really comfortable place to wait for your table, but I've found that I rarely have to wait more than a couple of minutes to be called back to be seated. Here's what that area looks like:
Ohana: The Food
Ohana serves a pre-determined menu that, at the time I'm writing this, includes bread, salad, appetizers, three meats, and dessert. They do not offer a children's menu. All guests are served the same items, family style.
They will accommodate guests who have allergies, but it's best to make sure the menu will work for your family before arriving. If you do need accommodations made for someone who has allergies, have them make a note when you make your reservation and alert your server as soon as possible when you arrive.
On the way to your table, your host will gather a plate of pineapple-coconut bread for you to enjoy while you wait for your server. It's lightly sweet and really delicious, but don't fill up on it, because you'll want to save room for the TONS of other food that will be offered to you.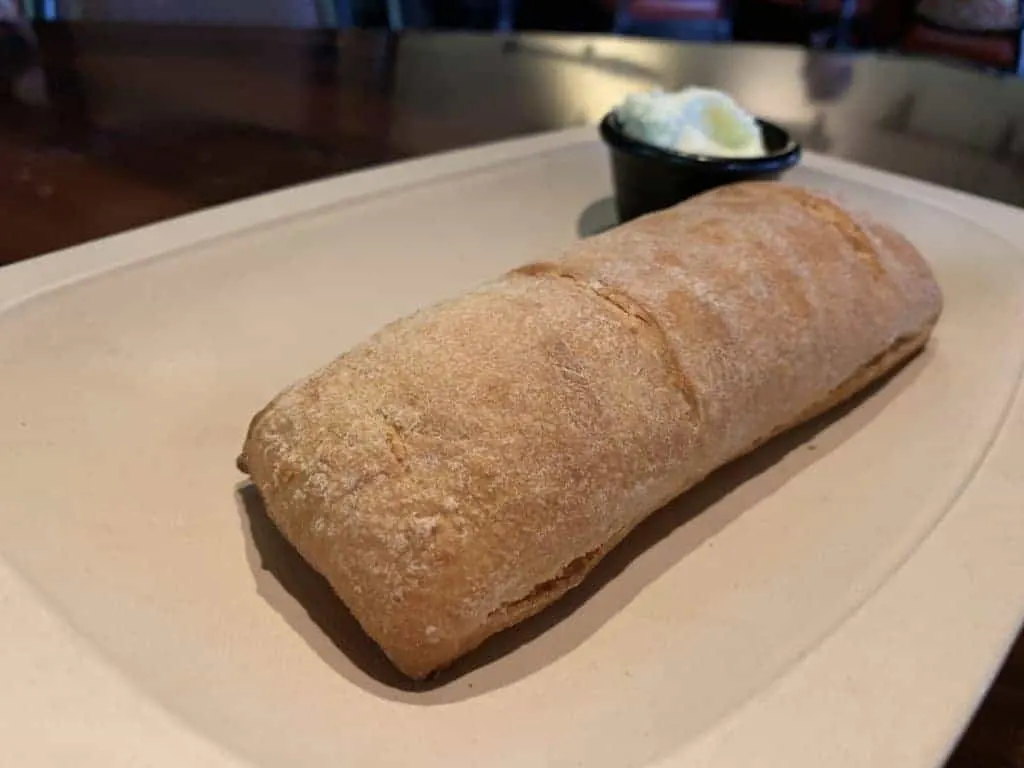 Shortly after being seated, your server will come and take your drink order. Soft drinks, iced tea, and water are included in the prefix menu price, but alcoholic beverages and other specialty drinks are an additional charge.
The alcoholic drinks at Ohana restaurant are exactly what you'd expect: fruity, tropical and refreshing. If you like that sort of thing, this is definitely the place to splurge on one!
Shortly after you receive your drinks, someone will bring a bowl of Mixed Greens Salad with Lilikoi Dressing for your table to share. We found the salad to be nice, but nothing much to write home about.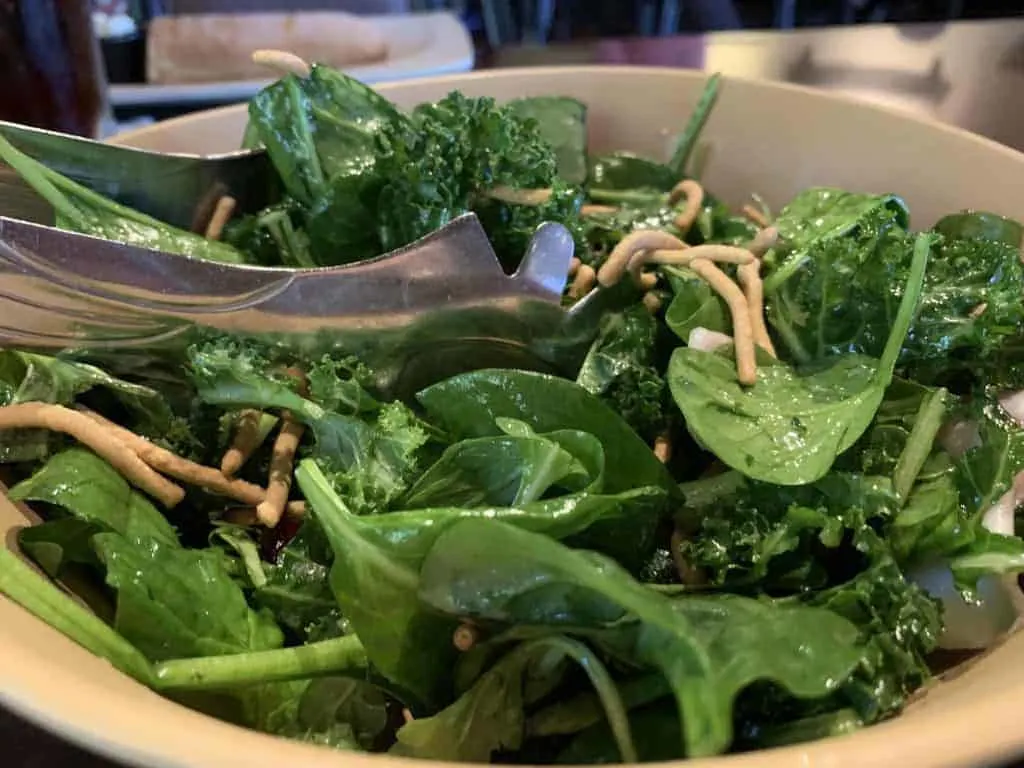 After the salad course, your table will be brought a platter of pork dumplings tossed in garlic-ginger sauce, honey-coriander chicken wings, Asian noodles, and lightly stir fried vegetables. All of this is served with sides of peanut sauce and sweet and sour sauce.
This course is my absolute favorite. The pork dumplings are AMAZING and go perfectly with the peanut sauce. The noodles taste fantastic with the sweet and sour sauce. Those chicken wings are perfect all by themselves.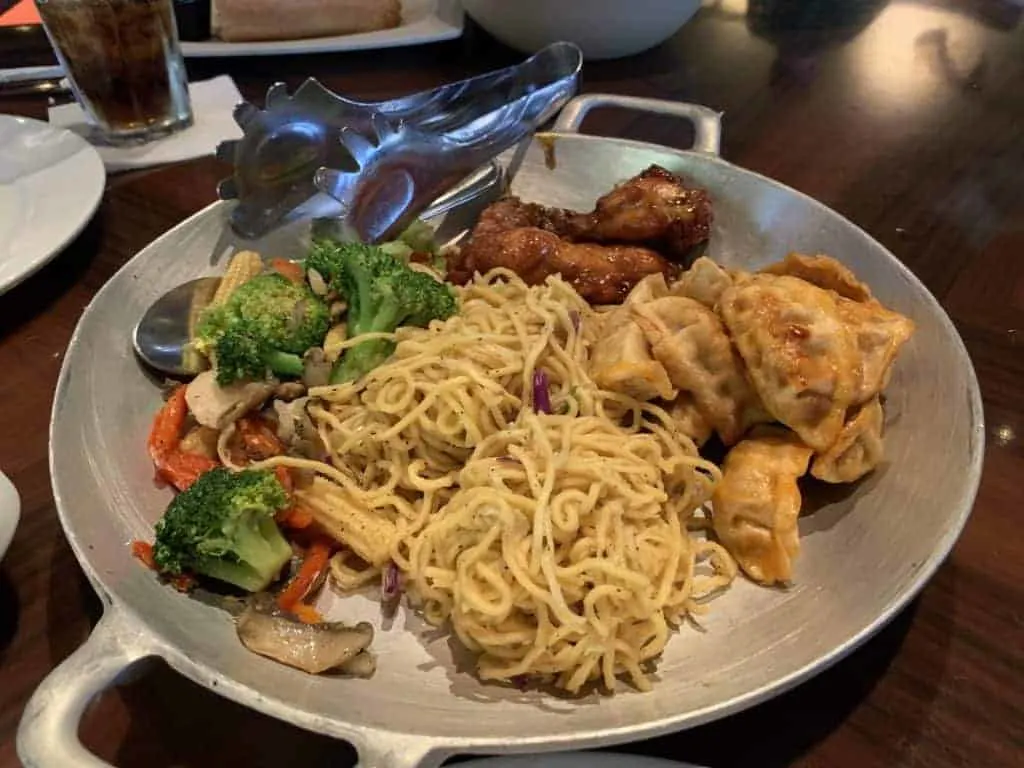 If my family is going to ask for seconds of anything, it would probably be these appetizers. They are just that good.
As you enjoy your the appetizer course, a waiter will likely come by your table with a gigantic skewer of meat. Ohana offers steak, chicken and shrimp that is prepared on a huge grill that is the centerpiece of the restaurant. Servers retrieve stick after stick, and will bring you as much as you want.
The steak is my favorite. You can get it basically any temperature you like, you just need to ask your server. They know what pieces on the skewer will be cooked the way you want them.
The chicken is cooked just right, still juicy and is perfect with that amazing peanut sauce. We aren't shellfish people, but I've heard the shrimp is amazing, too.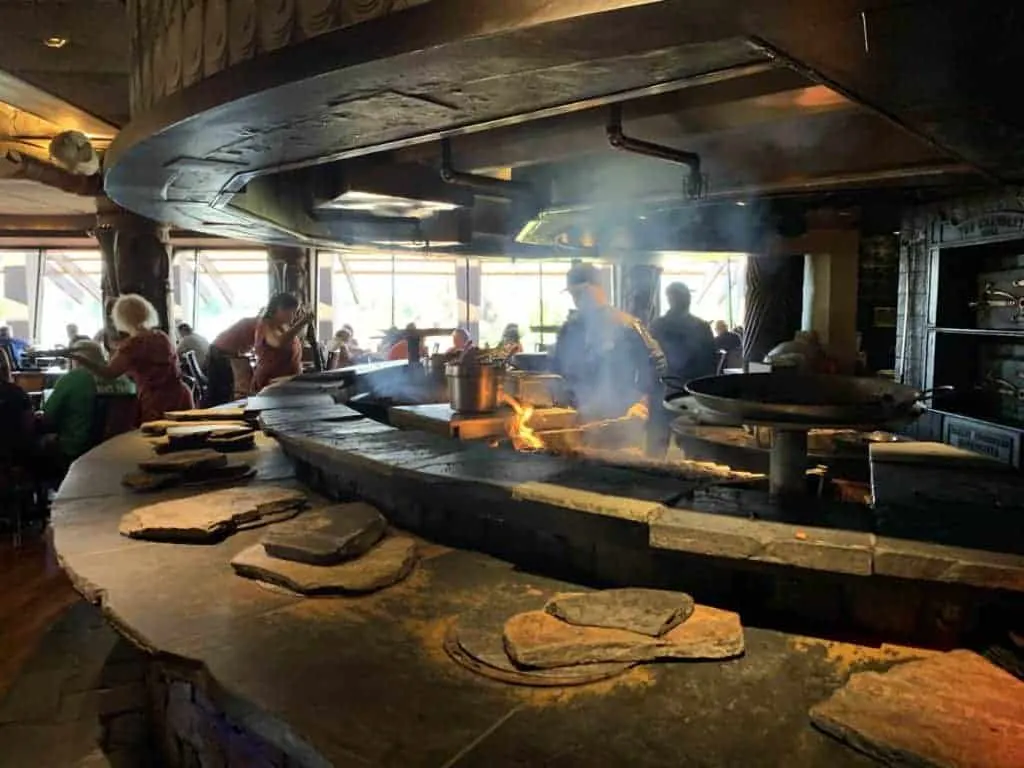 Sometimes, they tend to rush you a bit when it's time to bring out the meat course. Some servers come and start plating the chicken or the steak before asking you if you're ready for it. If you're not ready, simply ask them to slow down a bit, and let them know you're still enjoying the appetizer course.
Sometime during the meal, a musician will wander around the restaurant playing ukulele. Kids are invited up to participate in fun games and activities, including coconut races, as seen here:
One of the best bonus features about this restaurant is that if you book your reservation at just the right time, you can see the fireworks from the Magic Kingdom. They pipe the music in from the show, and if you request a table on the Magic Kingdom side of the restaurant, you can have a great view.
These tables aren't always available, so don't count on this being your only opportunity to view the fireworks. But if you luck out and get one of them, it's a really special experience.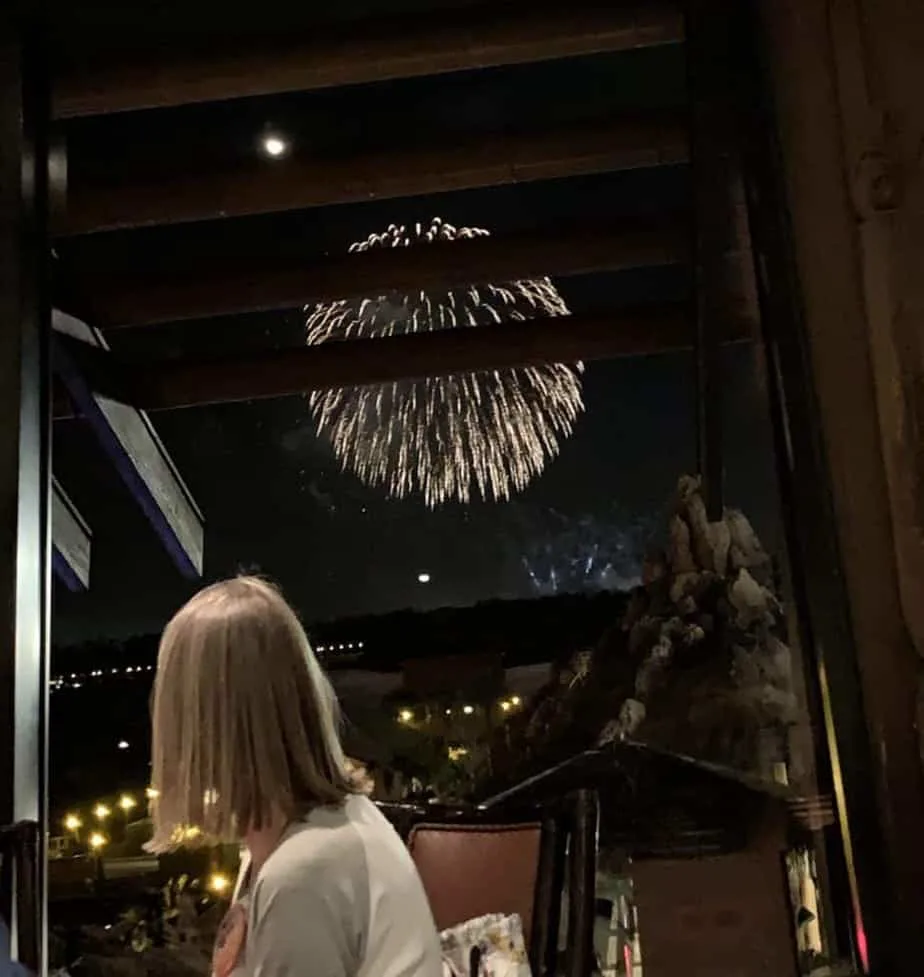 The dessert at Ohana is amazing. It's bread pudding is topped with vanilla ice cream and a delicious caramel sauce. Here's a video of our awesome server, Najib, pouring the warm caramel sauce over our ice cream.
If bread pudding isn't your thing, our server also brought out some rice krispy treats. They were surprisingly good! They are definitely homemade and had some adorable Mickey Mouse shaped sprinkles on top. Kids LOVE these, but I think adults can appreciate them too.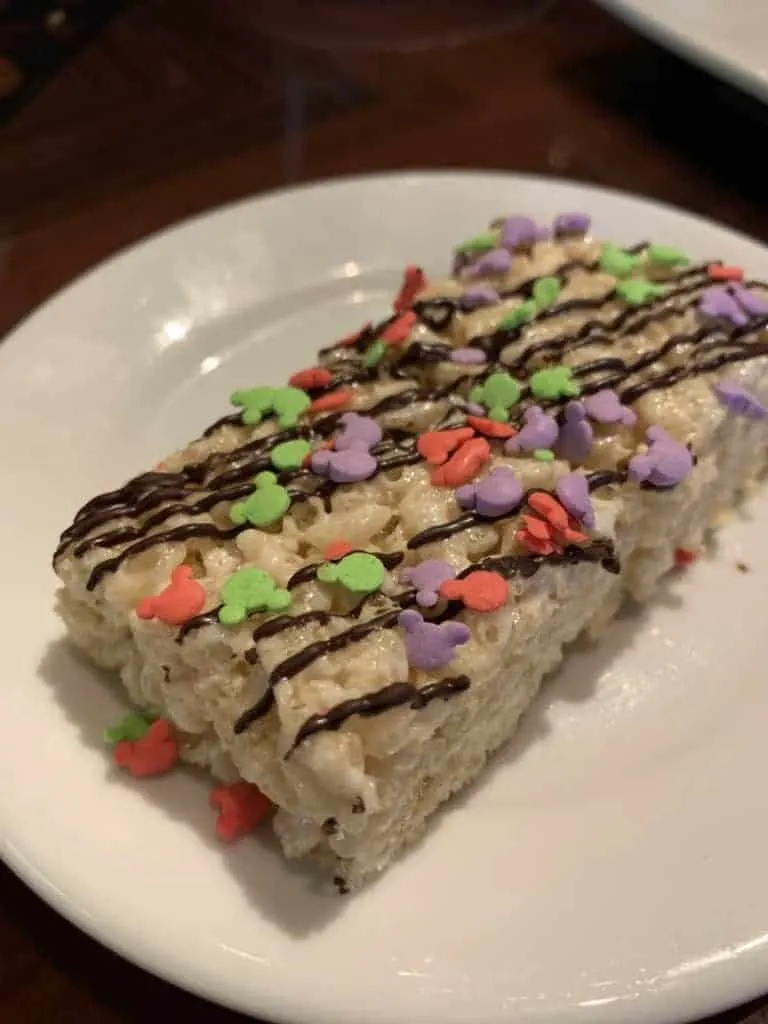 The Cost
Ohana restaurant isn't a cheap dinner, at the time I'm writing this article an adult dinner at Ohana was $52 and a child dinner was $26. But if you're on the Disney Dining Plan, the meal is only one sit down service credit!! It is one of the best deals available the Disney Dining Plan, and I highly recommend using your credits for this special meal.
Ohana is definitely worth your time and your money for a very special experience during your visit to Walt Disney World.
Looking for other dining options with a fireworks view in Walt Disney World? Check out my review of California Grill here!
Our family will NEVER eat a table service breakfast at Disney World again! Wanna know why? Find out HERE!
Ohana Restaurant at Disney's Polynesian Resort