Disney VIP Tours are one of the most amazing and most expensive ways to see Walt Disney World.
Have you ever wished there was a way to get to the front of every line at Disney World?
Of course you have! It's the dream of every Disney lover out there!
I'm excited to tell you that THERE IS A WAY! It's called a Disney VIP Tour!
But fair warning: it'll cost you. But it's worth every single penny.
What are Disney VIP Tours?
During a family trip to Disney world, we decided to splurge on a Disney VIP tour.
I'd read quite a bit about tours at Disney World – there are several outside groups that offer Disney tours, and there are also several different tours offered by Disney itself.
The outside Disney groups that offer tours are less expensive, and I know there are many people who love them – but for me, it felt wrong to use a group that wasn't 100% affiliated with Disney World. Because of this, we only looked at tours directly offered by Walt Disney World.
There are several types of tours offered by Disney World that range in price and what they include. Many of these tours have been suspended, due to the pandemic, but the VIP Tours have resumed.
According to the Walt Disney World website, on a Disney VIP Tour you can:
Customize the perfect itinerary for your group with enough time to explore the attractions and sights.
Enjoy some of your favorite attractions efficiently.
Learn from our Disney VIP Tour Guides who have been hand-picked and expertly trained to plan the perfect itinerary for you and your family.
But this doesn't adequately describe what happens on a Disney VIP tour.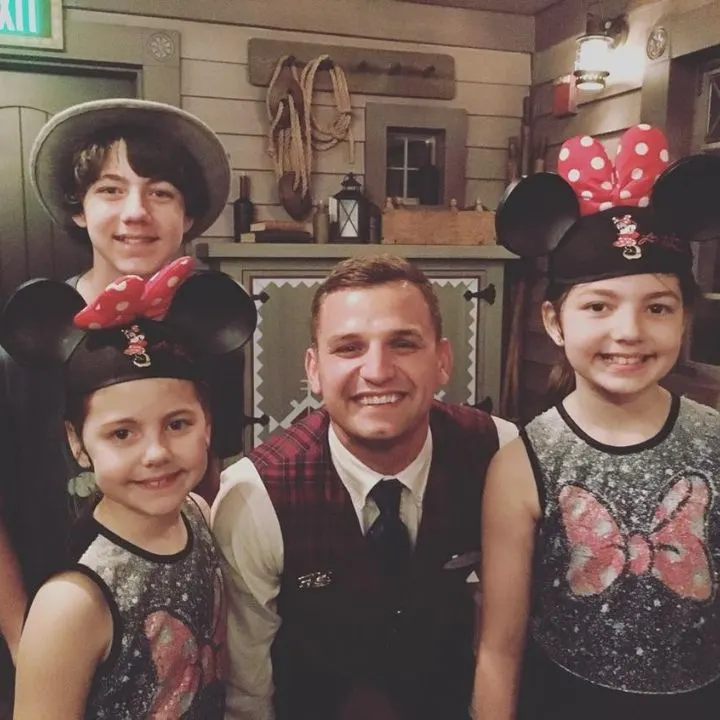 During a Disney VIP Tour experience, you can ride whatever your heart desires for the length of your tour.
A Walt Disney World Expert guides you through your day, providing VIP transportation from your Lake Buena Vista area hotel directly to the parks.
Disney VIP Tour guests get to "skip the line" and hop onto any attraction they want (except for the Rise of the Resistance, which you must get a boarding group to experience).
Just an FYI: We were not paid for this review and did not receive these services for free from Disney in exchange for this review. I simply want to share this experience with you all, as there seem to be very few reviews out there for the Disney Private VIP Tour.
It deserves to be reviewed, as this was by far the most AMAZING thing we've ever done at Disney World.
Disney VIP Tour Basics
Here are the important details about Disney VIP Tours:
Tour Length: Minimum of 7 consecutive hours.
Tour Cost: $425-$625 per hour, depending on season. You must have park tickets, which are not included in this price. If you'd like to visit multiple parks with your guide, you must have park hoppers. Disney Park Pass Reservations are also required for VIP tour guests.
Number of People Allowed: Each tour accommodates up to 10 guests per 1 tour guide. Every person is counted as a guest, including infants and children under 3.
Tour Includes:
Flexible start time, chosen by you
Access to "skip the lines" for every ride in every park except Rise of the Resistance
Private transportation between parks. Pick up and drop off from your Disney Resort Hotel is possible as well.
VIP viewing areas for parades, select stage shows, and nighttime spectaculars (when available)
The Rules:
Parades, stage shows, and nighttime spectaculars are almost non-existent right now at Disney World due to social distancing requirements. Because of this access to these things are subject to availability and may be restricted by capacity constraints.
You must provide more than 48 hours notice to cancel a Disney VIP Tour. If you cancel within that 48-hour window, you will be charged a cancellation fee equal to two hours at the booked rate of the tour.
You may not video or photograph anything in the backstage areas.
Guests under 18 years old must be accompanied by a paying adult to participate in any tour.
Prices can change at any time without notice.
Masks are currently required at all Disney properties, and are required while on VIP tours as well.
Guests still have to meet Disney height requirement for rides.
Booking:
Disney VIP Tours cannot be booked online. You must call to book a VIP tour. The number is: 407-560-4033
Our Private VIP Tour Experience
Our VIP tour took place prior to 2020, so covid restrictions were not in place.
We chose to start our Disney VIP tour at 1pm on the second to last day of our Disney trip, and meet our tour guide in the Magic Kingdom. He was a couple of minutes late, but immediately introduced himself to us as Matthew and he seemed energetic and ready to go!
Prior to our trip, we'd sent over a very loose itinerary of what we hoped to accomplish beforehand, so he had an idea of what we'd like to do.
We wanted to start with Mine Train, so we went directly to the Fastpass line. Matthew said hello to the cast member working the line and showed him that we were with him, and we were immediately let into the Fastpass line. As we waited the 5 minutes or so to board, Matthew talked to us about our plans.
He knew we wanted to visit Magic Kingdom, Hollywood Studios, and Epcot, but he noticed we didn't have Animal Kingdom included. He asked why, and we explained that we have a child with a severe peanut allergy and avoid AK due to the fact that some of the animals are fed peanuts and there could be residue along rails/etc in the Safari area of the park.
He suggested that we go there to ride Flight of Passage, and assured us that we could enter and exit the park through a back entrance that would avoid any contact with the Safari area. We were really excited about this, as we'd not expected to get to ride Flight of Passage.
We rode Mine Train together – we are a family of five, and Matthew rode with us. On this first ride he rode with my husband, but as our kids got to know Matthew a bit they quickly started asking if they could be the one to ride with him.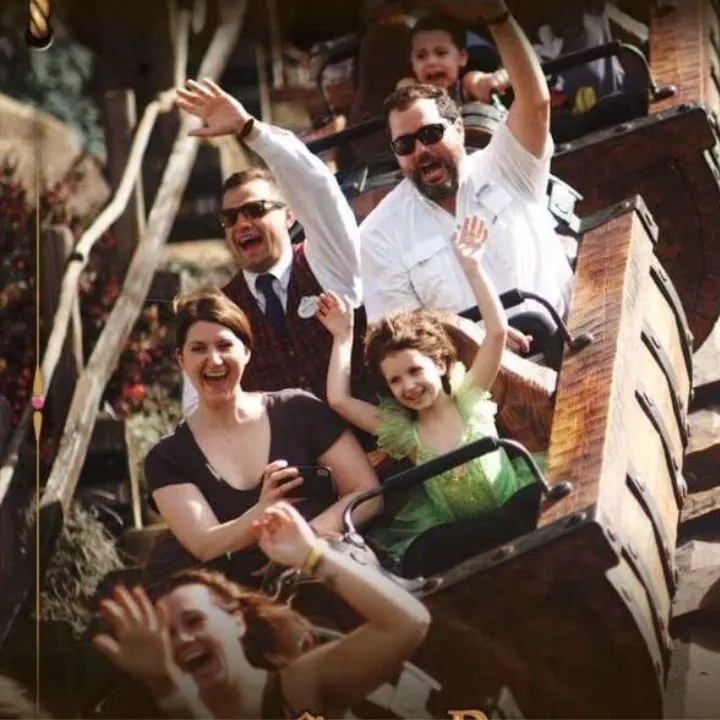 He was incredibly friendly and kind to the kids, and we all felt comfortable with him in short order. After riding Mine Train once, we got right back in the Fastpass line to ride again – this time, Matthew rode with our youngest.
Within the next hour, we rode Thunder Mountain twice, and Space Mountain twice. My youngest isn't a Space Mountain fan, so she and I rode the Tomorrowland Speedway while the others were riding Space Mountain.
My older two were thrilled to get to ride both tracks of Space Mountain. Before our tour, I didn't even know that there were two tracks that are slightly different for this ride! One has bigger hills, while the other is faster. This was just one of the many neat little Disney facts we learned while on our private tour with Matthew.
When we'd ridden everything we wanted to at Magic Kingdom, Matthew took us through a back exit in Tomorrow Land and we all piled into a very nice, very new SUV.
There was another Disney cast member waiting by the car who knew us by name and asked if we'd like a cold bottle of water – which we all did.
It was a very nice touch, and we were excited to head to Animal Kingdom next. We drove around the back of the Safari area, and Matthew shared lots of interesting information about the park while we were in the car.
We pulled up to a back entrance for The World of Pandora, parked, and stepped through the back door of a gift shop – which spit us out right at the Fastpass line for Flight of Passage.
We were all completely blown away by this ride, and immediately asked Matthew to take us on it again. Right back through the Fastpass line we went – and we were able to ride twice within about 30 minutes. It was AMAZING – one of the best moments of our entire trip.
We also rode Nav'i River Journey and Dinosaur before heading back to the car and back into "our" SUV. This time, our destination was Hollywood Studios.
We parked behind Tower of Terror, and headed straight for Rockin' Roller Coaster. This was my middle daughter's first time on this ride, and she absolutely LOVED it.
Next up was Star Tours – and Matthew actually took our kids on this one without us, while my husband and I stopped and enjoyed a beverage at Baseline Taphouse.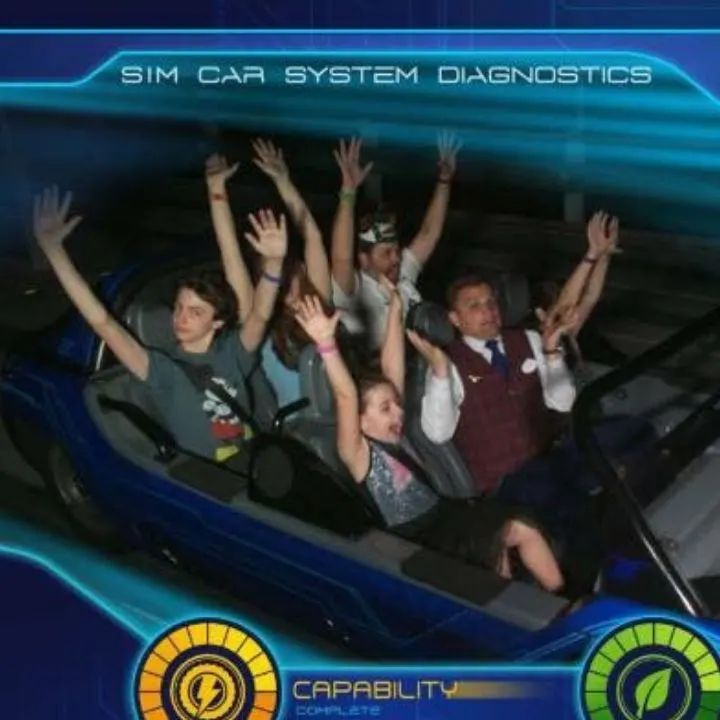 Toy Story Mania was up next, and Matthew shared some awesome tips on what to aim for and how to score the most possible points on this ride. My husband and son are in a constant competition to "win" on this one, so it was really neat to get those insider tips.
We headed back towards our SUV, but decided to hop on Rockin' Roller Coaster one more time before heading to Epcot.
Back in the SUV we went, and we made the short drive to Epcot. After parking behind Japan, Matthew led us to Test Track, which we rode twice, and then we headed for Frozen Ever After.
At this point, it was closing in on the end of our 7 hour tour, and we had Matthew drive us back to our cabin at Fort Wilderness.
All in all, during our 7 hour VIP tour, we rode 18 rides and went to all 4 parks. We never waited more than 15 minutes for anything – and for most rides, we waited less than 10.
Matthew was absolutely wonderful, and we all enjoyed our time with him – my daughters thought he was the best thing ever. It was ABSOLUTELY an experience that I would recommend!
My personal tips for Disney Private VIP Tours
Once we experience our Disney VIP Tour, we figured out a few things that other people might find helpful to know in advance.
Book with another family and cut the cost in half
We could have had an additional 5 people on our tour with us for no additional fee. Next time, we'll try to plan our vacation with family friends, book this tour, and split the cost between us. This is a great way to get this amazing experience for a little less!
Be prepared to tip in cash.
While the payment for the tour can be paid using a card (and must be paid in full one day prior), tips need to be given in cash. It's customary to tip your guide for outstanding service – we chose to tip 1 hours worth of pay, which is fairly standard.
Be sure to keep an eye on the clock.
While our guide was wonderful at making sure we got to every single attraction we wanted to ride, we did not make it clear that we wanted our tour to be exactly 7 hours, which is the minimum. Including the ride back to our cabin, our tour went over by 15 minutes, and we were charged for this additional time.
After the initial 7 hour minimum, guests are charged for each additional 15 minute increment. This charge came through after we arrived home, and I called Disney about it – they explained the charge, and were very kind to remove it since we were unaware that we would be charged for the ride time back to our cabin.
If we ever do this tour again (which would be a dream come true), I'll do a better job of explaining that we wish to keep the tour right at 7 hours.
Keep in mind that you do not go to the very front of the Fastpass line with your tour guide – you simply have unlimited access to Fastpass lines.
We did have to wait in the Fastpass line, just like everyone else who had a Fastpass. The difference was that we could do it for every single ride during our time with Matthew. Since Fastpass lines are only currently available to those with a Disability Service Pass, I'd imagine these lines are actually shorter now.
Allow for at least a little bit of time to eat!
We were so focused on riding, we didn't think to stop and eat. We didn't have a table service meal scheduled for our tour day, but we'd planned to stop for a quick service meal at some point during our tour.
That didn't happen – we were having too much fun to think about food! I didn't even realize it until we stopped for a bathroom break at Hollywood Studios, and Matthew disappeared for a minute … to grab himself a pretzel.
I felt bad when I realized we'd been going so fast we didn't give our guide time to grab food! We did learn, though, that the cream cheese filled pretzels at Hollywood Studios are one of the best snacks on property!
Bottom line – The Disney VIP Private Tour far exceeded our expectations.
I won't lie – it's incredibly expensive. I was worried that we wouldn't think it was worth the expense…. but it was worth EVERY SINGLE PENNY.
Would we do it again? Absolutely.
Will book a Disney VIP Tour every trip? No.
This is definitely a bucket list/splurge experience that won't be a part of every vacation we take to Walt Disney World. But if you're looking for the ultimate way to make your Walt Disney World experience incredible, a Disney VIP Tour is the way to go!
Have you ever booked a Disney VIP tour? What were your thoughts? Share with us in the comments!
This post was written in collaboration with Bethany Edwards.
Disney VIP Tours: The Ultimate Disney Splurge