I love Disney Dining!!
We never travel to Walt Disney World without staying on property and just so we can have access to the Disney Dining Plan. What I DON'T love is the crazy scramble to try to snag reservations a the best restaurants. It's all too common to find yourself getting up early (or staying up late) to try to snag a table at Be Our Guest or Cinderella's Royal Table, only to find them completely booked out with not a table in sight.
But never fear, I've discovered a fantastic service that can help you find a table, even if you're trip is less than 180 days away! Touringplans.com has a fantastic reservation finder for it's members that has helped me score hard to find tables at Walt Disney World multiple times.
Touringplans.com is one of the most trusted sites on the internet for all things Disney Parks. They have been putting together The Unofficial Guild to Walt Disney World for years, and are complete and total experts. I highly recommend their touring guides, that have all sorts of information about the parks. You can purchase on Amazon here:
Unofficial Guide to Walt Disney World 2019 (The Unofficial Guides)
Their website just as informative and is DEFINITELY worth the $14.95 per year for all the information they provide. With a Touringplans.com membership you'll get access to:
the most accurate Disney World crowd calendars on the internet
customized touring plans for every single park
honest restaurant reviews
money saving ticket tips
the inside scoop on how to get the best resort rooms
the LINES App, which can help you navigate those custom touring plans
and the awesome RESERVATION FINDER!!!
(PRO TIP: If you buy the book, it includes a coupon code for a discount on the website membership!)
Needless to say, you've probably realized by now that I'm a fan! You'll probably be surprised to learn that I have been in NO WAY compensated by Touringplans.com to recommend them to you. I'm just a loyal users who appreciates what they offer.
How To Snag A Disney Dining Table Using the Reservation Finder
Back to that reservation finder. Once you've purchased your membership, simply log onto your account and go to your dashboard. Scroll to the bottom of the center info, and you'll find the link to the reservation finder. Once on the reservation finder page, simply fill in all the required fields and hit the save icon!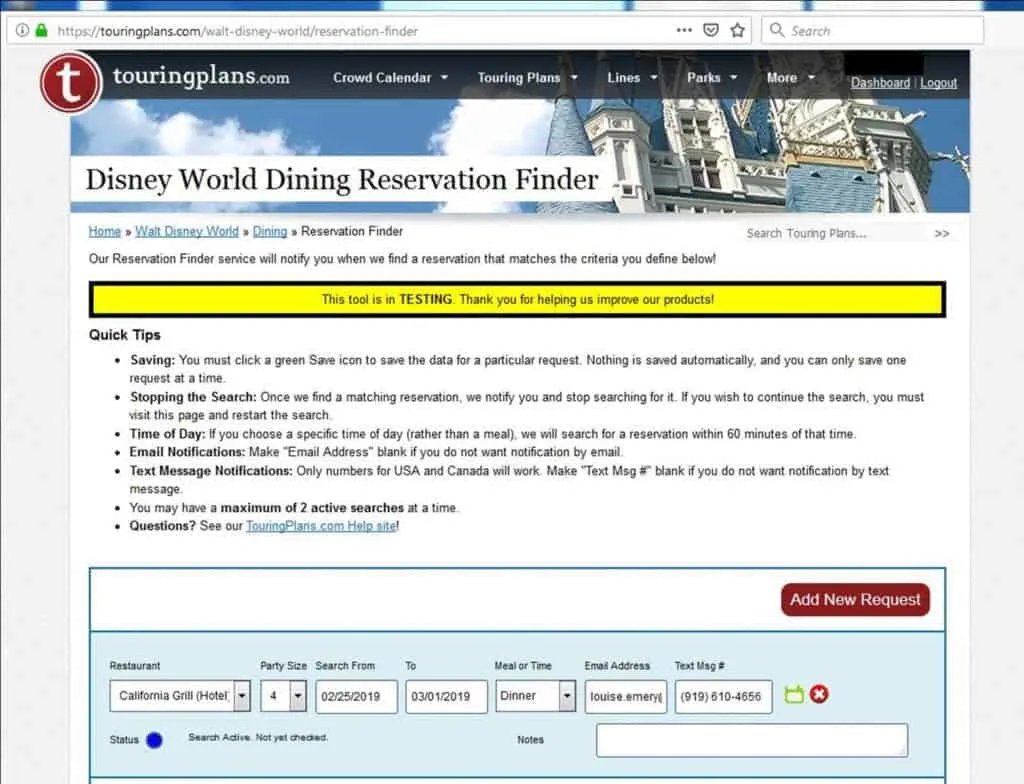 When a reservation becomes available, you'll receive an email and/or a text message containing a direct link to book the Disney Dining reservation. You'll have to sign into your My Disney Experience account, but it takes you right to it.
There is a trick to it, though! You MUST act fast after receiving a notification if you want to claim that reservation. There are lots of people who want those seats, so claim the spot as soon as you possibly can. If someone gets to the reservation before you do, don't worry. Simply go back to the TouringPlans.com reservation finder and renew the search. You'll be notified when another spot opens up.
Be aware that this tool is currently in the TESTING phase. That means they are still working out all the details in the program. I have never had any problems using this tool, but that's not to say that they won't happen.
Another Option
There is free option out there currently at Mousedining.com. This website offer several levels of service, the first level being free, and the paid second and third levels being more designed for travel agents than just the individual user. I tried out the free level while researching this post. MouseDining.com requires that you create different searches for different dates, and does not allow you to search multiple dates for each restaurants. I found this to be cumbersome and annoying. Plus, when they were running simultaneously, TouringPlans.com consistently came back first with the notification that a reservation was available. While MouseDining.com did allow you to search more than 2 restaurants at a time, I didn't feel that outweighed the other benefits of TouringPlans.com.
What are your best tips for scoring great dining at Disney World? Tell me in the comments!
FYI – I NEVER use this tool for booking breakfast reservations! Read all about why in my post Why I Never Eat Breakfast At Disney World.
Make sure you don't forget these essential items when you pack your bag for Disney Parks: Read all about it in my post Order These Things to Pack The Perfect Disney Parks Bag!
ChaoticallyYours.com is a participant in the Amazon Services LLC Associates Program, an affiliate advertising program designed to provide a means for sites to earn advertising fees by advertising and linking to Amazon.com. This means that I earn a small commission from any sales made through these links.