Teppan Edo Japanese at Disney World has been on my Disney bucket list for quite some time, and on our most recent trip to Epcot, I had a chance to experience it.
I always like to start my reviews by reminding you that I was not compensated in any way to write this piece. All opinions are my own, and all costs were paid out of our pocket for this experience.
Dining at Epcot
Epcot is Walt Disney World's premiere park for dining. Between table service, quick service, and kiosk options, Epcot has over 60 dining locations for you to choose from during your visit.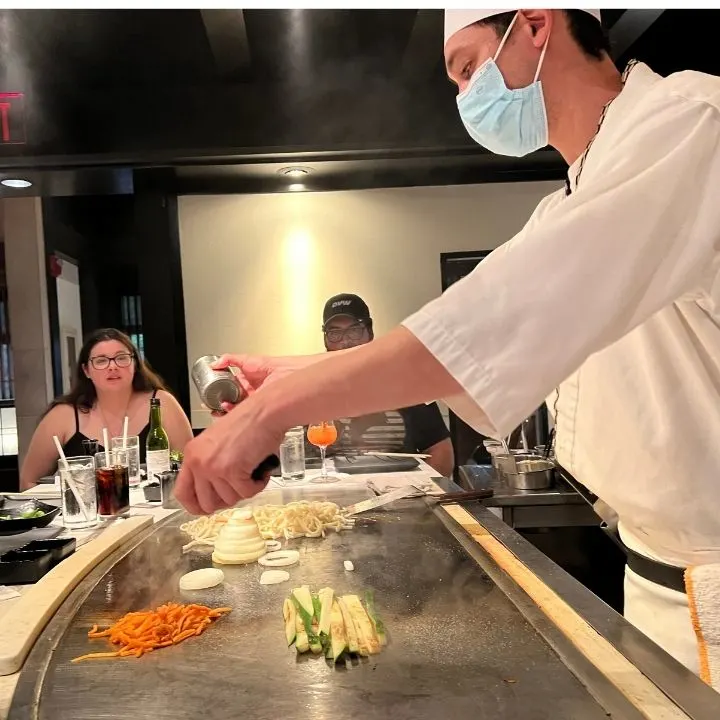 Of those options, over 20 of them are table service restaurants, offering cuisine from around the world (and even from cosmos at Space 220).
There are so many options to choose from, it can be REALLY hard to know which ones enjoy a meal at.
You should know that a lot of these restaurants are not operated by Disney World. They are independent companies that have contracted to use the space, with lots of oversight from Disney.
These partnerships enable Disney to bring more authentic international food experiences to their guests.
Teppan Edo is one of these restaurants. The Mitsukoshi company operates the restaurants and the gift shop in the Japanese pavilion at Epcot, and has been doing so for many years.
I actually remember eating here in the late 1980s, during my very first trip to Disney World when I was about 10 years old. "Hibachi" type restaurants were not as widespread back then as they are now, and my dad, who had traveled to Japan several times, wanted us to experience something unique.
I don't remember much about the food from that day, but I do remember the location, and the fun of sharing the experience with my family.
Japanese at Disney World
While Epcot is a great place to eat, there are actually nine different restaurants across their property that serve Japanese at Disney World.
Offerings range from the signature dining experiences (Morimoto Asia at Disney Springs and Takumi-Tei at Epcot) to quick service bites (Katura Grill at Epcot and YeSaki at Disney Springs).
You can find Japanese at Disney World in a myriad of locations across the parks.
Teppan Edo vs Tokyo Dining
The Japanese Pavilion at Epcot actually offers two sit down dining experiences, both run by Mitsukoshi – Teppan Edo and Tokyo Dining.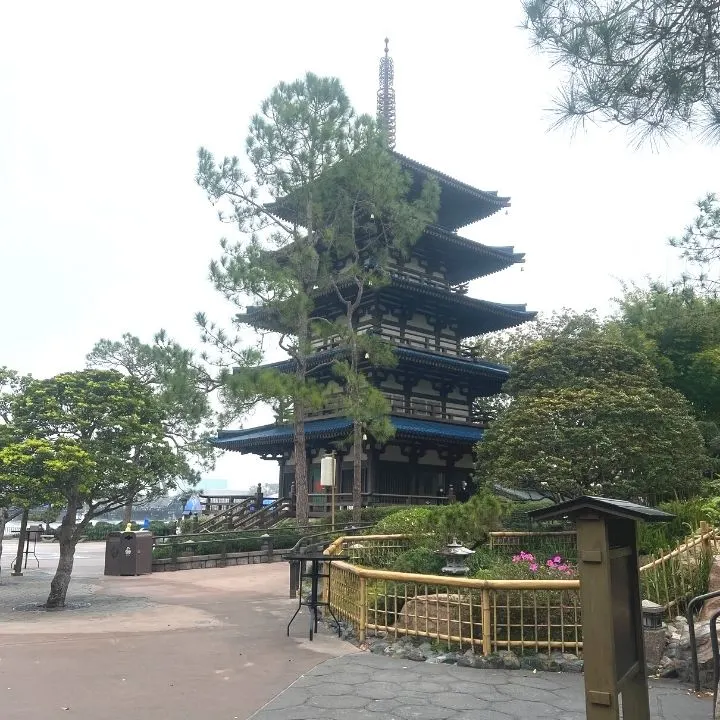 While both restaurants are located in the same building and share an entrance, they are completely different table service dining experiences.
The menu at Tokyo Dining features very traditional Japanese dishes like sushi, sashimi, donburi, yakimono, and tempura.
Teppan Edo is a teppanyaki style dining experience (commonly mis-named in America as hibachi), where most dishes are cooked directly in front of guests on a flat top grill.
While sushi is available to Teppan Edo, it's not the main attraction of the restaurant as it is at Tokyo Dining.
The Teppan Edo Experience
My experience at Teppan Edo was a memorable one.
I have long been a fan of Japanese food of all types. During my high school years we had some very close Japanese friends who frequently shared traditional, home-cooked Japanese dishes with our family such as okonomiyaki, tonkatsu, and udon that were always delicious.
But I have always been a huge fan of the Americanized "hibachi" restaurant, where teppanyaki style meals are served, and have visited MANY of them over the years.
Trying the teppanyaki option at Disney World has always been a desire of mine, and ,*spoiler alert*, I was not disappointed by the experience.
Before the Meal
Reservations are HIGHLY recommended for almost any table service restaurant at Disney World, and Teppan Edo is no exception.
While the restaurant does fill up, it's not as hard to get a reservation for this restaurant as it is for some of Disney World's newer offerings.
When my reservation time arrived, I proceeded to the Japan Pavilion in the World Showcase, where I checked in at the easy-to-find bamboo kiosk and was given a pager.
Almost immediately upon sitting down to wait for my table, the pager went off and I proceeded up a seriously impressive set of stairs to the entrance of the restaurant. (Don't worry, there's an elevator if these seem too daunting for you)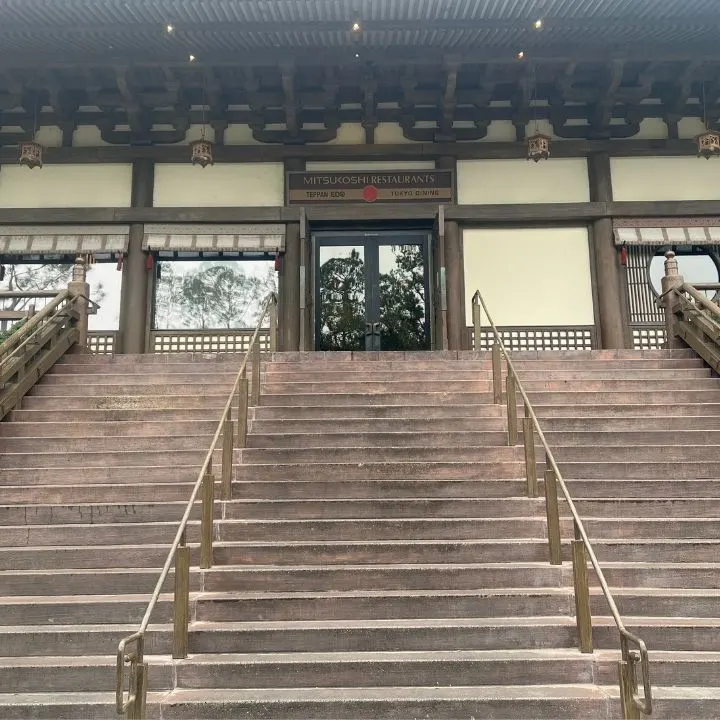 Once inside, I checked in at the desk and was immediately shown to my table.
As with most teppanyaki dining experience, I was seated at a table with other parties. Thankfully, the other two groups at my table were extremely nice. The family seated next to me had experienced Teppan Edo several times, and were happy to give me their feedback of the experience.
While you aren't required to interact with other guests at your table, I think it's part of the experience of this type of dining.
The decor of the restaurant was a bit sparse, but it is keeping within a traditional Japanese teppanyaki style restaurant.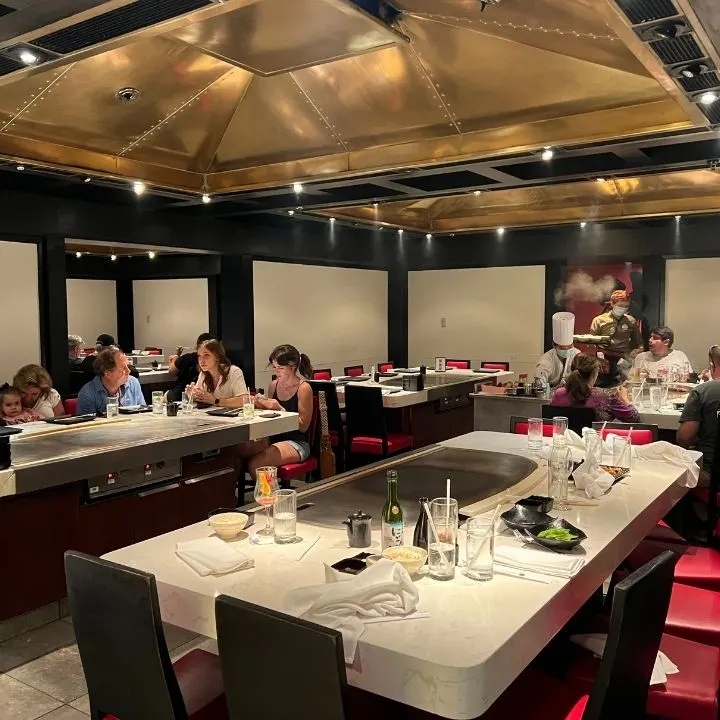 The table was greeted by our server who offered sanitizer towels for us to clean our hands with. According to my tablemates, this was a recent change, and the restaurant had previously offered hot towels to guests, as is traditional in Japan.
The Menu
As with other Disney restaurants in recent days, we were given a QR code to scan with our phones to access the menu.
The menu at Teppan Edo seemed to have something for everyone. Offerings featured steak, chicken, seafood, and tofu.
Prices were on the high side, with entrees ranging from $26 to $45 per plate. I think the listing on Disney's website and app of a $$ (in a range of $ to $$$$) is a little outdated.
The waiter was very allergy conscious as well, asking each person at our table if there were any allergies he needed to be aware of. One person at our table mentioned a slight allergy to something, and a few moments later, a manager came out to discuss it with her and accomodations were made for her.
This is one of the things I love about Disney restaurants. They do their absolute best to make it safe for people with allergies.
I ordered the Nihonbashi, which was steak and chicken cooked teppanyaki style, served with garden salad, udon noodles, vegetables, and steamed white rice.
The Meal
Shortly after our orders were taken and our drinks were brought to the table, the waiter brought out our salads.
Unlike other "hibachi" restaurants I've been too, dinner service did not include a soup. Many times you'll see a vegetable broth or a miso soup served before the meal, but Teppan Edo did not include that. Miso soup is available on the appetizer menu, but at an additional charge.
The garden salad was beautiful and featured mixed greens, carrots, cucumbers, and edamame, all complimented by a ginger dressing.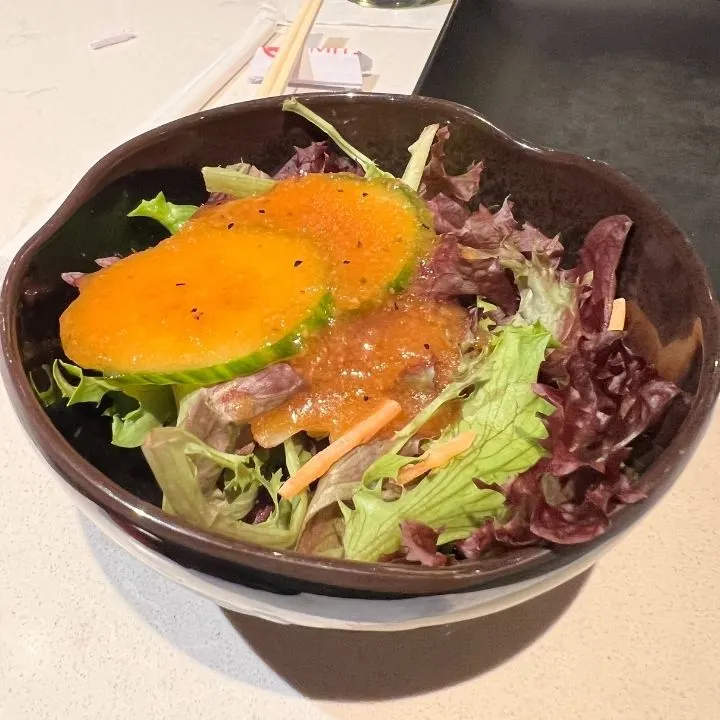 Everything was fresh and quite good.
Next we proceeded onto the "show" part of our meal.
Our chef came out with his cart, and confirmed everyone's order, also inquiring how we liked our steaks cooked for anyone who ordered them.
The chef then distributed sauces to each guest, one white sauce (sometimes called yum-yum sauce) and one ginger sauce. He was happy to comply to any requests for more or to skip a specific one if the guest didn't care for it.
As with most teppanyaki restaurants, the food was served in stages as each item was done cooking.
The chef put on quite a show while cooking, engaging our table with just about every part of the process. Here's a short video featuring some of the highlights of the meal.
He started cooking with noodle and vegetable dish for each guest. Traditional udon noodles were stir fried with onions, spinach, carrots, and zucchini with a little bit of soy sauce. It was seasoned perfectly and quite good.
Teppan Edo serves white sticky rice, as you would traditionally find in Japan, not the fried rice that you frequently find at hibachi restaurants around the country. The rice was perfectly cooked and very good.
The chef then moved on to cooking the proteins, making a big show of getting rid of the shrimp tails by tossing them into his hat.
My steak and chicken were both perfectly cooked. I had ordered my steak medium, which can be hard to achieve in such small pieces on an extremely hot surface like this one.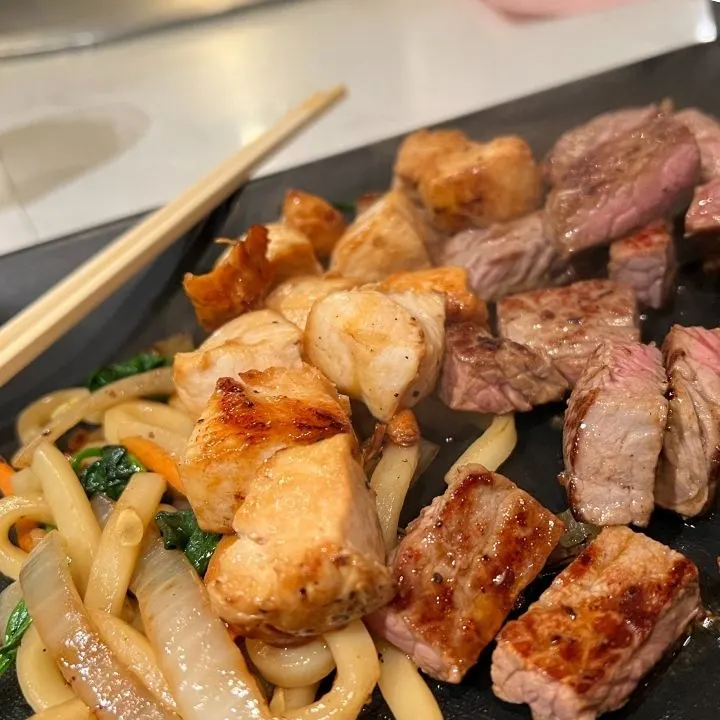 The chicken was thoroughly cooked without being dry, and had a nice sear on the outside that added to the flavor.
I tried both sauces with all elements of my meal. While all of it worked well, the white "yum-yum" sauces was best on the chicken, while the ginger sauce was perfect on the zucchini.
The portions were plenty big and dessert seemed like overkill when it was offered. So I didn't partake, although the offerings looked delicious.
Would I Recommend Teppan Edo Japanese At Disney World
While the pricing for this meal was a bit on the high side, the entertainment value of the experience was definitely worth it.
My food was perfectly cooked, and the experience was definitely more authentically Japanese that what you might find at your average "hibachi" place.
If you're looking for a different type of meal experience that can keep the whole family entertained, I would definitely recommend Teppan Edo while you're visiting Disney World.
Teppan Edo Japanese at Disney World: An Unbiased Review