Today we're sharing our Great Wolf Lodge tips and tricks so you can save money while still having the best trip ever!
Our family loves Great Wolf Lodge! We go every time we get a chance. It's a great place to take our kids for a short family getaway.
Great Wolf Lodge is water park resort that has locations across the United States. Each location is it's own little universe, containing everything you need for a great mini-vacation.
In the many times we've visited Great Wolf Lodge, I've learned a thing or two about how to have a great trip.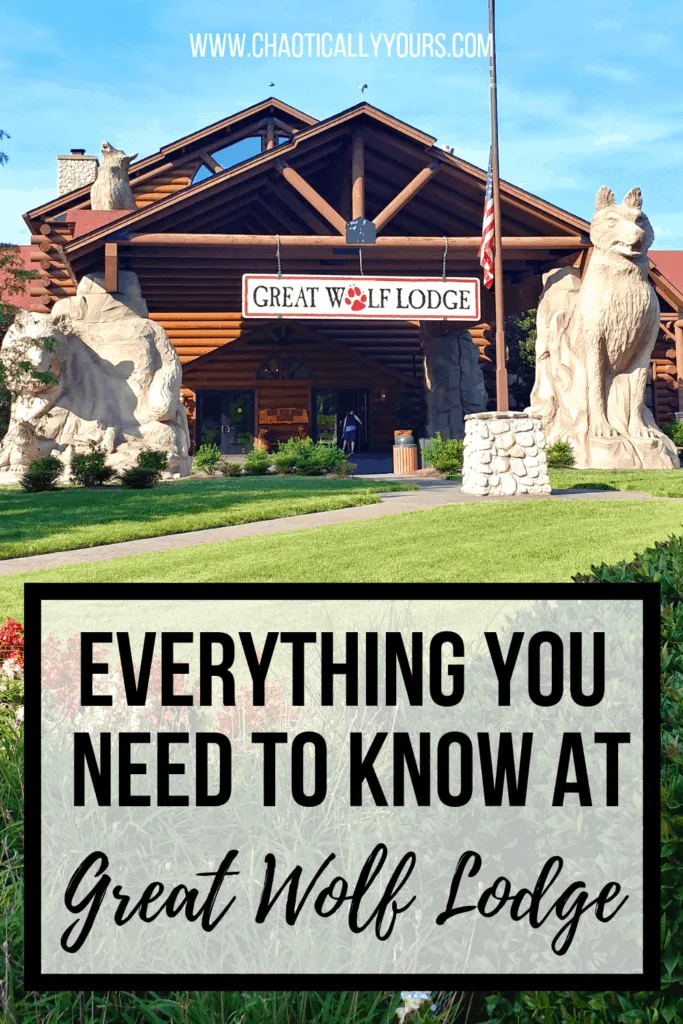 Know the basics of Great Wolf Lodge

Great Wolf Lodge is a huge indoor water park and resort designed for families.
Tickets to the water park are only available to guests of the resort hotel, and are included in the price of your room.
Other activities, like arcade games, bowling, spa services, MagiQuest, etc. are available at an additional cost.
There are several locations in large cities across the U.S., making it an easily accessible destination for most people.
Resorts usually feature several dining options onsite, including quick service and table service restaurants.
There are several types of rooms ranging in size, theme, and price. Many feature bunk beds and kid friendly sleeping areas.
PRO TIP: Towels are provided in the water parks. No need to pack your own. If you get really lucky, you'll get a warm one right off the cart.
How To Get The Best Price

This is the best one of our Great Wolf Lodge tips! It will definitely save you the most money.
Finding an awesome price for a Great Wolf Lodge trip is relatively easy. You just have to have a little bit of insider knowledge.
Be sure to join their FREE email list so that you can get notified when the resort runs a sale.
Great Wolf Lodge also frequently runs special with coupon sites like Groupon.
In the off season, we've paid as little as $99 per night for a standard room for 3 guests.
PRO TIP: Book your stay for mid week if you can. You'll get the best prices on rooms and avoid the weekend crowds!
One Night Is Enough
This is one of my best Great Wolf Lodge tips.
Unless you're a die-hard waterpark junkie, or you want to do every single one of the activities the resort has to offer, we've found that a one night stay is more than enough time at the resort.
Guests have access to the water park on the day of check-in starting at 1 pm.
The water park usually closes around 8 pm, giving you SEVEN SOLID HOURS of playtime (times can vary in different locations and during different seasons, so always check with the resort for accurate hours).
On every following day of your stay, you have access to the water park for the entire day.
Usually by 3 pm on day two, my kids are totally wiped out and ready to go home.
On the morning of Day 2 before heading to the water park, we always pack up our car (save one bag full of clothes to change into) and go ahead and check out.
That way, when my kids are done and ready for the ride home, we can just roll out.
PRO TIP: Bring swimsuits and pool gear in a separate bag from your luggage. If you're room isn't ready when you check in, you can leave all your other bags in the car, grab your suits and go enjoy the water park. Great Wolf Lodge always has locker rooms (even family sized ones) in the water park.
Be aware of the rules
For your safety and the safety of everyone else visiting Great Wolf Lodge, it's extremely important to be aware of and follow the rules.
Great Wolf Lodge has some of the best, most professional lifeguards around. But there are hundreds of people in the water park at any one time, and the lifeguards can't see everything all the time.
Please make sure you are properly monitoring your children in the water and let them know that they need to follow the instructions of the lifeguards.
It's also important to note that almost every ride has a height requirement that is strictly followed. These aren't in place to limit your fun, but for your protection.
Lifeguards check the height of all children entering the water park and assign them a wristband that helps indicate what water slides they can ride.
PRO TIP: Life jackets and some "puddle jumper" style floaties are available for free guest use in the water park.
Rent A Locker at Great Wolf Lodge
I'm a little paranoid about my stuff getting stolen.
For the extra peace of mind it brings, we ALWAYS rent a locker to store our valuables in while we are enjoying the water park.
Head to the swim shop located in the water park to rent your locker, or look for a machine near the lockers themselves to use an automated process.
The fees are usually pretty minimal compared to the hassle of having something stolen or ruined in the water.
PRO TIP: Request a locker away from the bathrooms and the locker rooms. The other areas are in a less crowded and easier to access.
Go early/Stay late
Your best bet for the shortest lines for the water slides is to go to the water park is to be in the parks during off peak hours.
On our check-in day, we're always arriving during peak hours. After a little bit of fun, we leave the water park and eat dinner early.
After dinner, we take a break in the room, then come back to the water park around 6 pm to enjoy the last few hours.
Most people roll out of the parks for dinner around 5, and then don't return. The place is usually a ghost town for the last few hours, with little or no wait time on everything.
On our second day, we always try to show up at opening before the crowds get crazy.
PRO TIP: Check with the location you're planning to visit for a full schedule of free activities.
Take advantage of the FREE Great Wolf Lodge stuff
Great Wolf Lodge offers a lot of great activities. Many of them cost extra, but there are a lot of them that are completely free.
GWL has their own cast of characters that frequently make appearances throughout the lodge.
Wiley along with his friends Violet and Sammy can be found in the lobby conducting fun activities for kids that guests are welcome to join in.
Come down in your pajamas for the animatronic Clock Tower Show.
Be sure and check out the Cub Club for other fun activities.
PRO TIP: Make sure you ask the front desk for Wolf Ears for the kids! It's a great FREE souvenir!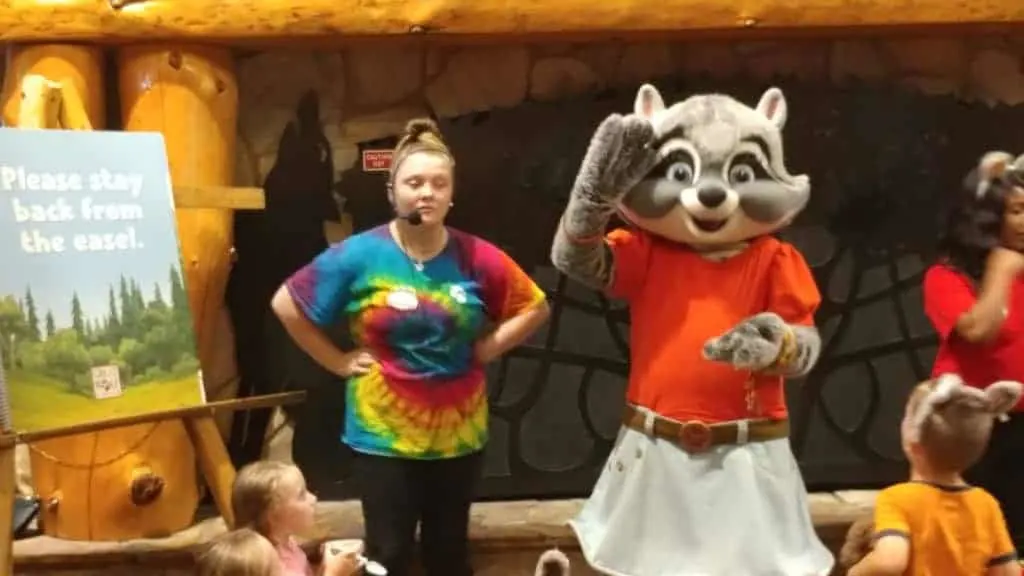 Consider purchasing a meal plan
If you don't really plan on leaving the resort during your stay, this one can be a real money saver.
When you book your trip, see if your location offers a meal plan option.
Not all locations offer this amenity, but when you can find it, it's a good deal to purchase one for your stay.
The one we've purchased usually includes two refillable cups, a large pizza, four items from the snack bar in the water park, two breakfast buffets from the table service restaurant, and four cupcakes! All of that for only $67.
We've frequently made this stretch for all four of the people in our family by purchasing just a few extra items, and just taking everything to-go to eat in our room.
While dining plans may not be available at all locations, they are usually offered during the reservation process when you book online.
PRO TIP: If your location offers it, splurge and take advantage of the morning donut delivery! Who wouldn't love waking up to hot coffee and Dunkin' Donuts delivered directly to your hotel room?
Have you visited Great Wolf Lodge? Give us your best Great Wolf Lodge tips in the comments.
Great Wolf Lodge: Tips and Tricks to Have the BEST TRIP EVER!