This 3 ingredient stir fry sauce recipe has saved dinner more times than I can count!
I absolutely LOVE Asian food, and I LOVE to cook it at home.
Throwing a stir fry meal together on a busy night is one of my go-to methods for a quick and healthy meal for my family. It's a great way to use just about any meat and veggie combo you have on hand!
Stir fry dishes also fit seamlessly into my weekly dinner meal plan!
I don't like using premade sauces. The taste kinda chemical-y to me and never seem to really taste quite right.
I love making my own sauce, but the biggest problem I run into is usually that stir fry sauce recipes tend to be complicated and require a lot of specialized ingredients that can be hard to find in my local grocery store.
Those specialized ingredients can also be super expensive. Who wants to spend $30 just on ingredients for a sauce?!
Most nights I just want a basic stir fry sauce recipe to get my meal going!
So to solve this problem, I developed this quick, easy 3 ingredient stir fry sauce recipe that really delivers in flavor and kick without all the work of a traditional sauce recipe.
I'm including a printable recipe at the bottom of this post, but it's just the absolute basics. You'll want to read the whole post first to get all the tips and tricks to get this recipe right the first time!
What You'll Need
Like I said, it's super simple. You should be able to find these items on ANY grocery store shelves. I literally got all of these at my local Walmart.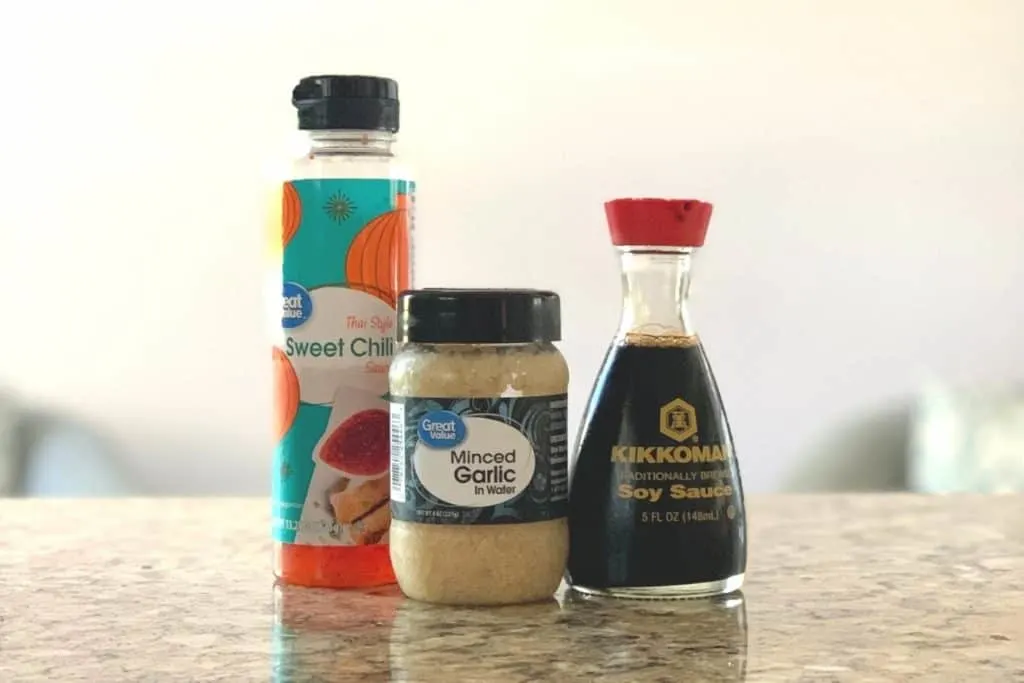 Gather together these things:
Soy Sauce
Sweet Chili Sauce
Garlic
Soy Sauce
If you don't keep soy sauce in your pantry, you really should!
You almost always need soy sauce in a stir fry. It adds that "umami" flavor that is so signature to Asian dishes.
I always recommend a quality brand with a lot of flavor like Kikkoman or Aloha Shoyu. Generic brands often just taste like brown water.
If your salt intake is a concern, you can always use a low sodium soy sauce for this 3 ingredient stir fry recipe.
Sweet Chili Sauce
I love having a little kick to my stir fry. There's something about that Asian chili flavor that I just love.
I keep it around in my pantry as a dipping sauce for chicken nuggets! It's just so yummy.
For this recipe, the sweet chili sauce is where I get that hit of spice that I want in my stir fry.
This ingredient also adds the sweetness to balance out the saltiness of the soy sauce.
Brands can vary in level of heat, so find a brand you like.
I've used name brands and generics and have found that this Great Value Walmart store brand is just fine for us.
Garlic
I LOVE garlic in Asian food, and it really adds a lot of punch to this dish.
Fresh garlic is perfectly acceptable, I just prefer the convenience of having it pre-chopped in a jar.
If you're using fresh garlic, just make sure it's crushed or very finely chopped. No one wants one giant bit
I would NOT recommend garlic powder or garlic salt here. They don't give the same flavor to the dish.
If you're not a garlic lover, you could omit this ingredient completely and still have a very tasty stir fry.
Making Your 3 Ingredient Stir Fry Sauce
Putting this healthy 3 ingredient stir fry sauce together could not be any easier!
You just mix equal parts soy sauce and sweet chili sauce, then add garlic to your own taste.
How much you use of each ingredient all depends on how much stir fry you plan to make.
For example, if you're making just one serving, I'd recommend one tablespoon each of your liquid ingredients and a half teaspoon of garlic.
When I make this for my family, I usually put in a quarter cup of soy sauce and an equal amount of sweet chili sauce, then add a tablespoon of garlic.
I always taste the sauce to make sure the balance is right.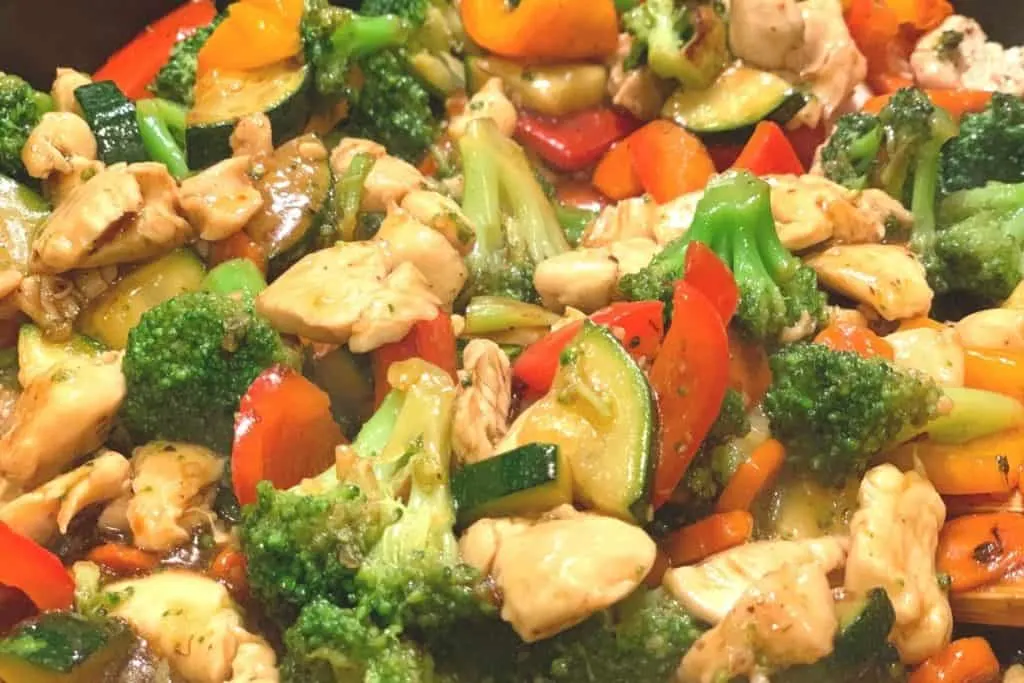 That's one of the things I like about this particular chinese stir fry sauce recipe. It's easily adjustable for a small serving or a large batch.
The 4th Ingredient in 3 Ingredient Stir Fry Sauce
This mixture actually makes QUITE a strong flavor. While you can use it exactly as it is, I usually add water to it, just to mellow the flavor out a little bit.
In adding the water, it can throw off the thickness, so I also add a little bit of cornstarch to the dish as well, just to thicken it up.
I know, I know. That makes it a 4 ingredient or actually 5 ingredient stir fry sauce recipe, but I don't really count those are "real" ingredients, since they can be left out.
If you want more specific instructions, you can just check out the printable recipe below!
What To Put This Stir Fry Sauce On
Another thing to love about this 3 ingredient stir fry sauce recipe is that it goes on just about anything!
It works on any protein you want. Chicken, beef, pork, or even tofu, it all tastes good! Even if you wanted to just put it on veggies, you'd still have a great meal.
Our go-to ingredients for stir fry include broccoli, carrots, zucchini, and bell peppers. But you could really use anything you have on hand.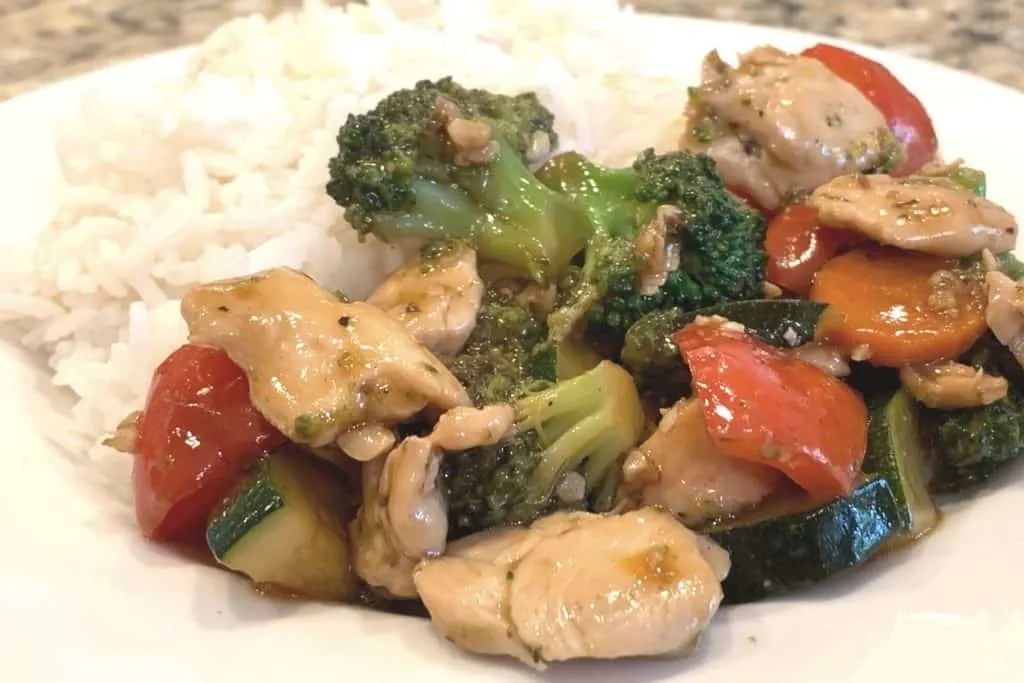 I almost always serve my stir fry dishes with rice, but you could always put this on noodles!
If you're making this sauce for a noodle dish, I'd recommend making a little extra, just to make sure it coats the noodles!
This recipe is my quick meal go-to, but if you're looking for something with a little more complicated flavor and you have some time on your hands, try my Quick & Delicious Stir Fry Sauce Recipe!
Yield: 3/4 cup
3 Ingredient Stir Fry Sauce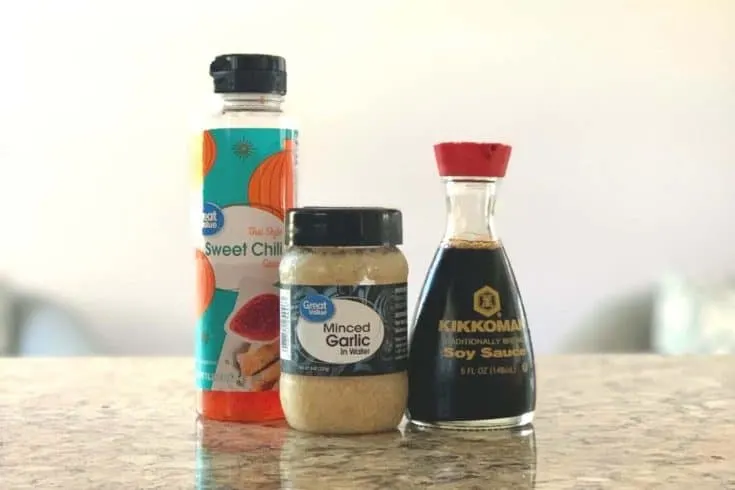 This basic stir fry sauce recipe uses just three ingredients to add a ton of flavor to your dish!
Ingredients
1/4 cup Soy Sauce
1/4 cup Sweet Chili Sauce
1 tablespoon Garlic
1/4 cup Water (optional)
1 1/2 teaspoon cornstarch (optional)
Instructions
In a small bowl, mix together soy sauce, sweet chili sauce and garlic.
OPTIONAL: Mix water and cornstarch together in a separate bowl. Add to original mixture.
Add as the final step of making a stir fry, stirring constantly.
Serve over rice or noodles.
Nutrition Information:
Yield:
6
Serving Size:
1
Amount Per Serving:
Calories:

34
Total Fat:

0g
Saturated Fat:

0g
Trans Fat:

0g
Unsaturated Fat:

0g
Cholesterol:

0mg
Sodium:

587mg
Carbohydrates:

7g
Fiber:

0g
Sugar:

6g
Protein:

1g

3 Ingredient Stir Fry Sauce