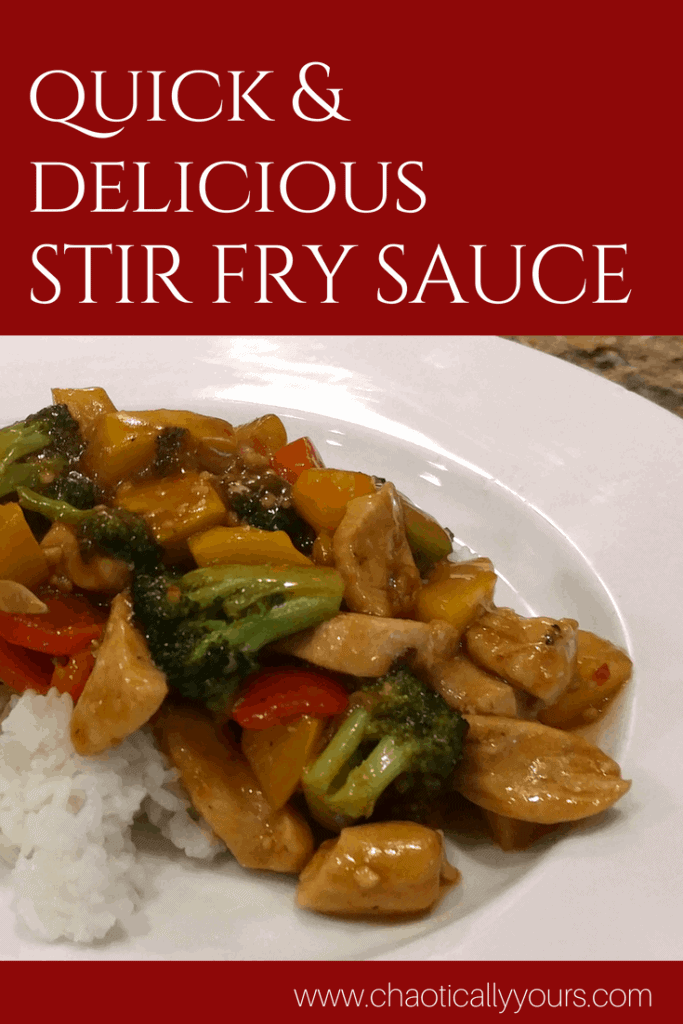 I love making a stir fry! Asian flavors are my jam, and adding just the veggies I like makes me happy!
The key to any good stir fry is the sauce, and through a lot of trial and error, I found a fantastic, all-purpose one! Pour this magic liquid concoction over any combination of veggie and meat, and you're in for a delicious meal! Lucky for you, I'm happy to share the sauce recipe here!
First, you'll need to gather your ingredients. I always make up my sauce mixture before I start cooking my stir fry. Just makes things flow a bit better for me.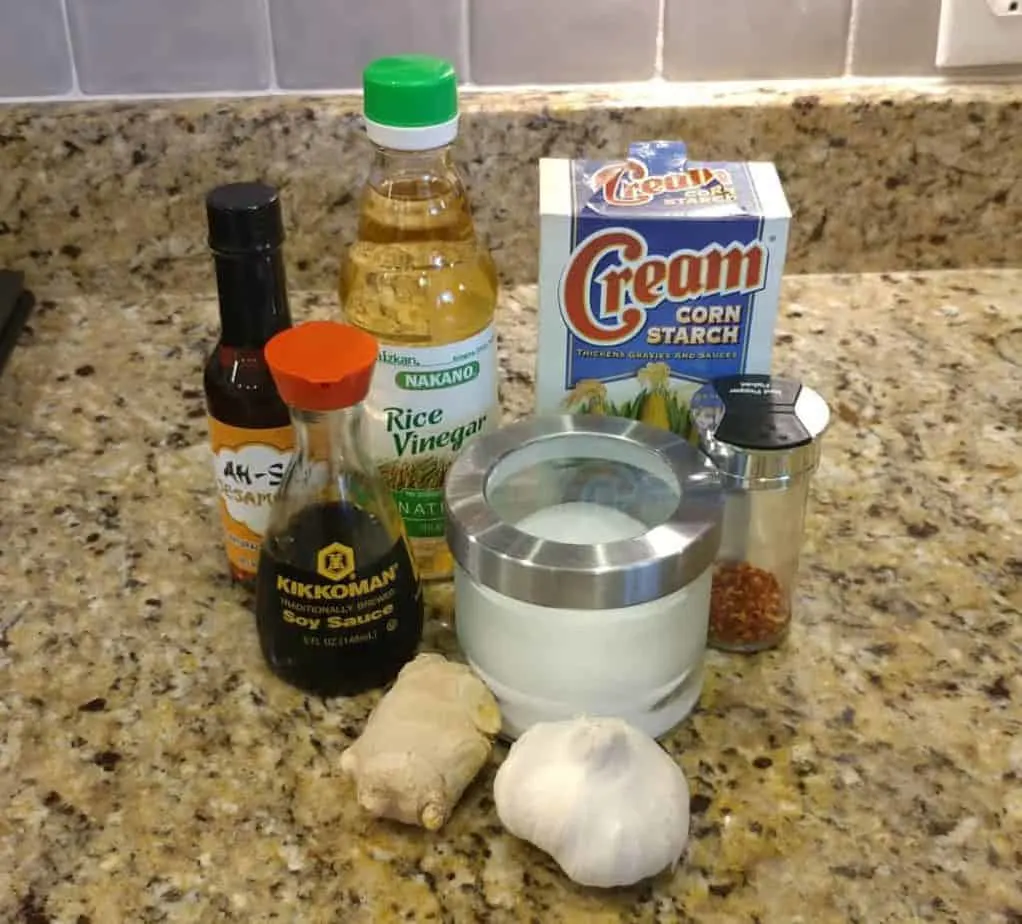 You'll need:
2/3 cup soy sauce
1/2 cup water
2 tbs rice vinegar
3 1/2 tbs sugar
1 tbs sesame oil
1 heaping tbs minced garlic
1 tbs fresh, grated ginger
1/2 tsp red pepper flakes (optional)
3 tbs corn starch
All of these ingredients were available at my local Wal-mart, so finding them should not be difficult.
In a medium sized bowl (sometimes I use a 2 cup size measuring cup), mix your soy sauce with the water and the rice vinegar. In a pinch, I've used cider vinegar for this ingredient, but it is SO much tastier with the rice vinegar!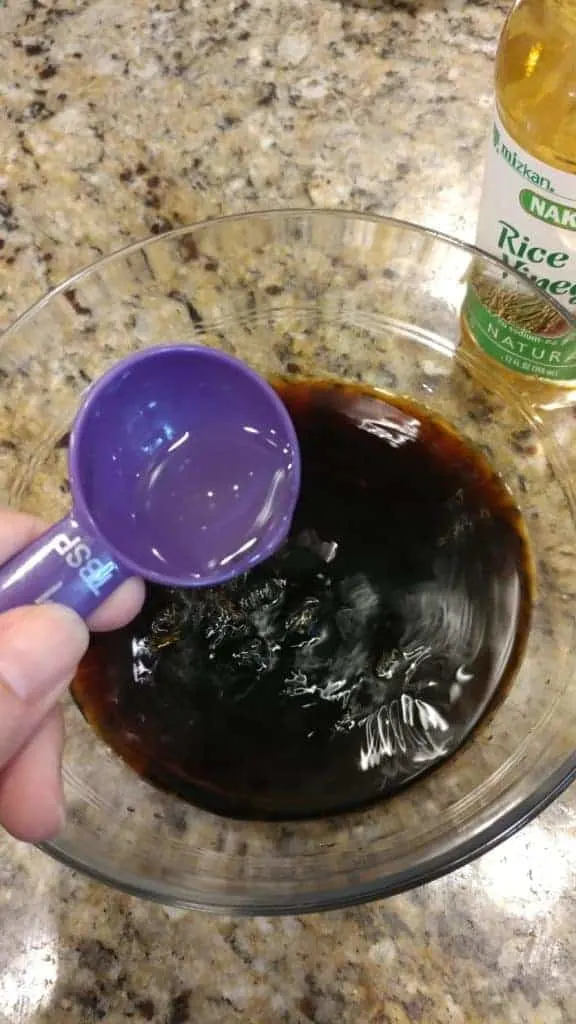 Then add the sugar, and stir until it dissolves. This may take a minute or two of stirring. Then add the sesame oil, garlic, and ginger.
Here's a professional tip: you can easily peel ginger with a spoon! You save a lot more of the good part of the ginger root when you do this with a spoon instead of a knife.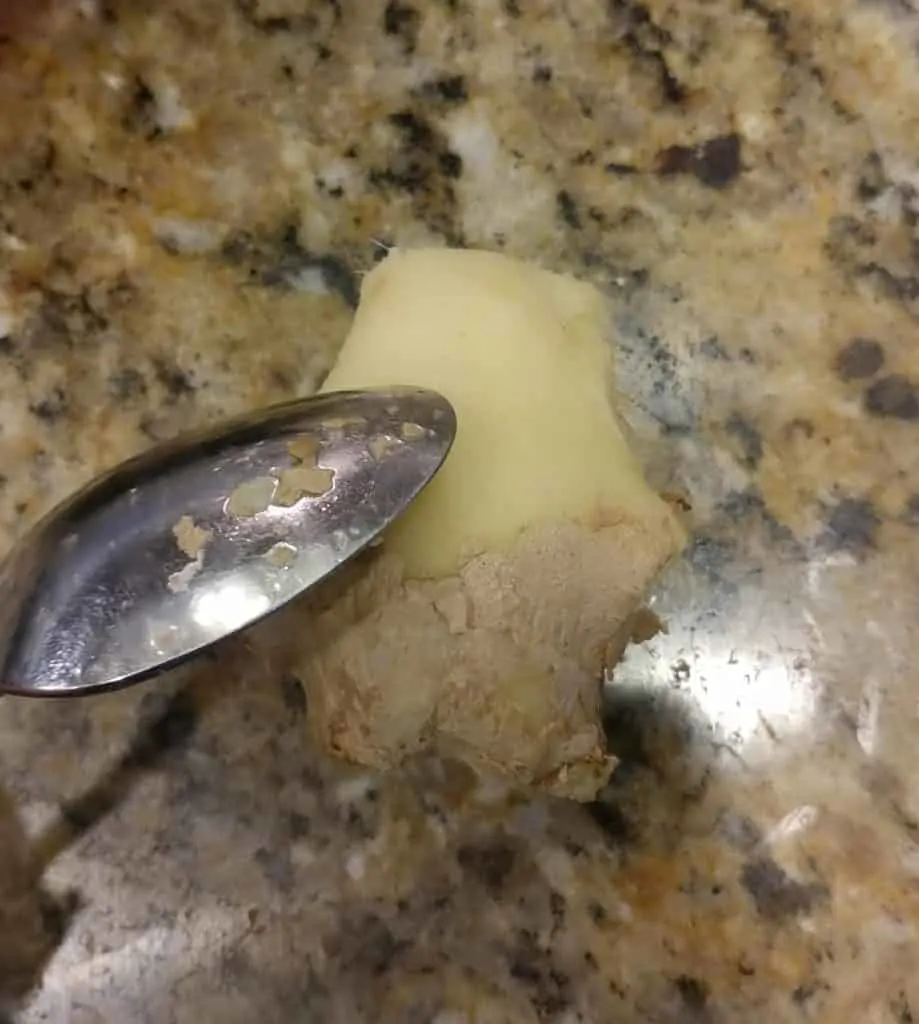 Also, when you're grating it, be sure to used the smallest grater you have! No one wants giant chunks of ginger in their food. The teeny tiny bits distribute evenly giving a great flavor to the sauce.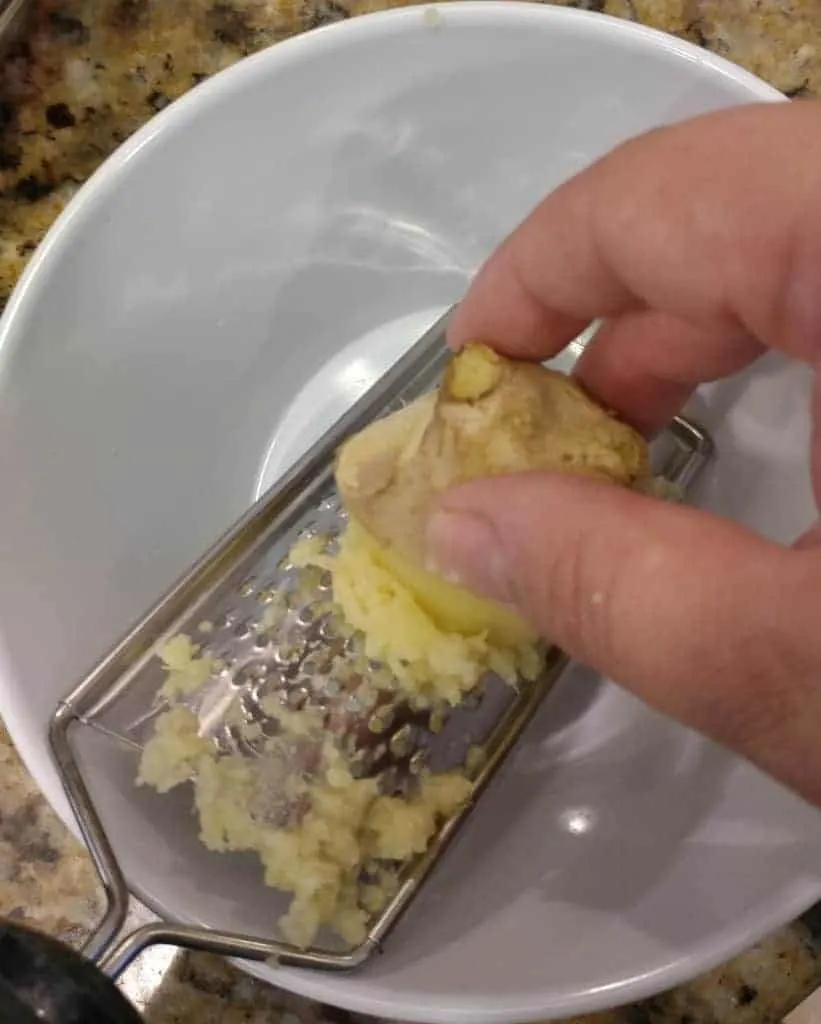 After you've stirred in your garlic and ginger, add your red pepper flakes. I use 1/2 a teaspoon, give or take a little bit when I'm making this for the kids. When it's just the husband and me, I usually almost double this. We like it spicy!! Adjust the red pepper flakes to you're liking. Or omit them all together if you like. It's good either way!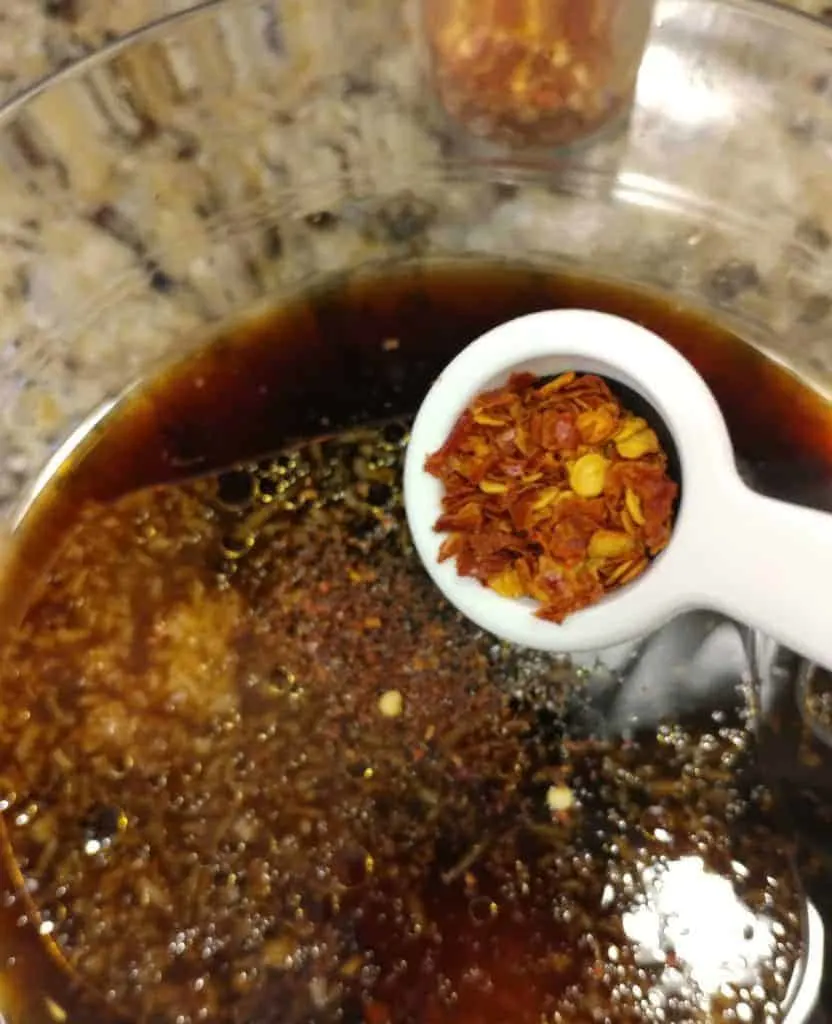 Lastly, you'll want to mix in the cornstarch. Make sure you stir it thoroughly, because corn starch tends to clump, and you won't want lumps in your sauce.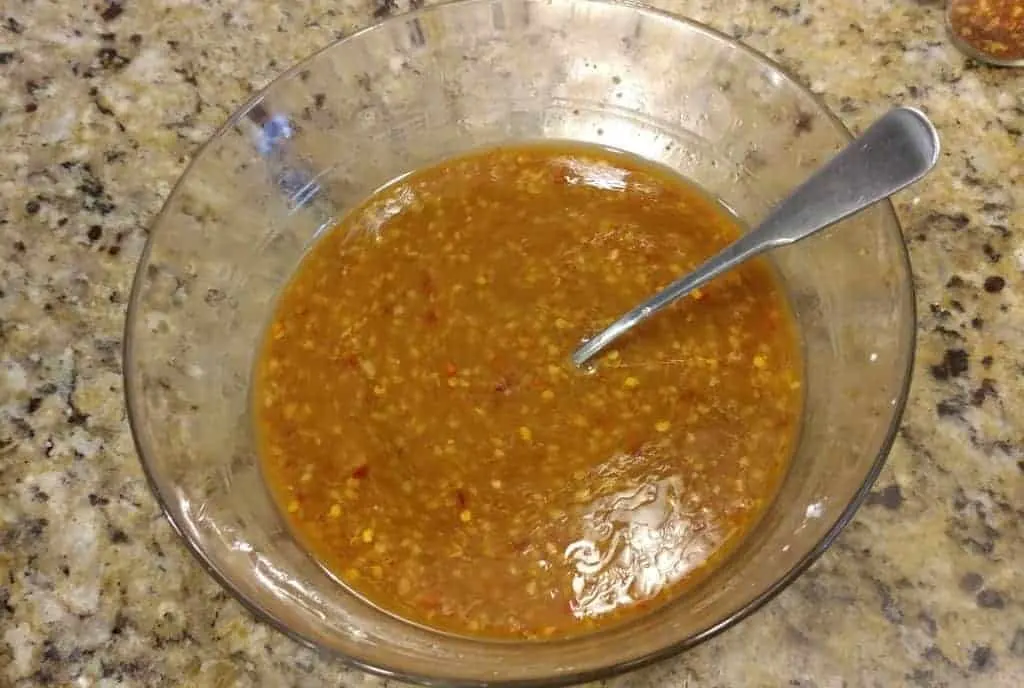 Now that your sauce is all mixed, just hang tight, and start cooking all your other ingredients.
My go-to meat is usually chicken, but beef or pork work really well. I start cooking by throwing the meat in the preheated pan (I don't even use a wok), with about 2 tablespoons of vegetable oil. I'll season the meat with a little salt and pepper while it's cooking. Once the meat is cooked through, I'll remove it from the pan, and let it rest.
Then I stir fry my veggies. You really can use whatever you like! For this version, our garden had been putting out a lot of squash and peppers, so we used those along with some broccoli and carrots.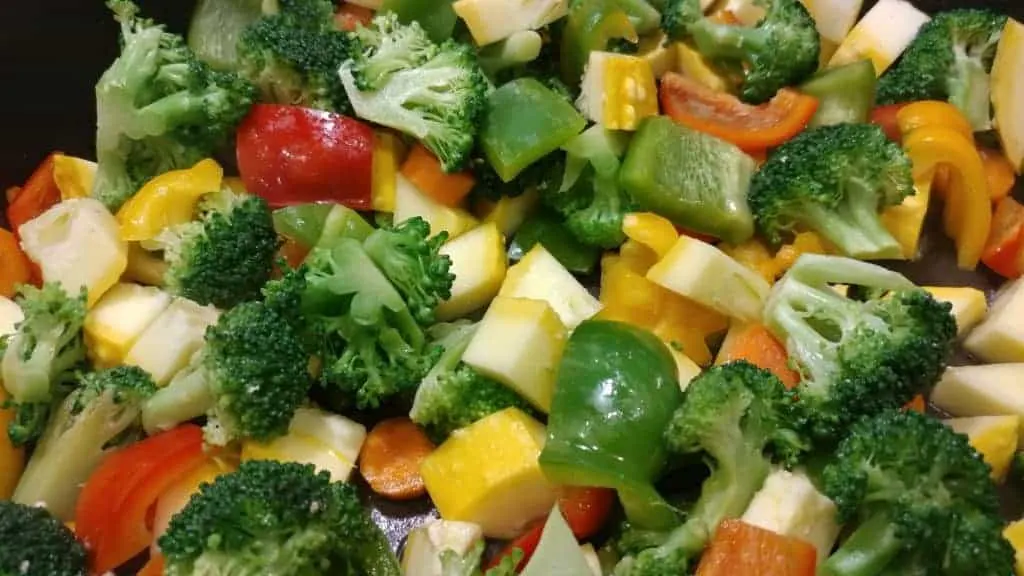 (Here's a secret! We like our stir fry extra garlicy, so when I'm cooking my veggies, towards the end, I throw in a heaping tablespoon of extra garlic to pump up the flavor a little bit)
Once your veggies are cooked, add back the meat. Then gently stir in your delicious stir fry sauce! It will start to thicken almost immediately, so keep stirring so it spreads evenly all over your food.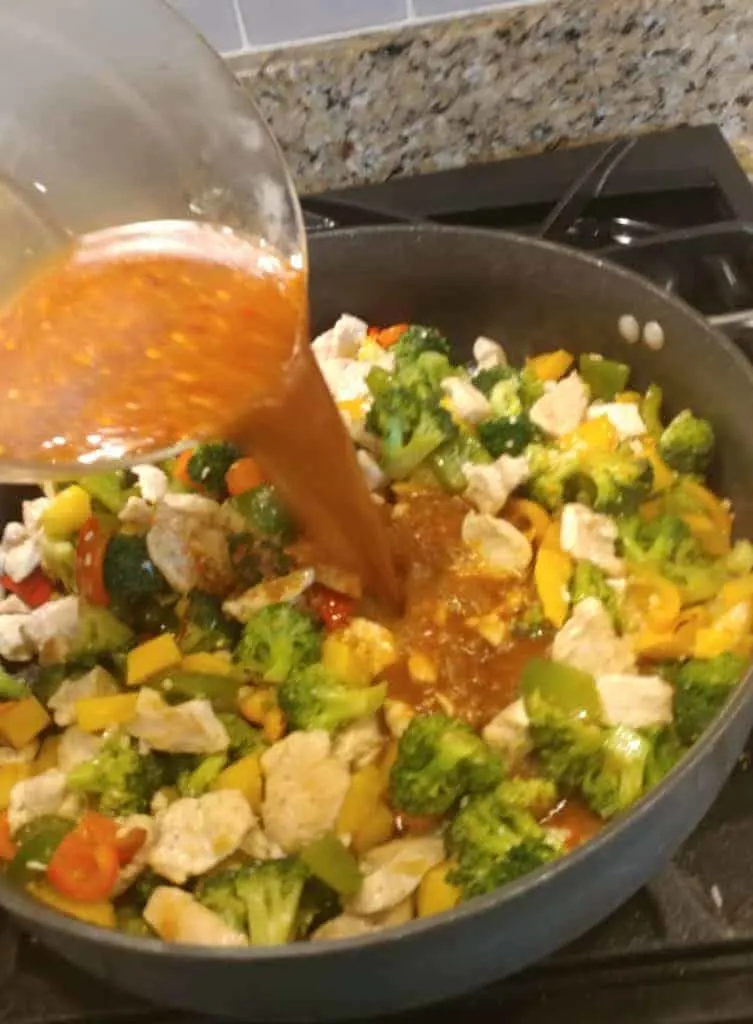 Once all the food is evenly covered with the yummy sauce (Y'all it will smell amazing at this point!), you're ready to serve it!
Of COURSE, you must serve it with rice, which is super easy to make in an instant pot (more on that later), but if you want to buy one, you can get it here:
Trust me! They are amazing!! No need for a rice cooker anymore!
So this picture just doesn't do the stir fry justice. It was SO YUMMY! My kids devour it, and don't even complain about the vegetables because the sauce makes them so good!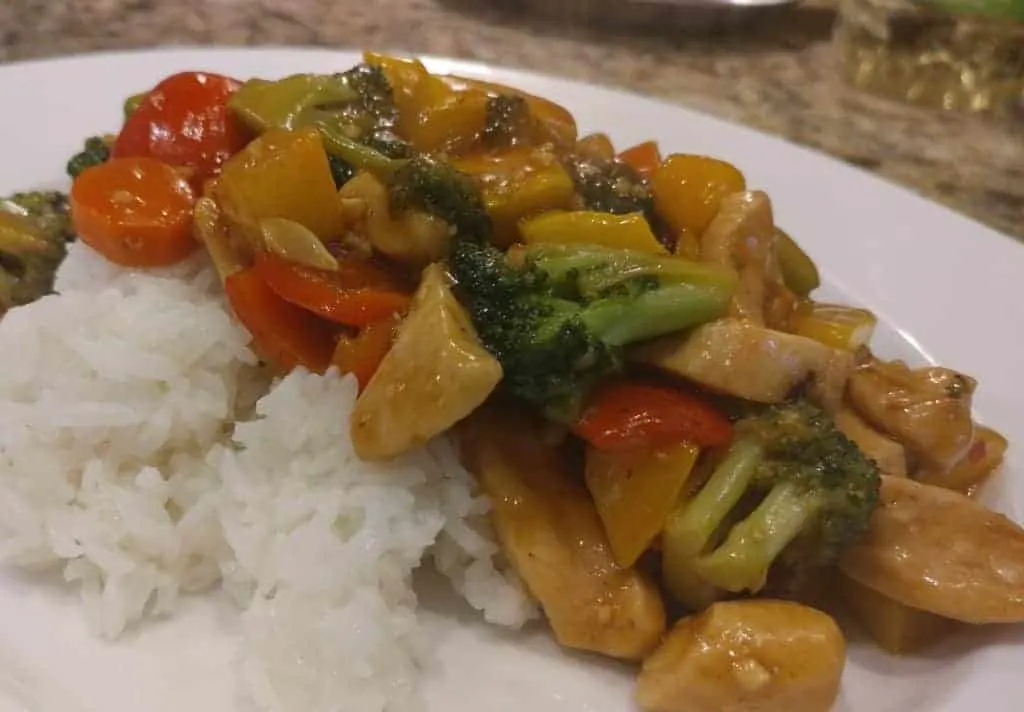 Let me know how you're next stir fry turns out! Leave me a comment!!
Quick & Delicious Stir Fry Sauce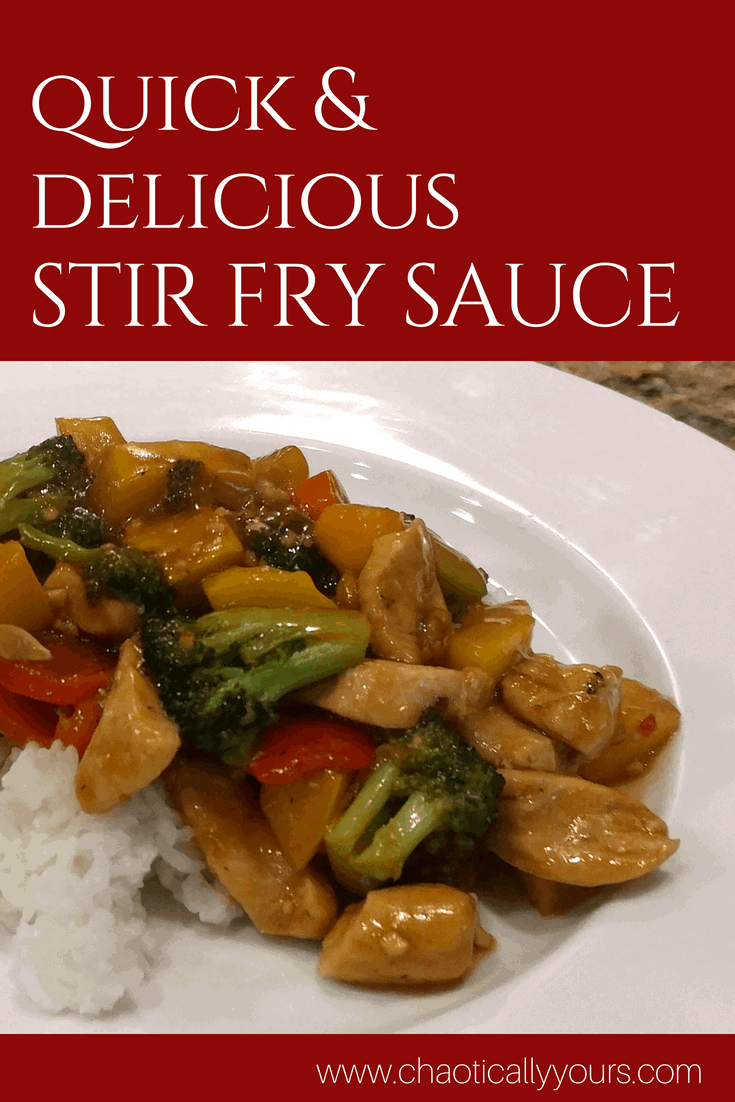 This quick and easy stir fry sauce is great on any combo of meat and veggies, for a fresh, simple weeknight dinner!
Ingredients
2/3 cup soy sauce
1/2 cup water
2 tbsp rice vinegar
3 1/2 tbsp sugar
1 tbsp sesame oil
1 tbsp chopped garlic
1 tbsp grated fresh ginger
1/2 tsp red pepper flakes
3 tbsp corn starch
Instructions
Mix together all ingredients. Set aside.
Stir fry meat until cooked through. Remove from pan.
Stir fry vegetables until cooked.
Add meat back to pan.
Pour sauce over meat and vegetables.
Stir constantly until sauce thickens.
Serve over rice.
Notes
The serving size depends on how much meat and veggies you add to the sauce.