Ever wanted to learn how to meal plan? Well, you're in the right place!
"What's for dinner?"
I've grown to hate that question. As simple as that question is, the answer isn't always so easy.
In our household, the cooking responsibilities mainly fall to me. It's a job a volunteered for because I absolutely LOVE to cook (and I guess I've gotten kinda good at it).
But as much as I love to create in the kitchen, I get SO tired of being the one to answer that question. And with two adults, one teen and one tween in our house, that question gets asked a lot.
The best way I've found to always have an answer for that question is to learn how to meal plan.
Links in this post may be affiliate links, which means I may earn a commission if you make a purchase from any of them. You can read my full disclaimer HERE.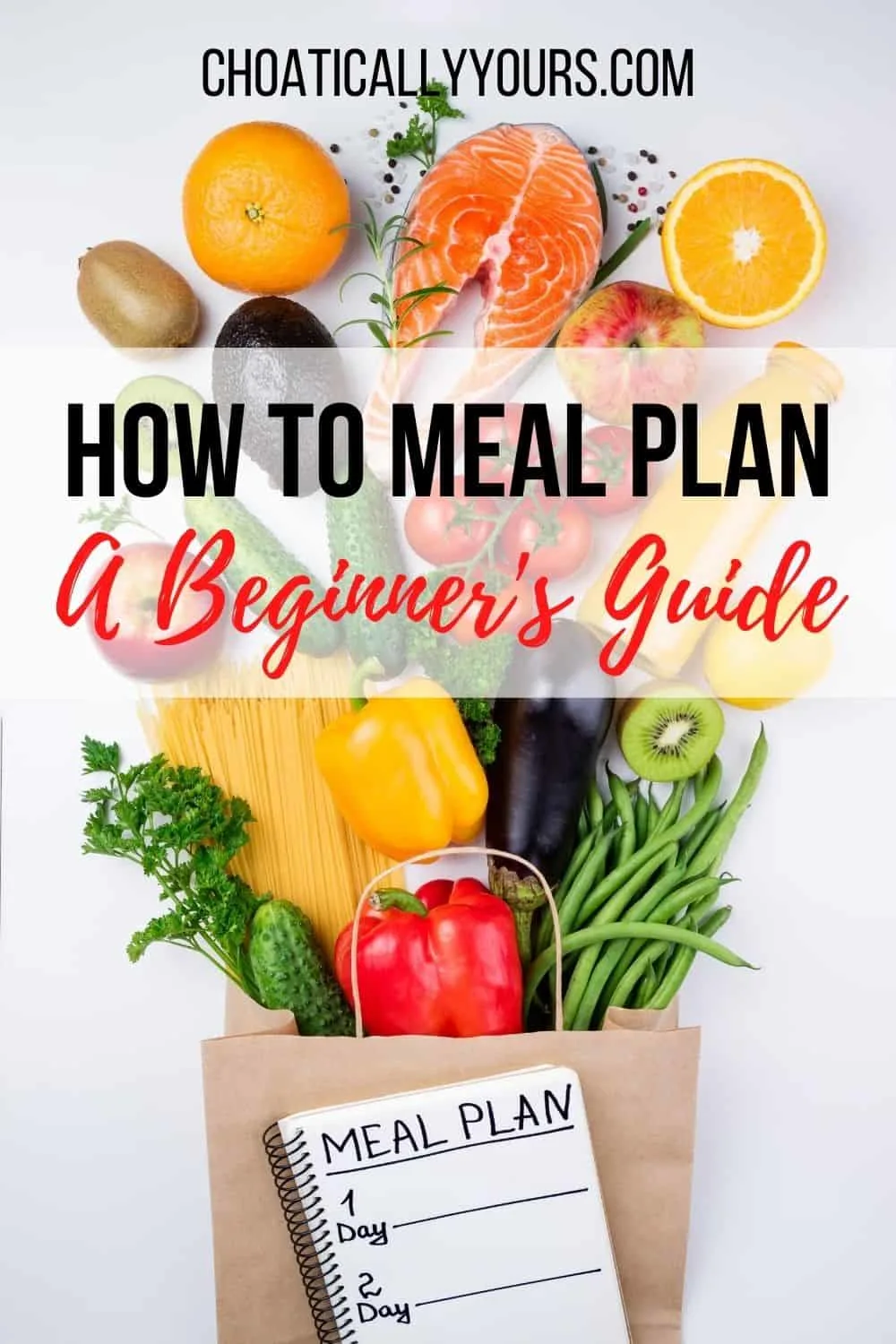 What Is A Meal Plan?
A meal plan is exactly what it sounds like. It's a plan of what meals you are going to make during a certain period of time.
While that answer is simple, the process can be a bit more daunting.
If you've never learned how to meal plan before, it can be super overwhelming to figure out where to start. Don't worry, I'm here to guide you through it. (And I've even got a FREE printable meal planner for you later in this post!)
Why Learn How To Meal Plan?
We live a super busy lifestyle. Between work, school, kids activities, and family commitments, it seems like we are constantly in motion.
We could choose, as many families do, to eat most of our meals from restaurants, but that really doesn't work for us.
Between the significant cost of restaurant food and the lack of healthy options, we prefer to have the majority of our meals be food made in our own kitchen.
With that being said, the challenge then becomes how to I make sure all my people get fed every day? That's where my meal plan comes in.
By learning how to meal plan, I've been able to not only save money, but make sure my family eats healthy meals.
I like to meal plan one week at a time, but you can do whatever works for your family. Maybe you need a two week meal plan or maybe just a few days. You can always tailor the process to what works for you. But for the sake of this post, I'm going to just look at one weeks worth of planning.
The Schedule Is King
You might think you need to start your meal plan with making a grocery list. While making that grocery list is an important step, it's not how I get started.
I ALWAYS start my meal plan by looking at my schedule. What do we have going on that week? Do the kids have practices in the evening? Are they home from school during the day? Do we have any social events we plan to attend?
From this, I figure out what types of meals I'll need.
Meals usually fall into three categories for me, based on the amount of time I'll have on any given day to prepare them:
Make Ahead – Meals that need to be made completely ahead of time and just heated up
Half Prepped – Meals that will need a just portion of it pre-cooked to save time
From Scratch – Meals where I'll have time to make all of it at once
Here's where knowing how to meal plan comes in handy.
I match up each day to what kind of meal I need for that day. (There's a convenient little spot on the printable for that!)
Now that blogging is my full time gig, I have the luxury of making my own schedule. So on nights that are going to be super busy, I schedule a make ahead meal, and get it done in the early afternoon.
But before that was the case, I frequently did a lot of my cooking on weekends, to make the weeknights easier. I would often prep sauces, chop ingredients, and pre-cook meats, so that meals came together really quickly when we needed them.
I also made a lot of freezer meals, that just had to be warmed up. You can learn more about that process in my post "10 Things You Need To Know Before You Start Making Freezer Meals."
Using your free time wisely when you can will really help when it comes to meal planning.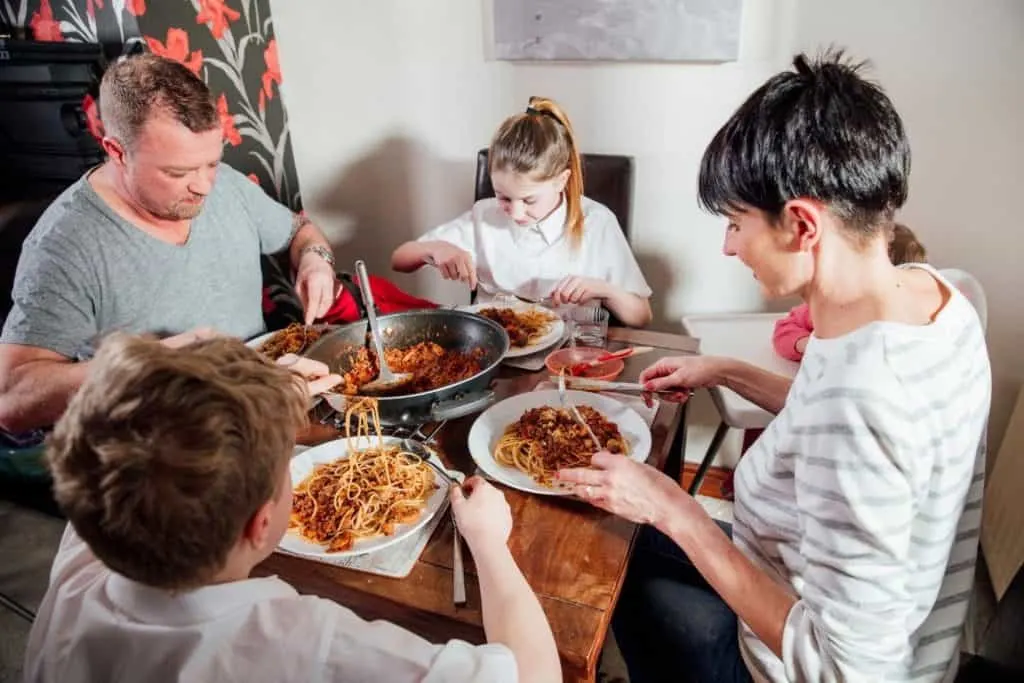 Use It Or Lose It
The next step in my process is to visit my pantry to see what I already have on hand that I might be able to use this week.
This step saves me a ton of money! We usually have some pantry staples around the house, and leftover ingredients from the previous week's meal plan.
That five pound bag of potatoes you got to make soup? You can use what's left to make a side dish. Have half a ham steak in the fridge from 2 days ago? You can chop that up and put it in omelets. You just have to get a little creative.
I always start with my refrigerator to try to use up the perishable items before the shelf stable ones.
By checking my pantry FIRST before I meal plan, I really cut down on what we waste.
Meal Plan With Sales Flyers
You know those grocery flyers that come in the mail? I used to just toss them out with the recycling. Now they come in SUPER handy with meal planning.
By knowing how to meal plan using sales flyers, I'm able to really save a lot of money!
I usually start with the meat section. Is chicken on sale? Then we're definitely having chicken that week.
From the meat section, I move onto the fresh produce and then the other items. This keeps us using as many fresh, non-processed ingredients as possible to keep meals healthy.
I also look for good deals on shelf stable items. If the budget permits, I try to stock up on items we use frequently when they're on sale.
Finding The Right Meals For Your Meal Plan
So you checked your pantry and looked at the flyers and STILL have no idea what to make? I feel your pain. That's me on a regular basis.
Because I kept feeling like I had no idea what to make, I started keeping a list of meals my family likes to eat. I know it sounds kinda obvious, but once I find a recipe we all like, it gets added to the list.
I cannot tell you how many times this list has come in handy. You'd be shocked at the times I look at the thing and think something like, "oh yeah! We all like quesadillas! I'll make those!"
When I get tired of all the things on the list, or just want to change it up a bit, my go-to site is Pinterest! It's a wealth of info when it comes to recipes.
Use Your Tools
I also use the tools I have in my kitchen to make things easier on us. There are tons of recipes out there that have been modified as newer appliances come out to make them quicker and easier to make.
One of the best tools I've found in an Instant Pot. This electronic pressure cooker makes life SO much easier. There is a little bit of a learning curve to get the hang of using it effectively, but it's an absolute lifesaver for busy nights.
This is the model I have, and I use it several times a week. You can pick it up from Amazon here:


I also highly recommend getting a slow cooker as well. The instant pot does have a slow cooker feature, but I'm not extremely fond of it.
I've had this Crock Pot basic model for YEARS, and it never lets me down. I can just toss in my ingredients in the morning, set it on low, and by dinner time we have a fantastic meal. I also love it because it doesn't heat up my kitchen like the oven! It's super handy.
You can get the one I have here:
How To Actually Put Together Your Meal Plan
Ok, now you've found the recipes you want to make and matched them up with what night works best for them. Now it's time to make your shopping list.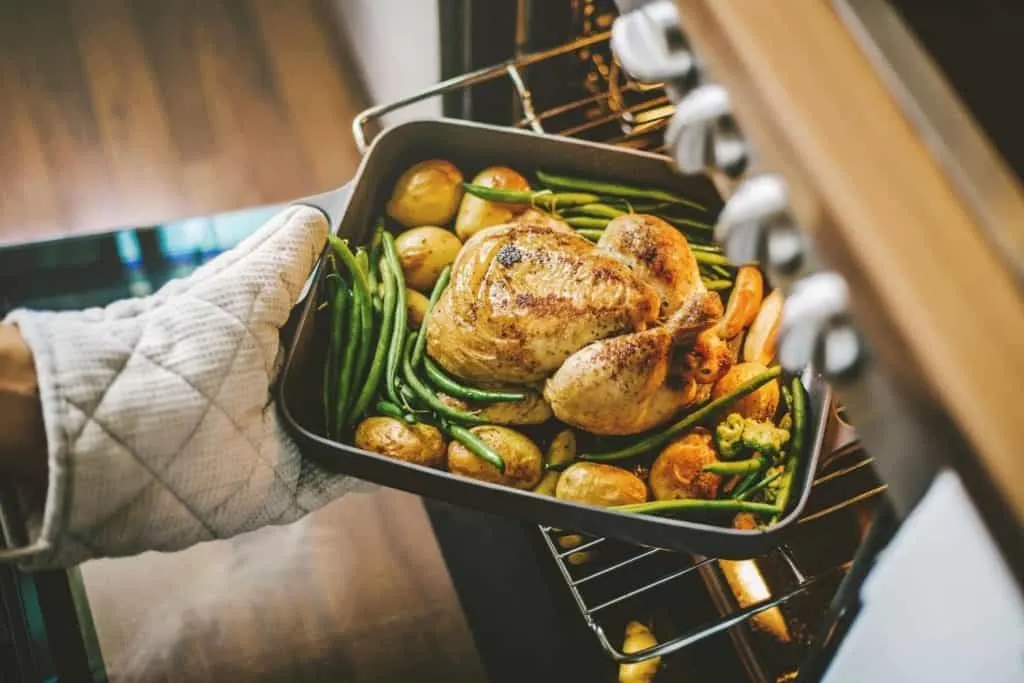 I always start with Day 1 of my meal plan, and start listing out the ingredients I need to make that meal. Again, I go back to my pantry to see what I already have on hand. If I don't have it, it goes on the list.
The list can get pretty long pretty quickly, but trust me, it's all worth it when you have everything on hand.
Having a clear, concise list when I go to the grocery store saves me time and energy.
I always try (but I'm not always successful) to organize my list by section of the store. I put all the produce items together, all the meat items together, all the dairy items together, etc.
Lately, I've been utilizing the personal shopper programs at my local stores. Walmart has a really good pick-up program for no additional fee that has worked well for me. Just being able to pull up and have them pop it right in my trunk is awesome.
After I've done my shopping, I try to put things away in a logical manner, keeping things handy for when I need to cook with them this week. Was pasta on sale, so I bought five boxes? Four of them go into our storage area, but one stays in the pantry to be ready to cook this week if it's on my meal plan.
Then I go back an evaluate what I need to do to prep my meals. This helps me plan out my time during the week. Sometimes I'll even add what I need to do to our "official calendar" just to make sure I don't forget to do it.
I also keep my meal plan displayed in my kitchen during the week so I can go back and refer to it. It can become super easy to just forget that I have all the ingredients for certain meals already in my pantry. Having the list handy keeps me organized.
So now that you know how to meal plan, you can get started.
I've created this downloadable PDF for you to use for FREE to help you plan your meals! Just click on the link or the image below!
Happy Planning!
Chaotically Yours Weekly Meal Plan Printable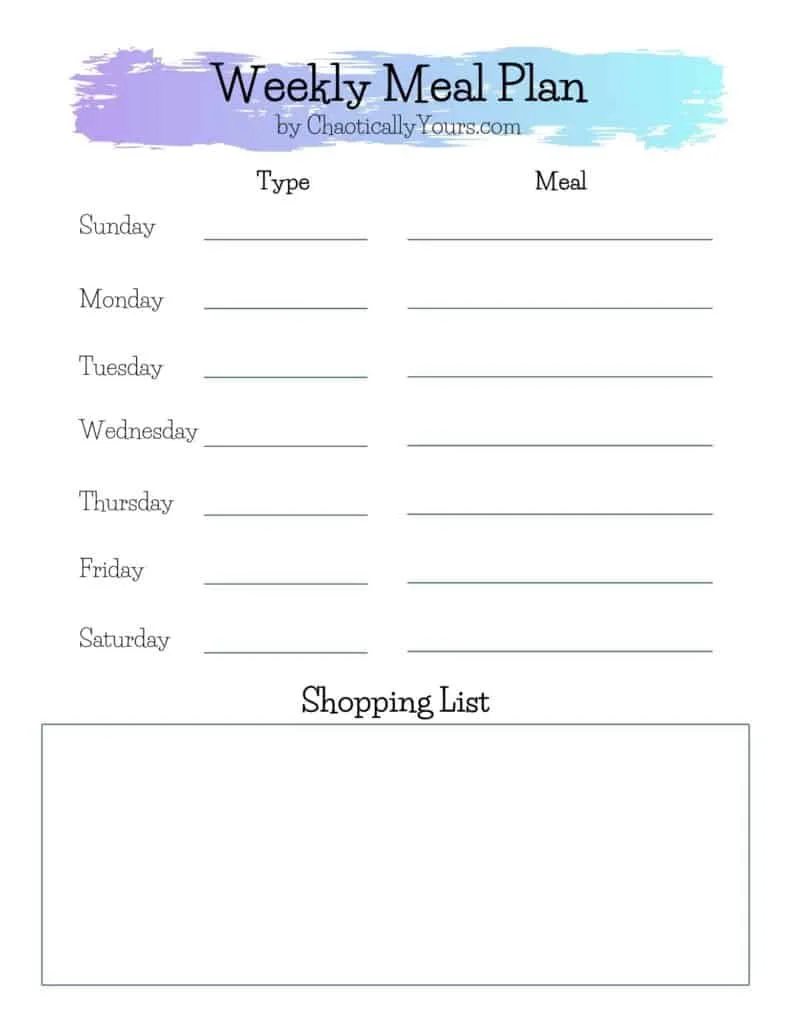 How To Meal Plan: A Beginner's Guide