Have you ever wondered what it is that makes Walt Disney World "the most magical place on earth"?
That word – magical – is used all the time when describing Disney Parks. So, I figure it's worth talking about what it is that makes Disney World so magical in the first place, don't you think?
It's slightly different for everyone, I'm sure – but there are some very basic (and very important) things that Disney World does to make your time in the parks amazing.
So much of the magic has to do with the Cast Members – they go above and beyond every single day for their guests.
I'd love to share with y'all our magical moment, and what made us fall in love with Disney World so many years ago.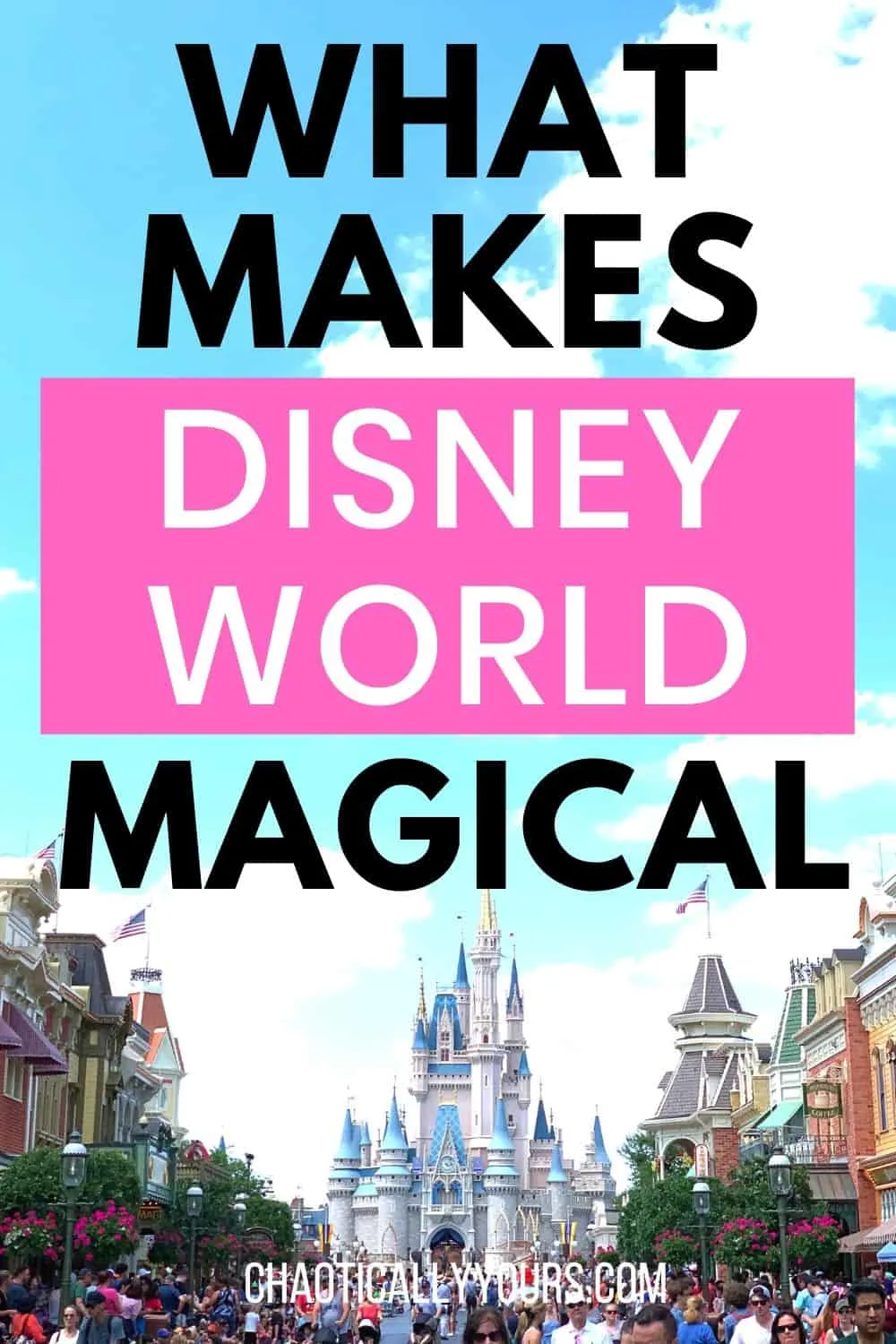 My Disney Parks History
I never went to Disney World as a child. It just wasn't something our family did.
I didn't feel like I was missing out, really – we went on lots of other great vacations. I remember weeks at the beach with extended family, where I would play my heart out in the sand with my brothers. Or sit under the umbrella with my grandfather when I got a little sunburned (us redheads can't take much sun).
I remember trips for church retreats, where we would stay with other families and enjoy being with friends. We went to Muskoka Lake in Canada, where my father vacationed as a child.
And we spent several amazing family vacations in Colorado during my late teen/early adult years – I remember that bittersweet feeling of soaking up as much family time as I could before I was out on my own.
The first time I went to Disney World I was in college – my former high school teacher needed an additional chaperone for a school trip, and I was the lucky one who got the job.
We were only there for 2 days, but we packed SO MUCH into that short amount of time.
We visited Magic Kingdom, Epcot, and Hollywood Studios (which was MGM Studios at the time – I know, I'm dating myself). And I absolutely had a blast.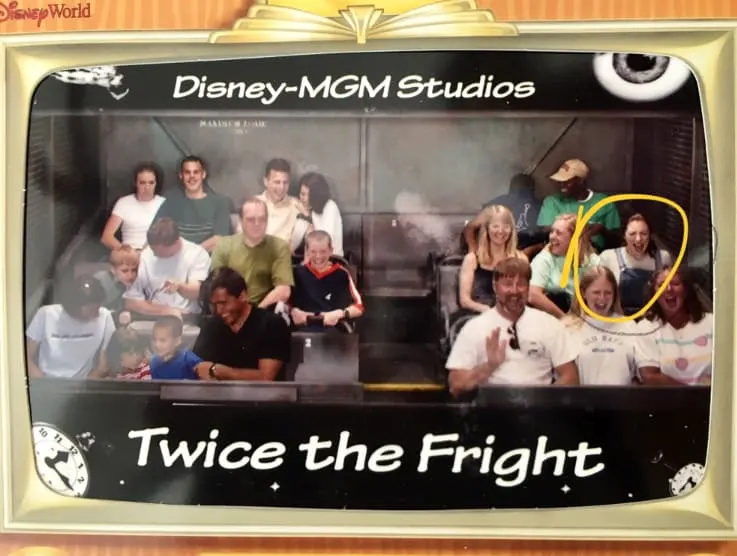 I think I rode Tower of Terror 15 times in one day – can you imagine pulling that off now? This was back before Fastpasses were a thing. And apparently back when overalls were fashionable.
It was a great trip and I definitely enjoyed it, but it was still just a theme park in my head. An AWESOME one, the best one I'd ever visited, but a theme park.
How We Ended Up At Disney World
So – as a person who didn't grow up making trips to Disney, how did I end up such a Disney fan?
It was a simple thing, really, that made me a Disney fan for life.
Several years ago, back when our kiddos were teeny and life seemed like total chaos (as it does when you have a 3 yr old, a 1 yr old, and you're pregnant with your 3rd), my husband had to travel to Orlando for a conference.
Since our kids were still small enough that we didn't have school to worry about (and honestly – I was going a little stir crazy in our house with the little people and needed a change of scenery), we decided to all make the trip together.
My parents happened to be in Orlando for work at the same time, and they were renting a house down there. Perfect, right? Free lodging. 😉
Of course, we had to have a mini-crisis – because don't all trips with small children involve a crisis of some kind?
Our kids both got sick. Really sick. Pneumonia and breathing treatments sick.
Visions I'd had of sitting by the pool were replaced with the reality of begging little people to please wear the fish mask and breathe in the medicine.
We were exhausted, no one was sleeping well, and the first half of our trip was basically a nightmare.
But – the kids started to improve. We started to sleep a bit and feel human again.
Then my husband came home one evening and said – I've got a free day tomorrow. What do you think about taking our son to Disney World?
My husband had never been – like ever. And obviously, our 3yr old hadn't either.
It sounded like an awesome idea, as long as we left our not-quite-well-yet, one year old daughter with my parents.
So the three of us set out for Magic Kingdom the next morning and bought tickets at the gate.
We didn't plan anything in advance – no dining reservations, no Fastpasses, no schedule for shows or fireworks we had to see. We didn't really know what we were doing – we just showed up.
I was a little nervous that we didn't have a game plan, but the second we entered Main Street I realized it didn't matter.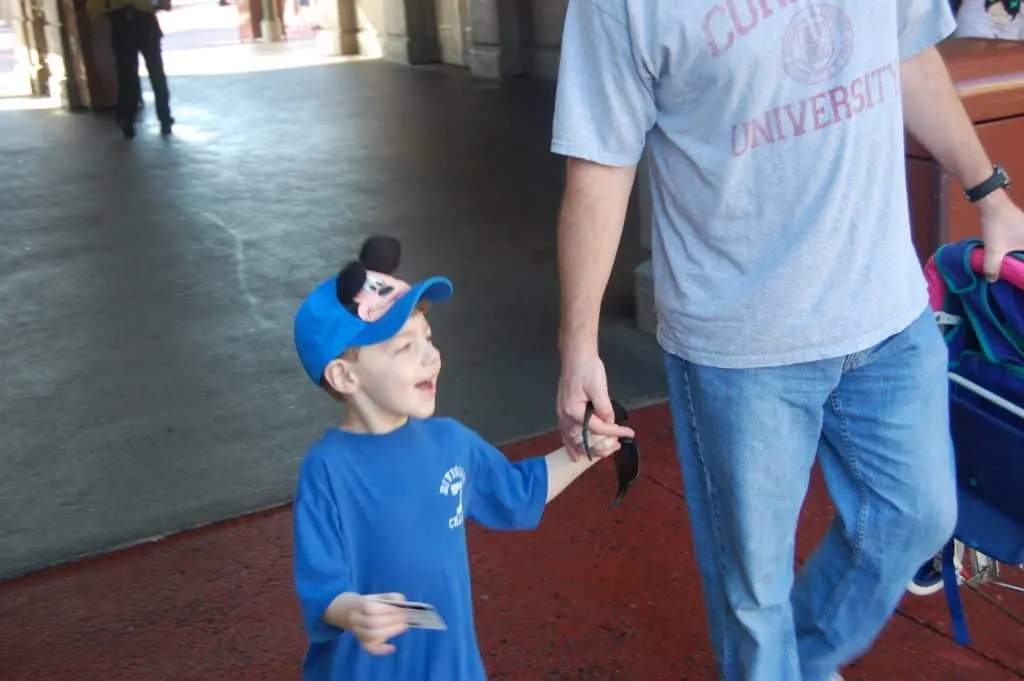 Our son's face lit up like it was Christmas morning. We happened to walk in right as the Main Street Parade was starting, and we ended up with an awesome view.
My son was in heaven.
And honestly, so was my husband. I think I might even have seen a little tear in his eye. 😉
As magical as that first intro to Disney World was for my son and husband, that wasn't what got me hooked.
We managed to ride Dumbo and the carousel, and we grabbed a hotdog from Casey's Corner. I remember my son feeding part of his bun to the ducks.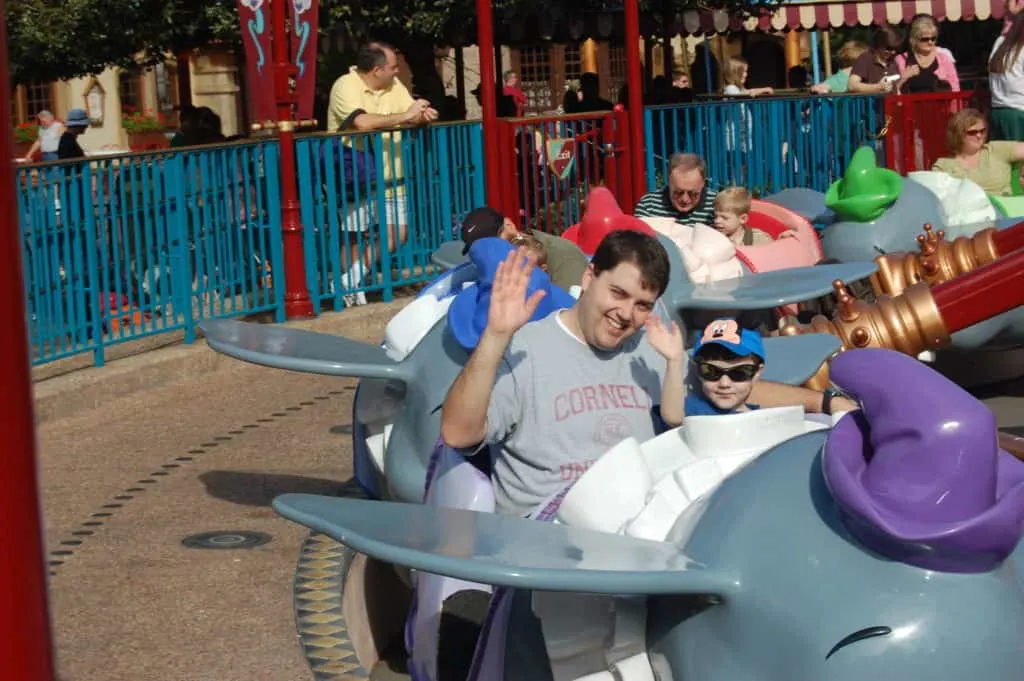 Other than that, we walked around and just took it all in. Everything seemed new and exciting and, well…. magical.
We didn't have Fastpasses for anything, so we weren't in a hurry to get anywhere, which was so nice.
Our First Magic Moment
After we finished lunch we wandered over into Tomorrowland, on the hunt for Buzz Lightyear's Space Ranger Spin.
I could see it on the map, but was having trouble finding it in real life.
We were standing in the middle of the main drag in Tomorrowland, looking at the map (and I'm sure we looked lost) – when a Cast Member wearing a VIP tour guide vest came running over and kneeled down in front of our son.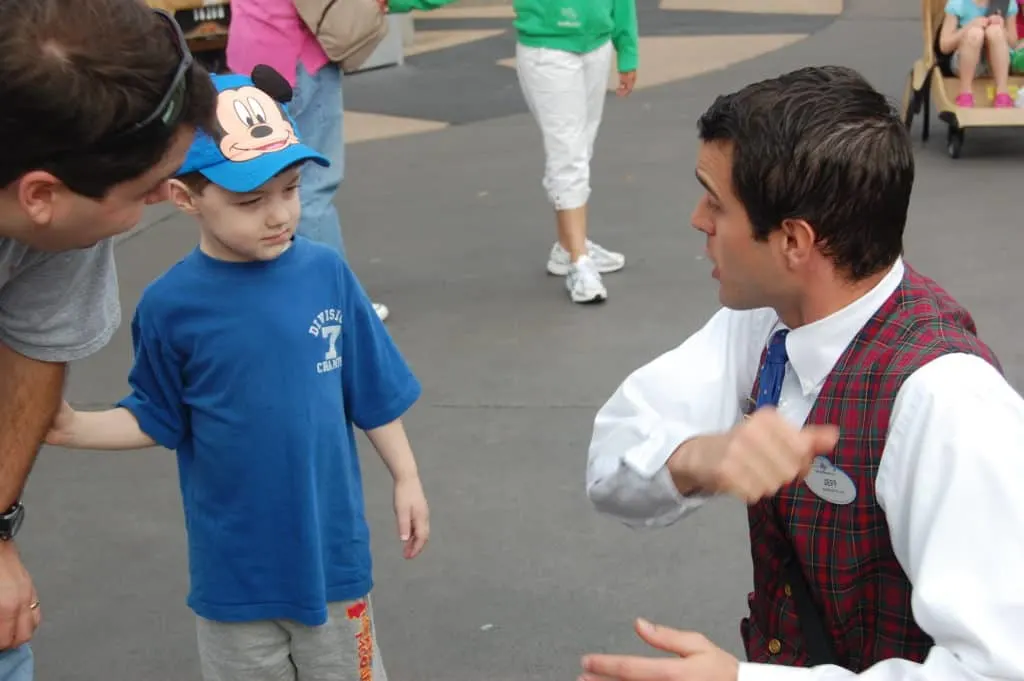 "What are you looking for, young man?"
Jacob was frozen so I responded "We're looking for the Buzz Lightyear ride".
The Cast Member said "Hold on one moment, young man – I'm getting a transmission from Buzz."
He put his hand to his ear and pretended to listen to a radio and then gasped and said "Yes!! We've been waiting for you! What's your name, buddy?"
My son was like a deer in the headlights, but he managed to get out "J-J-Jacob."
"Yes! Jacob! Buzz Lightyear needs you. He needs you to fight Zurg!! You're the Space Ranger we've been waiting for. Do you think you can do it?"
My son's eyes were as big as saucers by this point. He stood there for a second and then mustered every bit of his bravery and said "Yes! Yes, I think I can!"
The Cast Member took his hand and led us to the ride – and right into the FastPass line.
As we moved through, he kept saying "Excuse me, please – Junior Space Ranger coming through!" Jacob was so excited – I was a little worried he'd pass out. He HAD just gotten over pneumonia.
We were taken right to the front of the Fastpass line, and the Cast Member put us on the ride and wished Jacob good luck – Buzz was counting on him.
On that walk over to the ride, I've never seen a 3 yr old look so determined in my life.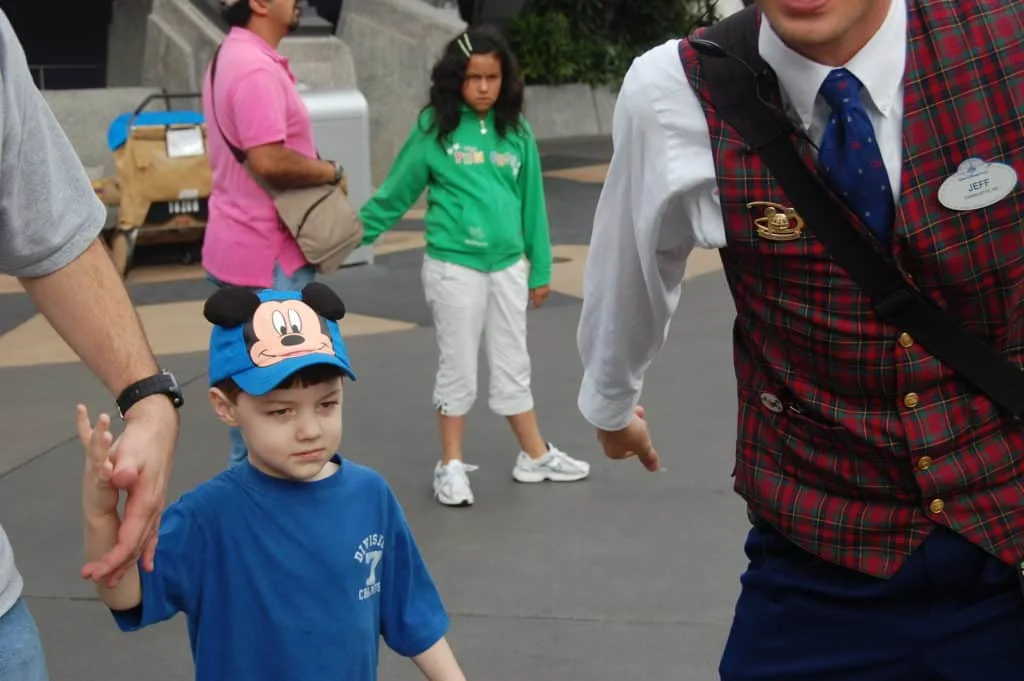 His face was fierce. His jaw was clenched. He was GOING to beat Zurg.
The ride itself was fun, and Jacob did his absolute best to hit every target he could. He was one focused little dude.
When we were finished and pulling up to the area where you get off, he kept saying "I THINK I did it, you guys. I think I beat him!"
The Cast Member who'd rushed us through the Fastpass line was waiting for us at the exit, and got down on his knee again in front of Jacob.
"Jacob! You did it! You helped Buzz defeat Zurg! You are now an Honorary Space Ranger and Buzz couldn't have done it without you. He wanted me to give you this."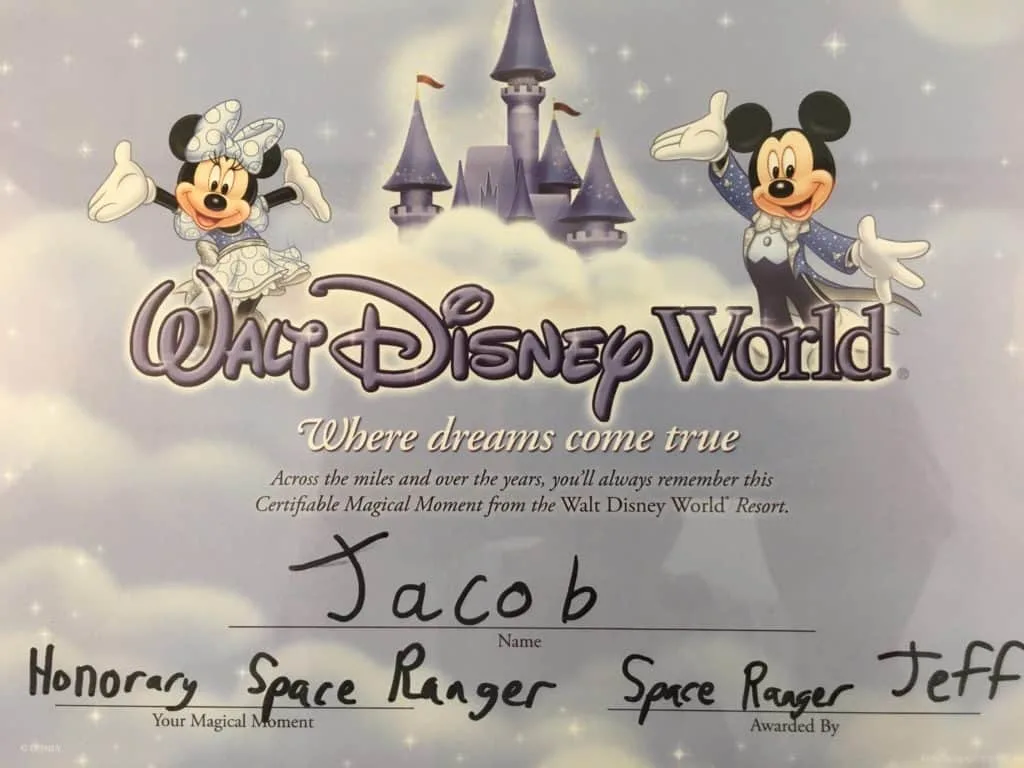 They were right. Across the miles and over the years, we HAVE always remembered that moment.
We were officially hooked.
Seeing that kind of wonder and amazement in your child's eyes… there's just nothing like it.
THIS is what makes Disney magical.
The way they give their all to convince a 3 year old that he is a space ranger. Or that she is a princess.
It's the way the Cast Members go over and above every. single. day.
There is something magical about visiting a place where every single employee sees it as their mission to make your trip special, right down to the folks who make sure Main Street stays litter-free.
They all care, and they all work their tails off to make your vacation magical.
Will we vacation other places with our children? Absolutely. We'll take them to the beach, and to the mountains, and on adventures to big cities and small towns.
But we will also take them to Disney World, because when we're there I still see a 3 year old's wonder and awe looking out from Jacob's 13 yr old eyes.
So thanks, Cast Member Jeff – wherever you are. You made Disney World a magical place for our family.
That framed award still sits on the top of my son's dresser. He may be a teenager now – but he still loves Buzz Lightyear's Space Ranger Spin.
I'd say he's a Space Ranger (and a Disney fan) for life.
This post was written by Chaotically Yours contributor, Bethany Edwards.
Want to know the absolute BEST ways to thank cast members that go above and beyond? Check out this post on Three Ways to Thanks A Cast Member So It Counts!
Planning your first trip to Disney World? Check out these 9 Things You MUST Do During Your First Visit to Disney World!
What Makes Disney World So Magical