Is the Royal Caribbean Key Program a must-do or a hard pass for your next cruise?
We've got your full review of these purchased perks so you can decide for yourself if this extra is worth it on your next cruise.
On our last two cruises with Royal Caribbean, we purchased the Key Program. We're giving you our detail, unbiased feedback about what the program is and how it works for the average traveler.
We always like to start our reviews by reminding you that we were not compensated in any way to write this piece. All opinions are our own, and all costs were paid out of our pocket for this experience.
Priority access to the terminal upon arrival at the port
Carry on bag delivery to your stateroom
Welcome lunch in the main dining room with selections from Chops Grille
Access to VOOM Surf & Stream high speed internet for one device per paying guest
VIP seating to shows in the Main Theater, Aqua Theater, Studio B and Two70
Reserved private hours at onboard activities including the FlowRider, Rock Climbing and more.
Priority departure at ports where a tender is required ship-to-shore
A la carte breakfast and choice departure time on debarkation day
Key Program Benefits Breakdown
While at first glance some of these benefits may not seem that great. But when you're actually on the ship, they all really do make a difference.
Let's break the benefits down by order in which you'll probably use them.
Priority Terminal Access
This terminology was super vague to us when we first came across it in the description of the Key Program. "Priority Access" could mean a multitude of things.
What it actually means is that you'll get to board the ship early.
Key guests still have to make their way to the port terminal and through security just like everyone else. Key guests are NOT exempt from general boarding requirements like Covid vaccinations or negative Covid tests.
But once guests are fully inside the terminal, there are special representatives that will check guests in quickly, avoiding some of the long lines that form for the average passenger.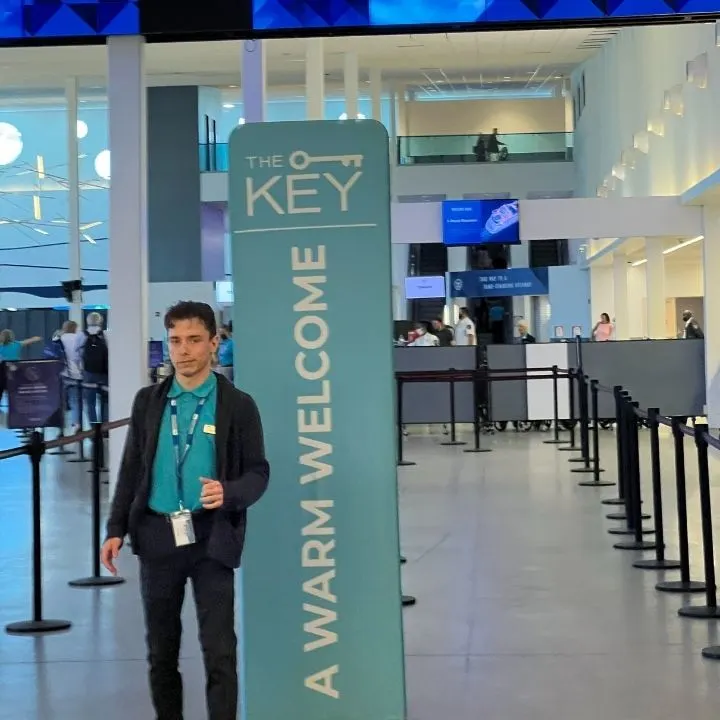 Key guests are then called to get on the ship quite early in the boarding process, with just two or three VIP groups called first.
On our first sailing with the Royal Caribbean Key Program, there was a designated area for Key guests to wait in the terminal for their turn to board. During our second experience, Key guests were just asked to wait with everyone else.
Key guests are asked to be at the terminal early, so as not to miss the embarkation lunch. On our latest sailing, we were asked to arrive at the terminal no later than 11:00 am.
This can be confusing for guests, since Royal Caribbean indicates in several places that Key guests get priority access during their "designated boarding window." These windows can range in start times from 10 am to 3 pm.
Our designated boarding window was at 1 pm, which definitely would have made us miss the embarkation lunch. But information emailed to us just a few short days before instructed us to arrive early.
If your a Key guest that ends up with a later boarding window, we recommend contacting Royal Caribbean to confirm what time Key guests should arrive.
Carry On Bag Delivery To Your Stateroom
Overall, we feel like Royal Caribbean The Key is worth the money, especially if you aren't splurging on much else.
We can overlook the few miscommunications at the beginning of our cruise and say that overall, we really enjoyed being Key Guests during our sailings.
If you're already a suite guests or a member of the loyalty program, these perks might not be up your alley since you already get so many.
But if you're an average cruiser who wants to feel a little bit like a VIP during your cruise, the Royal Caribbean's Key Program is definitely for you.