There are lots of fun things to do in Carolina Beach, NC!
Carolina Beach is a great place to vacation.
With an easily accessible location and plenty of great things to day, it's a great location for a short getaway or a long stay.
There are so many places to visit and things to do during your stay, but we've highlighted just a few of our favorites below!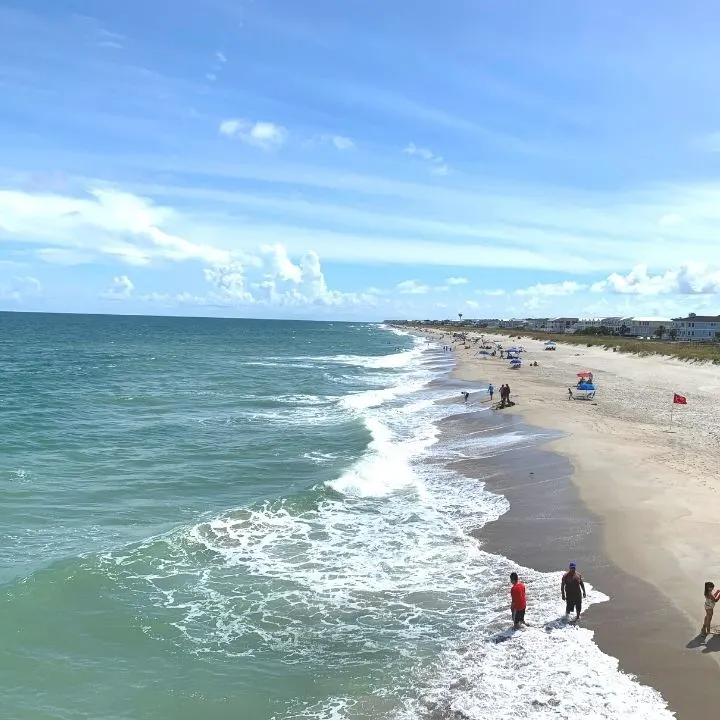 Where Is Carolina Beach?
Carolina Beach is located in southeastern North Carolina.
While it's not part of the state's famed Outer Banks, it does offer lots of fantastic activities (even a few you won't find further North!)
Carolina Beach is very close to Wilmington and is easily accessible from the Raleigh/Durham area.
It's a straight shot on I-40 from the state capital right into Wilmington.
The road then turns into a city street that leads you into the middle of downtown Carolina Beach. Getting there could not be any easier.
Where To Stay In Carolina Beach
You can easily find accommodations in Carolina Beach for just about any budget range as long as you book early.
There are lots of hotels in Carolina Beach, ranging from major chains to small mom and pop motels.
You can also find an abundance of rentals on sites like VRBO.
We usually rent through one of these sites when we visit Carolina Beach.
While there are lots of places to stay with beachfront access, you will pay a premium for those locations.
The campgrounds of Carolina Beach are popular as well and can be a great option for people who own campers or like to tent camp.
There's a North Carolina State Park that offers campsites as well as several privately owned campgrounds that offer really nice accommodations for campers.
Visiting The Beach
The biggest draw for visiting Carolina Beach, NC is spend time on the glorious beaches of North Carolina.
Beach Access
Getting access to the beach in Carolina Beach is quite easy, whether you're staying at oceanfront accommodations or not.
There are lots of public beach access points along the coastline, lots of them with small paid parking lots to leave your vehicle.
At Boardwalk area of Carolina Beach, there are also outdoor showers open to the public where you can rinse off the sand before heading out.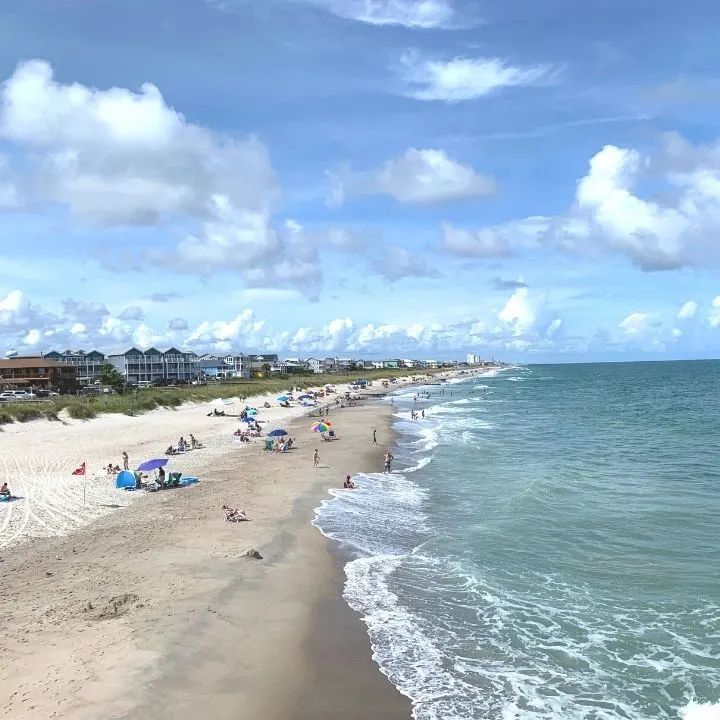 If you happen to own a 4 wheel drive vehicle that is capable of driving on sand, you can pay a fee at Freeman Park (usually somewhere around $50 for a day pass) and drive directly onto the beach.
It is VERY important that you are absolutely certain that your vehicle can make the drive across the sand, as it can be extremely easy to get stuck.
Otherwise you'll end up having to get your car towed out, and that can be VERY expensive!
Beach Safety
Being safe at the beach is top priority for any trip to the coast.
Carolina Beach has lifeguards along a 3 mile stretch of beach for most of the summer (Memorial Day to Labor Day).
Lifeguards are posted from 10 am to 6:45 pm during the season.
But of course lifeguards can't be everywhere every moment of the day, so it's important you take your own safety into account.
You should ALWAYS be aware of rip currents in the ocean and what you can do if you are caught in one.
The site Float Don't Fight offers valuable information for beach goers for what to do if you find yourself caught in one.
Fun Things To Do In Carolina Beach, NC
In addition to visiting the beach at Carolina Beach, there are also lots of other fun things to do!
The Boardwalk
You can visit the Carolina Beach Boardwalk area, where you can find lots of shops and restaurants, plus a small amusement park complete with ferris wheel!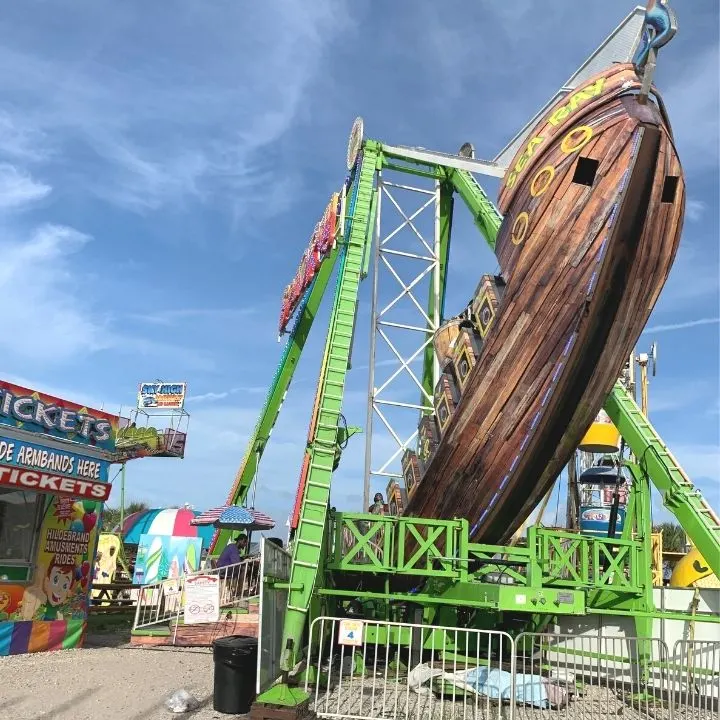 This is where you'll find the famous Britt's Donuts!
The Boardwalk area is also a great place to visit in the evening, when the amusement area is all lit up.
Carolina Beach Fishing Pier
The Carolina Beach Fishing Pier (officially called Carolina Beach Fishing Pier Northern Extension) is a great place to visit at the northern edge of Carolina Beach.
This 700 foot long pier into the Atlantic features a small restaurant with a fantastic view plus a bait and tackle store.
Rates to fish the pier vary, depending on the type of fishing and the length of the pier pass.
The pier is generally open year-round, and has extended hours to accommodate late night and early morning fishing.
Tours & Lessons
Whether you're looking to explore the area, spend some time on the ocean, or learn a new skill, Carolina Beach is not lacking in options.
If you're looking to get out on the water, there are lots of companies ready and willing to let you charter one of their boats for the day.
Golf cart rentals and tours are also extremely popular on the island, giving visitors another way to get around.
You can also take surfing and paddle board lessons from some local experts.
Thing To Do Near Carolina Beach
Just a quick drive down the road from Carolina Beach is the community of Kure Beach.
Kure Beach is a bit smaller than Carolina Beach, but it also offers some great things to do!
Fort Fisher Aquarium
Fort Fisher Aquarium is a fantastic place to visit and learn about the creatures of the ocean and the land, and is a must-see stop for families with children.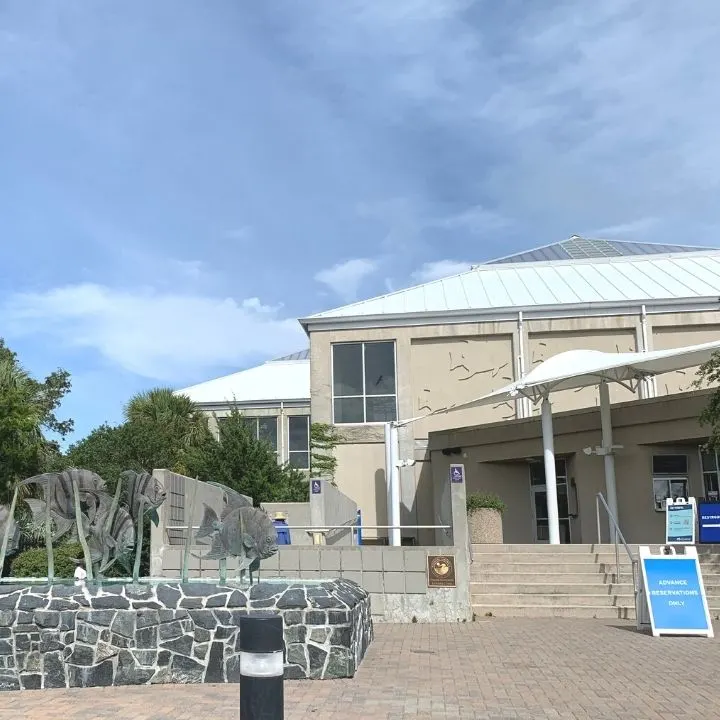 The aquarium has plenty of information about the different species they have on display, as well as the history and culture surrounding Carolina Beach.
If you plan on stopping at Fort Fisher Aquarium, you should book tickets in advance, as there are a limited number of visitors allowed each day and spots fill up fast.
Kure Beach Pier
The Kure Beach Pier is another great place to visit, and features beautiful views of the shoreline.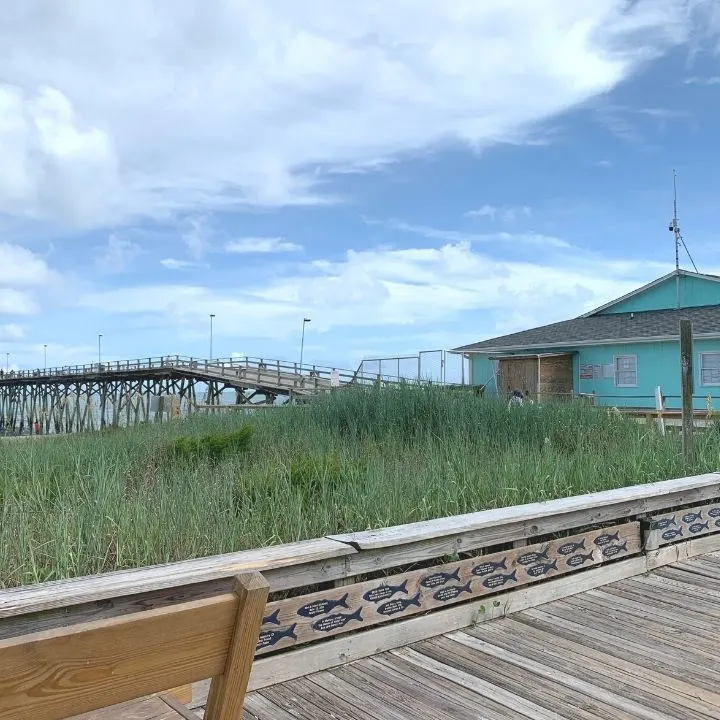 The pier offers free entry and there is no age minimum for either children or adults (always be sure to supervise young children carefully).
To access the pier, you have to walk through really fun and colorful bait and tackle shop.
The shop also serves ice cream and features a wide variety of beach gear and souvenirs.
Wilmington
Head back over the bridge into Wilmington for some great activities as well. Take a spooky ghost tour or or complete a self guided scavenger hunt.
With great restaurants and plenty of history, Wilmington is a great place to visit.
Where To Eat in Carolina Beach
There is no shortage of great restaurants to eat at in Carolina Beach!
But visitors need to be advised, that unless you're in town during peak season, not all restaurants will be open daily.
It's a good idea to check their social media pages or just give them a call for current hours, so you aren't disappointed.
During our most recent visit to Carolina Beach, we visited some really great restaurants.
Olde Salty
This local gem is definitely one of a kind.
Part dive bar, part family restaurant, Olde Salty has a little something for everyone
Our ordered the Chicken Po Boy, the Chicken Florentine, the Teriyaki Chicken and an off-menu special the Soft Shell Crab Sandwich.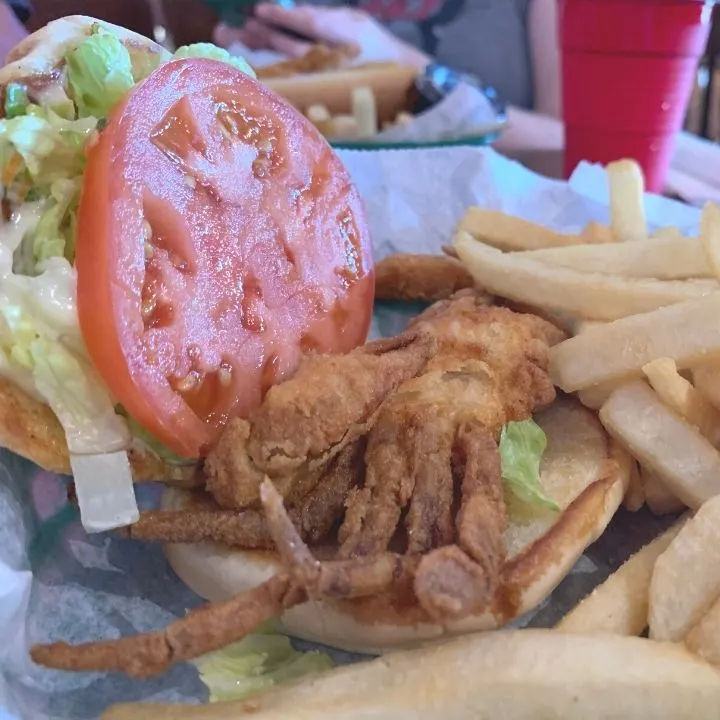 All the food was quite good and came out exactly as we'd ordered it.
The friendly staff made this fun, local restaurant even better, with menu recommendations and advice for what to do while we were in town.
Be advised that Olde Salty is quite popular with the locals, and will fill up quickly
Ocean Grill and Tiki Bar
This local restaurant has a prime spot right on the beach. Their location alone is reason enough to visit, but the food was great as well.
You'll find Ocean Grill and Tiki Bar hidden away right between a hotel and some condos, with parking across the street.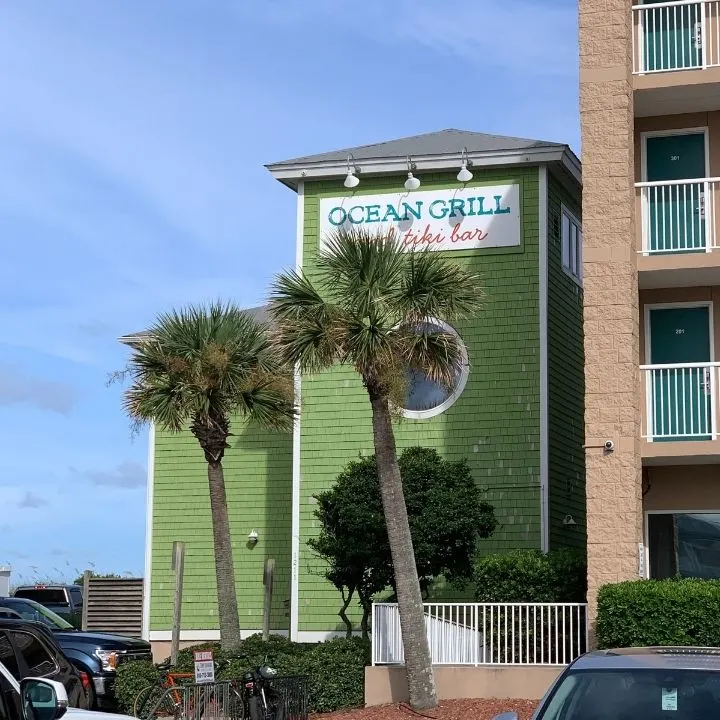 The restaurant has its own pier that juts out over the ocean, offering fantastic views with it's laid back vibe.
Guests can eat outdoors on a covered porch, on the pier on in an indoor dining room.
Since the day was so hot, we choose the upstairs dining room with great views of the beach.
We ordered the Blackened Fish Tacos, the Calabash Shrimp, the Buttermilk Fried Chicken Sandwich and the Ocean Grill Burger.
We all enjoyed our food, especially the fish tacos and the Calabash shrimp.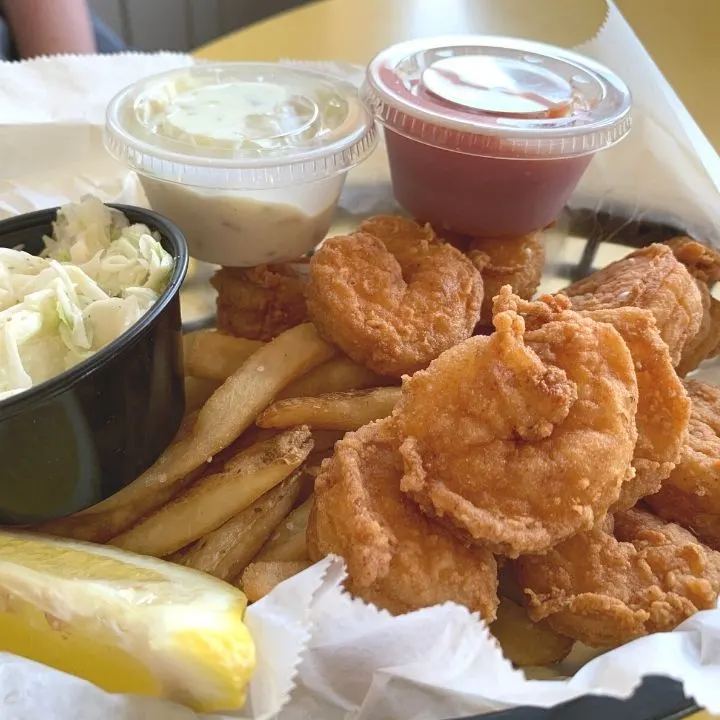 There is something to note at most Carolina Beach Restaurants if you plan to order water to drink with your meal, and we ran into it most notably here.
The tap water in Carolina Beach does not taste good at all. Most restaurants have some sort of filtration system, but not every restaurant does.
Be sure to order a drink of some sort if you plan to eat here. We quickly switched our waters to lemonade after tasting what we were served.
Uncle Vinny's Pizza
During any family vacation, we usually find ourselves craving good pizza. We always try to order from local pizza places instead of chains while on vacation, just to try what the locals like.
During this trip, we ordered from Uncle Vinny's Pizza, and we were not disappointed!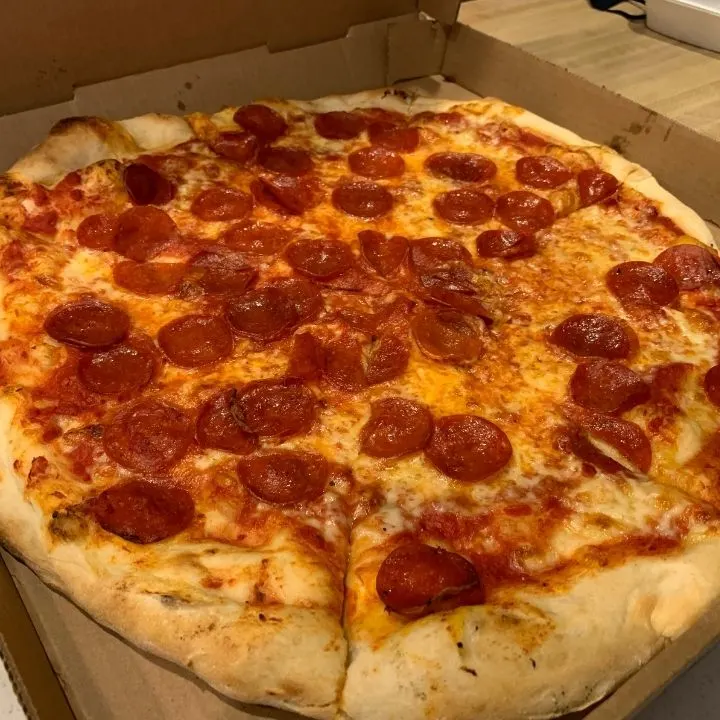 Their classic NY style pizza was delicious, with just the right ratio of cheese to sauce.
We ordered a large pie for our family, and it was enough to feed us all.
If you're intending to order from Uncle Vinny's, take note that it gets incredibly busy. They were not offering delivery while we were there, so be prepared to go pick up your order.
Gulfstream
If you're looking for a truly local Carolina Beach restaurant, you can't beat Gulfstream.
Opened in 1978, this restaurant has been serving great food for over 40 years.
We particularly like this restaurant for breakfast, and visit it every time we're in town.
Their breakfast menu features a great traditional menu with dishes like pancakes, waffles, and omelets.
Their biscuits are absolutely perfect, and should not be missed. Their home fries are another favorite of ours!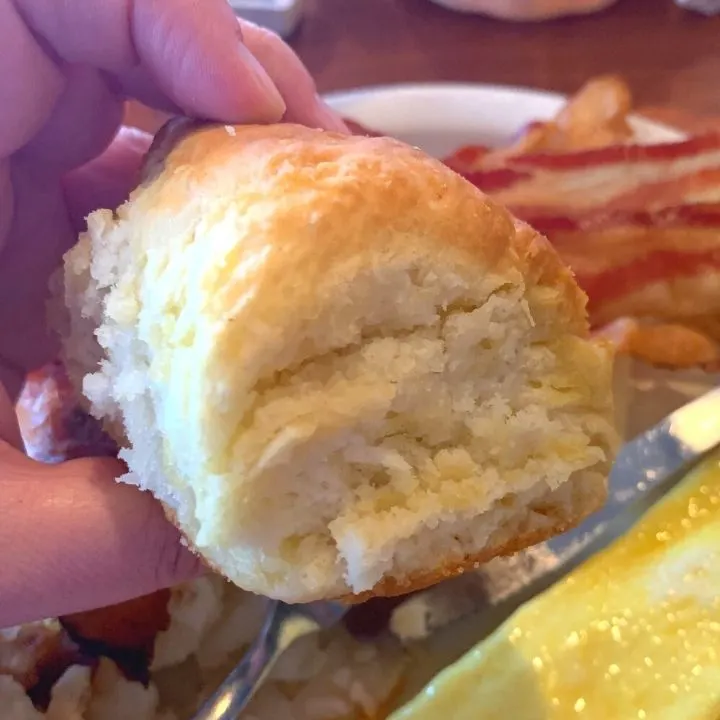 We've always had great service here, and love that we've seen the same faces over the years serving our table.
Be aware that Gulfstream is a cash only restaurant. They do have an ATM by the door, but if you come prepared for this, it won't be a problem.
Celtic Creamery
Celtic Creamery is a fun little stop for a cold treat during your visit to Carolina Beach.
Our waitress at Olde Salty recommended it to us.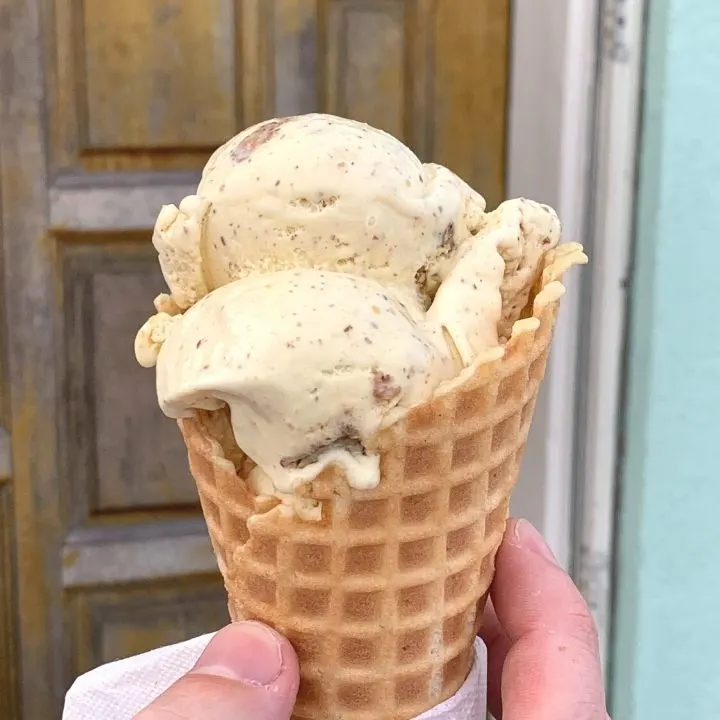 This little locally owned ice cream shop serves delicious homemade flavors with fun names.
All the ice cream is made in-house in small batches with seasonal flavors sure the please any pallet.
While we were there we ordered the Chocolicious Chocolate, Oh No Cookie Dough, Irish Butter Pecan, and some Damn Fine Key Lime.
Enjoy Carolina Beach, NC
Carolina Beach is a great coastal town to spend some time visiting. Carolina Beach has so much to offer, from the food and shops to the beaches themselves.
We've highlighted just a few of our favorite Carolina Beach spots in this post, but there are many more that we didn't have room for!
Have you visited Carolina Beach, NC? What are your favorite things to do there? Tell us in the comments!
Looking for other great places to visit? Check out our post on Colonial Williamsburg!
Fun Things To Do In Carolina Beach, NC