Mickey's Not So Scary Halloween Party (affectionately known as MNSSHP) is a fantastic event in Walt Disney World's Magic Kingdom that celebrates all the fun parts of Halloween without all the scary stuff. It's a great event for all Disney fans, especially those with small children who wouldn't do well with the "fright fests" at other theme parks.
But like all things related to Disney World, tickets can be expensive! You're probably wondering why on earth you should pay extra to go to a party while on your vacation. Well, we've got 9 great reasons why MNSSHP is a must-do during your visit!
Reason #1: The Costumes!
Disney World has strict rules about park guests wearing costumes. You can check out the details here. Basically, if you're over 13 years old, you aren't allowed to wear a costume in the park, UNLESS you're attending Mickey's Not So Scary Halloween Party! If you've ever wanted to be your favorite Disney character at Disney World and you're all grown up, THIS IS YOUR CHANCE!!
Of course, not everyone is into dressing up, but checking out all the other costumes is fun, too! We saw some of the most amazing outfits at our last MNSSHP! The people watching alone could have filled the entire night! Costumes are definitely a huge part of attending the Halloween Party!
Reason #2: Trick or Treating, the Disney Way!
Disney has a way of doing things bigger and better than anywhere else, and trick or treating is no exception! Cast members hand out candy by the fistful to party-goers! Giant barrels are filled to be brim with sweet treats. And it's not the cheap junk! Disney hands out the good stuff like Snickers, Starbursts, M&Ms, and more!
Have food allergies? Don't worry! There are special stations set up throughout the parks to accommodate anyone who might be sensitive to certain ingredients.
In addition to the great candy, the trick or treat locations are very cool! One trick or treat trail leads you down a pathway that visitors don't normally walk through, behind main street. Others are located inside attractions, like Mickey's Philharmagic that plays classic cartoons during the experience. Every line moves quickly and it doesn't take long for your goodie bag to be overflowing with candy!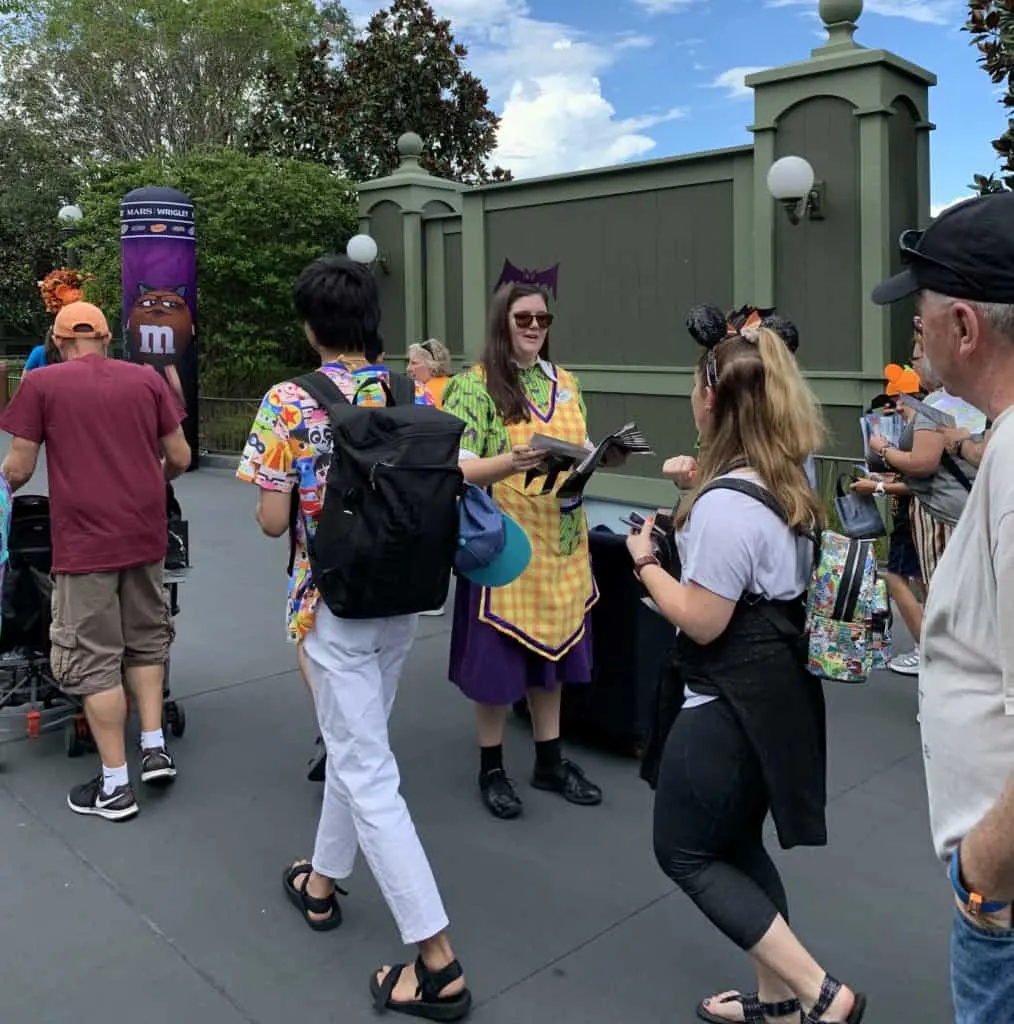 Reason #3: Rides with Spooky Extras!
Rides at the Magic Kingdom are always fun, but during MNSSHP, several rides have even more magic! Disney adds what they call "overlays" to select rides during the party to make them special for the holiday!
Actors interact with guests on the Pirates of the Caribbean, both in the queue and in the attraction itself. Ghosts haunt the front lawn of the Haunted Mansion, telling funny stories to guests while they wait in line. The Mad Tea Party had special lighting and music.
All of those experiences are fantastic, but Space Mountain is the ride that you definitely should not miss during the party! A thrilling ride on a regular day, Space Mountain is made even more fun with the elimination of ANY ambient light during the ride and the addition of more exciting music! My ten year old LOVED it, but to tell you the truth, it was almost too much for me! It's definitely a unique experience!
Reason #4: Interact with rare characters!
During MNSSHP, characters that don't usually make appearances in the parks are available for photos! The biggest draw is Jack Skellington and Sally from the Nightmare Before Christmas, but other great characters are available too, including all Seven Dwarfs, Winnie the Pooh and friends in their Halloween costumes, Rock-n-roll Stitch, and several others. But be mindful that lines for characters can be some of the longest at the party, some even taking hours. Make sure the interaction will be worth the time it takes!
Reason #5: AH-MAZ-ING Entertainment!
Shows and parades at Disney World are always special, but during Mickey's Not So Scary Halloween Party, they're even more fun! If you love Hocus Pocus, the Sanderson Sisters are on full display in the castle show. The Nightmare Before Christmas-inspired fireworks show is a must see. The Boo To You Parade involves lots of villains and rarely seen characters. Other performers like the Cadaver Dans are scattered throughout the park and perform at various times during the party. The castle show and the parade are presented at two performances, enabling guests to schedule their time wisely during the party. You definitely don't want to miss the special entertainment at MNSSHP.
Reason #6: Exclusive Party Treats!
No Disney party would be complete without exclusive goodies. The Halloween themed treats available at MNSSHP are amazing! They do cost extra, but they're totally worth it! We loved Costance's For Better or For Worse Wedding Cake available at Liberty Square Popcorn Cart. But in addition to this bewitching cake, there are tons of other party exclusive treats you'll want to check out during the event.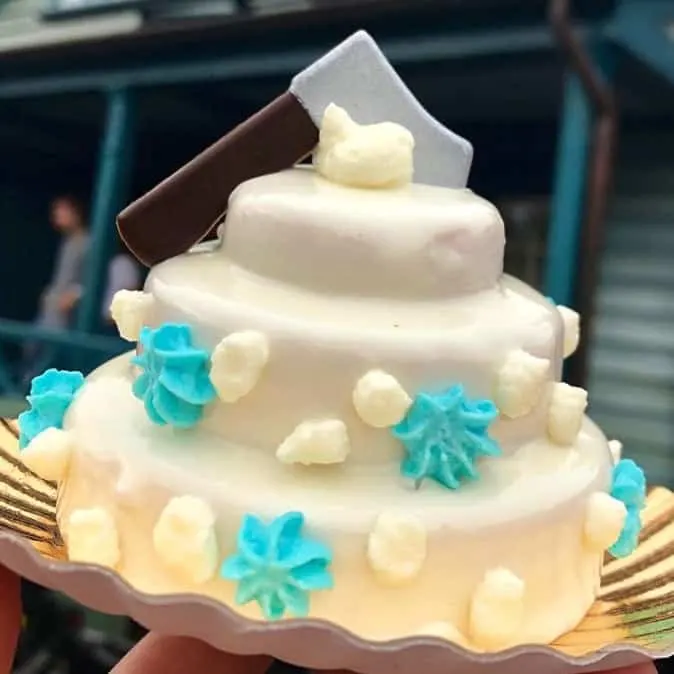 Reason #7: Shorter Ride Lines!
While Disney World sells a lot of tickets to MNSSHP, it's nowhere near the number of general admission tickets they sell in a day at the Magic Kingdom. Consequently, the number of people at the Magic Kingdom is significantly less during a party than on a typical day, especially in the ride queues. We waited no more than 20 minutes for ANY ride during party hours, with most being around 10 minutes. The park appeared crowded, due to the people in trick or treating lines and gathering for the entertainment, but wait times for rides are amazingly short during these events. If your a ride fanatic, DEFINITELY go to a party, and enjoy the short waits!
Reason #8: Character Dance Parties!
My kids love Monsters, Inc. So when we discovered the Monstrous Scream-o-ween Ball in Tomorrowland, we couldn't have been happier. Where else can you dance the night away with Sully and Mike Wazowski? Other character dance parties are located throughout the park, where guests can groove with characters from Descendants and Disney Junior. The dance parties are definitely an added bonus!
Reason #9: You Don't Need A Park Ticket To Attend!!
Most people don't realize that for many special parties at Walt Disney World, you don't need an additional park ticket to attend the event! I have an entire post, outlining the details of how this works that you can read by clicking HERE. It's an amazing perk that can help you save money and still get 8 hours of fun in the Magic Kingdom! It's also one of the things that makes attending MNSSHP worth every penny!
There are some tips and tricks you need to know before attending MNSSHP. I wish I'd known them before our trip! You can read all about them HERE!
Mickey's Not So Scary Halloween Party is one of the most memorable events I've ever attended at Disney Parks. If you're looking for a way to get even more out of your September or October vacation to Walt Disney World, be sure to add a party to your plans!