We just went to our very first Mickey's Not So Scary Halloween Party! My son and I took a special 36 hour trip to Florida, just the two of us for the event.
Tips for Mickey's Not So Scary Halloween Party
In preparation for our trip, I read every blog post and how-to guide I could find, but there were still tips for Mickey's No So Scary Halloween Party that I wasn't aware of when we finally got to the park. I'm gonna share everything I learned with you, so you won't have to figure it out on your own!
Party guests can enter the park as 4 pm, but you may not want to.
We had read all about early park entry for party goers and how you don't need a regular park ticket to attend a special event party at Disney World! In fact, I have a whole post about how this works! You can read about it HERE.
We came prepared to jump right into the action. We got to the park around 3 pm, *just in case* they decided to let people in even earlier. (It didn't hurt to ask, right?) We quickly discovered that it would be 4 pm, on the dot when they allowed us in. We also found that folks were already lining up for the party in pretty large numbers.
Since it was a relatively hot day in August, my son and I decided that instead of waiting in the heat, that we would take a loop around the monorail and then ride the ferry boat back over so he could pick up some transportation cards.
We arrived back at the Magic Kingdom right at 4 pm, when party goers were allowed park entry. When I say it was a madhouse at entry, I am NOT exaggerating. People were crammed into the entry area, all trying to be the first one to get their wrist bands.
Next time we attend, I think we'll wait until 4:30 to get into the park and let the crowds dissipate a bit. We spent at least 30 minutes waiting in the line anyway. Plus, trying to get through the huge bottle neck of people who were all on Main Street at that time was pretty rough.
My best advice, go early, but don't go the second they open up for party guests!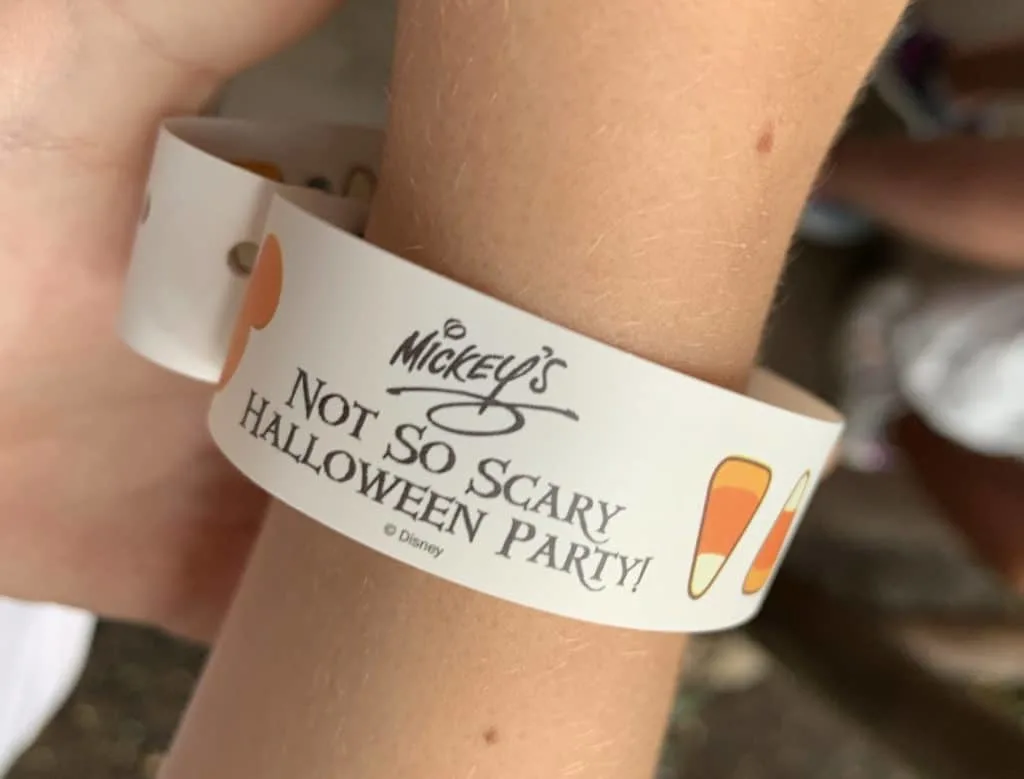 Pay attention to what rides will close when the park does!
My kids and I LOVE classic Disney rides! The Jungle Cruise and Carousel of Progress are always on my "must-do" list for every trip to the Magic Kingdom.
But at special events like Mickey's Not So Scary Halloween Party, not every ride stays open. Many attractions like the Hall of Presidents and Country Bear Jamboree are closed at the same time the park closes to regular guests.
Cast members hand out a great brochure when you enter the party that has a map and lists what will be open, what will be closed, where trick or treat stations will be, and tons of other party details. You can also frequently find this info online before the party.
You'll want to read up on this info and plan your visit accordingly. Since we knew the ride would stop allowing people to enter the line at 6 pm, we made it a priority to be in line for the Jungle Cruise before the parks official closed.
The 35 minute wait for the Jungle Cruise was probably the longest line we waited in all night. Not only did we squeeze in a ride that wouldn't be open during the party, we rode on one of the last trips of the day, and our cruise navigator was hilarious!
Make your dining plans appropriately!
This is one of those tips for Mickey's Not So Scary Halloween Party that I definitely wasn't aware of. We planned to just eat at a quick service restaurant whenever we got hungry. But it didn't quite work out that way.
My son and I both were in the mood for pizza, so we had planned to head to Pinocchio Village Haus behind the castle. We started getting hungry as we waited in line for Jungle Cruise and decided to head over to the restaurant as soon as we got done.
We hopped off the ride at 6:15 and made the trek across the park. But when we got there, we found cast members setting up for a trick or treat station. We were informed that the restaurant had closed at the same time the park had closed for the day for regular visitors.
I had not checked the brochure for which restaurants would be staying open. Definitely a mom fail moment. By this time we were both starving, so we made our way over to Pecos Bill's for some tacos, which was thankfully open and very tasty.
A little later in the night, at about 8:20 or so, we wanted to stop for a drink and some air conditioning at Columbia Harbor House, one of the few other locations that had stayed open for the event. Unfortunately, we were turned away at the door because they had closed at 8. Yet another thing I didn't notice on the brochure.
If you're attending other special events at Disney World, be sure you are aware if what stays open and what closes when it comes to restaurants. Some events, like Disney After Hours (that you can read all about HERE) do not have any restaurants open during event hours.
Make sure you grab a trick or treating bag early!
One of the few things that didn't seem to go as well as you'd think is the distribution of the official trick or treating bags. Trick or treating bags are these adorable bags that Disney hands out to party guests for the sole purpose of holding their candy. They are technically disposable, but have strong straps and are just the right size. This year's bag featured a poster art from Frozen II and Malificent: Mistress of Evil.
These exclusive and really cool bags are designed specifically for the Halloween party and make it easy to gather candy at the trick or treat stations throughout the night. They were available as soon as cast members starting letting party goers into the Magic Kingdom.
During the middle of the party, we heard a rumor that seemed to prove true by the end of the night. Someone in line with us told us that trick or treat bags are only available until about 8 pm during parties, and that you better "get 'em while the getting is good!"
We did noticed that they didn't seem to be distributing them later in the night. We did see several people that didn't seem to have them and were gathering candy in backpacks and such.
Whether or not this rumor is true, it pays to make sure you get your bag early. One trick or treat location opens early, as soon as party goers are allowed into the park at 4 pm. It's the route that runs behind the right side of Main Street U.S.A, an area where guests usually aren't allowed to go.
Cast members will be handing out bags in this area and selling exclusive party merchandise, including some really cool t-shirts. We skipped this area when we were first let into the parks in the afternoon to avoid the massive crowd, but back tracked to it at about 6:30, when the crowd had cleared, but before the other trick or treat locations were open. It worked out perfectly!
Trick or treat strategically!
Trick or treating in the Magic Kingdom is the main draw for Mickey's Not So Scary Halloween Party. It's really cool to wear your costume and experience Halloween the Disney way.
But immediately after the party officially starts (it was 7 pm for us), all trick or treat locations are mobbed. While the lines moved quickly, the wrapped around the streets and seemed over whelming to us.
So we used the first hour or so of the party to take advantage of the dwindling lines and ride a few of our favorites. We started our trick or treat mission around 9:30 pm, when lines had decreased drastically. We were able to breeze through every trick or treat spot we hit VERY easily by this time.
You definitely want to use your time wisely during the party, so I'd recommend trick or treating later rather than earlier.
Don't let long queues fool you!
One of the BEST perks about attending any Disney special event is the opportunity to ride attractions with lower wait times. It's my personal favorite reason to attend a party!
During the parties, fast passes are not available, so all queues become stand by queues. At first glance, you'd probably think this would make lines longer. But the combination of limited ticket sales and the lack of priority placement for fast pass holders make for the perfect combination and lines move EXTREMELY quickly.
Some of the queues seemed really long. The line for Haunted Mansion stretched way out past the river boat dock, and the line for Pirates of the Caribbean was out into the street. At first glance, I was a little overwhelmed by the size of these lines, but the posted wait times were low, less than 20 minutes each.
We choose to hop in the lines, and we weren't disappointed. Since the fast past queues weren't being used, those spaces were empty, making the stand by lines appear long, but they moved extremely quickly, like I mentioned above.
Don't let the appearance of a long line fool you, the wait times will be accurate. Go by those!
Plan your show viewing for optimal attraction riding!
Another perk was the great planning of two performances of both the stage show and the parade. This not only gives party goers double the opportunity to catch these awesome shows, it eases up the crowding in the trick or treat lines AND, most importantly, the rides!
We found that lines really seemed to dwindle when the first performance of the parade was ready to start. My favorite ride, Big Thunder Mountain Railroad, was basically walk on during the parade. We also made it over to the Haunted Mansion and Seven Dwarfs Mine Train during this time, and had very little time spent waiting for our turn.
There is only ONE performance of the fireworks show, but it is placed right in the middle of both sets of performances, so you can catch all 3 shows quite easily. Definitely plan your evening accordingly, so you can take advantage of watching one performance of the shows and riding all your favorites during the other performance.
Know the parade route so you can move easily through the park!
While it can be difficult, it is definitely possible to get from one side of the park to the other, even during a parade. The key to accomplishing this is to know the parade route.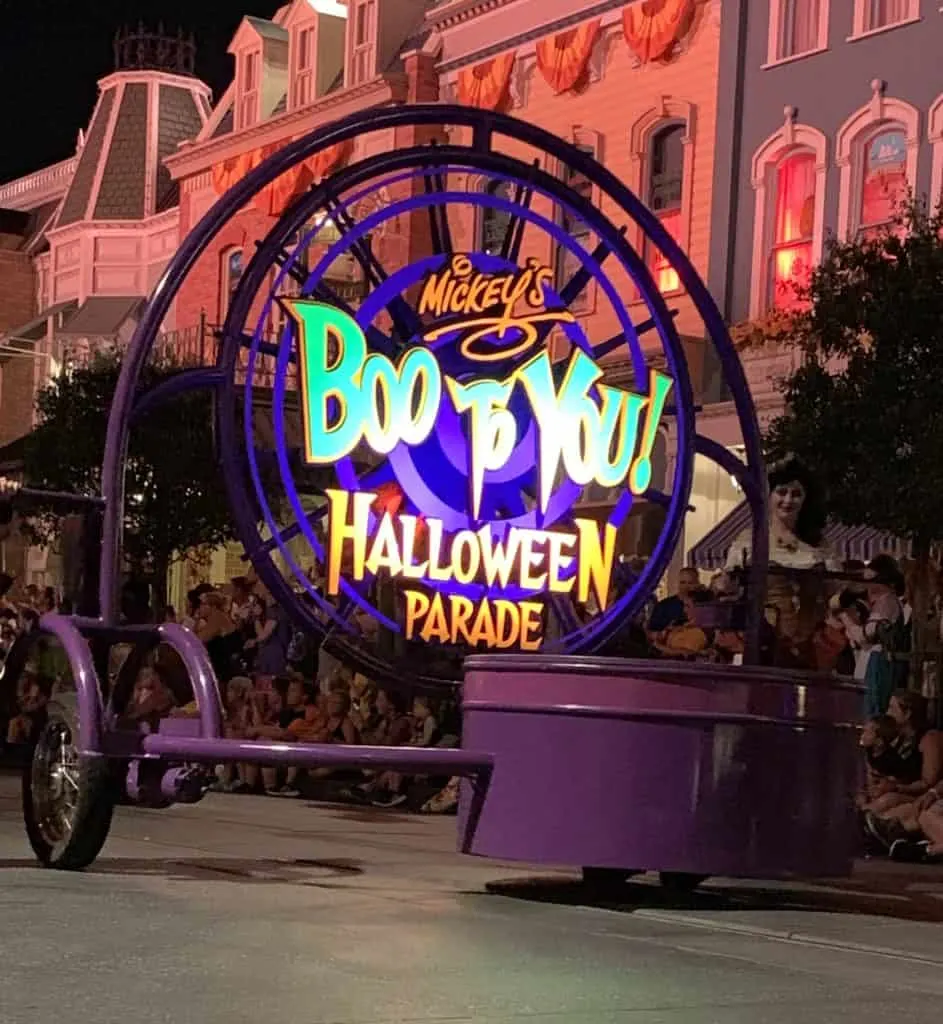 Parades usually start right next to Splash Mountain, then work their way through Frontierland and half of Liberty Square. They then take the route from Liberty Square, over the bridge, to the front of the castle. Then they take the long way around the Hub, and head right down Main Street. They make the final loop around the flag pole and end by passing through the gate next to the Main Street Fire Station.
The hardest land to access during a parade might be Adventureland, which might have both access points blocked if the parade is active on both ends of the land. But don't worry, having both access points blocked shouldn't last long.
We were able to easily maneuver from Thunder Mountain to the Haunted Mansion and then on to Seven Dwarfs Mine Train during the parade. We used the alternate walk ways and bridges that run next to the river. Then we looped around through Fantasyland, past Peter Pan's Flight to go to the other side of the park.
Don't miss the ride overlays!
One of the coolest features about the Halloween Party was the special features on the rides! At our party, four rides had extra features about them to make them more "halloween-esque."
The Haunted Mansion featured live actors on the lawn, regaling the people in the queue with spooky tales. They were actually more hilarious than scary, and we enjoyed them so much we made a special point to stop and listen to them after we got off the ride.
Pirates of the Caribbean had more live actors. They were a couple in the line interacting with guests, including one trapped in a cell. Three more interacted with guests in the actual ride from bridges and look out points. It made the ride so much more fun!
The Mad Tea Party in Fantasyland was not to be missed during the party as well. Special lights and music added an extra element of fun to this classic Disney ride!
The final overlay was less spectacular, but very effective. During Mickey's Not So Scary Halloween Party, Space Mountain operates completely in the dark. Yes, it is regularly a dark ride, but some ambient light from the star effects is usually visible. During the party, all these lights are off, making the ride MUCH more intense.
Don't miss the Dance Parties!
One of the best tips for Mickey's Not So Scary Halloween Party that I figured out while we were there was not to miss the epic dance parties with the characters! It was a great way to get up close and interact in a new way with some of our favorites that we don't see that often.
There were three dance parties happening during the party. The first was the Monstrous Scream-o-ween Ball in Tomorrowland, just outside Space Mountain. Mike and Sulley from Monsters Inc. were out and ready to party with guests!
The second was the Disney Descendants Party at Cosmic Ray's Starlight Cafe in Tomorrowland. Villain Kids from The Descendants movie trilogy danced with guests. (This one was in the air conditioning!!)
Over in Fantasyland, you can find the Storybook Circus Disney Junior Jam, featuring Vampirina and other Disney Junior favorites.
Dress up, but make sure it's appropriate!
One of the biggest draws of Mickey's Not So Scary Halloween Party is opportunity for adults to go in costume! During regular park hours, anyone over twelve cannot wear a full costume in Disney Parks. The Halloween party offers adults a chance to get in on the dress up fun.
We saw a ton of great and original costumes. My favorites included the Sanderson Sister from Hocus Pocus, Kuzco and Kronk from Emperor's New Groove, and a subtle homage to Chip and Dale's Rescue Rangers.
We also saw a lot of simple costumes, including our own. My son was Baymax from Big Hero 6, with a simple white t-shirt that featured the signature eyes of the character.
The key to dressing up for the party is to make sure you do it appropriately for conditions of the event. We saw TONS of people who's costumes looked amazing, but they looked miserable due to all the layers and the heaviness of their costumes.
There was one couple dressed as Ursula and King Triton from the Little Mermaid who had amazing costumes, but I'm not sure how they made it through the night. It must have been very difficult to get the stuffed tentacles at the bottom of her dress onto the rides. Also, the layers of stuffing used in his fake muscles plus the wigs and fake beard must have made it unbearably hot.
Wear something fun and festive, but keep in mind, you want to stay cool and be able to easily maneuver through the park.
If you stay to the end, be prepared to wait.
Since we wanted to get the most out of our party experience, we stayed until the bitter end. Of course, that means when it's all over, we had quite a wait to get a bus back to our resort. The lines for the ferry and the monorail were just as long.
While Disney does a fantastic job with transportation, it's just unavoidable that there would be some back up when everyone is leaving the park at the same time. We were prepared for this and grabbed some bottles of cold water on the way out of the park to rehydrate while we waited.
We waited about 45 minutes for enough busses to come through to grab a space on one, then had a least a half hour ride back to our resort. We rolled into our room around 1:30 am, thoroughly exhausted.
Tips for Mickey's Not So Scary Halloween Party
Overall, we had a fantastic time, with very few bumps in the road. If I had known these tips for Mickey's Not So Scary Halloween Party before we went, I think it could have gone a little bit smoother. But I do think it was the perfect balance of slightly spooky Disney fun, without anything that would scare small children. I would recommend this party to anyone who loves the Magic Kingdom and loves Halloween. It's definitely a winner!
First time trip to Disney World? Find out all about how to use Disney's best and most famous transportation system HERE.
Do you really need a Disney Travel Agent to plan your vacation? Get the UNBIASED, UNSPONSORED scoop here!