Every year it is getting more expensive to visit Walt Disney World in Orlando, Florida. With the addition of more amazing attractions comes increasing admission prices. But we've discovered a little known way to get as much as 8 HOURS in Disney World without a park ticket!
In addition to the daily operation of their four theme parks and two water parks, Disney World also throws some AMAZING parties! These specially ticketed events are held many times throughout the year and offer unique ways to visit some of your favorite parks.
These parties are the key to a ticket-free visit to a Disney Park. First, let's outline what types of parties Disney World offers, then I'll tell you how a party ticket can be your best bet for a great time at a Disney park.
Disney World currently runs several types of parties: Disney After Hours, Mickey's Not So Scary Halloween Party, and Mickey's Very Merry Christmas Party, and H2O Glow Nights.
Disney After Hours parties run through all seasons of the year. After Hours parties are some of the most fun events Disney has to offer. They allow guests to visit a park in the evenings after it has closed to regular guests.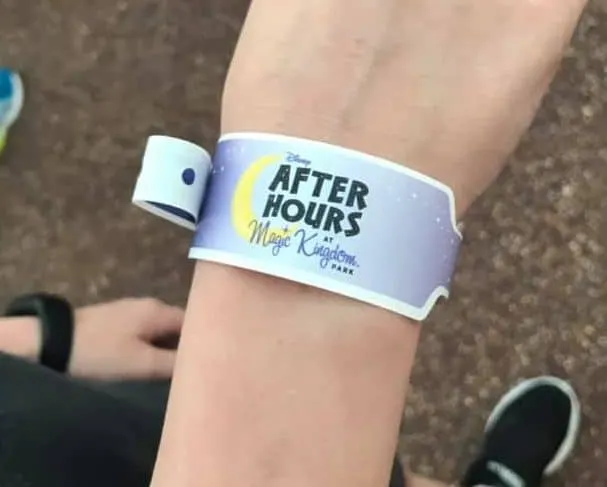 Tickets to these events are purposefully released in VERY limited quantities. The experience gives party goers a chance to run through a virtually empty park where rides all have little to no wait time. I've written a FULL review of Disney After Hours at the Magic Kingdom that you can read HERE.
Disney After Hours events are currently being held in the Magic Kingdom and Animal Kingdom, but have been known to take place at Hollywood Studios in the past. With all the upcoming changes to Epcot in the coming years, I'd expect that park to start offering these types of events there as well.
Mickey's Not So Scary Halloween Party is a themed event held in the Magic Kingdom that offers Halloween loving families a kid friendly, lightly spooky opportunity to trick or treat in the park. Halloween themed entertainment is available, including special fireworks, stage shows, dance parties, and parades. Guests can even meet rare Disney Characters, like Jack and Sally from the Nightmare Before Christmas during the party.
Mickey's Very Merry Christmas Party is a special holiday celebration at the Magic Kingdom. It also features special holiday themed entertainment, and even snow! As with other events, the majority of the rides remain open during the party, giving guests a less crowded opportunity to enjoy the best Disney has to offer.
H2O Glow Nights are special parties held at Typhoon Lagoon Water Park. Party goers celebrate with Toy Story Characters at a special glow party in the water park.
Disney special events are constantly evolving. More are added all the time. All of them are phenomenal and definitely worth your time.
And now, I'll tell you how you can "work the system" and use the party tickets to have a great day at Disney without buying a traditional ticket.
While many visitors attend these parties during their vacations, what most people DON'T know is that you DO NOT have to have a park ticket for the day to attend these events. Tickets to parties can be purchased independently from your regular park tickets and you do not have to be a guest of a Walt Disney World Hotel to attend.
For example, let's pretend my family is visiting Disney World in September and we noticed that they're already holding Mickey's Not So Scary Halloween Party at the Magic Kingdom. We decide to add an extra day to our trip, but not an extra day of park tickets. Instead, we buy tickets to the party. We use the morning of that extra day to rest and only attend the special event that evening instead of spending another full day at the parks.
Special events usually start in the evenings around 7 or 8 pm, and last until 11 or midnight. But that's only 3 or 4 hours in the parks, right? WRONG!! What most people don't know is that Walt Disney World will allow party guests into the park hosting the party several hours early!
Guests attending a party that starts at 7 pm can enter the park as early as 4 pm, and enjoy all the park has to offer! So if you're attending a special event like Mickey's Not So Scary Halloween Party that ends at midnight, getting into the park at 4 gives you up to 8 hours of time to spend enjoying everything, without buying a regular park ticket. Please aware that this has been the trend over the last several years, but Disney World always has the option to revoke this early entry privilege.
Using a party ticket instead of a regular day ticket comes with some great benefits, and I think they're worth it. But using this method can also come with a few drawbacks. I always want to make sure my readers are fully informed, so I'll address the downside of choosing party tickets over regular tickets as well.
Like I previously mentioned, you can get up to 8 hours in a Disney Park on a party ticket. Eight hours is A LOT of time to enjoy a Disney Park. Between shows, attractions, characters, rides and snacks, you'll find MORE than enough to keep you busy during your time there. While this can be an amazing benefit, I can't guarantee that this will be universally true for all parties all the time. But so far this trend of early entry has held true for most events held in Disney Parks.
Another benefit to party tickets can be lower crowds, especially at Disney After Hours events. After Hours events are specifically marketed based on the fact that they're not crowded, giving guests free reign of a practically empty park. But the lower crowd effect can happen at other parties.
At Mickey's Not So Scary Halloween Party and Mickey's Very Merry Christmas Party, tickets are limited and can sell out. But if you attend a party early in the season (with the exception of the very first one of the year), you are highly likely to have much lower crowds during party hours than you would have during a regular day.
Another benefit is the possibility of saving money on your time at a Disney Park! Frequently, party tickets can be less expensive than regular admission tickets. For example, for a ticket to Mickey's Not So Scary Halloween Party in August on a Tuesday you'll spend $79. For a one day regular admission ticket to the park, you'll spend $109.
But during peak season, prices can get up to $159 for one day regular admission ticket! While it is true that ticket prices decrease the more consecutive days you purchase them, if you're only spending a couple of days in the parks, it might be worth your money to buy a party ticket instead of a park ticket, if they're available.
Also, if you're in Orlando to visit other non-Disney theme parks and just want a quick visit to the Magic Kingdom or just have one day in town, it might very well be the best way to spend your vacation dollar.
Definitely keep in mind that if you're an annual passholder or a DVC member, there is a discount on special event tickets!!
Another benefit to attending these special event parties is the unique entertainment. All parties with the exception of a Disney After Hours event usually feature special entertainment during the event. Parades and shows you can't see any other time at the park are featured during parties. Many also have special fireworks displays that really are spectacular.
Special snacks are also available during parties at Walt Disney World. Both Mickey's Not So Scary Halloween Party and Mickey's Very Merry Christmas Party feature special snacks that are available for purchase during the event. At After Hours Events, all-you-can-eat popcorn, ice cream treats, and sodas are available throughout the park and included with your ticket!
Special events also feature special merchandise! Party specific t-shirts, mugs, Mickey ears, etc., are all available at special events!
While I could go on and on about why I love special events at Disney World, there are a few drawbacks that you should be aware of before you purchase tickets.
Not all attractions will be open during every single event. Usually the most popular rides will be up and running throughout the event, but the less popular rides sometimes won't be operating. For example, you can definitely ride Pirates of the Caribbean during the Halloween Party and it even has some special added magic during the party!
But Disney classics like the Carousel of Progress and the Hall of Presidents probably won't be running during your event. Be sure and check the event page of the Disney World website. They usually have full lists of what rides will be available.
Also, just because you're at a special event, rides will still occasionally malfunction and stop running. Disney usually manages this pretty well, so don't worry too much about it.
Another drawback is that if you want to visit any other park on the day of your party, you will have to purchase a regular admission ticket. The only park you can get in early to is the park that will be hosting your party.
It's also good to remember that the late hours may not be for everyone. Little ones who aren't used to staying up late may just not be able to make it through until midnight at one of these parties. Staying up late can create chaos the following day if kids aren't rested enough. Only you will know what's best for your family, so make your decisions accordingly.
Finally, you should ALWAYS read the fine print for anything like this BEFORE you purchase it. It says directly on Walt Disney World's website:
"Tickets are nontransferable and nonrefundable and may not be resold. The number of tickets available is limited and tickets are valid only for the specific event date and hours. Entertainment may be cancelled due to inclement weather or otherwise. No refunds even if entertainment is cancelled. All attractions, experiences, entertainment and event elements are subject to restrictions, change or cancellation without notice."
You MUST make sure you are aware of these things so that you aren't caught off guard if something goes awry. Always check the Disney Special Events website for complete details about the tickets.
Special Event Parties are a great way to spend 8 hours at Disney World without a park ticket. Just be sure you're aware of all the details you need to know, and you'll be able to take full advantage of these amazing events during your vacation.
Do you need a Disney Travel Agent to help you book your next Disney trip or can you handle it yourself? Read an unsponsored, unbiased review of this process by clicking HERE.
Want to know how you can thank a Disney Cast Member in a way that will REALLY count? Check out 3 awesome ways to do just that by clicking HERE.