As a parent, I'm always looking for great books for older kids to read.
Having upper elementary and middle school kids that love to read is wonderful, but finding books that they'll really get into can be a real challenge.
Beyond series like Harry Potter, Percy Jackson, and Artemis Fowl, there are tons of great book series out there for older kids, it's just hard to know where to start.
I've compiled a list of 25 books for older kids that my tweens absolutely loved.
I'm sure you'll find something for every tween reader in your household on this list.
Links in this post may be affiliate links, which means I may earn a commission if you make a purchase from any of them, at no additional cost to you. You can find out more information by reading my full disclaimer.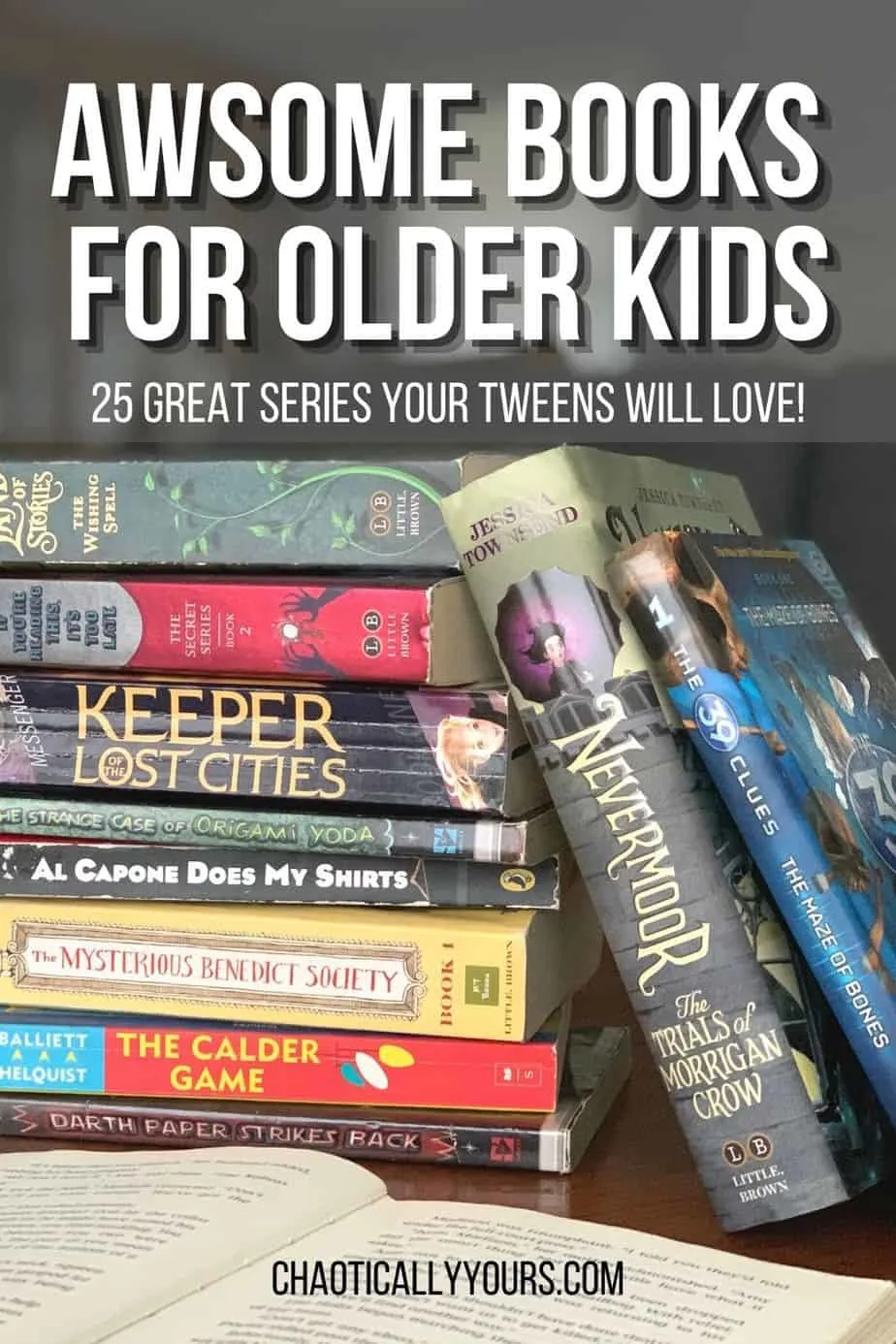 Where To Find These Titles
We've found all of these titles through our local library, but if you want your own physical copy, they're all available from Amazon, and I've linked them for you below.
You can also get these titles included with a Kindle Unlimited Membership if you child likes to read on a tablet or an iPad.
Another great option is more reluctant readers is audio books, and all of these titles are available with an Audible Plus Membership.
Great Books For Older Kids To Get Them Reading
Most of the titles on this list are part of a series of books, so there's hours and hours of good reading material on this list.
I, as a parent, have personally read every book on this list and found them entertaining. My kids found them to be fantastic.
All of these books are fiction. Some of these books for older kids fall more in the realistic category, while others are complete fantasy.
Every single one of them was a joy to read.
The 39 Clues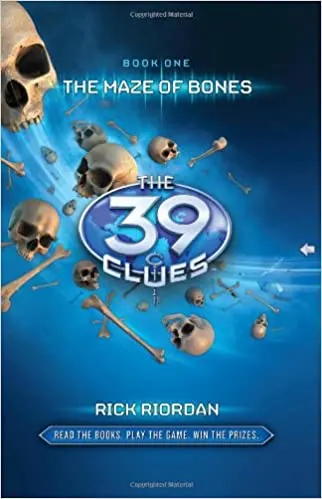 We're starting this "books for older kids" list off with the ultimate in middle grade fiction book series.
The 39 Clues is a high adventure, completely captivating series of books written by not just one, but a whole bunch of super star authors.
The first book of the series is written by Rick Riordan, of Percy Jackson fame. Other works in this series come from some pretty heavy hitting authors like Gordon Korman, Peter Lerangis, Linda Sue Park, David Baldacci, Margaret Peterson Haddix, and others.
From Amazon book description:
"Minutes before she died Grace Cahill changed her will, leaving her descendants an impossible decision: 'You have a choice – one million dollars or a clue.' Grace is the last matriarch of the Cahills, the world's most powerful family. Everyone from Napoleon to Houdini is related to the Cahills, yet the source of the family power is lost. 39 Clues hidden around the world will reveal the family's secret, but no one has been able to assemble them. Now the clues race is on, and young Amy and Dan must decide what's important: hunting clues or uncovering what REALLY happened to their parents."
Each book mixes historical facts and locations with daring exploits and heart-pounding action.
While each book contains its own intricate plot, the overarching storyline is really really good and well maintained between authors.
There are eleven books in the original series, with three spin-off series and one "Super special" book. This series is great for readers who just don't want the story to end.
The Name Of This Book Is Secret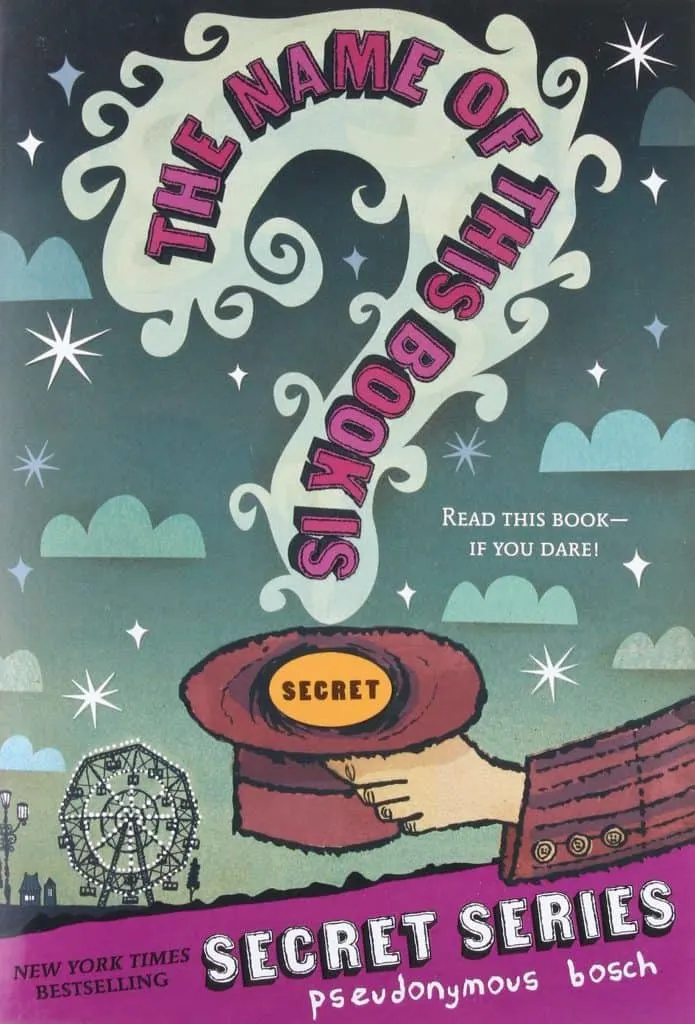 My kids were captivated by The Name Of This Book Is Secret and, frankly, so was I.
The mystery and intrigue that Pseudonymous Bosch (if that is his real name…) puts into this book captures the imagination of readers the instant they open the book.
Here's the book blurb from Amazon:
"Warning: this description has not been authorized by Pseudonymous Bosch. As much as he'd love to sing the praises of his book (he is very vain), he wouldn't want you to hear about his brave 11-year old heroes, Cass and Max-Ernest. Or about how a mysterious box of vials, the Symphony of Smells, sends them on the trail of a magician who has vanished under strange (and stinky) circumstances. And he certainly wouldn't want you to know about the hair-raising adventures that follow and the nefarious villains they face. You see, not only is the name of this book secret, the story inside is, too. For it concerns a secret. A Big Secret."
This author has another great series of books for older kids, called The Bad Books, that we absolutely love as well. That series starts with a book called Bad Magic.
The Penderwicks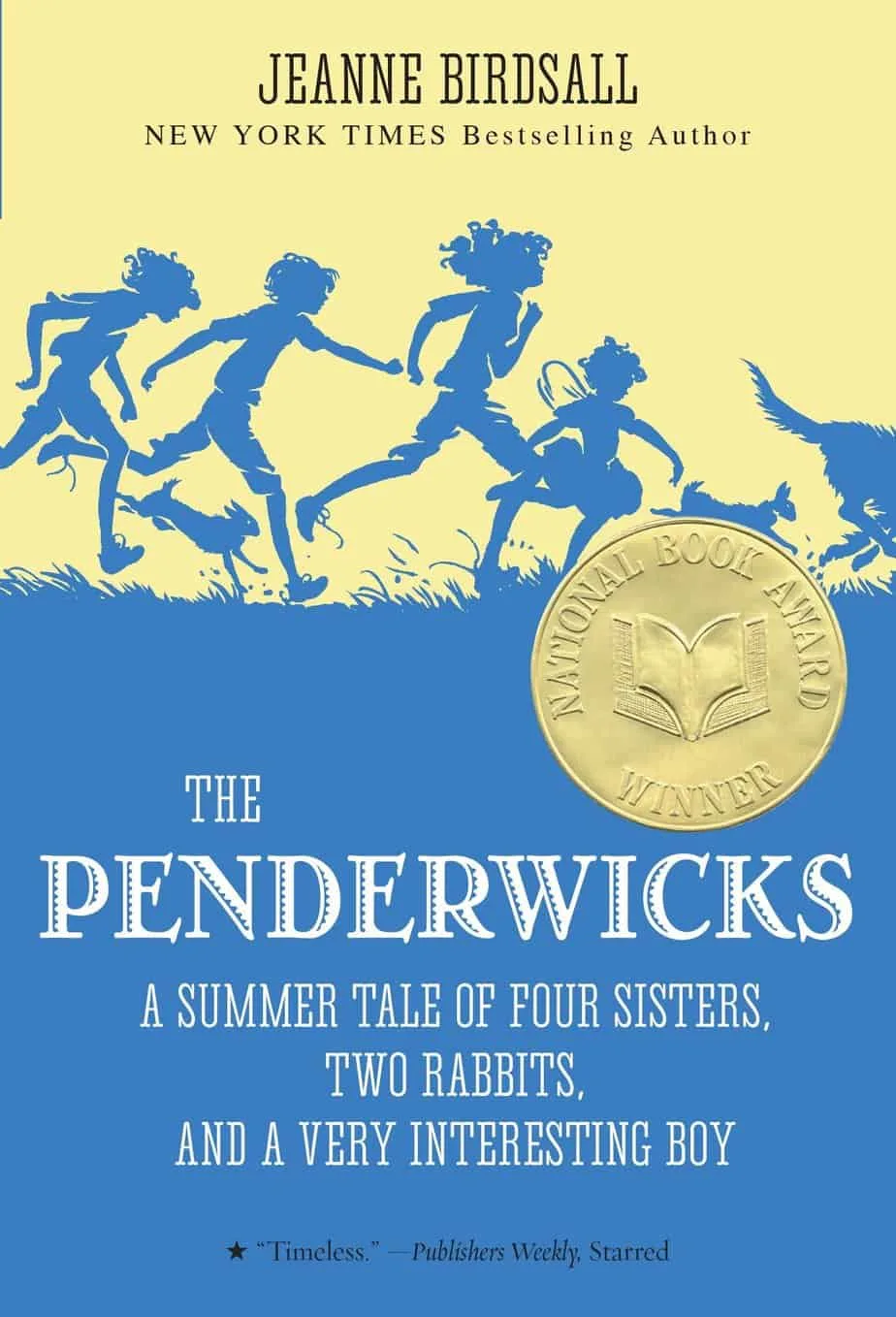 The Penderwicks is a heartwarming realistic fiction series about four sisters and their adventures as they grow up.
Author Jeanne Birdsall a wonderful job of weaving together the narrative through the eyes of each sister, exploring their relationships with each other and their views of the world.
From Amazon:
This summer the Penderwick sisters have a wonderful surprise: a holiday on the grounds of a beautiful estate called Arundel. Soon they are busy discovering the summertime magic of Arundel's sprawling gardens, treasure-filled attic, tame rabbits, and the cook who makes the best gingerbread in Massachusetts. But the best discovery of all is Jeffrey Tifton, son of Arundel's owner, who quickly proves to be the perfect companion for their adventures. The icy-hearted Mrs. Tifton is not as pleased with the Penderwicks as Jeffrey is, though, and warns the new friends to stay out of trouble. Which, of course, they will—won't they? One thing's for sure: it will be a summer the Penderwicks will never forget.
Fans of classics like Anne of Green Gables or Little Women will relate to this modern take on growing up.
The Mysterious Benedict Society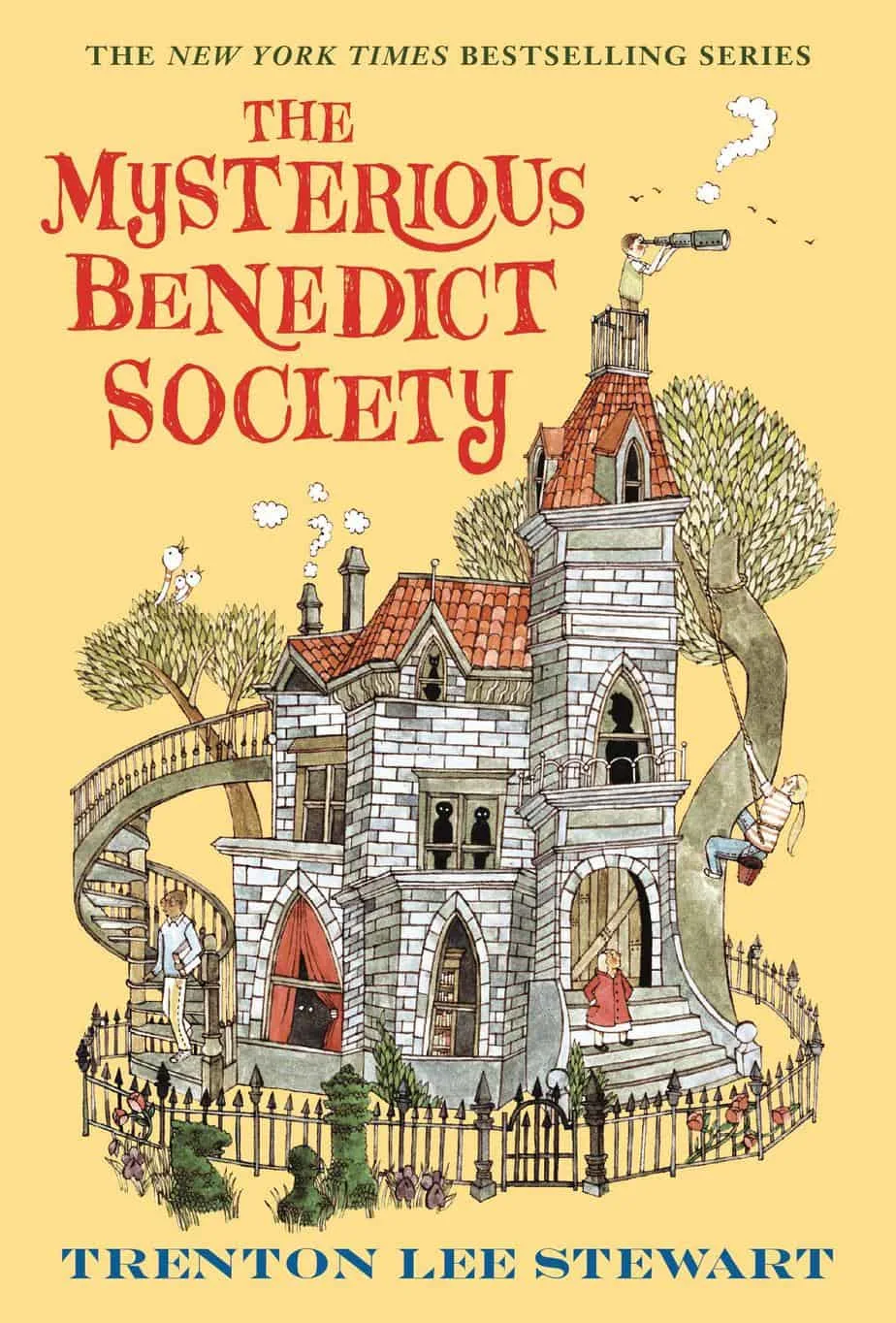 The Mysterious Benedict Society reads like a kids version of a 007 novel.
The daring exploits in this series are only topped by the fun and quirky character development.
From Amazon:
"'Are you a gifted child looking for special opportunities?' Dozens of children respond to this peculiar ad in the newspaper and are then put through a series of mind-bending tests, which readers take along with them. Only four children–two boys and two girls–succeed. Their challenge: to go on a secret mission that only the most intelligent and inventive children could complete. To accomplish it they will have to go undercover at the Learning Institute for the Very Enlightened, where the only rule is that there are no rules. But what they'll find in the hidden underground tunnels of the school is more than your average school supplies. So, if you're gifted, creative, or happen to know Morse Code, they could probably use your help."
If your child loved A Series of Unfortunate Events, they'll love this series also.
Land of Stories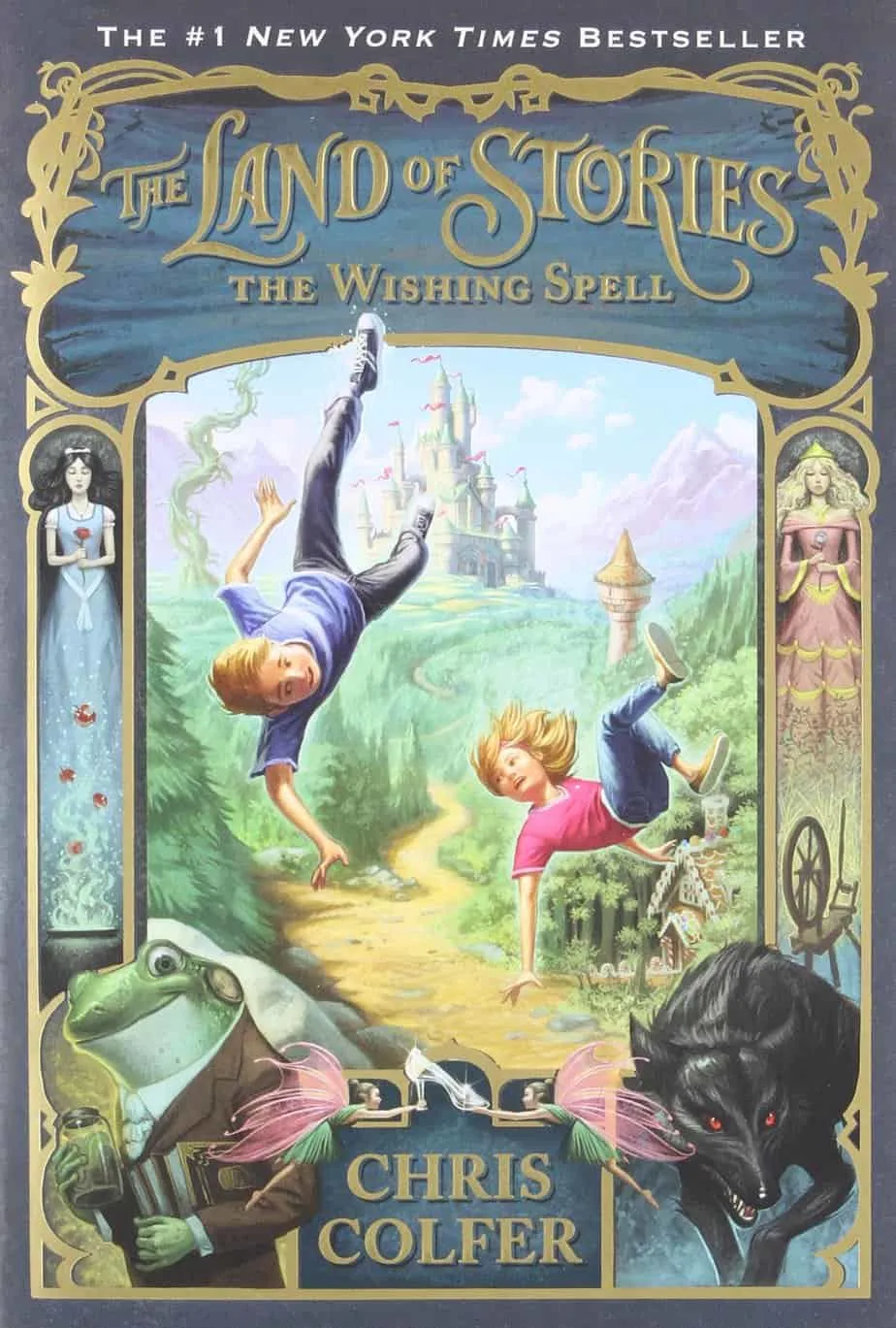 Christ Colfer's imaginative reworking of classic fairy tales is a must read for older elementary school students.
The Land of Stories books are really what kicked off a love of reading in my oldest child. She discovered them in 4th grade, and is now an avid reader of fantasy books, usually finishing at least two a week.
From Amazon:
Alex and Conner Bailey's world is about to change, in this fast-paced adventure that uniquely combines our modern day world with the enchanting realm of classic fairy tales. The Land of Stories tells the tale of twins Alex and Conner. Through the mysterious powers of a cherished book of stories, they leave their world behind and find themselves in a foreign land full of wonder and magic where they come face-to-face with fairy tale characters they grew up reading about. But after a series of encounters with witches, wolves, goblins, and trolls alike, getting back home is going to be harder than they thought.
These books bring humor and excitement to familiar stories and will delight readers across the board.
The Strange Case of Origami Yoda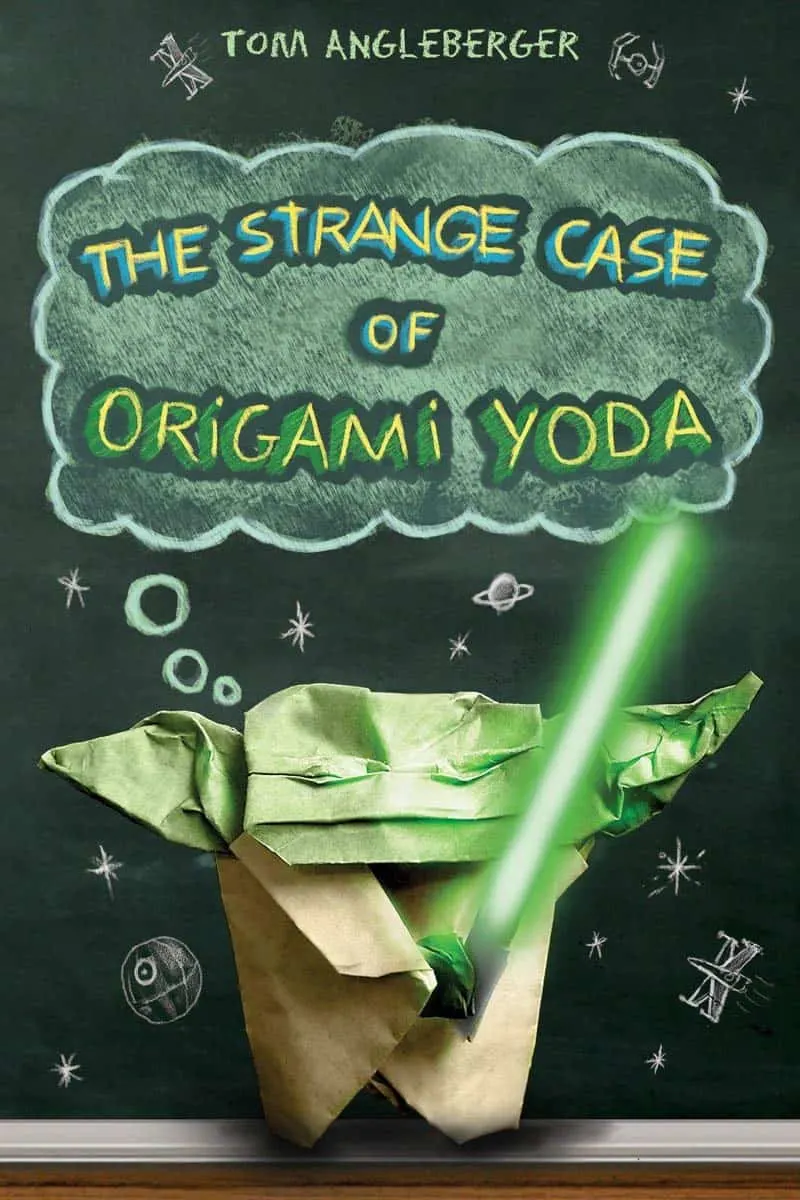 The Strange Case of Origami Yoda is a truly unique series that combines realistic fiction with the legends of Star Wars.
From Amazon:
"Meet Dwight, a sixth-grade oddball. Dwight does a lot of weird things, like wearing the same T-shirt for a month or telling people to call him 'Captain Dwight.' But Dwight does one cool thing. He makes origami. One day he makes an origami finger puppet of Yoda. And that's when things get mysterious. Origami Yoda can predict the future and suggest the best way to deal with a tricky situation. His advice actually works, and soon most of the sixth grade is lining up with questions. Dwight's friend Tommy wants to know how Origami Yoda can be so smart when Dwight is so clueless. Is Yoda tapping into the Force?"
Fans of Diary of A Wimpy Kid will identify with the style and wit of this series.
The Legend of Greg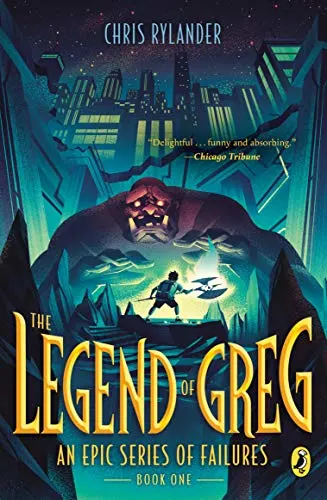 The Legend of Greg, the first in the Epic Series of Failures books, takes readers on a crazy and hilarious ride through the life of one "ordinary" kid.
From Amazon:
"Risk-averse Greg Belmont is content with being ordinary. He's got a friend–that's right, just one–at his fancy prep school, and a pretty cool dad (even if he is obsessed with organic soaps that smell like a mix of salted pork and Icelandic bog). The problem is, Greg isn't ordinary . . . he's actually an honest-to-goodness, fantastical Dwarf!"
This revelation is just the tip of the iceberg in this fast paced series that older kids are sure to adore.
Winterhouse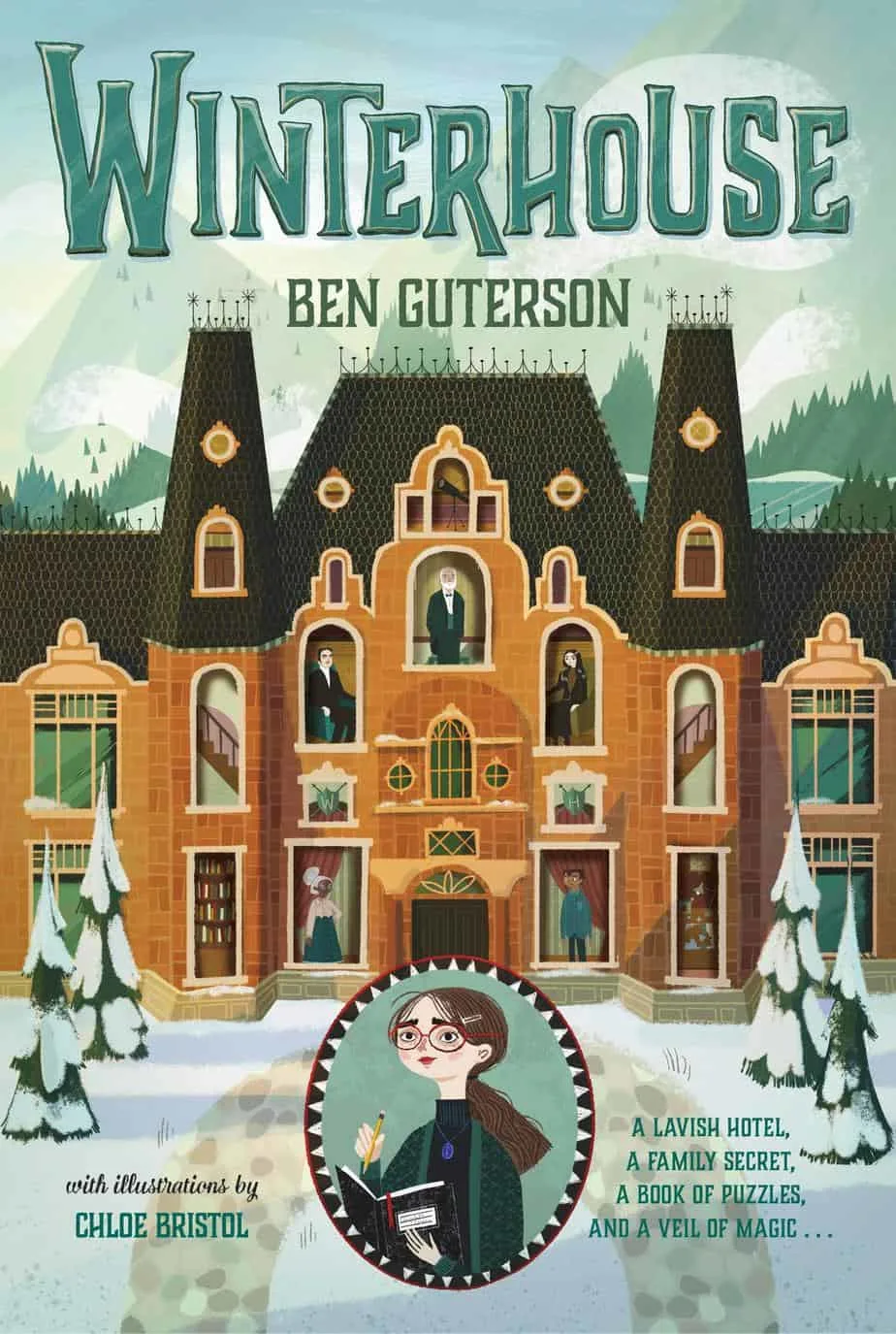 Mystery lovers will be thrilled with the Winterhouse series.
The captivating story and likable characters make this book extremely engaging.
From Amazon:
"Orphan Elizabeth Somers's malevolent aunt and uncle ship her off to the ominous Winterhouse Hotel, owned by the peculiar Norbridge Falls. Upon arrival, Elizabeth quickly discovers that Winterhouse has many charms―most notably its massive library. It's not long before she locates a magical book of puzzles that will unlock a mystery involving Norbridge and his sinister family. But the deeper she delves into the hotel's secrets, the more Elizabeth starts to realize that she is somehow connected to Winterhouse. As fate would have it, Elizabeth is the only person who can break the hotel's curse and solve the mystery. But will it be at the cost of losing the people she has come to care for, and even Winterhouse itself?"
Fans of The Westing Game and From the Mixed-Up Files of Mrs. Basil E. Frankweiler will love the twists and turns this mystery takes.
Nevermoor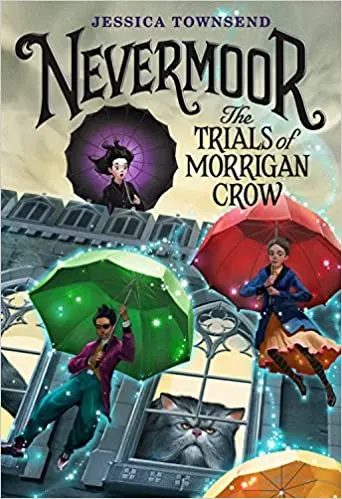 Nevermoor: The Trials of Morrigan Crow is such a unique and fun book series.
The characters are so creative and unlike anything I've read in other books.
From Amazon:
"Morrigan Crow is cursed. Having been born on Eventide, the unluckiest day for any child to be born, she's blamed for all local misfortunes, from hailstorms to heart attacks–and, worst of all, the curse means that Morrigan is doomed to die at midnight on her eleventh birthday.

But as Morrigan awaits her fate, a strange and remarkable man named Jupiter North appears. Chased by black-smoke hounds and shadowy hunters on horseback, he whisks her away into the safety of a secret, magical city called Nevermoor.

It's then that Morrigan discovers Jupiter has chosen her to contend for a place in the city's most prestigious organization: the Wundrous Society. In order to join, she must compete in four difficult and dangerous trials against hundreds of other children, each with an extraordinary talent that sets them apart–an extraordinary talent that Morrigan insists she does not have. To stay in the safety of Nevermoor for good, Morrigan will need to find a way to pass the tests–or she'll have to leave the city to confront her deadly fate."
If you're looking for books for older kids with completely unexpected plots, this is a great place to start!
Ronan Boyle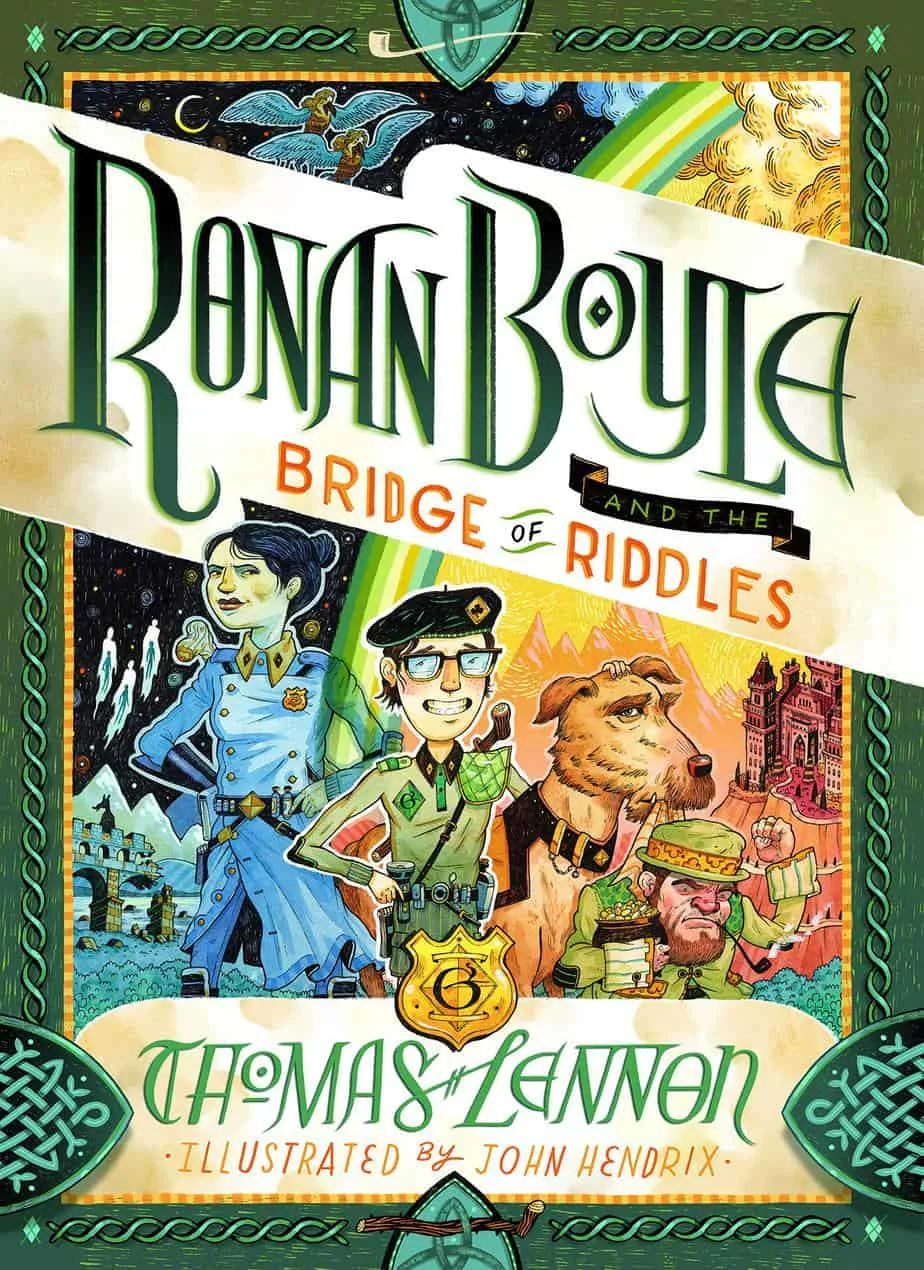 The Ronan Boyle series will have adults and kids alike rolling with laughs while following the adventures of this unexpected secret guarda agent.
Written by actor Thomas Lennon, these books bring his unique style and wit to the written page that will both surprise and delight.
From Amazon:
"Fourteen-year-old Ronan Boyle is the youngest and lowliest recruit to the secret Garda, the Irish police force that handles the misdeeds of numerous magical creatures. Ronan's parents are in jail for a crime they didn't commit, and he's convinced that they were framed by the wee people. So despite his small size, poor eyesight, and social awkwardness, Ronan is determined to learn all he can from the Garda in order to prove his parents' innocence. To show he's got what it takes, he'll have to confront a fiery leprechaun, a sinister harpy, and a whole world of monsters."
The slap-stick hilarity in these books is especially fun to listen to, so I highly recommend the audiobook version!
The Magic Misfits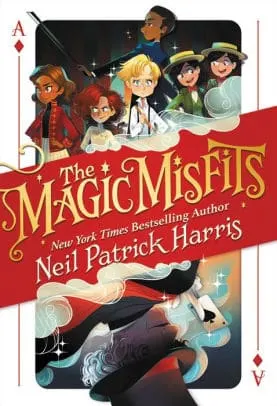 Another title on our list written by an actor! The Magic Misfits series, by the extremely talented Neil Patrick Harris, follows the adventures of a very likable group of kid illusionists as they team up to save their town.
"When street magician Carter runs away, he never expects to find friends and magic in a sleepy New England town. But like any good trick, things change instantly as greedy B.B. Bosso and his crew of crooked carnies arrive to steal anything and everything they can get their sticky fingers on.

After a fateful encounter with the local purveyor of illusion, Dante Vernon, Carter teams up with five other like-minded illusionists. Together, using both teamwork and magic, they'll set out to save the town of Mineral Wells from Bosso's villainous clutches. These six Magic Misfits will soon discover adventure, friendship, and their own self-worth in this delightful series."
Not only is the book fun to read, but it's filled with codes, puzzles, and even magic tricks that really make these books something wonderful.
Akata Witch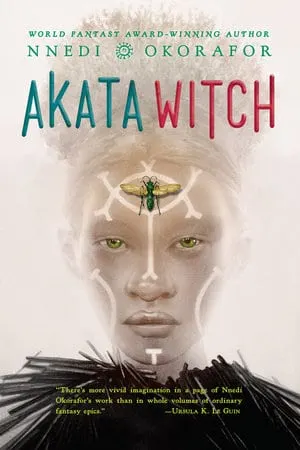 Akata Witch is sometimes touted as the "African Harry Potter," but that description fails to capture the depth and significance of this beautiful story.
The vivid imagery and cultural descriptions take the reader straight into Sunny's world.
From Amazon:
"Sunny Nwazue lives in Nigeria, but she was born in New York City. Her features are West African, but she's albino. She's a terrific athlete, but can't go out into the sun to play soccer. There seems to be no place where she fits in. And then she discovers something amazing—she is a "free agent" with latent magical power. And she has a lot of catching up to do.

Soon she's part of a quartet of magic students, studying the visible and invisible, learning to change reality. But as she's finding her footing, Sunny and her friends are asked by the magical authorities to help track down a career criminal who knows magic, too. Will their training be enough to help them combat a threat whose powers greatly outnumber theirs?"
This book is really most appropriate for middle school student rather than elementary school students, due to some darker themes and scary descriptions.
As an adult, I absolutely adored this series, and highly recommend parents read it as well.
Terrible Two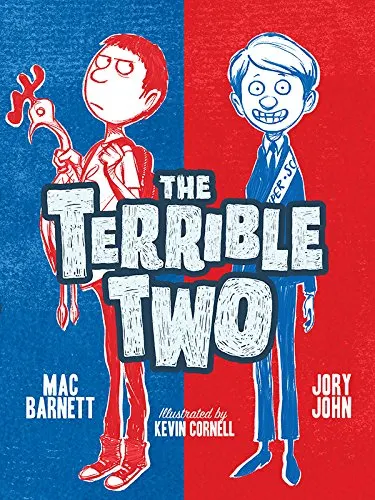 My son has read this book three time, that's how much he likes The Terrible Two.
Mac Barnett and Jory John have created an extremely funny story about two rival jokesters who come together for the most epic prank ever.
Miles Murphy is known for one thing and one thing only: pranking.

He's the best prankster his school has ever seen. So when he's forced to move to boring Yawnee Valley (also known for one thing and one thing only: cows), he assumes he'll be the best prankster at his new school too. There's one problem. The school already has a prankster—and he's good. Really good.
This book is a great step up for kids who love Dogman or Captain Underpants.
Ungifted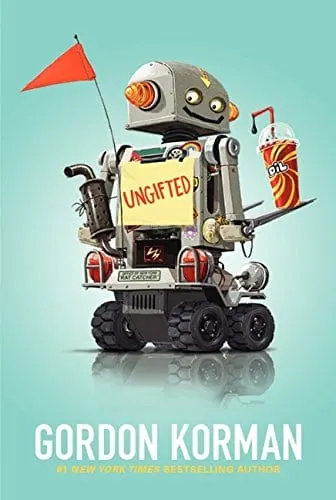 Gordon Korman is such a gifted writer for this age that it was hard to pick just one of his titles to include on our list.
We chose Ungifted because it really is such a wonderful book that explores the feelings of imposter syndrome that every kid encounters now and then.
"When Donovan Curtis pulls a major prank at his middle school, he thinks he's finally gone too far. But thanks to a mix-up by one of the administrators, instead of getting in trouble, Donovan is sent to the Academy of Scholastic Distinction, a special program for gifted and talented students.

Although it wasn't exactly what Donovan had intended, the ASD couldn't be a more perfectly unexpected hideout for someone like him. But as the students and teachers of ASD grow to realize that Donovan may not be good at math or science (or just about anything), he shows that his gifts may be exactly what the ASD students never knew they needed."
Fans of Sideways Stories from Wayside School will love this book!
Gregor The Overlander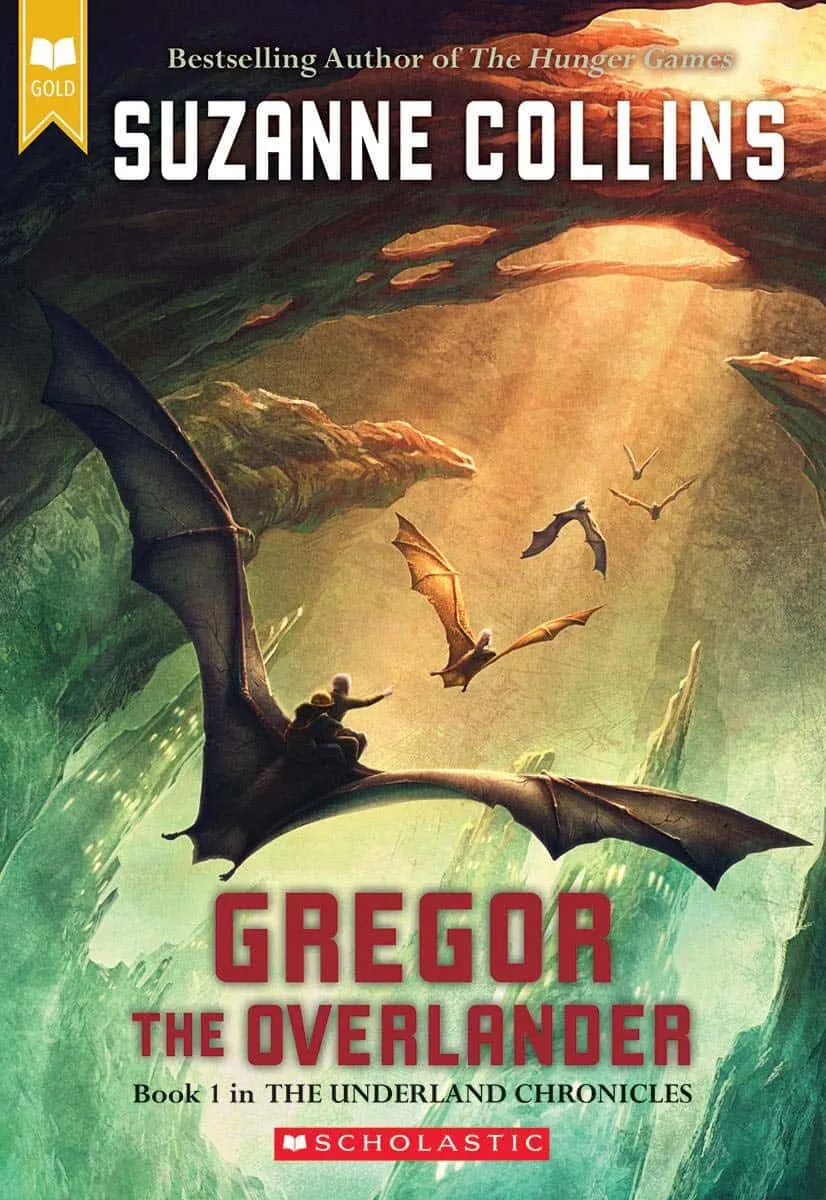 Before her mega success with Hunger Games, Suzanne Collins wrote Gregor the Overlander.
This highly imaginative series of books is perfect for tweens, and takes the reader on a fantastic adventure.
From Amazon:
"When Gregor falls through a grate in the laundry room of his apartment building, he hurtles into the dark Underland, where spiders, rats, cockroaches coexist uneasily with humans. This world is on the brink of war, and Gregor's arrival is no accident. A prophecy foretells that Gregor has a role to play in the Underland's uncertain future. Gregor wants no part of it — until he realizes it's the only way to solve the mystery of his father's disappearance. Reluctantly, Gregor embarks on a dangerous adventure that will change both him and the Underland forever."
This series showcases Suzanne Collins wonderful writing style and is great for kids who might not be ready for the darker themes of the Hunger Games.
Three Times Lucky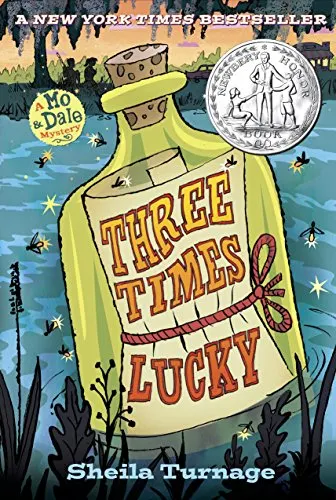 The quirky and charming characters are the real reason your tween should read Three Times Lucky.
Another great title for mystery fans, the overarching mystery of the whole series is just as intriguing as the ones contained in each book.
From Amazon:
Rising sixth grader Miss Moses LoBeau lives in the small town of Tupelo Landing, NC, where everyone's business is fair game and no secret is sacred. She washed ashore in a hurricane eleven years ago, and she's been making waves ever since. Although Mo hopes someday to find her "upstream mother," she's found a home with the Colonel–a café owner with a forgotten past of his own–and Miss Lana, the fabulous café hostess. She will protect those she loves with every bit of her strong will and tough attitude. So when a lawman comes to town asking about a murder, Mo and her best friend, Dale Earnhardt Johnson III, set out to uncover the truth in hopes of saving the only family Mo has ever known.
Readers will want to go on every adventure with Mo and Dale after reading this first book in the series.
The True Meaning of Smek Day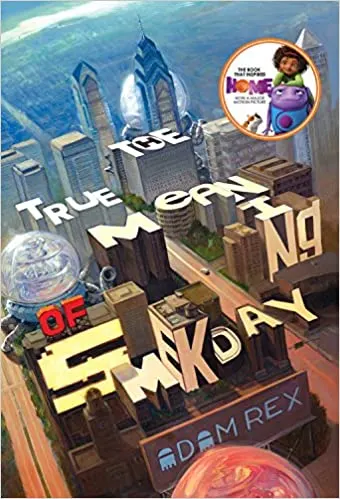 The True Meaning of Smek Day was the basis for the 2015 animated movie "Home," starring Jennifer Lopez and Jim Parsons.
While the movie captured some of the fun of this book, it didn't truly do justice.
From Amazon:
"When twelve-year-old Gratuity ("Tip") Tucci is assigned to write five pages on "The True Meaning of Smekday" for the National Time Capsule contest, she's not sure where to begin. When her mom started telling everyone about the messages aliens were sending through a mole on the back of her neck? Maybe on Christmas Eve, when huge, bizarre spaceships descended on the Earth and the aliens-called Boov-abducted her mother? Or when the Boov declared Earth a colony, renamed it "Smekland" (in honor of glorious Captain Smek), and forced all Americans to relocate to Florida via rocketpod?

In any case, Gratuity's story is much, much bigger than the assignment. It involves her unlikely friendship with a renegade Boov mechanic named J.Lo.; a futile journey south to find Gratuity's mother at the Happy Mouse Kingdom; a cross-country road trip in a hovercar called Slushious; and an outrageous plan to save the Earth from yet another alien invasion."
This series of books is truly hilarious, and the audiobook captures the spirit of it perfectly.
We also love the Cold Cereal books by Adam Rex as well. Just as creative and funny!
Wednesday Wars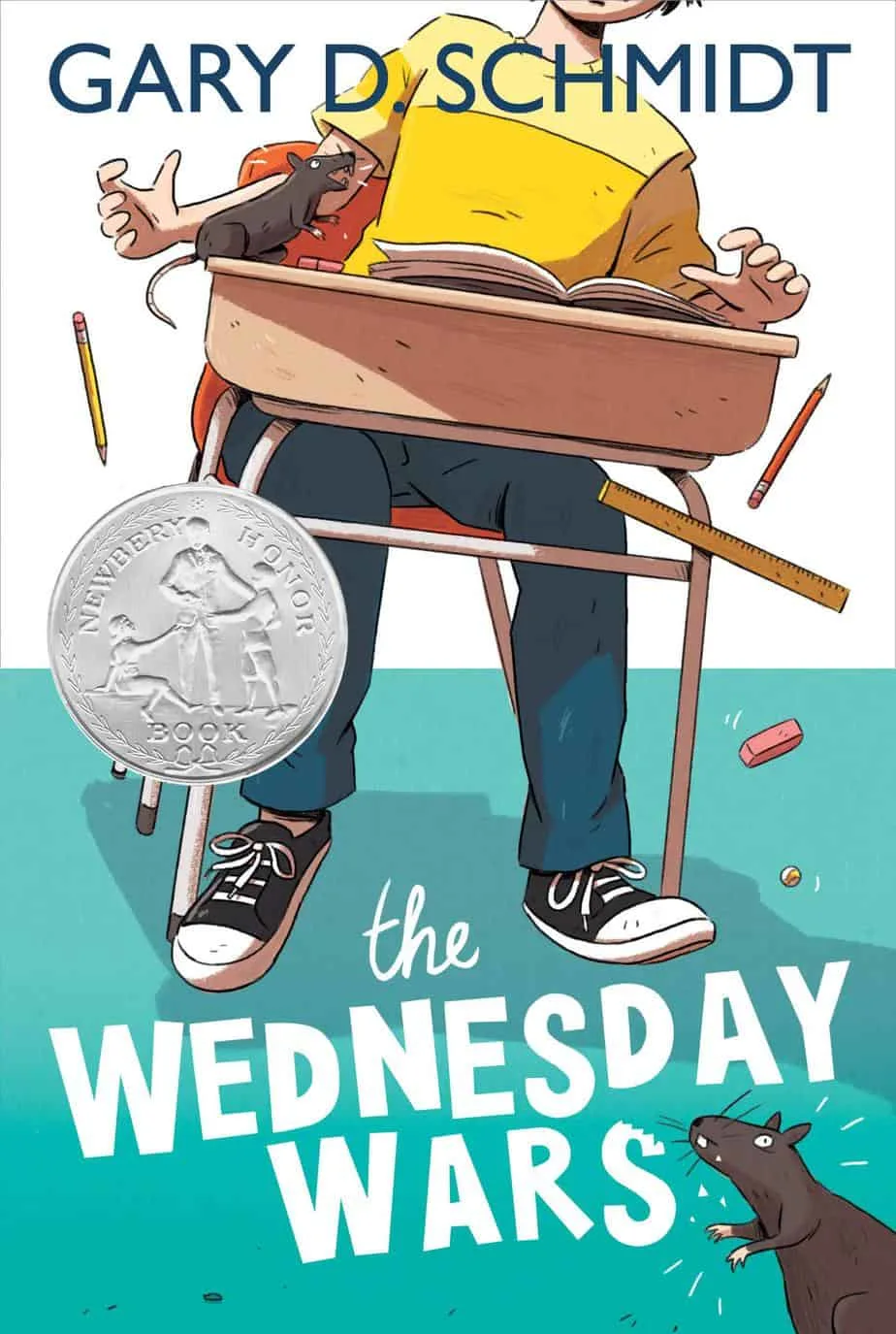 The Wednesday Wars is the only stand-alone book on our list, but it's so impactful that it was worth mentioning here. Set in the late 60s, it gives kids a glimpse into what it was like to grow up in the Vietnam era.
From Amazon:
"Meet Holling Hoodhood, a seventh-grader at Camillo Junior High, who must spend Wednesday afternoons with his teacher, Mrs. Baker, while the rest of the class has religious instruction. Mrs. Baker doesn't like Holling—he's sure of it. Why else would she make him read the plays of William Shakespeare outside class? But everyone has bigger things to worry about, like Vietnam. His father wants Holling and his sister to be on their best behavior: the success of his business depends on it. But how can Holling stay out of trouble when he has so much to contend with? A bully demanding cream puffs; angry rats; and a baseball hero signing autographs the very same night Holling has to appear in a play in yellow tights! As fate sneaks up on him again and again, Holling finds Motivation—the Big M—in the most unexpected places and musters up the courage to embrace his destiny, in spite of himself."
We also loved Okay For Now that follows one of the characters from The Wednesday Wars into his own story.
Al Capone Does My Shirts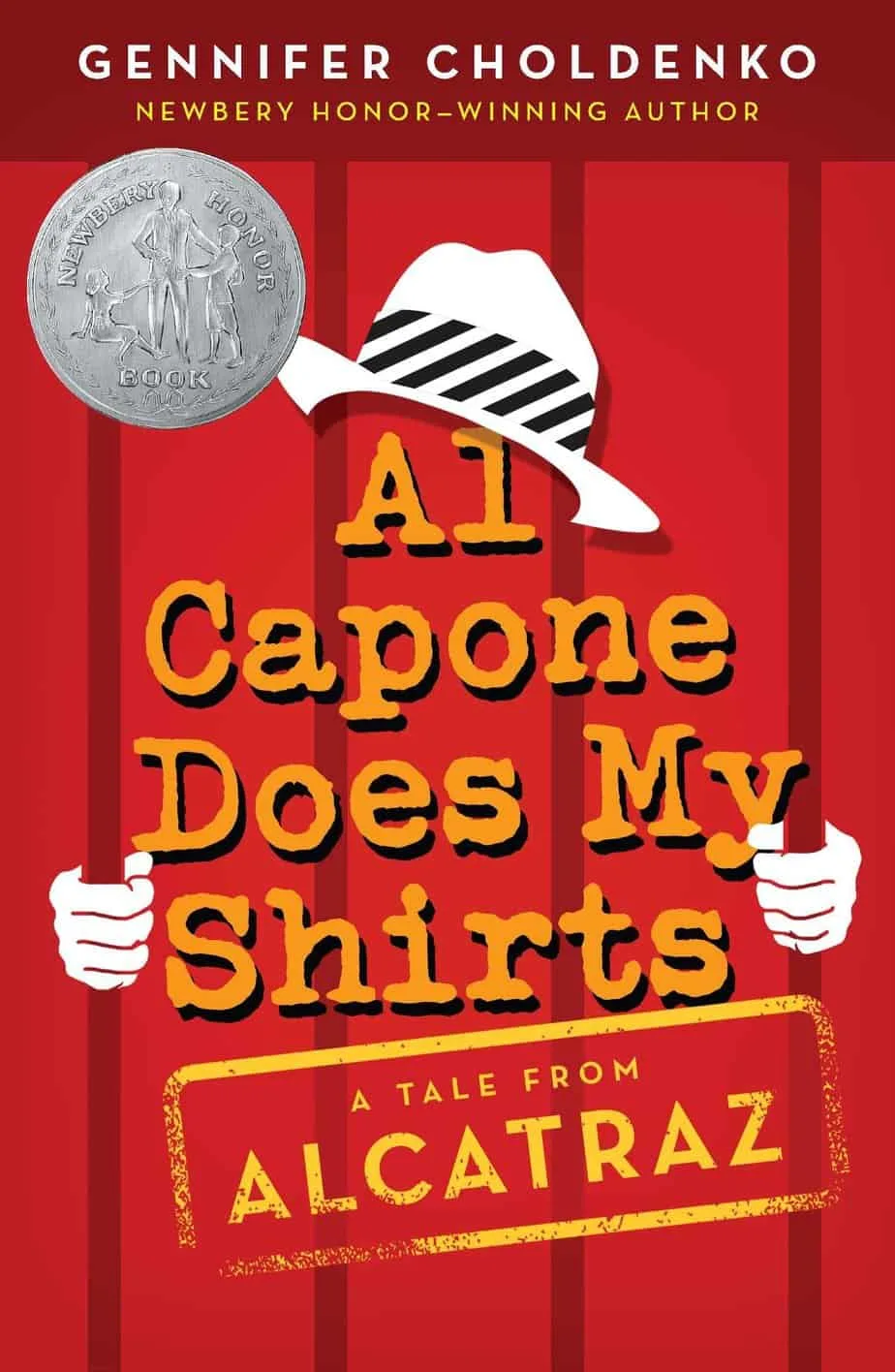 In Al Capone Does My Shirts, Gennifer Choldenko takes a little known piece of history and molds it into a unique work of fiction.
A quote from the book published on Amazon:
"Today I moved to Alcatraz, a twelve-acre rock covered with cement, topped with bird turd and surrounded by water. I'm not the only kid who lives here. There are twenty-three other kids who live on the island because their dads work as guards or cooks or doctors or electricians for the prison, like my dad does. And then there are a ton of murderers, rapists, hit men, con men, stickup men, embezzlers, connivers, burglars, kidnappers and maybe even an innocent man or two, though I doubt it. The convicts we have are the kind other prisons don't want. I never knew prisons could be picky, but I guess they can. You get to Alcatraz by being the worst of the worst. Unless you're me. I came here because my mother said I had to. "
Both heartstopping and heartbreaking, this series is absolutely among the great books for older kids.
Sisters Grimm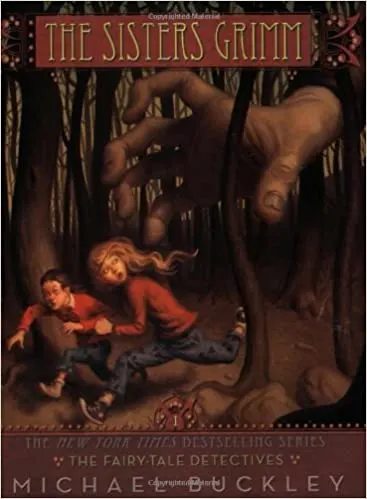 Another series that puts a twist on fairy tales, The Sisters Grimm takes the intrigue of Nancy Drew and weaves it with stories with know and love.
From Amazon:
"Orphaned sisters Sabrina and Daphne are sent to live with their newly discovered grandmother, Relda Grimm, in the strange town of Ferryport Landing. The girls soon learn a family secret: that they are descendants of the famous Brothers Grimm, whose book of fairy tales is actually a history book. When a terrorizing giant goes on a rampage through the town, it's up to the Sisters Grimm to stop him and to solve the mystery of who set the giant loose in the first place. Was it Mayor Charming, formerly Prince Charming, who desperately wants his kingdom back? The Three Not-So-Little Pigs, the shifty town cops? Or one of the many other fairy-tale characters who seem to have it out for the Grimms?"
Both mystery fans and fairy tale fans will find something wonderful in this series.
The Sixty-Eight Rooms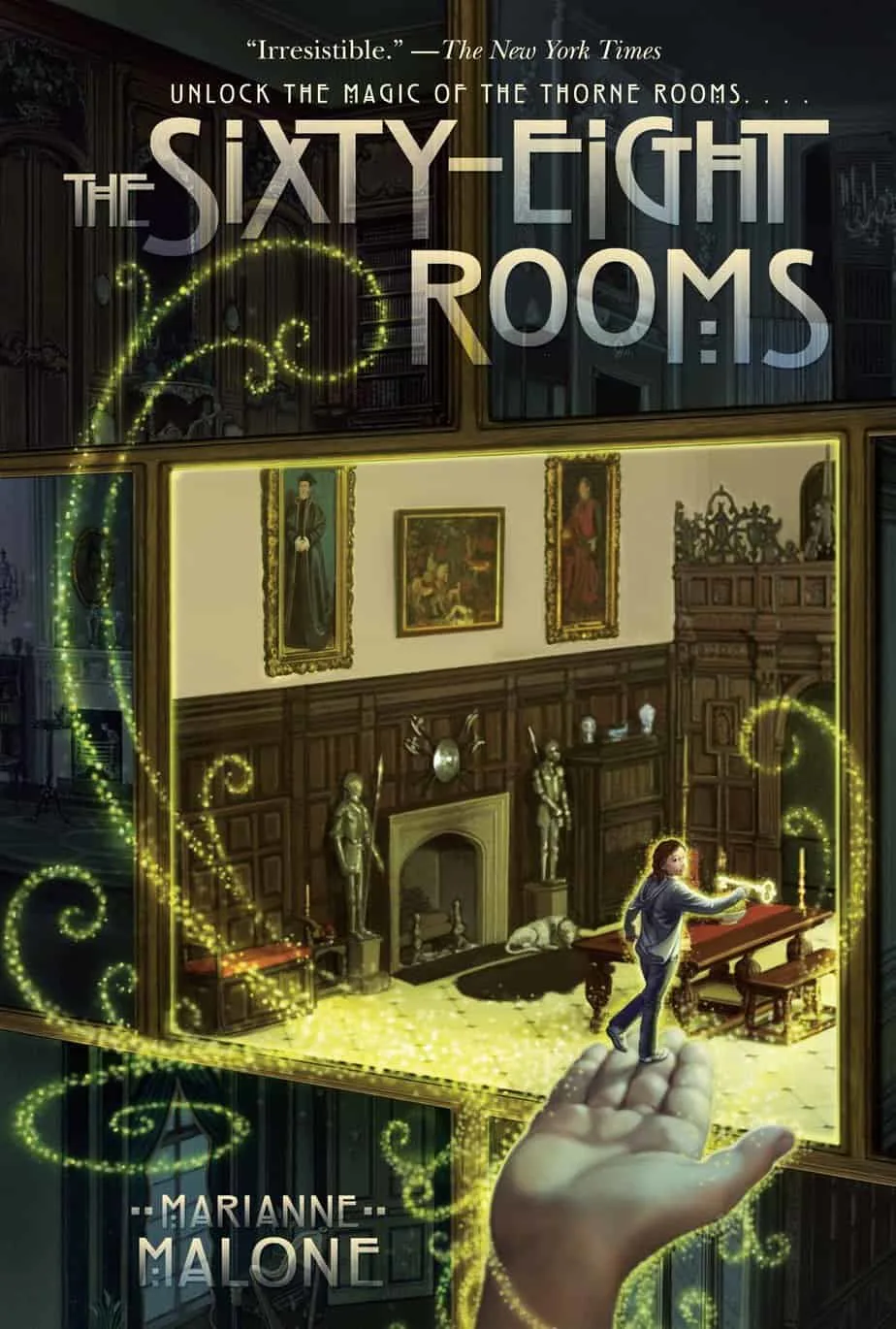 An amazing place can inspire an amazing story, and that's exactly what happened when Marianne Malone wrote The Sixty-Eight Rooms.
From Amazon:
"Almost everybody who has grown up in Chicago knows about the Thorne Rooms. Housed in the deep inside the Chicago Art Institute, they are a collection of 68 exquisitely crafted miniature rooms. Each room is set in a different historic period, and every detail is perfect. Some might even say, the rooms are magic.

But what if on a field trip, you discovered a key that allowed you to shrink so that you could sneak inside and explore the rooms' secrets? What if you discovered that others had done so before you? . . . And that someone had left something important behind?

Eleven-year-olds Jack and Ruthie are about to find out!"
Those of us lucky enough to have had a chance to visit the actual Thorne Rooms can fully imagine this book coming to life.
This series is great for kids with big imaginations.
Keeper of the Lost Cities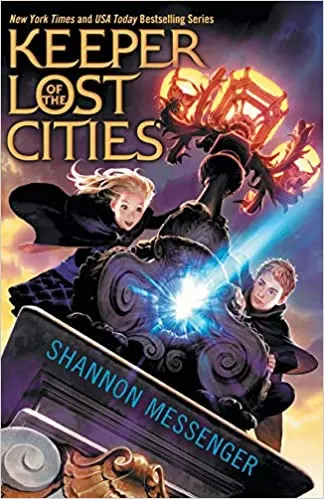 If your Harry Potter loving child hasn't read The Keeper of the Lost Cities series yet, they should start it immediately.
From Amazon:
"Twelve-year-old Sophie has never quite fit into her life. She's skipped multiple grades and doesn't really connect with the older kids at school, but she's not comfortable with her family, either. The reason? Sophie's a Telepath, someone who can read minds. No one knows her secret—at least, that's what she thinks…

But the day Sophie meets Fitz, a mysterious (and adorable) boy, she learns she's not alone. He's a Telepath too, and it turns out the reason she has never felt at home is that, well…she isn't. Fitz opens Sophie's eyes to a shocking truth, and she is forced to leave behind her family for a new life in a place that is vastly different from what she has ever known.

But Sophie still has secrets, and they're buried deep in her memory for good reason: The answers are dangerous and in high-demand. What is her true identity, and why was she hidden among humans? The truth could mean life or death—and time is running out."
This series is still being written and has an extremely active fan community and certainly deserves a place on our list of great books for older kids. It's only a matter of time before we see a movie version hit theaters.
The False Prince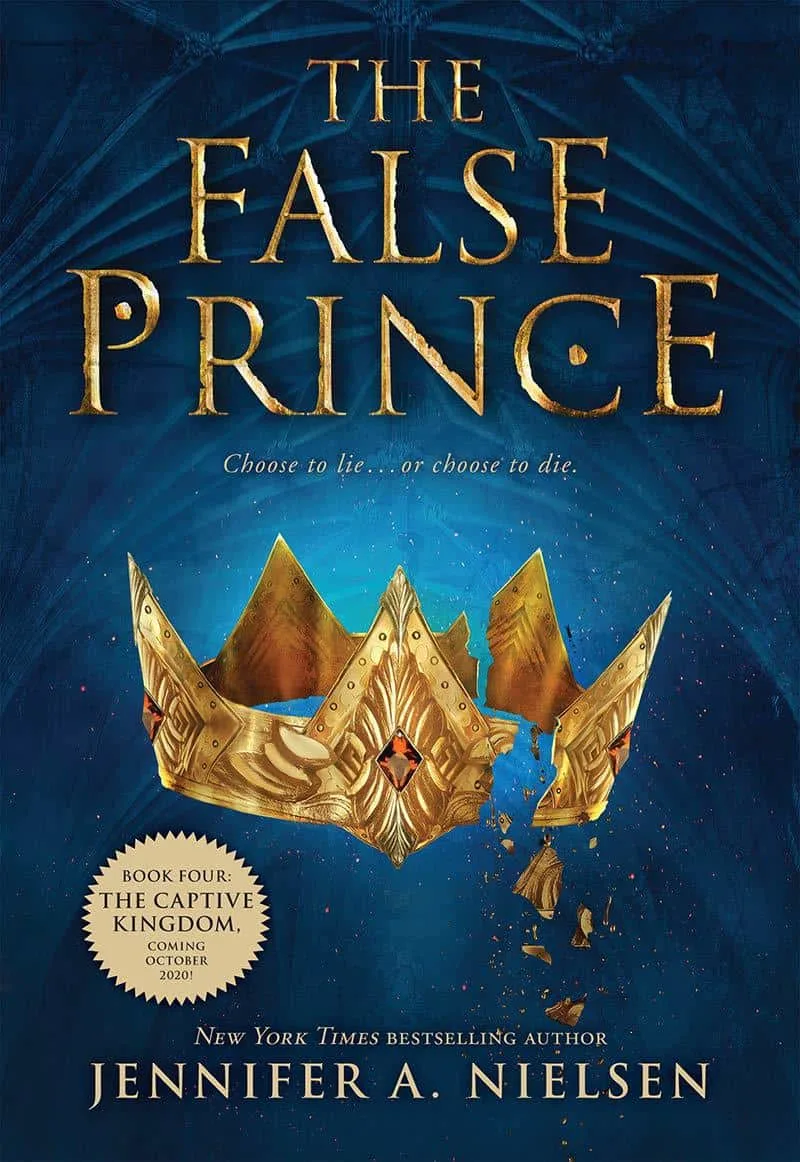 In The False Prince, Jennifer A. Nielsen has created a fantastic fantasy world and engaging characters that will make readers want to return again and again.
"In a discontented kingdom, civil war is brewing. To unify the divided people, Conner, a nobleman of the court, devises a cunning plan to find an impersonator of the king's long-lost son and install him as a puppet prince. Four orphans are recruited to compete for the role, including a defiant boy named Sage. Sage knows that Conner's motives are more than questionable, yet his life balances on a sword's point — he must be chosen to play the prince or he will certainly be killed. But Sage's rivals have their own agendas as well. As Sage moves from a rundown orphanage to Conner's sumptuous palace, layer upon layer of treachery and deceit unfold, until finally, a truth is revealed that, in the end, may very well prove more dangerous than all of the lies taken together."
The twists and turns in this series will keep readers on their toes, and action-lovers will be enthralled with the fearless protagonist.
Greystone Secrets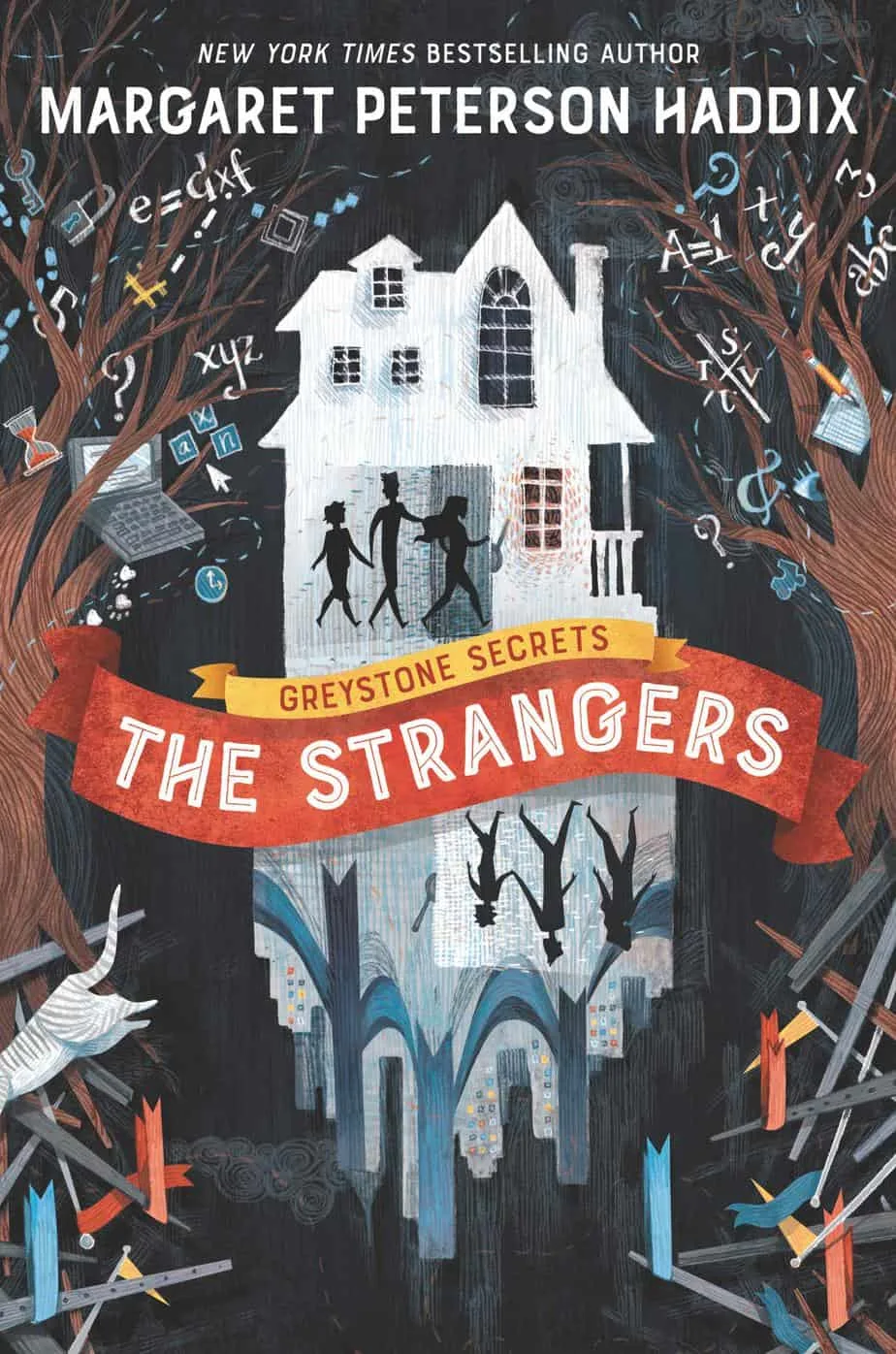 In The Strangers, Margaret Peterson Haddix gives readers a suspense filled story with mysteries and plot twists that make this the perfect addition to our great books for older kids list.
From Amazon:
"The Greystone kids thought they knew. Chess has always been the protector over his younger siblings, Emma loves math, and Finn does what Finn does best—acting silly and being adored. They've been a happy family, just the three of them and their mom.

But everything changes when reports of three kidnapped children reach the Greystone kids, and they're shocked by the startling similarities between themselves and these complete strangers. The other kids share their same first and middle names. They're the same ages. They even have identical birthdays. Who, exactly, are these strangers?

Before Chess, Emma, and Finn can question their mom about it, she takes off on a sudden work trip and leaves them in the care of Ms. Morales and her daughter, Natalie. But puzzling clues left behind lead to complex codes, hidden rooms, and a dangerous secret that will turn their world upside down."
The entire series is extremely engaging and will leave readers wanting more.
Chasing Vermeer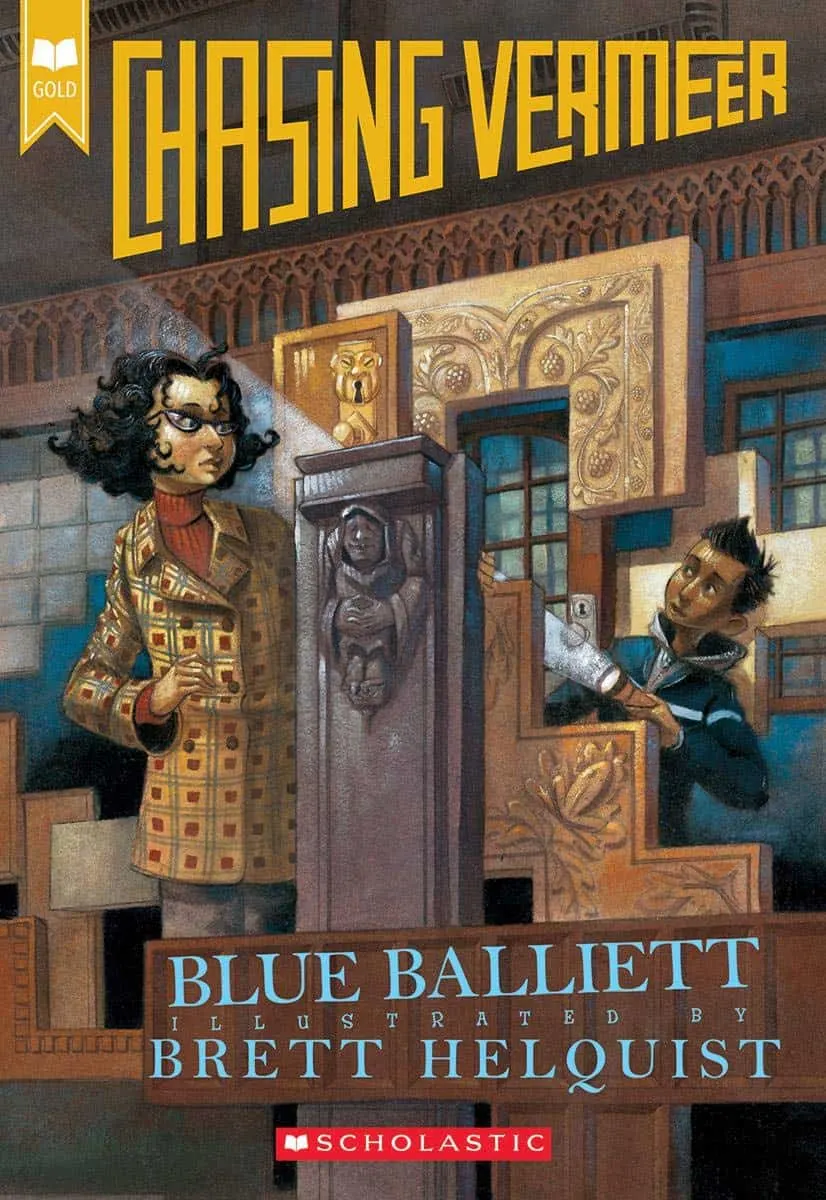 Chasing Vermeer has been described as "a puzzle, wrapped in a mystery, disguised as an adventure, and delivered as a work of art."
From Amazon:
"When a book of unexplainable occurrences brings Petra and Calder together, strange things start to happen: Seemingly unrelated events connect; an eccentric old woman seeks their company; an invaluable Vermeer painting disappears. Before they know it, the two find themselves at the center of an international art scandal, where no one is spared from suspicion. As Petra and Calder are drawn clue by clue into a mysterious labyrinth, they must draw on their powers of intuition, their problem solving skills, and their knowledge of Vermeer. Can they decipher a crime that has stumped even the FBI?"
Art lovers will delight in how this book works art history into the narrative in fun and exciting ways!
Do you have some recommendations for great books for older kids that we should include on this list? Tell me in the comments.
Looking for other screen free ways to keep your tweens busy? Check out my post on The Best Board Games for Teens
Are you a fan of Young Adult Fiction? Check out my post 4 YA Series You Won't Want To Put Down!
Great Books For Older Kids: 25 Awesome Series Tweens Will Love